A collection of best WordPress survey plugins that you can use to create amazing surveys on your site and make sure that you have great interaction and ideas about your visitors.
The best and most successful websites are those which offer users usable and desired content. So how do you know what your viewers want?
Well, on the one hand, you can guess, or you can start a poll or survey on your website and ask them directly.
If you have a WordPress website, then you can create and manage polls, surveys, quizzes, tests, and so on which the help of WordPress poll/survey plugins. This will not only give you an insight into your visitor's desires but also increase visitor retention of your website.
Now for this read, we have collected a list of the best poll and survey plugins for WordPress which you can use on your website.
So without further ado, let's get this list running.
Amazing WordPress Survey Plugins
Modal Survey
Modal Survey is one of the top-selling premium survey plugins. This plugin comes with a huge list of features making it a comprehensive poll and survey plugin for WordPress users.
No matter what kind of business you are managing, knowing your customers well is extremely important. I'm sure your revenue will increase by multiple folds if you hear your customers and offer them what they want.
This plugin is created just for that purpose. You can create an unlimited number of surveys and polls to know your customers better and make sure you understand their expectations.
Not only the business sites but this plugin can also be used with viral content sites as it offers you amazing poll features like Trivia quiz, Personality Tests and other options to increase traffic.
It comes with an amazing user interface, and a lot of graphs so that you can understand your participants properly and tune your business accordingly. With this plugin, you can create an unlimited number of polls and surveys with unlimited design options.
Overall, this is a great plugin that will surely help you to grow your business.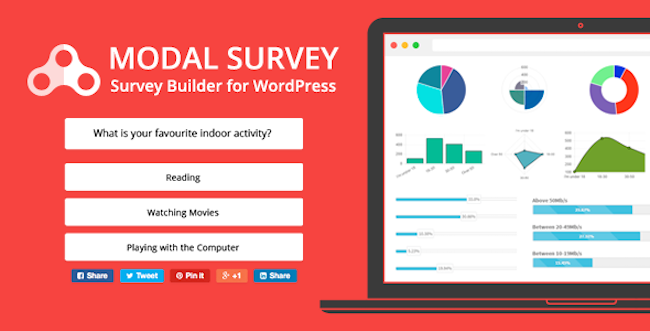 GetSiteControl
Not only the survey but a complete call to action system for WordPress users. The GetSiteControl team offers you different action widgets such as survey, contact, chat, subscribe, social following & sharing, promotional popups, and bars.
So, what else do you need? The system covers all the call-to-action requirements on your site. The Process is quick and simple, you need to signup on to their site, create your widget, style it and implement it.
To use the services of GetSiteControl, you have to install their free plugin and then start using their services. You can create the widget in the GetSiteControl site and integrate it on your site.
GetSiteControl gives you complete control over your survey widget and it is probably the most comprehensive service in this list of top survey plugins.
You can control
The appearance of the widget
The placement of your widget
The behavior of the widget
The targetting of the widget
The overall integration
The interface of the GetSiteControl is very easy and simple to understand.
As shown in the image above you can select the position of the widget and you can style it according to your need.
It gives a very easy option to add new questions to your survey widget. In fact, it offers you some ready-to-be-used question templates if you are confused at any point.
And the best part of the GetSiteControl survey system is the user targetting options. You will have amazing control over the audience you wish to target.
It offers you so many options to fine-tune the audience who will see the poll widget. You can filter by location, browser, language, and so many other parameters.
WPForms
WPForms is one of the best contact form plugins for WordPress is also a great tool to create highly engaging surveys.
It is a very easy-to-use drag-and-drop form builder that makes it simple for WordPress users to create comprehensive forms for any purpose.
The plugin comes with poll & survey addon that you can use to create very engaging surveys to grow your business.
It offers you multiple rich fields such as text fields, dropdown fields, radio buttons, checkboxes, ratings, and more. You can use all those fields to create complex surveys that might be extremely useful to grow your business.
Another important aspect is the logic and the quick survey result option to keep you stay updated with what your customers expect from your business.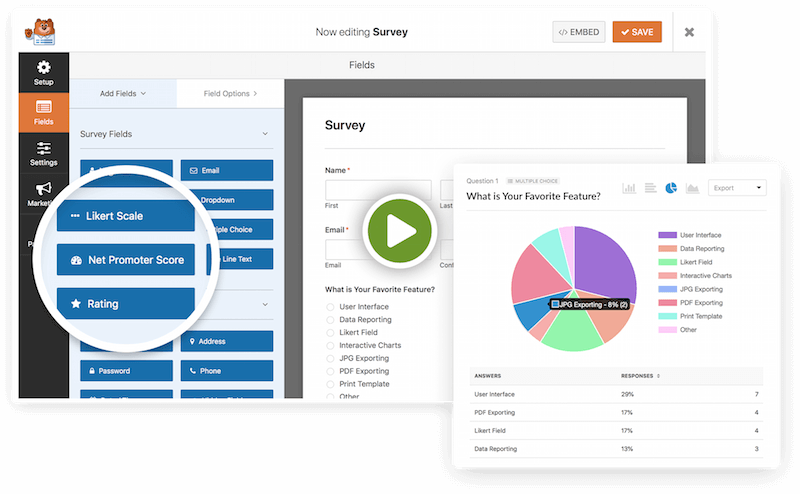 WP-Polls
WP-Polls is one of the easiest-to-use WordPress plugins for conducting polls. You can use it to run polls on your WordPress-enabled posts and pages using an Ajax poll system.
For customization purposes, the plugin supports CSS styles and different templates. Besides these, you also get many different options to make the polls more personal to reflect your style and preference. And on top of all these, the plugin is available for free.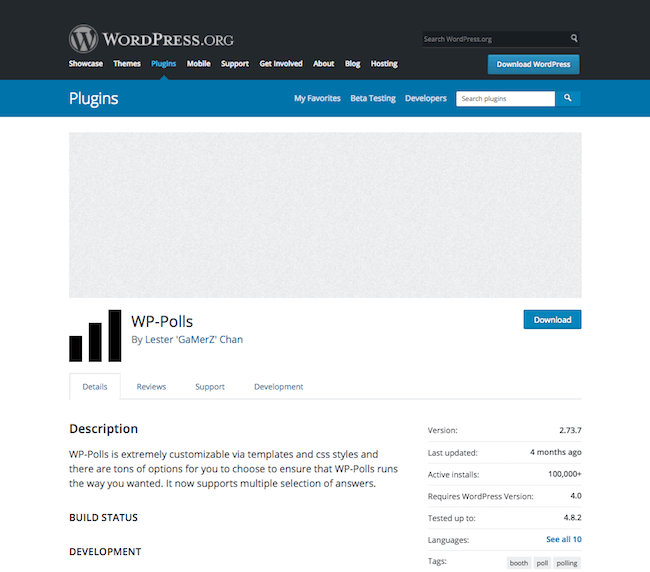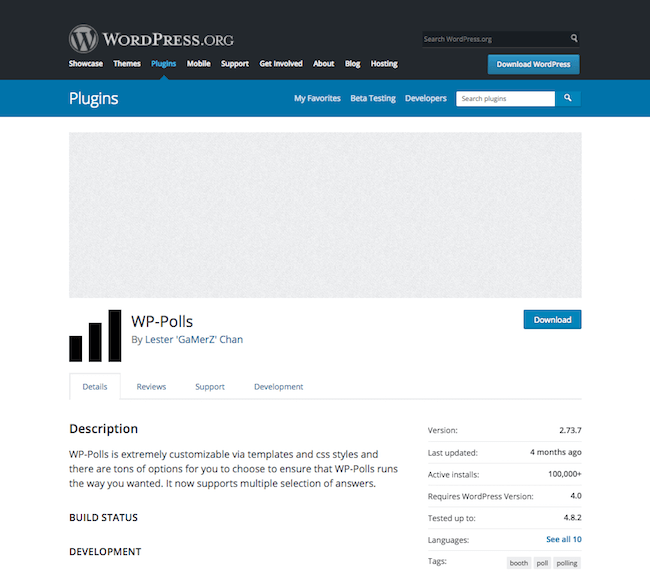 Polldaddy Polls and Ratings
Polldaddy WordPress plugin can be used for running polls and managing ratings for your posts and pages through your WordPress dashboard. It is very popular, and one of its key features would be customizability.
You will get different hands-on styles for your polls including the option for multiple-choice polls. You can have unlimited polls to collect unlimited votes, include a closing date, view the poll results, and much more.
The rating system can be included on the blog pages, posts or comments and you can customize them to your liking as well.
Now the plugin is available for free, and taking that into account; you are getting a whole lot of features.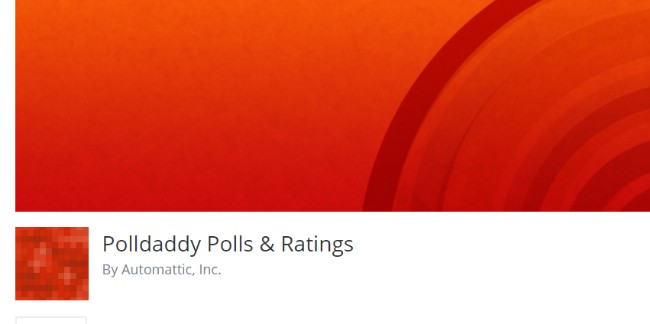 Democracy Polls
Democracy Polls is another one of the free yet powerful WordPress poll plugin. It comprises widgets and shortcodes to allow users to choose multiple-choice answers to add their own.
You can create various types of polls with the plugin and include a variety of different features. You can include single or multiple voting, add a poll's end date and comes with a powerful admin panel.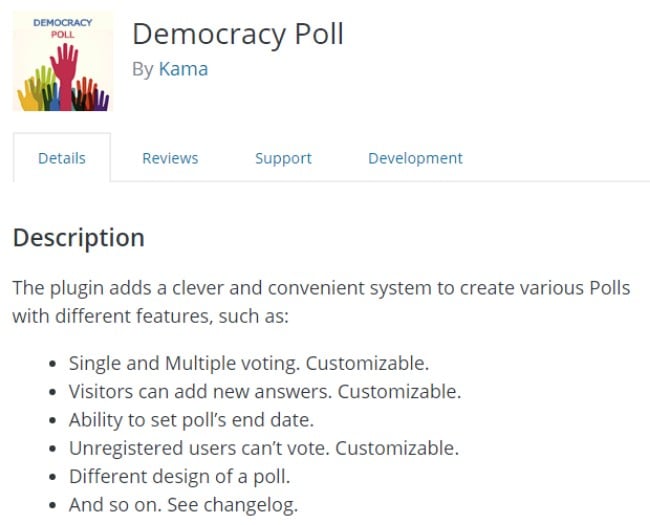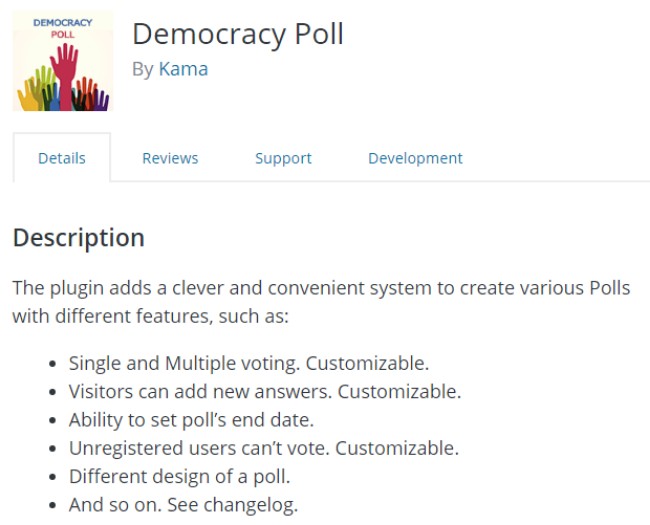 YOP Polls
YOP Polls WordPress plugin helps you create multiple polls and surveys which you can manage effortlessly thanks to its easy-to-use options and settings.
To help you out, you have one-click options to clone existing polls if you want, then there are tools to manage all the incoming votes, ability to filter what details to be shown and what is to be kept concealed. All this can be effectively managed through the WordPress dashboard, and all these options are intuitively placed for easy access.
This is also a free polls plugin that you can consider for your WordPress website.
Poll, Survey, Quiz & Form by Opinion Stage
The name is a mouthful but handsomely cover-ups all the features that you are going to get with this plugin. It is designed to help you discover opinions, boost your site engagement, generate traffic, run contests, gather leads and much more.
You can manage all the things the plugin provides the comforts of your WordPress dashboard. There are decent customization options to tweak everything to your likings and make the polls better suit the aesthetics of your site.
This one too is a free plugin you can get from the WordPress repository.


WordPress Survey & Poll
If you are on a budget, you will be glad to know that WordPress Survey & Poll is a free plugin, like all the above ones, but it also gives you the ability to show poll results in a nice animated graphical interface. The fact that it supports animation at a free price tag is enough to have many people download the plugin.
You get over thirty animations to use, with complete control over the survey regarding content, look and feel. The plugin makes use of shortcodes which you can then use to embed your created surveys onto any page or post on your website.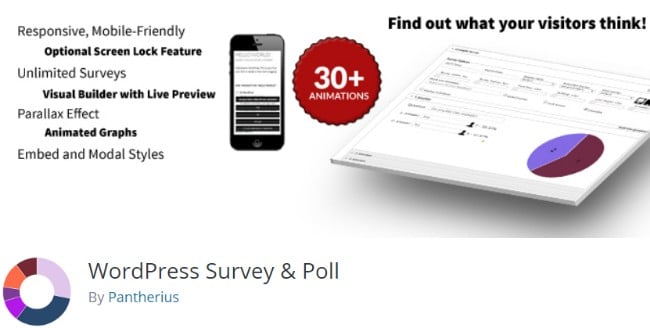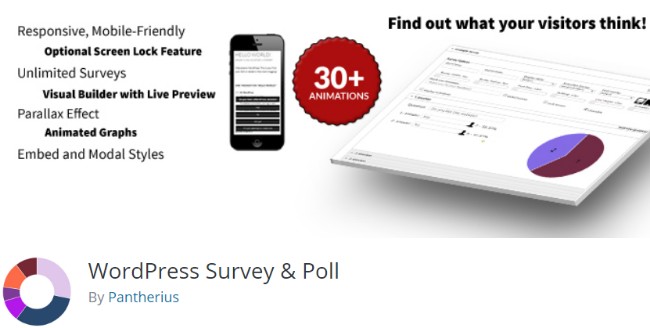 Total Poll Pro
Total Poll Pro is the first premium WordPress poll plugin on this list. It sets a high standard for the user experience it brings to the table. The main reason for its popularity lies in its amazing features and rich customization options.
With the plugin, you get access to a plethora of features such as poll preview preset, pagination, shortcode support, extensibility, private results, captcha inclusion, anti-cheating layers, logs, RT support, widgets, and plenty more choices. No top of all this, it is also responsive, and SEO optimized.
Altogether it is a wonderful bundle of features that will prove to be an asset to your site.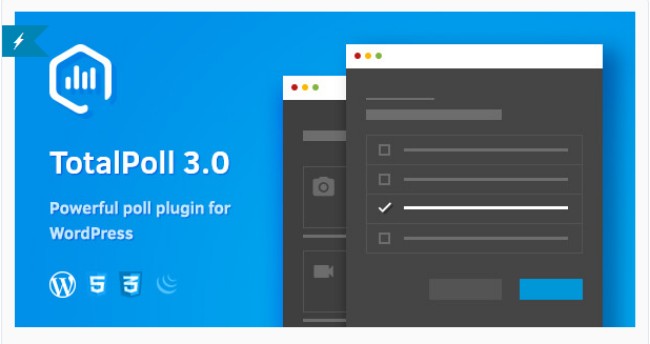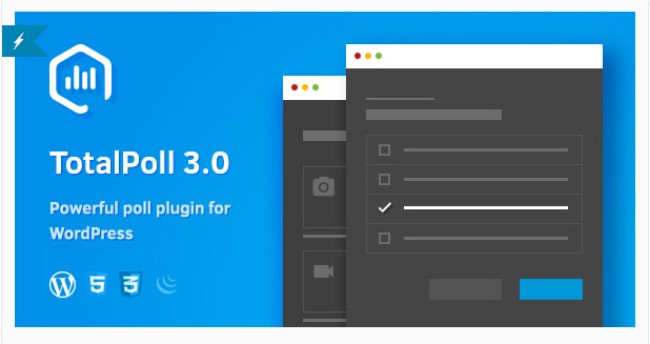 WP Foto Vote
WP Foto Vote is a plugin exclusively created for image-based websites for photo rating on image contests and shows. It has all the necessary features of this particular niche, but you can use these features for other voting or polling situations.
You get access to a huge array of styles, a form builder, the ability to create an email list, multi-language support, social integration and much more.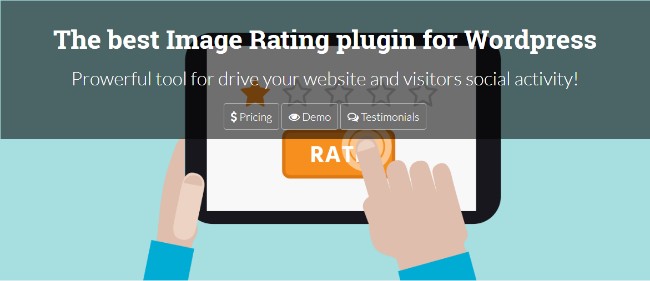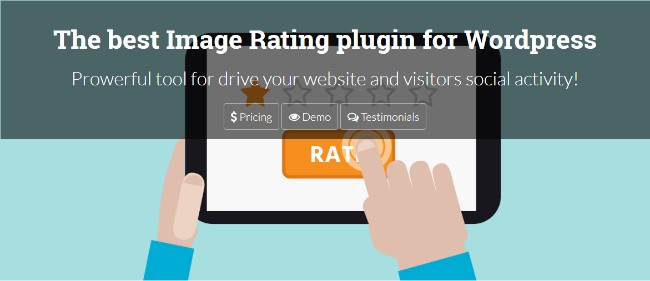 Dilemma WordPress plugin
Dilemma is a visual-heavy voting plugin for WordPress. Since the plugin focuses on providing a visuals-centric voting environment, the key aspect would be the design and aesthetics that the plugin has nailed.
Everything looks extremely modern and beautiful. However, it is very simple to operate and manage.
You have customization freedom to have users voting for hugs or kisses, love or money, football or rugby and so on.


Quiz And Survey Master
A custom WordPress plugin to create high-quality quizzes and surveys on your site. With this plugin, you can create multiple different types of surveys such as multiple choice, true and false, open answer and many other types.
Another important feature is the email update after the completion of the survey. You can set the result email to the admin and users.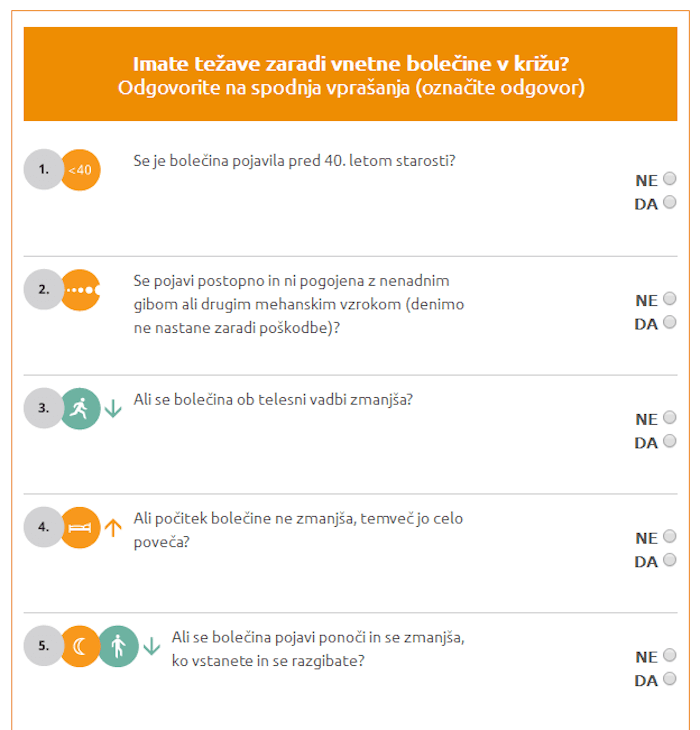 Advanced Polls for WordPress
Now, this is the last plugin that we are going to be discussing here. Advanced Polls offers all the necessary features that will help you to create and manage polls effectively, and that's it.
There are no gimmicky features, nor are there any bloating tools, it consists of only what is necessary and effective.
You can use it to show polls in posts, pages, and widgets in WordPress. It has a lot of customization features to help you make it more accustomed to the design style you have going to your site.
For example, you get eight gorgeous themes and the ability to change the color of text and other poll elements.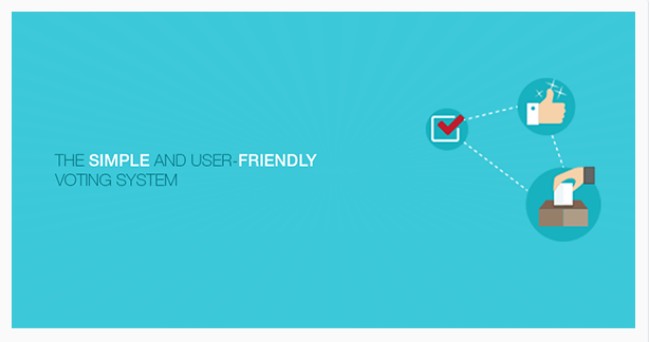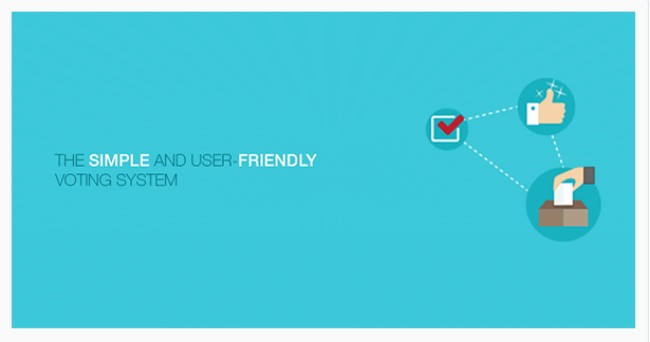 Social Polls by Wedgies.com
Create good-looking, simple polls on your site using this amazing plugin. You can insert embed the polls on your site with ease.
Online polls are considered one of the top engaging content types on the internet. You can use the Wedgies.com platform to create stunning polls to make the best out of your audience.
The platform offers you a comprehensive dashboard where you can check the performance of your site as well as get the details of the participants.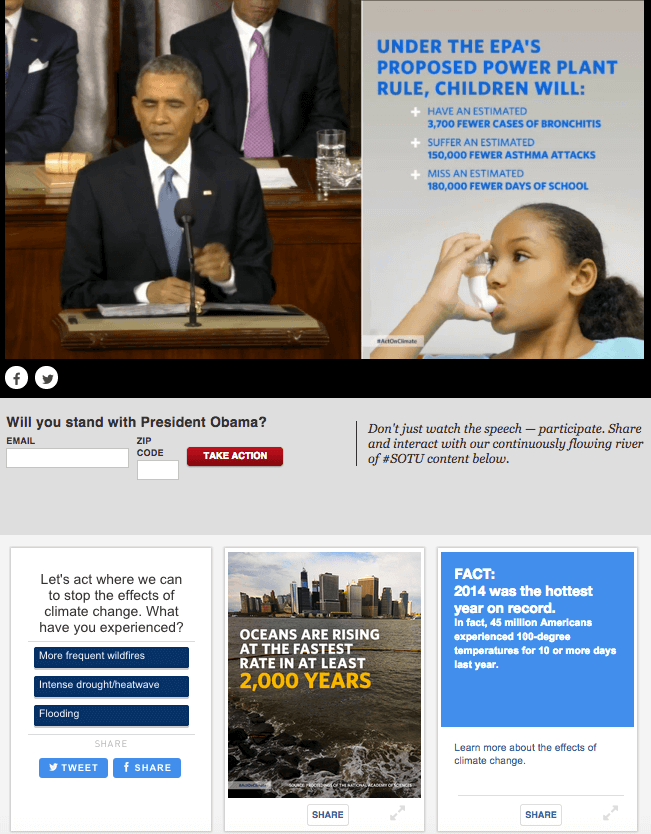 Final Word
These are some of the best WordPress poll & survey plugins that you can use to engage your visitors with amazing online surveys, and increase your social followers, traffic and the overall authority of your site.