Are you looking for the best learning management WordPress plugins to start your online course business? If yes, we have listed the top options in this article.
With the exponential growth in global internet and digitization, practically everything is available online. The last few years have witnessed a massive transfiguration in the educational industry too.
Online courses have come into the picture and are embraced by people belonging to all age groups and technical/non-technical backgrounds.
From learning how to cook certain cuisines to embroidery to setting up a business to app development, online courses are the go-to.
If you are looking forward to building your own courses and share your knowledge with the world, you can conveniently choose from some popular WordPress LMS Plugins.
1. LearnDash
LearnDash claims to be "The #1 choice for Fortune 500 companies, major universities, training organizations, and entrepreneurs worldwide for creating (and selling) their online courses."
And rightly so, because some of the top brands such as InfusionSoft, University of Michigan, University of Florida, ProBlogger, WP Elevation, and Digital Marketer use LearnDash for their online learning programs.
The distinguishing features of LearnDash are an extensive user dashboard, a gradebook, advanced quizzing, LearnDash Focus mode, flexible prerequisites, dynamic forums, course points, and certificates and badges.
Monetizing your course through LearnDash offers various options such as a one-time purchase, a subscription plan, memberships, shopping carts, and course licenses.
With LearnDash, you also have greater control of your learners through email notifications, user profiles, detailed reporting, assignment management and the expiration of access.
This mobile compatible plugin is available in a price range of $159-$329 pertaining to different packages.
Don't forget to check our review of LearnDash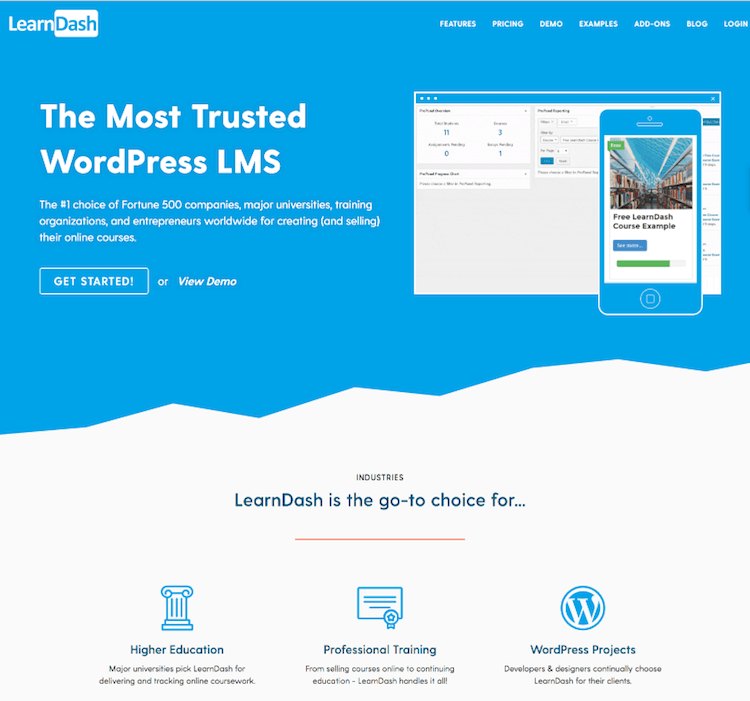 2. LifterLMS
LifterLMS is another WordPress LMS plugin that comes with some unique integrations with MailChimp, PayPal, Authorize.net, AffiliateWP and more.
The salient attributes of LifterLMS are- course builder, course tracks, prerequisites, multimedia lessons, drip content, quiz timer, assignments, lesson downloads, discussion panels, course reviews and multi-instructor platform.
The different monetization methods offered by LifterLMS are one-time payments, subscription plans, credit card payments, PayPal, and memberships.
This plugin has an enhanced learner engagement through its features such as achievements and LifterLMS comes with a set of add-ons that can be bought to boost the learning platform in badges, private 1:1 coaching, certificates, social learning and personalized emailing and text messaging. terms of design, marketing and CRM, eCommerce, and affiliate management.
The individual add-on pricing for this plugin starts at $99, the universe bundle sells at $299, and the infinite bundle at $999.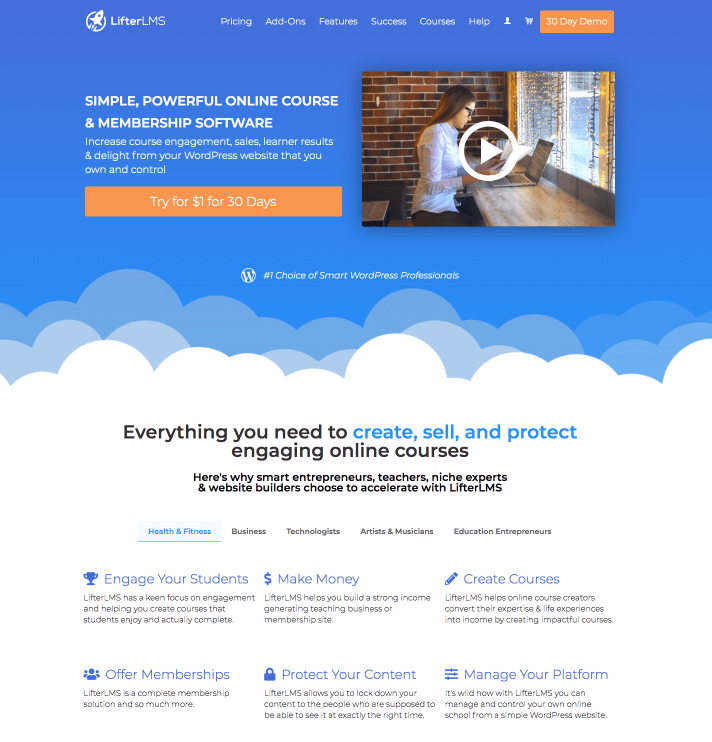 3. LearnPress
LearnPress is a powerful LMS plugin for WordPress. Contrary to other plugins, this one lets you do your own setup instead of coming with a setup wizard.
If you're a beginner and looking to explore your way around LMS then LearnPress is for you.
It has an integration with the WooCommerce plugin. So you can add payment methods to your website and even use a coupon system. It also supports PayPal, Stripe, Authorize.net and other payment gateways.
Certain remarkable add-ons are: wish lists, prerequisites, course reviews, content drip, assignments, and grading.
LearnPress can also be integrated with BuddyPress support, as a part of which you can communicate with your learners via the WordPress forum and engage on a better level.
This flexible and easy plugin is available for free!
Almost all the add-ons are free while some optional ones are available for $249 under the LearnPress Pro Bundle.
4. WP Courseware
WP Courseware is a comprehensive WordPress LMS plugin which comes with a drag and drop builder that makes your work hassle-free and easy to use.
This is a powerful plugin that has various features, combined with its advanced automation tools that take care of tasks such as sending personalized notifications and emails to learners.
Its quiz feature allows you to set timers, allow quiz retakes and set advanced level quizzes.
Other notable features of WP Courseware are drip content, grade books, course certificates, course protection, prerequisites, built-in shopping cart, memberships, WordPress theme integration, one-time payment, subscriptions, free courses, installment payments, and more.
WP Courseware has packages named Teacher, Professor, and Guru, priced at $149, $169 and $249 respectively.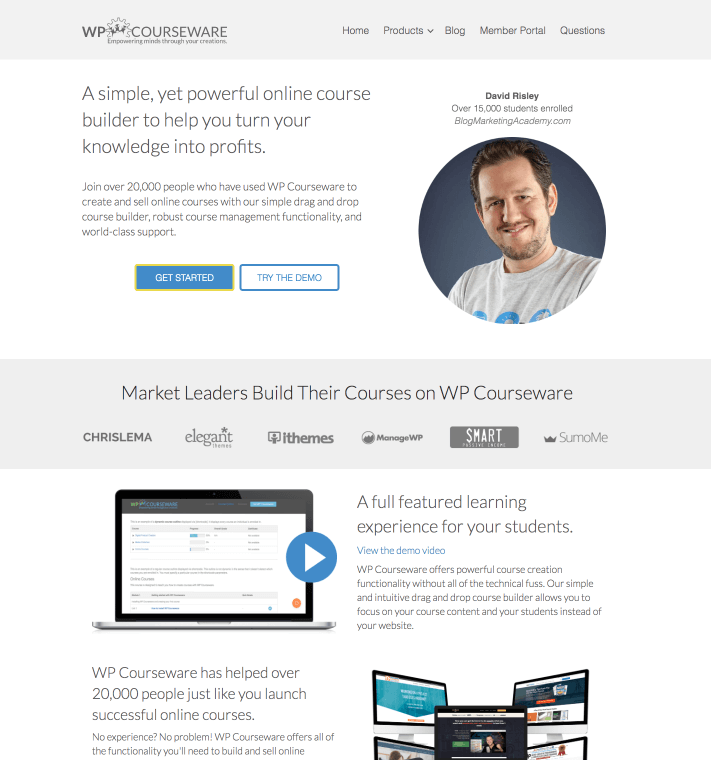 5. Sensei
Sensei is built by WooCommerce and is a premium LMS plugin compatible on WordPress for advanced learning systems. It comes as conjunction with other eCommerce plugins and is not a full-fledged plugin in itself.
Through Sensei, you can run quizzes, asses them using grading, offer badges and certificates and sell courses. However, the payment will be done through WooCommerce.
Sensei has a limited list of ass-on options as compared to other plugins, however, you can use some of the free or paid extensions such as course progress, drip content, course reviews and more.
This is a straightforward plugin and is available for prices starting from $129.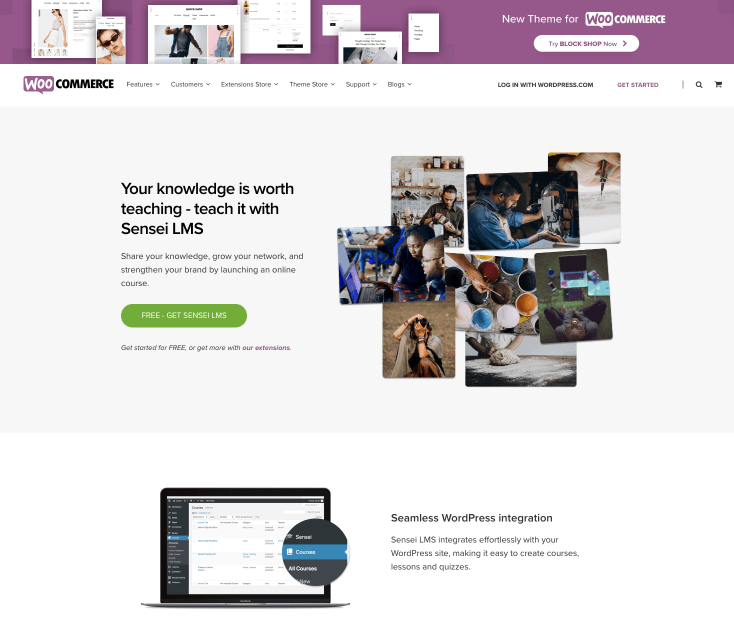 6. Namaste! LMS
Namaste! LMS is a free LMS plugin for WordPress, which also comes with a separate premium version with certain added features. The plugin is used by Adenform, EMT Academy at PERCOMCourses, International Academy of Photographic Arts.
Noteworthy features of Namaste! LMS are leaderboards, course management, student management, assignments, reviews and feedbacks, awards, certificates and badges, grade system, and progress bar.
Namaste! LMS supports payment gateways such as PayPal and Stripe and is integrated with Watu Quiz plugin. Namaste! PRO is available for a one-time payment of $47 as an upgrade to Namaste! LMS.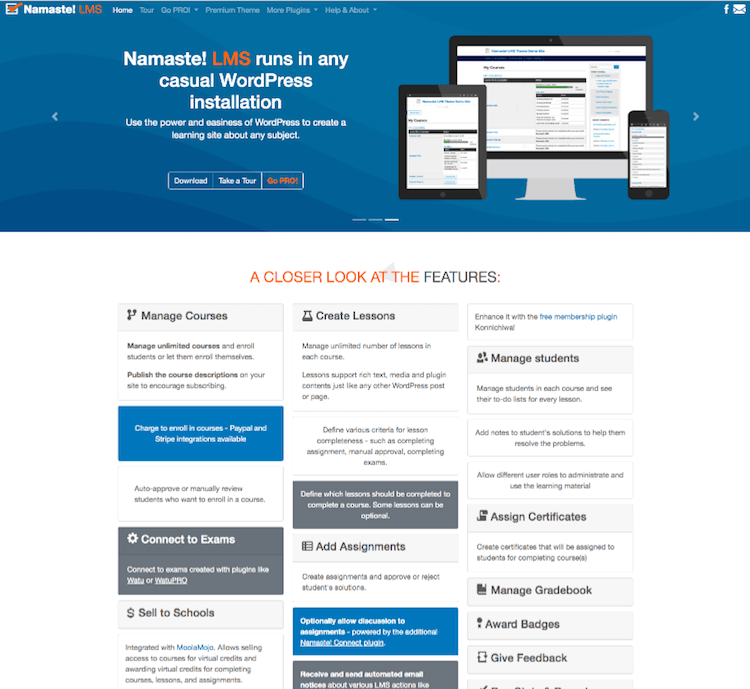 7. MasterStudy LMS
This is a combination of a theme and a plugin. MasterStudy LMS is created by StyleMixThemes and is a comparatively newer LMS plugin. It is an easily manageable and customizable learning management system plugin.
The key features of MasterStudy LMS are a private messaging system, teacher announcement, powerful admin panel, quizzes and results, quiz timer, course wishlist, certificates and variety of course content (videos, transcripts, and slideshows).
MasterStudy LMS is affiliated to Udemy, which means you can import courses from Udemy and earn a commission on each one. It supports PayPal and Stripe payment gateways.
MasterStudy LMS is free and compatible with any WordPress theme. However, MasterStudy Pro is a premium upgrade available for $69 and comes with added attributes such as 24/7 support and ready-to-use demos.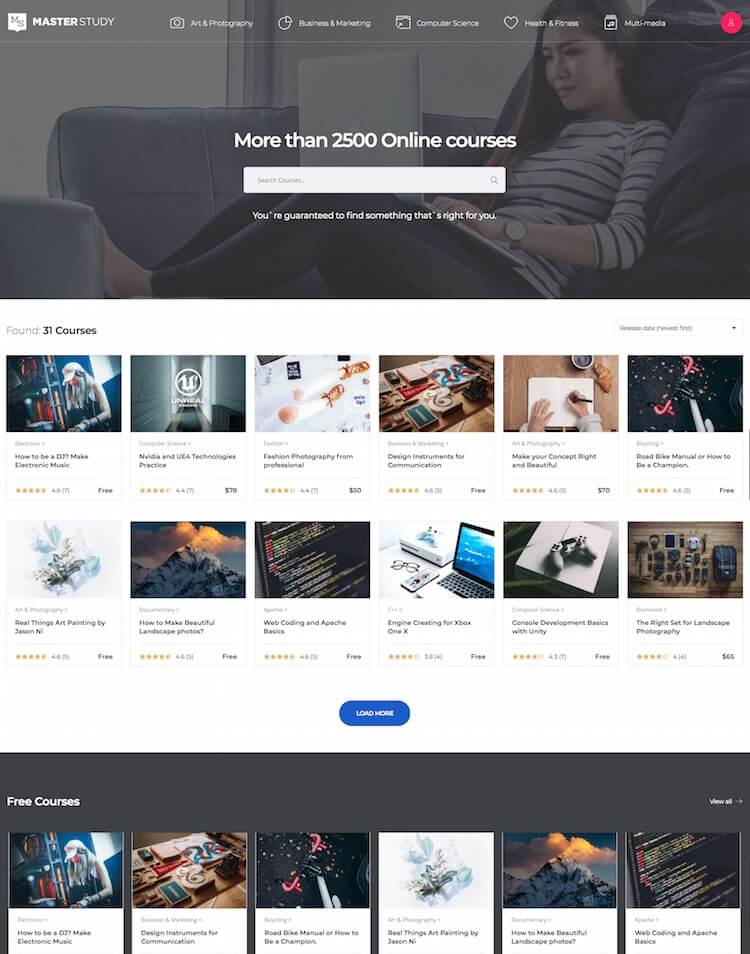 8. Good LMS
Good LMS is provided by CodeCanyon. It comes with many great features that make it suitable for building online courses and learning platforms. It allows you to create courses, quizzes, and certificates right from the WordPress dashboard.
Its features are course curriculum, coupon codes, subsections with sub quizzes, new process line, course certificate, student backend, badges, commission rates for instructors, course ratings, quiz retakes and more.
Good LMS is priced at $32 for a regular license, as a part of which you will be provided with 6-month support from GoodLayers and future updates.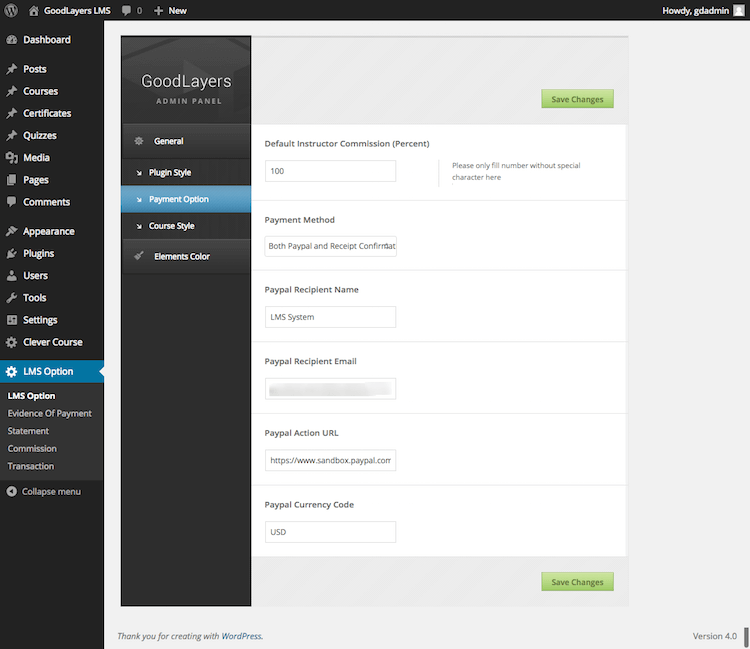 9. Tutor LMS
Tutor LMS is a robust and customizable WordPress LMS plugin that is packed with various features meeting your online course development needs.
Using Tutor, you can create user-interactive quizzes, course lessons, powerful and detailed reports, statistics, and certificates.
Additional features are email notifications, shopping carts, course review, and rating, define course duration, progress tracking, video lessons, front end dashboards, quiz timers and retakes and so much more.
Tutor is a completely free plugin while Tutor LMS Pro is available for $199 for 5 domain licenses.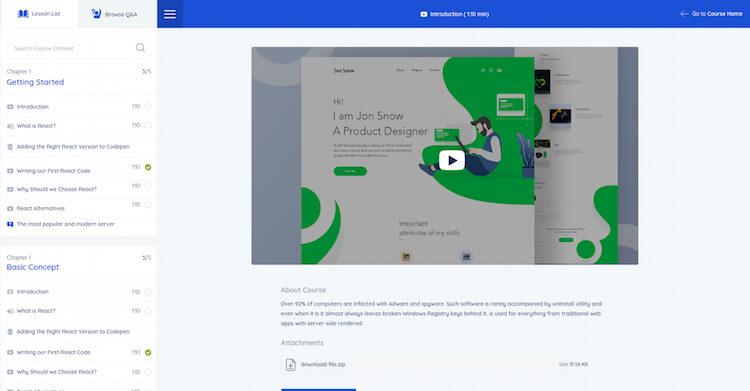 10. TeachPress LMS
TeachPress is another powerful LMS plugin that is compatible with BibTex publication management system. TeachPress supports languages such as English, German, Italian, Portuguese, Slovenian and Spanish.
This plugin is made suitable for professors. It also has an RSS feed for publications. It has a dynamic metadata system for students and course instructors.
TeachPress LMS is a free LMS plugin compatible with WordPress.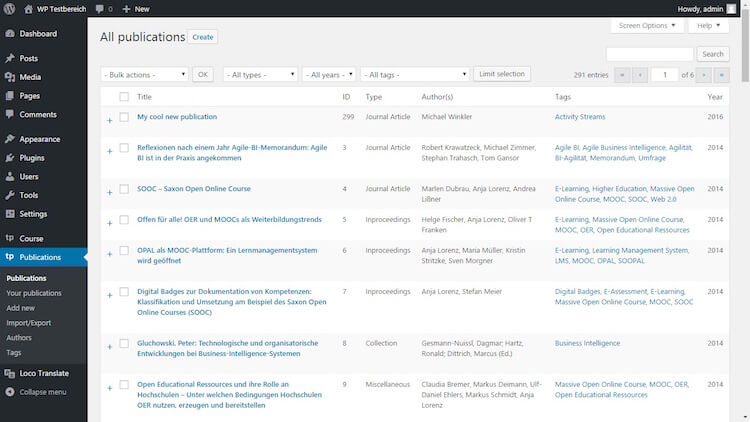 Final Word
So, this was the list of the best WordPress LMS plugins. All of these plugins are packed with some great features to help you create amazing courses and lessons on your website.
So, select the best LMS plugin as per your needs and requirements. And if you have any other LMS plugin in mind, do let us know in the comments sections below.
If you find this article helpful, don't forget to share it with your friends.
[kkstarratings]