Best anti-spam WordPress plugins that will help you to get rid of the Comment spam and other types of spamming that you need to face WordPress users on a daily basis. This is not an issue that you can avert and combat it is not a one-time task.
You need to keep a regular check on the activities on your blog and take necessary actions to keep your site free of spam.
If done manually, this important yet time-consuming task will take up a lot of your time which you can otherwise use on more productive tasks.
But there's no reason to worry; well not yet, anyway. WordPress offers plenty of options that can put your website's anti-spam into autopilot mode. This can be done either by using plugins or by altering the discussion settings in your WordPress Dashboard.
Make sure to protect your site by backing it up with the top WordPress backup plugins so that you are able to get your site back quickly in case of any unfortunate event.
In this blog, we explain how to implement both these methods and the best plugins that you can use. Read on to find how you can protect your blog from comment spam without spending a lot of time
Top Anti-Spam WordPress Plugins
Altering your WordPress Settings:
If the traffic and number of comments on your website are low, i.e. when you're starting off as a blogger; then this method will be enough to help you prevent spam on your website.
You can alter your WordPress settings to control spam under Settings>Discussions.
Here are a few methods to do this:
In your Default Article Settings, uncheck trackbacks and pingbacks. This will save you from more than 50% of spam comments. Just enable the option of allowing people to post comments on your articles.

Another great way to keep track of comments on your blog is by activating e-mail notifications whenever anyone comments on your blog. You can check both options available under "Email me whenever" settings and WordPress will notify you whenever a new comment appears.


WordPress offers plenty of features to keep your blog safe and healthy, but the above-mentioned technique is only viable if your blog has a low number of visitors and comments.
But with time, the number of visitors increases resulting in an increase in the number of spam comments as well.
But who doesn't want more traffic? And don't worry, WordPress plugins have you covered. The websites with a large number of visitors may receive as many as 100-500 spam comments per day. In such a scenario, using an anti-spam plugin is the best way to keep your website safe.
Here is a list of best Anti Spam WordPress plugins to keep your website spam-free:
Akismet
Akismet is currently regarded as a top anti-spam plugin for WordPress which provides premier level protection for your WordPress site. The plugin installs and activates spam protection with the help of an API key.
All comments posted on the website are uploaded to Akismet servers after which, genuine comments are published on the website and spam comments are sent to the spam folder.
Akismet is compatible with jetpack and contact form 7. Further, it also enables the user to view the spam comments' status and history.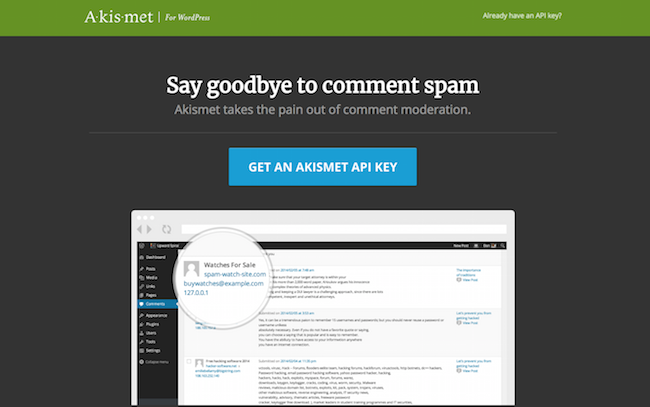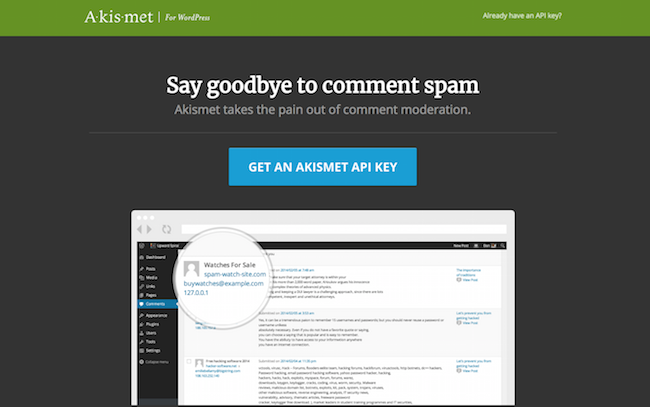 Clean Talk
Clean talk is an effective cloud-based anti-spam plugin that blocks spam content quickly without any hassles. Firstly it uploads the comments to its cloud servers, where the comments are subjected to various validation tests.
The test includes verification of the submitted comments, blacklisted HTTP links, disabled java scripts, etc. The comments which go through the validation tests are allowed to be posted and other comments are sent to the spam row. Quite neat!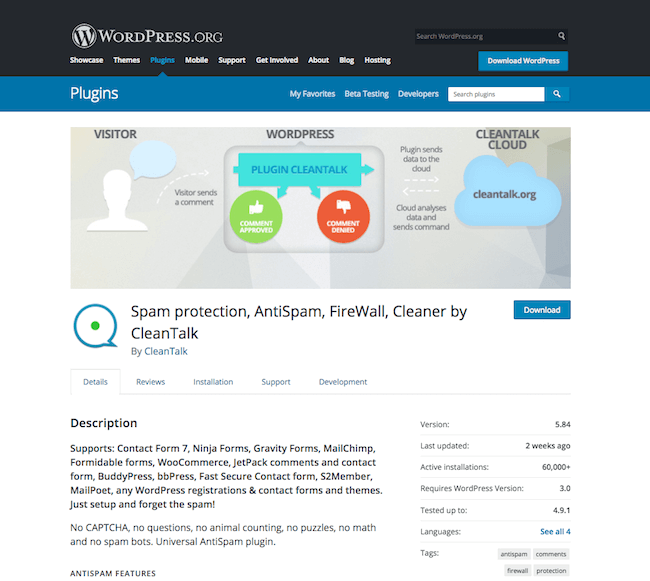 Spam Destroyer
Spam destroyer is an effective plugin particularly designed for low-traffic blogs and websites. It stops mechanical spam without blocking the commenter's profile. And it is so inconspicuous that it is not even visible to readers!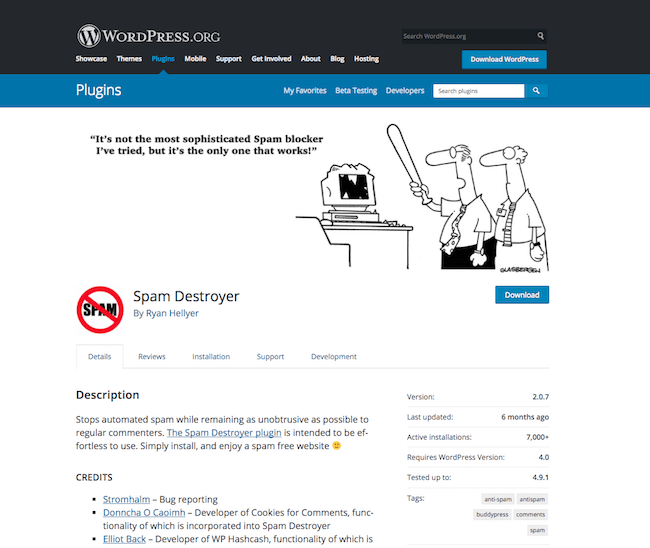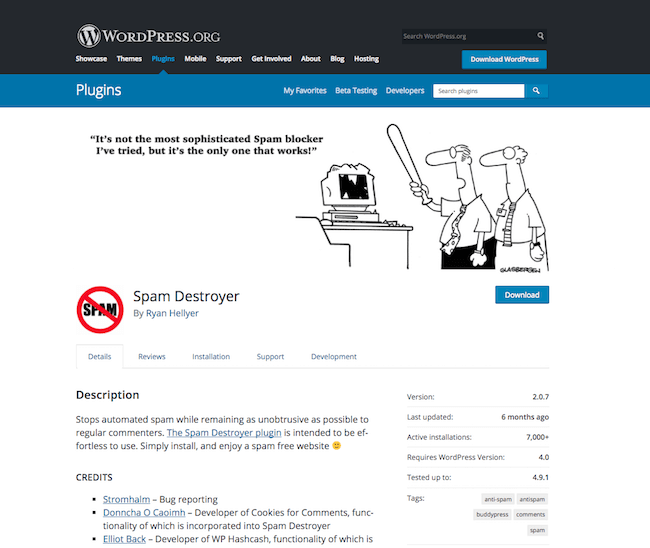 BulletProof Security
Another very popular anti-spam WordPress plugin, BulletProof Security is used by over 60k sites. This single plugin can add a number of protective lines around your site.
It can scan the malware on your site and protect it from any kind of damage. It can work as login security, DB backup, and more.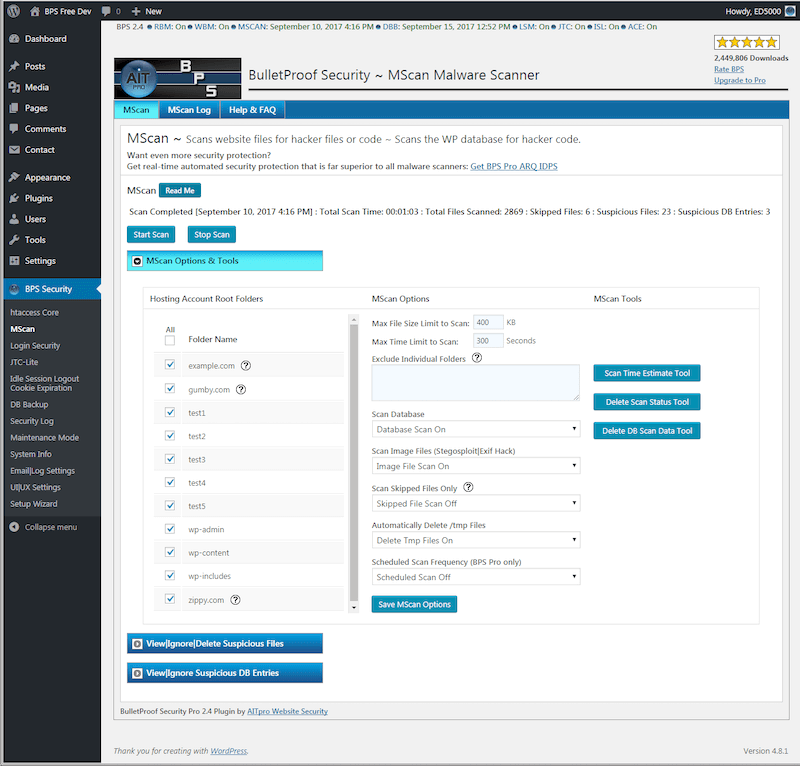 Cerber
Cerber is an anti-spam and security WordPress plugin that will help your site to fight hackers and malware.
It is very important for every site to have a defense line to protect it from the bad guys, this plugin will help you to have that shield around your site.
It monitors your entire site and tracks all the login attempts on your site to make sure that no unwanted person enters your site.
It can protect your site by restricting access based on IP. It will automatically detect and send the spam comments to spam.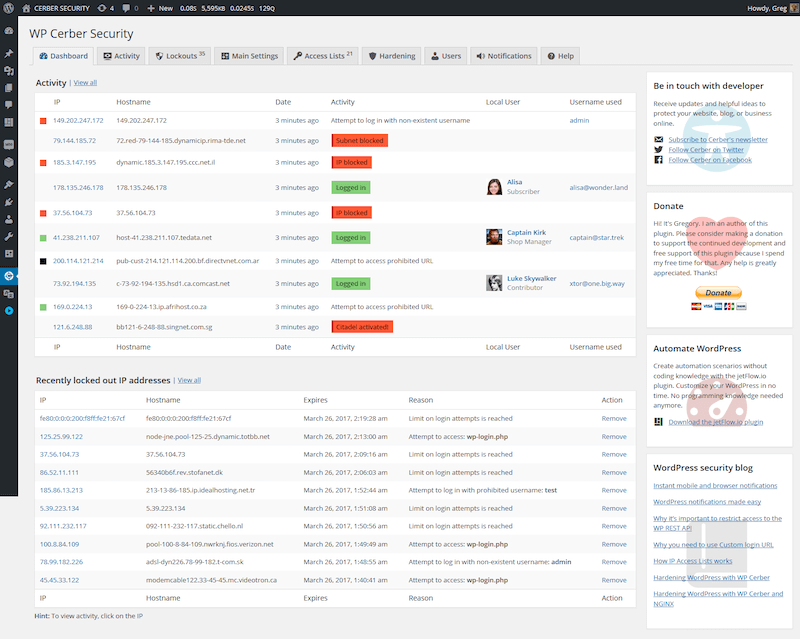 WordPress Zero Spam
WordPress Zero Spam utilizes server and javascript keys from the website to stop spamming. It doesn't let the comments be published unless JavaScript is enabled.
Word press zero spam was developed by David Walsh, a developer at Mozilla. The plugin requires no additional efforts for the purpose of spam checking and is being widely used by both individual and commercial users.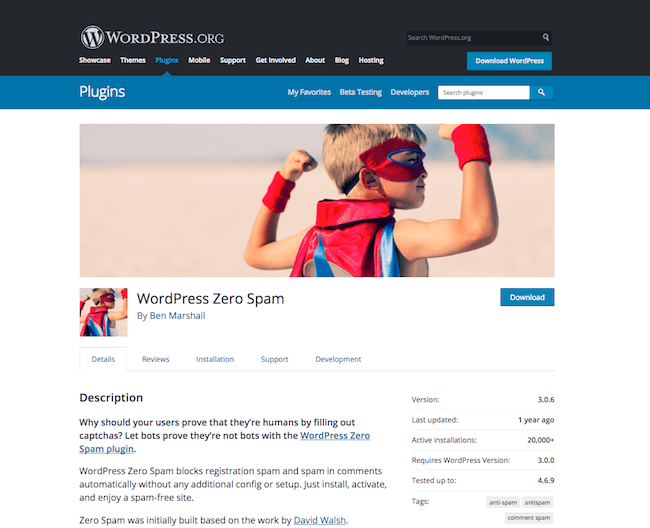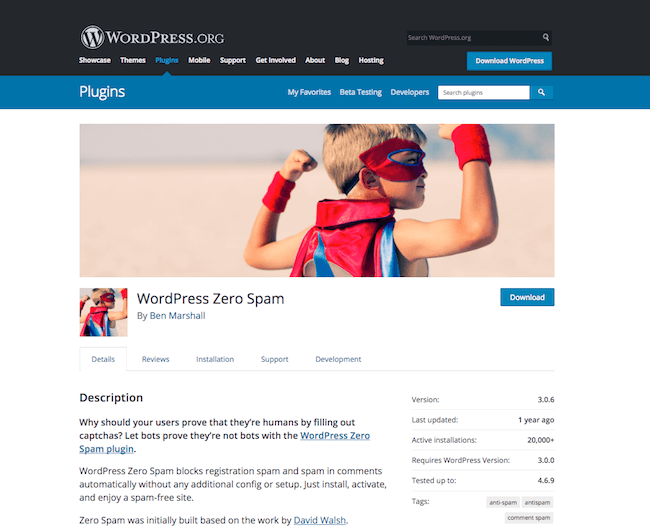 Goodbye Captcha
Goodbye Captcha is a plugin compatible with the jetpack, plan SO, Postmatic, MailChimp, and epoch. The plugin can be used to get rid of spam comments, spam attacks, and spam signups and prevents any suspicious comments to be published on the blog.
It is a powerful plugin that can keep your website safe from suspicious login attempts too and literally, makes your blog say "Goodbye" to any spamming activity.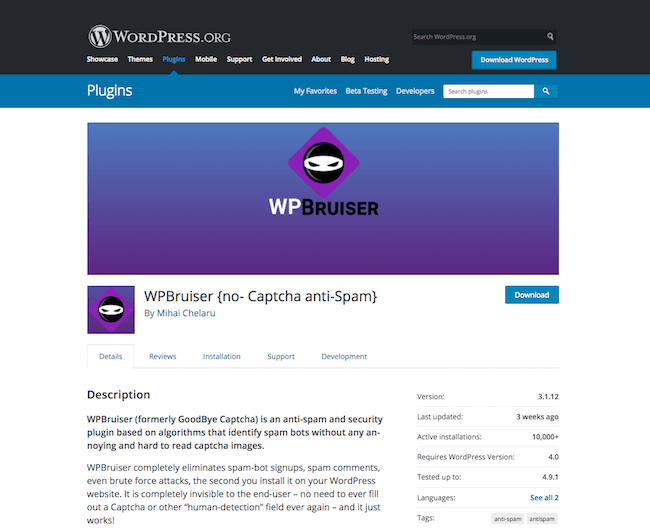 Spam Master
Spam Master is another anti-spam WordPress plugin to safeguard your site against common comment spam.
The plugin checks emails, domains, ip's and words to make sure that your site is free of spam. There are millions of people, machines that are sending spam every single day, it is your duty to make your site safe and keep those people far from your setup.
This plugin will constantly work on the background of your site, also keep learning automatically to offer you maximum protection.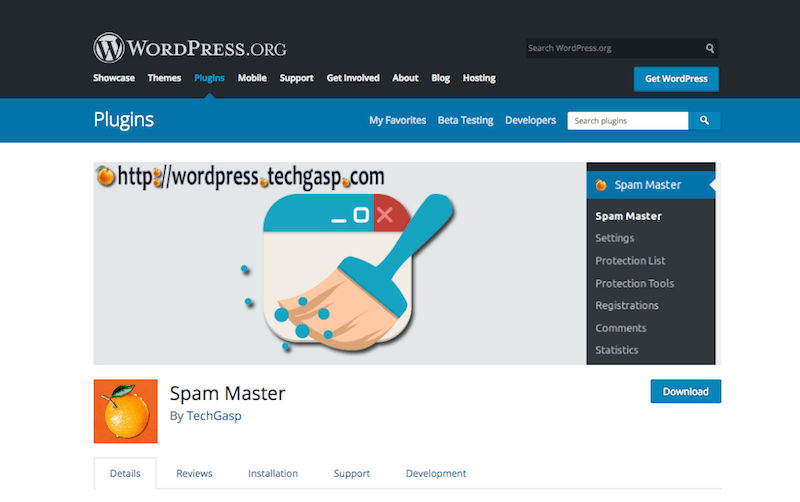 Stop Spammers Spam Prevention
Stop Spammers can be used to limit login attempts along with preventing the posting of spam comments on WordPress websites. It has more than 20 step checks to sense spam comments and other nasty actions on your blog.
When the plugin identifies a suspicious login attempt or comment, it takes the user to a requested page for another attempt to login.
The users have to go through a captcha screen in order to avoid the possibility of any spamming. Currently, Stop Spammers checks spam through a variety of captchas viz. solve media captcha, Google ReCaptcha, and open captcha.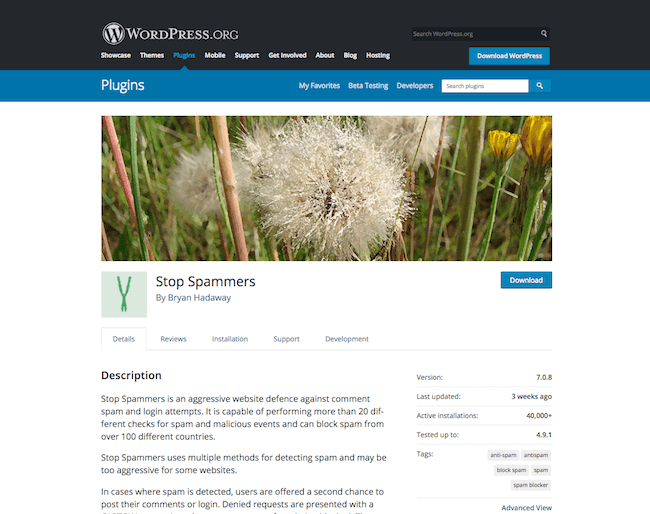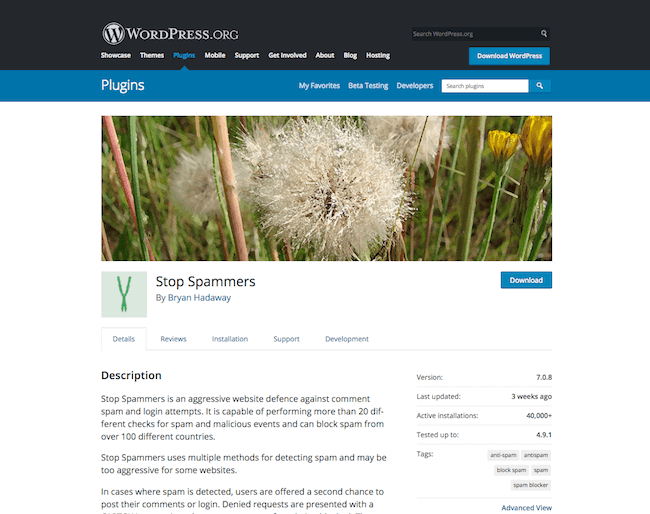 Antispam Bee
Antispam Bee is a free comment spam protection option that you can use on your WordPress site. It's a GDPR compliant plugin.
This plugin will block the comment spam without any Captcha or without the intervention of any third-party tools.
This plugin can block comments from a specific IP address. It can allow comments only in a certain language which is a very useful feature as there are WordPress sites in multiple different languages these days.
It can delete the comments marked as spam in a specific number of days. It can approve the comments if the user already has an approved comment on your site.
So, overall it's a great plugin that will take care of all the required spam protection for your comments. And it can do most of the tasks on autopilot.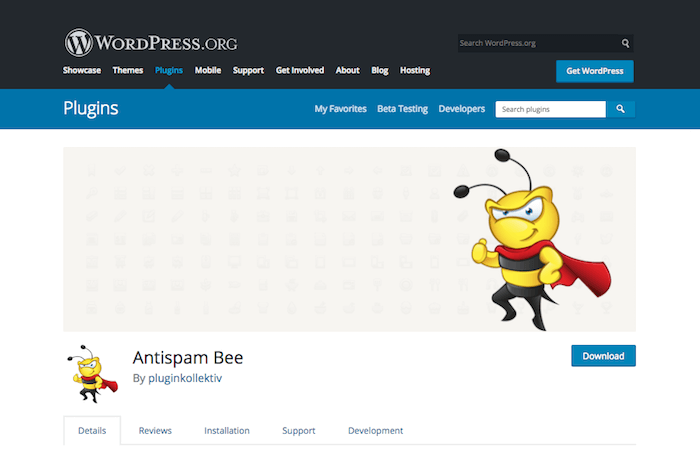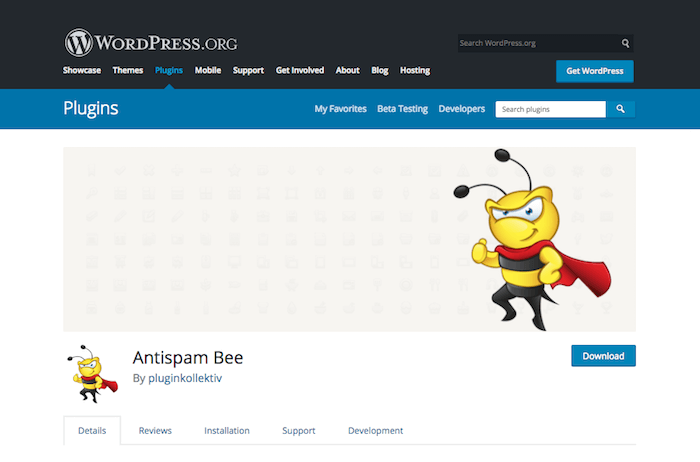 Stop Comments
Stop Spam Comments is a simple JavaScript-based spam comment blocker for WordPress. This highly compatible plugin gets activated without any hassle and protects your blog from any malicious spam attacks.
The nice part about this plugin is that it doesn't add captchas, questions, or other interactions for users to check spam and provides a user-friendly spam protection procedure.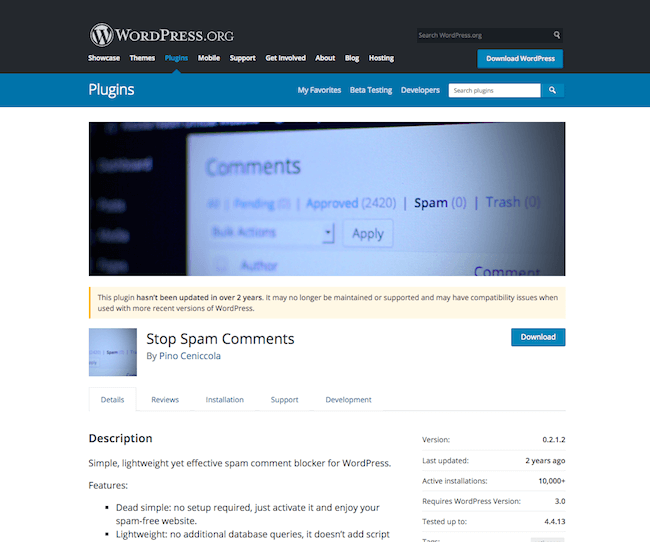 Just like your body needs to be regularly checked for viruses, your blog needs to have regular protection against spam comments and other malicious attacks.
Have you ever used any of the above plugins to protect your blog? Tell us about your experience in the comments below!
FAQs About Anti-Spam Plugins
01. What is an anti-spam plugin?
An anti-spam plugin helps your WordPress site to protect itself from any kind of comment spam, malware, or other kinds of spam attacks.
02. Which is the best anti-spam plugin?
Akismet is a very popular anti-spam plugin for WordPress to protect your site from all kinds of comment spam. There are a number of other good-quality plugins such as BulletProof Security, Clean Talk, and more.
03. Is it mandatory to use an anti-spam plugin?
No, it is not mandatory to use an anti-spam plugin on your WordPress site. However, it can surely offer you peace of mind by protecting your business 24×7. You can also make sure what kind of security and backup option is offered by your hosting provider.
04. Should I use a third-party comment option like Disqus?
It entirely depends on you. You can certainly use a third-party collect platform like Disqus to protect your comments from spammers. However, all the comment platform has their own pros and cons.