If you are looking for the best learning management software, we have listed the top options that you can try in this article.
Learning management system software or LMS is a software system that is used to organize e-learning courses and training. The learning management system (LMS) will help in managing the learners, courses, curriculum, assessments, and other related tasks.
It helps in creating courses, delivering content to learners, and tracking their progress. Once you use a good LMS system, you will have all the important features really built-in so that you don't have to build anything from the scratch.
The LMS software has been around for many years now and has undergone a lot of changes over time due to increasing demands from organizations that use them for their training needs.
Let's have a look at the top options that you can try.
What are the top LMS software?
Here's a list of top LMS (Learning Management System) software that you can use to create your online courses.
01

. LearnDash

If you are looking for a simple, easy-to-use, and SEO-friendly LMS solution, you can have a look at LearnDash.

It is an LMS software that integrates with the WordPress CMS and offers you all the features and options that you may need to create and optimize your eLearning website.

When you look at LearnDash, you get two options to choose from.
WordPress Plugin
LearnDash cloud site
If you have a ready WordPress site or you are planning to create one, you can use the LearnDash plugin to create your learning portal on the site. You can install the plugin to get all the LMS-related features.
The cloud option is a completely hosted solution by LearnDash, which means you don't need to go for a separate hosting option. Everything will be taken care of by LearnDash while you will get the power of WordPress and use all other important plugins.
Top Features
Simple and easy to use
Advantage of WordPress features
Create lessons, quizzes, assignments
Create and sell courses
Multiple payment gateways
02

. Thinkific

Thinkific is designed to create, manage, market, and sell online courses. Thinkific is suitable for:
Video Lessons
Text lessons
Quiz lessons
Survey lessons
You can convert all these courses into a downloadable format for the students for easy accessibility.
Thinkific supports a course builder that supports plenty of templates, which are editable with the drag and drop editing.
Other impressive features that make Thinkific one of the best LMS software are self-paced and scheduled classes, live lessons, and multimedia lessons. Additionally, it supports numerous features like white-labeled environments, Plus API, and bulk sales to grow your business.
Top Features
Easy to use
Customizable learning experience
Drag and drop page builder for landing page
Support for unlimited students
100% ownership of content
Pricing
Thinkific supports the following five plans: Free ($0/month), Start ($74/month), Grow ($149/month), Expand ($374/month) and Plus. To know the pricing details of the Thinkific Plus plan, you need to fill out and submit a form on the official website.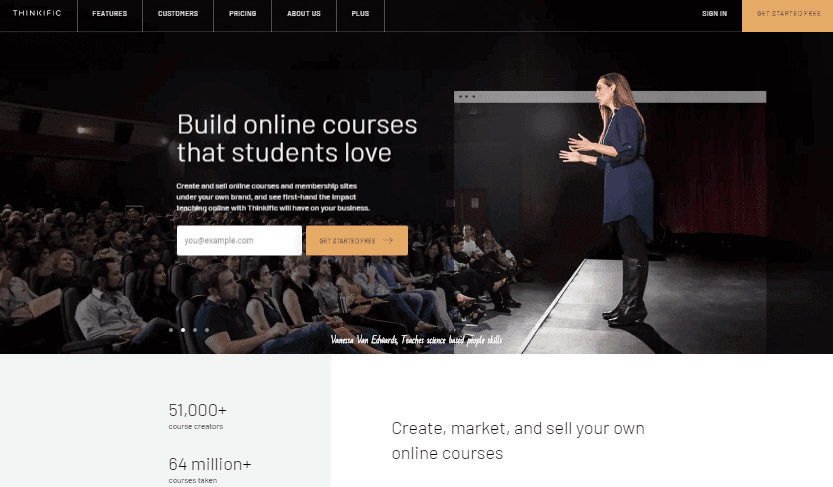 03

. Absorb LMS

If you are looking forward to a scalable LMS solution for your customers, then Absorb LMS is the perfect option. This LMS's sole focus on learning is what makes it an ideal unparalleled software. 

The intelligent administration of Absorb LMS enables you to manage both learning and development programs quickly. Also, you can use it to create digestible content for all devices to keep the users engaged.

You get a configurable report from Absorb LMS, which can help you to make data-driven decisions. On top of it, the eCommerce feature of the LMS allows you to sell and manage online courses and webinars. 

The personalized learning of Absorb LMS provides a customized experience to different users. Furthermore, you can increase the efficiency with the help of the Artificial Intelligence of the LMS.
Top Features
Content library for pre-built courses
Mobile app
Personalized learning experience
Configurable reporting and analytics
Automation for admin scalability
Pricing
Absorb LMS does not support any standard subscription plan. You need to fill in the relevant information on the website to get pricing for your requirements.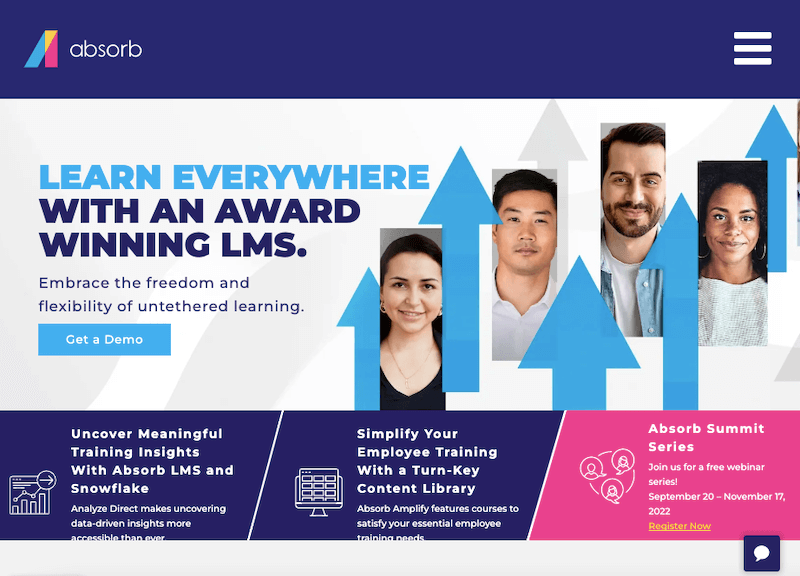 04

. Canvas by Instructure

Based on the cloud, Canvas is one of the widely used LMS. The platform is specially designed to meet the requirements of higher-ed learning. You can use it to create a digital learning hub for teachers and students.

Canvas supports the following forms of learning:
In-person
Online
Blended learning
It is also a great LMS for grading the scores of the students. The teachers can use the LMS to provide the students with targeted feedback. Additionally, you can use it to create actionable reports to monitor the student's progress.
Canvas is a cloud-based platform; therefore, it has no downtime, even during updates. It provides instant connection as soon as you log in to the platform.
Top Features
Support for broad learning forms
Data and insights
Industry-leading mobile app
99.9% uptime
Support for unlimited file size
Pricing
Canvas supports both a free plan and a trial. The pricing of the platform is not available on the official website.
05

. Docebo

Docebo is a cloud-based enterprise LMS trusted by more than 1,600 companies, including Walmart and Thomson Reuters.

Docebo is a complete solution to create, sell and deliver online courses to students. The platform supports a user-friendly interface that makes it easier for your customers to run through the content catalog.

You can further extend the functionality of Docebo with the help of third-party integration like Asana, Zendesk, Salesforce, and Shopify.

A noteworthy feature of Docebo is its gamification feature that helps boost learner engagement. Lastly, it supports social learning too.
Top Features
Neat user experience
Integration with business systems
Multi-language support
Support for different content forms
Social learning potential
Pricing
Docebo does not support transparent pricing. The pricing of its service depends upon your requirement. To know the pricing of the enterprise plan, you need to contact a Docebo expert.
06

. Coassemble

Coassemble is a scalable cloud-based LMS to accommodate organizations' training and learning needs.

One of the key benefits of using Coassemble is that it supports a library of customizable templates. You are free to customize the templates simply by drag-and-drop to create interactive learning and training courses.

Coassemble is the perfect solution for businesses that are trying an online training platform for the first time and want to create high-quality content for their employees.
Top Features
Intuitive and flexible interface
Variety of quiz and learning templates
Fully-editable templates
Dynamic modules
Advanced reporting tools
Pricing
The pricing of Coassemble starts at $50/month for its Pro 10 plan. The pricing of Coassemble depends upon the number of users. For 20 users, the Pro 20 plan will cost $120/month, and the Premium 20 plan is priced at $160/month.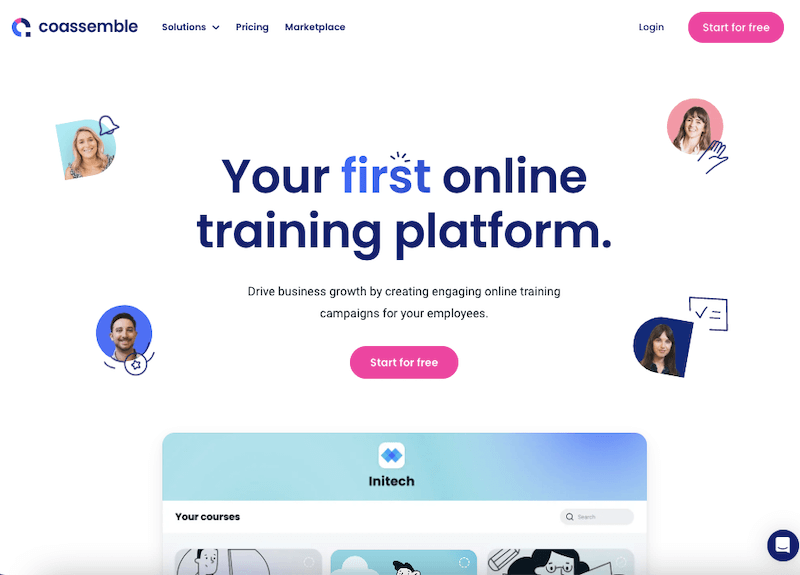 07

. Xperiencify

Xperiencify is a fully gamified online course platform. With Xperiencify, it is possible to create a hyper-engaging experience for the students, which helps them complete their course faster.

Xperiencify supports the gamification feature with the following seven triggers:
Points
Variable rewards
Urgency and FOMO
Social proof
Community
Celebrations
Personalization
Xperiencify supports unlimited courses and students. An Experience Engine powers the platform to give unique experiences to students through automation.
Additional features of Xperiencify include video tools, CRM, content drip, community and page builder.
Top Features
Support for gamification
Monitors course activity
Chats support
Supports all languages
Combats course abandonment.
Pricing
Xperiencify supports the following three premium plans: Launch ($42/month), Growth ($125/month) and Enterprise (starts at $500/month).
08

. iSpring Learn

It is a training platform that goes much beyond the basic LMS service. iSpring Learn supports multiple training scenarios like:
Onboarding
Product Training
Sales training
Channel training
Compliance training
Certification
iSpring Learn supports a powerful dashboard that you can use to automate tracking. If you want the details of the learner's performance, you can go for the granular report.
Other notable features of iSpring Learn includes offline viewing for the learners and gamification to enhance the learning process.
Top Features
Unlimited storage space
Detailed viewing steps
Unlimited administrators
Training portal customization
White labeling for the LMS
Pricing
iSpring Learn supports different plans for businesses, freelancers, and academics. We will focus on the business plan of iSpring Learn. The iSpring Suite starts at $770 per author/year.
The pricing of iSpring Suite Max starts at $970 per author/year. Please note that the pricing changes with the number of authors and users.
09

. Talent LMS

The USP of Talent LMS is undoubtedly its intuitive interface that gives the users a wonderful experience. The users access the content of Talent LMS from any device, anywhere and anytime.

Getting started with Talent LMS is as easy as creating a new course with a few clicks. The second step involves adding users, and then, you are free to go live.

Talent LMS is another good option for your brand because you can personalize the learners' experience to match your brand's tone. Furthermore, you can go ahead to give them a homely feeling by localizing your content through the support of user languages.

You can use Talent LMS to support a wide variety of training like onboard training, compliance training, customer training, partner training and sales training.
Top Features
Content-friendly
Interactive courses with SCORM, xAPI and cmi5
Blended learning (online and offline learning)
Gamification support
White labeling
Pricing
Talent LMS has a free version that supports up to five users and ten courses. Additionally, it supports five premium plans: Starter ($69/month), Basic (149/month), Plus ($279/month), Premium (4459/month) and an enterprise plan for businesses that need support for more than 1000 users and unlimited branches.
10

. D2L Brightspace

If you want to unlock the learner's full potential, then you should definitely give D2L Brightspace a try. It is a perfect option to build courses for:
K-12
Higher Education
Corporate
Association
You can control the output of the learning experience via data and automated tasks, ultimately improving learner engagement. You can enhance the learner experience to the next level through its mastery-based and competency-based learning model.
You can improve the learner's engagement with various D2L Brightspace, like videos, gamification, and badges. D2L Brightspace also supports automated assessment and in-the-moment feedback
Top Features
Automated routine course management tasks
Build-in analytics
Personalized learning
Support for different feedback varieties
Modern interface
Pricing
You need to contact D2L Brightspace for the price quote for the required services.
11

. 360 Learning

360 Learning is known for its collaborative learning experience. The course creation time on the platform is just approximately 17 minutes. According to the reports from the official website, the course completion rate on their platform is 91% which is exceptionally high compared to other LMS platforms.

The LMS also supports course templates which help lay a quick foundation for creating different courses. The cheat sheet feature helps format the text documents of various courses.

You can also check the course understanding of the learner with different question types supported by the platform. A few of the question types that 360 Learning supports are:
True/False
Multiple choice
Pick-a-point
Fill-in-the-blank
Open-ended questions
Also, the videos you upload for the course can support automatic subtitles of 360 Learning. If required, you can also import your subtitles too.
It helps the author to create better courses with AI-powered features like content tagging and automated question generation.
Top Features
Manager and course dashboard
Decentralized administration
SCORM Compliance
Collaborative editing
Discussion Forum
Pricing
360 Learning supports two premium plans: Team ($8/ user/month), which supports up to 100 users in a month, and business to support more than 100+ users. To know the pricing of the Business plan, you need to request a demo on the official website.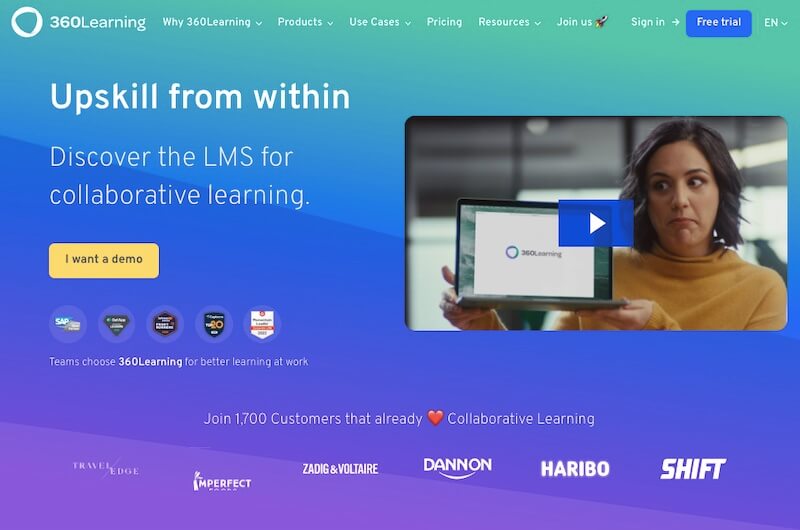 Q1. What is LMS?
LMS or Learning Management System is a software that offers all the features and options required to create an eLearning site.
Q2. Are LMS Software Free?
While some of the LMS software offers a free version, most of the software are paid options.
Q3. What Should I Look for In an LMS Software?
While you select your LMS software, you need to look at some of the important aspects such as the user interface, the features it offers, the pricing, etc.
Q4. Do I Need an LMS Software for Creating an Education Site?
It is not mandatory to use LMS software to create an Education site, it will surely be helpful to make your site user-friendly as well as create content in a more organized way.
Also don't miss the following articles.