Are you looking for the best audio player for your WordPress site? Well, we have listed the top WordPress audio player plugins that you can use on your site.
WordPress comes with built-in support to embed audio files, provided it is of a supported format. But still, this might not be enough if you are going for a website that primarily focuses on music.
Let's say you are creating a website for a band or musician. Then you want some more features and functionalities to present the songs/music to your listeners.
You might want to implement playlists, show lyrics, adjust volume, and so on. These options are not natively available but can be installed by using plugins.
For the purpose of this read, we will be looking at some of the best Audio Player plugins for WordPress. Not only will they help you add an audio player to your website, but it also increases compatibility with a wider-range of audio files.
If you are using the new Gutenberg editor, it comes with a default module to embed any audio file into your posts.
Also, don't miss our collection of best video player WordPress plugins that we published recently.
So without further ado, let's get started:
Speaker – Page to Speech Plugin for WordPress
You must have seen the speaker with an audio version of a page in many leading online publications and blogs to allow users to listen to the page instead of reading, this plugin can do the same for your pages on your WordPress site.
It is a great practice to have the audio version of any blog post because your users can listen to it while driving to their office. Everyone is busy these days, so you must provide all the options to consume your content in all different way possible.
The plugin gives you the option to add custom intro and outro for your audio pages to make it sound professional. You can also use these audio version to add to the podcast sharing sites brining you more traffic.
Features:
More than 235 voices to select from
Supports more than 40 different languages
Custom audio templates
Custom intro & outro
Includes addon for Elementor builder
Powered by Google Cloud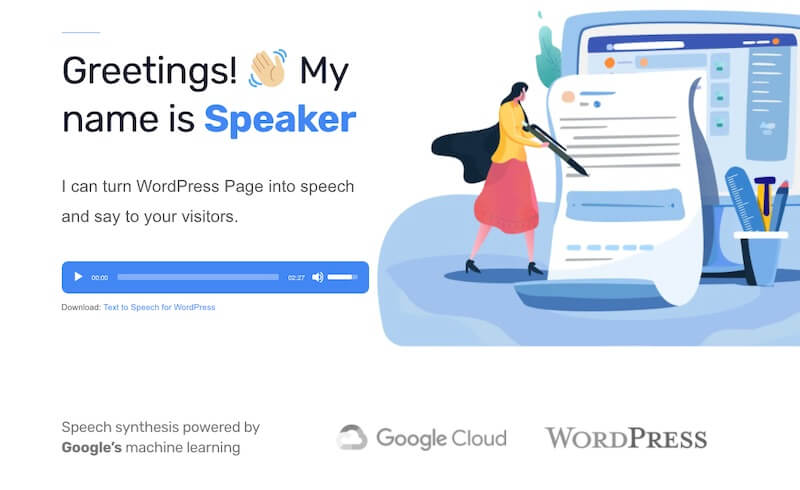 ZoomSounds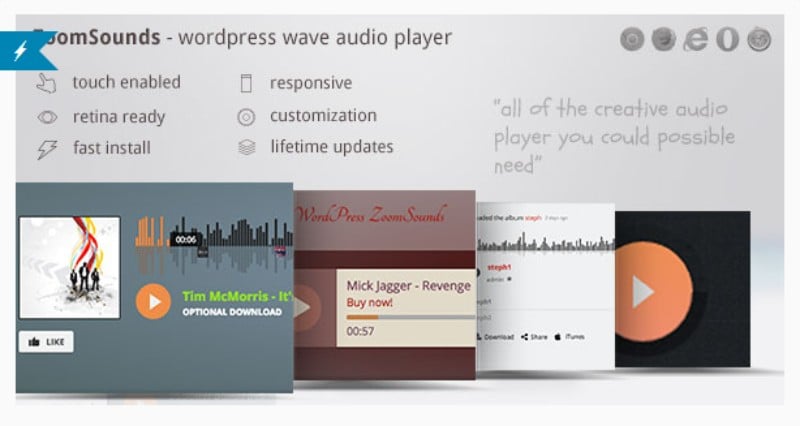 ZoomSounds WordPress plugin will help you install a responsive HTML5 audio player on your website. It is highly customizable, so you can tweak its look to suit your site's aesthetic and ambiance.
The plugin supports all types of self-hosted .mp3, .m4a, and .wav file formats so compatibility issues should rarely arise.
You even have the option to directly embed SoundCloud songs, but you will need to have an API key. Best of all, the plugin has shortcode support, meaning you can integrate it into any area on your website.
Features:
Eight different skins for customization.

Option-rich settings panel for added control.

It allows users to like and comment on audio tracks.

Option to create playlists.

WooCommerce integration.

Shortcode support.
Amazon Polly for WordPress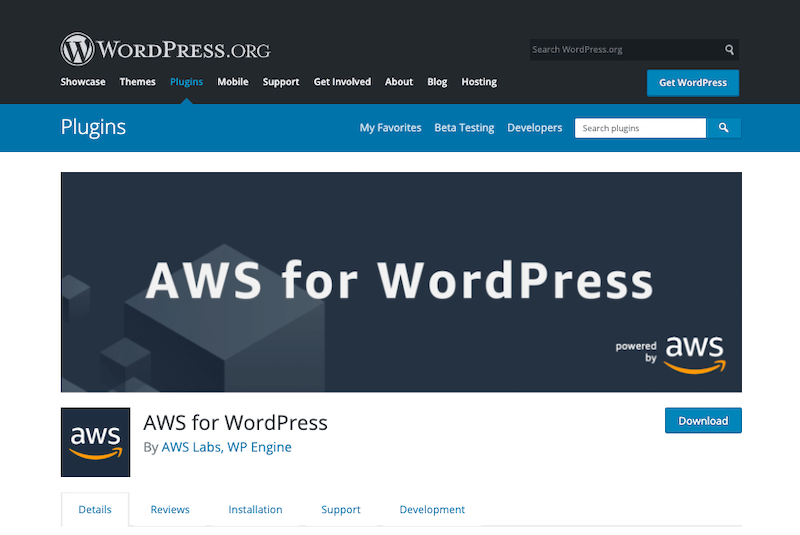 With time, how people consume your content has changed. These days, users like to watch a video or listen to an article rather than going through hundreds of words.
Many leading content websites have already started converting their articles to the audio version so that the users have the option to listen to the article on the go.
If you want to follow the big authority sites and convert your articles into audio versions, here is the option offered by Amazon to convert your article into audio.
Using this plugin, you can quickly convert your articles into audio versions. You can also translate your articles into other languages offering you the chance to reach out to a new audience base.
Features:
Trustworthy platform
Deep learning option to translate better
Natural speech option
Multiple packages
PowerPress Podcasting Plugin by Blubrry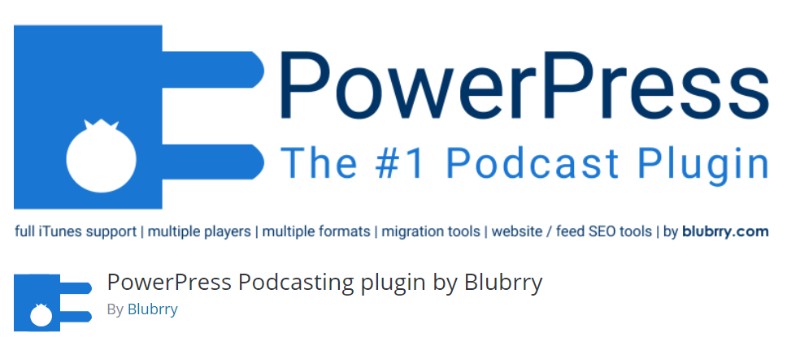 As you can already guess by the name, PowerPress Podcasting plugin will be helpful for people who like to post podcasts on their WordPress websites/blogs. In fact, if you are looking for an audio player for your online podcast, then this is the best plugin you can get. And the best part is, it is completely free to use.
In terms of audio playback, you will get access to three different audio players. This includes MediaElement.js, the native HTML5 audio player, and Blubrry's own media player. It also supports various audio formats including .mp3, .m4a, .oga, .opus, and so on.
Features:
Full support for Apple Podcast and Google Podcast.

Three different audio players – HTML5, MediaElement.js, and Blubrry Media Player.

Option to position player before or after content.

Subscribe tools to convert listeners into subscribers.

SEO optimized.

Shortcode support.
tPlayer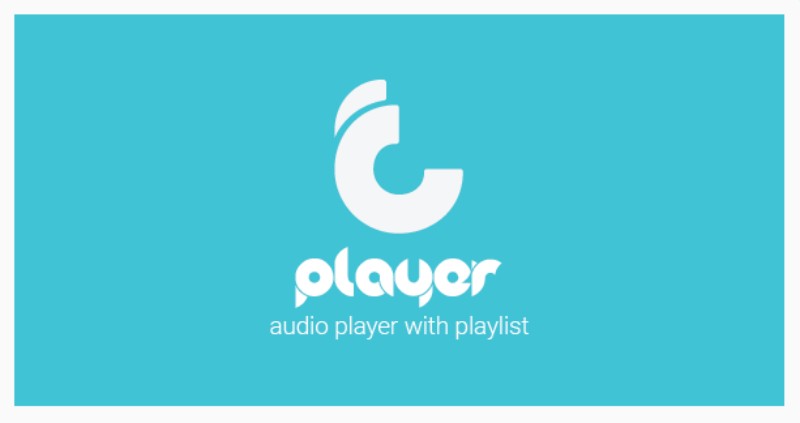 tPlayer WordPress plugin will help you embed an audio player as well as a radio player on your website. You can use it to create potentially unlimited playlists each boasting unlimited soundtracks. It will support all self-hosted audio files as well as from other external storage like Google Drive, Amazon S3, and the likes.
It is worth noting that the plugin uses the HTML5 audio player for audio playback. However, it adds several customization options as well as skins to give the audio player a more professional and polished aesthetic.
Features:
Highly customizable with 10 different color themes

Shows statistics and details on users' listening habits.

Auto-play option supported. Audio file or radio starts playing as soon as a user lands on a page or a post.

Social Media Integration.

Shortcode support.

Compatible with Gutenberg as well as Visual Composer page builder plugin.
WavePlayer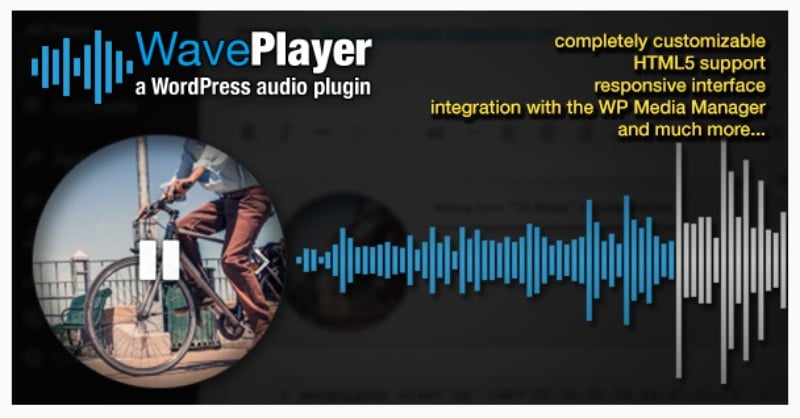 WavePlayer, as the name implies, will help you integrate an audio player with the added bonus of visualizing the waveform of the audio file during playback. Furthermore, it being an HTML5 audio player, means that it will be supported by almost every modern browser.
The audio player that you get is fully customizable. So you can tweak its appearance to match that of your website. It also allows you to play self-hosted tracks, or integrate it from other cloud streaming music services like SoundCloud.
Features:
Developer with music and podcast sites in mind.

Awesome UI which is fully customizable.

Supports playlist creation.

Peak files give you instant access to the audio waveforms.

WooCommerce integration.
Disk Audio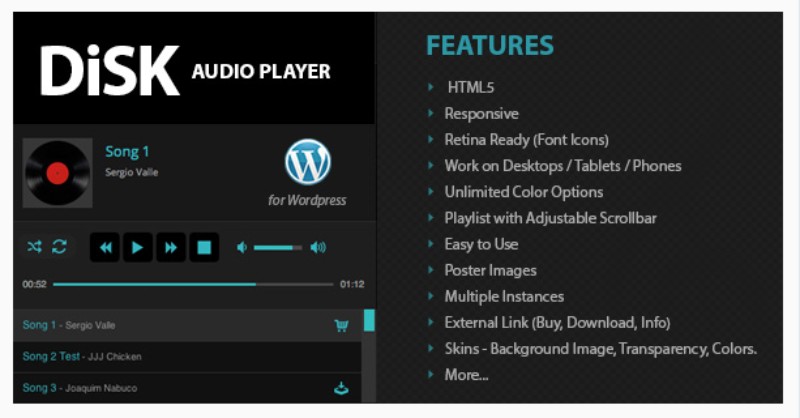 Disk Audio is an HTML5 powered audio player plugin for WordPress websites. It will help you embed a full-featured audio player on your website complete with all the options like shuffle track, repeat track, stop, play/pause, skip track, previous track, scrollable playlist, volume control, and even the option to buy tracks.
You even get access to plenty of customization options to control and look and feel of the audio player to match your site's aesthetics. And if that's not all, listeners will also get the added convenience of controlling audio playback using keyboard shortcuts.
Features:
Features all traditional options available with an audio player.

Autoplay supported.

Plenty of customization options, including changing color scheme, background image, opacity, and much more.

Scrollable Playlist support.

Option to include purchase links of tracks.

Keyboard control.
Audio Dock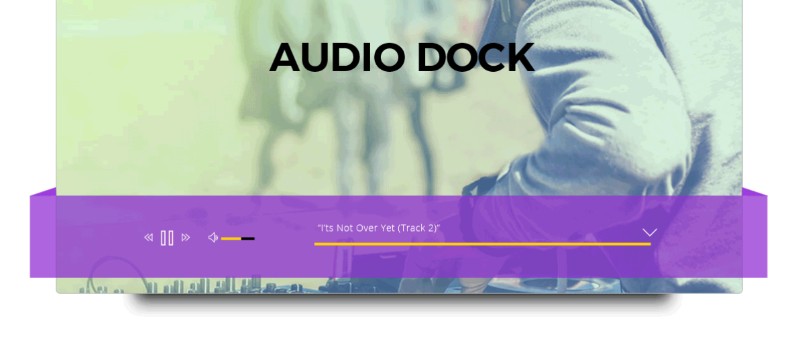 Audio Dock is a free audio plugin for WordPress but comes loaded with an arsenal of advanced features and functionalities. The plugin can help you showcase an unlimited number of tracks on your site for playback.
All this is displayed using a modern and sleek looking audio player that is compatible with almost all WordPress theme.
The plugin is also rich in the customization front, giving you plenty of options to tweak its appearance to suit your suite design and aesthetic. You can even change the name of the tracks and add your own custom titles. This is an awesome tool if you are an artist or musician looking to showcase your work online.
Features:
Responsive design.

Compatible with all WordPress themes.

Allows for unlimited audio tracks.

Option to change and apply custom titles to audio tracks.

Customizable bar and track color.
Compact WP Audio Player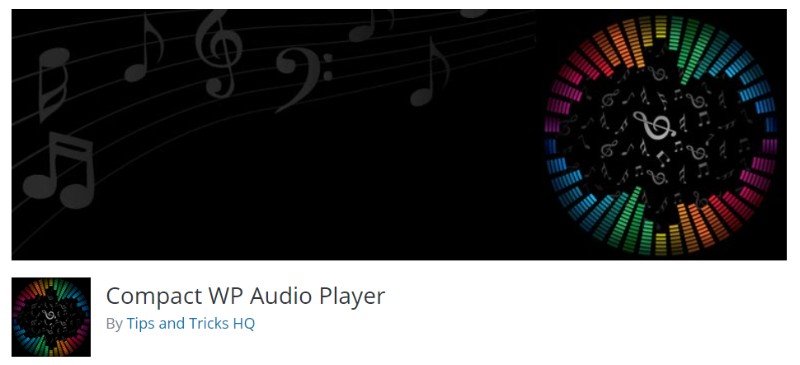 Compact WP Audio Player uses both HTML5 and Flash to help you play audio files on your website. The plugin uses shortcodes which you can use to embed it anywhere inside your posts or pages.
So it is flexible as far as position is concerned. However, the compatibility front, it only supports .mp3 and .ogg files.
However, considering that it is a free-to-use plugin, you are still getting all the basic functionality of getting to play audio files on your website. But you can take that to your advantage, especially if you are looking for something minimalistic.
Features:
Responsive Design.

Compact audio player with only play/stop button.

Uses HTML5 for audio playback and Flash as a fallback.

Autoplay supported. Audio files play as soon as the user visits the webpage/post.

Podcast supported.

Compatible on all major browsers.

Shortcode supported.
SoundCloud Is Gold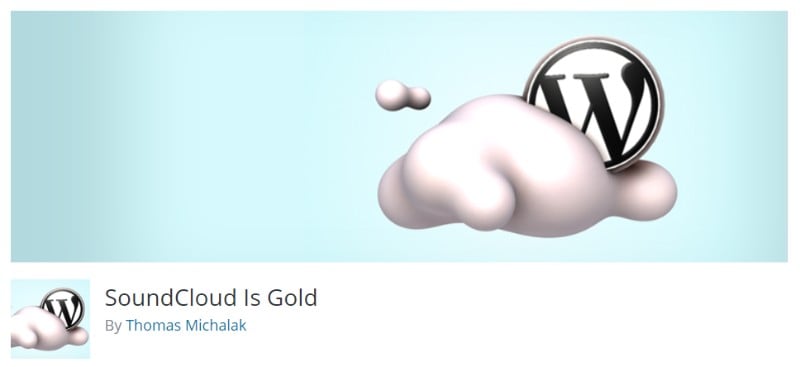 If you listen to music online, you probably know about SoundCloud. And with SoundCloud Is Gold WordPress plugin, you get to integrate SoundCloud official audio player straight into your website.
Once installed, the plugin gives you access to every single track and playlist on the music sharing website.
You will be able to browse through every single track on SoundCloud from directly from your WordPress dashboard and choose which ones you want to allow on your website.
The plugin comes with shortcode and widget support which allows you to place the audio player practically anywhere on your site. And to top it all, the plugin is free for the taking.
Features:
Implements SoundCloud HTML5 player on your website.

Follows all the WP developer guidelines.

All Track info is displayed directly on the tab.

Live Preview button.

Option to browse and save multiple users.

Shortcode support.

Widget support.
Audio Album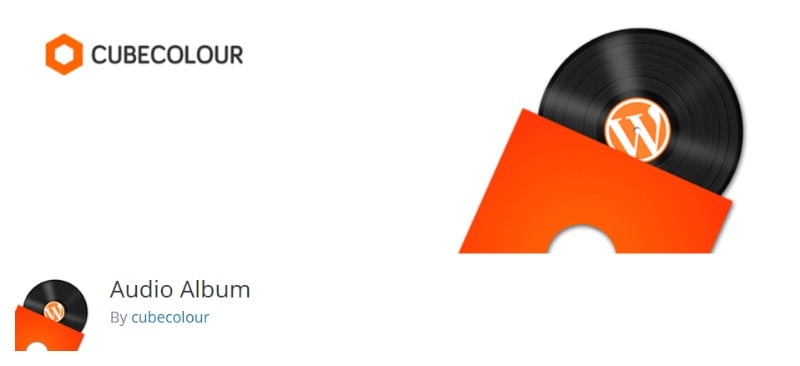 Audio Album WordPress plugin helps you create audio albums that can be used anywhere on your website. It uses MediaElement.js which comes as a default with WordPress and allows users to style a group of audio files into a single formatted block – an album.
The plugin allows you to create as many audio albums as you like and populate them with a multiple of audio tracks. You can also easily embed them into your pages as well as posts by using shortcodes.
Features:
Create single audio blocks (albums) from multiple audio tracks.

Uses WordPress's native MediaElement.js.

Custom CCS support to make customization and changes to the audio player.

Option to create unlimited audio albums.

Shortcode Support.
CP Media Player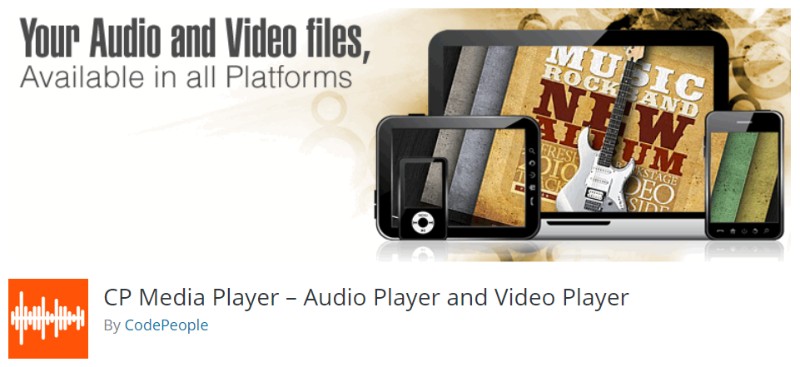 Much like some of the other plugins on the list, CP Media Player also makes use of WordPress's MediaElement.js to help integrate audio as well as a video player on your website.
However, it also supports Flash and Silverlight as a fallback in case users are on old browsers not running on HTML5.
The plugin also supports a wide variety of file formats. This is topped off with a boatload of customization options along with skins. This is huge considering all this is available in a free plugin.
However, if you are looking for more advanced options, then there is a premium version of the plugin available as well.
Features:
Embed audio and video player anywhere on your website.

Supports .mp4, .mp3, .ogg, .webm, .wmv, .wav, .wma, .flv, and even .websrt subtitles.

Playlist support.

Several Skins and Customization support.

Option to sell audio files with PayPal integration.

Sales report shows details on many sales you have made.
Music Player for WooCommerce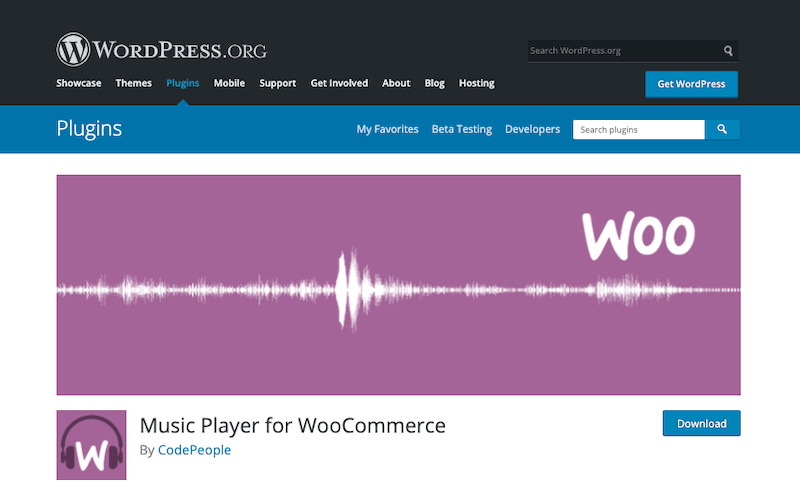 WooCommerce is the leading eCommerce plugin for WordPress platform. If you wish to create an online store, you can use the WooCommerce plugin to get that done.
As we are talking about the audio player plugin in this article, you can use this plugin to add audio player to your eCommerce site.
While free music or podcast is good, the producers need to make some money in order to keep creating new content. This plugin will help you to monetize your music.
Another advantage of this plugin is that you can use it with other eCommerce plugins like Dokan and WCFM Marketplace along with WooCommerce.
It supports WooCommerce, Dokan and

WCFM Marketplace
Supports multiple audio formats like OGA, MP3, WAV, WMA
It comes with multiple skins to style your audio player
Comes with custom Gutenberg block
In Conclusion
So this was our list of the best audio player plugins for WordPress. We hope you found this read to be helpful, and if you have decided to pick any of these plugins for your own website, do mention which one you picked and why.
Also, if have experience using any of the plugin mentioned here, then don't forget to leave your personal review in the comments below. We, as well as your fellow readers, will appreciate your contribution, and it can even help them with their own decision.