This is a collection of best premium Tumblr themes that you can use to create your blog. Offer a great-looking, reader-friendly interface to your users to read your content.
Tumblr is one of the most popular microblogging platforms on the web. If you wish to create a minimal blog to publish your content Tumblr is undoubtedly one of the top options you will find.
And with an amazing theme designed with care, your blog will stand out and offer a great reading experience to your users.
We have already listed the best free Tumblr themes where you will find some great options ready to be used without a single penny.
If you are looking for more premium quality features and customization possibilities, this article is for you. In this article, you will find some stunning Tumblr designs that you can use to create your blog.
We have tried our best to offer you the top options from the available lot which are feature-rich, cost-effective, and modern in design.
Tumblr is popular among users because of its minimal design which is reader-friendly and it offers you a very simple grid design that looks modern.
So, let's check out the collection of the best premium Tumblr themes without any delay.
Supple
You will love the design of this theme, it is very simple yet very attractive. This is a great design option for creatives who want to showcase their work in the most professional way.
This is a portfolio Tumblr Theme with a nice presentation of work making it super simple for the visitors to check the design options.
The theme is fully responsive and retina ready to make sure that your site looks great on all devices. It is a very quick theme and it dynamically loads the next set of the portfolio with Ajax making sure that your site loads quickly.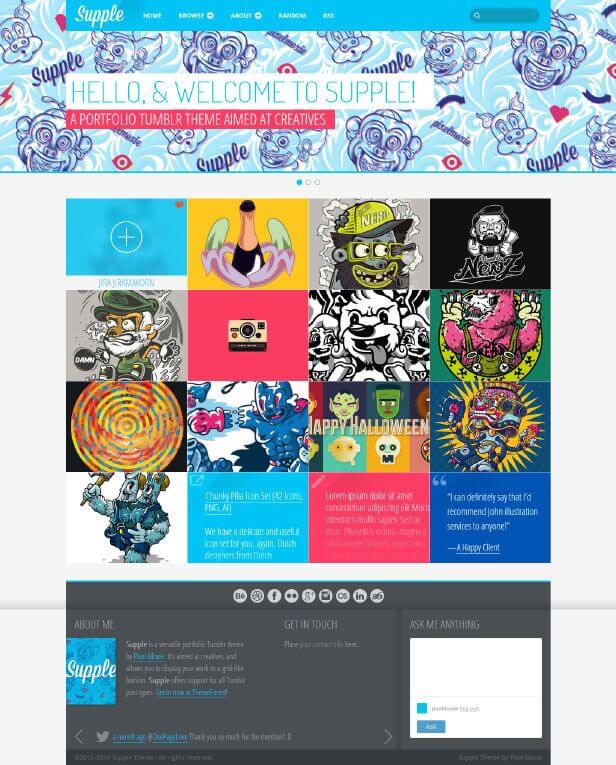 Archon Tumblr Portfolio Theme
Archon is a beautifully designed minimal Tumblr theme that is a perfect option for photographers, bloggers, artists, graphic designers to showcase their content.
It offers you features like an off-canvas menu, hand-picked Google Fonts, all post type support, 4 different portfolios hover effects, and a lot more.
The Catalog Tumblr Theme
Another very attractive Tumblr theme that gives you an option to showcase your content in a catalog format. The theme is attractive, minimal, and feature-rich.
You have a beautiful slider on the homepage of the theme followed by the content placed in a very professional design.
The footer of the theme also looks very attractive. You can use Disqus commenting system for the comment section of your site.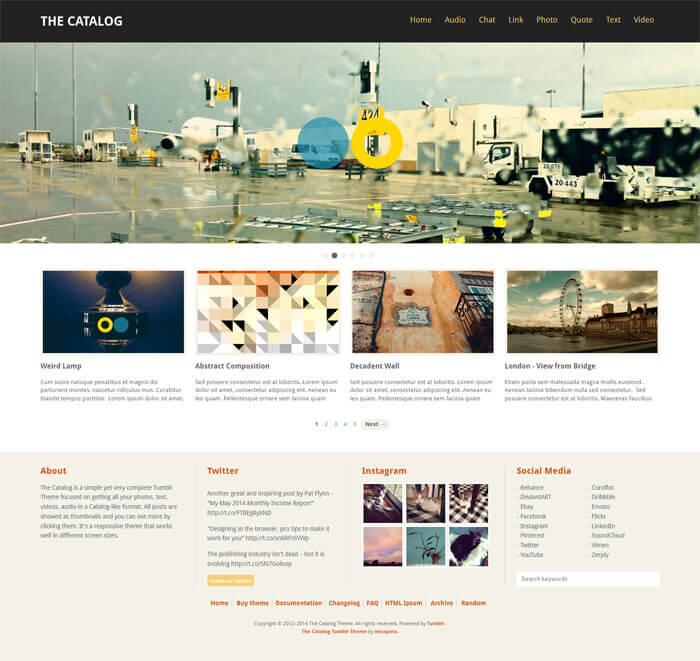 Flora Responsive Tumblr Theme
Flora is a great-looking, very professional design for your blog. It comes with a clean, minimal feel that will instantly attract your visitors and engage them with your content. This theme offers you over 90 different customization possibilities.
It's a fast-loading responsive design that will offer a great experience to your users. It comes with over 14 different widgets to style your pages, it offers you a built-in email subscription feature that works with Feedburner and MailChimp.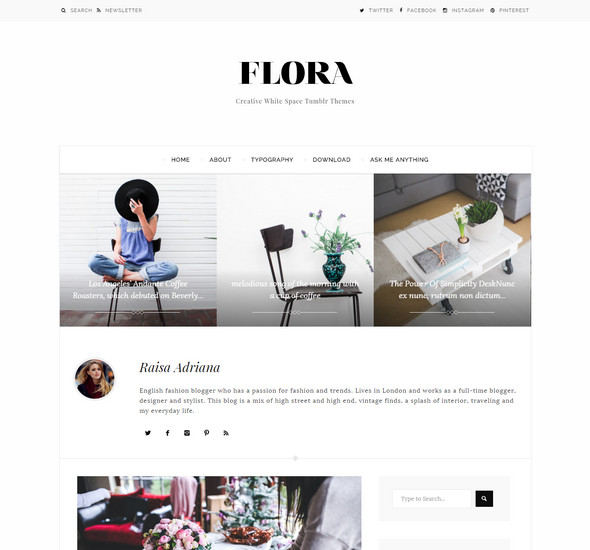 Putih Clean Personal Tumblr Theme
Putih is beautiful, Clean, a minimal blogging theme that is perfect for any blogger. This theme offers you a nice design to present your content in the most elegant way. This theme comes with over 80 different customization possibilities.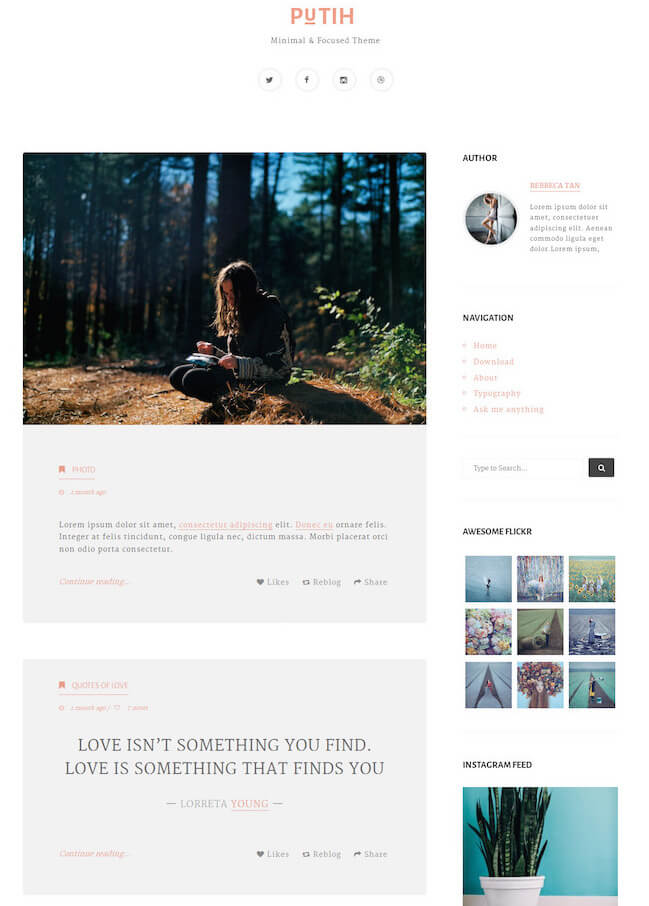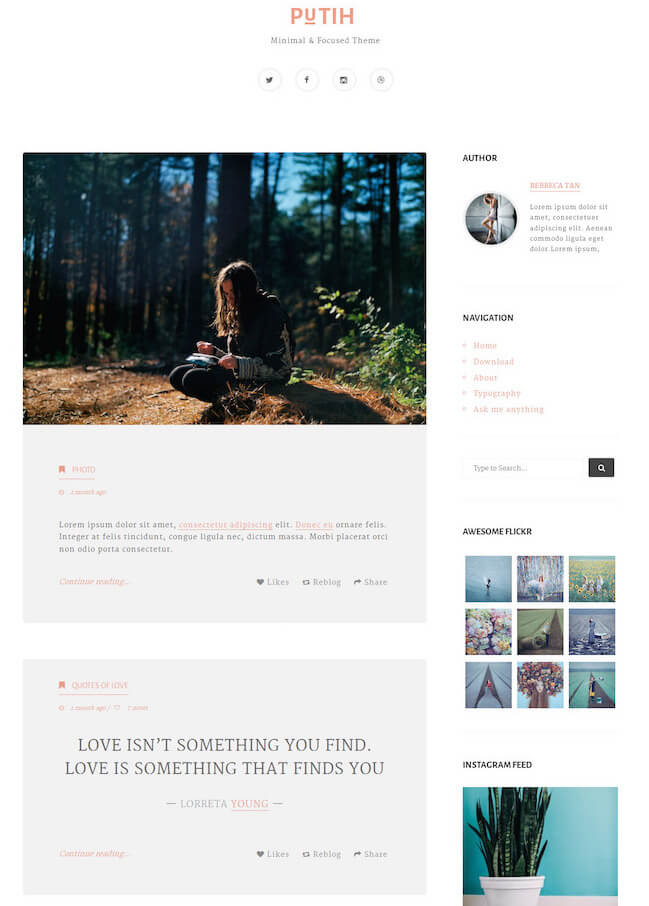 Admiral Tumblr Theme
Another top-quality premium Tumble Theme comes with a modern design and a lot of options. This theme supports all types of content so you will be never be limited, and from the demo design, it looks like this theme will be a perfect option for a viral content site to drive tons of traffic through images, quotes, and other similar content.
I love the layout of this theme as it offers a minimal and clean design yet is very attractive. The header section of the theme has a great-looking header image section that looks very trendy and the posts are also present in a nice random grid design.
It's a mobile-first design and you will love what they have done with the menu. Your site will look stunning on mobile devices and have the perfect mobile menu to offer your users a very simple interface to work on.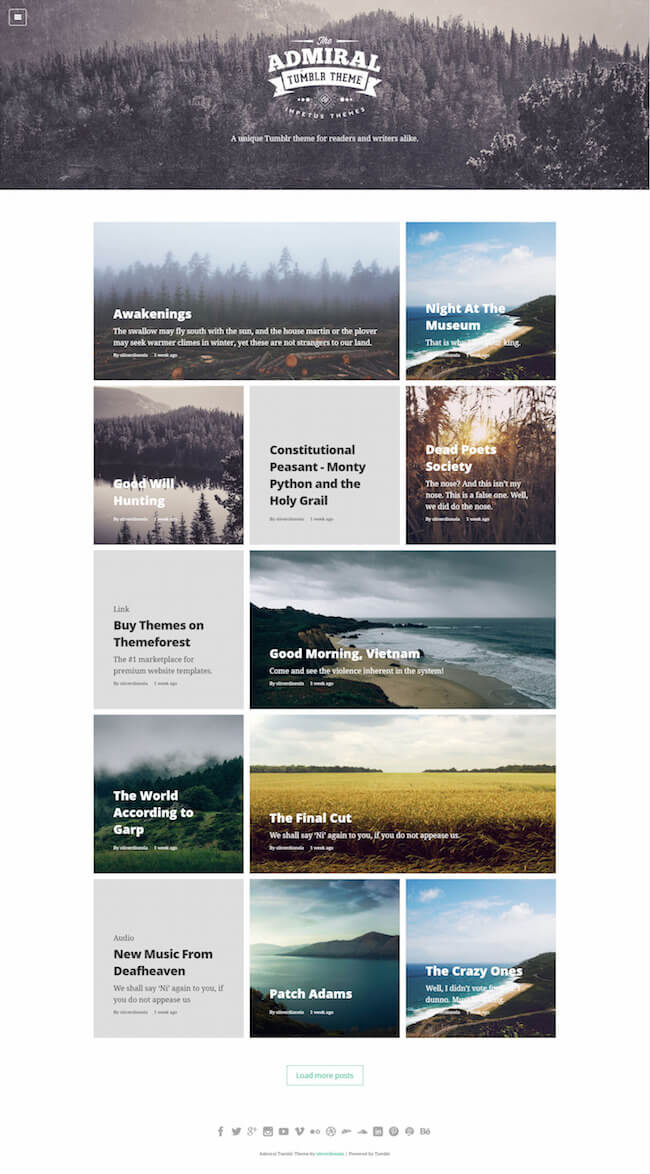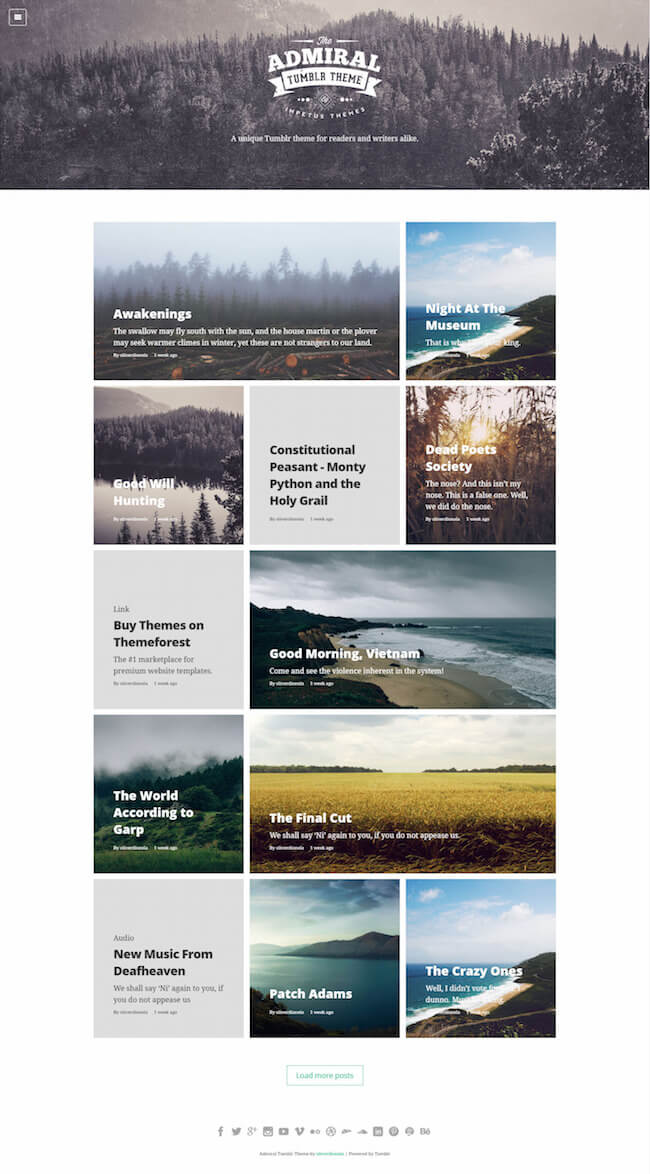 Glide: A Responsive Tumblr Theme
A simple and professional-looking Tumblr theme with tons of great features. It is a fully responsive design to make your site look great on all devices.
It has a nice simple layout, beautiful CSS3 animated menu, over 25 social icons, Google Fonts, Instagram feed widget, and a lot more.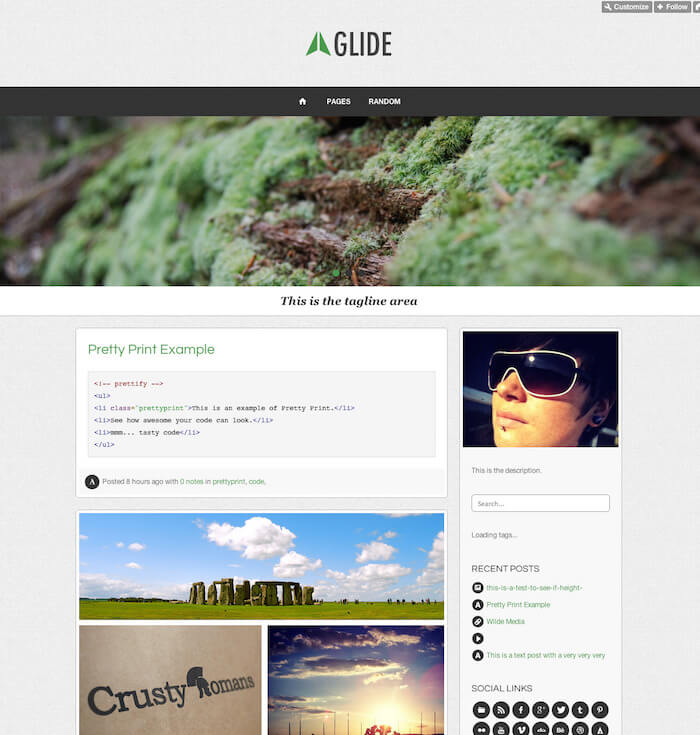 UMO Folio
If you are looking for a personal portfolio Tumblr Theme, here is the theme you need. This is a single-page portfolio theme with a beautiful design and all the options you will need to optimize your portfolio perfectly.
This theme comes with the options such as the About section, Services, Team, Testimonials, and Contact section.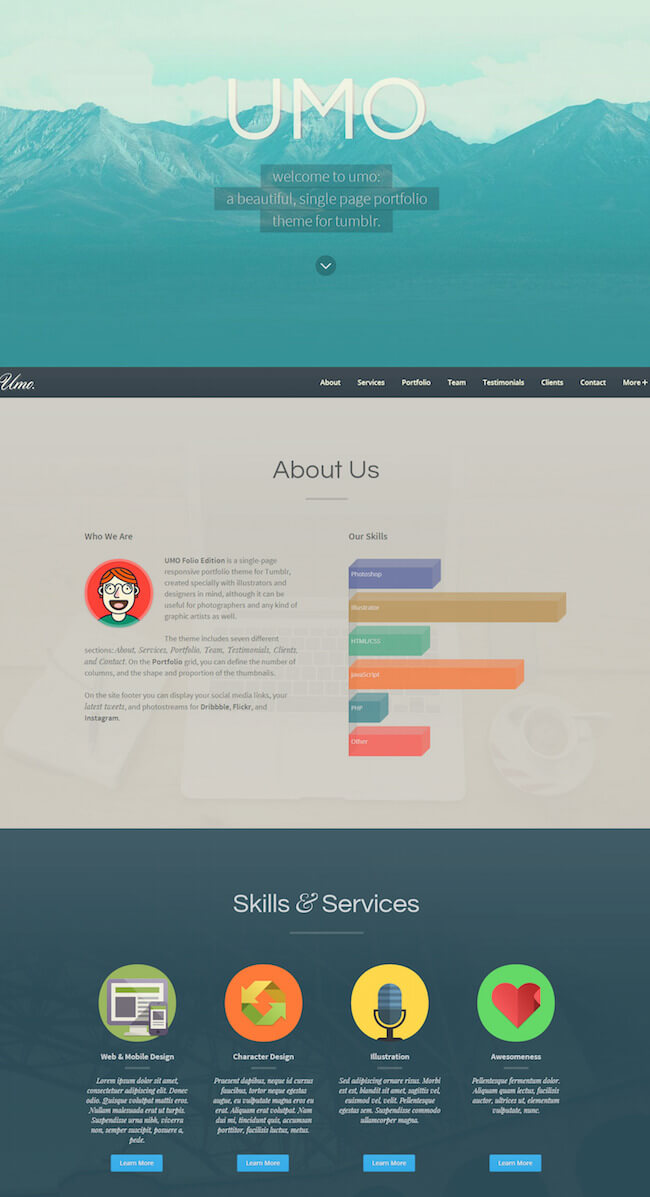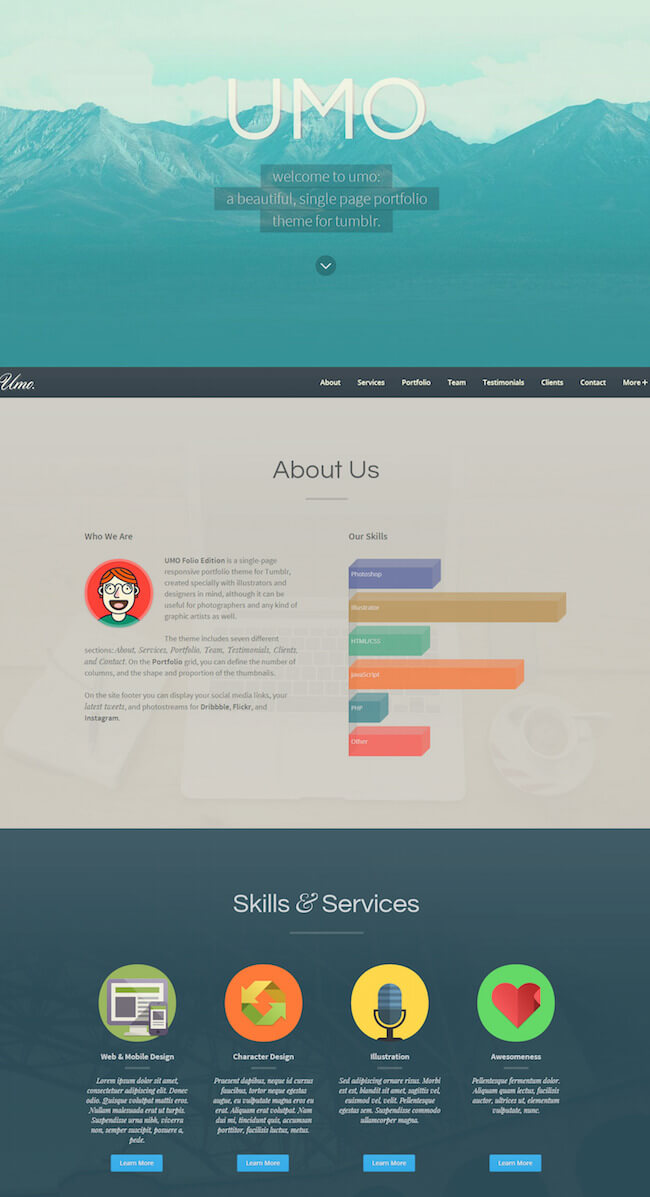 FRESCO
FRESCO is a clean multipurpose, minimal Tumblr theme for bloggers. This theme comes with a number of useful customization options that will help you to fine-tune the design of your blog perfectly.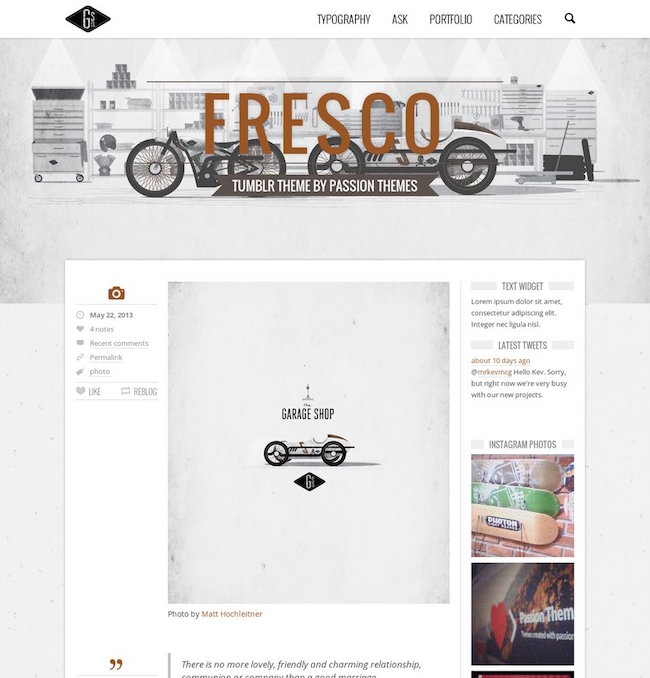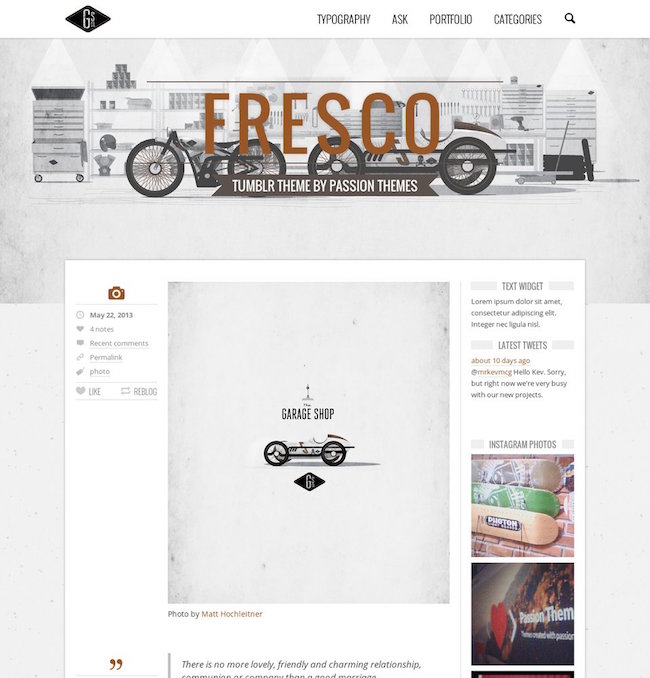 Meogetric
A very clean and mobile-friendly design. This vibrant design comes with over 20 different color options and other customization options.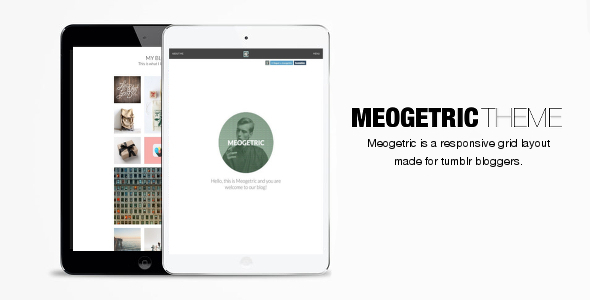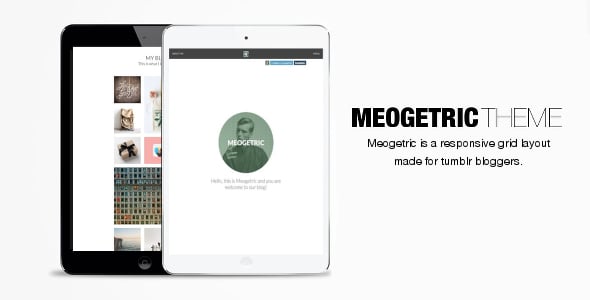 FLAT Responsive Business Tumblr Theme
This is a colorful, fully responsive modern Tumblr design that you can use for your Tumblr site. It is created with HTML5 and CSS3 code to make sure that it is light and SEO friendly.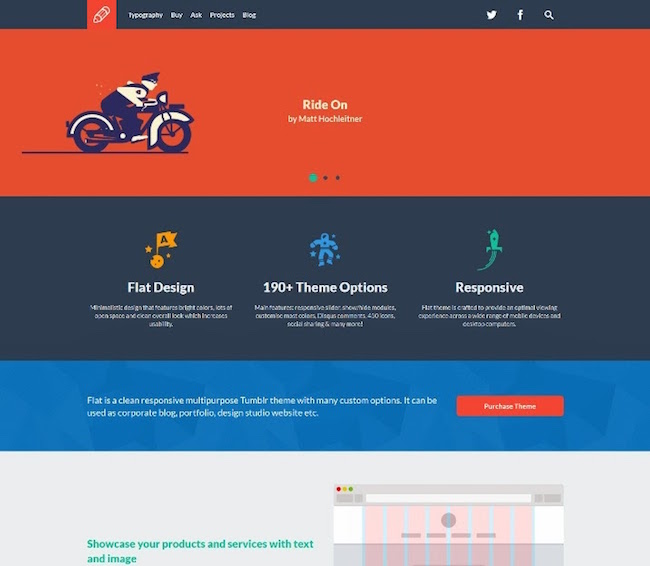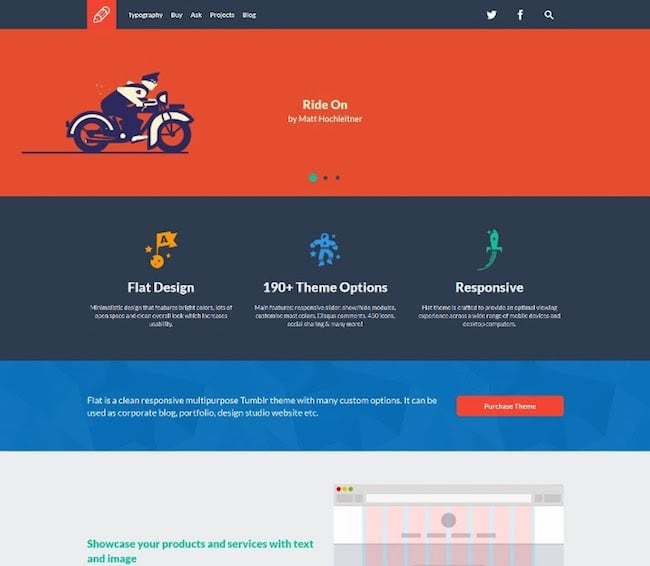 Final Word
All the premium Tumblr themes mentioned in this post are fully responsive and well-optimized for the search engines.
We have tried to collect the themes that look great and offer quality modern features. We will be adding more themes to this collection, so don't forget to bookmark this page and visit later.