As email marketing is one of the best ways to develop a strong revenue channel, the mix of WordPress and MailChimp is a potent combination for bloggers and affiliate marketers, to be precise.
MailChimp is one of the oldest email marketing software and currently, it connects to more than five million users.
If WordPress is your preferred CMS, there is an actual possibility that you can use MailChimp as your preferred email list builder.
If you are satisfied with the MailChimp and WordPress integration that starts and ends with filling up subscription forms, you are leaving a lot on the table!.
In this article, we will discuss all the possible methods to incorporate WordPress and MailChimp, for your blog.
Whether you are planning to build a vast email list or hoping to share updates through emails on your new blog post, MailChimp is your ultimate solution.
Start Email Marketing With MailChimp
Why Use MailChimp?
Throughout the years, MailChimp has stood out as one of the best and well-disposed email marketing service for beginners. MailChimp is anything but difficult to use and incorporates multiple WordPress feature integrational possibilities.
Other than being the most affordable email service for bloggers, MailChimp carries some cool components like setting up RSS to email subscribers, email templates, automated responders and analysis of the email campaigns.
MailChimp allows the user to send less than 1200 emails per month and add less than 2000 subscribers for free. Once your subscriber list goes above 2000, MailChimp will ask you to upgrade to their paid plan.
Get connected with MailChimp
Before integrating MailChimp with your WordPress blog, you must register yourself with MailChimp. Therefore, go to the MailChimp site and create your free account.
Go to MailChimp site > Click on "Sign Up Free" button > Enter Email id, Username, and Password > Click "Get Started!" > Go to your email and click "Activate Account".
As soon as you click "Activate Account", you will be redirected to "Welcome to MailChimp" page. Here, add your first name, last name and click "Continue". You will be redirected to "Tell us about your business" page.
Fill the name of your business and website URL, and click "Continue". You will be asked to fill your physical address. Adding the physical address is mandatory to comply with the CAN-SPAM act. Fill the details to complete your MailChimp Account Activation.
Start with your First Email List
Once your "Account Activation" is completed, you will be navigated to the "MailChimp Dashboard".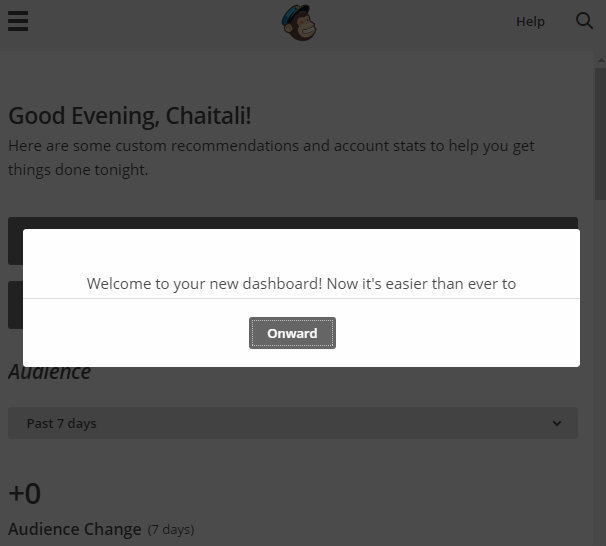 Click the "Onward" button, and you will reach the "Dashboard". Here, click on the top left "Menu" button and select "Lists" from the drop-down menu. Click on the "Create List" button.


Fill in all the details like List name, default from email address, default 'from' name, campaign URL settings, Company/organization name, phone(optional) and notification frequency. Once you are done with all the details, click "Save" button.
Your first email list has been created. Now, you can connect the new email list to your WordPress blog. Integrating MailChimp with WordPress simplifies the email list building process as all the collected email signups are automatically synced with the MailChimp account.
You don't have to manually add the sign-ups after the integration.
How to add MailChimp Email Signup Forms to WordPress Blog?
MailChimp has an in-built subscription form for your email subscriptions. To start with, go to the "List" page of your MailChimp Account and click the drop-down menu on the right (the button with a downward arrow) and select "Signup forms".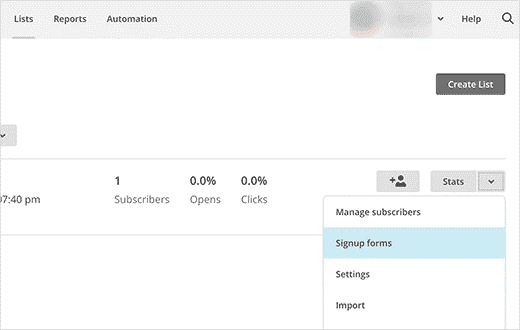 Once you navigate to the "Forms" page, select the form type by clicking on "Select" button, next to "Embedded Forms" sections.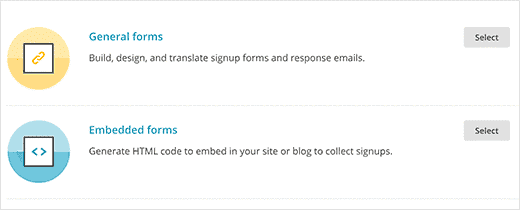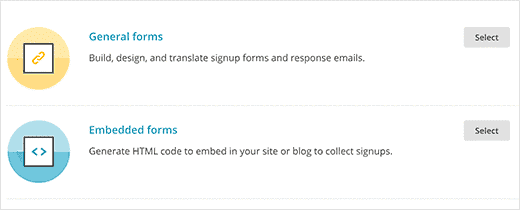 You will reach the Settings page, where you can select the fields you want to add to your signup form and adjust form designing and width. Once you are done with the designing part, copy the embed code.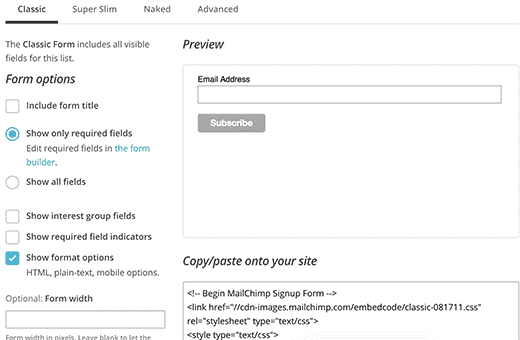 Go to your WordPress Admin dashboard to paste the embed code. Click Appearance > Widgets > Add Text Widget to your WordPress sidebar > paste the copied embed code in the box. Click Save and preview the MailChimp Signup Form on your site live.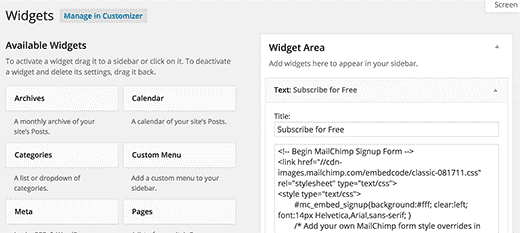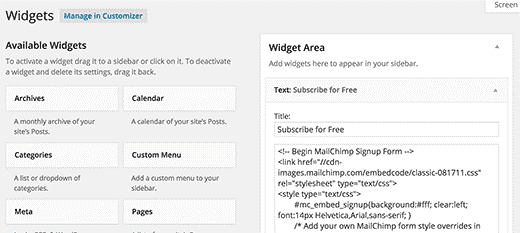 Use a Plugin
There are a number of different plugins that you can use to connect MailChimp with the email opt-in form on your site.
MailChimp for WordPress
MailChimp for WordPress is a very popular plugin that will help you to connect your MailChimp account with the email subscription form on your site.
Go to your WordPress admin dashboard >> plugins >> add news and search for this plugin, install and activate the plugin.
After activation, you will get the plugin option in the admin panel. Look for MailChimp for WP in the admin dashboard click.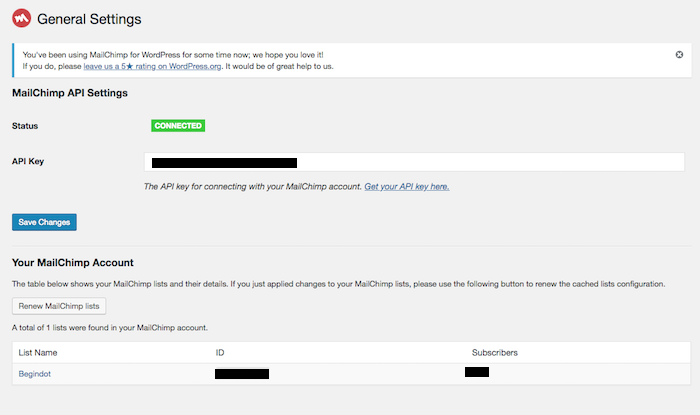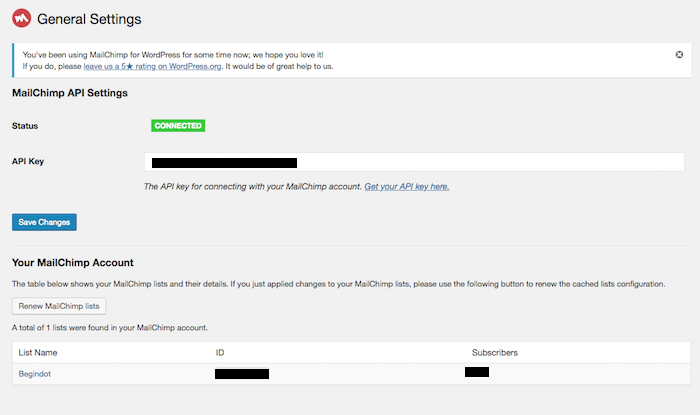 You have the add the API Key of MailChimp to connect MailChimp with this plugin. To get the API Key, go your email MailChimp account.
Click on your profile icon and then click on the account tab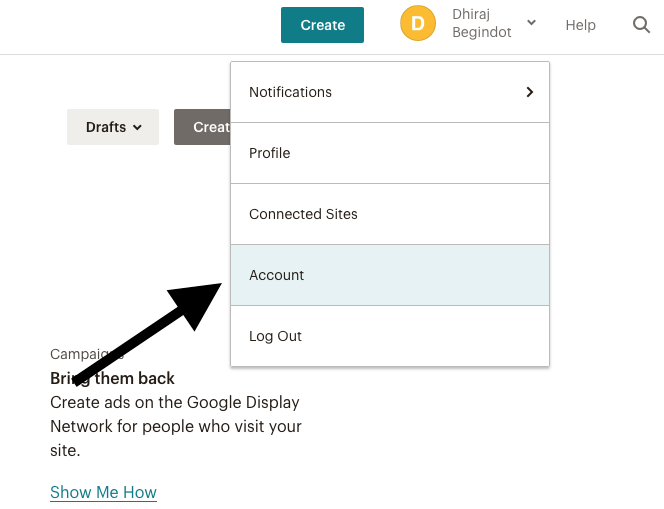 In the next page click on Extra to find the API Key. Copy the Key and head over to the plugin settings, add the key and proceed.
How to use OptinMonster to add Designer Signup Forms?
Attracting your potential clients to subscribe to your emails is not as easy as adding a WordPress MailChimp signup form. To build a strong email list and increase your subscribers by 60%, use OptinMonster.
If you are looking for some attractive signup forms like floating footer bar, sidebar forms, lightbox popup forms, slide-in forms and after post forms, OptinMonster is your ultimate solution.
OptinMonster is great with exit-intent feature and provides a wide range of beautiful form templates. The best part of using OptinMonster is that it can be used with all the major email marketing service providers, including MailChimp.
To start building your subscription form with OptinMonster, install the plugin and customize it.
Add RSS Feed Newsletter for WordPress in MailChimp
Once you see a steady inflow of email subscribers, it is necessary to send updates on a regular basis. Although you can anytime go to your MailChimp account, log in and send email updates to your subscribers manually.
You should automate the campaigns with MailChimp to save time and maintain a regularity without any hassle.
Through MailChimp automated campaigns, you can send updates for all your latest blog posts and other news via email. This type of email campaign is known as RSS newsletter, or RSS Feeds in WordPress.
To start with sending RSS newsletters, setup an RSS to an email campaign by logging into your MailChimp account and click Campaigns > Create Campaign.


Navigate to the "Choose a type of campaign" page. Here, you need to select the "RSS-Driven Campaign". You will navigate to the "RSS Feed and Send Timing" page.
Enter the RSS feed URL and select the day, time and frequency of sending automated emails to your subscribers. Once you are done with the settings click "Next" button.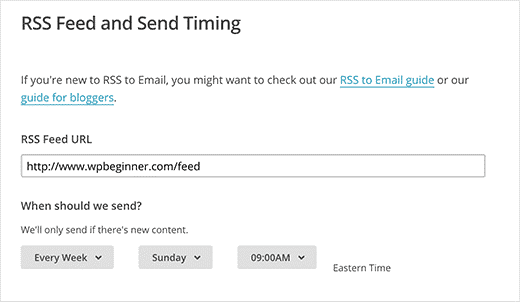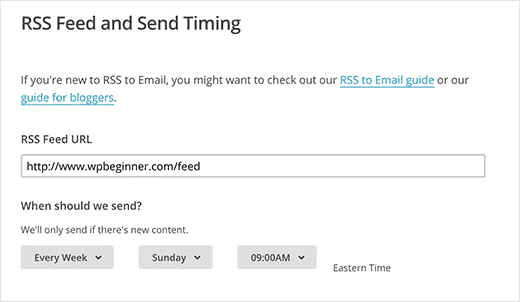 Select a list of email subscribers; you want to send the email campaign to and click "Next" button. You will then navigate to the "Campaign Info" page.
Fill the name of the campaign, email subject and from the name. Select the box beside the "Personalise the To field" option. You will be then asked to specify the *[METATAGS]* for recipient name. Add the meta tag and click "Next" button.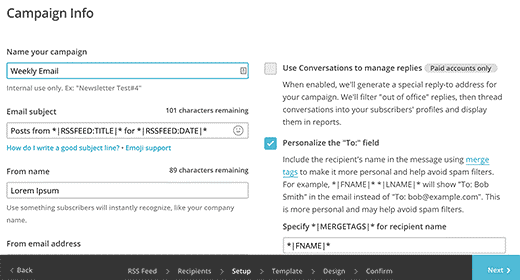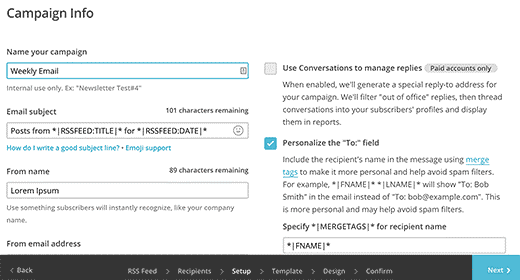 On the next page, select a beautiful template, as per your requirements and start designing your email. Add your logo, header image, modulate text, add RSS header and RS items to the selected email template.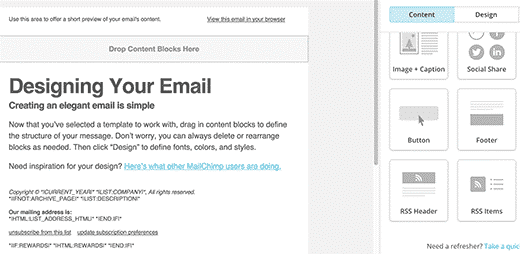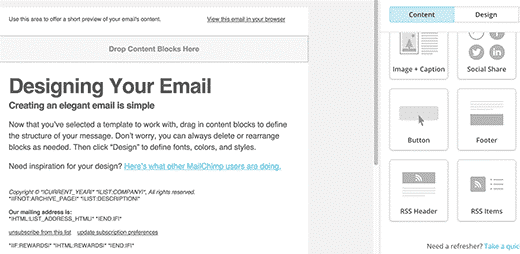 Click on "Save and Exit". Your WordPress RSS Feed Newsletter with MailChimp integration is completed.
Endnote
Irrelevant of the size and complexity of your business, you should always maintain a positive email conversation with your clients. An interactive and engaging email newsletter creates huge online money earning opportunities.