This is a collection of best mega menu plugins for WordPress if you wish to make the menu section of your site engaging.
The User Experience of your WordPress Website matters a lot. Your customers might not acknowledge a superbly crafted website, but the poor design will immediately yield a negative response.
In this regard, it is advised that you give some time to find out whether your WordPress site looks and functions gorgeously and efficiently. In this regard, let's talk about the Menu you have on your WordPress website.
So let's, give it some thought. The menu is the first place through which your audience will start to browse the content of your website. The search engines also read it to determine your position on the ladder.
So how can you improve the menus on your site? The answer is simple, use a plugin.
WordPress is known for its high level of customizability, and through the use of plugins, you can give your otherwise dull-looking menus, the professional appeal it needs.
However, the WordPress community is huge, and so is its developer community. So when searching for a WordPress menu plugin, you might get paralyzed by all the options.
All though this isn't a bad thing, why would you want to waste your time searching for good plugins, when you have curated the desired list for you?
Now, when we talk about the mega menu WordPress plugins, most of the themes come with built-in mega menu options these days.
But if you want to keep using your old design and add the mega menu option through an additional plugin, this list will help you to find one.
So cutting down on the talk, here are the top Best Mega Menu Plugins for WordPress for you to use on your Website.
Groovy Mega Menu
One of the best mega menu WordPress plugins, the Grovy menu plugin is compatible with all the important website builders such as WP Bakery, Elementor, Beaver, the core Gutenberg, etc.
This plugin gives you the option to create a completely unique custom menu for your site in minutes.
You don't have to write any code to get things started. The easy-to-use interface of the plugin will take care of everything smoothly.
This menu plugin offers you one of the most comprehensive options as far as designing is concerned.
You have a number of modern grid-based layouts that you can use to create your menu. You will have complete layout control to put everything in the right place.
With this plugin, you will have complete control over the header and the menu section of your WordPress site. You can create a great-looking vertical and horizontal menu to make it look beautiful.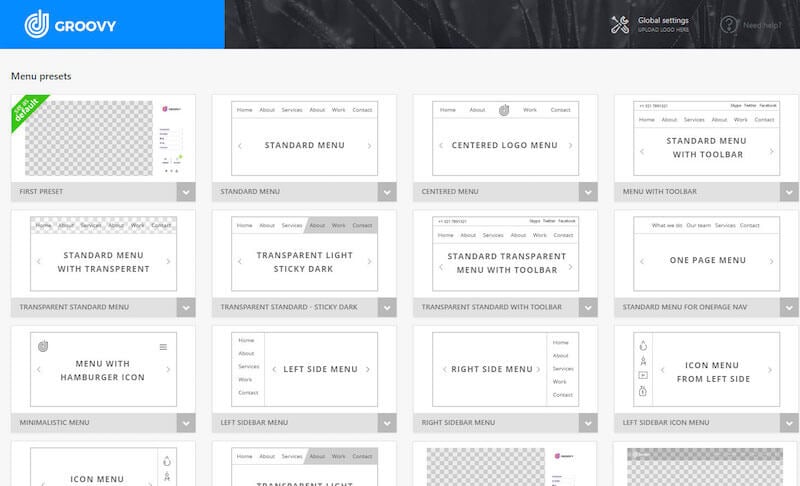 WP Mega Menu
A very easy-to-use mega menu plugin that will help you to create a stunning modern menu section on your site. This plugin is created to work perfectly on all devices and offer a great experience o your users.
With this plugin, you will not need to go through any complicated settings options. Just install the plugin, go to your menu section and select the menu option, style it according to your need, that's all.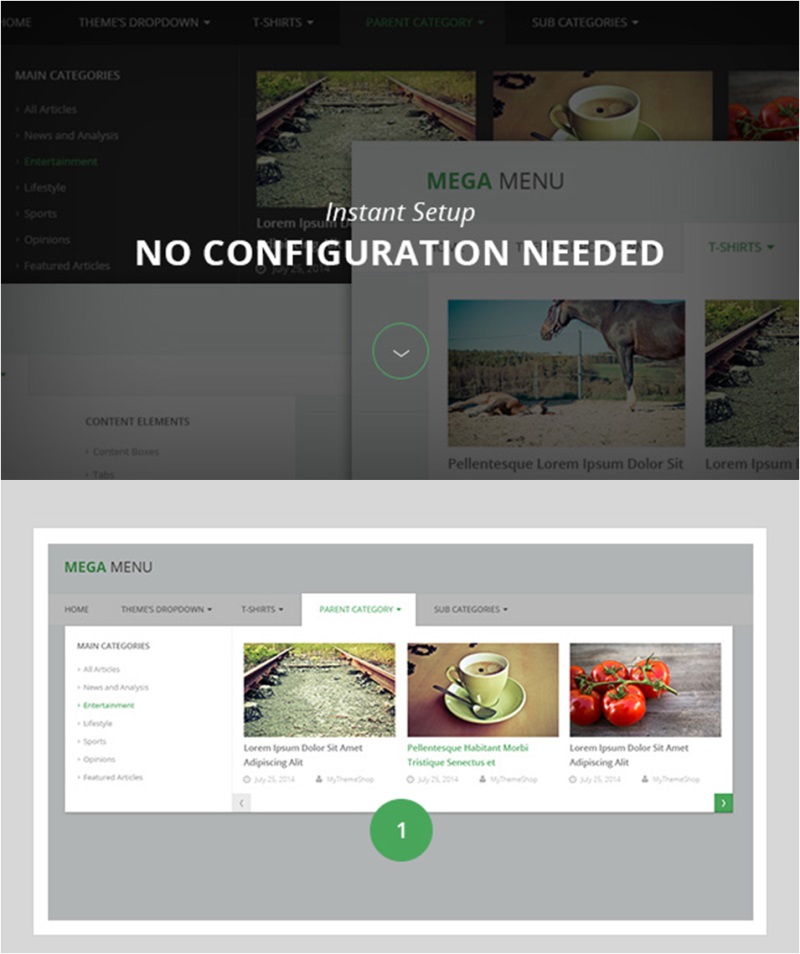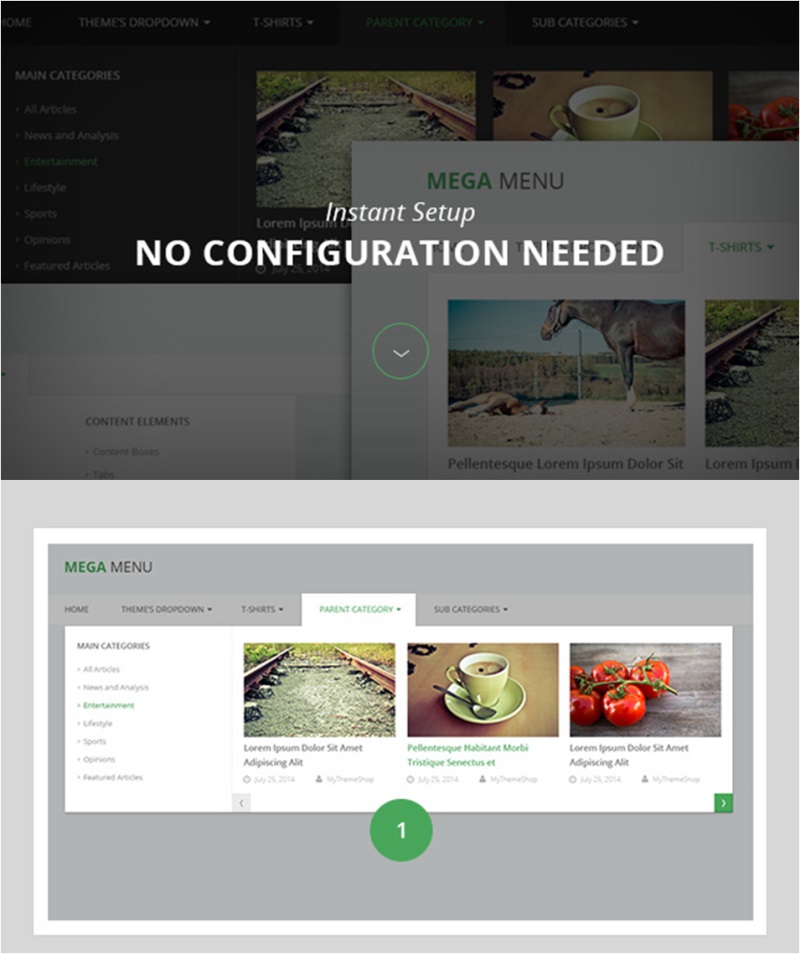 UberMenu
UberMenu is a powerful and easy-to-use WordPress mega menu plugin. The plugin works right out of the box with the WordPress Menu System making it one of the most simple yet powerful plugins in this category.
Some notable features of the plugin include things like flexible layout, advanced content, mobile optimization or responsive design, dynamic item generation, and an enhanced UI.
Through the Customizer and other options offered by the plugin, you will be able to create beautiful menu layouts that will add a whole new dimension to your user experience.
The Mega Menus that you will be building with the help of the plugin can be made to be as complex as you like, with unlimited sub-menus for visitors to start excavating.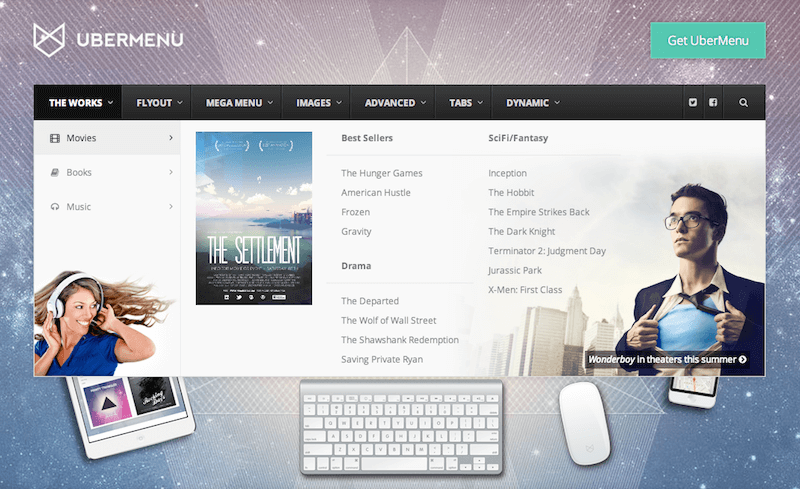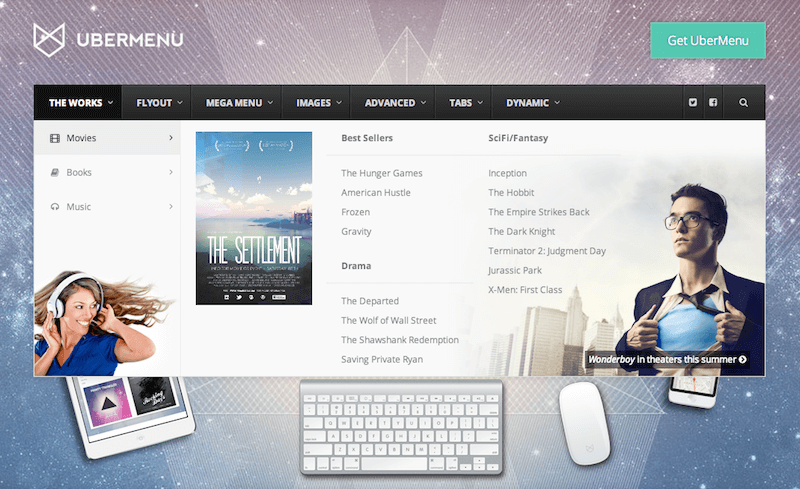 Hero Menu
With Hero Menu you can set up a custom WordPress menu in a couple of steps. The plugin is also user-friendly and provides intuitive controls. In fact, even if you are new to the whole WordPress deal, you can still easily pick up how the plugin works.
The options and features are so easy to use and diverse that you can build a menu design from the most complex to the most simple in a matter of clicks.
Some of the notable features of the plugin include the fact that it is WooCommerce enabled, comes with a Drag and Drop Menu Builder, over sixty color presets over 250 free icons, sticky menu, and much much more. People have also applauded the plugin for its customizability and Customer support.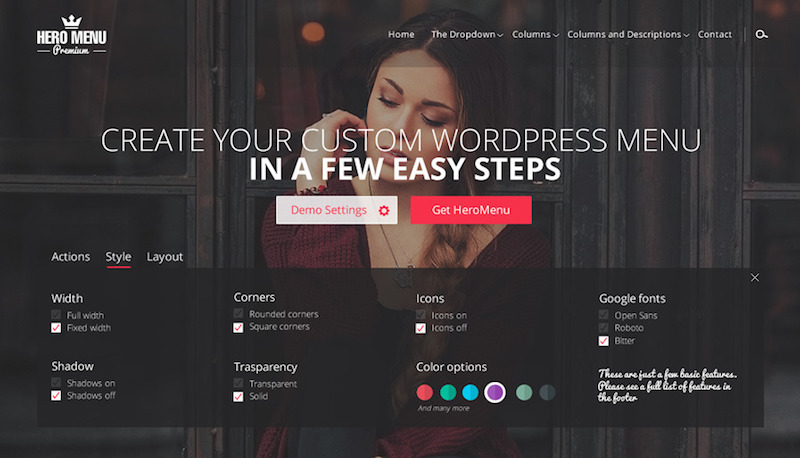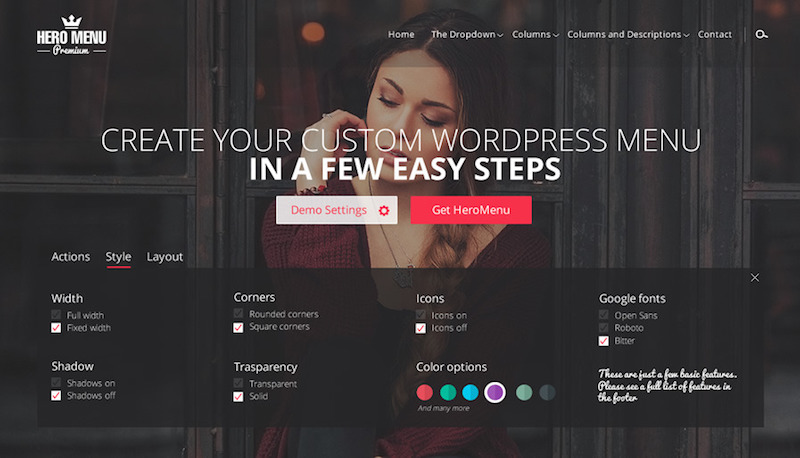 WP Mega Menu
This is another free Mega Menu plugin for your WordPress website, but it also comes with premium-level features. The support team is also helpful and promptly attends to your problems.
So now digging into the feature list for this plugin. First and foremost you will be delighted to receive a drag-and-drop menu builder, and that too is free of cost.
Through this, you can build high-quality menu designs and complement them with widgets, Google Fonts, Font Awesome Icons, and so on.
You also have the liberty to put a search bar inside the menu along with social icons, menu background options, and lots more. You can also use unlimited colors, export/import themes, skins options, and so on to optimize your menu to your liking.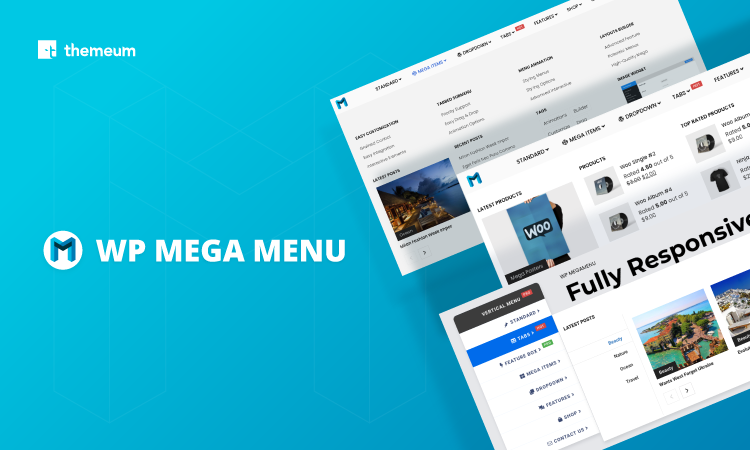 Noo Menu
You can't say no to Noo Menu thanks to the high level of customizability the plugin brings to the table. But don't worry about getting bombarded with too many options, as all the features are incredibly straightforward and easy to use.
How to use the plugin needs no explanation as it is so intuitive that even a toddler can learn to use it. But the long list of features does require an attentive read-through.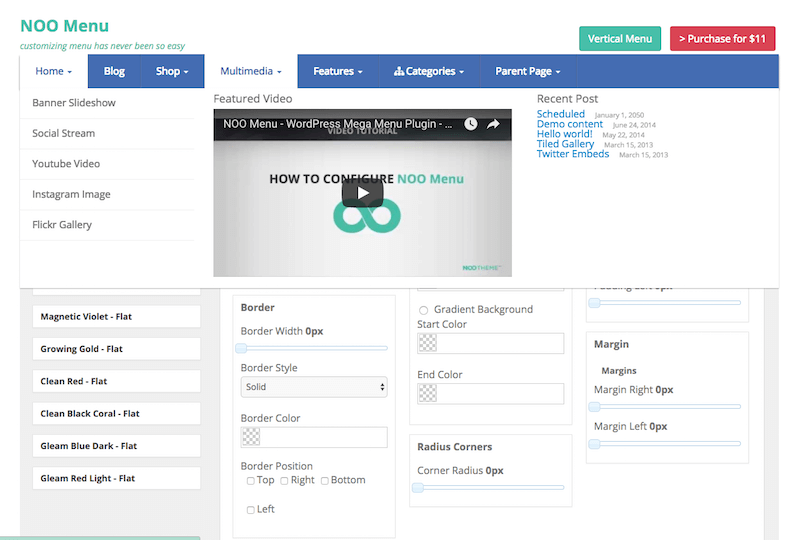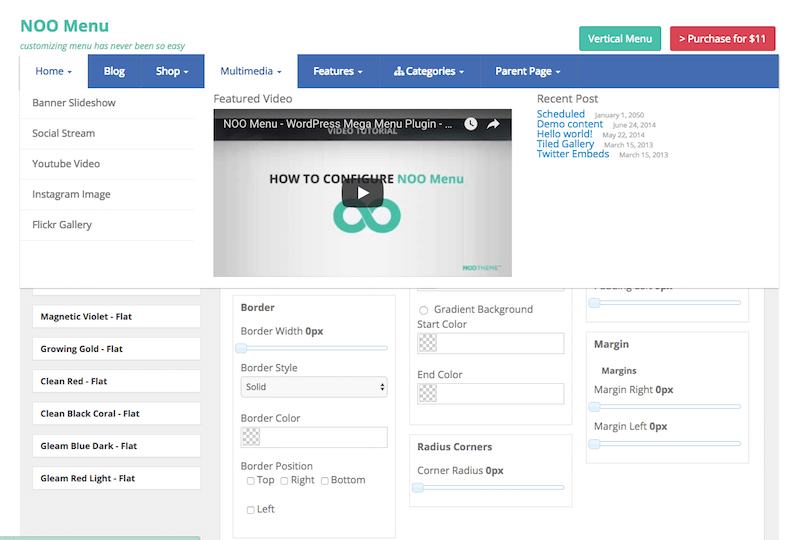 However, the most impressive features include submenu management controls, real-time preview of modifications, countless customization options, menu builder, a responsive interface for your menu, and loads more.
Superfly
Having Superfly installed on your WordPress computer, you can create vertical push/sliding/static navigation styles, a full-screen menu, or icon toolbars to make your site's menu as featured as possible.
The plugin can be used as a standalone feature or can also be used to complement your main menu. Other handy features like mouse hover are also included which removes the necessity for extra clicks and adds a pleasant user experience.
Other options provided by the plugin include side menus, Skewed designs, multi-level menus design, and so on. You can also enrich the menu with animations, an image background, Shiny Icon Bar, a social bar and so much more.
And with all these options you also get an easy-to-use admin panel so that you can take advantage of all these fantastic features without having to spend days understanding them.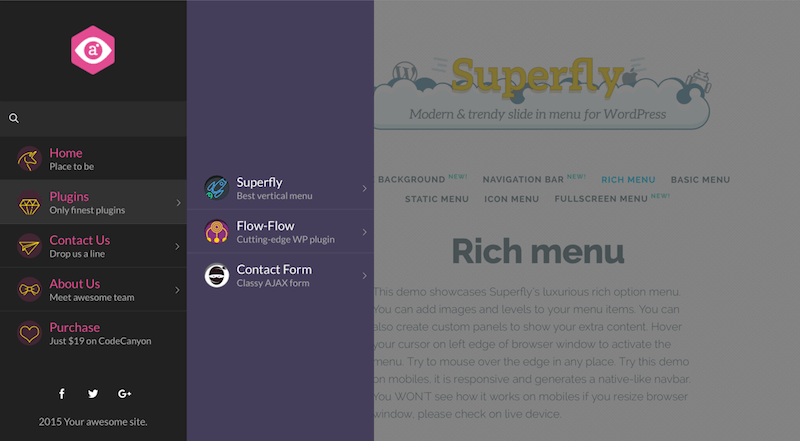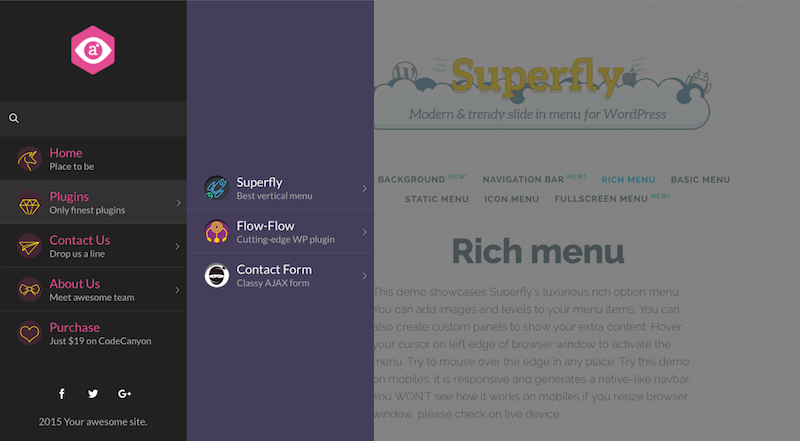 WP Mega Menu Pro
WP Mega Menu Pro is a resourceful menu plugin for WordPress. This plugin comes with some great-looking modern design skins to choose from.
With this plugin, you can create both a horizontal as well as a vertical menu to make your website look great.
This mega menu plugin is good for both a simple blog or a complete eCommerce site where you can show products right on the menu of your site.
The plugin offers you over 100 different styling options. So, if you are planning to make your navigation look great and content-rich, this plugin can handle everything perfectly.
The plugin comes with over 4k amazing modern icon sets that you can use on your menu. The plugin offers you the option to create a group menu with multiple groups.
You don't have to know coding to make the best out of this plugin; the elegant drag-and-drop interface will make sure that things are a lot easier for you.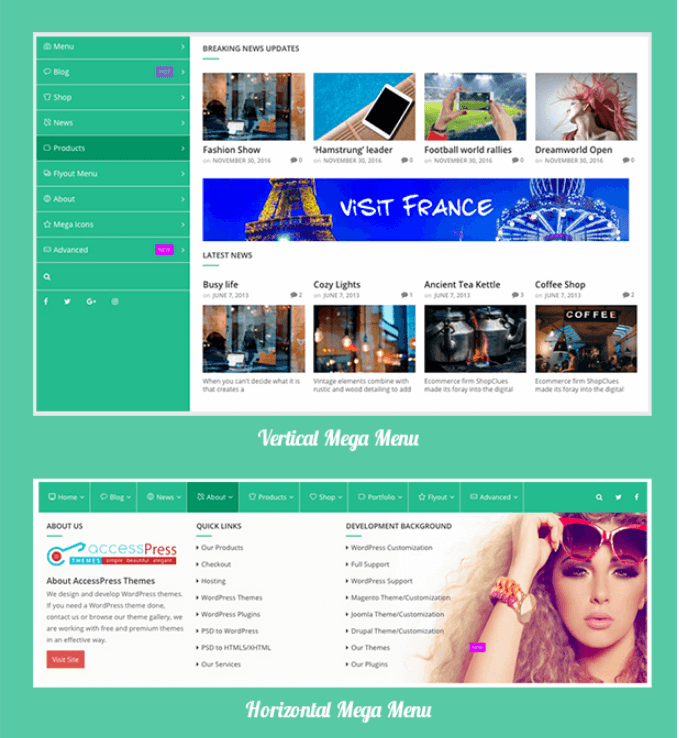 Stratum Mega Menu WordPress Plugin
Stratum Mega Menu WordPress plugin compatible with Elementor WordPress builder is one of the most convenient free solutions for WordPress users.
This mega menu will help you build complex navigation menus, including various submenus levels. Choosing the Stratum menu WP plugin means the capacity to create both vertical and horizontal menus, which can also contribute significantly to the overall website's convenience. 
Best Features:
showing any widget with custom content in submenus (with columnized designs included)
adding individualized tags and icons to the menu
modifying the visual styling of your top-level menu and submenus
making vertical and horizontal menus
adjusting the responsive menus for diverse devices
adding various animation effects to the submenus.
Make your site's navigation much more logical and user-friendly with this mega menu plugin.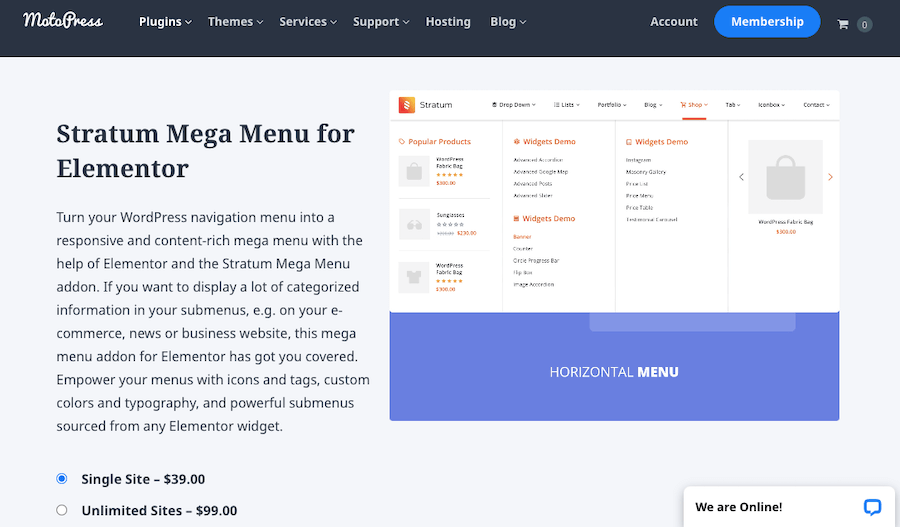 Touchy: WordPress Mobile Menu Plugin
As the use of mobile phones is increasing, it is becoming very important for every website to be mobile-friendly.
These days almost every WordPress theme is mobile responsive and works perfectly on small screen devices. However, every design may not have the perfect menu design for mobile devices.
This plugin is specially created for mobile devices. You can create a completely modern menu for your site that is perfect for small-screen devices.
The menu created with the Touchy plugin works perfectly on desktop devices as well.
In a way, Touchy is a comprehensive header customized for small-screen devices. It allows you to have a logo, drop-down menu items as well as a search feature making it complete.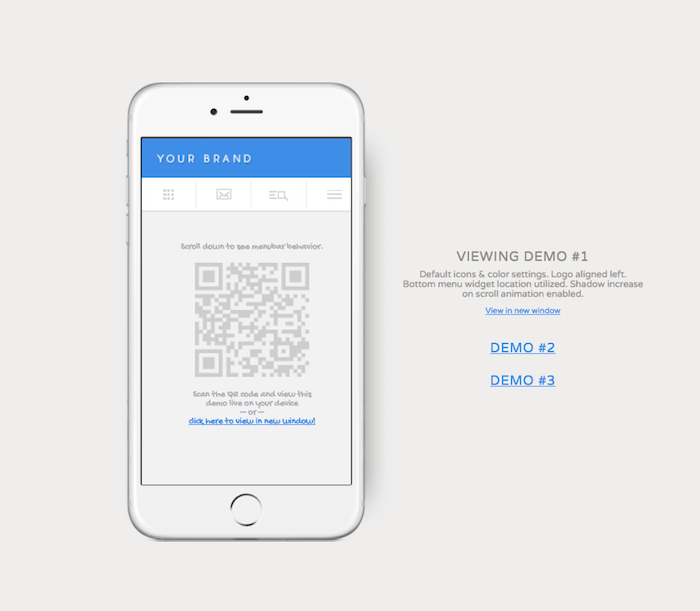 Superfly Responsive WordPress Menu Plugin
Some authority site uses vertical menu these days. This kind of menu offers you a great unique look for your site.
So, if you want to have a similar kind of vertical menu on your site, you can use the Superly menu on your site. Along with great looking vertical menu, this plugin also offers you a fullscreen menu option.
The plugin gives you the option to have a background image on your menu, and you can add great-looking shiny icons to make it look even better.
It's a GDPR-compliant WordPress plugin that will ensure that none of the user data is stored on your site.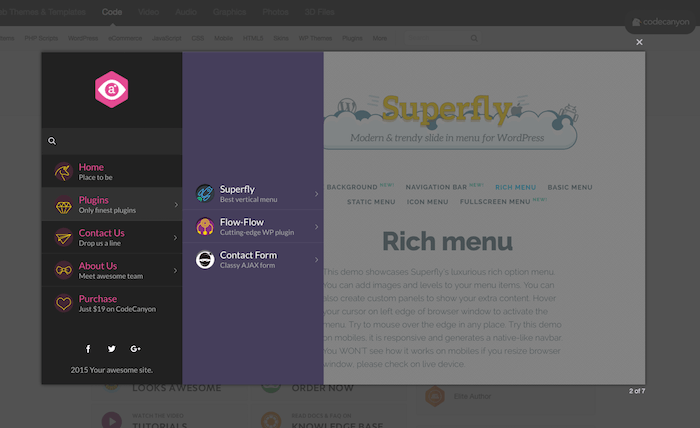 Morph
Morph is a beautiful flyout mobile menu option for WordPress sites. We all know how important it is to create a mobile-optimized site these days, and the menu is an important component of the overall design.
Even if your theme offers you a mobile menu option, this plugin will enhance it further with a great design. You will be able to impress your users who land on your site through the small-screen devices.
You will have a great customization option to style the flyout menu with a custom header image and the important links that you wish to show on the menu.
This menu plugin works best on desktop as well as mobile devices. So, if you wish to keep your site clean and just have the flyout menu on, this is undoubtedly one of the top options for you.
Create a great-looking header bar that will host the logo and the menu button. You have the option to style it with beautiful color and animation to make it look even better.
The Morph menu plugin comes with over 70 different customization options to make sure that the header section of your site looks unique and modern.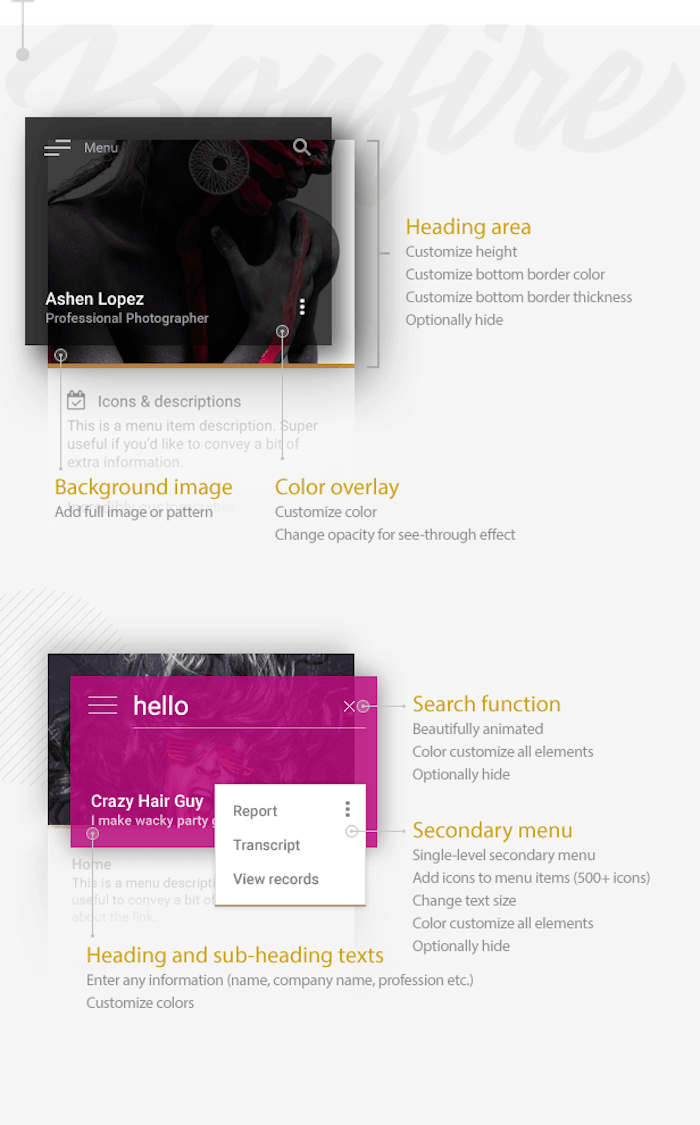 Responsive Menu
Responsive Menu is a free alternative to Superfly's vertical menus. With this, you might experience some restrictions in regard to the previous entry, but it still does a decent job.
Some notable features of the plugin include the fact that it is shipped with over a hundred and fifty different customization options.
You have control over font size, alignment, and color, not to mention the ability to upload custom backgrounds, logos, icons, and the option to have a personal touch menu.
Besides all these, you can also include a search bar, animate the menu items, change color opacity, integrate a header bar, and loads more through the options panel.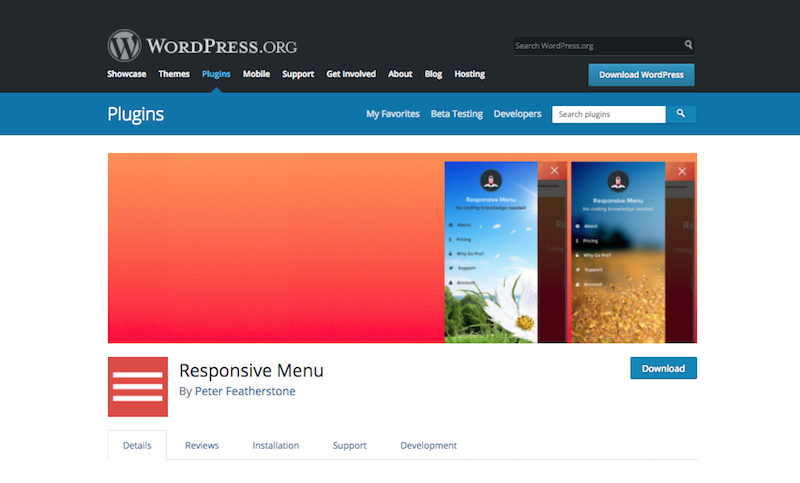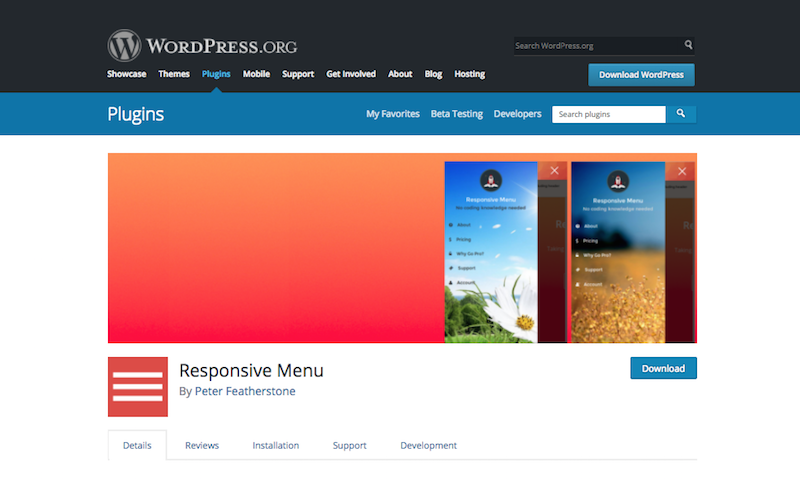 8Degree Fly Menu
A modern quality fly menu can instantly transform the overall experience on your site. A fly menu is extremely important these days, as it enhances the look of your site as well as the user experience.
This fly menu plugin offers you four different layout options to choose from. You can use the menu or content whatever you wish on the fly menu section.
The fly menu offers you the option to add custom icons, a search box as well as a custom label on your menu, have a look at the image below.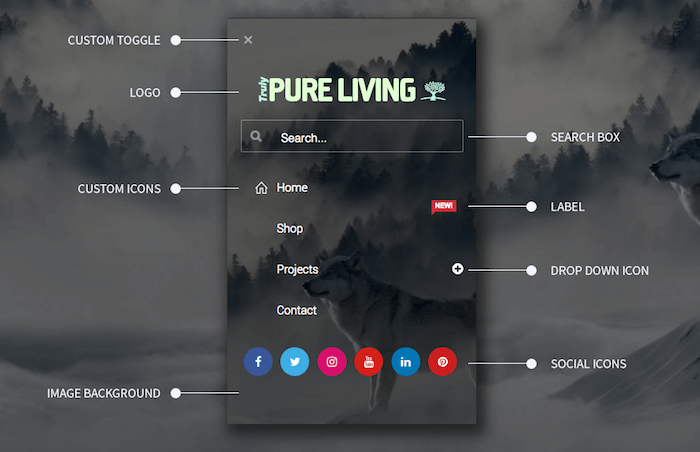 The menu offers you amazing trendy design as well as unlimited color options to fine-tune the overall look and feel of your navigation.
Also, you can add multiple fly menu on each page, so this can be another trendy design option to showcase some important custom messages on particular pages.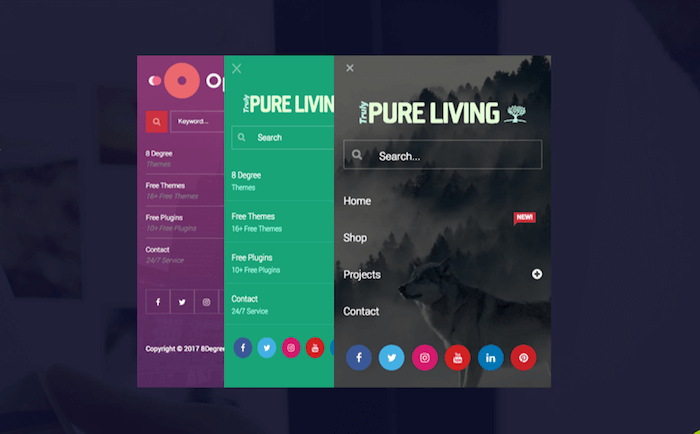 WP Floating Menu Pro
With WP Floating Menu Pro, you have the option to incorporate sticky navigation menus or a one-page navigator to enhance your website's usability.
The plugin comes with 13 beautiful template layouts, options to integrate an unlimited number of menus, options to configure menus on the basis of each page, a responsive design style, a bundle of menu icons, sortable menu options, seven different positions for your menu and loads more.
Overall if you are looking for a menu to suit your one-page website and give you the option to switch to a sticky menu, then you can install this plugin without a problem.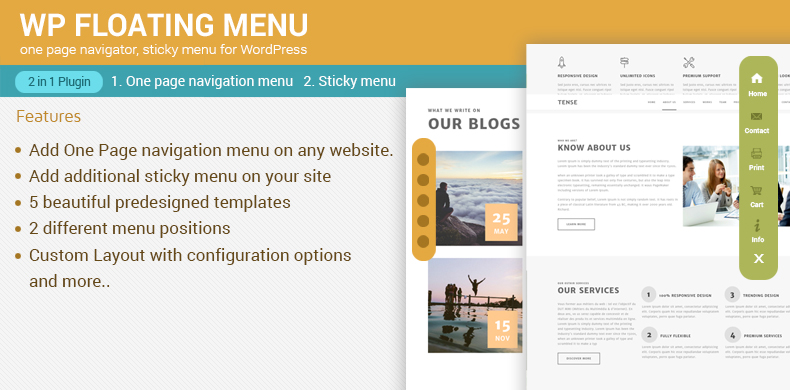 Mega Main Menu
Mega Menu, as should be understood from the name is a Mega Menu plugin for WordPress. The plugin helps in building a multifunctional responsive WordPress menu and complements it with a plethora of features.
Some of the options and functionality provided by the plugin include Sticky menus, amazing drop-down menus, icons, logos and search bar, and much more.
You have the option to choose from over ten drop-down styles, get access to unlimited colors, pick anything from over 600 Google fonts, over 1600 vector icons, and so on. The plugin is also WPML compatible which is always a bonus.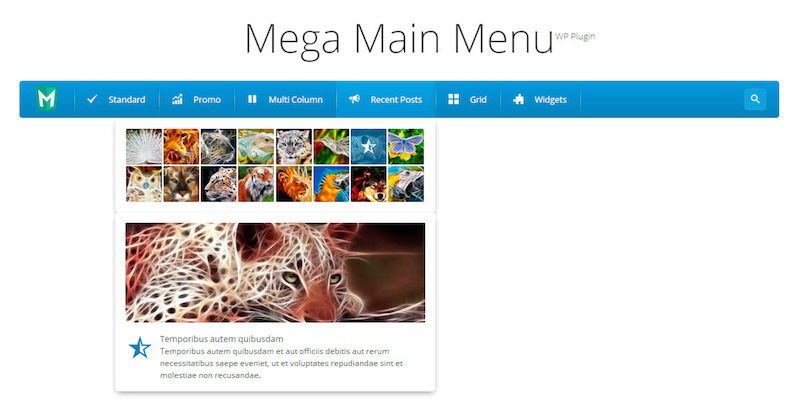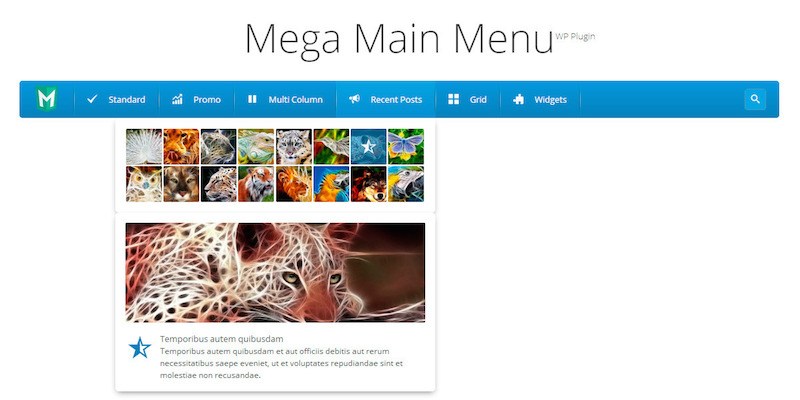 Max Mega Menu
Max Mega Menu is a free solution for implementing Mega Menus on your blog. After you install the plugin, it will automatically turn your existing WordPress menus into Mega Menus. After this, you can quickly add widgets to your menu and restyle or reconfigure all aspects of the menu.
With all the features that you are getting with the plugin, you can even call it a complete menu management plugin for your WordPress website.
One of the most notable features of the plugin is that it can display WordPress widgets right inside your Menu. Then there is support for multiple menu locations, drag and drop Mega Menu Builder, Transition effects, and much more customization options.
And if this doesn't quench your thirst, the pro version includes plenty more options to implement onto your website.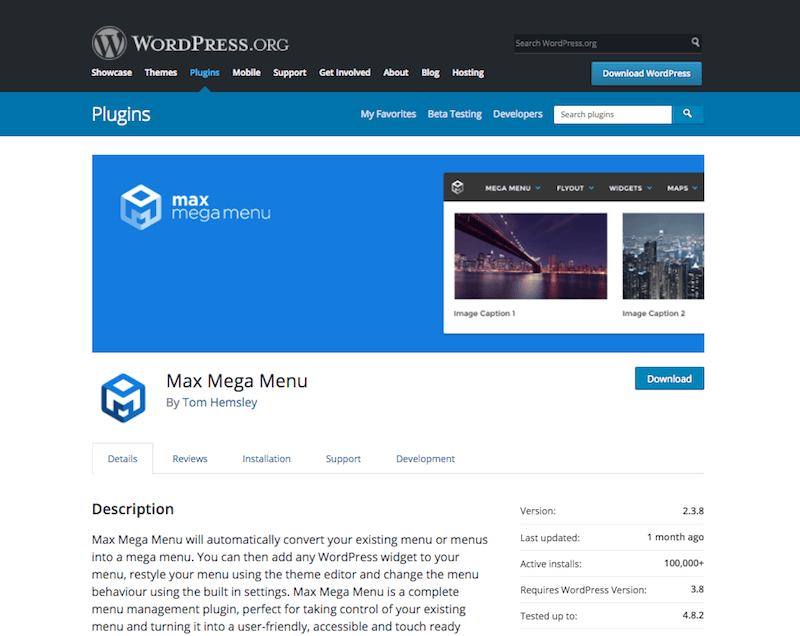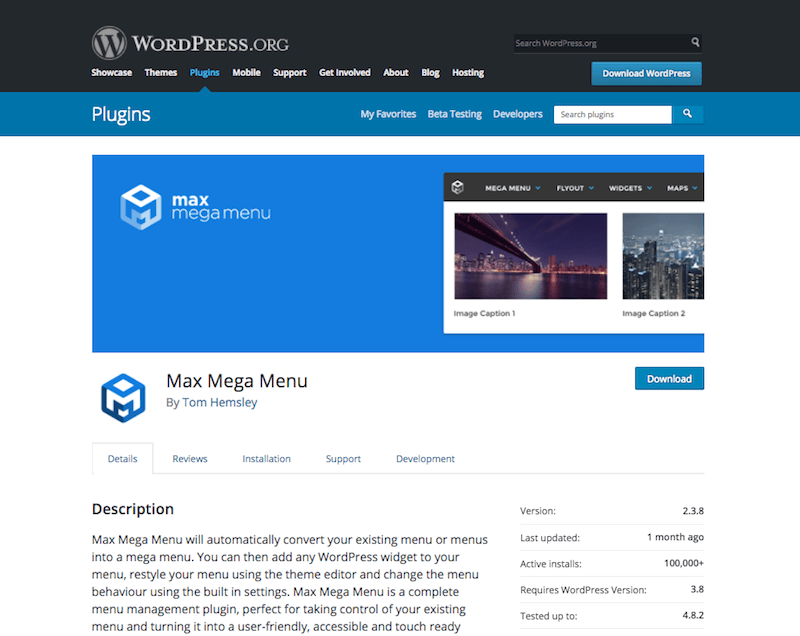 Tactile
A quality mobile menu is very important these days, and this plugin will help you create the perfect mobile menu for your site. This plugin offers you numerous customization possibilities to make sure that the menu is perfect.
You have the option to change the color combination for each element on the menu, the background of the menu as well as the pattern. You also have the option to show and hide each element on the menu.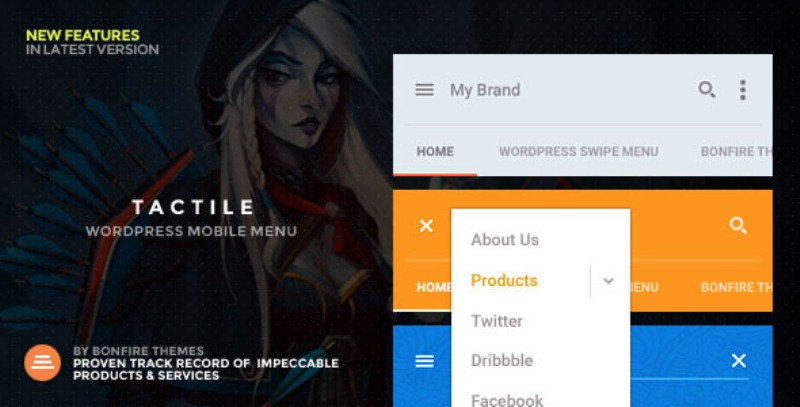 WP Mega Menu Free
If you are looking for a quality free option to create your mega menu, here is the plugin you need. This is a beautiful free menu plugin with tons of options to make sure that you can create a completely modern menu for your site.
This menu plugin gives you the option to create a custom theme and style it as per your requirement. You have Google Fonts, Font Awesome Icons, the option to put a search bar in the menu, social icons, menu background options, and a lot more.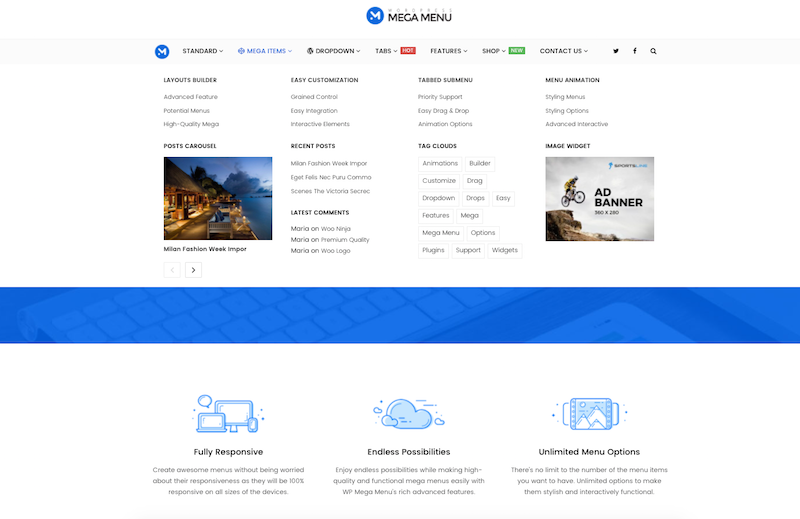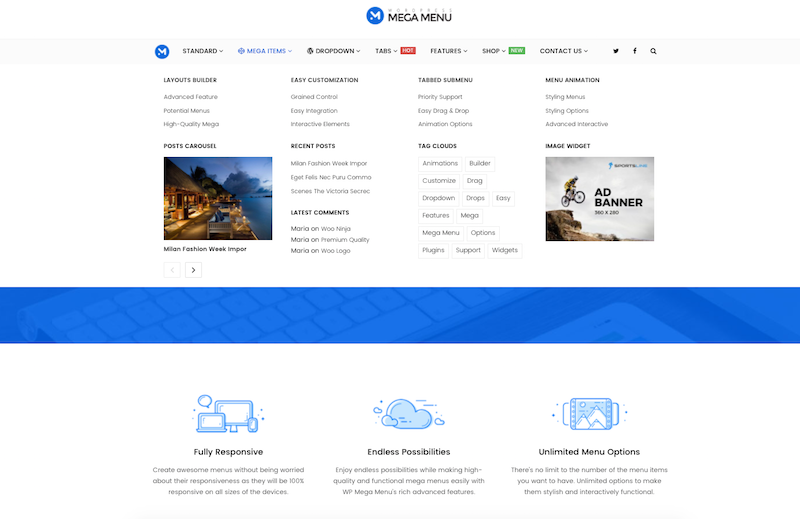 Clever Mega Menu for Visual Composer
Visual Composer (WPbakery Builder) is one of the most widely used WordPress website builders. Many premium WordPress themes are created around the builder and it is clubbed with the theme to create unique layouts.
If you are also using the WPBakery builder and looking for a way to create a stunning mega menu for your site, here is the plugin you need.
It's an add-on plugin for the popular website builder. It offers you an amazing menu design option that will make your site even more attractive.
This is one of the most comprehensive menu plugins, you will be able to add almost all kinds of content right on your menu such as images, HTML Code, shortcodes, widgets, etc.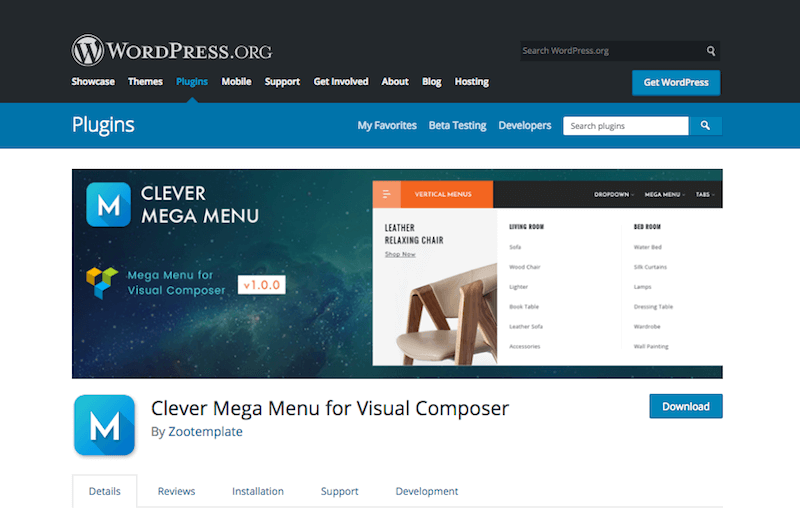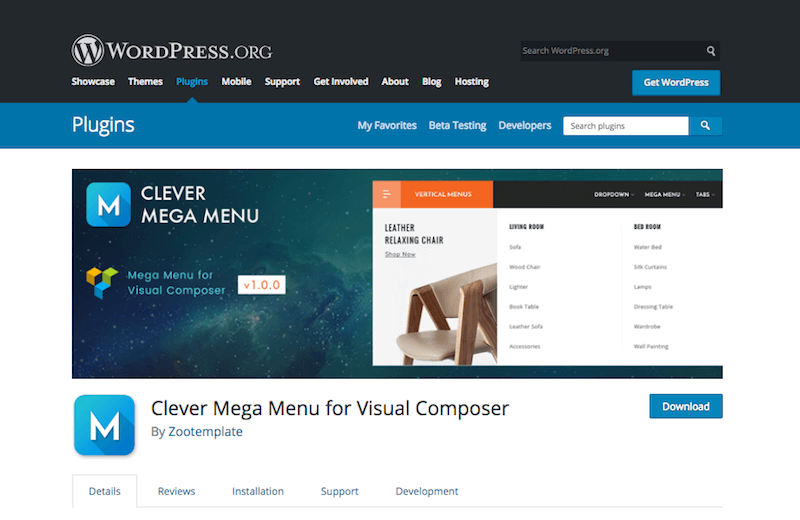 In Conclusion:
The above-mentioned are some of the best plugins you will find in this section. If you have used any of them, then do tell us your experience in the comment section below.
Also, if you are aware of some other plugins that you think should have made it into the list, then don't forget to mention them below.
Your opinions are highly valuable and will also give your fellow readers more insight.