Best HTML portfolio templates that you can use to create your portfolio site to showcase your work.
The world is changing rapidly, so should your website design. As a web studio, web agency, freelance designer or developer, you should make sure that you are constantly updating yourself with the new design trends.
You can't sell or promote your business if you do not have an attractive website as your website's visitors would not stay if your website design is shady or looks old school.
Here are some of the best HTML portfolio templates that you can use for your website to give it an attractive look.
Don't miss our article about the best CV Resume WordPress themes, we have listed some beautiful designs on that list.
Also, we have created some great articles related to HTML designs, have a look at some
Trendy HTML Website Templates
Bacchus
This one page HTML5 template can be used for different business houses as well as for personal use. It provides you with a fully responsive layout which your customers can use on any screen.
The smooth scrolling and the cross-browser compatibility makes this template a good choice. Bacchus is based on the Bootstrap framework and comes with high resolution which includes HTML files including index.html or single.html.
Create a personal and unique website with Bacchus.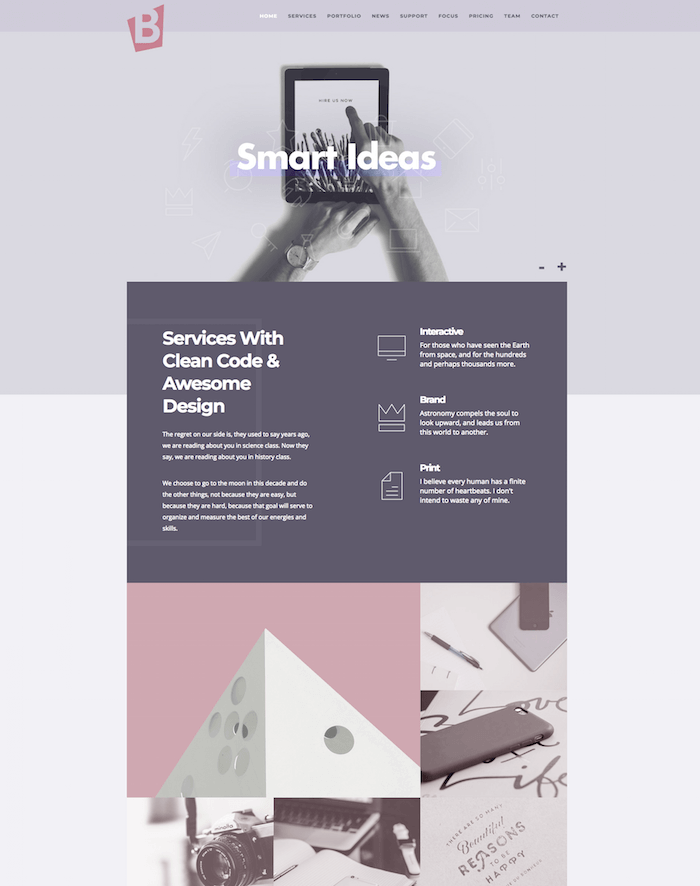 Gorgo Portfolio HTML
If you want to showcase your work or your project on your website, then Gorgo Portfolio HTML free template can be the one for you.
It is a professional business portfolio theme, especially for designers, developers, freelancers and anyone who wants to show his/her work elegantly to their prospective client.
George Portfolio HTML template's design has been optimized to make your project stand out from the crowd with its creative features.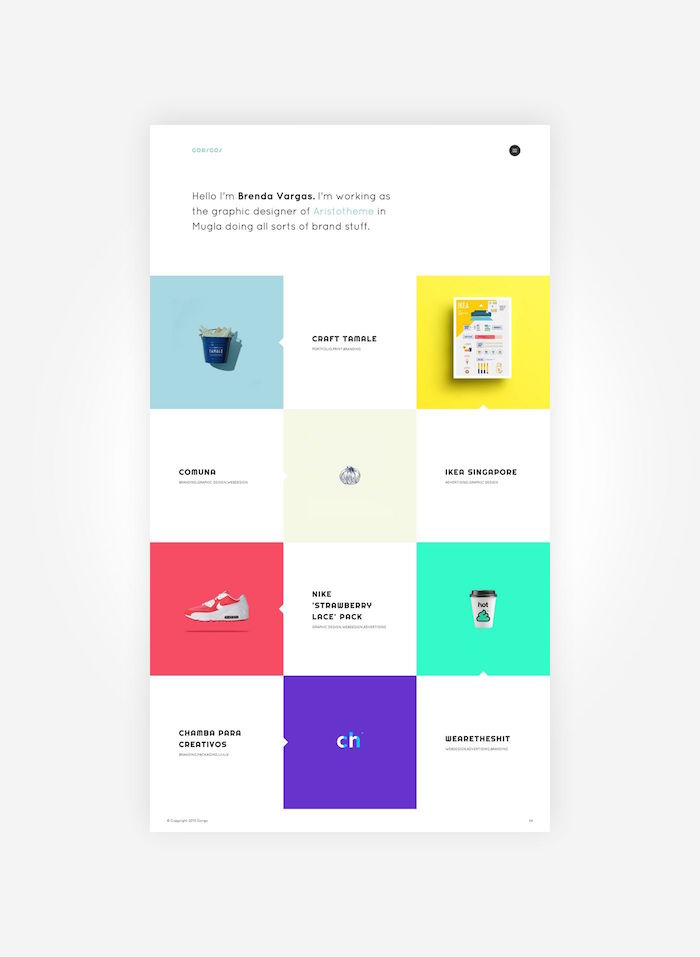 Wolverine
The Wolverine HTML template comes with high technology which is visually engaging and appealing and gives a wonderful look to your website.
Its bootstrap framework makes it developer friendly and can be used for both professional and personal portfolio websites.
The template comes with 1000 custom icons, 20 header, and footer styles and is cross-compatible with all the browsers and devices.
Skrollex
Get your website rolling with Scrollex. This is a stunning and handsomely designed template to give your website an impressive look.
It is the perfect fit for professionals like DJ, visual artists or graphic designers because it helps them in showcasing the portfolio of their work which can help in bringing more clients.
It has been developed with Twitter's Bootstrap framework which makes it highly responsive and gives a solid impression.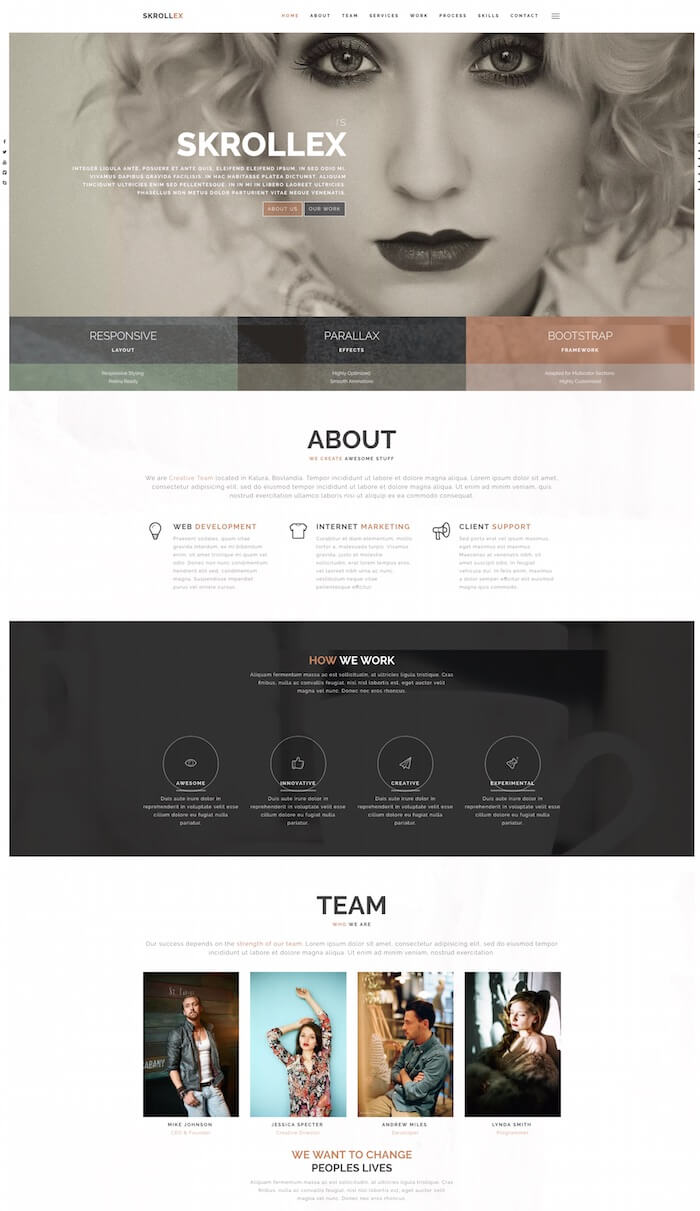 Gemiz – Portfolio HTML Template
Gemiz is a portfolio HTML template and comes in two styles of homepage slider which includes Layerslider and Sync Slider.
The template comes in light and dark versions and allows you to control the layout of your item grid in the best possible manner.
It is the best template for any creative business agency or a web design company who wants to showcase the best of their work and is the ideal theme to please your clients and customers.


Magnum – Creative Portfolio Template
The magnum is a creative portfolio template which lets you show off your work to the world in style. Showcase your portfolio in a creative way and sell your services to your clients and customers.
It is very responsive and gives your website a highly professional look.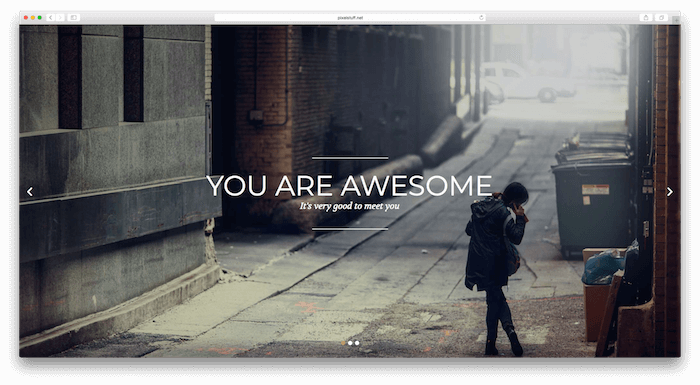 Patti – Parallax One Page HTML Template
This one-page HTML template also gives your website a very professional look. Patti, the parallax one page HTML template is crafted in a very careful and a creative way.
This template will give the best possible user experience to anyone who visits your page. It is easy to set up and customize.
Because of the versatile design that the template has to offer, it is an ideal portfolio theme choice for web agencies, freelancers, photographers and digital studios.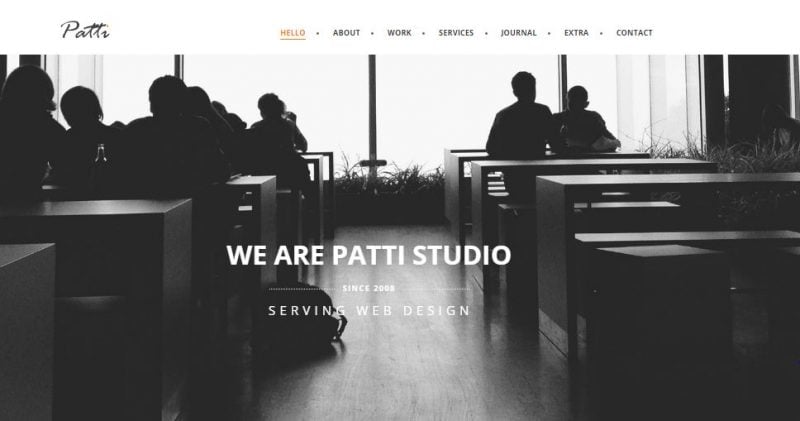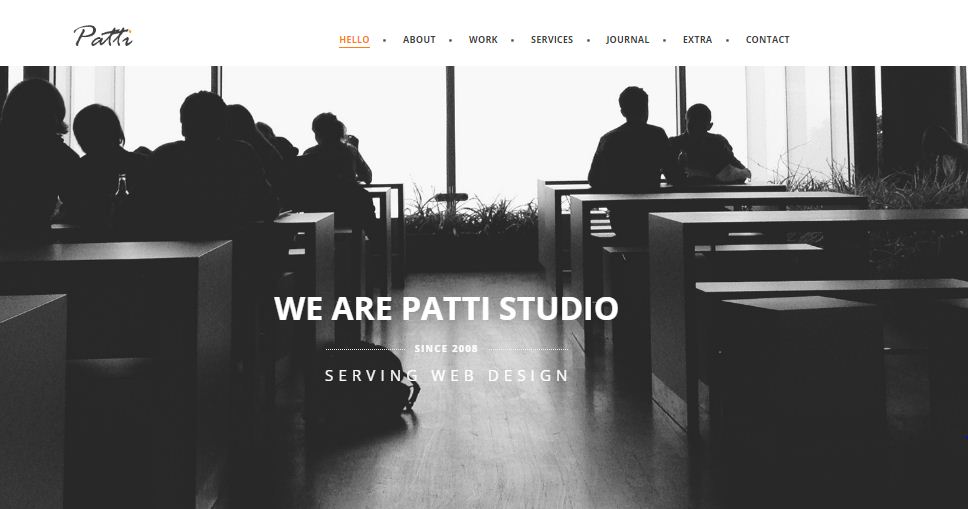 Visia – Responsive One Page Portfolio
Visia is a fully responsive one-page portfolio template which provides a beautiful design to your website. It is compatible with a lot of devices and comes with amazing support.
With a gorgeous design and cool animations, this easy to set up theme can be used by the beginners and professionals alike.
Along with the elegant portfolio option, the theme comes with a blog page and has responsive video support.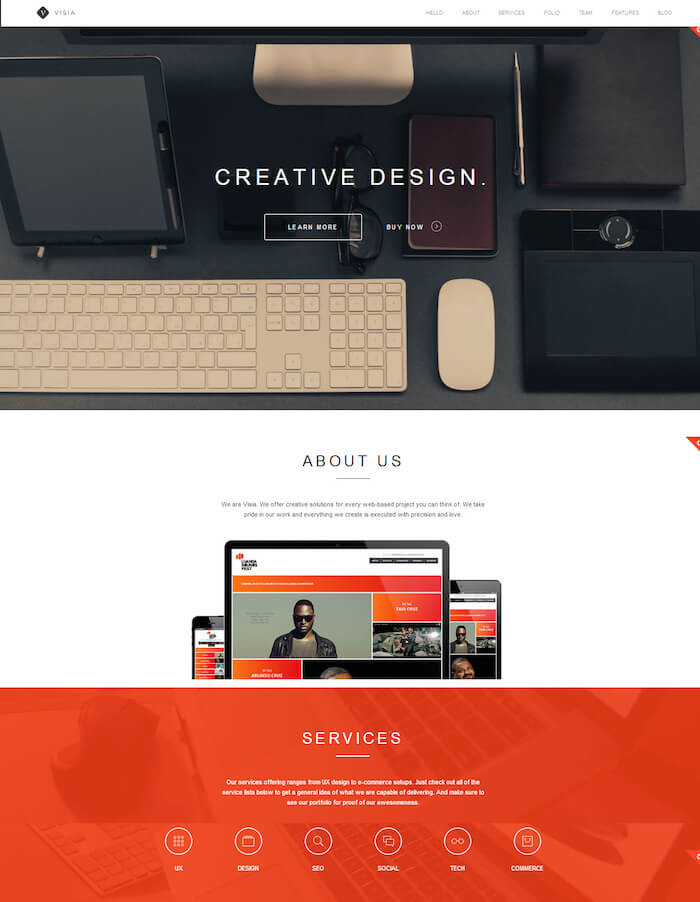 Gioss – Responsive HTML One Page Parallax
Gioss is a responsive HTML One page responsive template and can be used by corporate, digital agencies, photographers, freelancers and the likes.
This template is compatible with mostly all the browsers and is easily customizable. With the affordable pricing and the elegant styling that it comes with, Gloss is an ideal choice for displaying the best of your work to the world.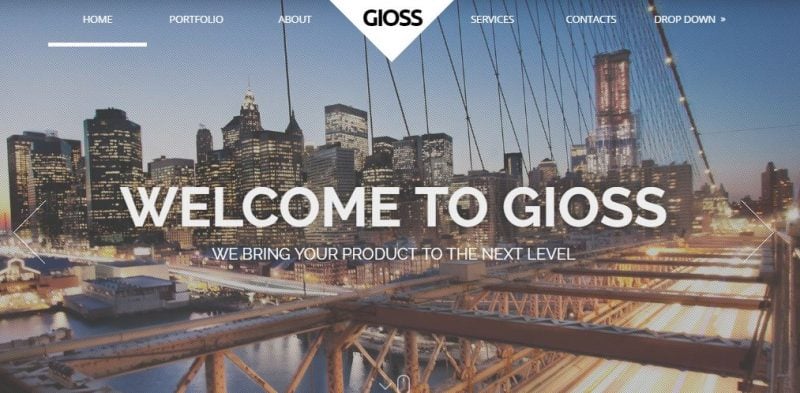 Flato – Responsive Resume, Personal Portfolio Template
As the name suggests, Flato is a flat, professional and multipurpose responsive portfolio template. If you are a designer, web programmer or a social media manager, you can use this one-page resume template for showcasing your portfolios in the best possible way.
Flato comes with three fully responsive layouts, animated image grid background, and full-width background slideshow. A great choice indeed!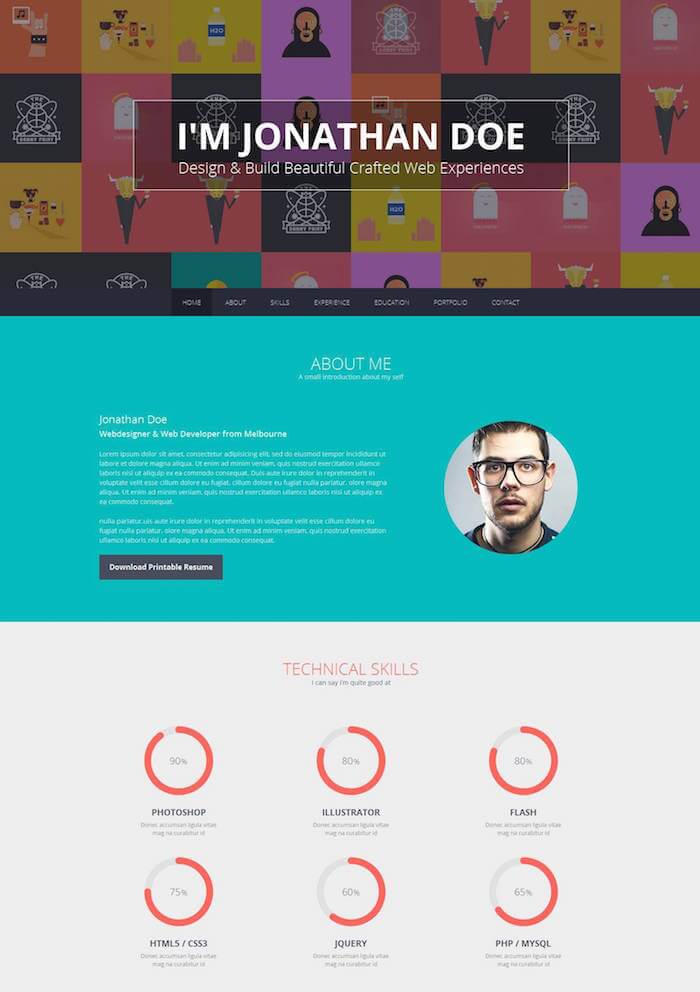 Impacto – Flavorful and Minimalistic Template
This is a very minimalistic and flavorful template which can be used by creative designers, photographers and even some of the business houses as per the specific requirements.
Because of the easier navigation by the sidebar, this multi-page retina ready portfolio will showcase your work in an attractive way.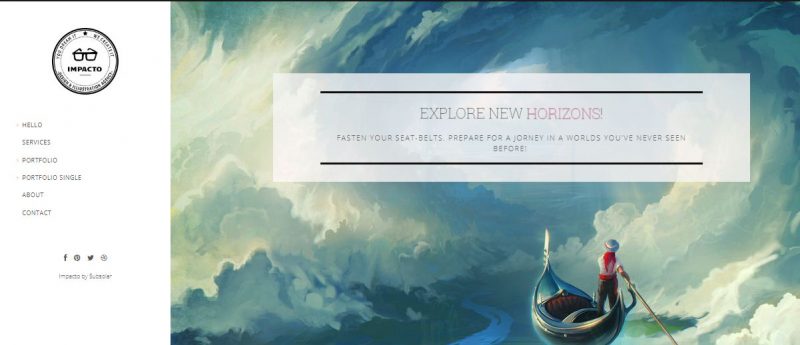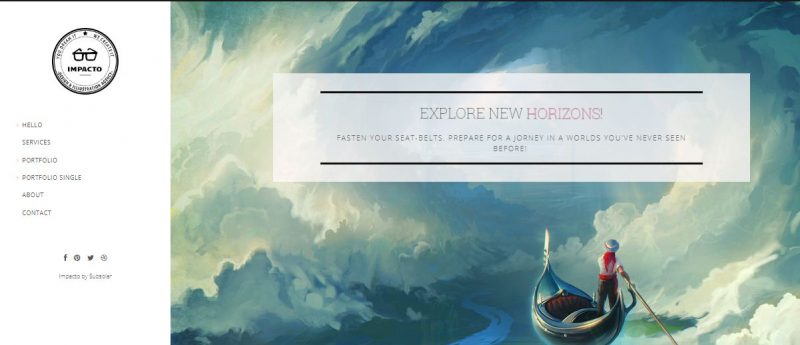 Cleanse – Minimal Portfolio HTML Template
Cleanse is a minimal portfolio HTML template which can be used by the creative agencies, digital studios and also freelancers for showcasing their work in the best possible way.
Attracting your customers and your clients by using this template and showcasing your portfolio is a matter of a few clicks.
The template is highly responsive and can be used on a tablet, a mobile, and your laptop as well. With minimal designs, it gives your website a highly professional look.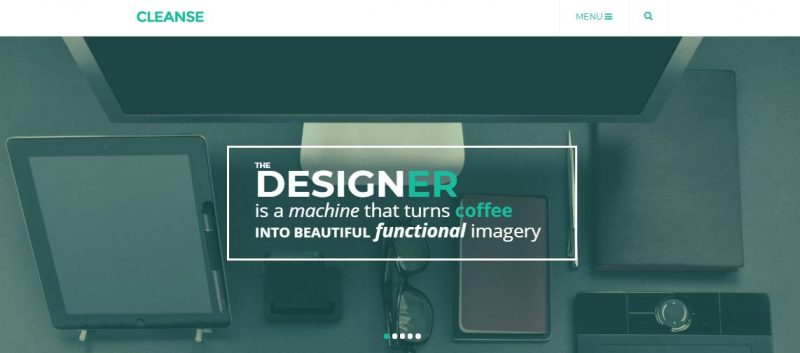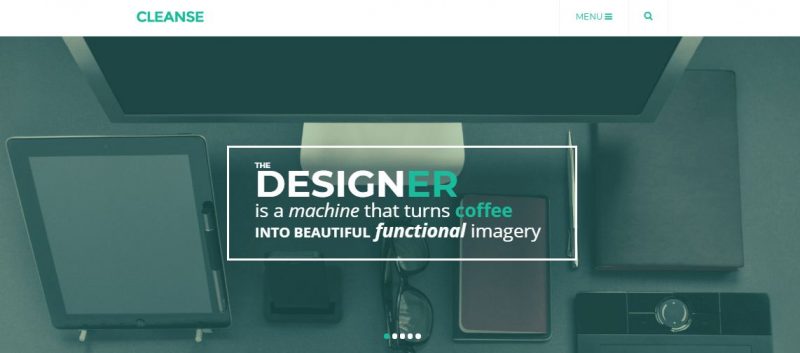 Gorge – Creative Portfolio Template
Gorge is a highly creative and responsive portfolio template which is specifically designed for media agencies, studios as well as freelancers.
The portfolio template has a well thought out structure and presents your information in a very clean manner. This highly responsive theme comes with Ajax ready contact form.
Gorge is a highly customizable and is a highly responsive theme with SEO optimized pages.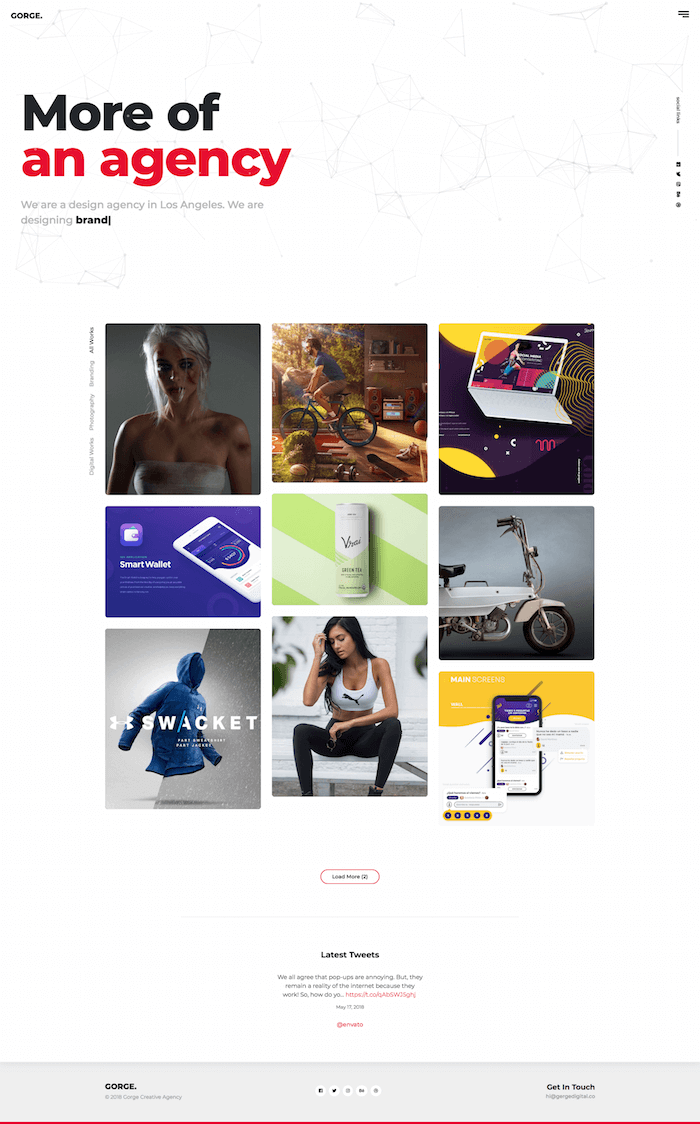 Pofo
This is a multipurpose HTML5 template which is suitable for corporate businesses and personal use alike. The template is flexible and has an attractive design and a good code quality.
There are 150+ unique elements to make your website look beautiful. This template includes a general purpose page including About Us, Service, Contact page, team and clients page.
Pofo has some amazing fonts and features WOW Animation as well. It is SEO Optimized and cross-browser compatible.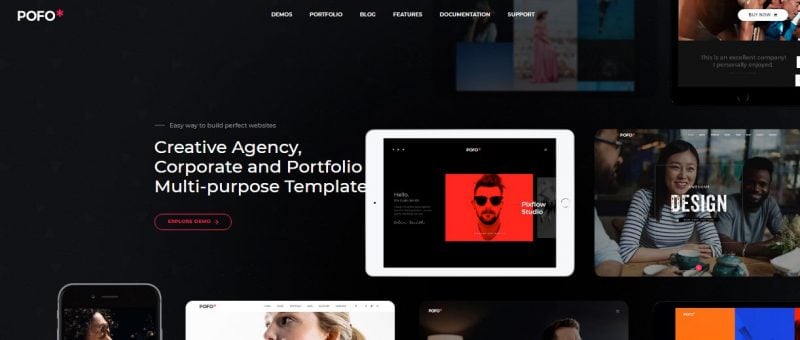 Cocoon
If you are a professional or even an amateur photographer, this HTML template created a unique portfolio of your work and displayed them in a way which appeals to the customers and your prospective clients alike.
Cocoon, because of its originality and creativity will assist you in making your work stand out from the crowd. It has an impressive first page and has sections for services, blogs, and the about page as well.
With Cocoon you also link your page to your social media accounts and enjoy a wide range.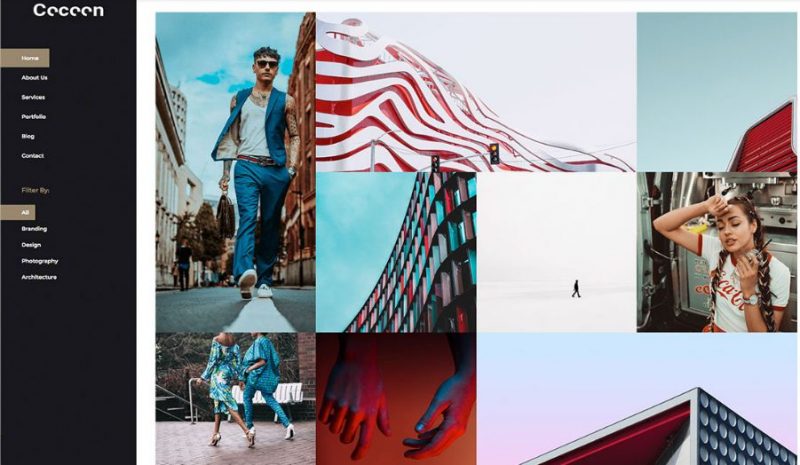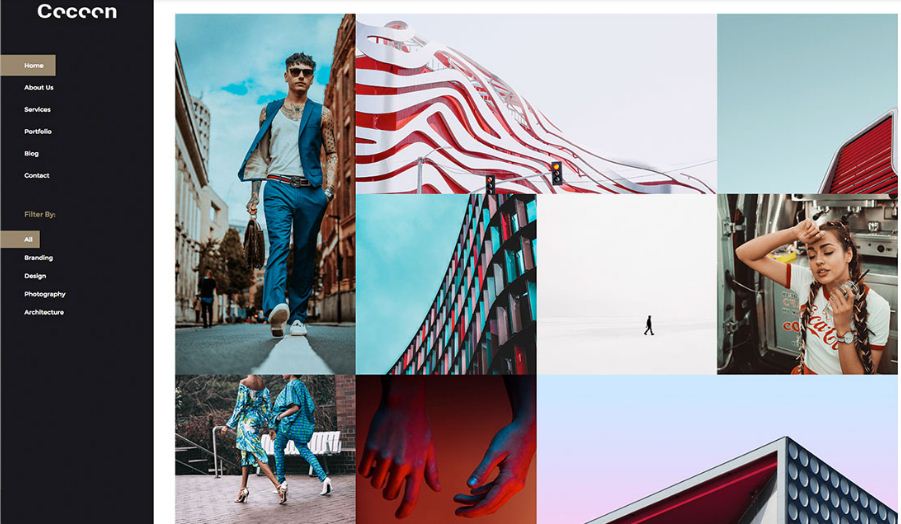 Sonar
This is a free photography website template which can be useful for the amateurs or those who are just starting off with their career.
This template gives you an opportunity to make a compelling website by creating a stunning portfolio of the best pictures and increase your customers by having a wide reach.
With Sonar's live preview page, any visitor can become a fan of your work. The template also has various great features and additional pages. It is mobile and retina ready and is compatible with all the modern browsers.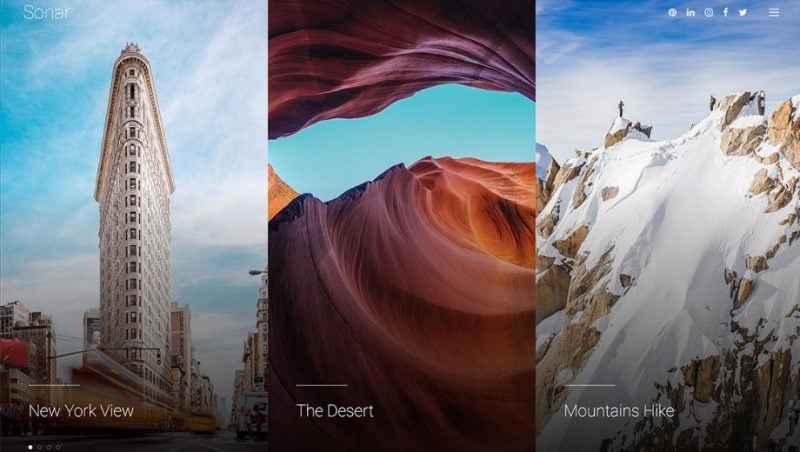 Studio
Even if you are an experienced agency having great business operations, it is important to have an online presence with a structured portfolio.
With studio HTML website template, you can create a strong impression on the visitor of your website. You can also add the contact details, your Instagram and facebook handle.
Make your website portfolio stand out from the crowd with Studio website template.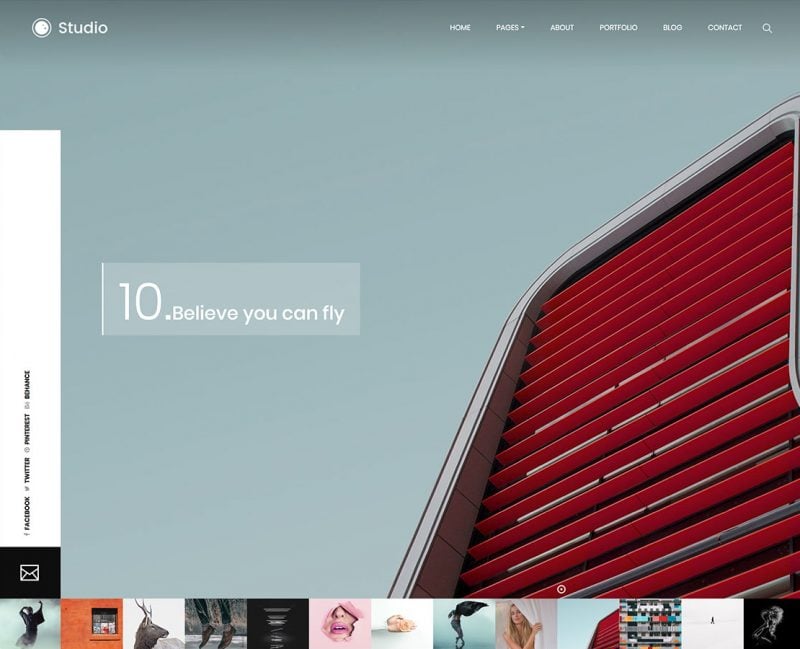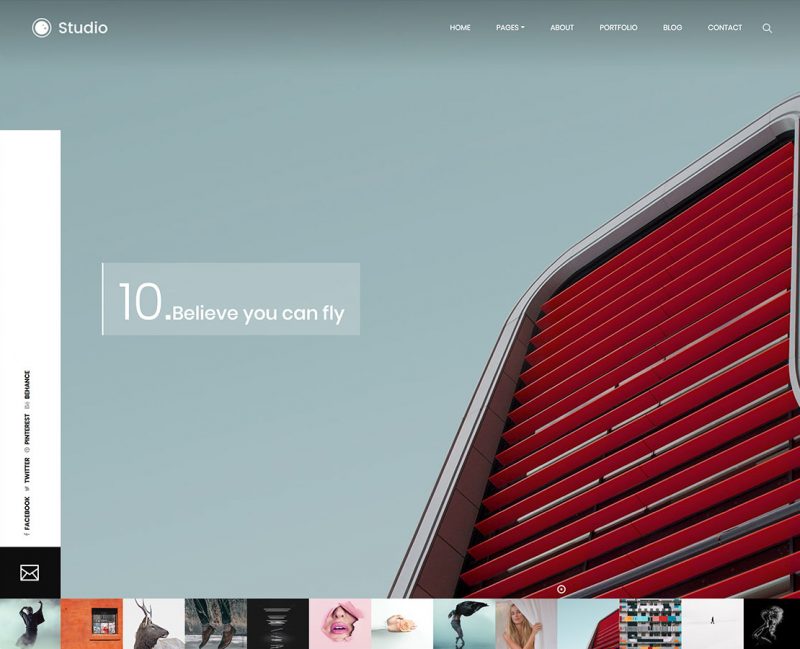 OTTO
This template is well designed and creative which has a deeply responsive BootStrap framework. The template is visually modern and dynamic and has been designed specifically for amateur and professional photographers.
Most of the OTTO plugins have been specifically optimized for development alongside its conceptual portfolio layouts. It is cross compatible with every device and majority of the browsers.
It comes in different colors to choose from and gives a very rich and sophisticated look to your website.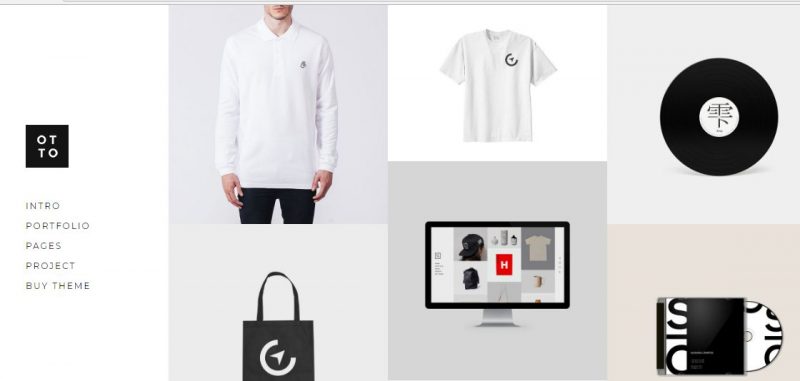 Lumos
Light up your website with Lumos. This bootstrap HTML5 Template makes your website look stunning, modern and user-friendly.
It has various features and gives a graceful look to your website. Designed for both the amateurs and the professionals, this template has been created to give the most professional and impressive look to your website.
There are parallax visual effects along with smooth scrolling effects and the template is highly responsive.


One Page Studio
Build an amazing landing page for your existing or newly launched product and service with this multipurpose template.
This HTML5 template builder comes with a drag and drop builder and various ready to use elements. You can come up with mind-blowing portfolios and outstanding creations with this highly optimized template.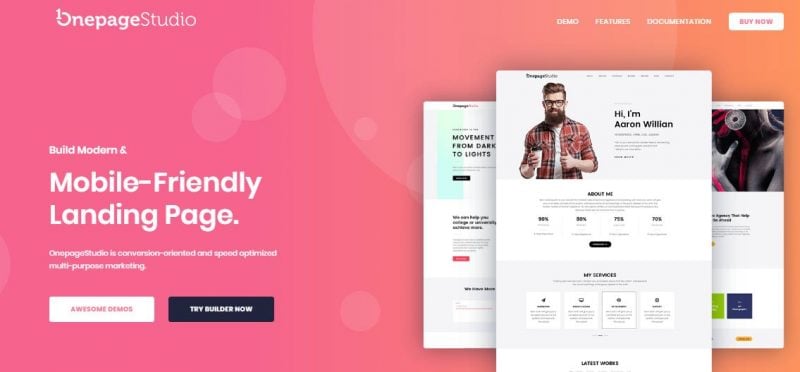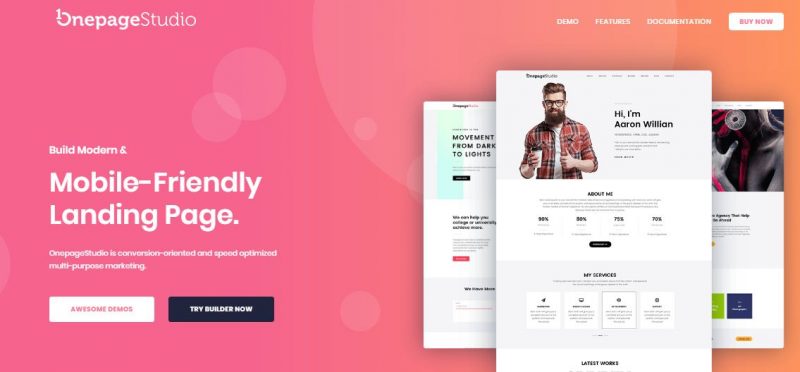 Storm
This professional graphically designed, friendly user interface website template has a responsive Bootstrap framework which is a good fir for portfolio website template.
Because of the design, a powerful bootstrap framework and ultra-responsiveness, this website template is cross-compatible with all browsers and devices.
It is meant for a one-page template and is a time-saving template, showing the content which is of utmost importance. It can be used by professional and amateurs alike.


Crafty
This website template is designed beautifully, for professionals to give a cutting edge to their website. It has an elegant responsive bootstrap and is a one-page website template to give your website a luminous and bright look.
Give a crafty look to your website with this template. Share the portfolio of your work with this website template. Flatter your clients and visiitors by using this solid and sophisticated responsive website template.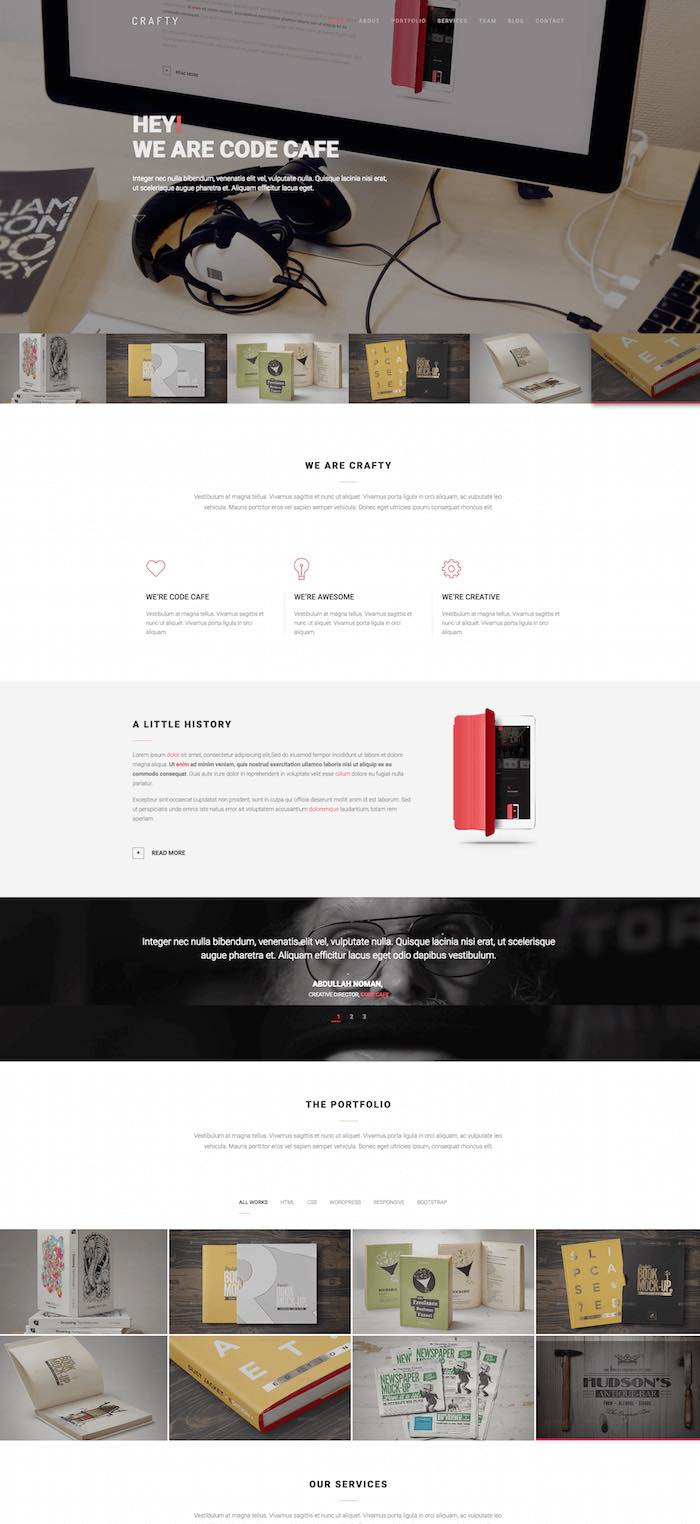 Make
You can never go wrong with 'MAKE'. With its cutting-edge technology, highly customizable and feature rich advantages, this template can reach any type of audience.
It is bound to show off your work in a different way because it has a predesigned layout and many handy and useful widgets which will make the process of creating a website very breezy.
If you want to create that internet presence do it with MAKE, and you can never go wrong.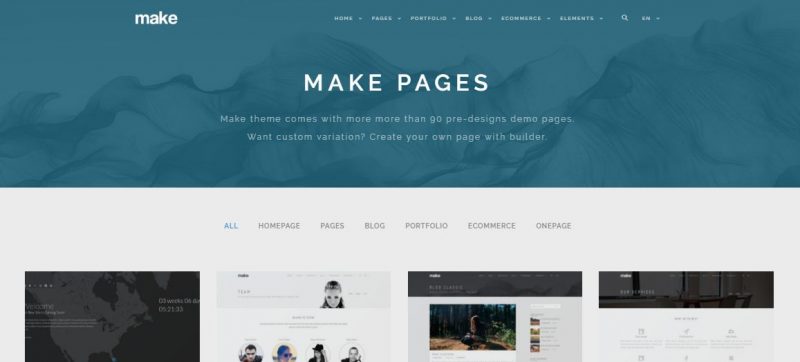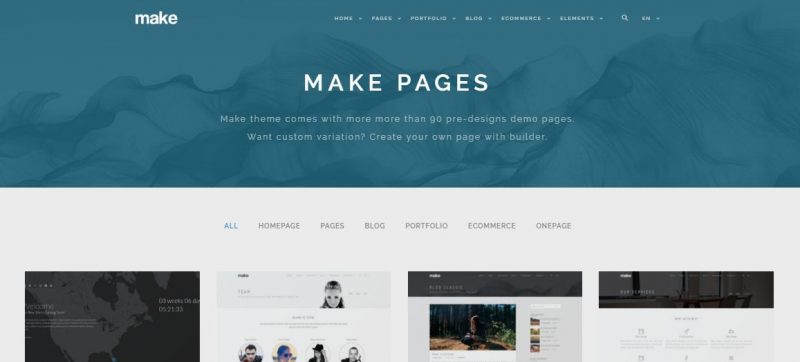 Mountain
Your website can reach heights by the use of this modern and elegant template Mountain. It is a well designed and professionally put together responsive Bootstrap one page multipurpose website template.
It is specially designed for freelance photographers, photojournalists and professionals wanting to showcase their work to the entire world.
It is SEO optimized and is highly responsive theme fit to be used on any browser or any platform.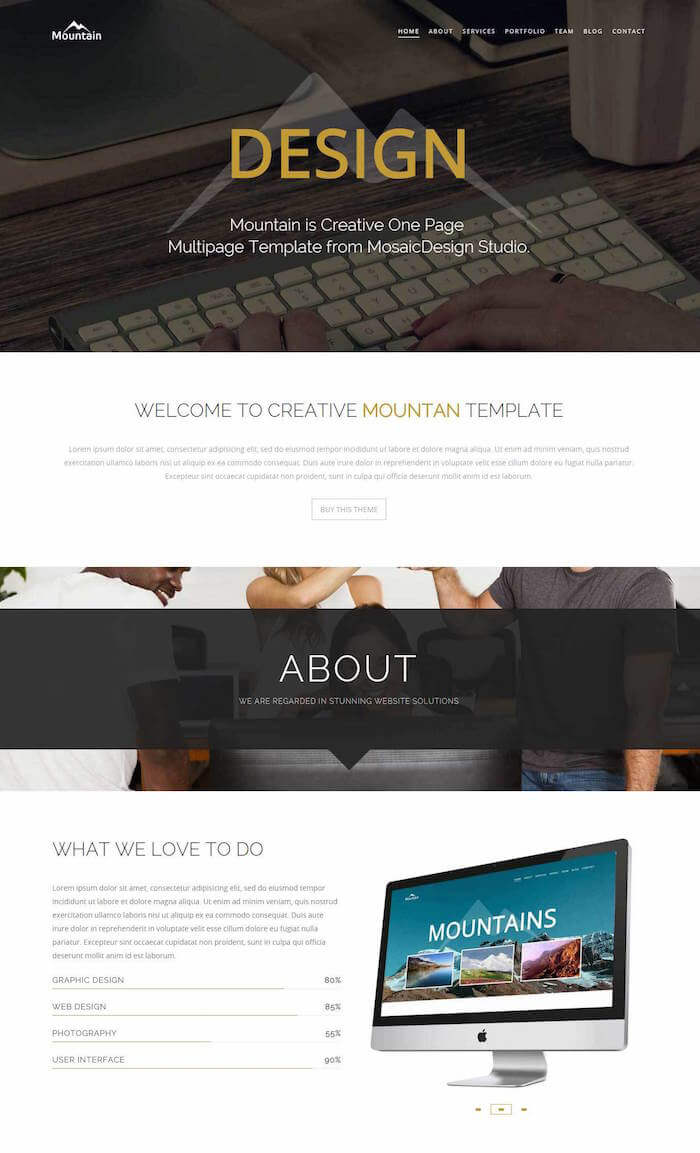 Synergy
As the name suggests, this HTML portfolio website template is highly responsive and can be used by people from any profession including photographers, artists, media agencies, restaurants, business, corporate, small businesses and many more.
You can easily showcase your portfolio in a highly professional and interactive way with a royal look. Easy to use, this HTML template is available to download within a few clicks at an affordable price and makes your portfolio look creative and professional.