Best HTML portfolio templates that you can use to create your portfolio site to showcase your work.
The world is changing rapidly, so should your website design. As a web studio, web agency, freelance designer or developer, you should make sure that you are constantly updating yourself with the new design trends.
If you are a freelancer and offering any kind of service; you must create a professional-looking portfolio design so that your potential clients trust you. It is a lot easier these days with WordPress or any PSD template to create a great-looking design quickly.
You can't sell or promote your business if you do not have an attractive website as your website's visitors would not stay if your website design is shady or looks old school.
Here are some of the best HTML portfolio templates that you can use for your website to give it an attractive look.
Don't miss our article about the best CV Resume WordPress themes, we have listed some beautiful designs on that list.
Also, we have created some great articles related to HTML designs, have a look at some
Trendy HTML Website Templates
Bacchus
This one-page HTML5 template can be used for different business houses as well as for personal use. It provides you with a fully responsive layout that your customers can use on any screen.
The smooth scrolling and the cross-browser compatibility make this template a good choice. Bacchus is based on the Bootstrap framework and comes with high resolution which includes HTML files including index.html or single.html.
Create a personal and unique website with Bacchus.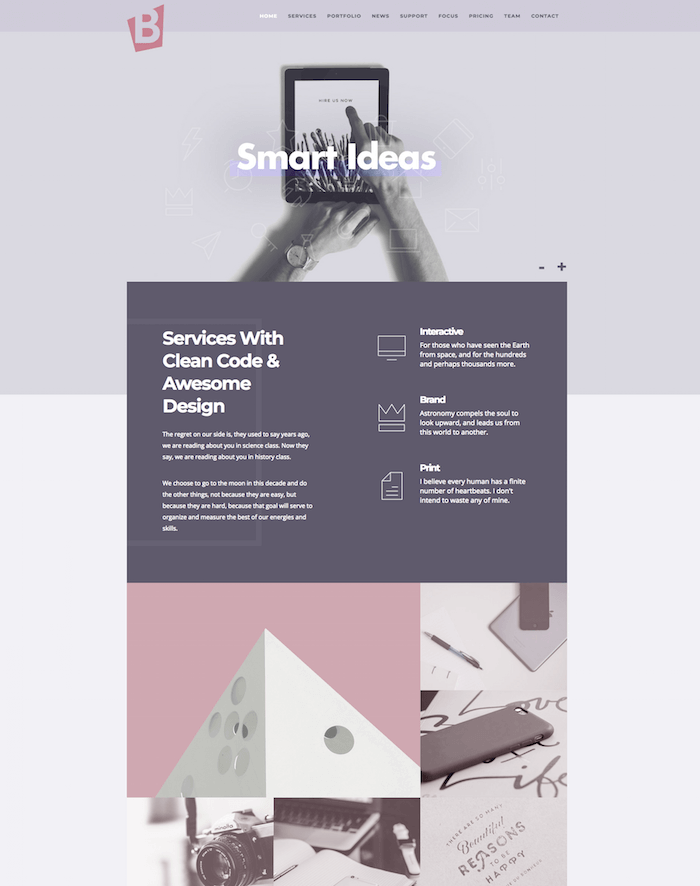 Wolverine
The Wolverine HTML template comes with high technology which is visually engaging and appealing and gives a wonderful look to your website.
Its bootstrap framework makes it developer-friendly and can be used for both professional and personal portfolio websites.
The template comes with 1000 custom icons, 20 header, and footer styles and is cross-compatible with all the browsers and devices.
Skrollex
Get your website rolling with Scrollex. This is a stunning and handsomely designed template to give your website an impressive look.
It is the perfect fit for professionals like DJ, visual artists, or graphic designers because it helps them in showcasing the portfolio of their work which can help in bringing more clients.
It has been developed with Twitter's Bootstrap framework which makes it highly responsive and gives a solid impression.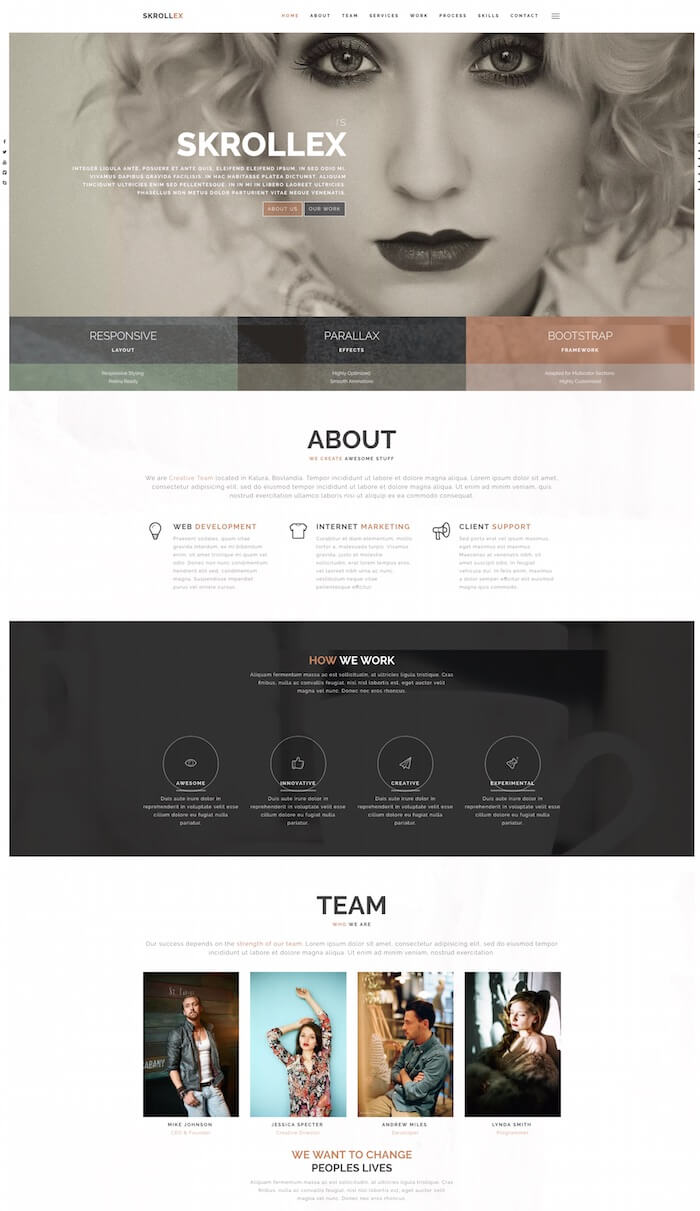 Gemiz – Portfolio HTML Template
Gemiz is a portfolio HTML template and comes in two styles of homepage slider which include Layerslider and Sync Slider.
The template comes in light and dark versions and allows you to control the layout of your item grid in the best possible manner.
It is the best template for any creative business agency or a web design company that wants to showcase the best of their work and is the ideal theme to please your clients and customers.


Visia – Responsive One Page Portfolio
Visia is a fully responsive one-page portfolio template that provides a beautiful design to your website. It is compatible with a lot of devices and comes with amazing support.
With a gorgeous design and cool animations, this easy-to-set-up theme can be used by beginners and professionals alike.
Along with the elegant portfolio option, the theme comes with a blog page and has responsive video support.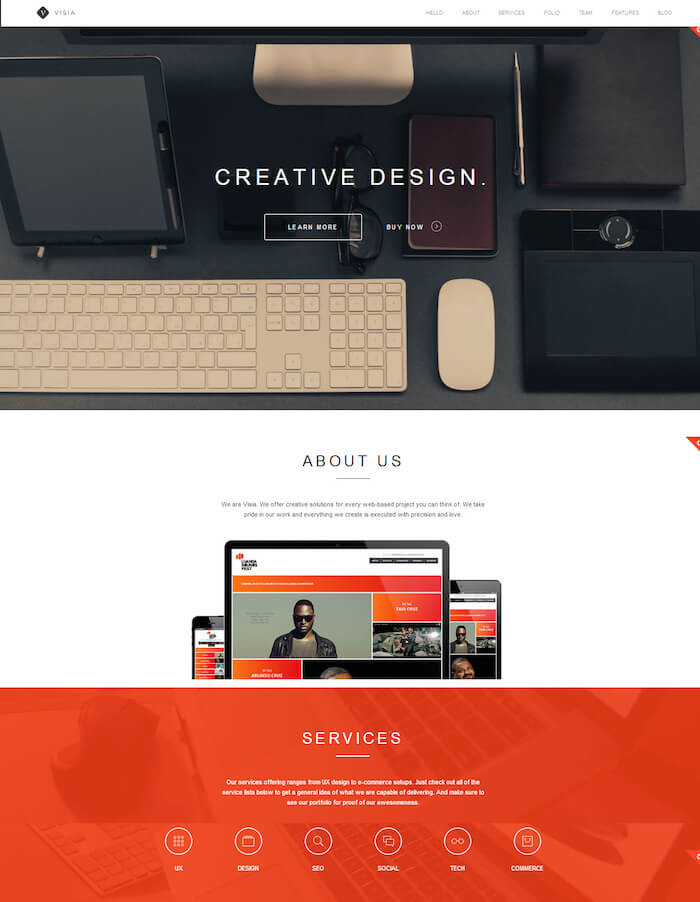 Flato – Responsive Resume, Personal Portfolio Template
As the name suggests, Flato is a flat, professional and multipurpose responsive portfolio template. If you are a designer, web programmer or social media manager, you can use this one-page resume template for showcasing your portfolios in the best possible way.
Flato comes with three fully responsive layouts, animated image grid background, and a full-width background slideshow. A great choice indeed!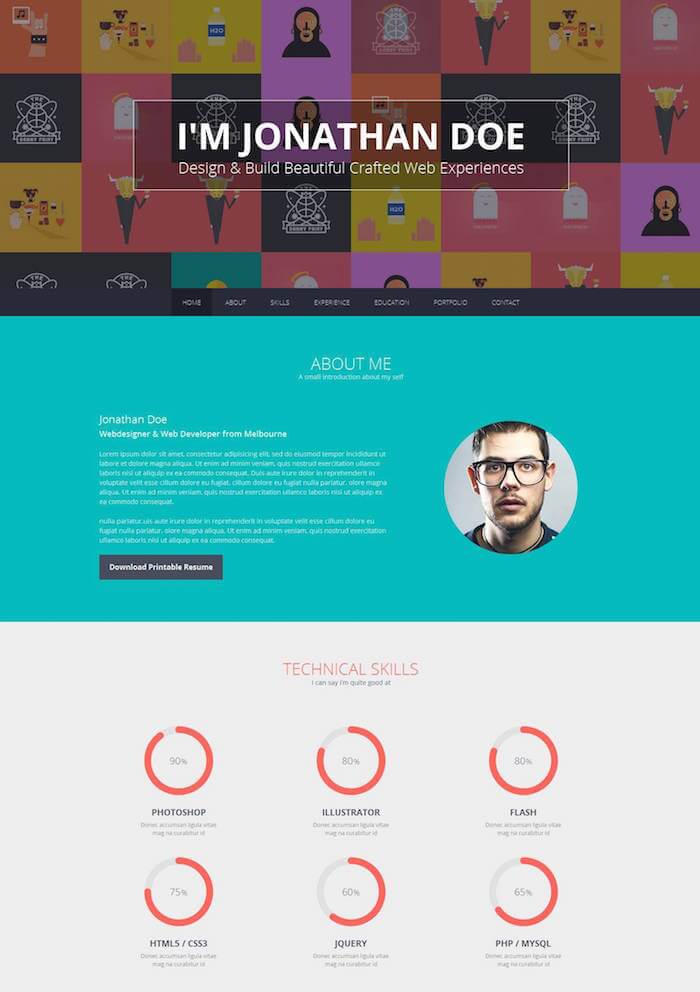 Portfolio – Minimal Portfolio HTML5 Template
Ideally suited for the agency, start-up or personal use, the Portfolio-Minimal Portfolio HTML5 Template is easily accessible to anyone for use. The Portfolio provides amazing results and, what's more, this theme is simple to use.
It is suitable for showcasing photography or any other type of project. The theme has a minimalist design and has loads of features, such as 12+ completed HTML files, five homepage variations, working dynamic contact form, awesome customized slider, unlimited Icon fonts, Google Fonts, and much more. This 100% responsive theme, with Bootstrap 3.7, can be used on any device and costs $17.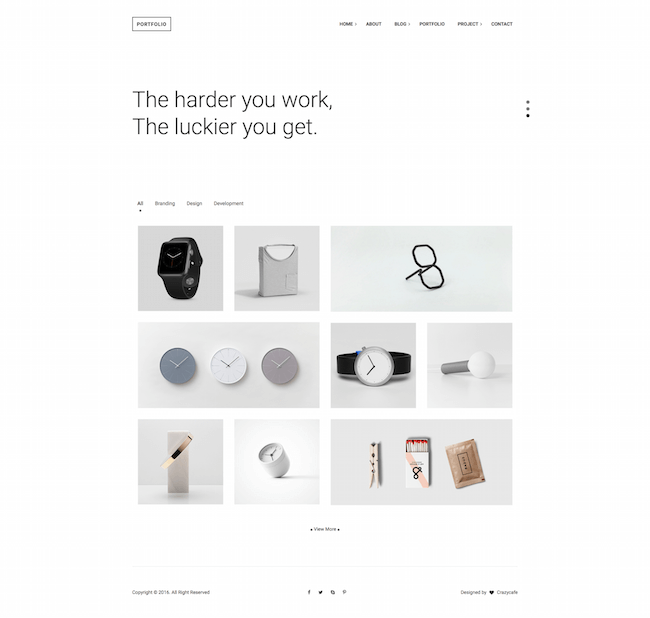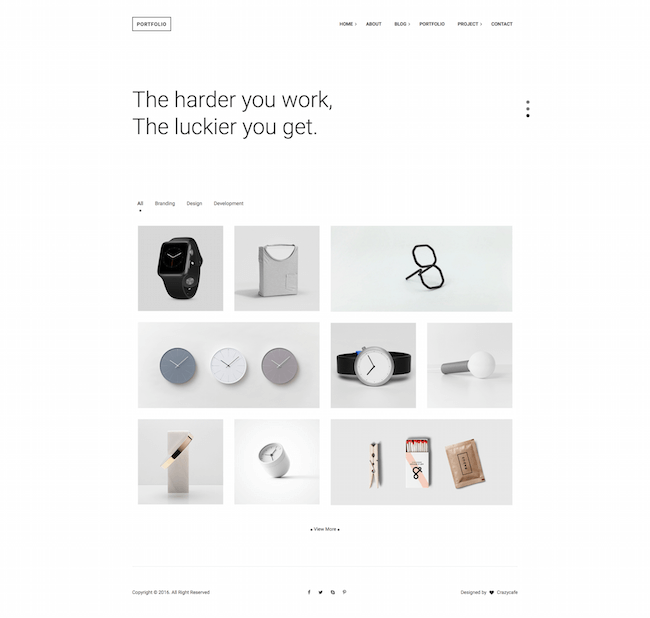 Cleanse – Minimal Portfolio HTML Template
Cleanse is a minimal portfolio HTML template that can be used by creative agencies, digital studios and also freelancers for showcasing their work in the best possible way.
Attracting your customers and your clients by using this template and showcasing your portfolio is a matter of a few clicks.
The template is highly responsive and can be used on a tablet, a mobile, and your laptop as well. With minimal designs, it gives your website a highly professional look.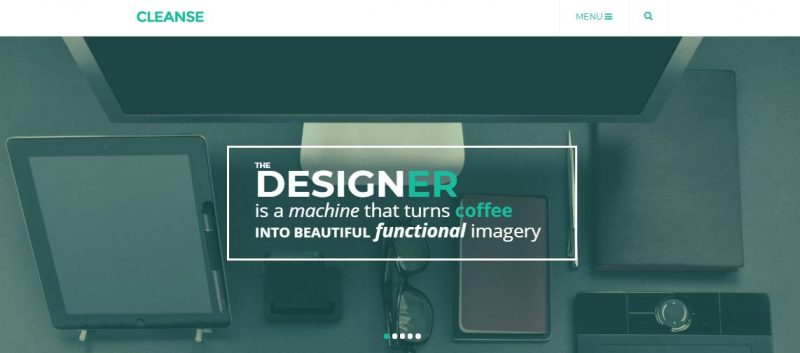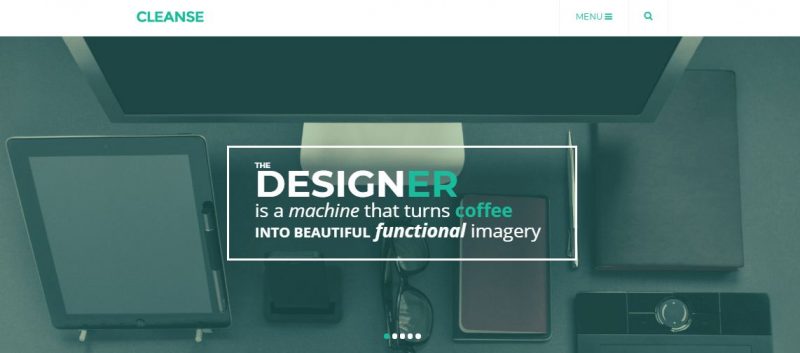 Gorge – Creative Portfolio Template
Gorge is a highly creative and responsive portfolio template that is specifically designed for media agencies, studios as well as freelancers.
The portfolio template has a well-thought-out structure and presents your information in a very clean manner. This highly responsive theme comes with Ajax ready contact form.
Gorge is highly customizable and is a highly responsive theme with SEO-optimized pages.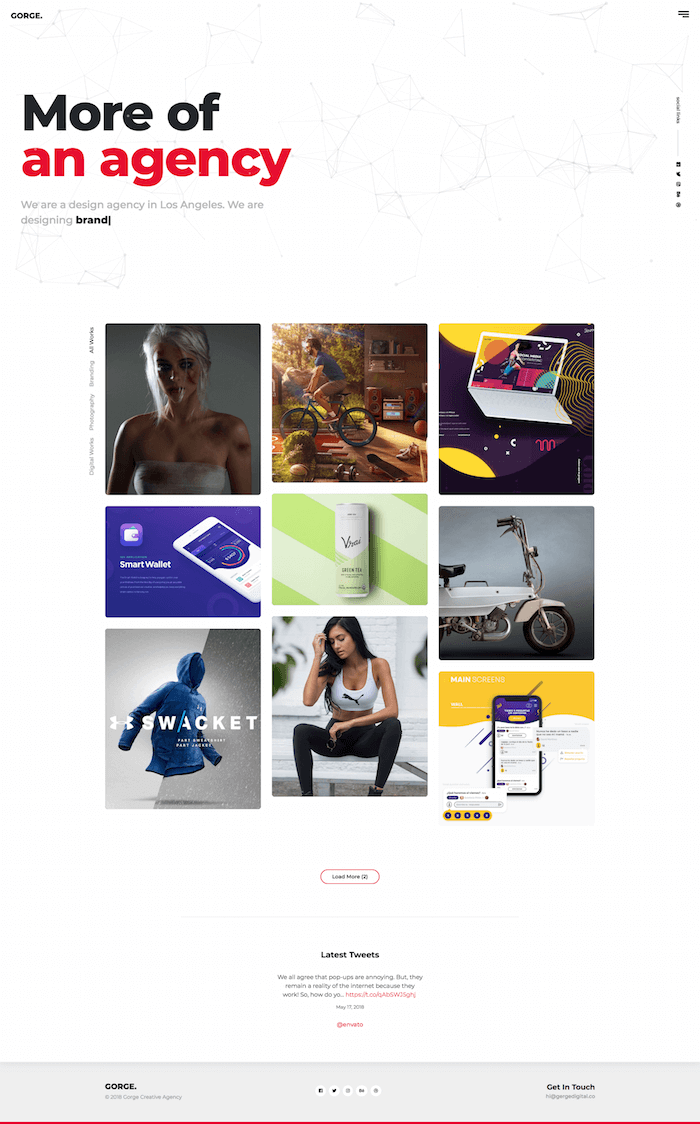 Pofo
This is a multipurpose HTML5 template that is suitable for corporate businesses and personal use alike. The template is flexible and has an attractive design and good code quality.
There are 150+ unique elements to make your website look beautiful. This template includes a general-purpose page including About Us, Service, Contact page, team and clients page.
Pofo has some amazing fonts and features WOW Animation as well. It is SEO Optimized and cross-browser compatible.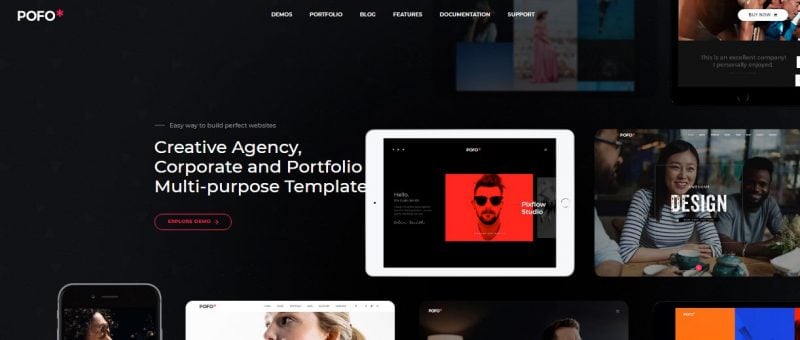 Cocoon
If you are a professional or even an amateur photographer, this HTML template created a unique portfolio of your work and displayed them in a way that appeals to the customers and your prospective clients alike.
Cocoon, because of its originality and creativity will assist you in making your work stand out from the crowd. It has an impressive first page and has sections for services, blogs, and the about page as well.
With Cocoon you also link your page to your social media accounts and enjoy a wide range.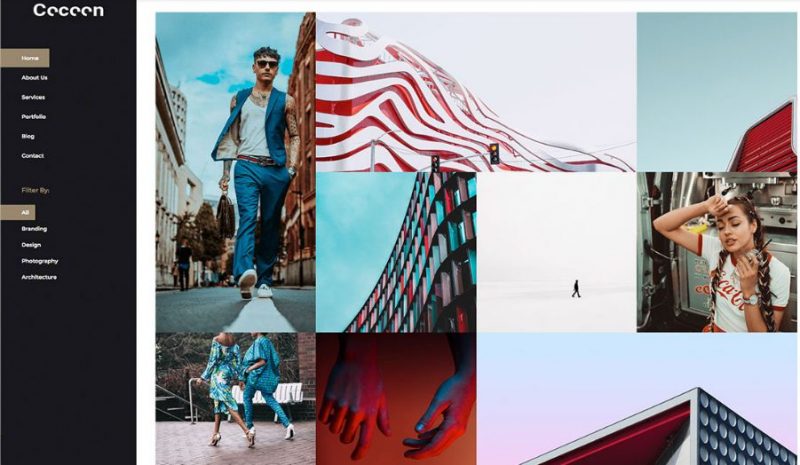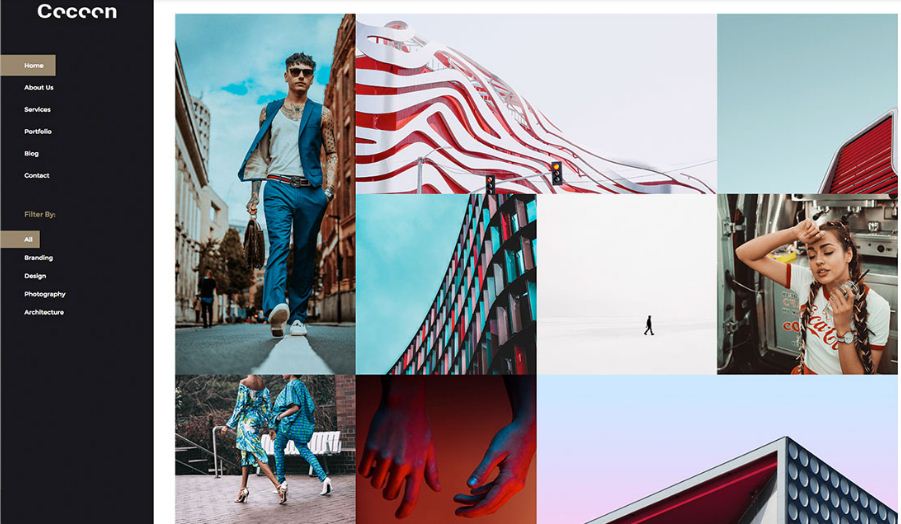 CRISP – creative designer portfolio
CRISP is the best template for any personal or professional use. It supports HTML5 and CSS3. It has a fully responsive design.
It primarily comprises two homepage designs and is retina ready-packed with shortcodes, an efficiently functioning contact form with Portfolio pages.
The content can be easily edited as the layered PSD files are included for easy customization. The theme is affordably priced at $15.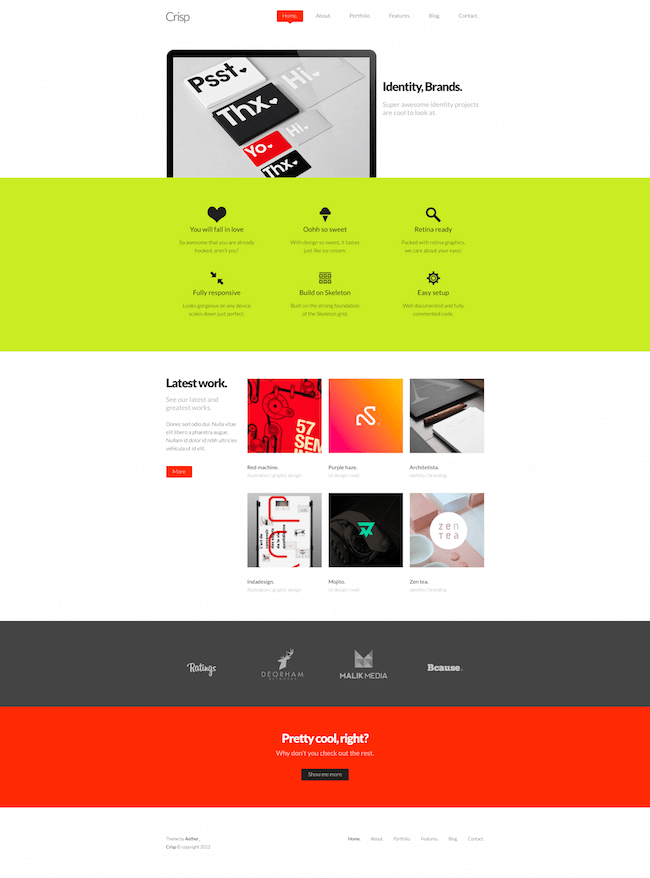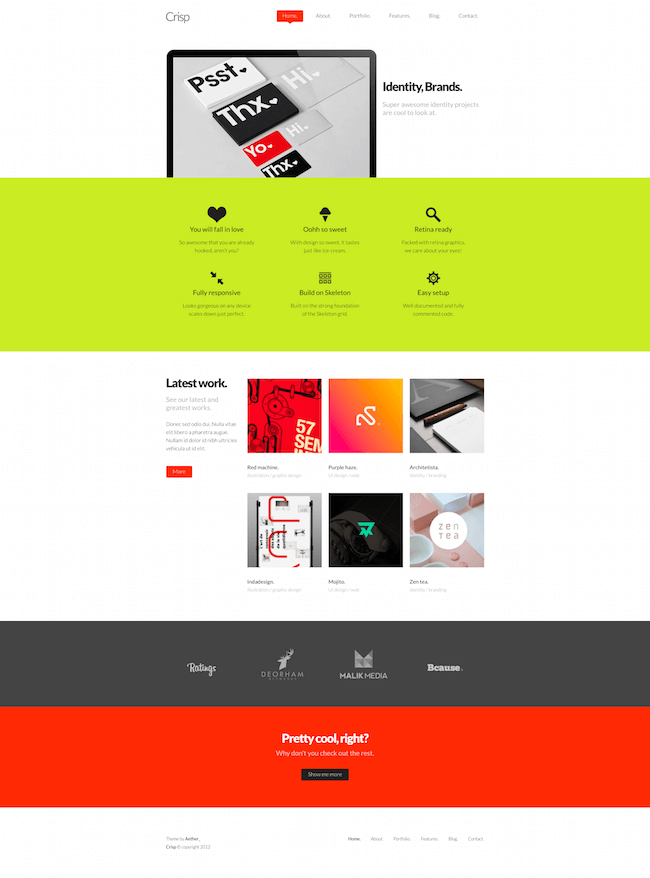 Sonar
This is a free photography website template that can be useful for amateurs or those who are just starting off with their career.
This template gives you an opportunity to make a compelling website by creating a stunning portfolio of the best pictures and increasing your customers by having a wide reach.
With Sonar's live preview page, any visitor can become a fan of your work. The template also has various great features and additional pages. It is mobile and retina ready and is compatible with all modern browsers.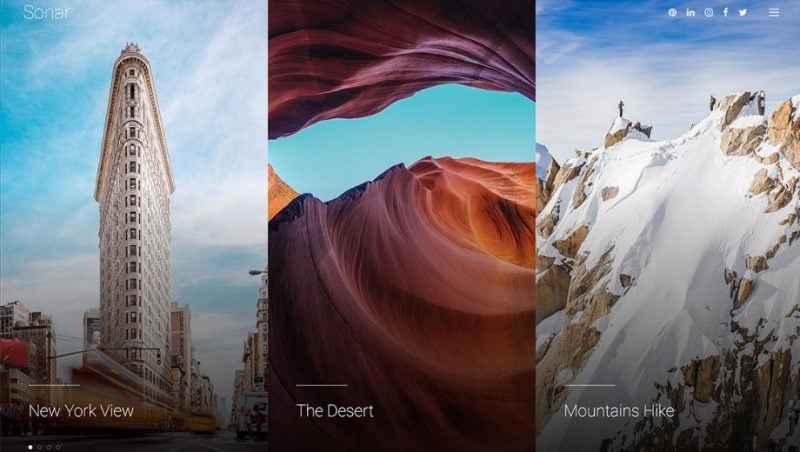 Studio
Even if you are an experienced agency having great business operations, it is important to have an online presence with a structured portfolio.
With studio HTML website template, you can create a strong impression on the visitor of your website. You can also add the contact details, your Instagram and your Facebook handle.
Make your website portfolio stand out from the crowd with Studio website template.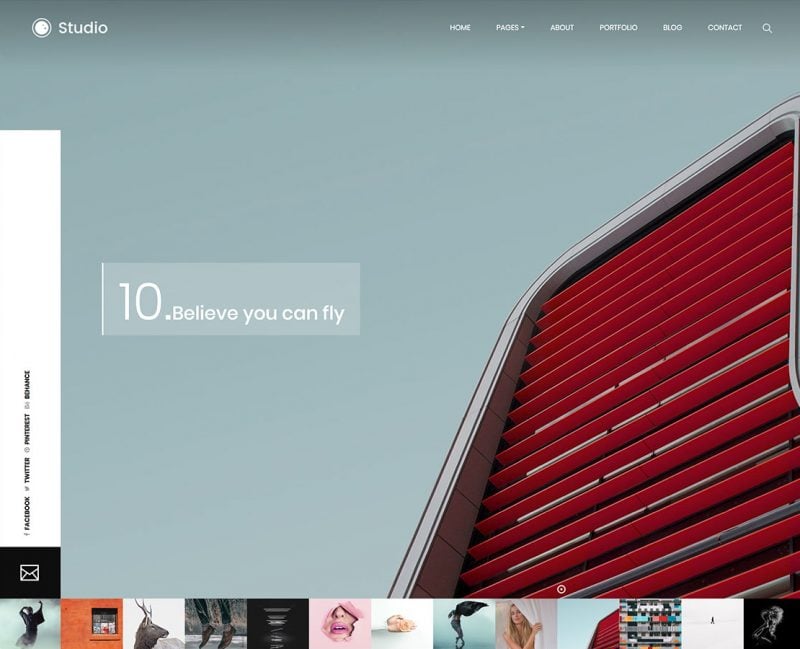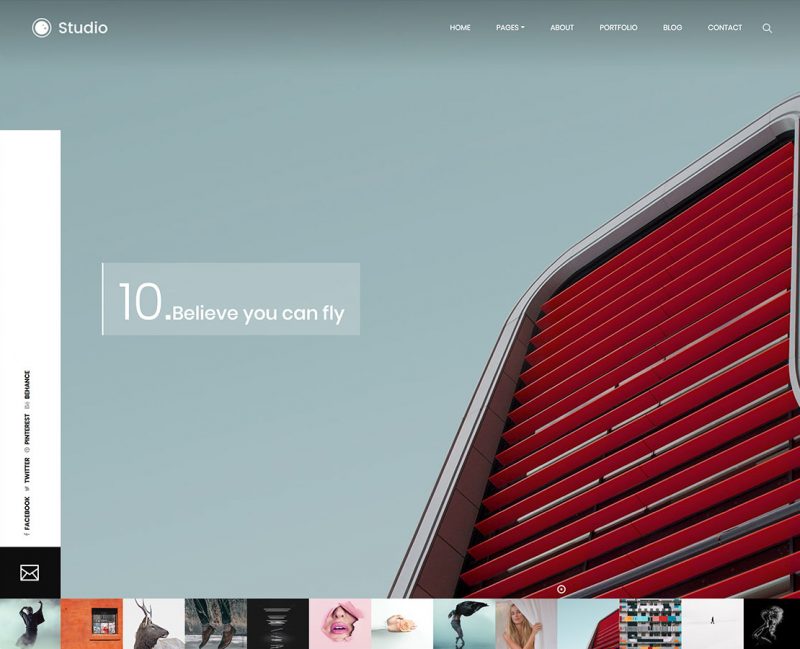 Lumos
Light up your website with Lumos. This bootstrap HTML5 Template makes your website look stunning, modern and user-friendly.
It has various features and gives a graceful look to your website. Designed for both amateurs and professionals, this template has been created to give the most professional and impressive look to your website.
There are parallax visual effects along with smooth scrolling effects and the template is highly responsive.


Storm
This professional graphically designed, friendly user interface website template has a responsive Bootstrap framework which is a good fit for portfolio website templates.
Because of the design, a powerful bootstrap framework and ultra-responsiveness, this website template is cross-compatible with all browsers and devices.
It is meant for a one-page template and is a time-saving template, showing the content which is of utmost importance. It can be used by professionals and amateurs alike.


CV, Portfolio, Resume vCard
This vCard is well researched, and it shows. It has a template that is more comprehensively designed and has all the experience of the developers ingrained into it.
The R Giggs Creative vCard is particularly meant for personal use and web designers, photographers, business people, doctors, lawyers, architects, interior designers, painters, teachers, software developers and many others in the business field.
It has some great features that include, HTML5 and CSS3, W3C valid HTML code, video layout, dark layout, clean and creative, Ajax ready contact form, Tweets, background music, color alternatives, right menu, full responsive, Lightbox, Isotope Portfolio, fully customizable with over 400+ Font Awesome Icons and essential Icon Fonts. The portfolio is priced at $17.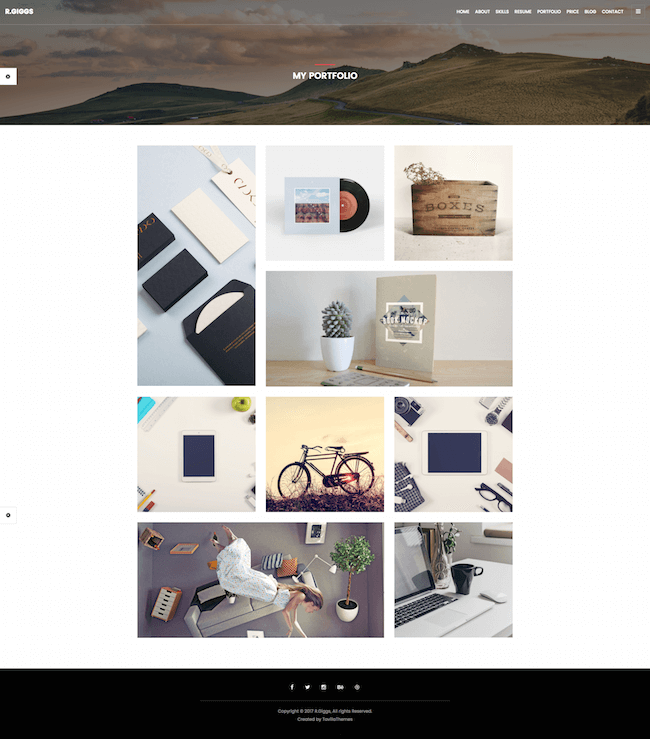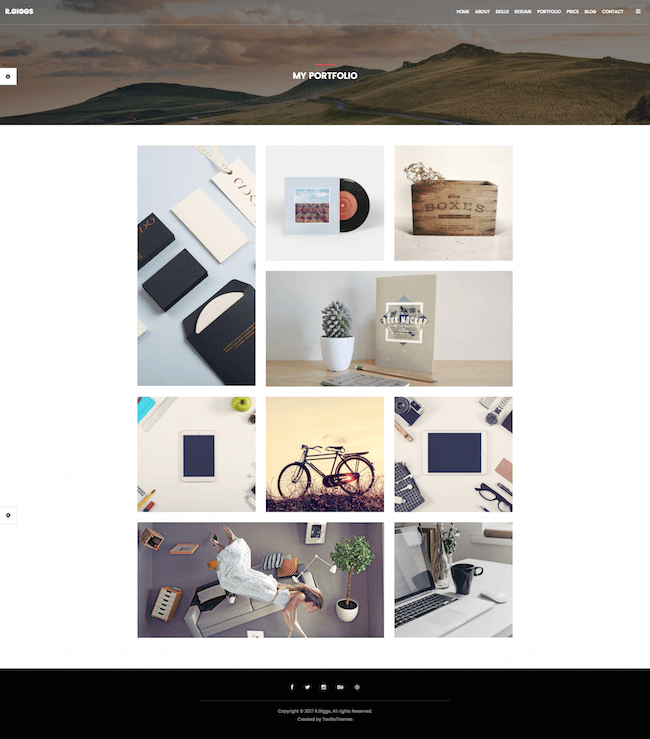 BlakeD – Portfolio & Resume Template
This fully responsive and retina-ready resume/CV portfolio website offers stunning designs and some great features. Its great compatibility is backed by great support.
This template is intuitive, powerful and easy to use and includes a vast array of features that include a responsive design, portfolio, social icon set, animated skill bars, timeline, an animated hero section for own text and a fully functional contact form.
The key to the success of BlakeD is HTML5 and CSS3 markup, W3C valid markup, clean code, clean design, a fully responsive layout that is relevant for PC, tablet, and mobile phone, and much more. It sells for just $10.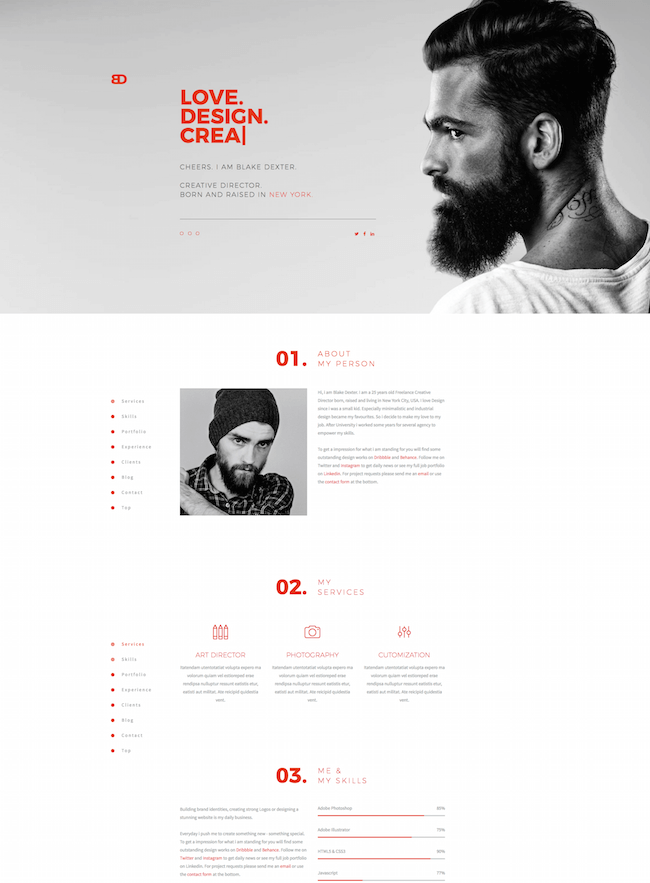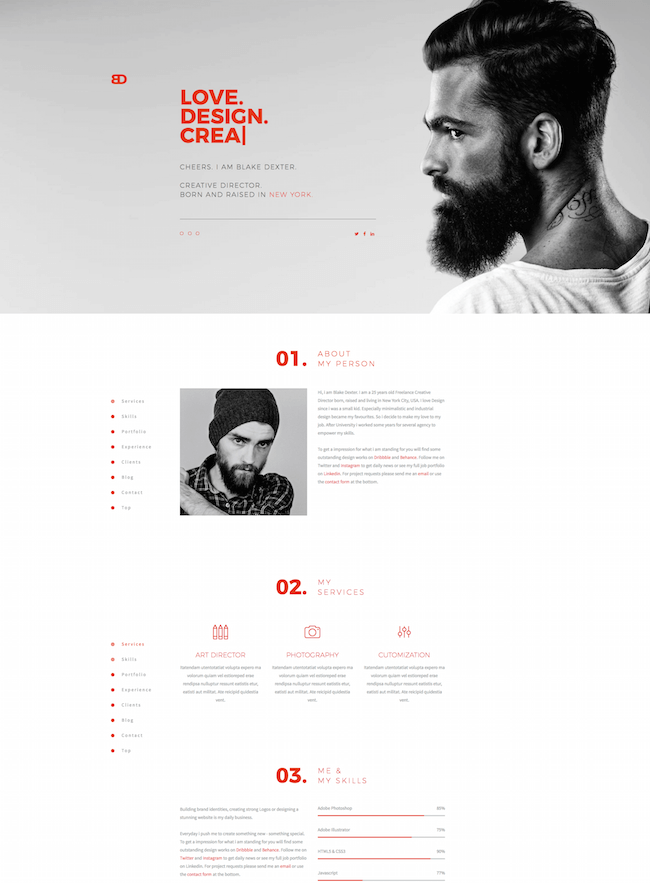 Mountain
Your website can reach heights by the use of this modern and elegant template Mountain. It is a well-designed and professionally put-together responsive Bootstrap one-page multipurpose website template.
It is specially designed for freelance photographers, photojournalists and professionals wanting to showcase their work to the entire world.
It is SEO optimized and is a highly responsive theme fit to be used on any browser or any platform.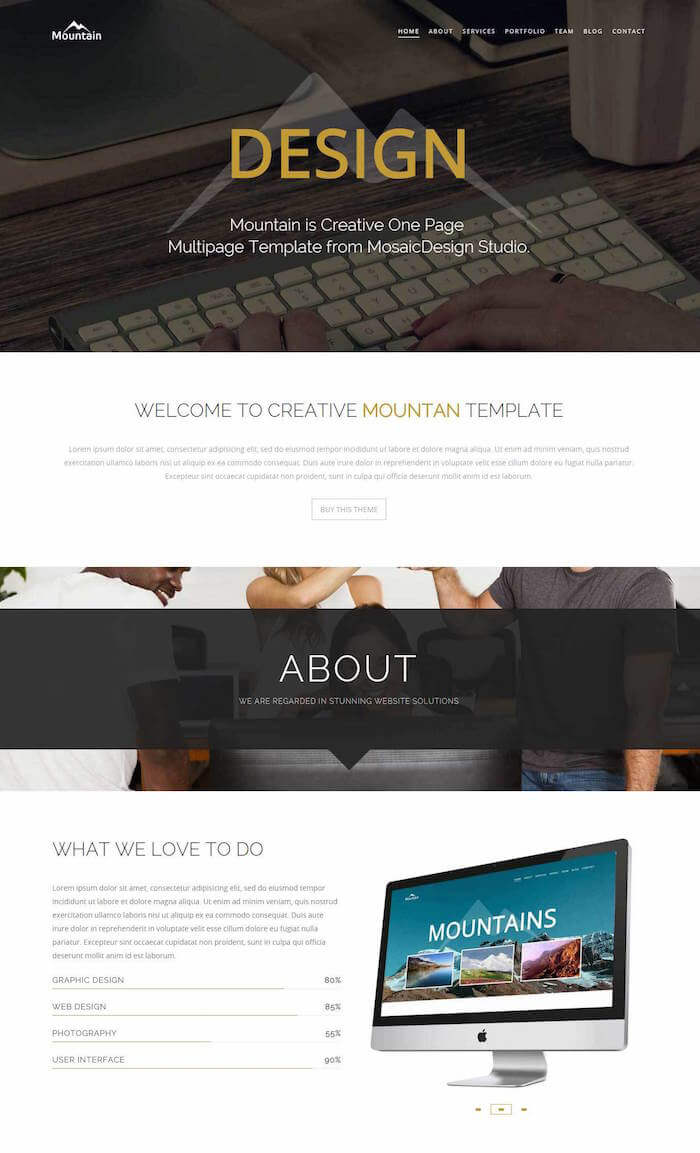 Synergy
As the name suggests, this HTML portfolio website template is highly responsive and can be used by people from any profession including photographers, artists, media agencies, restaurants, businesses, corporate, small businesses and many more.
You can easily showcase your portfolio in a highly professional and interactive way with a royal look. Easy to use, this HTML template is available to download within a few clicks at an affordable price and makes your portfolio look creative and professional.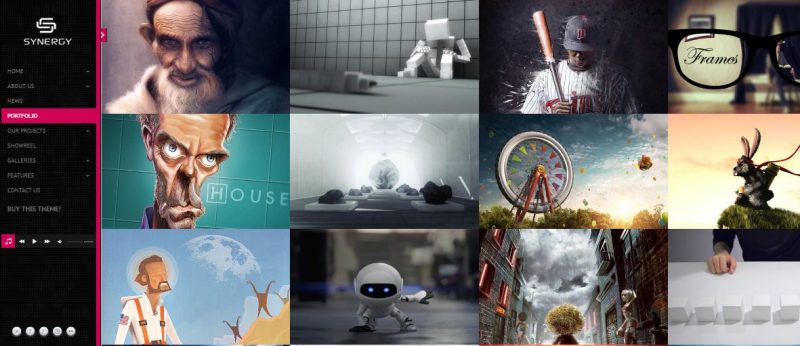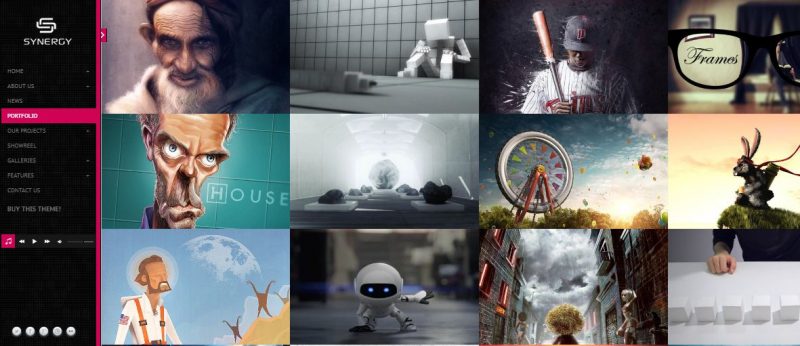 Wythe
A great-looking modern design with all the options that you will need to create a stunning portfolio site. This design offers you all the options and features to highlight the important sections right on the homepage.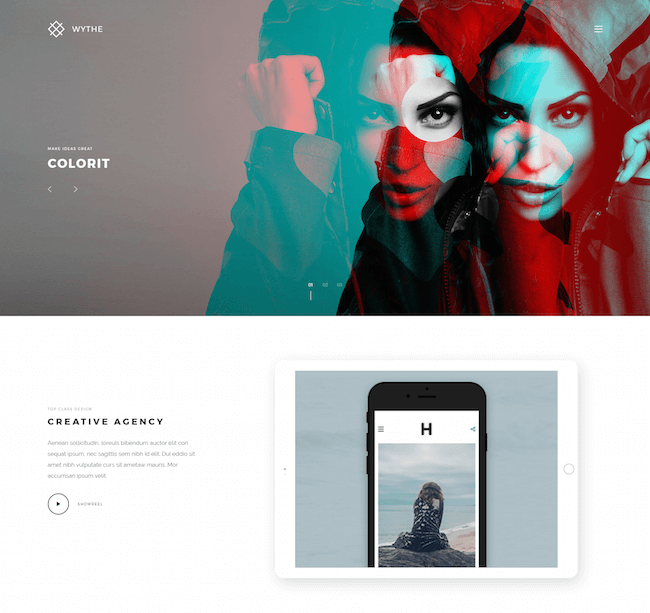 EMOTION – creative design and responsive portfolio template
Emotion is a creative template with beautiful motion design. It also includes a sample layout that is easily customizable. It can be used as a simple landing page to showcase products. EMOTION has more than eight sample layouts.
It can be used for displaying video or picture slideshow in the background easily layered. It has a clean simple and minimalist and fully responsive design and is mobile-ready with AJAX subscription form.
The HTML and CSS files in this template are well documented and support Multi-Browser for easy viewing. The template is priced at $16.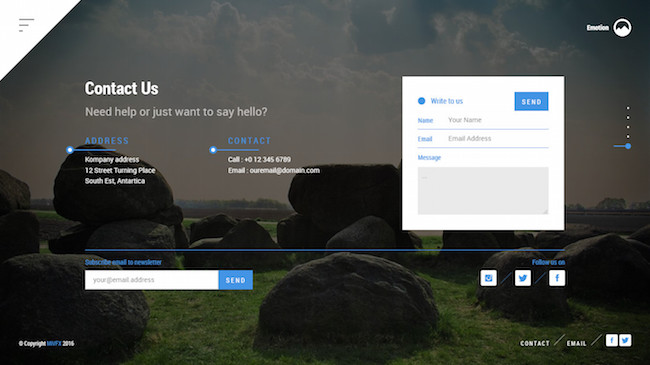 CLEVER – Creative and Design Portfolio Template
Clever is a creative and modern PSD template suitable for photographers, freelancers, creative agencies, and studios. It is designed on Bootstrap.
It has nine unique fully layered PSD files with layer styles. It consists of very well-organized layers which make it easy to update.
It has blog pages that show active and hover states. The outline is based on the Twitter Bootstrap foundation. The guides are included in PSD.
It has a fully responsive design structure and modern style with free fonts used. All icons are Google material iconic fonts with a parallax section. It is priced for $12.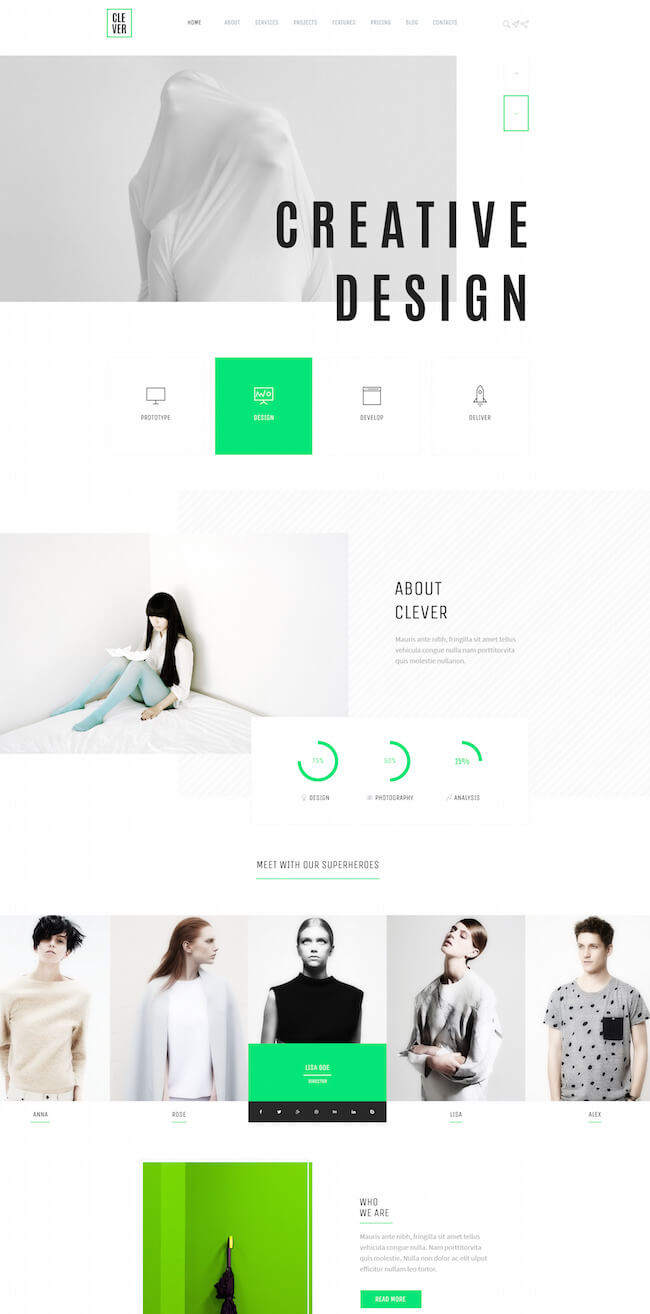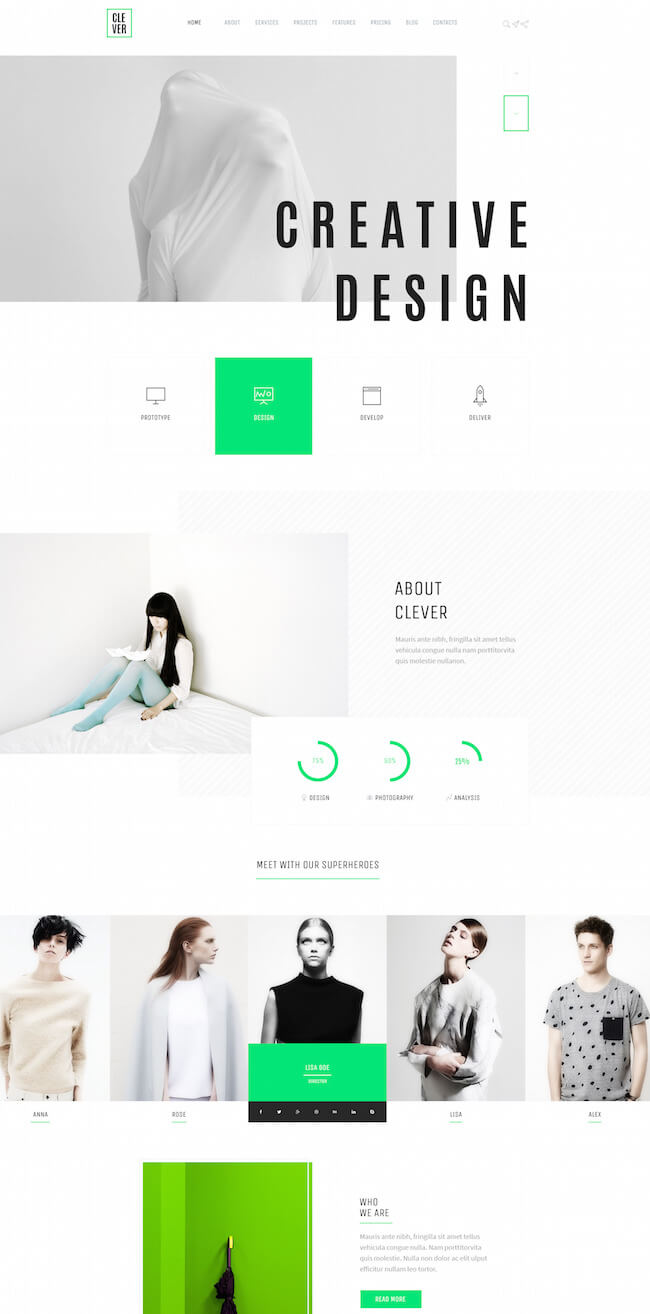 One Genius- One-page Flat Portfolio PSDTemplate
It is a Single Page or One Page Flat creative portfolio design. Used for creative agencies or landing pages for about any product.
It includes two versions, the first with a single colored background and the second with blurred images as a background.
It is Retina display-ready with a clean and unique design and three fully layered Adobe Photoshop PSD files with resizable shapes for customization.
The template has well-organized layers with Bootstrap 1170 Grid System and consists of image placeholders for integrating images. It is priced for $8.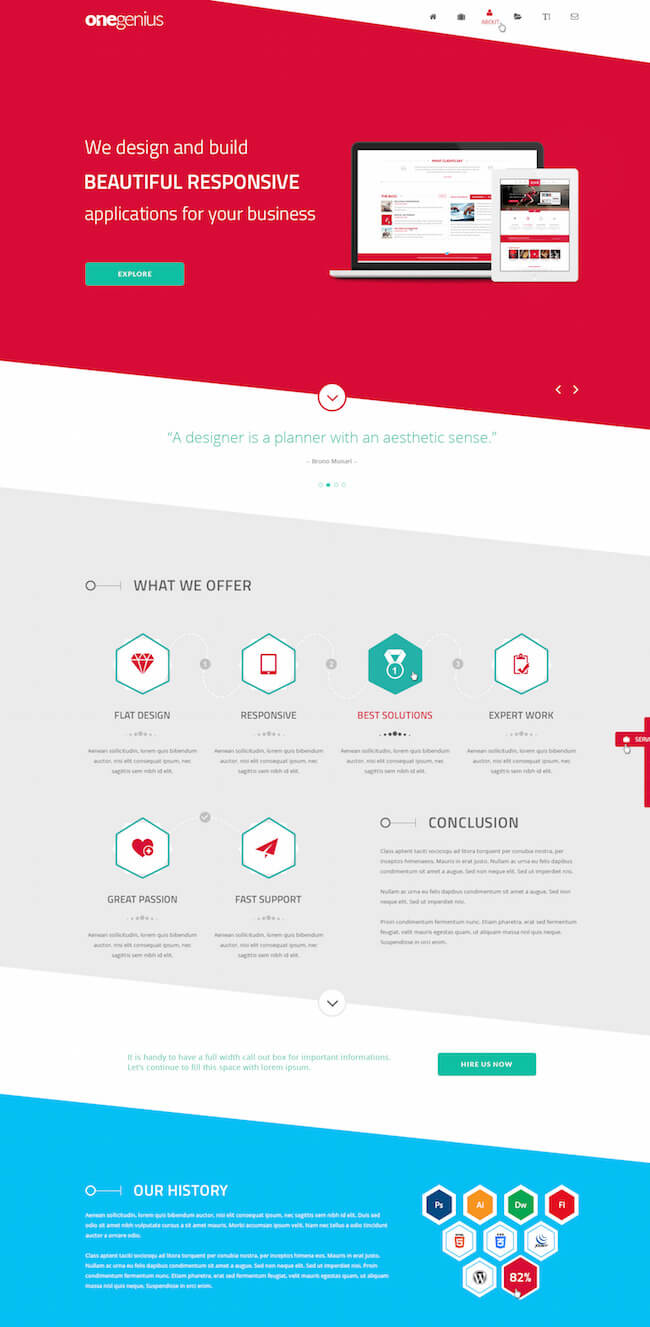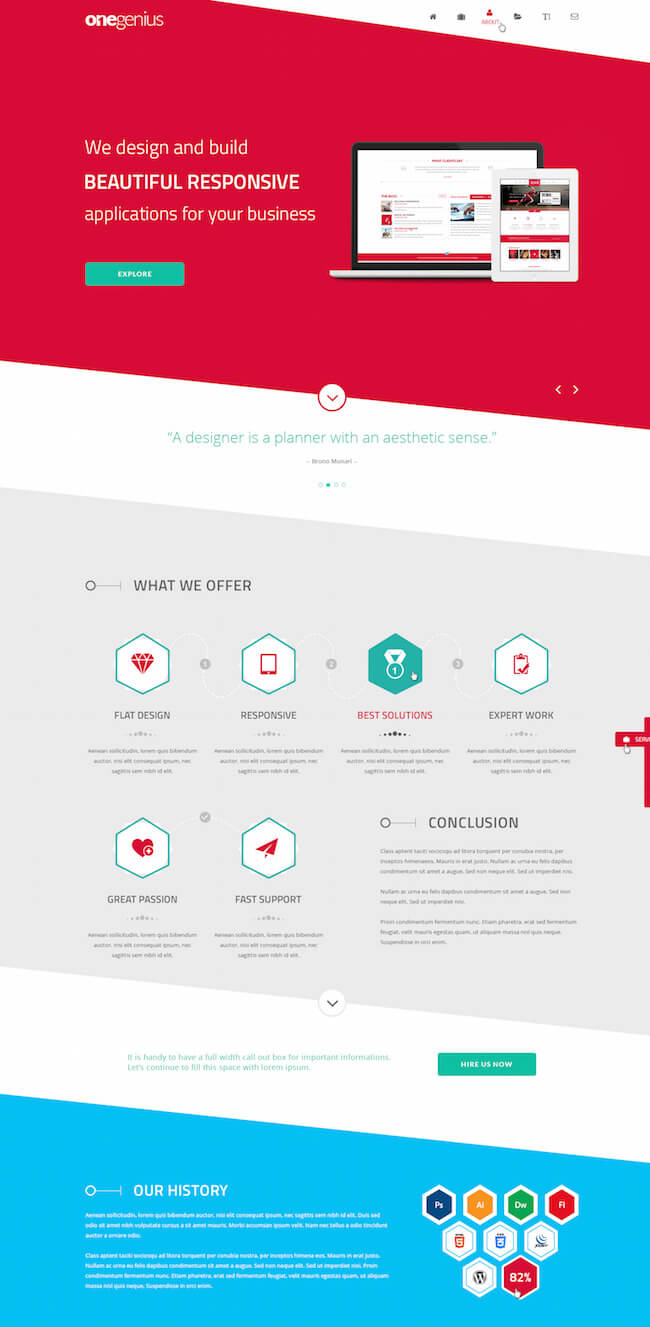 Diopter- Creative, Responsive Photography Portfolio Template
It has a perfectly clean and modern design. It is ideal for designers, photographers and for those who want to share their work easily with their clients.
It is powered by Ajax and has a one-page setup and multi versions. It also has six different styles homepage sliders, slideshow, static images, and video.
Nine different style portfolio pages (horizontal and vertical), eleven different style portfolio single page, three different styles and about contact pages are available.
It is fully responsive to touch and swipes as added perks. It has Bootstrap 3 and a premium plugin isotope. It is priced for $15.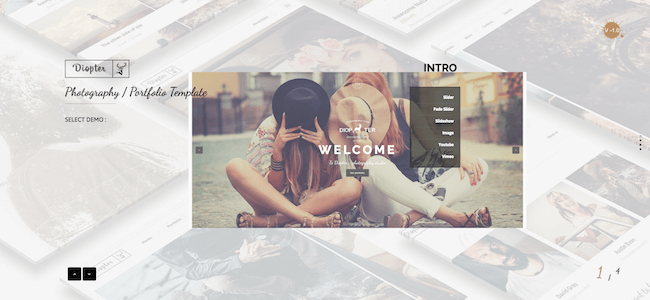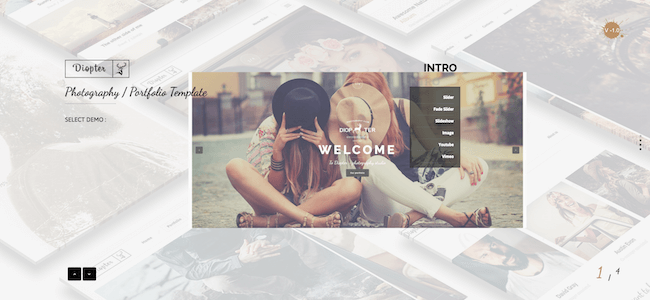 EXA- Agency Or Freelancer Creative Portfolio Template
Priced at $12, Exa is a portfolio template creatively designed to load quickly with the lowest page size. This is mainly ideal for design for creative, marketing, digital, advertising, agencies, startups, and individual freelancers. Exa can feature as a portfolio and blog at the same time.
It has a clean, minimal design, a simple cutter-less interface portfolio page. It has a blog page and a single project page. It is Bootstrap 1170px grid-based. It is fully logically layered PSD files, Google icons and free icon fonts are used.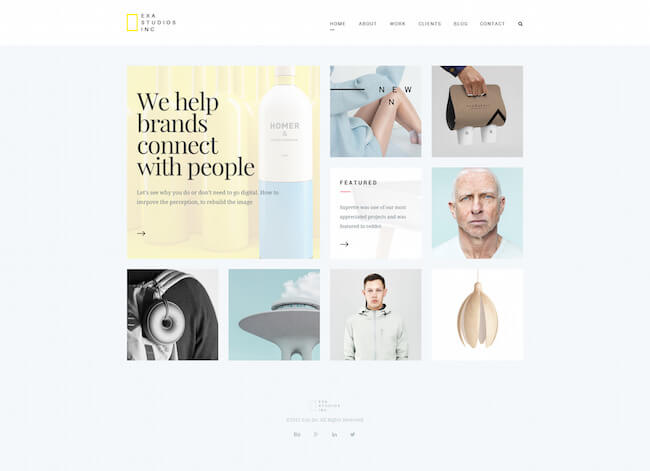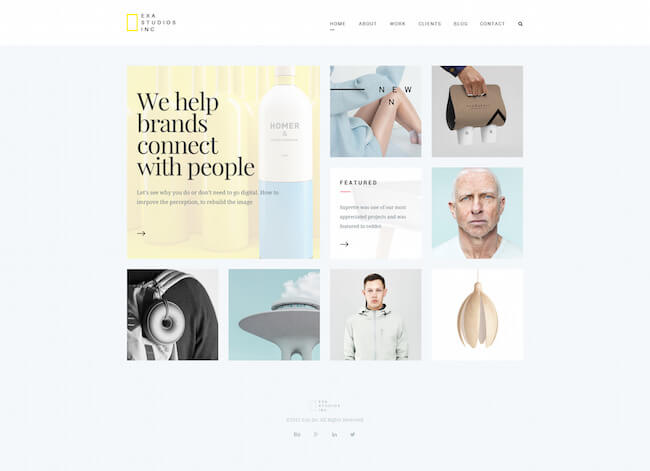 Advanced Folio
Advanced Folio is a beautiful PSD template that is ideal for the portfolio. It is a single license end-use creative template. It is a modern and creative web 2.0 design for a portfolio.
The design is very attractive and beautiful. The total price, including the item price and buyer fee, is priced at $8 only.