LinkedIn can be a goldmine if you know how to use it the right way.

A lot of people think it's essentially a glorified resume or a place to connect with colleagues, but it can offer so much more than that.
While it is great for professional networking, you can also use the platform to drive potential prospects towards your sales funnel.
There are a number of ways that you can use to leverage this great platform for your business and increase revenue.
We have included some of the best LinkedIn practices that you can use for your business in this article.
The thing is, LinkedIn is basically a really big referral platform (and referral marketing is still one of the most successful ways to get customers and clients). In fact, 84% of buyers begin the purchasing process with a referral.

But it's not enough to simply throw up a page and hope for the best. In order to get prospects into your sales funnel via LinkedIn, you have to go back to the basics.

First things first, make sure your profile is enticing and informative. According to research, 50% of buyers avoid companies or sellers with incomplete LinkedIn profiles – such an easy fix but it's amazing how many brands overlook this simple step.

Once you've done this, you can then move on to populating your sales funnel:

1. Use Groups to Find Customer Pain Points

While LinkedIn is more of a professional networking channel than a social media site, it can still be a great way to glean information about your audience in order to make your sales funnel slicker.

Not only are you 70% more likely to get an appointment with a prospect if you cite a common LinkedIn Group, but people who regularly post or engage in Group discussions get 4 times as many profile views than those who don't.

But there's a better use for LinkedIn Groups at the top of your funnel. You see, at this stage, prospects are looking to see if you understand their needs and have a solution to their specific problem. But, in order to know what your prospect's needs and problems are, you need to do a little digging.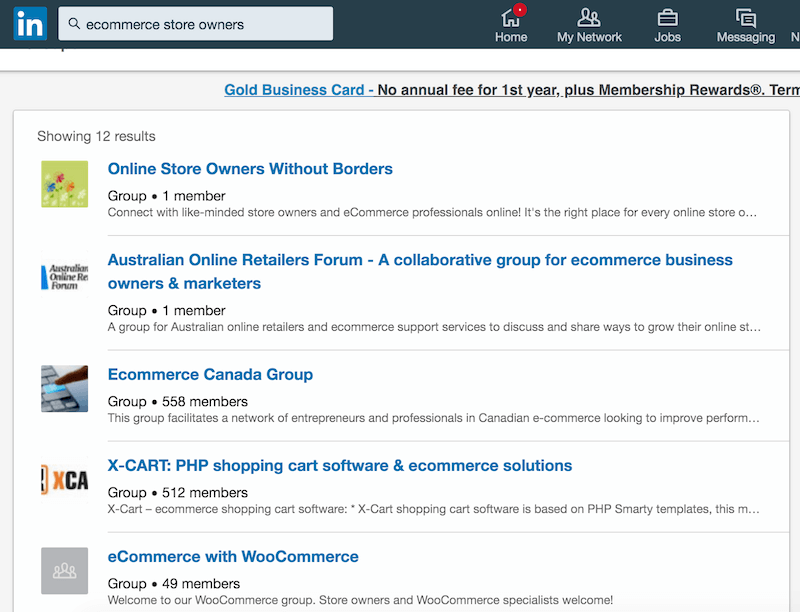 Find LinkedIn Groups that are full of your target prospects and simply listen to what they're talking about, the questions they're asking, and the discussions that are taking place.
From there, you can get a better idea of the key objections your prospects might have for moving down your sales funnel, which means you can tackle them head on.

2. Share Solutions in LinkedIn Posts

Now you have a better idea of what your prospects are struggling with, you can start to address these issues with curated content.

With more and more consumers actively carrying out extensive research before they make a purchase, content is more important than ever in the sales funnel.
You can use you research in LinkedIn Groups to fuel your LinkedIn content strategy, where you post answers to specific questions your prospects have.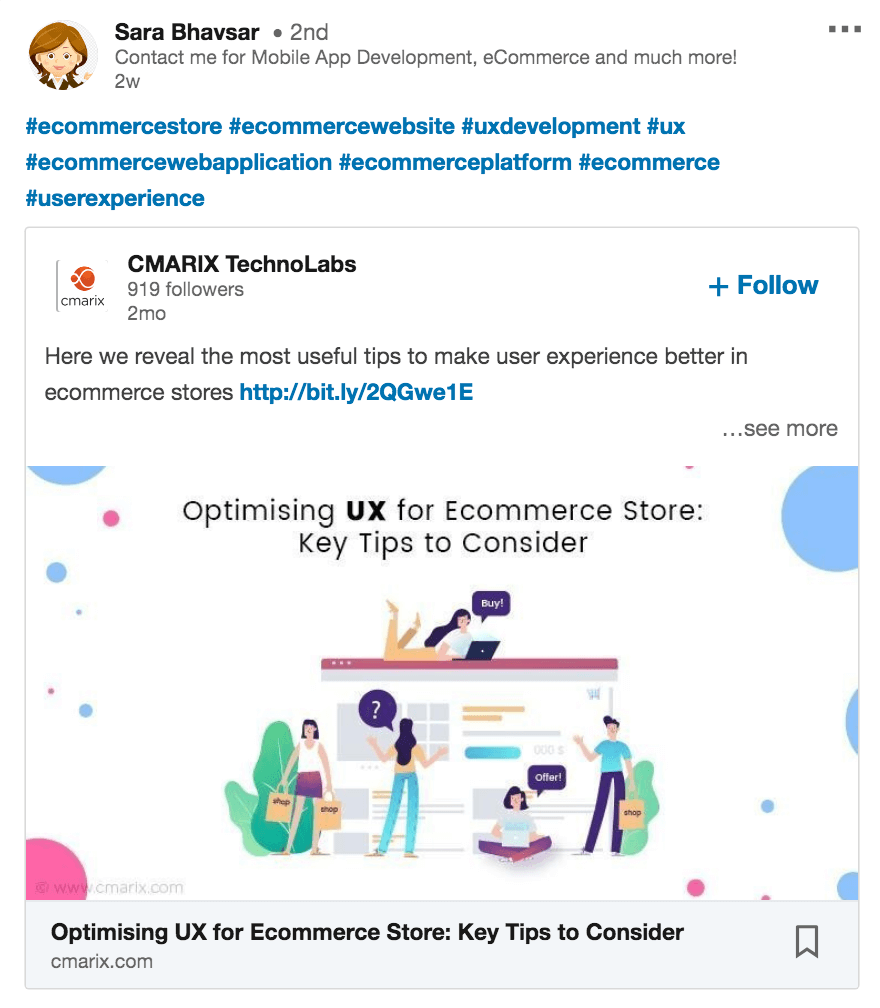 Take this post, for example, which tackles user experience tips for ecommerce store owners. If your target prospects were brands in the ecommerce industry, this piece of content is going to make them sit up and listen.

Not only will you draw attention to your business, but you'll also build up your expertise on the topic.

3. Add Content Upgrades to LinkedIn Posts

The final step in the sequence is to turn those that read your content into leads, and for that you need their email addresses so you can nurture them towards the sale.

So, by now, you've researched the pain points of your prospects and created content that solves their biggest struggles. Now it's time to tip them over the edge and towards the bottom of your funnel.

To do this, you can offer them something in return for their email address. This is often known as a "content upgrade" and is a relevant addition to your post that provides extra, useful information. The hitch is your readers must hand over their email address to get it.

This works because you already know that your target prospects are interested in the content your posting (you've already qualified this in the Group research stage), and this step only serves to qualify them further.

Simply add a link to a content upgrade to your LinkedIn posts, and voila! You'll be collecting email addresses in no time at all.

LinkedIn Can be Incredibly Powerful

This easy 3-step process is a great way to start generating leads from LinkedIn who you can then nurture independently via email.
With 500 million people actively using the platform, there's plenty of opportunity to reach the right people with your content.

Firstly, determine what your prospects want from you by digging into their needs and struggles, and then create content especially to tackle those problems.
From there, you'll cement yourself as an expert which will, in turn, convert readers into leads.

Are you ready to tap into the power of LinkedIn? Try out this simple strategy and see how you get on.
Article Credit
This article is created in association with Ryan Gould: Vice President of Strategy and Marketing Services Elevation Marketing
From legacy Fortune 100 institutions to inventive start-ups, Ryan brings extensive experience with a wide range of B2B clients. He skillfully architects and manages the delivery of integrated marketing programs, and believes strongly in strategy, not just tactics, that effectively aligns sales and marketing teams within organizations