With WordPress version 5.0, the Gutenberg editor came into existence and it changed the way WordPress works.
Gutenberg is the latest new WordPress editor that replaced the classic editor. As it is a big change, the products related to WordPress needed an upgrade as well.
The WordPress themes and plugins now have to be compatible with the latest version of WordPress and make sure it supports the new editor.
If you are using WordPress for a long time, you must be aware of the shortcode plugins that can insert new functions into your pages. However, many of those plugins might not work with the Gutenberg editor.
Also, the new block system needs new plugins that are custom-created to add blocks to your posts and pages and make sure that you are able to create beautiful content on your WordPress site.
In this article, we will have a look at the Ultimate Blocks plugin in detail which is a custom Gutenberg block plugin that brings in a number of useful blocks to your site.
Ultimate Blocks Overview
The Ultimate Blocks plugin currently offers a number of different blocks and the new blocks will be regularly added to the plugin to make it one of the most comprehensive Gutenberg blocks plugins.
Here are the blocks that are currently offered by the Ultimate Blocks plugin
Divider
Notification Box
More
The Obvious Advantage
If you look at the different blocks that are offered by the Ultimate Blocks plugin, the obvious advantage is that it can perform tasks of multiple plugins alone.
For example, earlier you needed separate plugins for Table of Content, Call to Action, Click to Tweet, and most of the other blocks. Now, you can install this single plugin and get all these done.
Also, as the plugin is new and a number of different blocks are in the pipeline for future releases, you will be able to get most of your tasks done by this single plugin.
So, this plugin will help you to make your site load faster by eliminating the requirement of different plugins for your site and saving server space.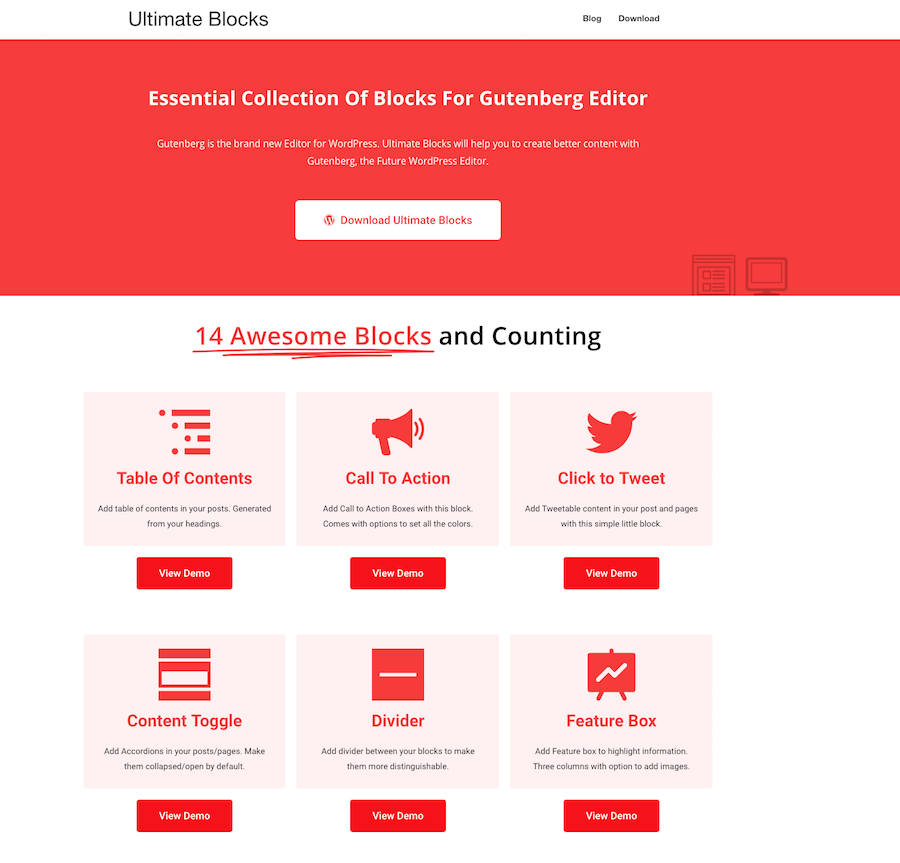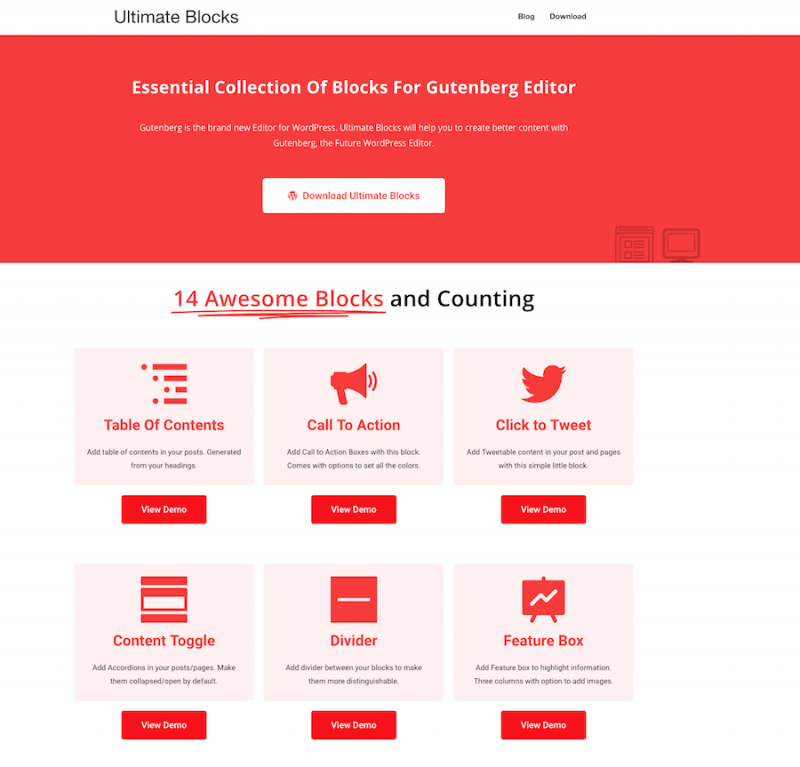 Let's Test Drive Ultimate Blocks
The installation process is simple and easy. You can go to your WordPress admin panel >> Plugins >> Add New and find Ultimate Blocks.
Install and activate the plugin.
You will get the plugin options page as you activate the plugin. Here is how it looks.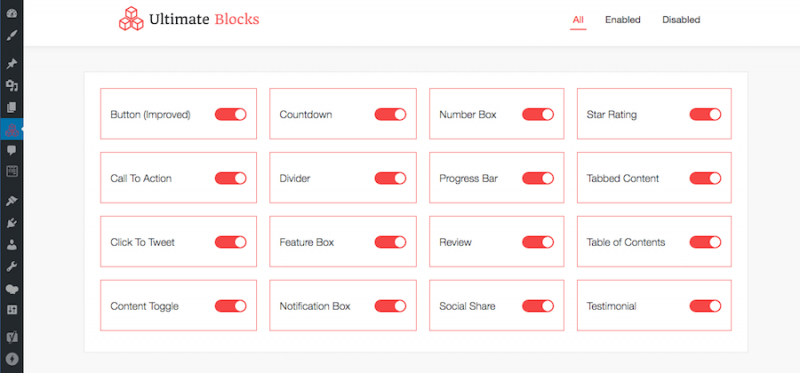 As you can see in the image above, all the blocks are enabled by default. If you don't need any of the blocks, you can simply disable that with just a click.
There are no complicated settings you need to go through. Everything is set by default, you can get started with a new blog post and start using these amazing blocks.
Let's have a look at all these blocks one by one.
As the Ultimate Block plugin is activated now. You will see a new block group in the Gutenberg editor when you go to edit a new post.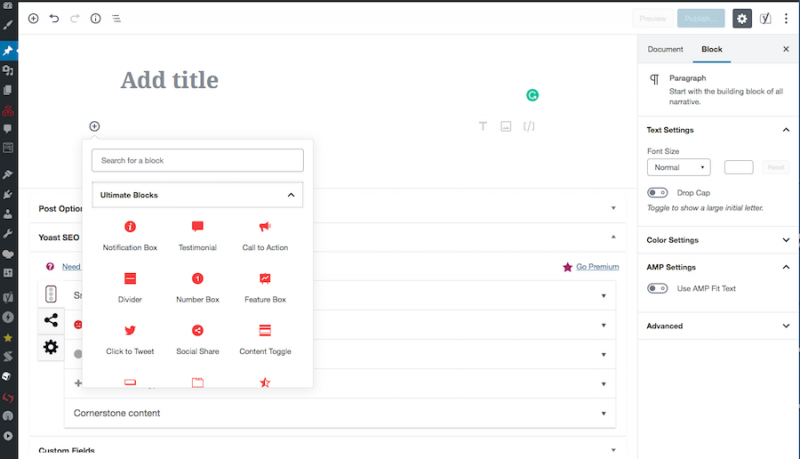 Table Of Contents
Using 'Table Of Contents' on the blog posts is getting popular day by day. It helps readers to jump directly to their point of interest. And it also helps searchers to find what they are looking for as Google adds ToC links in the meta description.
When it comes to adding a table of contents in WordPress posts/pages, there are a handful number of plugins out there. But the problem is, most of them are outdated.
Ultimate Blocks makes it insanely easier to add a table of contents in post/page. All you have to do is, insert the 'Table of Contents' block and it will generate a table of contents from headings automatically. You can also give a custom name to your table of contents.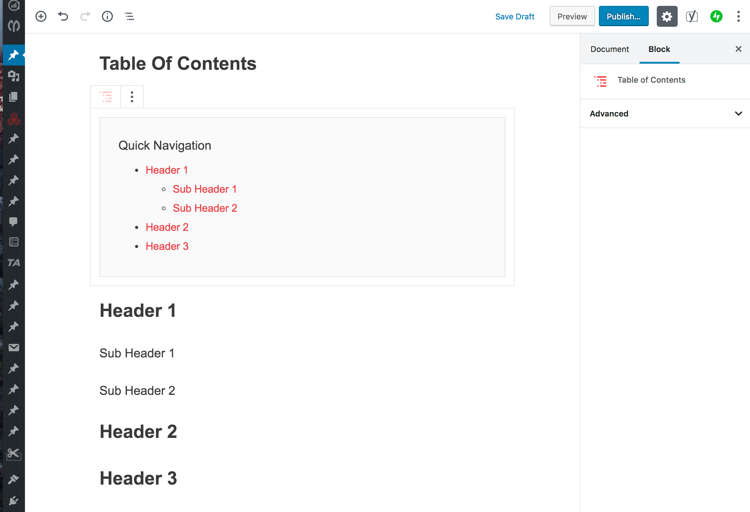 Review (Schema Markup Enabled)
Writing review posts is one of the best ways to drive traffic as well as generate affiliate sales. But it's not enough to write a simple review post and wait for traffic and sales. You need to make it stand out from the rest.
The best way to do this is, to add an eye-catchy review box in your blog posts, and make sure it supports rich snippets so that it shows star ratings in Google search.
Ultimate Blocks has a 'Review Block' that lets you add a review box in your blog post. It's optimized for more conversions and more importantly, it's schema enabled.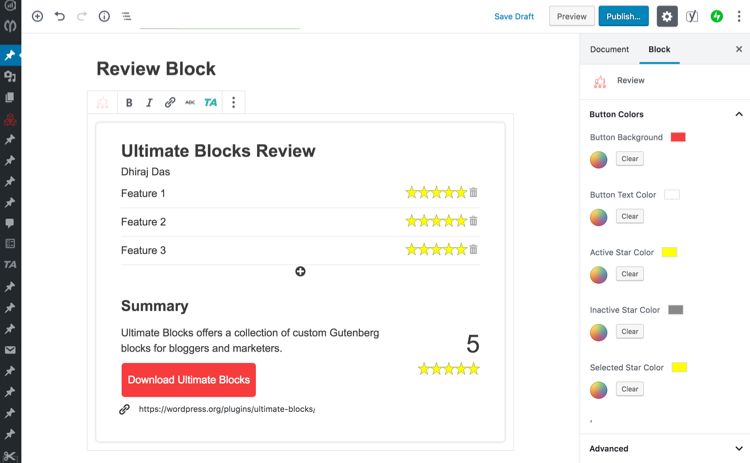 Call to Action Block
If you don't have an optimized call to action on your site, you might not be receiving the expected results from the traffic you are driving.
A nicely designed and optimized call to action can do wonders for your business.
The Ultimate Blocks plugin offers you a highly optimized call-to-action option. You can quickly add it to any post on your site and design it according to your need.
You have an unlimited color option to style your call to action as per your need. You can change the background of your call to action box and have a border with the same or contrasting color combination.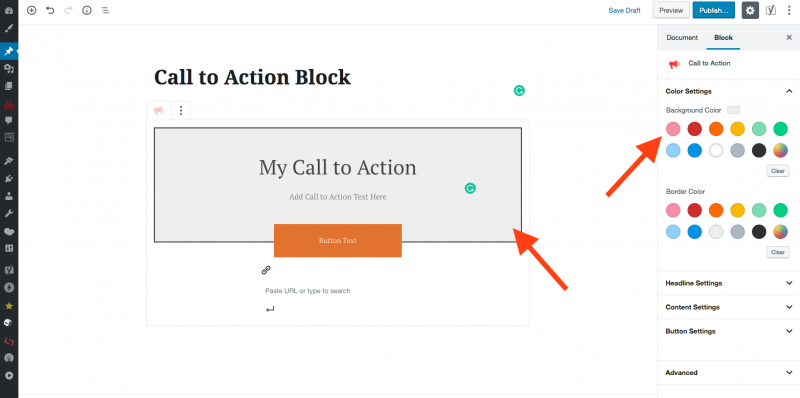 You can also change the heading as well as text size as per your requirement. When you are placing a call to action with a buy now link, it is good to have the big text so that it easily attracts your visitors' attention.
There is an easy option in the block settings to set the font size as you need.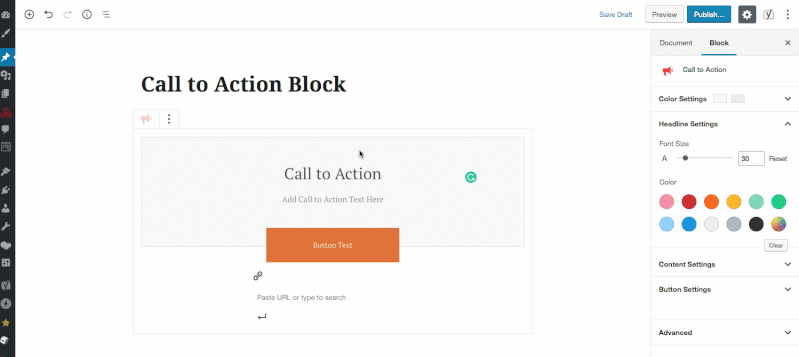 The design of the call to action button is another very important aspect to look at. The Call to action block of the Ultimate Blocks plugin gives you the option to design the button as per your need.
You can set a custom width of the button, text size as well as color combination.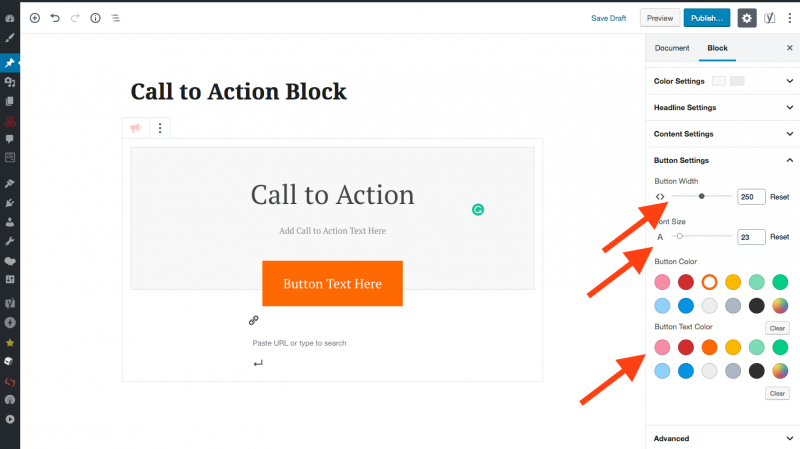 Testimonial Block
The testimonials are extremely important for any business to bring in the trust factor. And not only that, testimonials on your site can make it look like an authority and establish as you an expert in that topic.
The Ultimate Blocks offers you a fully optimized version of the testimonial module that you can use to showcase testimonials from pro bloggers or your product users to increase the trust factor.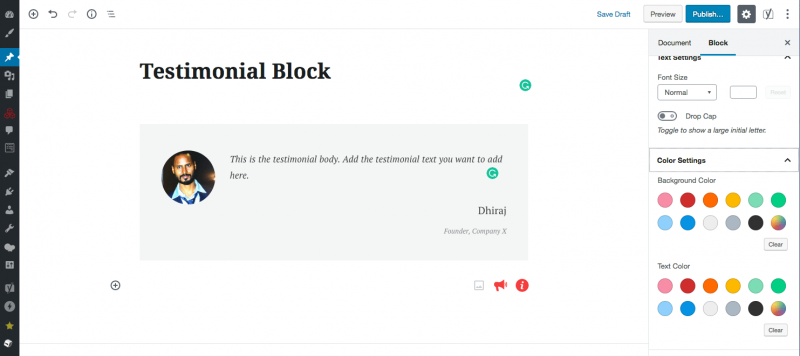 Number Blocks
You can use the number of blocks to showcase the services you are offering. You have the option to choose the number of columns, generally, the three columns structure looks better.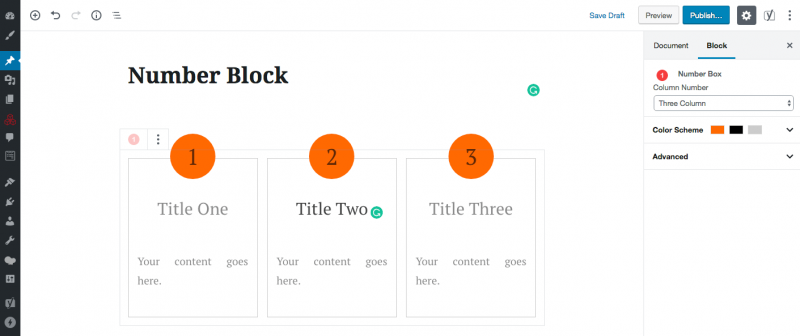 Featured Block
Similar to the numbers block you have the option to choose the number of columns in the featured block as well.
You can use this block to showcase all the features of your product or the services you are offering. This can be a very effective Gutenberg block for business sites.
Click to Tweet
Click to Tweet boxes are an integral part of any quality content these days because they offer you the option to create custom tweets that are optimized as per your need.
Generally, you need a separate plugin to add those Tweet boxes. The Ultimate Blocks plugin comes with a completely customizable Click to Tweet box that you can use on your content.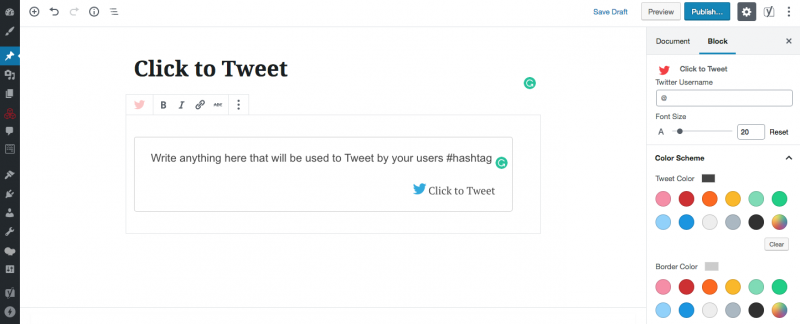 Social Sharing Buttons
Can you do without the social sharing buttons these days? I'm sure not. Now, you will not need another social plugin for your site once you have the Ultimate Blocks plugin installed on your site.
The plugin offers you a social sharing button that you can customize. You can change the shape of the buttons as well as the size.
Tabbed Content
Tabbed content is around for years, and it's very useful while creating a page that talks about the different aspects of your product or when you are creating an about us page.
Create different tabs that you can use to display different content on the same page.

Countdown Timer
You can use the countdown timer block to promote your best deals that are available for a specific amount of time.
Also, if you are in a business where you come up with new products on a regular basis, the countdown timer becomes extremely effective in letting your audience know about your upcoming product and keeping them curious.
More Blocks
Ultimate Blocks offers a number of other useful blocks that we need to use on a regular basis other than the blocks mentioned above.
Here are some blocks that we need on a regular basis, such as the buttons, star rating, progress bar, etc.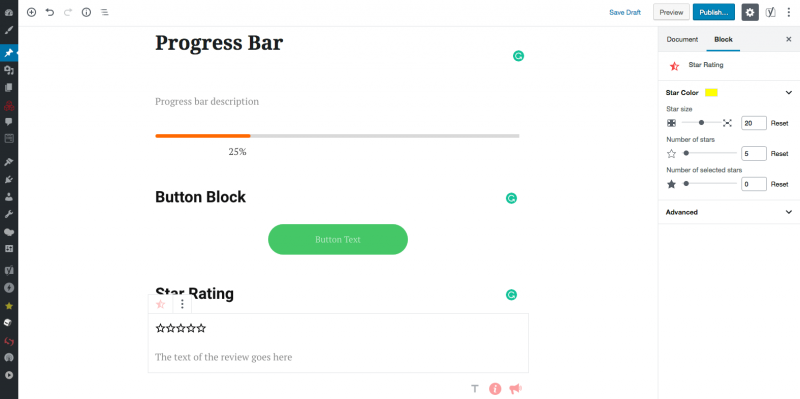 Final Word
As already mentioned at the beginning of the article, the Ultimate Blocks plugin will retire a number of different plugins that you are probably using on your WordPress site currently because it can do perform all those tasks alone.
As Gutenberg is now the core of WordPress and all the new functionalities are being developed around the new editor, it is better to start using it and club it up with the Ultimate Blocks plugin to make it a comprehensive solution for you.