Gutenberg editor is part of WordPress now. With the release of WordPress 5.0, the years-long relation with the TinyMCE editor comes to an end.
If you have updated your WordPress site to version 5.0, you must have seen the new editor already. Now, the new Gutenberg editor is all about the blocks.
All the elements that you use on your page of posts are blocks. If you want to add an image to your post, you have to add an image block, for paragraphs, tiles and any other element you have to add the respective blocks and edit them.
So, if you need any additional features on your post, you have to add those additional blocks to add the options.
WordPress has already created a number of different blocks such as the text block, image block, title block, table, column, button and a number of other blocks.
We have created a detailed tutorial about how to use the Gutenberg editor here, this article will help you to understand and get started with the new editor.
In case you don't want to use the new editor and continue with the old TinyMCE editor, you can follow this article to disable Gutenberg for your site.
Let's have a look at the best Gutenberg editor WordPress plugins
---
Atomic Blocks: Add-ons for Gutenberg Editor
A free and popular Gutenberg block WordPress plugin that offers a number of useful blocks for your WordPress site.
The plugin is taken over by the WPEngine team, so you can expect a regular update and useful new blocks in the future.
The plugin already offers a few very useful blocks ready to be used.
Post grid block
The Container Block
Call-to-action Blocks
Customizable button
Spacer & divided
Author profile
Drop cap
Testimonial
Inline notice
Accordion
Share icons
The plugin is simple and easy to use. Once you activate the plugin, you will get the option in the admin backend.
The plugin will add a new Atomic Block option in the block editor. You can choose any of the ready Atomic Blocks to your page like any other Gutenberg block.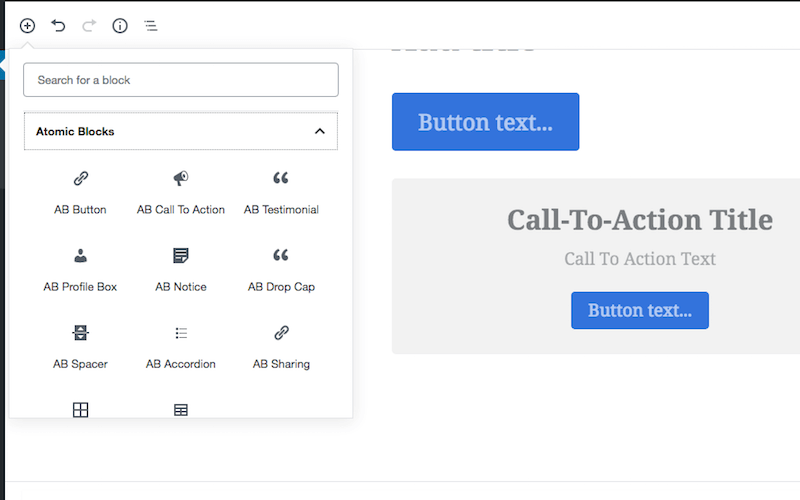 Advanced Gutenberg
Advanced Gutenberg is a very useful Gutenberg WordPress plugin that will bring in over 20 different useful blocks to your WordPress site.
This is a plugin created by the JoomUnited team who offers a few other useful WordPress plugins along with the Advanced Gutenberg plugin.
Once you activate the plugin, you will get the option in the admin dashboard. The plugin gives you an option to create additional profiles and assign blocks according to role or profile.
You can add the advanced blocks while editing your post and customize it right on the Gutenberg editor. This plugin enhances some of the most important blocks such as image, buttons, etc with a number of additional features.
Gutenberg offers a number of blocks that are needed to create a rich article design such as buttons, table, etc. But the design options are limited. The Advanced Gutenberg plugin enhances all these ready blocks with new design options along with the additional blocks this plugin brings in.
Let's have a look at the table feature.
If you want to place a comparison table for any product or services, the default Gutenberg table is very limited in terms of design, the Advanced Gutenberg will make it complete by adding the styling options to it.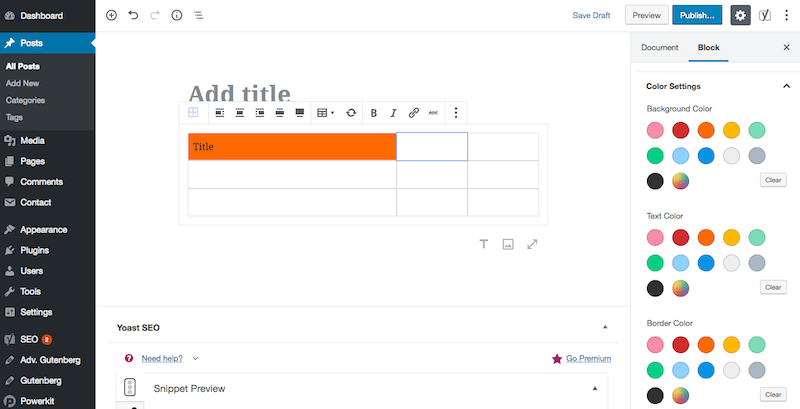 Gutenberg Blocks: Ultimate Addons for Gutenberg
One of the top Gutenberg Blocks WordPress plugin, the ultimate Addons for Gutenberg bring a number of useful blocks to your site.
Over 10k users are already using the plugin. And if you are looking for the best Gutenberg block plugin for your site, you can use this tool.
Here are some of the important blocks offered by the ultimate add-on plugin.
Advanced Column
Advanced Heading
Call to Action
Google Map
Timeline Post
Post Layouts
Price List
And more
If you are looking for an option to create a beautiful looking grid-based layout for your blog, you don't have to install any extra plugin as the Ultimate Addon for Gutenberg plugin comes with the option to create different types of post layouts for your site including Masonry grid layout.
Also, if you are managing a site where you need to include the Google Map, you can use the plugin to inset maps on your posts, we have published an article to show you how to insert Google Map using the Ultimate addon plugin here.
The section block is another useful option that you can use to create a great looking layout for your blog posts. These kinds of boxed and full-width sections were not possible earlier with WordPress, at least without using a website builder.
Now, it's really easy with the UltimateAddon plugin for Gutenberg. Overall, this is one of the best Gutenberg blocks plugins that you can use on your site.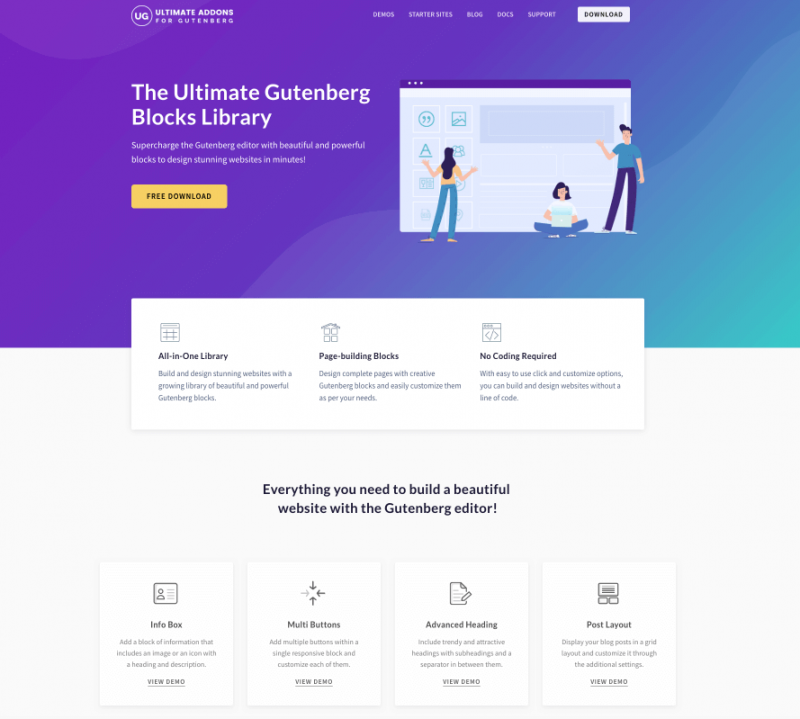 Ultimate Blocks
The Ultimate Blocks for Gutenberg offers you 14 different blocks at the moment and the team is working on a number of new blocks to make it one of the most comprehensive solutions for the Gutenberg editor.
The plugin is very simple and easy to get started with. As you activate the plugin, you will see the plugin option in the WordPress admin panel. All the blocks are enabled by default and you have the option to disable any of the blocks in case you don't want to use them.
As you create a new post. You will see a new blocks group for the Ultimate Blocks options. You can use them as any other default Gutenberg block.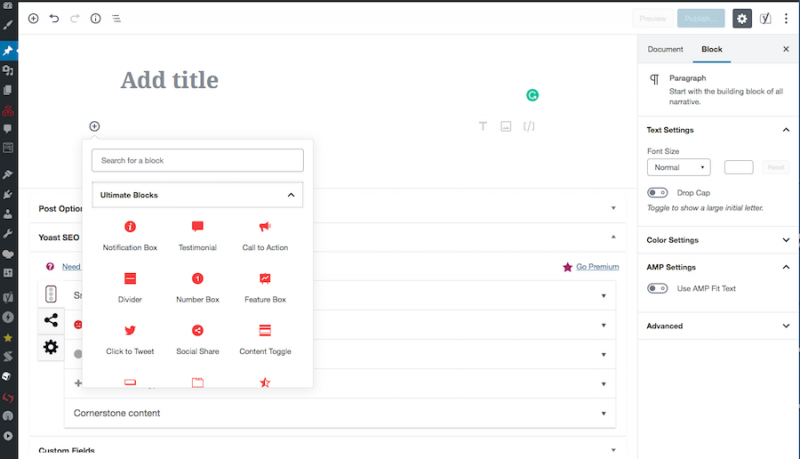 The plugin offers you some very important blocks that are needed by the bloggers regularly such as the table of content, star rating, click to tweet, notification boxes, countdown timer and more.
eet, notification boxes, countdown timer and more.
So, this plugin will retire a number of different plugins that you are using on your site currently as it can do all those tasks alone.
The developer offers great support in case you need any help with the plugin. So, if you are already started using the Gutenberg editor, take it to the next level with the Ultimate blocks plugin.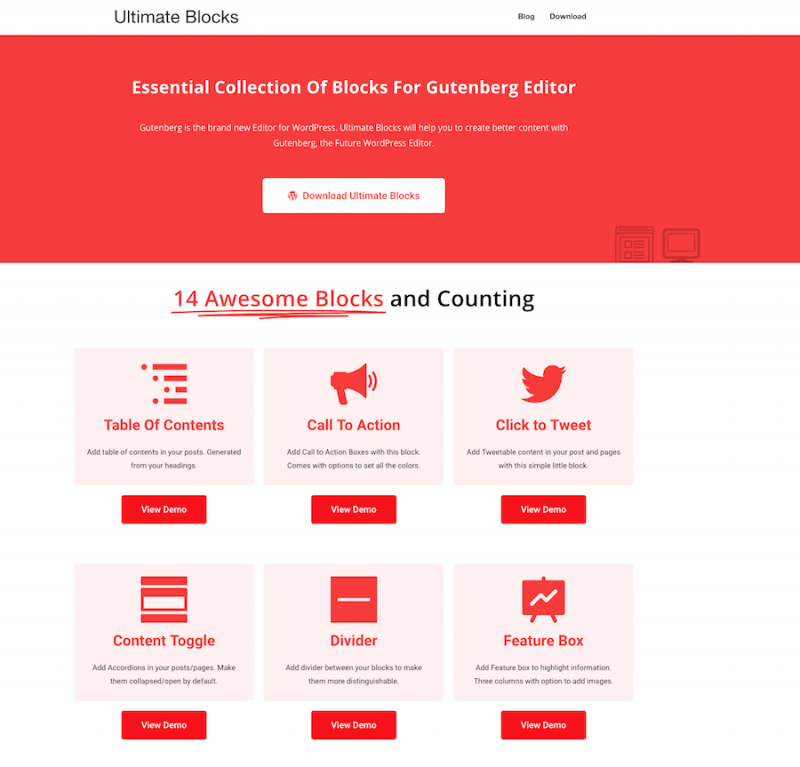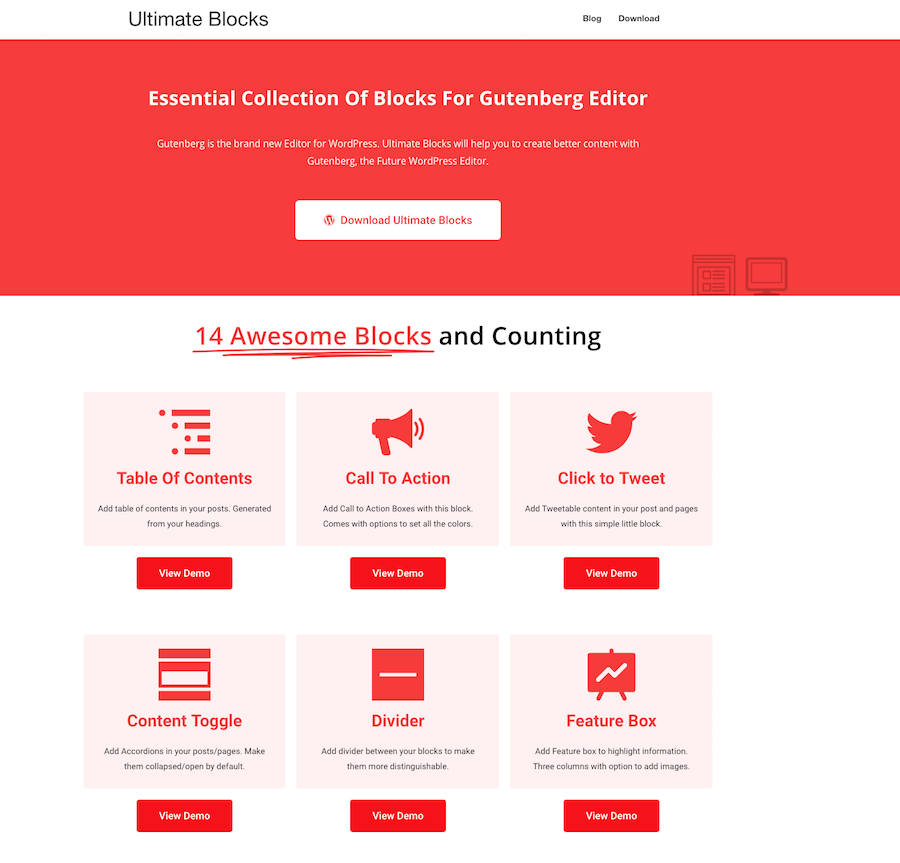 Qubely
Qubely is a Gutenberg block plugin that minimizes all limitations of the Gutenberg editor and opens new possibilities.
You can create any complex layout using the Qubely custom blocks on the WordPress default editor.
Design pricing plans, features, testimonials, progress bars, and many more with Qubely. Showcase posts in grid and list views, display team members stylishly, and popup video to attract visitors more.
Take full control of the WordPress Gutenberg block editor by applying out of the box styling options.
Qubely offers ready sections, layout bundles, shape dividers, device-specific responsive controlling system, typography control option and many other features and elements.
Qubely takes care of your website design with custom Gutenberg blocks. Qubely blocks are highly functional and user-friendly.
You have plenty of options to tweak the design and show content any way you want. The number of blocks in Qubely Gutenberg plugin is increasing with its updates.
Qubely already has 26 blocks that are completely free for you to use. More blocks are to come in the coming days.
Some of the notable Qubely blocks are:
Post Grid
Pricing
Block Wrapper
Team
Image
Timeline
Row
Testimonial
Counter
Tabs
Accordion/Toggle
Video Popup
Google Map
Progress Bar
Divider
Button Group
Info Box
Advanced List
Contact Form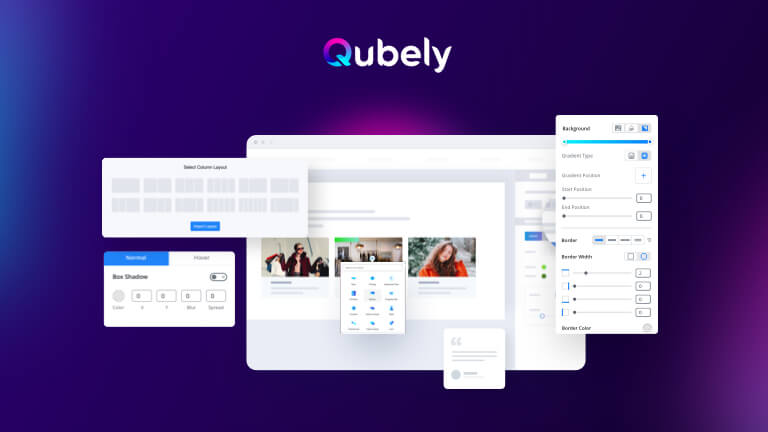 Stackable
Stackable is another plugin that worth a mention. This plugin adds a number of very useful blocks that can be used while creating a page with different elements like numbers, counters, text with background image, etc.
As you activate this plugin, it adds a new block section that you can use while creating a rich page design.
Some of the important blocks offered by this plugin are
Cards
Counters
Container
Featured grid
Testimonial
Notification Block
Team Members Block
And More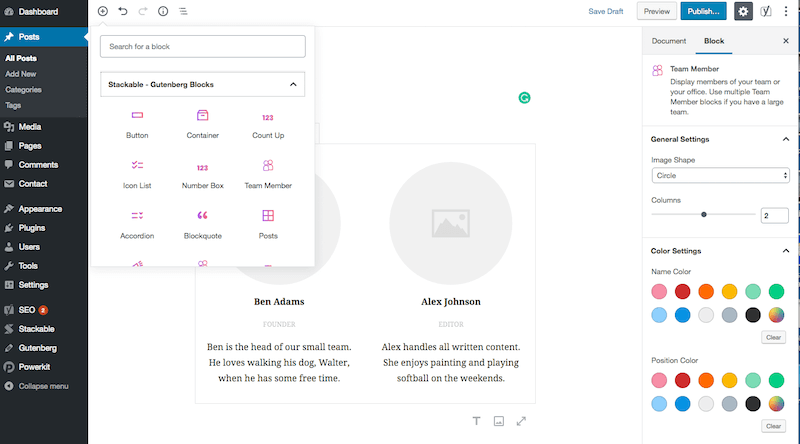 Getwid
If you are looking for a comprehensive free Gutenberg plugin option, this is a great option for you.
This plugin by MotoPress brings in 29 very useful blocks that you can use on your WordPress site.
Here are some of the important blocks that are offered by Getwid plugin
Section
Advanced Heading
Button Group Block
reviews
Progress Bar
Counter
Recent Posts
Price Box
Social Links
Image Stack Gallery
Instagram
Banner
Testimonial
Price Box
Social Links
Recent Posts
You get a beautiful looking free Gutenberg compatible theme with this plugin that is fully compatible with the Getwid plugin. Once you have this combination, you don't feed another website builder for your site.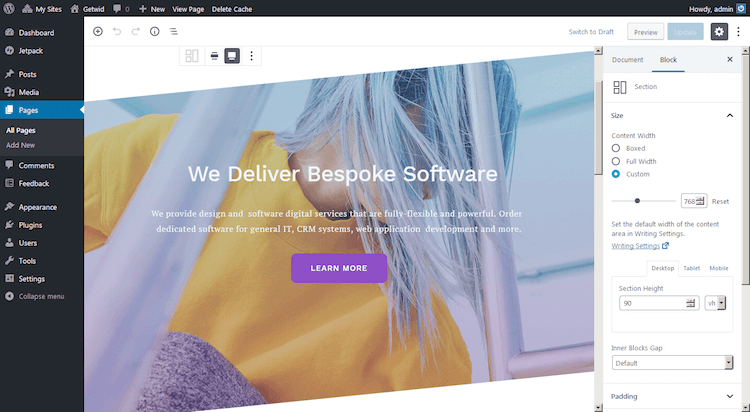 CoBlocks: Gutenberg Blocks for Content Marketers
As the name suggests, this plugin offers the blocks that are useful for marketers. This plugin is created by the ThemeBeans team.
Here are the blocks offered by this plugin
Accordion Block
Alert Block
Social Sharing Block
Author Block
Dynamic HR Block
Click to Tweet Block
Gif Block
GitHub Gist Block
Pricing Table Block
Highlight Block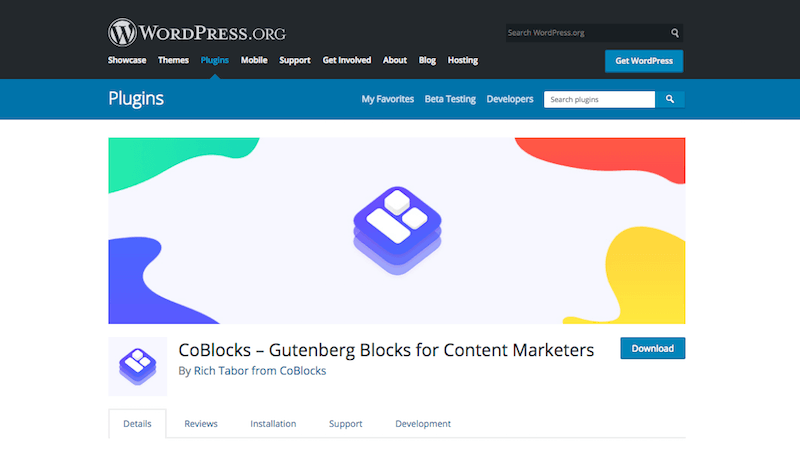 Kadence Blocks
Kadence Blocks, another very useful WordPress Gutenberg add-on plugin that makes the layout editing simple and advanced.
This plugin will offer an advanced website builder experience with amazing control over the row layout options so that you can create the perfect design for your pages.
It also offers you an advanced button, heading options so that the overall presentation of your post becomes attractive.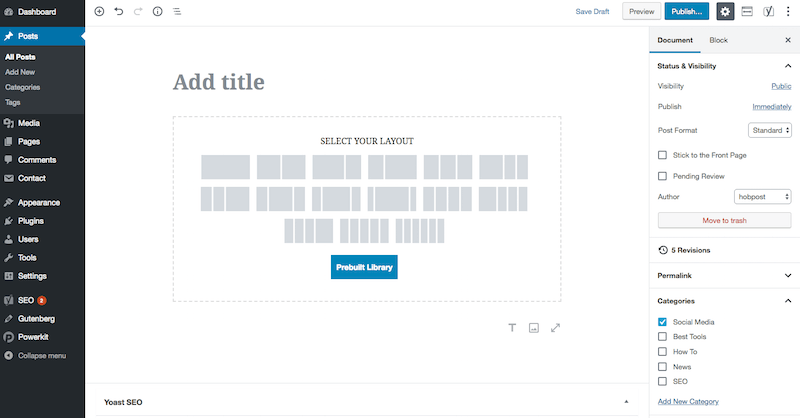 Bokez
Bokez is another amazing collection of Gutenberg blocks that you can use to create your pages. It offers you some very important blocks like the testimonial, accordion, post grid, cover block and a few more.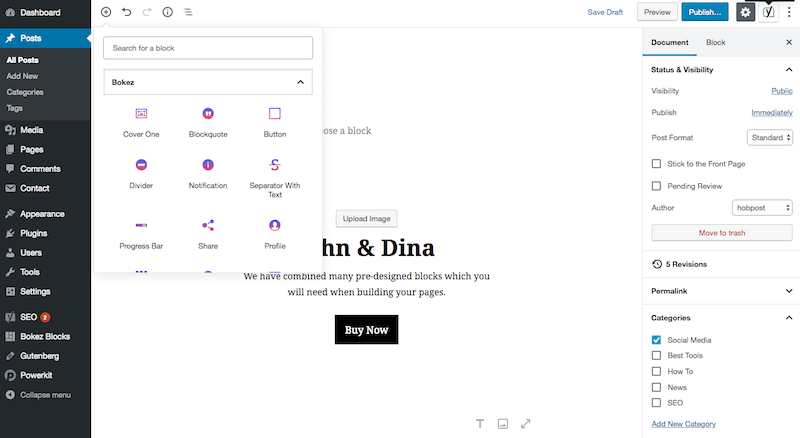 Editor Blocks for Gutenberg
If you are looking for a plugin that you can use to create a complete landing page with different blocks and elements, this is a nice option for you.
This plugin offers you a number of very useful Gutenberg blocks that you can use to create a landing page with hero section, content wrapper, team, pricing table and more.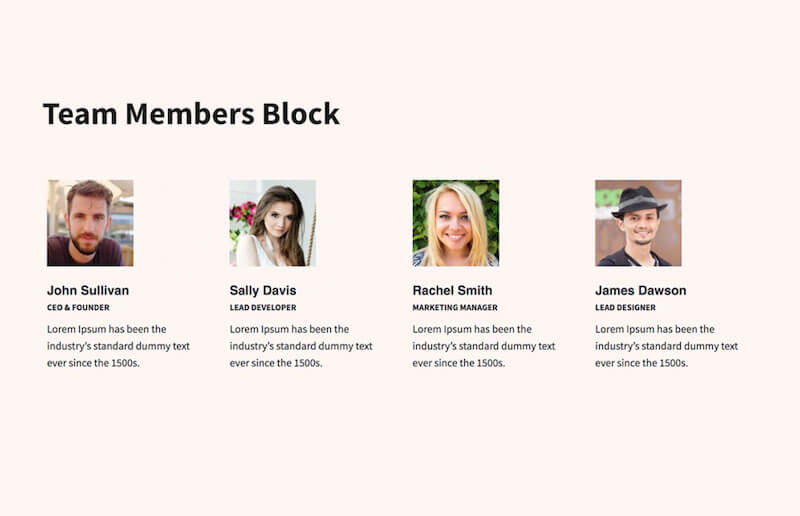 Advanced Gutenberg Blocks
Another very handy free Gutenberg block plugin that will help you to add and improve a number of blocks on your WordPress site.
The plugin offers you an amazing option to add optimized advertisements on your content so that you are able to increase your revenue.
You can use this Gutenberg plugin to add Google Maps to your posts. You also have the option to customize the look and feel of the maps to make it even more attractive and engaging.
Another big advantage of this plugin is that it can generate a table of content for your posts on the fly and make sure that your article becomes user-friendly as well as SEO optimized.
We have already written about the click to tweet plugins here in this post. If you are using this plugin, you don't have to install a separate plugin to have the click to tweet option.
This plugin comes with its own option and creates a tweet box featuring a content ready to be retweeted.
So, overall this plugin deserves your attention if you are looking out for the best Gutenberg plugins.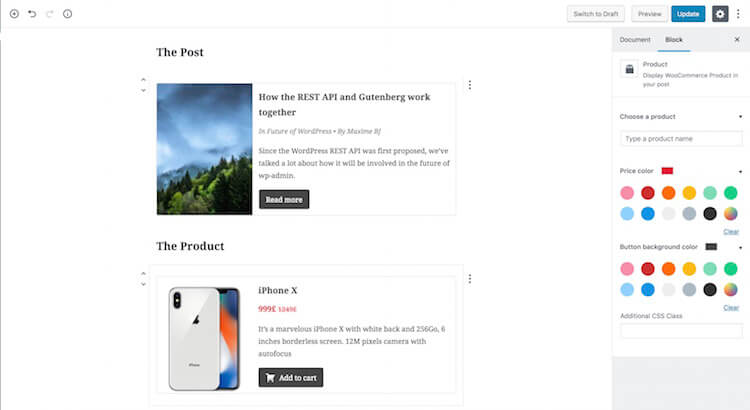 Final Word
As WordPress 5.0 is just out, we will see a number of Gutenberg related plugins in the days to come. In a way, these plugins work like the shortcode in old WordPress that we used to add different functionalities to our pages.
Now, in the new version of WordPress, these become blocks or options to enhance the ready blocks to make them better.
We will be adding more Gutenberg WordPress plugins as well go on testing more plugins, so, don't forget to bookmark this page and check for more options later.
[kkstarratings]