Gutenberg editor is part of WordPress now. And if you are looking for the best Gutenberg block plugins, we have listed the top available options in this article.
After the introduction of the Gutenberg editor, all the elements that you use on your page of posts are blocks. If you want to add an image to your post, you have to add an image block, for paragraphs, tiles, and any other element you have to add the respective blocks and edit them.
So, if you need any additional features on your post, you have to add those additional blocks to add the options.
WordPress has already created a number of different blocks such as the text block, image block, title block, table, column, button and a number of other blocks.
We have created a detailed tutorial about how to use the Gutenberg editor here, this article will help you to understand and get started with the new editor.
Before we go ahead with the Gutenberg block plugins, let's have a look at the regular blocks that come with the default editor.
01. Heading Block: You use this block to add a title to your posts or pages. Generally, it is used to add H2, H3 tags to subheadings on your blog post.
02. Paragraph Block: This is going to be one of the most widely used blocks on your WordPress site. As the name suggests, this block will be used to add content to your blog posts.
03. Image Block: This is self explanatory. You can use this block to add an image to your blog posts.
04. List Block: You can use this block to create bullet points on your blog posts. This option was there in the classic editor as well.
05. Buttons: We used to add custom code or a shortcode plugin to add buttons on the classic editor. WordPress didn't have a default option to add a call to action button before Gutenberg was introduced. But now, it comes with a default block to add a call to action button.
06. Table Block: WordPress never had an option to add a table to a post, but with Gutenberg, it comes with a default option to add a table to your posts. You can use the table block to create a list of items in a table form or to compare different products you showcase on your site.
The table block gives you a few options to customize the color settings but it is limited. So, you might still need a quality table plugin on your site.
07. Cover Block: This is another very useful addition to the new editor. The cover block can be a very effective element to create high-quality articles with different sections clearly divided with the cover block.
08. Embed Block: Now embedding content from other sources like YouTube, Twitter, Instagram is a lot easier than before. the default embed block gives you can a number of options to embed content from multiple platforms.
09. Column Block: With Gutenberg, you have a quick option to create a multi-column content layout on your posts on pages.
10. Formatting Blocks: The default Gutenberg editor offers you a number of blocks that you may need while editing content types other than text. You have a code block, an HTML block, and a few more.
11. Gallery Block: Gutenberg comes with a default gallery block as well. You can quality add multiple images in a gallery grid form. You can upload new images or select images for your media gallery to showcase in your posts.
There are multiple other blocks that are really helpful while creating your content.
Why Do You Need a Custom Gutenberg plugin?
As Gutenberg already offers so many blocks in the default options which can take care of almost all the need when it comes to creating a blog post, why do you need a custom plugin?
The primary reason why you need a custom Gutenberg block plugin is because the default blocks are limited in terms of design possibilities. Also, you may need multiple other blocks on your site that are not already available among the default options.
If you are managing a very simple blog where you just wish to publish content and don't need any extended features, the default options are good enough.
Gutenberg is not just the editor, it is a website builder in itself and these custom Gutenberg block plugins make the process simple to create a great-looking design for your website.
You can use many of the following block plugins to create a completely custom design for your site, you will not need a website builder anymore.
So, without further ado let's have a look at the top Gutenberg block plugins.
What Are The Best Gutenberg Block Plugins?
If the default Gutenberg blocks are not enough to get your job done, there are a number of quality Gutenberg block plugins that you can use on your WordPress site.
Here are some of the most popular Gutenberg block plugins that are widely used.
GutenBee
GutenBee is another great free plugin that offers a great selection of custom Gutenberg blocks to make content creation on your WordPress site easier and more flexible.
GutenBee at the moment bundles 27 custom blocks with new blocks and updated features added regularly.
Create awesome menus for your bar or restaurant complete with images, prices and descriptions with the Food Menu block.
Forget the boring default appearance of maps, with the Google Maps blocks you can select one of the many bundled custom styles or even bring in your own SnazzyMaps style to spice up your contact page.
The Review block allows you to sum up your movie, food, game etc review with multiple categories and an automatic average rating.
Create eye-catching banners with parallax and video backgrounds to draw in the attention of your audience.
Drag & drop the Post Types block in the content to create post and custom post type listings with variable column numbers, category filtering and more.
Of course GutenBee offers all the essential blocks like paragraphs, headings, tabs, accordions, gallery, icon blocks and many more.
GutenBee blocks offer extensive appearance options with customizable colors, backgrounds, borders, shadows and more. Additionally, their visibility options allow you to show or hide blocks based on the type of device they are being viewed on, or show/hide blocks for logged-in or logged-out users.
Atomic Blocks: Add-ons for Gutenberg Editor
A free and popular Gutenberg block WordPress plugin that offers a number of useful blocks for your WordPress site.
The plugin is taken over by the WPEngine team, so you can expect a regular update and useful new blocks in the future.
The plugin already offers a few very useful blocks ready to be used.
Post grid block
The Container Block
Call-to-action Blocks
Customizable button
Spacer & divided
Author profile
Drop cap
Testimonial
Inline notice
Accordion
Share icons
The plugin is simple and easy to use. Once you activate the plugin, you will get the option in the admin backend.
The plugin will add a new Atomic Block option in the block editor. You can choose any of the ready Atomic Blocks to your page like any other Gutenberg block.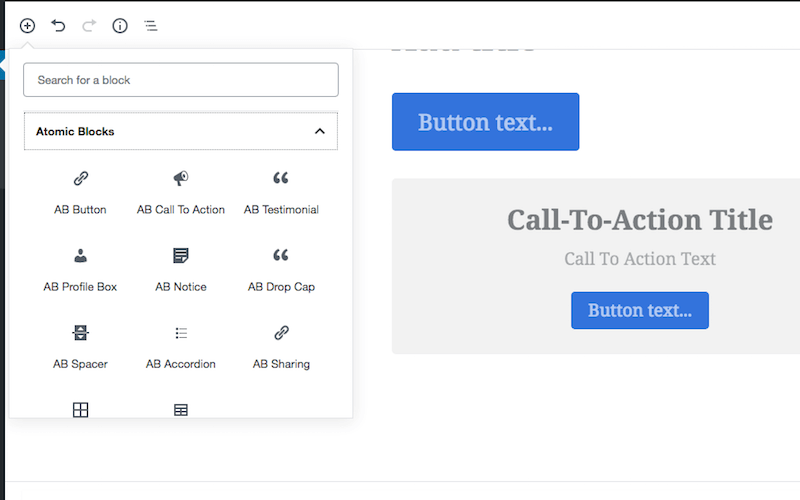 Advanced Gutenberg
Advanced Gutenberg is a very useful Gutenberg WordPress plugin that will bring in over 20 different useful blocks to your WordPress site.
This is a plugin created by the JoomUnited team who offers a few other useful WordPress plugins along with the Advanced Gutenberg plugin.
Once you activate the plugin, you will get the option in the admin dashboard. The plugin gives you an option to create additional profiles and assign blocks according to role or profile.
You can add the advanced blocks while editing your post and customize it right on the Gutenberg editor. This plugin enhances some of the most important blocks such as images, buttons, etc with a number of additional features.
Gutenberg offers a number of blocks that are needed to create a rich article design such as buttons, tables, etc. But the design options are limited. The Advanced Gutenberg plugin enhances all these ready blocks with new design options along with the additional blocks this plugin brings in.
Let's have a look at the table feature.
If you want to place a comparison table for any product or service, the default Gutenberg table is very limited in terms of design, the Advanced Gutenberg will make it complete by adding the styling options to it.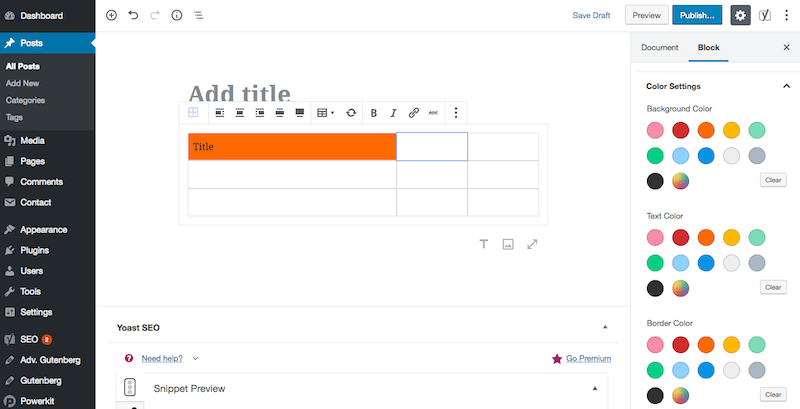 Gutenberg Blocks: Ultimate Addons for Gutenberg
One of the top Gutenberg Blocks WordPress plugin, the ultimate Addons for Gutenberg bring a number of useful blocks to your site.
Over 10k users are already using the plugin. And if you are looking for the best Gutenberg block plugin for your site, you can use this tool.
Here are some of the important blocks offered by the ultimate add-on plugin.
Advanced Column
Advanced Heading
Call to Action
Google Map
Timeline Post
Post Layouts
Price List
And more
If you are looking for an option to create a beautiful looking grid-based layout for your blog, you don't have to install any extra plugins as the Ultimate Addon for Gutenberg plugin comes with the option to create different types of post layouts for your site including Masonry grid layout.
Also, if you are managing a site where you need to include the Google Map, you can use the plugin to inset maps on your posts, we have published an article to show you how to insert Google Map using the Ultimate addon plugin here.
The section block is another useful option that you can use to create a great-looking layout for your blog posts. These kinds of boxed and full-width sections were not possible earlier with WordPress, at least without using a website builder.
Now, it's really easy with the UltimateAddon plugin for Gutenberg. Overall, this is one of the best Gutenberg blocks plugins that you can use on your site.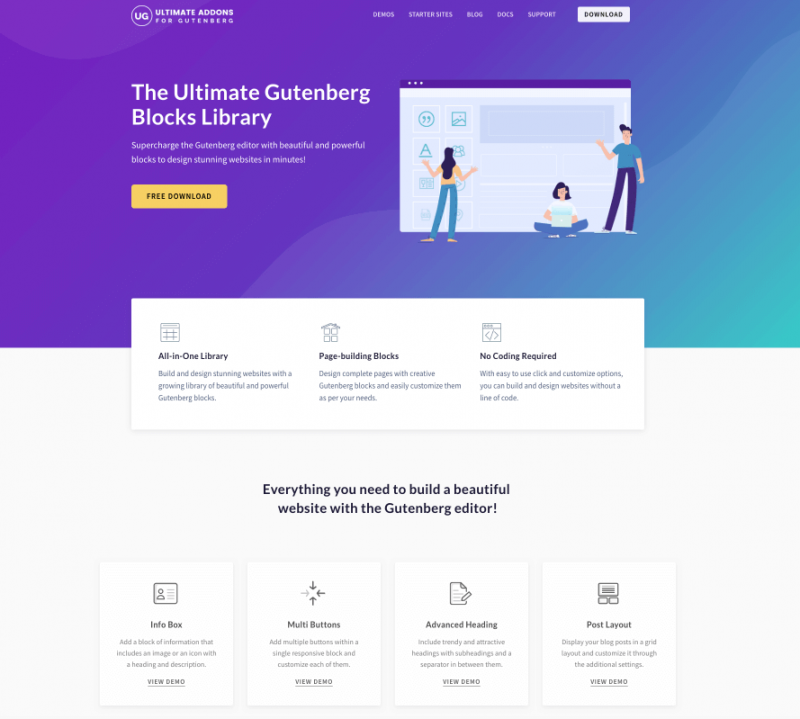 Ultimate Blocks
The Ultimate Blocks for Gutenberg offers you 14 different blocks at the moment and the team is working on a number of new blocks to make it one of the most comprehensive solutions for the Gutenberg editor.
The plugin is very simple and easy to get started with. As you activate the plugin, you will see the plugin option in the WordPress admin panel. All the blocks are enabled by default and you have the option to disable any of the blocks in case you don't want to use them.
As you create a new post. You will see a new blocks group for the Ultimate Blocks options. You can use them as any other default Gutenberg block.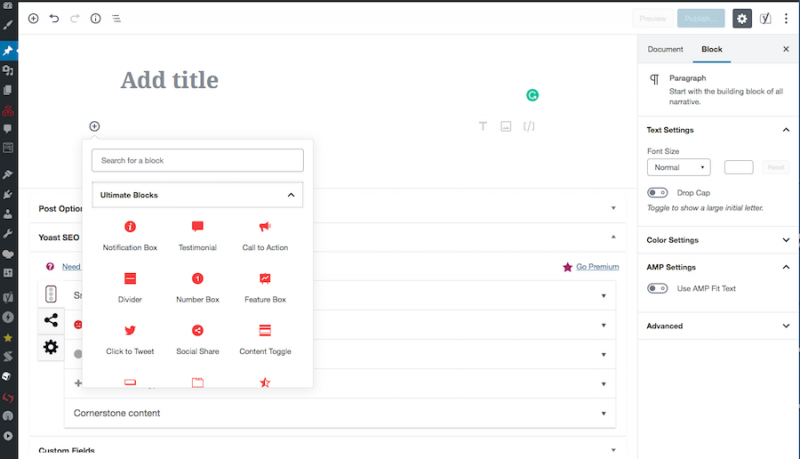 The plugin offers you some very important blocks that are needed by the bloggers regularly such as the table of content, star rating, click to tweet, notification boxes, countdown timer and more.
So, this plugin will retire a number of different plugins that you are using on your site currently as it can do all those tasks alone.
The developer offers great support in case you need any help with the plugin. So, if you are already started using the Gutenberg editor, take it to the next level with the Ultimate blocks plugin.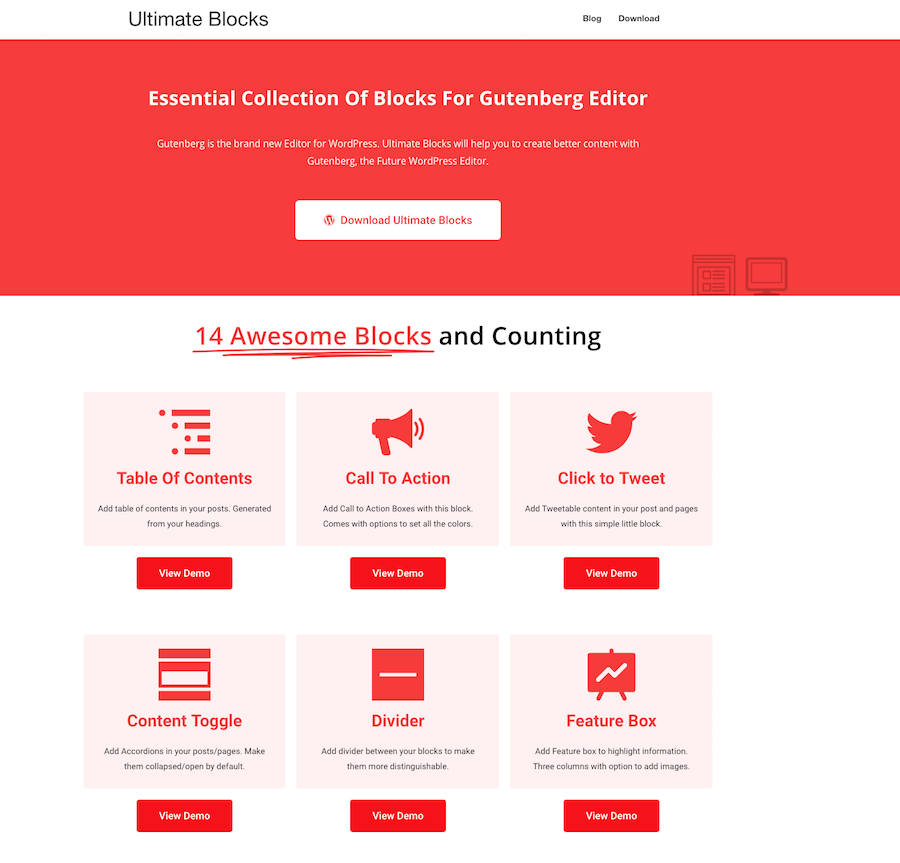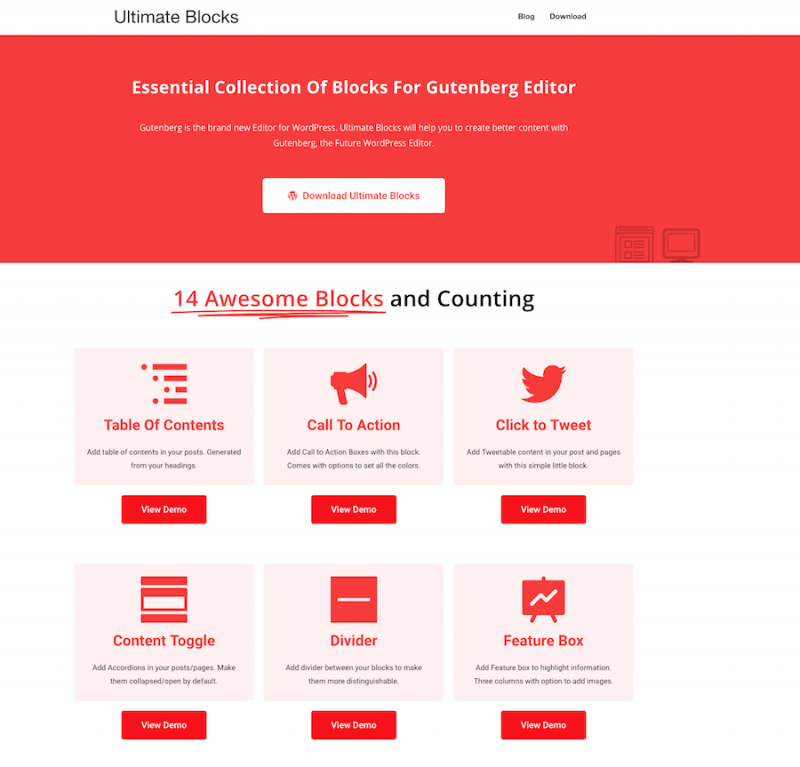 Qubely
Qubely is a Gutenberg block plugin that minimizes all limitations of the Gutenberg editor and opens new possibilities.
You can create any complex layout using the Qubely custom blocks on the WordPress default editor.
Design pricing plans, features, testimonials, progress bars, and many more with Qubely. Showcase posts in grid and list views, display team members stylishly, and popup video to attract visitors more.
Take full control of the WordPress Gutenberg block editor by applying out-of-the-box styling options.
Qubely offers ready sections, layout bundles, shape dividers, device-specific responsive controlling system, typography control option and many other features and elements.
Qubely takes care of your website design with custom Gutenberg blocks. Qubely blocks are highly functional and user-friendly.
You have plenty of options to tweak the design and show content any way you want. The number of blocks in Qubely Gutenberg plugin is increasing with its updates.
Qubely already has 26 blocks that are completely free for you to use. More blocks are to come in the coming days.
Some of the notable Qubely blocks are:
Post Grid
Pricing
Block Wrapper
Team
Image
Timeline
Row
Testimonial
Counter
Tabs
Accordion/Toggle
Video Popup
Google Map
Progress Bar
Divider
Button Group
Info Box
Advanced List
Contact Form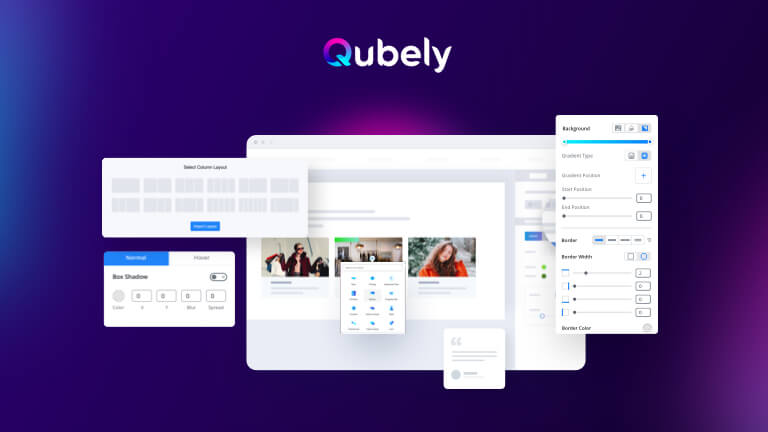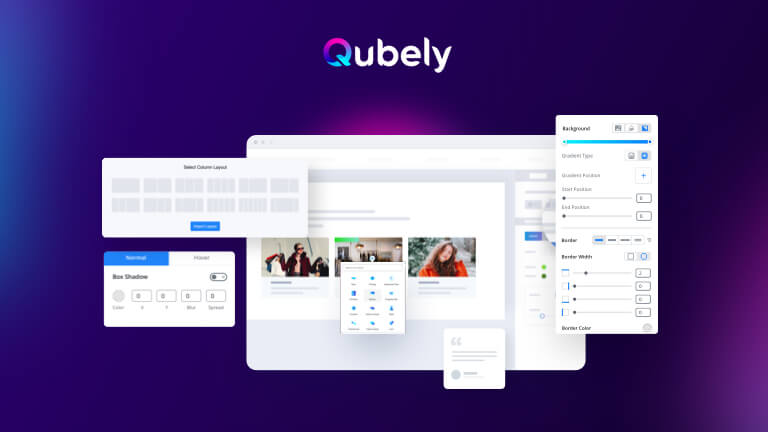 Stackable
Stackable is another plugin that is worth a mention. This plugin adds a number of very useful blocks that can be used while creating a page with different elements like numbers, counters, text with background image, etc.
As you activate this plugin, it adds a new block section that you can use while creating a rich page design.
Some of the important blocks offered by this plugin are
Cards
Counters
Container
Featured grid
Testimonial
Notification Block
Team Members Block
And More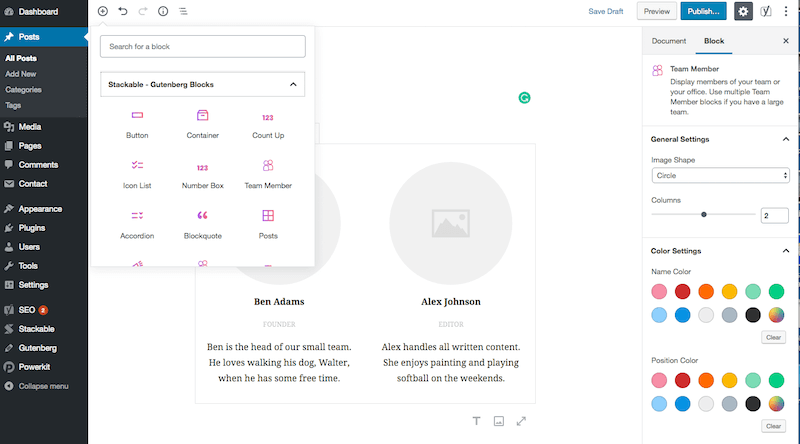 Getwid
If you are looking for a comprehensive free Gutenberg plugin option, this is a great option for you.
This plugin by MotoPress brings in 29 very useful blocks that you can use on your WordPress site.
Here are some of the important blocks that are offered by Getwid plugin
Section
Advanced Heading
Button Group Block
reviews
Progress Bar
Counter
Recent Posts
Price Box
Social Links
Image Stack Gallery
Instagram
Banner
Testimonial
Price Box
Social Links
Recent Posts
You get a beautiful-looking free Gutenberg compatible theme with this plugin that is fully compatible with the Getwid plugin. Once you have this combination, you don't feed another website builder for your site.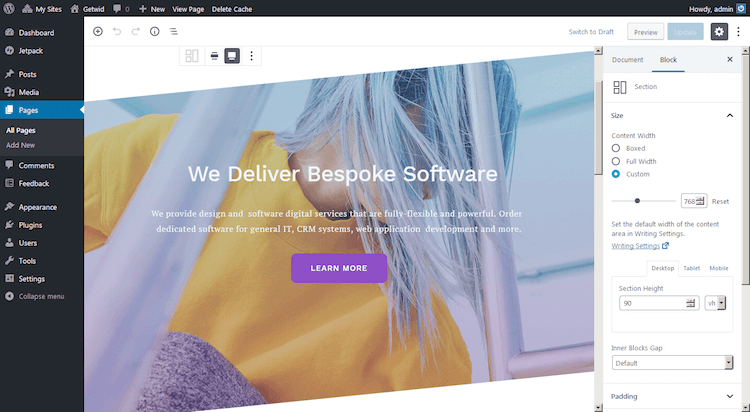 CoBlocks: Gutenberg Blocks for Content Marketers
As the name suggests, this plugin offers the blocks that are useful for marketers. This plugin is created by the ThemeBeans team.
Here are the blocks offered by this plugin
Accordion Block
Alert Block
Social Sharing Block
Author Block
Dynamic HR Block
Click to Tweet Block
Gif Block
GitHub Gist Block
Pricing Table Block
Highlight Block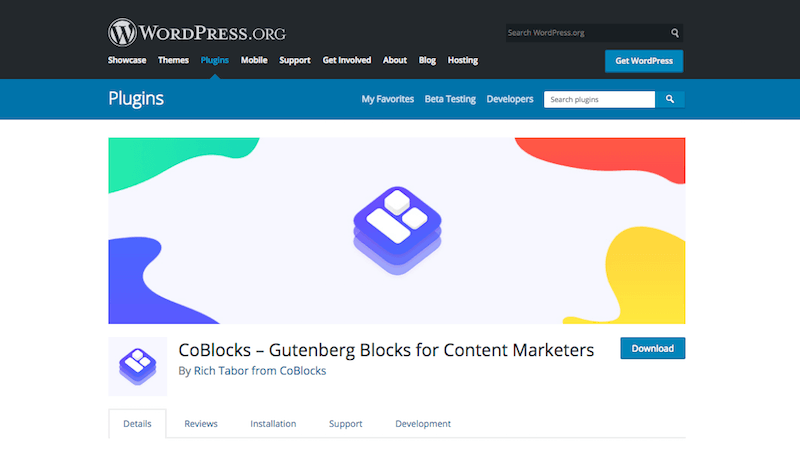 Bokez
Bokez is another amazing collection of Gutenberg blocks that you can use to create your pages. It offers you some very important blocks like the testimonial, accordion, post grid, cover block and a few more.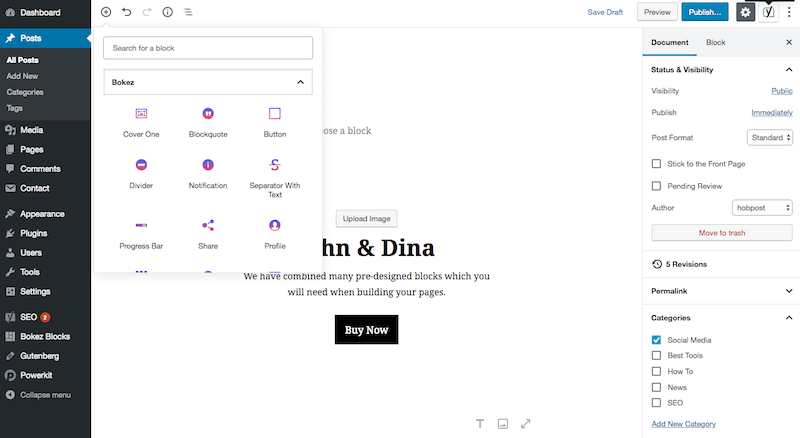 Editor Blocks for Gutenberg
If you are looking for a plugin that you can use to create a complete landing page with different blocks and elements, this is a nice option for you.
This plugin offers you a number of very useful Gutenberg blocks that you can use to create a landing page with hero section, content wrapper, team, pricing table and more.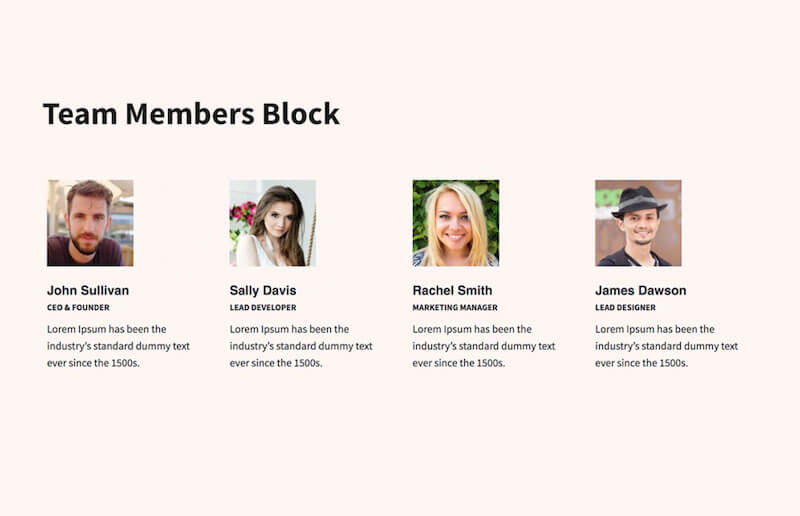 Orbit Fox
Orbit Fox is a very handy WordPress plugin with a number of useful features and options. This one single plugin can replace a number of other plugins by offering all those features.
From simple Google Analytics integration to ready page templates, it has all of it.
This plugin also offers you a number of add-ons and widgets for website builders like Elementor and Beaver Builder making it a very useful product.
It offers you social sharing buttons, you can select the ones that you wish to use from a big list of options, it offers you ready page templates that you can use to create beautiful landing pages on your site.
And top of it, you will get 1 GB free CDN traffic and it will optimize the images on your site to make it load quicker.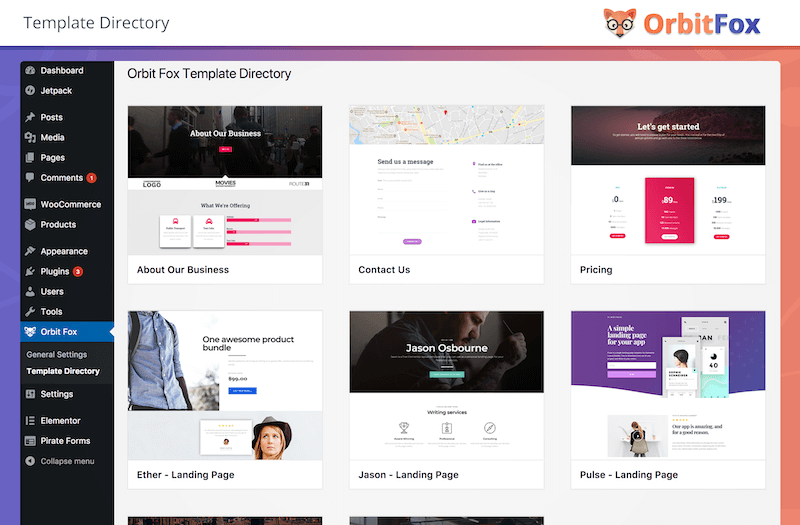 Otter Blocks
Otter Blocks is another very useful Gutenberg block plugin that you can use on your WordPress site for free.
This lightweight plugin will help you to create a visually appealing website. The plugin offers you a number of different blocks.
It comes with a library of ready-to-use templates that you can insert into your pages with one click and edit them as per your need.
So, if you want to avoid those code-heavy website builders that slow down your site, this plugin will do the trick for you.
Important Blocks
Section block
Slider block
Advanced buttons
Advanced heading block
Post grid block
Pricing block and more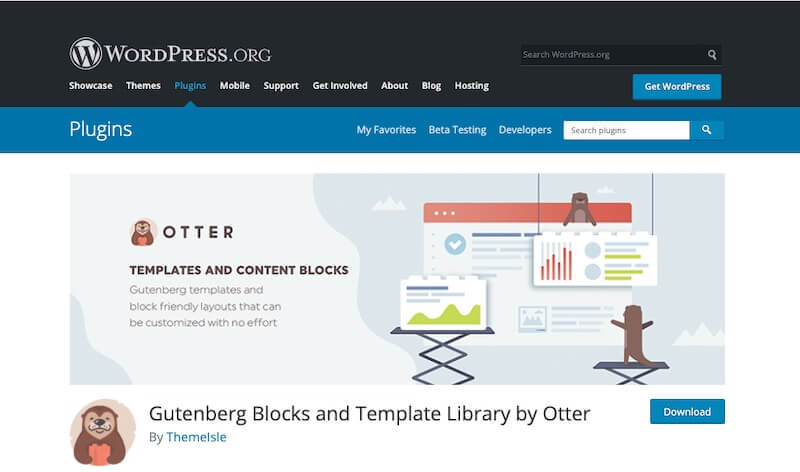 Kadence Blocks
A website builder in itself, the Kadence Blocks plugin will make sure that you will never need a website builder again to create a completely custom design for your website.
No matter what kind of site you manage, be it a simple blog or an eCommerce site the Kadence Blocks plugin will take care of the design for your site.
The plugin offers a number of different blocks that you can put together and customize theme as per your need to make your site look perfect.
In fact, the plugin comes with a number of ready website demo templates that you can import and use on your site. As the plugin is simple and easy to use, you will be able to customize it even if you are a complete newbie.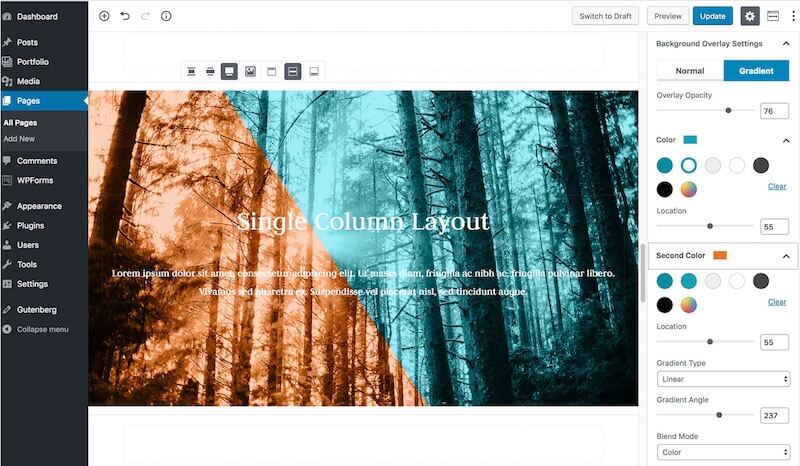 Extra Block Design, Style, CSS for ANY Gutenberg Blocks
This is another Gutenberg plugin but not for adding a new block but to style the plugins that you have already added.
If you are active in the WordPress community, you are probably aware of plugins like CSSHero that are created for non-designers to edit CSS code on the fly with visual styling.
This is one such plugin that is perfectly compatible with most of the Gutenberg plugins added to this list, you can use this plugin to style the block that you add through all these block plugins.
This plugin comes with over 60 design options. So, if you are not someone who is not comfortable with the CSS style codes but wish to customize the look and feel of the blocks, this plugin is for you.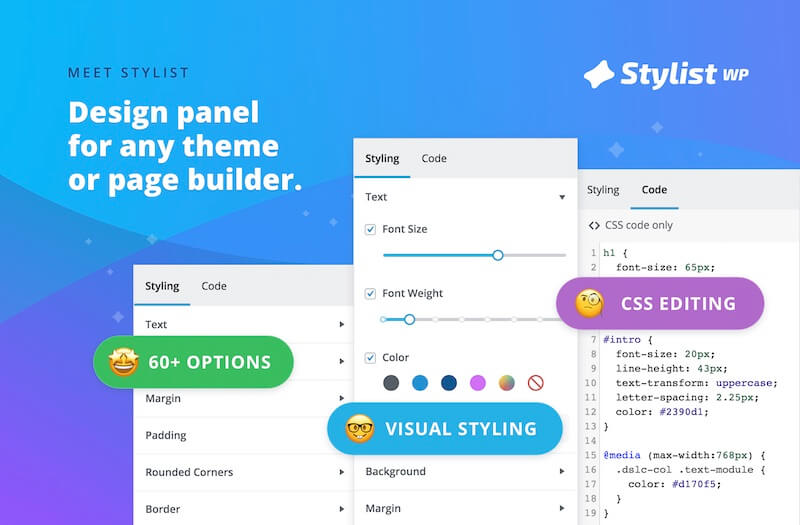 Final Word
These are some of the best Gutenberg block plugins that you can use on your WordPress site. We will see a number of Gutenberg-related plugins in the days to come. In a way, these plugins work like the shortcode in old WordPress that we used to add different functionalities to our pages.
Now, in the new version of WordPress, these become blocks or options to enhance the ready blocks to make them better.
We will be adding more Gutenberg WordPress plugins as we go on testing more plugins, so, don't forget to bookmark this page and check for more options later.