Brand new realtors and seasoned real estate agents alike need to incorporate a great lead-generation process into their marketing strategy.
To succeed in this people-focus industry, it's important for realtors to build relationships and attract more warm prospects in their niche.
14 of The Best Real Estate Lead Generation Sources in 2023
Lead generation relics, like knocking on doors and cold calling, aren't as successful as they once were. However, the following lead sources will help you grow your brand quickly.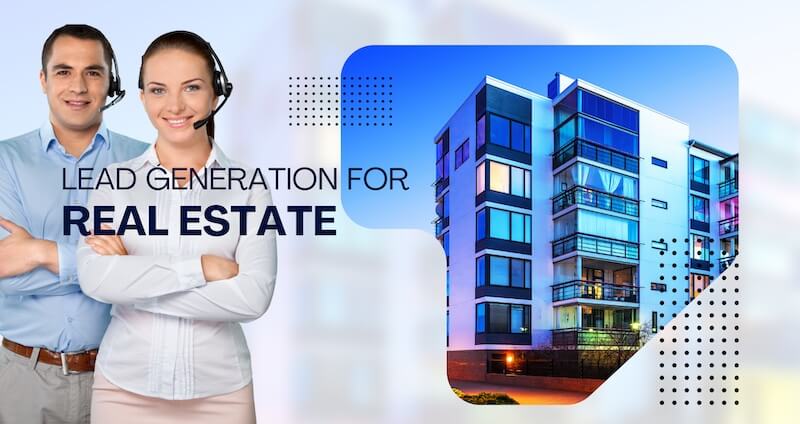 1. Marketing Services
By hiring one of the many marketing services for real estate agents, you open your business up to every lead source on this list without needing to spend time nurturing prospects.
While you'll have to spend more upfront, a marketing agency can save you time and money in the long term.
2. Customer Database
Realtors should keep a database full of clients that could potentially generate new business for their brand.
Send an email explaining a referral program or a newsletter stating you're accepting new clients. Next, leverage contests to encourage clients to share your content on social media.
3. Geographic Farming
Geographics farming is when you market your properties to a specific area or neighborhood. To do this right, identify groups of homes that have a decent annual turnover and contact the seller.
Stay active on social media to win over potential sellers and become the listing agent of choice.
4. Realtor Referrals
Other realtors can be a great source of lead generation if they aren't in your niche. Work on building relationships with local agents and explain that you want to network with clients. If the other agent finds a client that could benefit from your expertise, they can refer them to you.
5. Open House Events
An open house event is a classic way to get buyers through the door but go above and beyond. Throw a large bash that includes food, drinks, and games. Make sure to speak to the neighbors, your friends, and fellow agents before the big day. A full home can activate FOMO in clients.
6. Expired Listings
A homeowner with an expired listing is facing a problem, and you can be the one that solves it. Go on sites like Expireds and reach out to homeowners directly and do what you can to sell their property.
Selling a once-unsellable home can help you build a positive local reputation.
7. Home Marketplaces
Home marketplaces, like Zillow and Trulia, can be used to build your customer database for niche-specific leads.
Plus, over-indexing on online arbitrage can open the door to opportunities, as people shopping for homes usually sell their own property before they can buy a new one.
8. More Sign Calls
Have as many signs as your state regulations allow. The more you're seen, the more you'll be remembered.
To make a great sign, make sure your name is visible and can be read while driving. A successful sign call will attract referrals from current and future buyers or sellers.
9. Seller Marketing
A homeowner may avoid selling their home unless they know what it's actually worth. On social media, create ads with a message like: "Want to know the value of your home?" By providing this info, you'll nurture clients and eventually lead them down the sales funnel to convert them.
10. For Sale by Owner
Some owners will try to sell their homes, only to find it's a lot harder than they thought. Agents should approach homes with "For Sale by Owner" signs and introduce themselves.
Explain that you can bring more exposure to their home and save them time or money if they hire you.
11. Talk to Builders
Builders and contractors go in and out of homes all day, and people love to talk. There's a high chance a homeowner will tell a contractor if they're looking to sell, so build a referral network with these professionals. You can also use their help to identify new properties and leads.
12. Entice Investors
While leveraging your existing clients and tenants is essential, don't forget to search for new customers. Investors own multiple properties at once and could become clients for life if you help them sell when they're ready. They also know other investors, which helps with growth.
13. Online Reviews
Clients will search online for reviews before hiring you. Ask your customer database to leave a review if they haven't already.
After helping your client purchase or sell their property, request a review from them. Explain how reviews and referrals help you build your real estate business.
14. Webinars/Seminars
Webinars or recorded seminars can build your personal brand, share valuable information, and develop an audience.
Use this format to answer key real estate topics, like home trends and new homebuyer Q&As. Upload your seminar online and use it as content for your website.