Let's recollect the last time when you wanted to discover information about a certain brand or product, where did you start your search?
I bet you opened Google and began looking for an official web resource for that brand. A website is the first place to which people refer when they want to get to know your company better.
Every modern-day business project needs to have its official website. A web page is a powerful online marketing tool that lets you introduce the audience to your project and promote your offers effectively.
Brands can also communicate with their audiences through websites and keep customers more engaged with their corporate life and public events.
Thanks to the evolvement of the site-building platforms and the availability of a wide choice of stunning topic-specific web designs, you can create a unique and impressively functional site for your brand without any special design and coding skills.
In this quick and easy guide, we'll highlight the major steps that are involved in the site-building process.
Before Getting Started
Before we start talking about the components that are involved in the site-building process, it's important to clarify what kind of a web resource you'd like to launch.
Is that a blog, business, portfolio or eCommerce web page that you'd like to bring online? The choice of the best platform to launch your website depends on your answer greatly.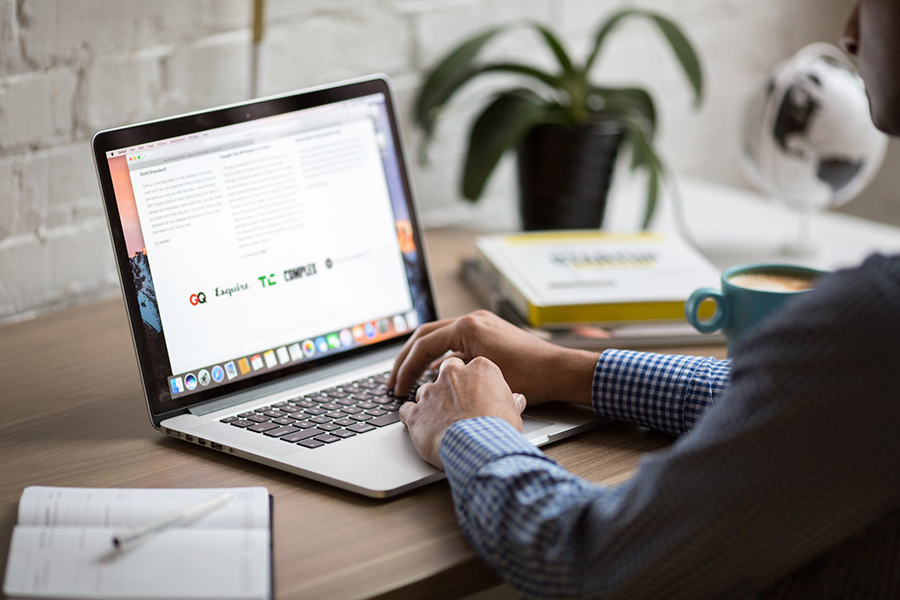 For example, if that's a blogging platform that you'd like to bring online, then WordPress and Joomla can become your best companions.
In fact, WordPress can do a lot more than just blogging. Thanks to the immense popularity of this Content Management System and a huge community of designers and developers, you can use WordPress to launch everything starting from a small business site and ending with a large corporate site or even an eCommerce web project.
The latter is easy to achieve thanks to the advanced WooCommerce plugin that is intended to transform any WordPress-based online resource into a powerful web store.
If you need to launch a fully-fledged web store, then such platforms as Shopify and Magento can be perfectly suited for such purposes.
However, if you are an absolute beginner in the web design and development niche or have only basic skills, then it's better to launch your website with the most popular and user-friendly CMS – WordPress.
WordPress is the easiest web platform I've ever known. It fits any personal and business project. You can use it to build a startup project, blog, large corporate web resource, and sell online.
Additionally, WordPress is compatible with a number of popular drag-and-drop builders that let you economize your time and create impressive layouts in intuitive visual dashboards.
WordPress also has an immense community of designers and developers that work on the improvement of its functionality while launching new plugins and extensions for the CMS. Most of them are available for download from wordpress.org.
And finally, the top reason to launch your site with WordPress is that it's free. With all that being said, lets' find out how to launch your site with WordPress step-by-step.
Choose a Reliable Web Hosting and Domain Name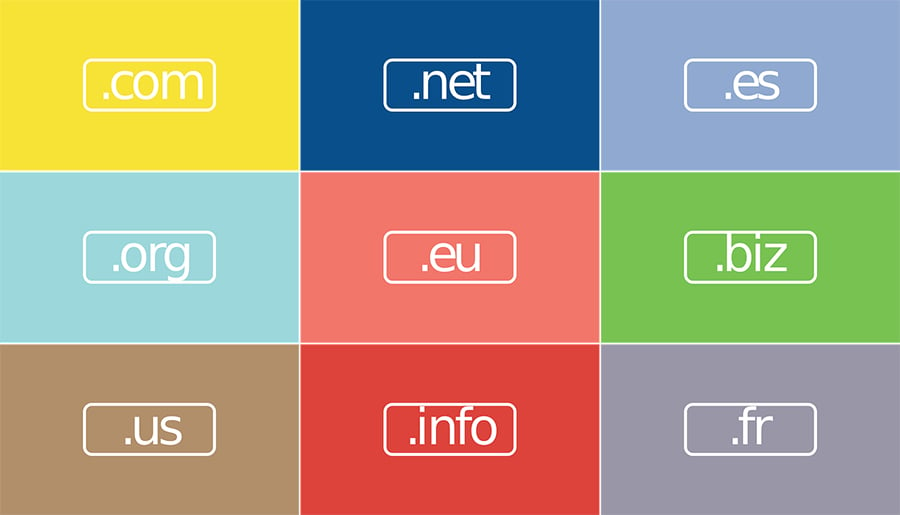 The creation of any website begins with the choice of a reliable hosting service. If you search for a hosting provider on the web, then you will find lots of options that fit the launch of WordPress-based resources.
Bluehost is generally considered to be one of the most popular solutions for this purpose. The web hosting provider offers plans that already include 1-click WordPress installation and the possibility to use a free domain name for 1 year.
We have written a detailed article on how to create a blog with Bluehost with images.
The choice of a domain name is one of the most important yet fun parts of website creation. In fact, this is the URL address of your site. It's important to make your domain easy to remember and different from other online projects.
Domain names usually end up with .com, .org or .net. However, in recent times we've seen a number of other domain extensions like .company or .pizza.
It's up to you to decide how your domain name will be presented. However, if you'd like to make your domain name more user-friendly, then opt for more common endings like .com or .org.
Install WordPress
As it's been already mentioned earlier in this post, such hosting providers as Bluehost offer 1-click WordPress installation, which frees you from the need to install the CMS on your website manually.
All that it takes to install WordPress with a click includes:
Choose a WordPress Theme for Your Site
WordPress lets you create websites using free and paid themes. Freebies are great for personal web projects and startups that have a limited budget and cannot afford using premium web designs.
However, paid web themes have a number of advantages over freebies. Also, as BeginDot user, you get a discount on a popular theme.
If you ask what we would choose to create a website, then we would advise you to pick a premium WordPress theme.
If that's a free theme that you'd like to use on your site, then be ready to take the following steps to find the best option for your own project:
Access your site's dashboard: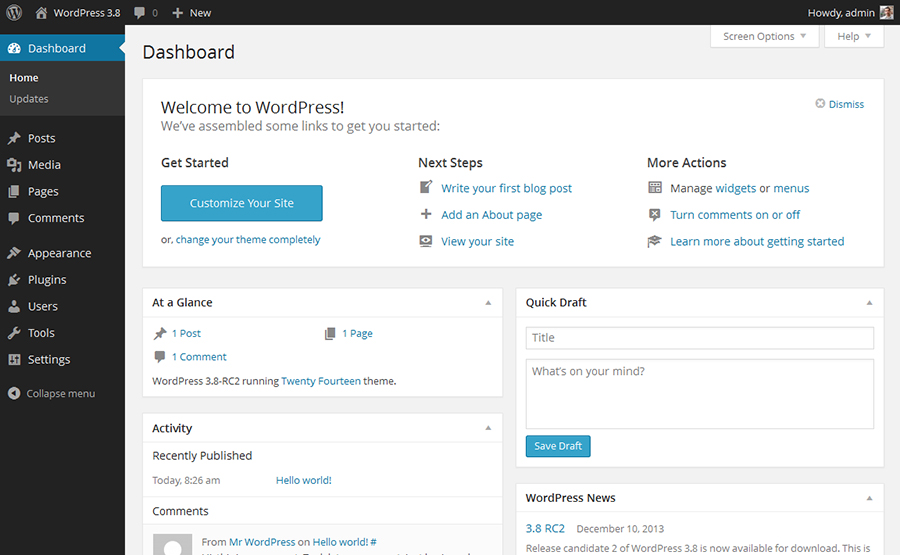 Navigate Appearance > Themes and you will access a collection of free WordPress themes.
All of them feature free demo previews. So, you can try any theme in action and install the one that fits your web project with a click on the Install Now button.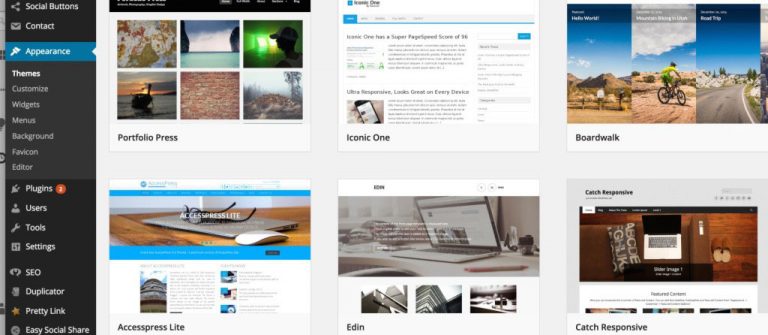 If you want to create a website using a premium WordPress theme, then we recommend you to take a closer look at the ONE subscription service.
This is an all-in-one subscription plan that provides you with unlimited access to 10,000+ premium themes, plugins, and graphics from the TemplateMonster digital marketplace.
The service will be especially useful for webmasters and online marketing specialists looking for an affordable and all-inclusive solution to build impressive web designs with the minimum investment in themes, graphics, and functional filling of their projects.
As you subscribe to the ONE by TemplateMonster, you access an immense gallery of the best-selling premium themes for WordPress and other popular CMS and eCommerce platforms.
You are provided with free 24/7 support by a skilled and experienced team of customer care professionals. On top of that, ONE provides you with 1 year of free hosting.
Thus, you can kill two birds with one stone, and save extra cash on a reliable web hosting and a cool design for your site.
Prepare Content for Your Site
Unique and engaging content that brings a certain value to your audience is crucial for the success of your online project.
Start thinking about the general concept of the data that you'd like to reveal on your web page before you bring your project online.
Investigate the market and discover what topics appeal to your target audience most of all.
You can do this with the help of Google Trends and other free software that's available for free access.
Discover what your competitors offer, develop a wise promotional plan for your data, and get straight to the content creation.
As soon as you save on the design for your site, you can hire a professional copywriter and online marketing specialist that will help you develop a wise content plan for your site.
Final Word
Bringing a website online is only the beginning of the story. In order to keep your online resource truly competitive and remarkable, it's essential to update it with relevant and unique pieces of content on a regular basis.
It's also important to keep a close eye on the performance of your site. Tools like Google Analytics can provide you with a deep insight into your site's performance and user engagement stats.