This is a collection of best WordPress cache plugins that will help you to make your website load super quickly.
We all know the importance of loading time for a website, you must do everything that takes to make your site quicker, starting from using a fast-loading WordPress theme to using the best cache plugin.
One of the most dreaded aspects of owning a website is having a slow website. We all want to provide a rich user experience to our users, and in doing so, we populate our site with rich media content, inevitably slowing it down.
However, this doesn't mean that you will have to choose between a rich website or a fast website.
In fact, you can have both using WordPress caching plugins.
WordPress website users can install WordPress caching plugins which will enable them to store recently used information on their visitor's hard drives.
This means that the browser won't have to retrieve information every single time the user visits the website, which in turn will dramatically improve the load speeds of the website.
The plugins will save dynamically generated HTML files in the cache. The next time the user comes to your website, it will serve the files from the cache instead of reloading all the scripts from WordPress.
A fast website means faster load times which will improve the user experience. Also, fast-loading websites are ranked better by Google, so there are SEO benefits as well.
Now if you are interested in trying out some Cache Plugins for your WordPress website, you have come to the right place.
Here we have gathered for you a list of the best plugins in the category.
All these plugins offer great value and will improve your site's performance significantly.
However, before you start using any of these plugins, we would recommend you first learn about your current website load times and other statistics.
Sites such as Pingdom or GTmetrix offer great insight into these factors. Just find out the stats on your site before and after you use these plugins to find out for yourself how much improvement they are offering.
Don't miss out on the article about the best Free CDN services that you can use to speed up your WordPress site. We also published an article about how to reduce the bounce rate of your WordPress site and keep users engaged.
So without further ado, here are the Best WordPress Cache Plugins:
Also Read: Best SEO Tools to Grow Your Blog Faster
Top Cache Plugins for WordPress Sites
WP Rocket
WP Rocket is one of the most powerful WordPress Cache plugins in the market. It is also a premium plugin and comes with a price tag.
Not only does the plugin provide users with an extensive list of useful features, but also arranges all of them in an intuitive layout which is super easy to use.
Just after installing and activating the plugin, it will start its magic, so you won't have to bang your head trying to configure it. But there is an extensive list of advanced options available to give you better control over the plugin.
Some of its notable features include cache preloading, browser caching, GZIP compressions, and other options for minification and concatenation.
However, one of its highlighting features would be the lazy loading option which will apparently improve your site's load speeds even for first-time visitors.
Another thing to consider about the plugin is that it offers seamless integration with CloudFlare.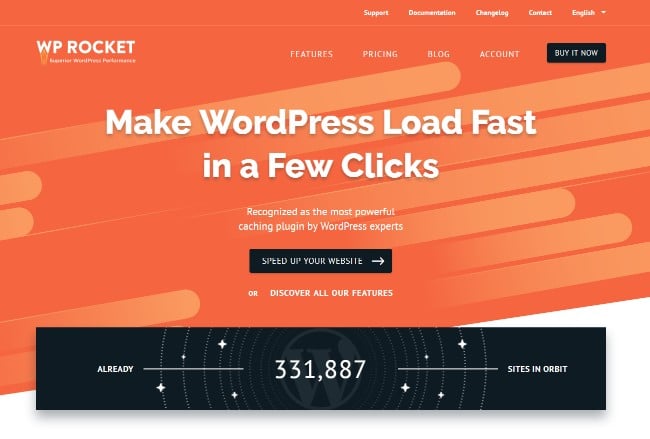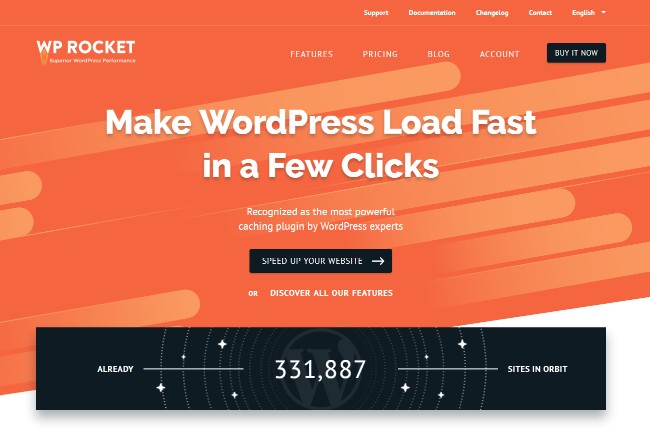 Borlabs Cache
Borlabs Cache is another one of the fastest caching plugins for your WordPress website. As advertised, the plugin helps you to deliver content in milliseconds, improves your ranking, and coincidentally creates a better user experience.
The plugin is fairly simple to use and gets to work immediately after you activate the plugin. Still, there are plenty of options provided to help you customize and tweak the way it functions.
A notable aspect of the plugin would be its dedicated caching system for e-commerce websites. Other impressive features include page preloading, JavaScript and CSS optimization, fragment caching, lazy loading, and much more.
Each of the cache files can also be programmed to delete itself after a particular time period. Also, you can get access to all the cache pages, exclude certain pages from forming caches, and other controls.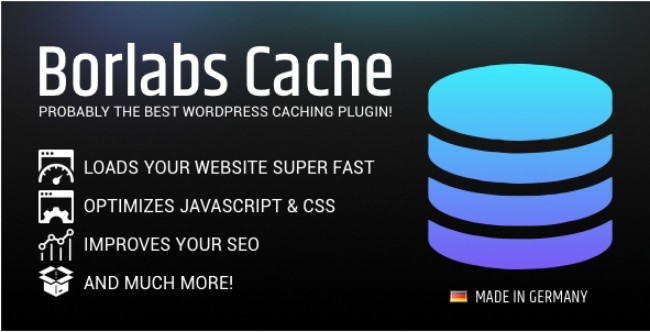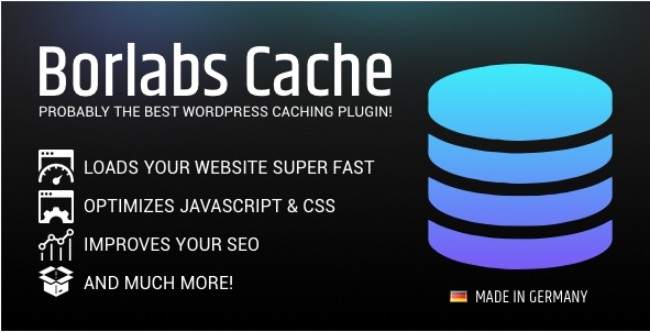 W3 Total Cache
W3 Total Cache is a WordPress Performance Optimization Framework that you can grab for free from the WordPress repository. There is also a premium version available in case you want an upgrade on the features.
It is designed to help users improve their site's performance, provide a better experience to visitors, and fasten the load times. The plugin is also highly endorsed by some of the leading hosting providers.
Now to start discussing its impressive feature list, let's first take a look at its setting area. All of the settings and options available with the plugin are organized and arranged through 16 pages.
For some users, it might get overwhelming, but once you get used to it, you will love the profound level of organization.
Furthermore, much like WP Rocket, this one also starts to function right after you activate it. All these options are there to fine-tune its performance to your liking.
Now coming to its list of features, you will get access to things like GZIP compression, minification and concatenation of HTML, CSS and JavaScript, CDN support, and CloudFlare compatibility.
Customization options are also plentiful, which should be obvious from what we discussed above.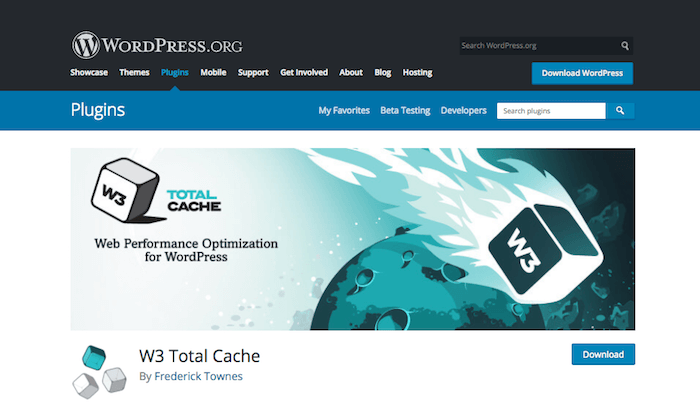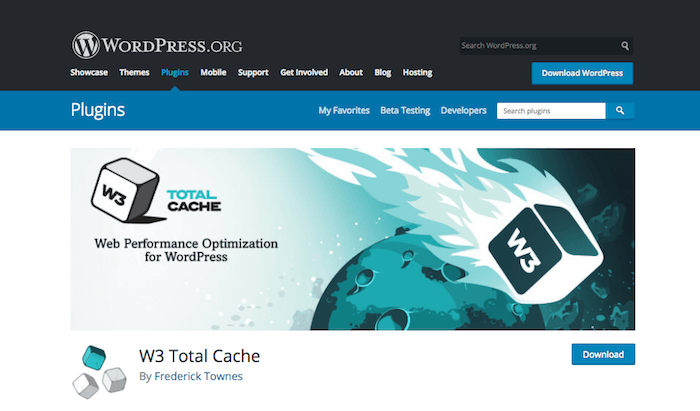 Hyper Cache
Hyper Cache is a free WP caching plugin that can help improve website load times even on servers with low resources.
The plugin is built on purely PHP and works wonderfully with any type of blog. You will also not require the use of any complex configuration to get it running.
From the point of activation it works to improve your site speed, and if you decide to deactivate it – rest assured that no stale settings are left behind.
Now coming to its feature list, the plugin boasts a mobile-aware setting that enables cache creation on mobile devices.
It can also serve expired pages to bots which gives an increased perception of blog speed.
Including all these, there are also options to manage compressions of non-cached pages, a bundle of configurable bypasses, auto cleaning options, CDN support, bbPress integration, and many more options.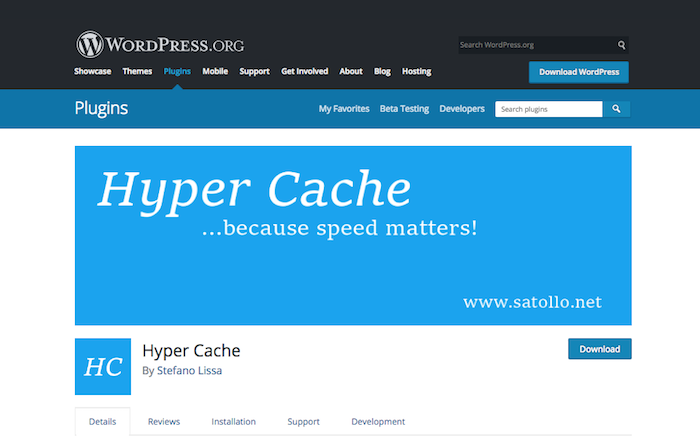 WP Super Cache
WP Super Cache is yet another one of the most powerful and popular WordPress caching plugins. It is also free and is available from the WordPress repository. The workings of the plugin are pleasantly simple to understand.
It improves your site's load time by generating starting HTML files from all the dynamic WordPress blogs and caching them.
It doesn't cache the WordPress PHP scripts on the other hand. This means of function has its share of advantages and disadvantages.
Now coming to the features offered by the plugin. You will get easy page compression and dynamic caching options if needed. Then there is CDN support, caching support for mobile users, and a scheduler function to manage deletion and re-caching in intervals.
There is also a legacy caching mode which can be used to cache pages for users who are logged in to your website.
The plugin shines especially at times when your site receives a huge influx of traffic and will keep your site's server from crashing or slowing down.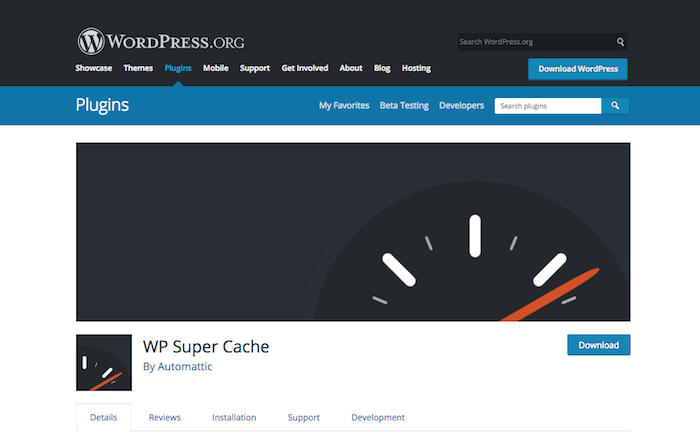 Simple Cache
Simple Cache has a simple motto – to keep it simple. Many times, getting control over all the different cache options might seem overwhelming.
This is especially the case for people who have no background in computers and coding. For them, this WP caching plugin offers a great solution. In fact, this is the simplest to use the plugin in this category.
With this being said, the plugin doesn't deal with complicated settings. In fact, you get the bare minimum of what you need to help boost your site's load time – but it does what it does with perfection.
From the moment you activate the plugin, it will take care of the rest.
However, you will get access to some options including the option to delete some of the cached files, turn on/off GZIP compression, and the option to set up some advanced caching options such as Memcached or Redis.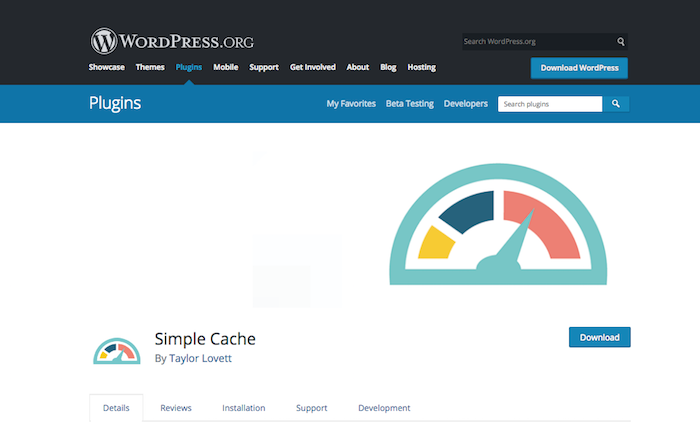 WP Fastest Cache
WP Fastest Cache as deducible from the name is one of the fastest caching plugins for WordPress websites. On the plus side, it is also easy to use.
In fact, it has been marketed as the simplest and fastest WP Cache system, and the statement isn't all that wrong. You will definitely notice an improvement in the loading speed of your website.
The plugin functions by generating static HTML files based on your dynamic WordPress blogs and then save it in the cache.
Much like the other plugins we mentioned on the list, right after activation, the plugin will manage everything else. It also automatically modifies the .htaccess file.
Other notable features offered by the plugin include the option to delete all cache files once a new post or page is published, support SSL and CDN, option to enable caching for mobile devices as well as blocking caching for specific pages or posts. Then there are more familiar options like minification, GZIP compression.
Browser caching, option to combine javascript and CSS files, and much more. It is also worth noting that the plugin uses Mod_Rewrite which is known to be the fastest method to create static HTML files.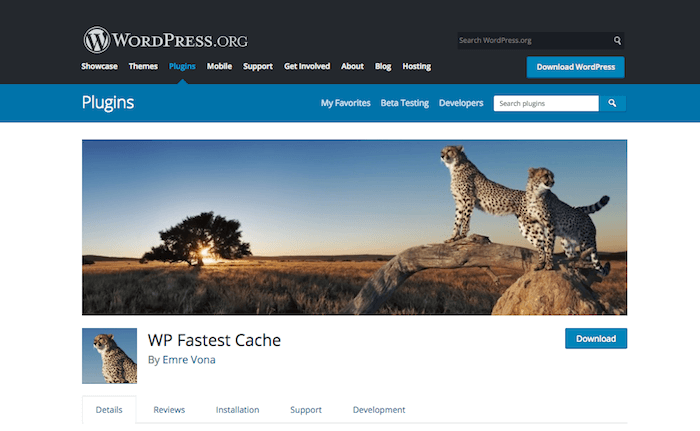 Cachify
Cachify optimizes your page load speeds by caching posts, pages, and other custom post types as static content.
Since the plugin uses APC(Alternative PHP Cache), you will also get control of choosing if you want to cache via database or through the web server's hard drive.
This enables the pages to be pulled directly from the cache when a page or post is loaded. Since most of the database queries and PHP requests will be negated during the site's loading, speed will increase dramatically. The plugin also allows you to choose Memcached as your preferred caching method.
Besides all the different caching methods, the plugin also offers optional compression for HTML markups, compatibility with custom post types, a dashboard widget for cached objects, Automatic Cache management, and a flush cache button in the WordPress toolbar.


Comet Cache
Comet Cache previously went by the name ZenCache or Quick Cache. The plugin makes it easier to automate cache cleaning behavior which is also an important aspect of a caching plugin.
It is also considered amongst the fastest WP caching plugins that are available for free.
The plugin basically takes a live snapshot of all the posts, pages, categories, and links on your WordPress website and then caches them intuitively. This is quite a different approach than the methods adopted by the other plugins on this list.
Besides this, the plugin is also known to use some advanced techniques to determine when a cached version should or shouldn't be sent to a user.
By default, all users who are logged in or visitors who have commented on your website will be excluded from the cached pages. But all said features can be controlled and tweaked from the settings page.
Notable features provided by the plugin include the ability to cache or ignore URLs with query strings, user agents, and HTTP referrer exclusion patterns.
Also, with the automatic cache cleaning feature we discussed earlier, you can configure the function specific to home pages, posts, and other areas of your website.


Cache Enabler
Cache Enabler is a lightweight WP caching plugin that helps to improve the load times of your website, all the while making sure that it also doesn't add any extra weight.
The plugin is also one of a kind in the aspect that it can help you to serve WebP images without using JavaScript.
Since WebP offers small-sized lossy and lossless compression options, it will also aid to improve your site's load time.
The plugin basically functions by generating static HTML files and saving them on the server hard disk. When one of the files gets accessed or requested, the web server delivers the Static HTML file all the while avoiding the backend process which would have taken up even more time.
Now coming to its list of features, the plugin offers a fast and efficient disk cache engine for faster caching. There is also an option to see the actual cache size on your dashboard. Minification of HTML and inline Javascript is also supported.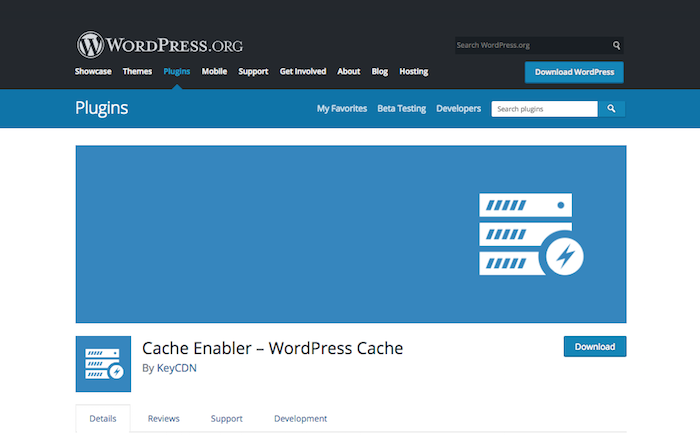 In Conclusion:
So this was our list of the top WordPress caching plugins. Hope you found the list to be helpful.
In fact, if you decide to use any of the plugins mentioned here on the list, then do let us know which one you picked and why.
Similarly, if there are any existing users of the mentioned plugins, do leave your reviews in the comments section. Fellow readers will love to gather some insight.
Again, if you happen to use any other impressive cache plugins for WordPress then also mention them in the comments sections.
Including all available plugins and describing them is beyond the scope of a single read. So your contribution will be much appreciated and provide even more options to others.