If you have an online business then having a proper Search Engine Ranking is crucial to your success. Most of your audience or potential customers will come to your site after searching for services you deliver on a search engine.
Again, the search engine displays all potential service providers in a ladder based hierarchy. And if you are not in the top three, you will only receive a fraction of all the traffic. Hence it is important that you invest some thought and time into improving your search engine ranking.
Now it is good that you are thinking about SEO and how to improve your searching ranking. Luckily you have come to the right place. The market is filled with plenty of tools and services that promises to improve SEO score.
In fact, if you are using a WordPress website then there are plenty of plugins which can help you do so. But by plenty, we do mean plenty. It can be difficult to go through all of them to find the best. And you do want the best right?
So without further ado, here are 5 Best WordPress Plugins to Improve Search Ranking:
Also Read: How Backlinks Can Increase Organic Traffic
Top Search Ranking WordPress Plugins
WordPress SEO by Yoast
WordPress SEO by Yoast is one of the most popular search engine optimisation plugins for WordPress websites. The plugin offers a comprehensive solution to all your on-site SEO necessities. With this installed, you don't need to be worrying much.
The plugin can help you to add SEO titles, Meta Descriptions, Meta Keywords for each post on each page of your website. And if you want to add custom titles, archives, categories and tag pages then the plugin can handle that too.
Some notable features of the plugin include powerful Page Analysis, Meta and Link elements, XML sitemaps, Social Media Integration, Multisite compatibility, Bread Crumbs and so much more. There are also features like Open Graph metadata, Twitter Cards, Sitemaps and so on.
The only area that Yoast SEO might cause a problem is if you activate all these features together. Then that might affect the load time of your site and slow it down.
Broken Link Checker
Just like laundry drawn to your bed, Broken Links will gather on your site over a period of time. And just like your girlfriend (obviously girlfriend because men don't care about dirty clothes) despises dirty laundry on the bed, so does search engines despises broken links on a website.
Furthermore, a broken link is not merely an SEO concern as it can also negatively affect the user experience. So you see, it is necessary to check for such broken links on your site from time to time. But with all the content it surely can cause a headache.
The Broken Link Checker plugin has been designed for this purpose. It will automatically detect all the broken links on your website and allow you to fix them without having to edit the posts.
Now there is one thing that you should not before you go ahead and install the plugin. It is very useful intend but can also be very heavy on your server and slow down your site's load time. So just remember to uninstall the plugin after you have used it. And again install it later at a time when you think a little "dusting" is necessary.
SEMRush
Some people will tell you the best way to success in marketing is to "know the product," whereas others are of the opinion "know the competitor". So if you happen to be someone on the latter boat, then SEMRush will seem like the best option.
SEMRush can help you to gain insight on your competitor's website or any other site for that matter. This can help you make better sound decisions on your Search Engine strategy like which keywords to target and what not. The plugin can also be used to generate effective backlinks, gather details about the traffic you receive and plenty more.
Now all these features aren't available for free and there is a price tag which can be considered a tad bit on the expensive side. But after considering all the features it provides, it can be considered to be a worthy investment.
SEO Friendly Images
Did you know unoptimized images can lead to lower search engine rankings? For example, if an image which you have uploaded to your website is not properly tagged then the search engine will not be able to index them.
This can lower your SEO score significantly. You see, the search engine has no means for seeing the image you have added to your content and gauge its relevance. So it is a duty on your part to tag the images appropriately and help out the search engines to give a more suited ranking on the ladder.
Now, with SEO Friendly Images, this entire process of tagging the images and optimising them for SEO purposes can be handled effortlessly. This is a must-have for an image based website or blog.
SEO Content Control
SEO Content Control is a free WordPress plugin. It goes through all your content and shows you what can be improved to get a better SEO score. The plugin will also show you why the content is weak in the first place so that you can understand the mechanism.
Overall, with the plugin installed, you will get helpful insights that will guide and teach you on how to improve your SEO by optimising the content on your website.
Rankie
This plugin helps in keeping a track of keyword ranks for your posts, that will help you to update the content regularly so that you can keep improving the position. With this plugin, everything will be at your fingertips.
This plugin keeps a check on the keyword posion everyday and makes a comprehensive report to guide you through the process.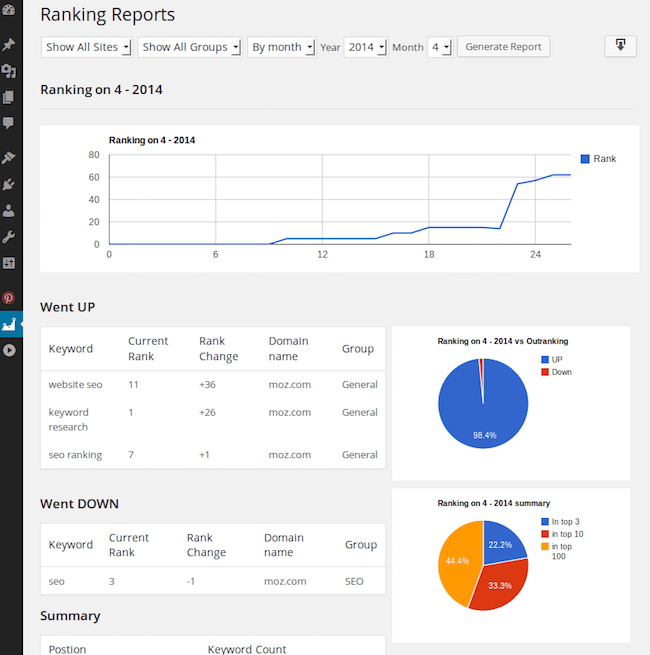 Remove Query Strings from Static Resources
Loading speed of your site is very important to make sure that your posts have a good standing in the Google search ranking because Google made it clear already that they give preference to quick loading sites.
When you check the loading speed of your site in any of the top speed checking site like the GTMetrix, Pingdom one of the important factors that slow down your site is the query string in the static resources, and this plugin will help you to remove query strings from static resources.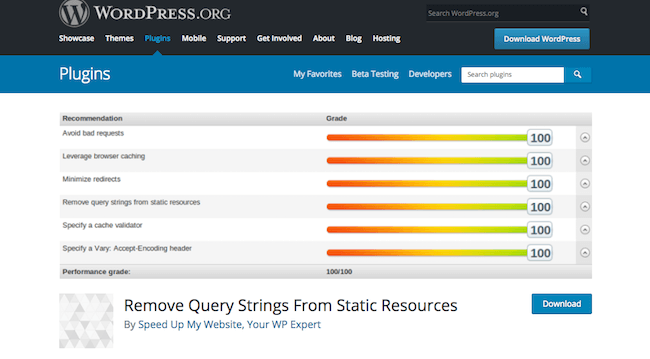 In Conclusion:
So as you have seen, improving the search engine ranking is an amalgamation of a plethora of task. You will have to optimise the pictures, fix all the broken links, provide a meta for all your content and much more.
Now, the plugins which have been provided here can be used to help you accomplish all these tasks. Regardless, there are plenty more plugins which you can choose to get these work done. So if you happen to use some other plugin which we have left out from this list, then do mention them down in the comments sections. Your contribution will help your fellow readers.