Optimizing images on your site is very important in order to make your site perform well.
Crafting your website is like writing a book. Along with all the text, you also have to put it in media files. And depending on the media files and their size, the load speed of your site will get affected. This is quite intuitive in consideration of videos.
We all know that having videos on our site will decrease the load speed. But often we fail to evaluate the same for the pictures that we use.
Images are not light file types. And that goes more for high-resolution image files. This is surely a problem.
However, this doesn't call for compromising on the number of images you intend to use. In fact, use as many as you like, but get them OPTIMISED.
So if you are using WordPress, here we will be discussing some powerful image optimization plugins which can compress the images and also help out SEO. So without further ado, here are the best plugins to optimize images.
Before we go ahead with the collection of plugins, if you don't want to use a plugin and looking for other options to optimize the images, you can use Tinypng.com
It is a very simple site that you can use for free to optimize PNG and JPEG images before uploading them on your site.
What Are The Best Plugins to Optimize Images in WordPress?
The images on a site can have a remarkable impact on the overall loading speed of the site, we have listed the top image optimization plugins that you can use to optimize your site.
Here are the top image optimization plugins.
Smush Pro
Smush Pro is a leading WordPress plugin for optimizing images on your site and making your site a lot quicker than before.
The plugin comes with a bulk image optimization option that will help you to optimize all the images that are already on your site with just a click. And all the new images will be optimized while they are uploaded on the site.
The Smush plugin offers a completely free version that you can install right from your WordPress dashboard. The free version of the plugin has more than 1 million active installations and growing.
If you check the Google Page Speed score, you will find an error about serving the images in the next-generation format. Now, Google is asking websites to not use the regular image formats such as PNG, JPEG but use the next-gen format.
The Smush Pro plugin supports WebP image version which is a lot lighter than other image formats like PNG, JPEG. Also, as the PNG files are heavier, the plugin can convert all the PNG files to JPEG automatically.
Another advantage of using the Smush Pro plugin is the CDN option that you get along. All your images will be served through 45 different locations with WPMU blazing-fast CDN to improve the overall performance of your site.
You will have the option to backup the original images in case you need them and restore the original images at any point in time.
The Smush Pro plugin gives you a one-click solution to resize & scale the images so that the images fit within the container correctly (Recommended by Google).
We have already published a detailed review of the Smush Pro plugin that you can read to know more about the plugin. Also, don't miss the exclusive 20% discount on Smush pro or any other product from the WPMU platform using our link below.
reSmush.it
A free image compression WordPress plugin, you can use the reSmush.it to optimize the images on your site.
This plugin will automatically optimize the images when you upload them to your site. You can also bulk optimize the images that are already available on your site.
You just have to make sure that the images you upload are less than 5MB in size.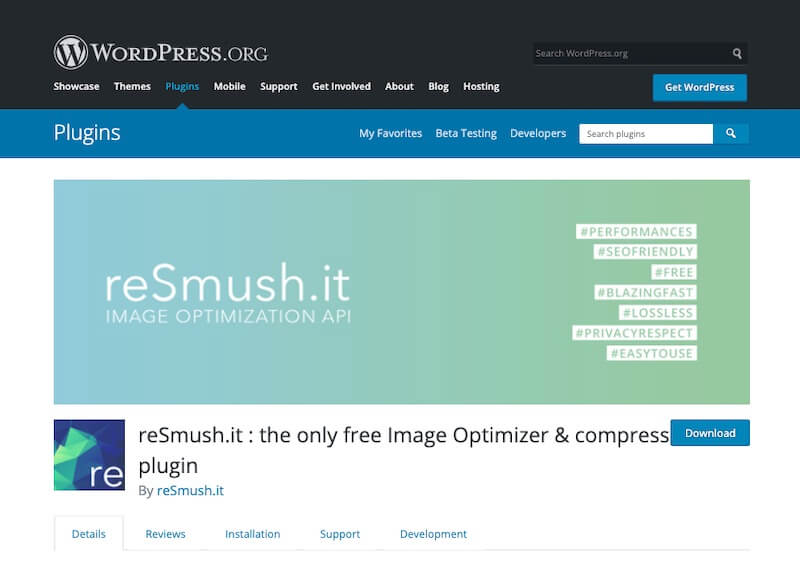 ShortPixel
ShortPixel WordPress plugin offers an easy-to-use interface with multiple features that help to optimize and compress all the images you have on your website. However, you will have to get the API key by subscribing to ShortPixel before using the plugin.
Every subscription comes with 100 free credits which get renewed each month, and so you will have the ability to optimize 100 images per month. Though that might not seem like enough, it is decent for the average blogger.
Other features of the plugin include backup and restore solutions, bulk image optimization, a meter that indicates the percentage of how much optimization has been done on a particular image and so on.
Furthermore, if 100 credits seem low, then you can go for some of their subscription plannings which will give you the liberty to optimize over 10,000 images if you want.

EWWW Image Optimizer
EWWW Image Optimizer WordPress plugin helps you with image optimization, as the name implies. The plugin offers you powerful features like the function to optimize your entire media catalog or automatically optimize newly uploaded images.
One thing to note here is that the images have to be either JPGs, PNGs or GIF files. Overall, this is a great plugin for image bloggers.
Another notable feature of the plugin is that it starts to optimize the images using your server and doesn't bother with third-party services. This makes the optimization process lightning fast, even if you have a large media library.
However, if you want, you can use their cloud optimization solution as well to help you with optimizing your images.

CW Image Optimizer
CW Image Optimizer WordPress plugin is based on the previously mentioned WP Smush. However unlike WP Smush which uses Yahoo! Inc.
Smush.it services, CW Image Optimizer, makes use of Linux littleutils image optimization tools. This makes sure that your images will never leave your server.
So if you want the fluidity of WP Smush and want to work on your own server, then this is the ideal plugin for you.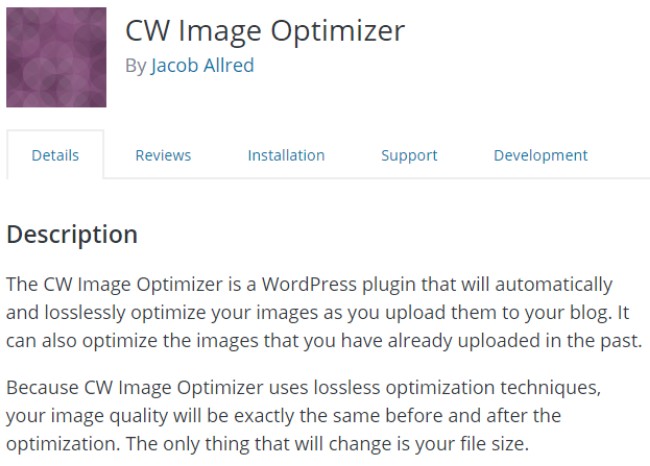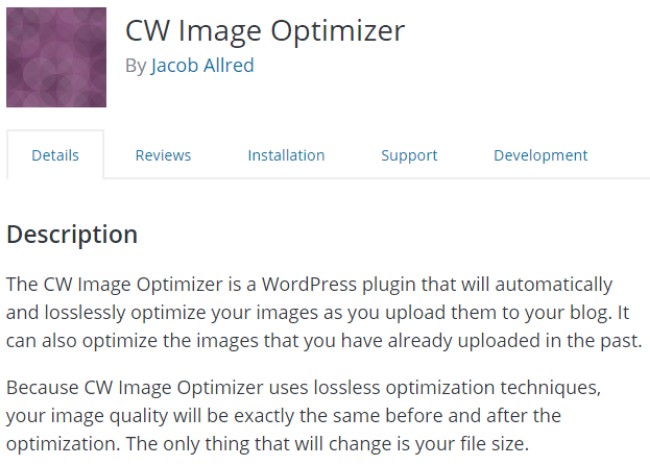 Compress JPEG & PNG images
TinyPNG is one of the widely used and well-known image optimization services. I have been using their services myself for a long time and it offers you a quick option to reduce the size of your images that will help you to make your site quick and save your server resources.
Don't get confused with the name of the service, it is not only for PNG images but you can it for JPEG images as well.
You can use their WordPress plugin and compress up to 500 images every month for free which is a good enough number of the smaller blogs, but if you are managing a big media site, you can go for their premium option to increase the number.


Kraken Image Optimizer
Kraken Image Optimizer WordPress plugin is another image optimization plugin that can help you compress JPG, PNG and GIF files using its API. Much like ShortPixel, here too you will have to register a free account with them over at kraken.io.
The plugin offers a varied range of options. For example, you can alter between an intelligent lossy compression profile or enable a lossless option.
There is the option to specify values for the JPG images. You also have the flexibility to establish a maximum resolution for your images. There is also another handy feature that helps you to choose which image attributes you want to keep.


Imsanity
Imsanity is a WordPress image optimization plugin that can resize your insanely large image files into sane and ideal proportions. The plugin is very light, doesn't weigh in with unnecessary features and is free to use.
However, these are handy features that let you set a maximum limit on Width, height, and quality. This can be helpful, as now you won't have to manually resize them at the time of uploading and prevent your page from breaking.
There is also the option to convert BMP files into JPG. This improves image scalability.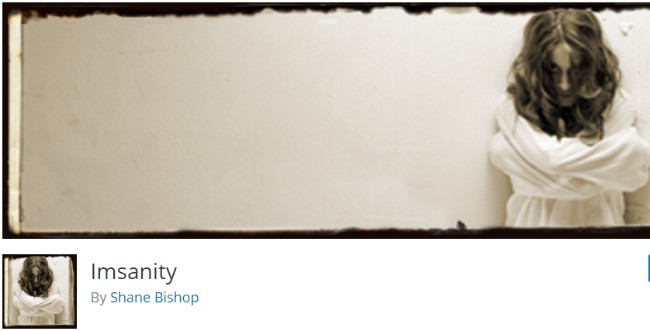 Lazy Load
Here we are discussing a solution that improves the load times for your website which can get hampered due to large images! One of the solutions is to compress the images. Another one is Lazy Load.
As the name implies, Lazy Load WordPress plugin offers lazy loading functionality to improve your site's load time. To use the plugin, there is no setup involved; everything works right out of the box.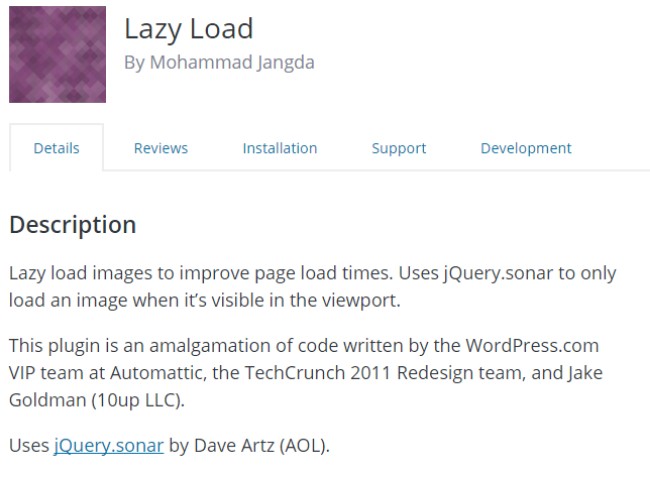 PB SEO Friendly Images
SEO Friendly Images WordPress plugin is used to optimize your images for SEO and doesn't help with image compression.
Making your images compatible with SEO is also a part of image optimization which is very crucial and can help you better your search engine ranking.
The plugin helps you to set up proper ALT, and TITLE attributes to the images that allow you to boost your SEO score.
The web crawlers used by search engines can't see your images, and so they use the ALT and TITLE attributes to guess what the images are about. So you can see the importance of having this.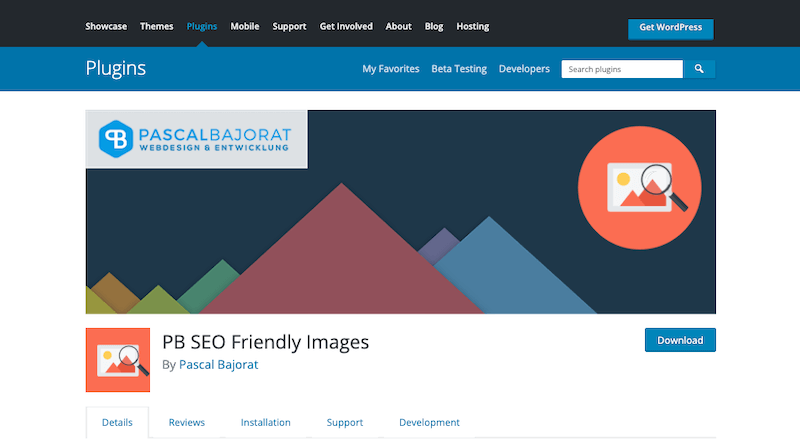 In Conclusion:
So these were some of the best image optimization plugins to help you on your WordPress website. If you are using any one of these, then do comment below to let your fellow users know about your experience with them.
Also, if you are using another plugin for the purpose which you believe is good enough to have made a list, then highlight the plugin in the comments sections. This will provide more insight to your fellow readers.