Your search for the best travel agency WordPress plugins has come to an end with this article. Here we bring you a list of the best travel agency WordPress plugins that will help you make a complete travel agency website.
The WordPress plugin enhances the overall functionality of a website by adding different functionalities to the site. Even if you are using the best travel business WordPress themes, you will need some extra plugins to add new functionality.
These travel agency plugins can even help you manage your website in a much more efficient and easier way. The competition is maddening out there and your website needs to be unique and innovative.
You can provide a better and easier ticket booking system, safer payment systems, and even can provide a complete FAQ section on your website, thanks to these travel agency plugins.
So without any further ado, let's get started with the list of the 8 best travel agency WordPress plugins.
Best WordPress Plugins for Travel Business Sites
WooTour
WooTour is one of the most popular WordPress tour and travel plugins. This plugin helps you to create events, tours, appointments, and so on, easily and quickly. 
The plugin makes registering users on the backend and offering them a service to book tours easier.
Using WooTour, you can easily manage your online bookings, as the plugin has complete support for WooCommerce. Users can pay and book tours through all the payment systems available on WooCommerce.
Here, the plugin offers 3 different sets of modes to book tickets in, namely adult, kids, and infants, which is very much needed these days.
You also get a detailed email notification whenever a user confirms, cancels or completes an order.
With keeping in mind the features and constant updates, Wootour is a great option you can easily go for.
Yatra
Yatra is quite a powerful travel and tour booking WordPress plugin. The plugin is used to create tour and travel packages, as well as destination pages for travel agencies.
With a lot of timely updates, Yatra travel plugin allows you to create unlimited tour and travel packages. You also get to create a complete activity page for your customers.
The plugin offers you to create and ease the booking process on your website. You get to add and create an unlimited number of traveling and touring categories on your website.
Yatra plugin is also fully translation ready, which is much needed these days.
You get a detailed email notification of each and every booking, cancellation, and payment confirmation.
Yatra becomes a full package with features like "My Account Section", separate customer section and regular updates.

WP Travel
WP Travel is another very popular travel plugin used to make customized travel and tour agency specialized websites. WP Travel has a ton of unique features to help you create amazing and easy-to-use websites.
WP Travel is compatible with all the top and creative WordPress travel themes. You can create amazing trekking and adventure activity pages easily using WP Travel. 
One of the easiest to scale and use, WP Travel allows you to receive payment, create booking methods and engage more audiences.
Along with the option to create unlimited tour packages, WP Travel allows you to add a lot of details and descriptions of your product that your customer would want to know. 
It also helps you to generate data reports and stats, comprising different data ranges and data types, such as location. 
You can add multiple prices and multiple trip options to a single travel package.  
Tour Master
Tour Master WordPress plugin is one of the most simple and easy-to-execute travels and tour plugins on WordPress. The plugin is packed with a lot of full tour management system features.
You can do a lot with this plugin, including set seasonal pricing, creating payment tables, and also print invoices and report sheets. 
The best part here is that the user is not confined to one or two payment methods. Tour Master offers different payment options like PayPal, Credit Card, Paymill and bank transfer as well.
The detailed checking of booking offers and status is quite easy with Tour Master. Users can also see the status of their transactions, and package reviews, and can also create a wishlist. 
10 different tour styles, search bar, category lists, and variable price options make Tour Master a good contender here.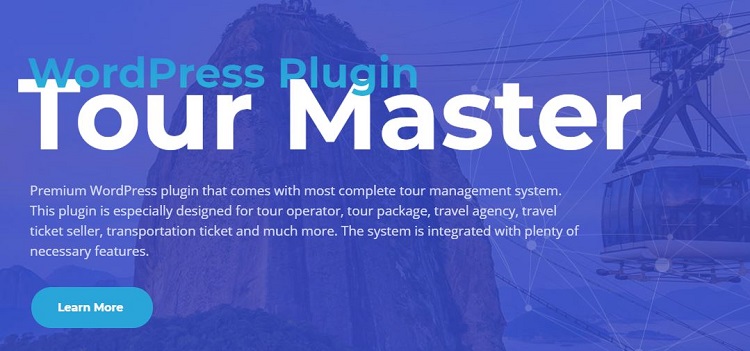 Travelpayouts
Travelpayouts offers one of the largest customizable options to users, then in any other WordPress travel and tour plugin.
Here, you will find 11 different customizable tables for airlines, a couple of them for hotels and so on.
Travelpayouts supports and allows you to accept different kinds of currencies, such as IND, USD, HKD, PHP, PLN, UAH, and so on. 
Some of the major features of this plugin include monthly payout options, price comparison tables for customers, and display locations using Google Maps.
You can offer your customers a simple booking system, which includes search package options, popular flight widgets, and easy payment methods.
One of the most interesting things here is that the Travelpayouts WordPress plugin allows you to earn up to 70% commission from advertisers as well. 
Travel Agency Companion
Travel Agency Companion is a great plugin to maximize your website's productivity and helps you add more functionality to your website.
The plugin adds a lot of additional features and a few extra widgets to your website. 
Travel Agency Companion adds three very important and easy-to-use features, namely customized widgets, Popular Post widgets and Featured Post Widgets, as well as adds Recent Post Widgets.
The only catch here is that the theme is made especially for the Travel Agency Theme, designed by Rara Themes, even though the widgets can work on other themes as well.
The plugin is translation ready, as well as is very easy to customize and edit.
Oganro
Oganro is quite a unique WordPress travel and tour plugin. This one is actually a traveling portal widget, based on B2B and B2C travel websites.
Using Oganro, you can offer your customers to book a complete travel and adventure plan. Your customers can book hotels, flights, taxis, trains and even vacation cruises.
A very interesting feature Oganro offers is that you can merge your travel agency website, with a travel package wholesale supplier. This is one of a kind feature of this plugin.
You can offer your clients a number of different payment methods, such as direct bank transfer, NTB, NBE, Billdesk and so on.
The plugin can accept any sort of currency and is compatible with a lot of different languages.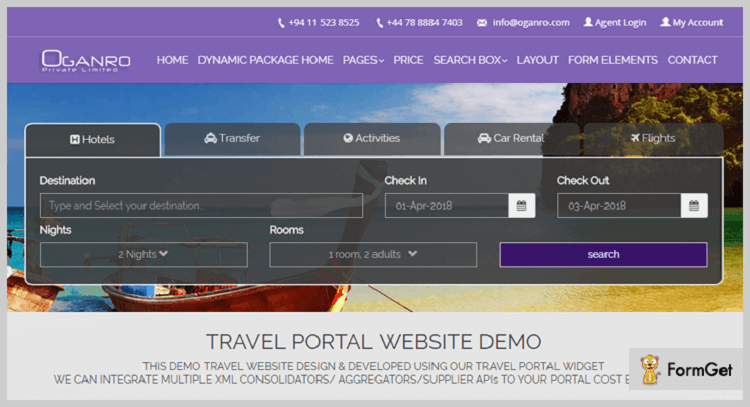 WP Travel Engine
Yet another very popular WordPress travel plugin, WP Travel Engine is packed with a lot of useful and must-have features, such as booking details, notifications and so on.
The payment mode made available here is PayPal only. You get four different tabs – FAQs, Cost, Itinerary and Page Overview.
Features like Multiple currency options, subcategorization, destination page, and inquiry forms make this plugin a great option.

Final Word
So the list of the best travel agency WordPress plugins comes to an end. All of these plugins are great for any kind of travel and touring website.
Got any other plugins in mind that we missed? Do let us know in the comments below!