A collection of the best online plagiarism checker tools that can reduce the chance of content duplication possibilities to a great extent.
Why is it important to check plagiarism?
It is important because your content will never get a better ranking in the search results if you duplicate content.
If you are into offline publishing, a book writer or you are publishing any research material; you need to make sure that your content is unique before it goes public otherwise it may hit your reputation severely.
In this article, we will have a look at the best online plagiarism checker tools that will help you to find out the red flags to avoid duplicate content issues.
What is Plagiarism?
If you steal someone else's content and reproduce it as your own content without the consent of the original writer or attribution it is considered plagiarized content.
While it is not a great practice to steal content and reproduce it as your content ethically, it is not good from the SEO perspective as well if you are on an online publication because search engines like Google will not give you a second chance and scrap your site altogether.
Avoid Plagiarism at Any Cost
I'm not talking only about online publications but offline as well. Duplicate content can tarnish the reputation of a writer.
Even if you are publishing any offline paper or a book, you must take it through plagiarism checkers to make sure there is no duplication of content even unintentionally.
For online content publications, and blogs it is important because your site may be scraped by Google for duplicate content and you can lose your business.
So, you have to make sure that the content you are publishing is unique.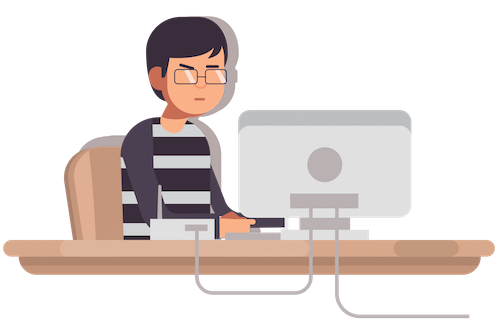 As far as the SEO is concerned, your site will not stand well in the search engine results if you copy content from other sites because sooner or later search engines will find duplicate content on your site and at times it may completely deindex your site from the search results.
So, creating unique content is extremely important for every blogger or online publication. There are times when you plagiarise content unintentionally, and these plagiarism checkers tools will help you to find that out and avoid those.
Google is constantly pushing publishers towards creating unique original content by promoting top-quality content higher in the search results. Your content has to be unique and useful for the users to get a better ranking in the long run.
In fact, Google is constantly improving its algorithm to make sure only the top-quality original content is shown in the top ten results.
So, make sure to run your content through the plagiarism checkers to be double-sure of the uniqueness of your content before you hit the publish button.
If you outsource your content to freelance writers, you must make sure that the content is unique before publishing as most freelance writers refer to already available content to create their version.
Run your content through the duplicate content checker tools so that you are aware of the overall quality of your content.
The plagiarism checker shows the result as the percentage of unique content.
The process is simple and easy. Visit a quality plagiarism checker website, paste your content and run it through the process.
Once it completes checking your content, it will show you what percentage of your content is unique and what percentage is a duplicate.
Many tools also show you similar content, so that you can go through those content as well and make sure to change your version to make it unique and better.
Here we have collected the best plagiarism checker tools that will help you to keep your site checked and free of duplicate content.
Top Plagiarism Checker Tools Online
01

. EduBirdie
EduBirdie is a well-known platform for all your writing requirements for academic-related content. If you are looking for a writer for your academic papers or a proofreader, look no further; EduBridie offers high-quality writing services.
University students get stressed out at times with so many essays and assignments, why not outsource some of their work to an experienced writer who can handle your assignments perfectly.
Along with the writing assignments, the EduBirdie team offers you a powerful plagiarism checker tool that will help you to create error-free writing.
Many times when you outsource your writing assuagement, you don't receive 100 percent unique and error-free content, so make sure to check the content before accepting it.
The EduBirdie plagiarism checker tool is simple to use. You have to paste the title of your paper and the content, it will take a few seconds and show you the results.
The system will show you the percentage of unique content and highlight the duplicates so that you can quickly have a look and improve the content.
Overall, the tools are quite effective, easy to use, and free
Cost: Free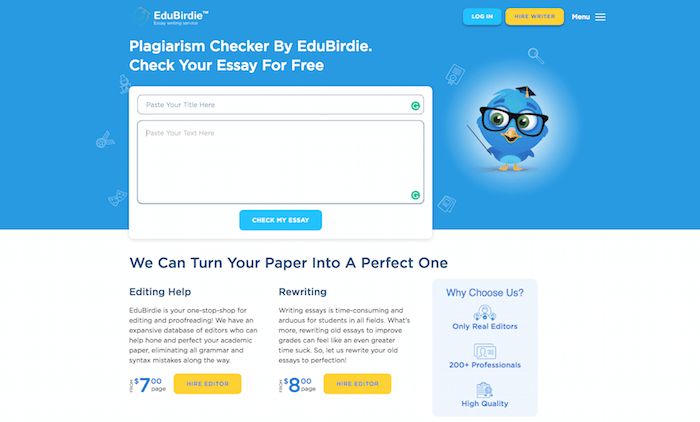 02

. PlagAware
PlagAware is an award-winning plagiarism checker which is both suitable for checking academic papers as well as for ensuring unique website content.
After the initial plagiarism assessment, PlagAware can be used to continuously monitor texts to detect any newly occurred online plagiarism.
The first 10 pages of plagiarism check are free, after that plans start from $0.04 per page. Also, PlagAware offers a basic text monitoring service that allows for free plagiarism check of one text per day.
Cost: Free & Premium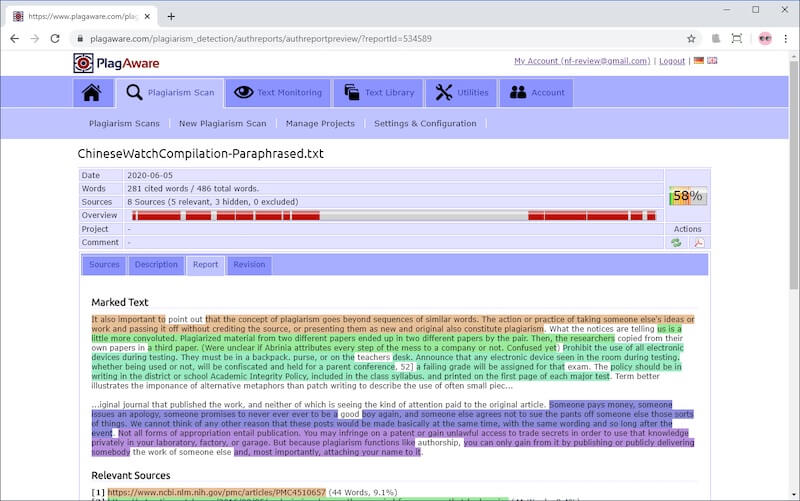 03

. Eduzaurus
If you are a student or dealing with any kind of educational content, Eduzaurus is a nice free online plagiarism checker tool for students.
You can copy-paste your content or upload any of these document types (.pdf, .doc, .docx, .txt, .rtf, .odt) to make get your content checked.
It is extremely important for students and educational institutes to create error-free documents because the quality of your institute or your document will be judged by the kind of content you create.
Though this tool is created for educational content, you can use this tool to check any kind of content including blog articles.
Other than the Plagiarism checker tool, the Eduzaurus team offers a number of different services around educational content.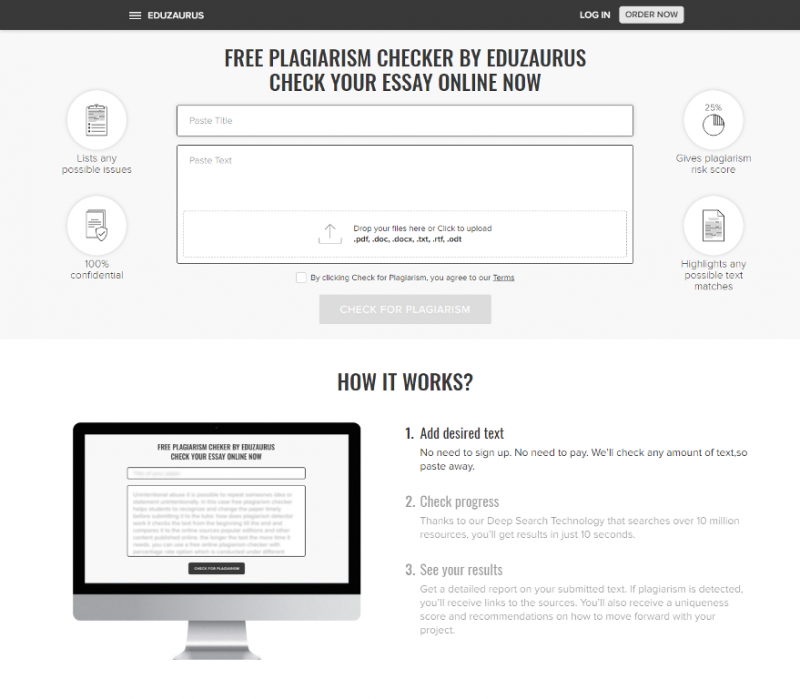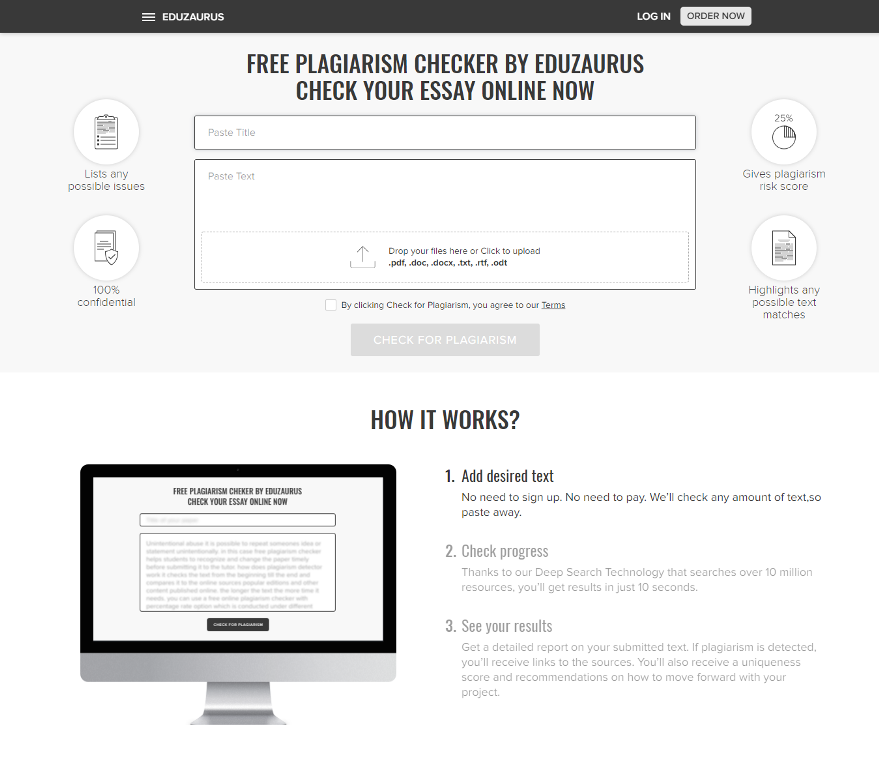 Enago Plagiarism and AI Grammar Checker provide plagiarism checks as well as AI-based grammar checks in one go. Enago's Plagiarism Checker uses the most sophisticated algorithms to detect plagiarism against 91+ billion current and archived web pages.
Inclusion of Scholarly Articles check allows easy comparison against an additional 82+ million published scholarly articles from 1,700+ publishers.
It also includes AI Grammar Checker that checks your writing for complex grammar errors, scientific spellings, and formal tone. It suggests language enhancements that improve your writing quality.
Additionally, with Power Editing, you can get up to 40% more suggestions with a 92% accuracy for better structure, clarity, readability, and impact.
05

. Grammarly
Grammarly is a very useful tool for publishers. If you are a blogger or you publish content in any capacity, I highly recommend you to use the Grammarly extension.
This tool will sit on your web browser and keep pointing you to the errors you make while creating content.
You can run your content through the Grammarly checker to find the plagiarism percentage as well. Many times we write similar sentences to other readily available content unintentionally that you can take care of or if you are aware of it on time.
For example, have a look at the image below, I have checked this article and found 3% of the content to be duplicated. I have not referred to any other article to write this piece, but still, there is duplication.
That is because I have written some similar sentences that are already available on the internet. So, I can avoid those or take a call to go ahead with this 3% of plagiarism.
If you are more tools, here are some top Grammarly alternatives that you can use.
Cost: Free & Premium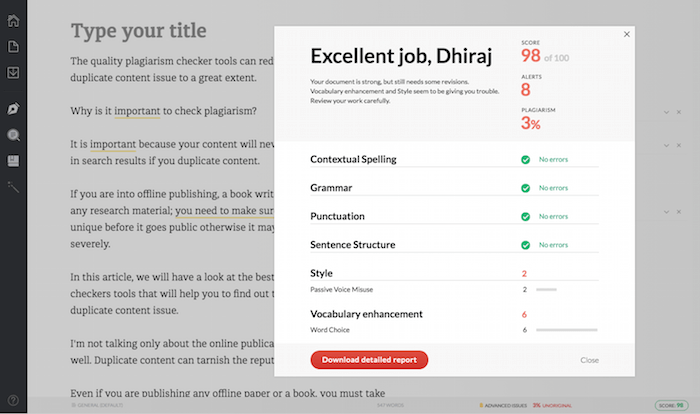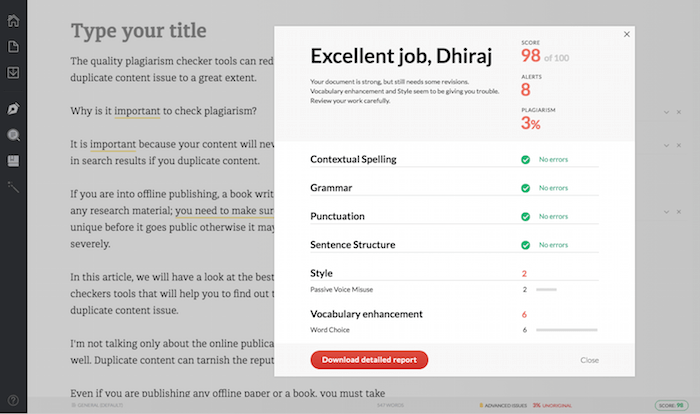 06

. Sameday Papers
Checking any text for plagiarism is necessary if you want to be confident in its originality. Even if it is written from scratch, there can be coincidences in some sentences, that's why it is better to use a professional program for that.
Free SamedayPapers plagiarism checker ensures that any piece of academic paper is completely unique and authentic.
It is professionally designed and available for anyone as it is online and completely free to use. It is also safe as all the data is encrypted and your writing remains confidential.
The program is elegant in use because you can just copy the text in the box and proceed with the evaluation. There is also a possibility to upload a file if it is in pdf, docx or txt format.
The result table shows a list of all sources that have similarities and also depicts the sentences that need to be rewritten in order to increase the level of uniqueness.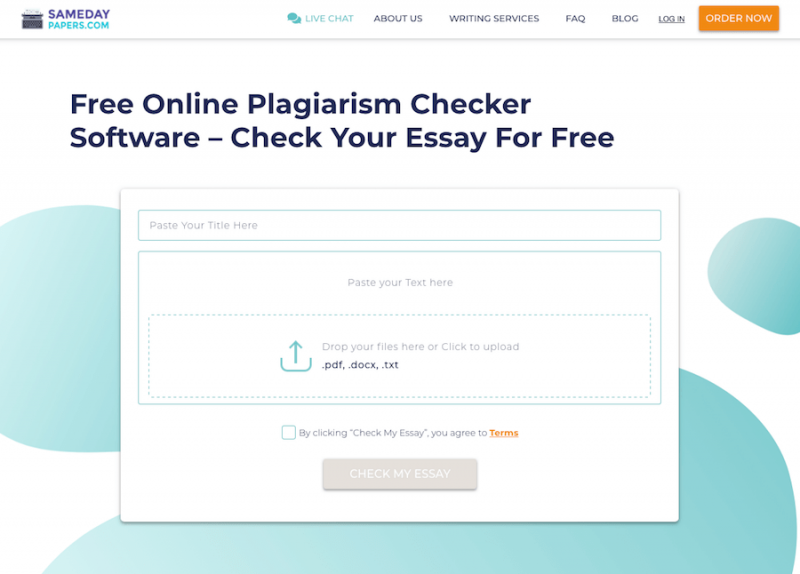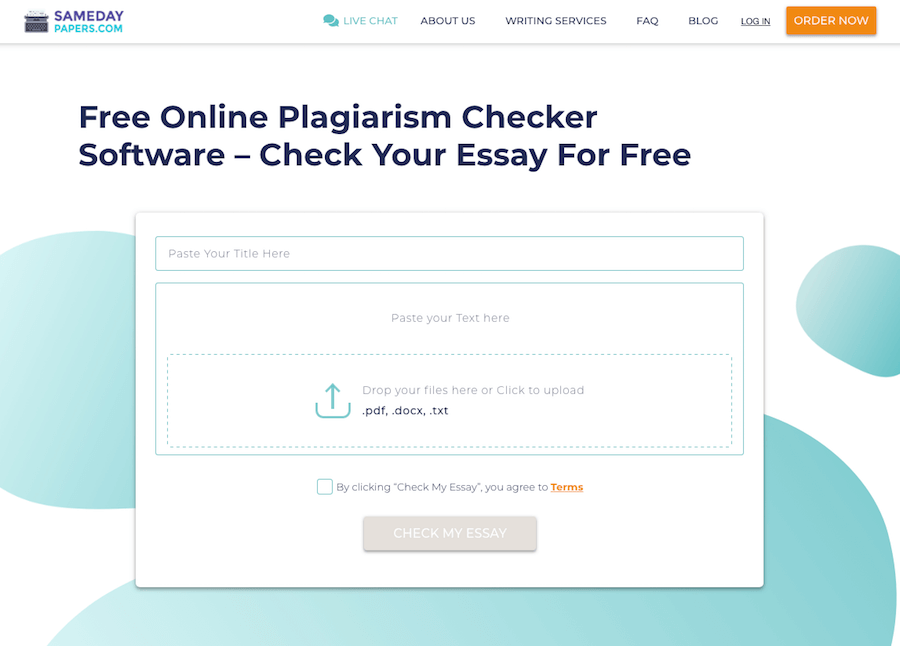 07

. Copyscape
Copyscape is one of the most popular plagiarism tools available in the market. This tool has been around for a long time and offers protection by a Copyscape seal to protect your site from plagiarism.
You can use this tool to find if your content is copied by anyone in the industry, you just have to put the URL of your post in the URL section and check, it will show you detailed results of all the similar content pages.
You can check your piece of content for originality before you publish it. The process is simple and easy, just signup and get started.
Here is a list of best Copyscape alternatives that you can use.
Cost: Free & Premium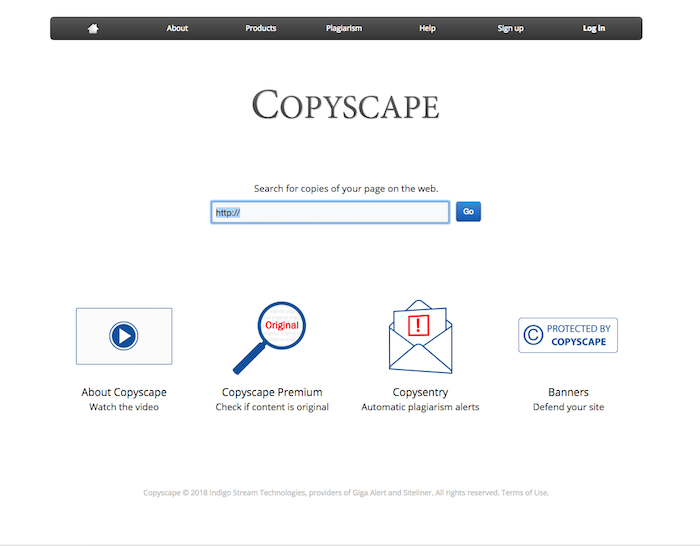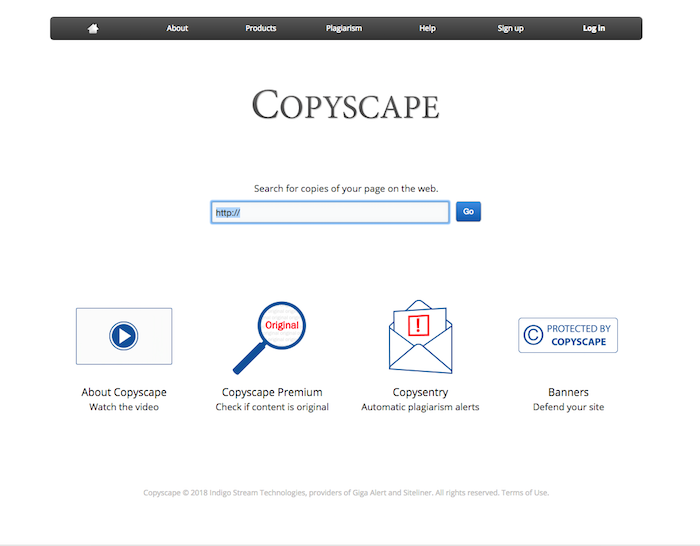 08

. DupliChecker
As the name suggests, it is a duplicate content checker tool that you can use for free. It allows you to check up to 1000 words at a time and the tool is quite accurate.
You have two options to check your content, either you can copy-paste your content in the box given and click on the checker button, or you can upload your file and get it checked.
This tool is quick and simple. There is a limitation sometimes you can use the tool if you are not registered on the site. However, you can register for free and use up to 50 times a day to check your content.
DupliChecker is one of the most widely used plagiarism checker tools and does a decent job for free.
Cost: Free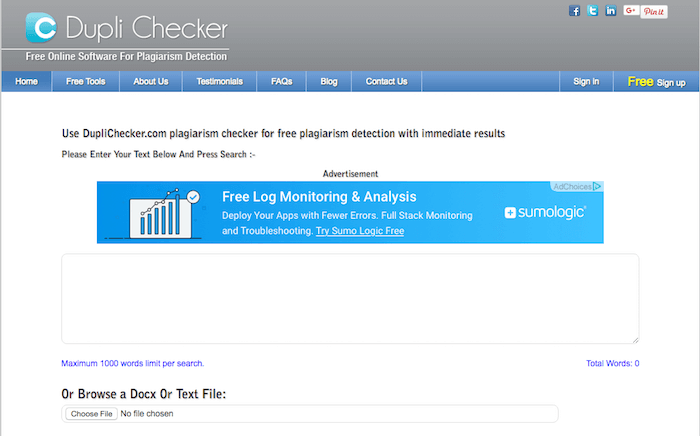 09

. Plagiarismcheck.Org
Plagiarismcheck is another popular plagiarism detection tool that is used by online publications, authors, and students to check for content duplication.
This is a paid tool that will cost you $5.99 for the basic plan which will let you check up to 20 pages. You can try the tool for free before you decide to go for the paid plans.
Cost: $5.99 basic plan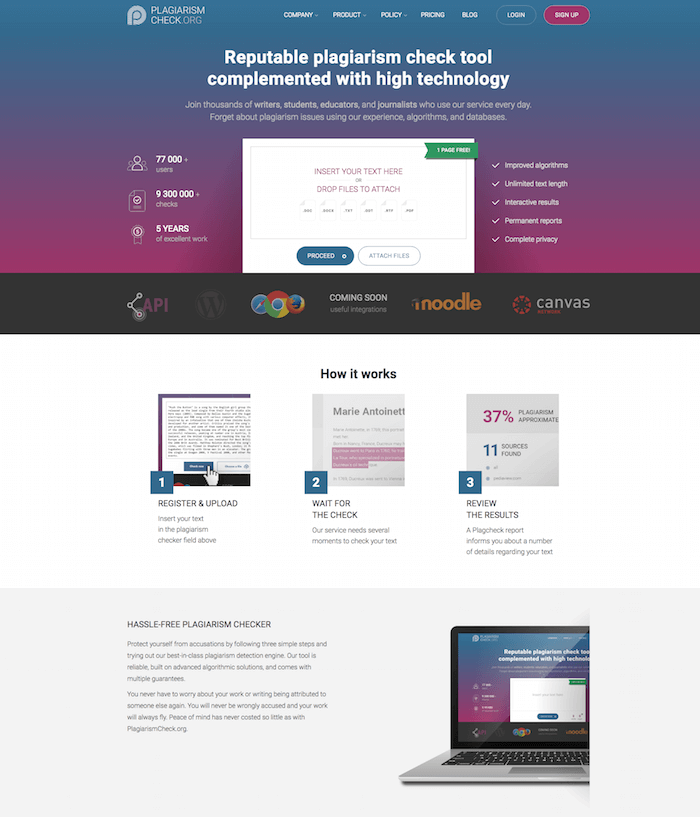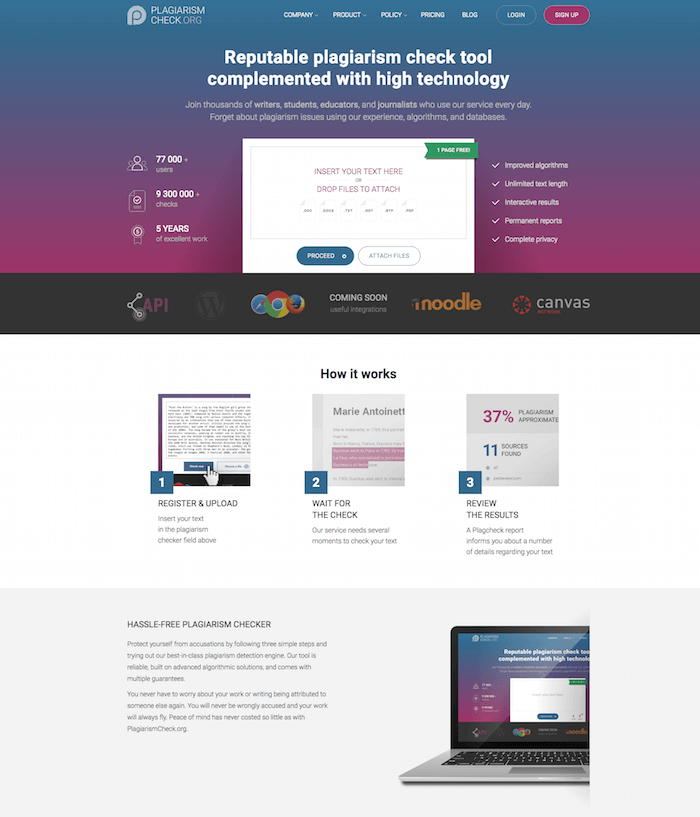 10

. Pro-Papers Plagiarism Checker
Another very effective and quick plagiarism checker tool, the Pro-Papers plagiarism checker is a good option to check long-form content.
You can copy your content and paste it into the checking box to find duplicate content in your article. The tool is quite quick and accurate in finding the quality of your content.
Once the content is checked, it will show you the details of similar content with the percentage of similarity. It will highlight similar content in yellow so that you can quickly edit your post to make it completely unique.
Also, if you are looking for a quality content editor or a proofreader you can use the services of the Pro-Papers team. They offer competitive pricing and it varies depending on the urgency of your requirement.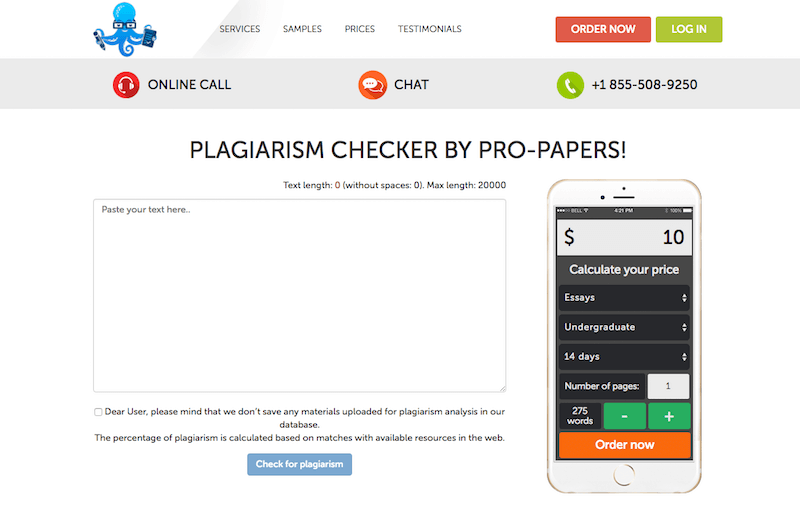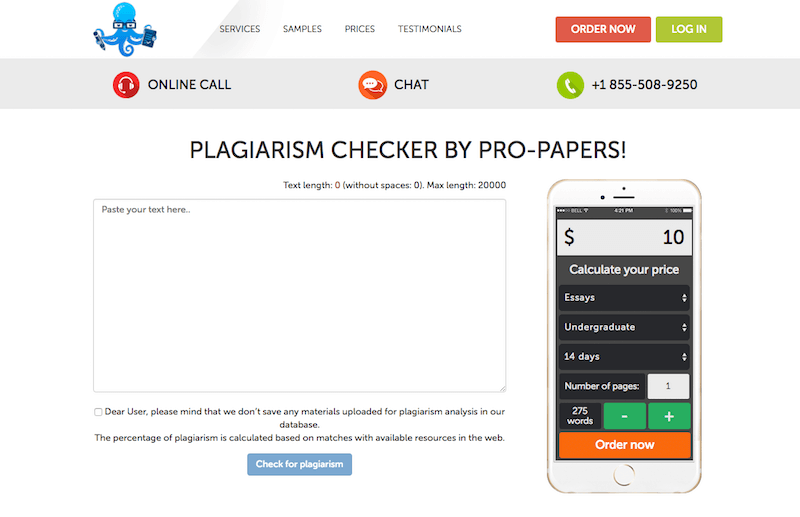 11

. Plagium
Plagium is another useful free plagiarism checker tool that will help you to check plagiarism online without spending a dime.
If you wish to go for a deep search for your content, you have to spend some money and pay $0.08 per page.
This tool allows you to check up to 5000 words at a time which is great and makes it useful for long-form type content.
Cost: Free & Premium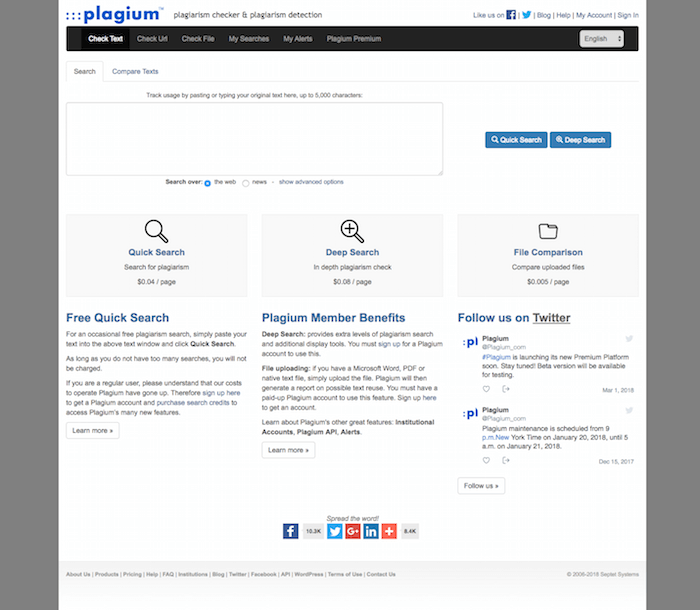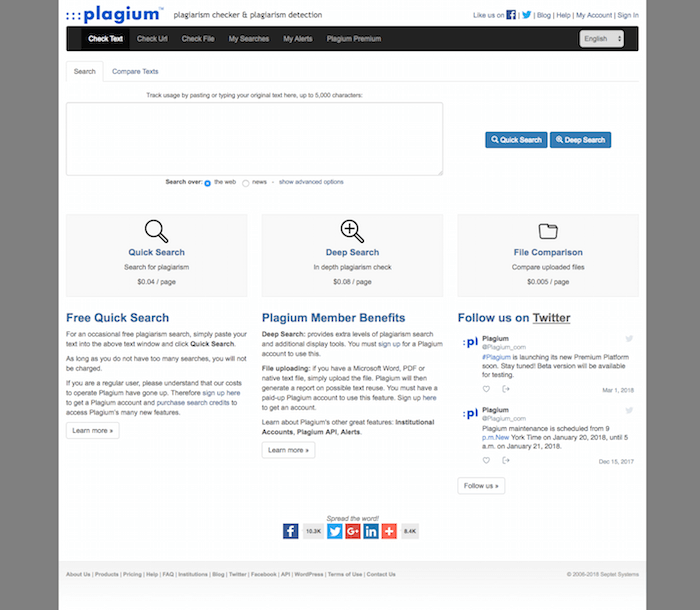 12

. Plagscan
A relatively advanced system to detect plagiarism, you have to spend some money to use this tool, though it gives you free trial options.
It will cost you $ 1 per 1000 words, and in the basic plan, you can check up to 26 pages for $5.99.
It offers you a quick option to check your content if there is any duplication. You can import the content file, or you can paste the text from your article to check for plagiarism.
Cost: Free & Premium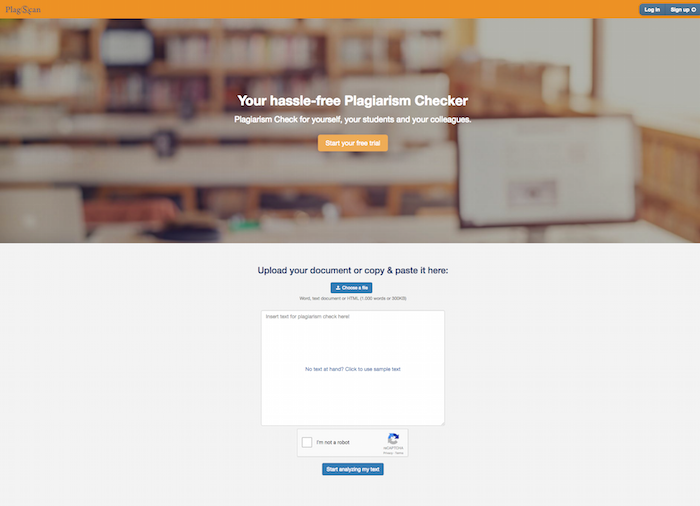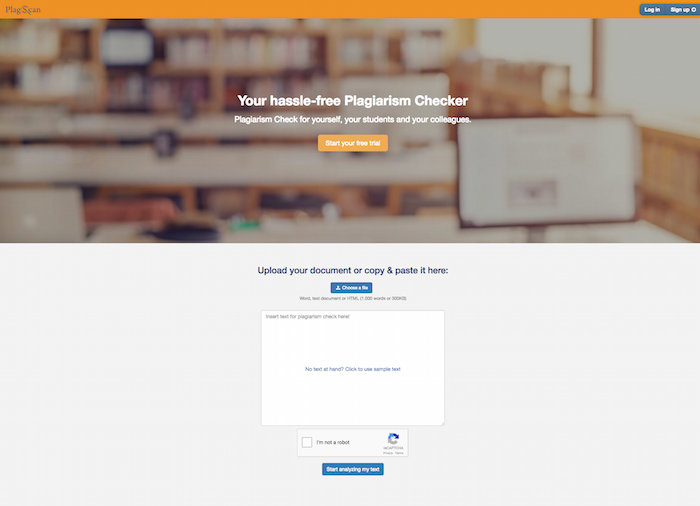 13

. Quetext
The interface is simple and user-friendly. You have the text box to paste your content. So, you just need to select the content to paste it and click enter to check for plagiarism.
While it offers you free checking options, it will keep on prompting you to upgrade to a pro quite often than expected. So, I don't personally consider this a free tool, but it does a decent job of finding duplicate content on your pages.
Read this Quetext review to know more about the tool.
Cost: Free & Premium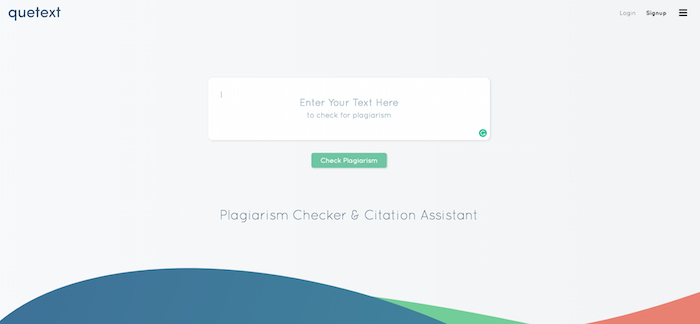 14

. Plagiarism Checker Software
This is another effective free & pro plagiarism checker tool. You can quickly add the content in the checker box and check for content originality.
The basic paid plan starts at $10 per month and offers you 300 searches and each for 1000 words. Overall it's a nice option to check for plagiarism.
Cost: Free & Premium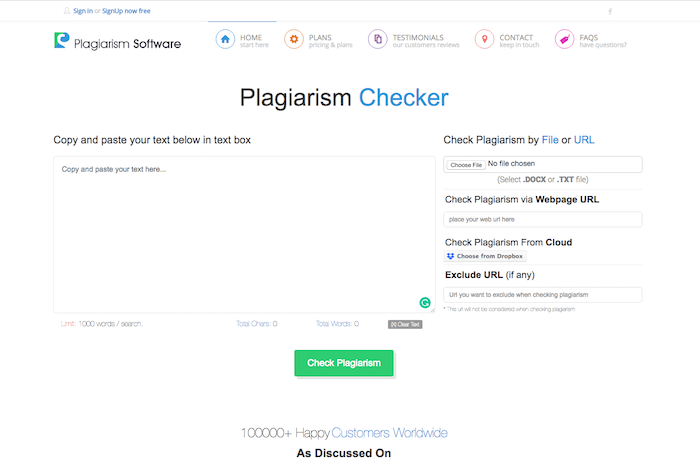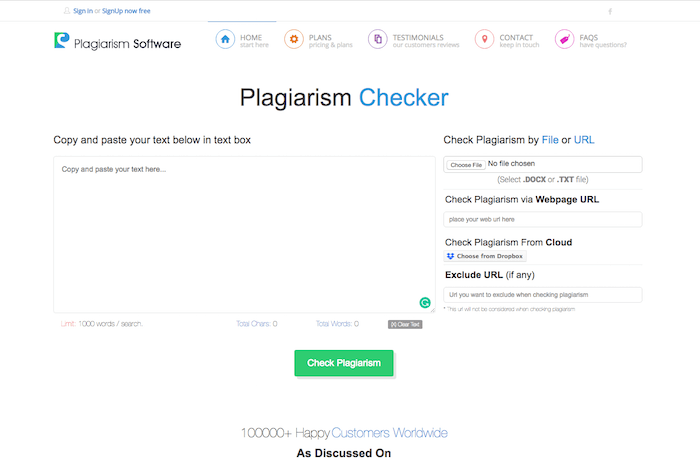 15

. Small SEO Tools
Another popular option for checking plagiarism, this site offers you some different SEO tools that are quite helpful.
The content originality checker is one of the many small SEO tools offered by the site. It's a completely free tool and can check up to 1000 words in each checking.
Cost: Free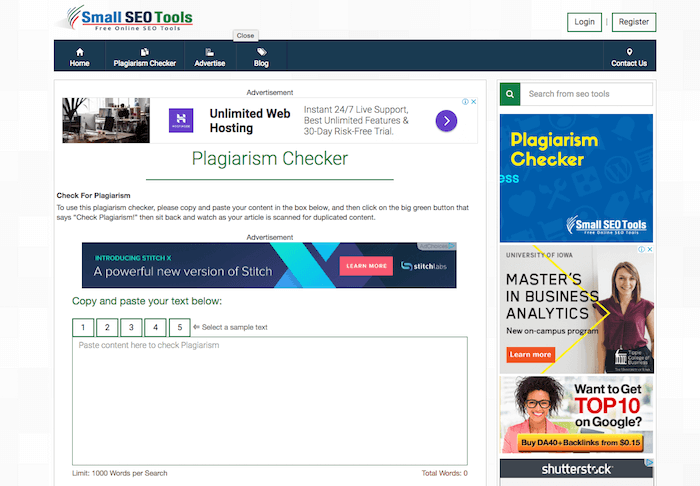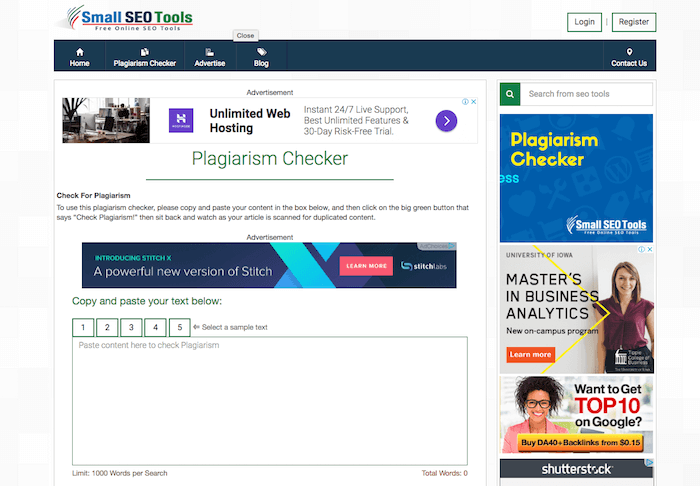 1

6

. Dustball Plagiarism Checker
Dustball is a very simple online plagiarism checker tool that you can use to check your content regularly. It comes with a simple interface where you have the option to paste your content and check it.
It also gives you the option to upload Microsoft Word files to check for plagiarism. It has a premium version as well which gives you three times more accurate reports.
Cost: Free & Premium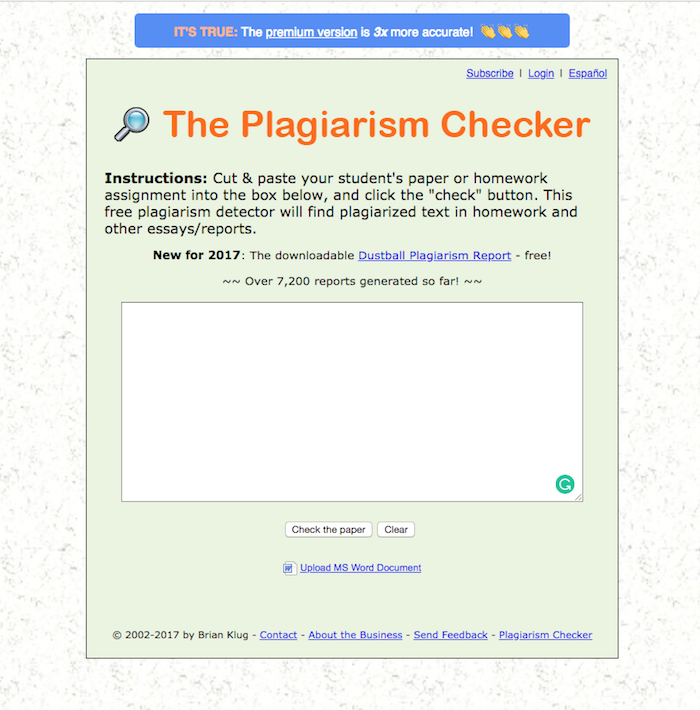 17

. Plagiarisma
A free online plagiarism checker tool allows you to check your content in over 190 different languages. You also have the option to download the duplicate content checker software for the Windows system.
The free version of the checker has some limitations regarding the number of times you can use it per day. However, the free version is good enough for small-scale businesses and bloggers.
Cost: Free & Premium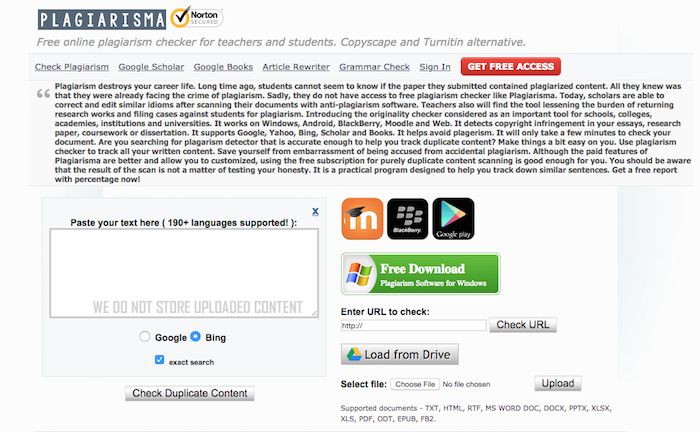 18

. WhiteSmoke
A very handy, simple, and easy-to-use plagiarism checker tool that you can use to check your content. It's a comprehensive writing assistant tool that is really accurate.
It will help you to detect previously undetected content issues to make sure that your project is hundred percent accurate and plagiarism-free.
WhiteSmoke is more than just a plagiarism checker tool. It is a complete help when it comes to English writing skills. You can use it for your blog content, and your educational content to make them error-free.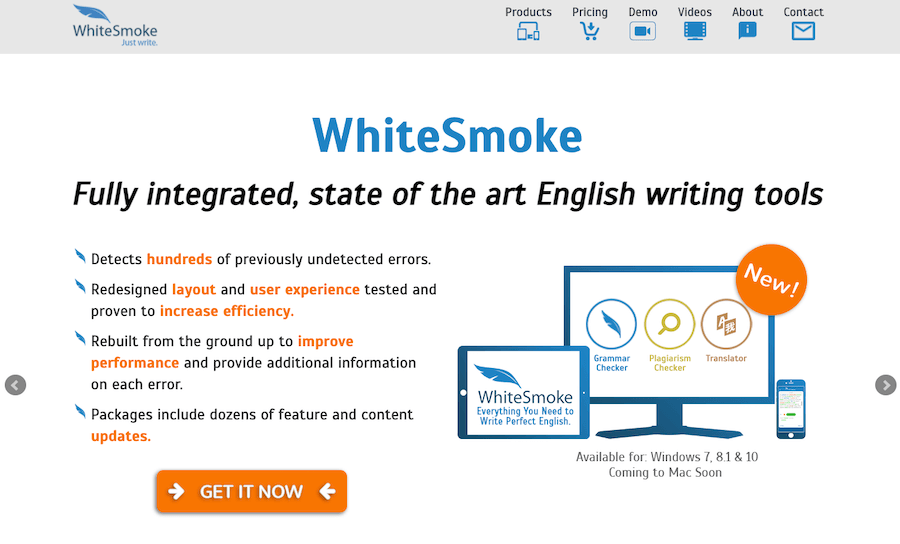 19

. Copyleaks
Copyleaks is another big name when it comes to plagiarism checkers. It uses sophisticated AI and Machine Learning technology to find the duplication in your content.
It is a multi-layered tool that will go through the content and context of your article and suggest you corrections in your content.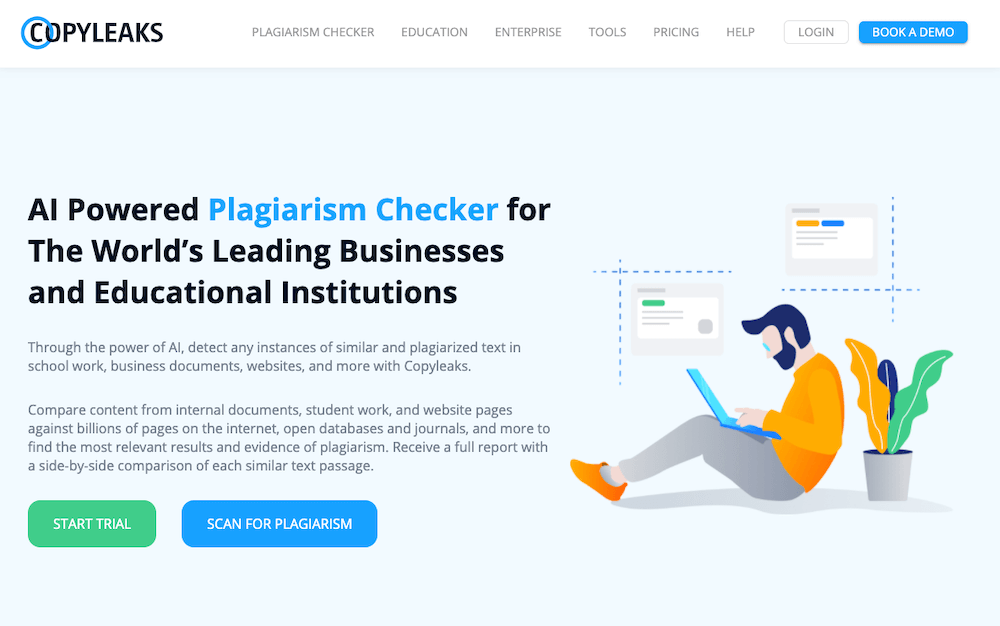 FAQs About Plagiarism Checker Tools
01. What is Plagiarism?
In the context of blog content, Plagiarism means content duplication. We all know that duplicate content is bad for SEO, so you need to make sure that you don't publish duplicate content knowingly or unknowingly.
02. How Plagiarism Checkers Can Help?
There are times when some part of your content might get duplicated even if you write the content yourself from scratch because there could be hundreds of blogs that are writing about the same topic. So, before you hit the publish button, you must run your content through the Plagiarism checker.
03. Which Is The Best Plagiarism Checker Tool?
There are a number of top-quality Plagiarism checker tools that can help you to find duplicate content. We have listed the best Plagiarism checker tools in this article that you can use. Tools like Copyscape, Grammarly are the most widely used tools.
04. Can I Publish Duplicate Content With Permission?
Even if you have permission to republish content from any other blog, it is not a good idea. Duplicate content in any form is good for your blog. So, don't copy content from any other blog.
Final Word
The above-mentioned tools are the best online plagiarism checker tools that will help you to create better content.
Make sure to check for duplication before publishing the content as there might be duplicate sentences when you don't do that intentionally.
Up to 10 % plagiarism is fine as per industry standards because some of your writing will be similar to some other site as there are so many websites writing about similar topics or products.
However, keeping it minimal and free of plagiarism will make your site safer for a long-term benefit.