We live in a world of Google Chrome. But, don't just give up Mozilla Firefox. It is one of the fastest browsers right now and even beats Google Chrome regarding memory usage and performance.
So, this article will list the best Mozilla Firefox plugins. Anyone including new users can use these plugins.
If you ask Chrome users why they use the browser, most of their replies will surround the availability of thousands of plugins.
What is Mozilla Firefox?
Before we go ahead with the Mozilla Firefox add-ons, let's first understand what is it and how it can help us.
Mozilla Firefox is a free and open-source web browser that offers a fast and secured browsing experience.
It started in the year 1998 and became popular around 2004 with over 100 million users actively using the browser.
It has grown over the years and has become one of the most popular open-source products for the web. It makes use that the web is secured and quicker.
What Are Firefox Extensions?
Firefox extensions (plugins, add-ons) are like apps for the Firefox browser that will bring in different functionality to your browser and make things a lot easier for you while browsing the internet.
There are hundreds of Mozilla extensions that are created for different functionalities by third-party developers.
We have tried to select the best from the available lot that you can use while browsing the internet using Firefox.
Initially, Firefox did suffer from the lack of useful plugins, but now the whole scenario has changed. It now sports tons of plugins for you to choose from.
Let's get started to help you in the quest for the best Mozilla plugins.
Don't miss our article about the best Photoshop plugins for designers here.
01

. Disconnect
The Disconnect is a very useful privacy add-on for Mozilla Firefox. With data theft all around, it has become more important these days to get that extra layer of security on your computers and browsers to safeguard your data.
This extension will quickly block all the sites that are tracking your activities and saving your data. It will help you to maintain the required privacy that you need around your online activities.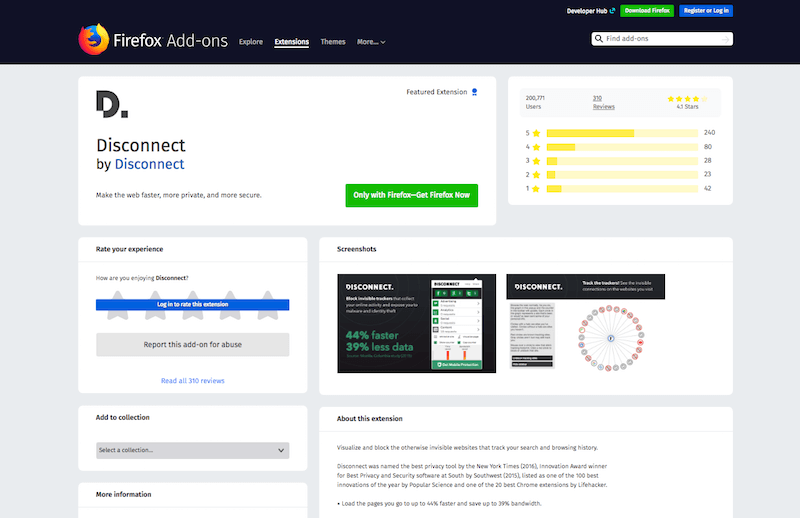 02

. Cookie AutoDelete
As the name suggests, this extension will help you to keep your Firefox browser clean by removing all the unused cookies.
This plugin auto deletes the cookies from the closed tabs. It gives you the option to whitelist a site that you wish to keep.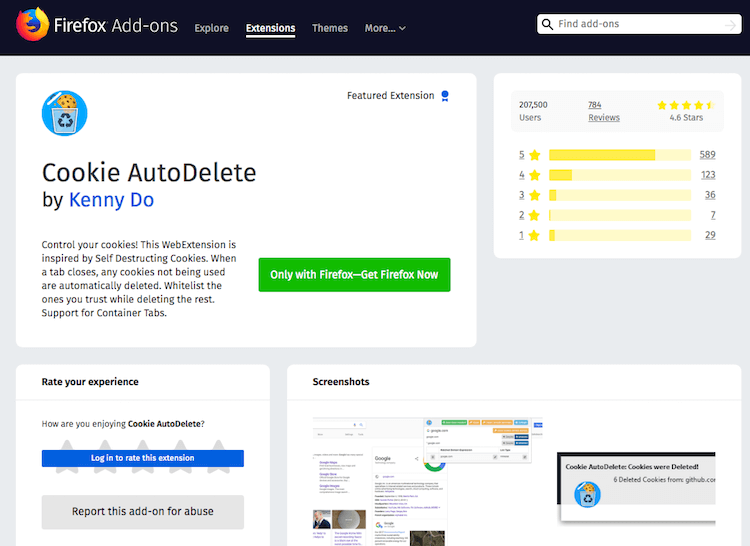 03

. Grammarly
Grammarly is one of the popular editing tools in the market. Its presence is undeniable. The good news is that you can use the plugin in your Firefox browsers.
It comes with both free and paid options. The free add-on will find embarrassing issues with your writing and notify you, be it grammar or spelling mistakes.
The free version will surely guide you through your writing. However, if you want to take full advantage of the software, you need to get the paid version.
Grammarly add-ons work on favorite websites including Facebook, Gmail etc. The only drawback is that it doesn't work with Google Drive applications.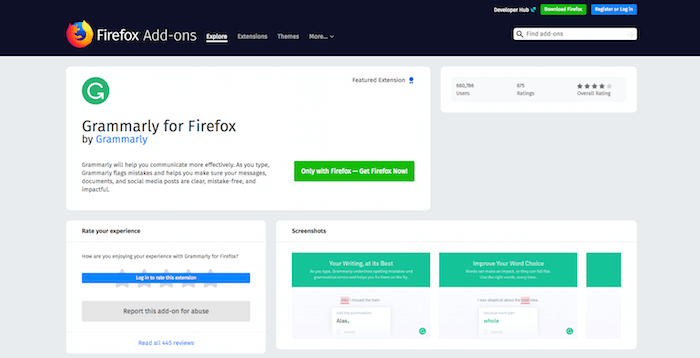 04

. iMacros
If you use Firefox as a daily driver, then you should use iMacros. iMacros is a free-to-use plugin that lets you automate repetitive and boring tasks.
For example, you might constantly be asked for the password when trying to access a particular website. With iMacros, you can automate the task.
Moreover, you can also make it fill up forms and do other trivial things such as downloads and uploads. Overall by using the plugin, you will speed up your browsing speed and hence improve the overall experience.
Other things that you can automate include social bookmarking scripting, testing site performance, and much more!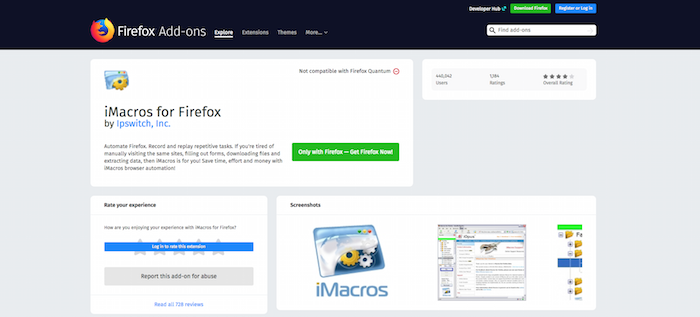 05

. Wikiwand
If you are a regular Wikipedia reader, this Firefox add-on is for you. The Wikiwand will enhance the reading experience of Wikipedia by dramatically changing the user interface and making it easy for simple to read the content.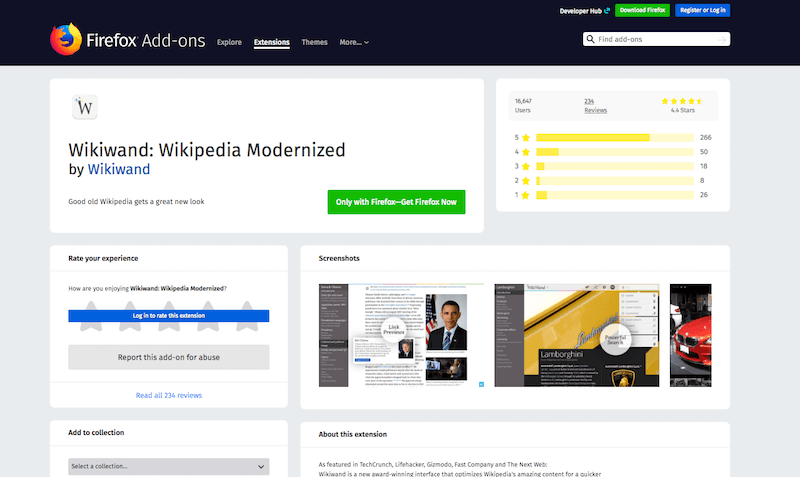 06

. RescueTime
If you are a productivity freak and don't like to waste time, then RescueTime is all you need. It is a productivity add-on that makes it easy for you to track time and goals.
It lets you know what you are doing the whole day with a simple dashboard. Another great feature that we like is its ability to pause the tracker if you go away from your computer.
Overall, it is a great plugin that lets you control your work. You can also categorize websites from a scale of "very productive" to "very distracting." This categorization is necessary because it deducts the time from your project if it is listed as distracting.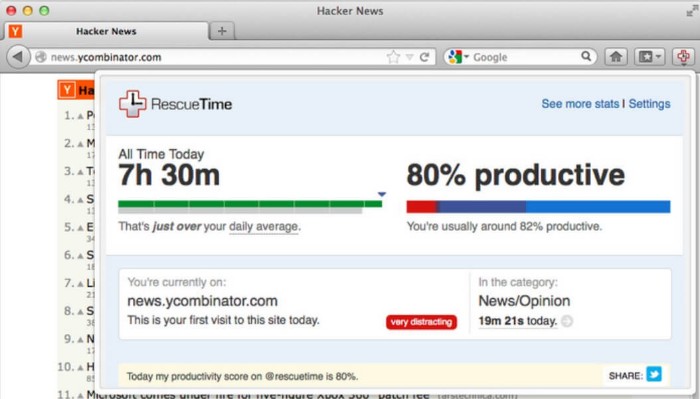 07

. LastPass
We visit a lot of websites and services in our daily browsing. Remembering the password or typing it in every single time you visit can be a tough task.
With LastPass, you can securely put your passwords online and login with a single click. This simple service also enables you to create a secure password for the sites you visit.
In short, you can backup, save and even encrypt the password and login information. When synced you can also use your LastPass account to log in to a different account.
Furthermore, you can also use LastPass to secure your credit card information or any other vital information that you need from time to time.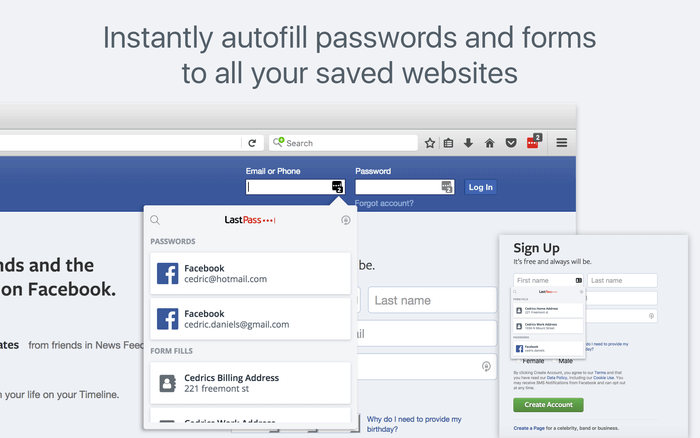 08

. Evernote Web Clipper
Evernote Web Clipper is an extremely handy Mozilla Firefox plugin that must try. It enables you to clip, annotate, share your clips with simple functions.
If you like something and want to save it on Evernote, then the plugin is for you. Researching and gathering information becomes comfortable with this plugin.
The clips that you capture can also be organized and then later used with text and images. The add-on can also be used for collaboration purposes.
Other key features include clipped notes reminders and workflow customization.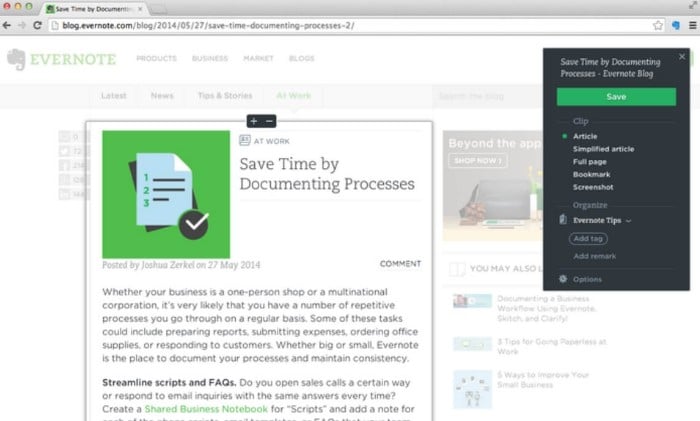 09

. Tab Mix Plus
This Firefox extension makes the tab browsing experience super simple and engaging. This extension includes features like duplicating tabs, tab focus, undo closed tabs, and a lot more.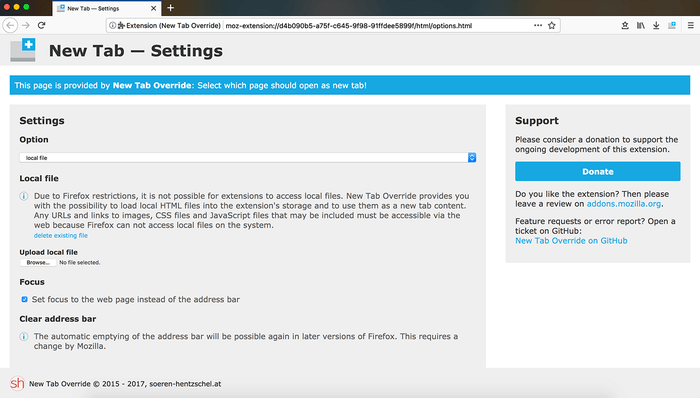 10

. Marker.io
Marker.io is a visual bug reporting tool. The tool is available for all modern browsers including Firefox.
Once installed in your Firefox browser, you can use it to report bugs and other ideas directly into your project management tools such as Trello, Slack, Github, Asana, and others.
To use it all, you need to do is mark the area that you need to report and use their marking features to specify the visual bug.
Once done, upload it to your project management tool. It is one of the best tools for both users and project members to share information with their team.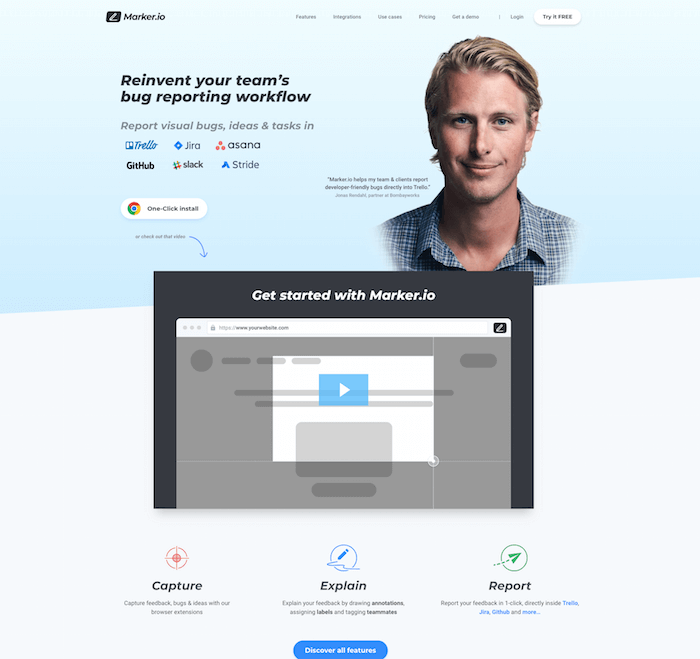 11

. AdBlock Plus
Ads are intrusive and not everyone likes them. This is where Ad Blocking plugins come in. Firefox also has support from the best ad blocking plugin out there.
It not only blocks ads from a simple website but also can block ads from streaming sites such as YouTube and Facebook. To use it all, you need to do is install it.
It automatically starts blocking after a plugin is installed. With the plugin, you can also unblock ads on some websites if you feel that their website ads are not intrusive or you need to support them.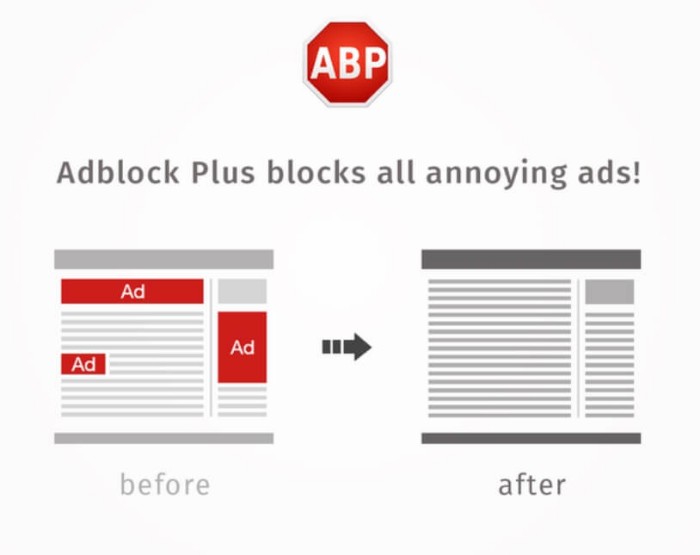 12

. ColorZilla
We all love colors. What if you can have a color picker directly from your Mozilla browser? Well. You can try out ColorZilla.
It is an advanced coloring tool that you can use for multiple things including eye dropping, generating CSS gradients, doing webpage color analyze and much more.
This tool is handy for designers who want to know the colors of the different websites they visit. They can also use the webpage color analyzer and copy the colors to the clipboard for use in their project.
Last, but not least, the plugin also comes with keyboard shortcuts.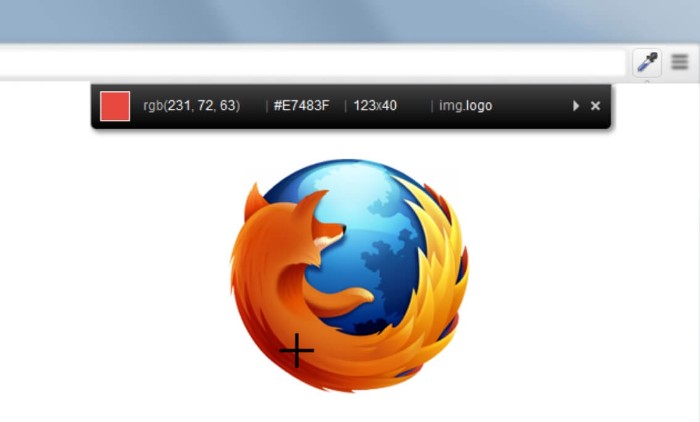 13

. Gmail Notifier
Are you looking for a Gmail notifier when using Firefox? Now, you can use Gmail Notifier, an open-source project that lets you set notifications without the need for entering credentials.
You can set it to get notified of one single Gmail account or multiple ones. The choice is yours. Also, the plugin takes as little bandwidth as possible thanks to using RSS technology.
Furthermore, you can also set it up so that you can mark emails as read, or merely put them to trash. It works by showing notifications in the Windows taskbar.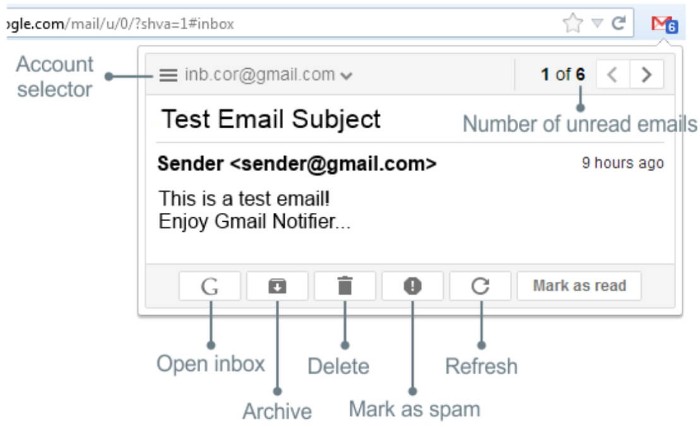 14

. Amazon Assistant
Do you love deals? If you do, then you need to get notified about it, right? With Amazon assistant for Firefox, you can actually get a notification about deals.
Not only that when you are buying any product online, but Amazon assistant will also lookout for the same product online, and notify you if there is any better deal out there or not.
By using the plugin, you can compare in real-time and get the best deals out there. As it is made by Amazon, you will never miss any Amazon deal which you are looking out for.
It will simply notify you 5-10 mins before it gets started. Also, the plugin notifies you about your purchases, their shipment location, and much more.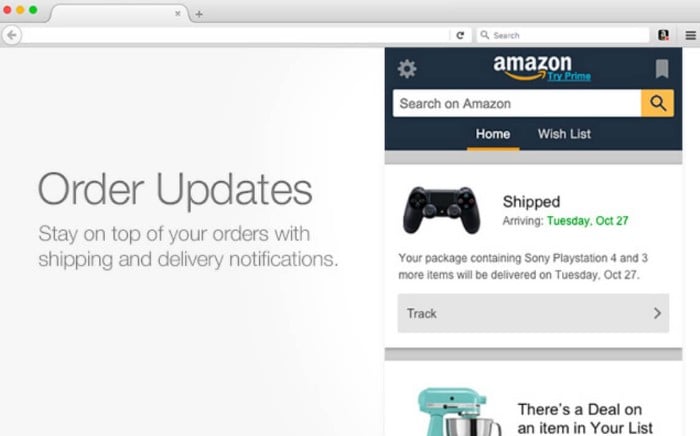 15

. Video DownloadHelper
Video DownloadHelper makes it simple for users to download videos from hundreds of YouTube-like websites on the Firefox browser.
Some of the popular video sites that you can use this extension to download videos include DailyMotion, Facebook, Periscope, Vimeo, Twitch, Liveleak, Vine, UStream, Fox, and more.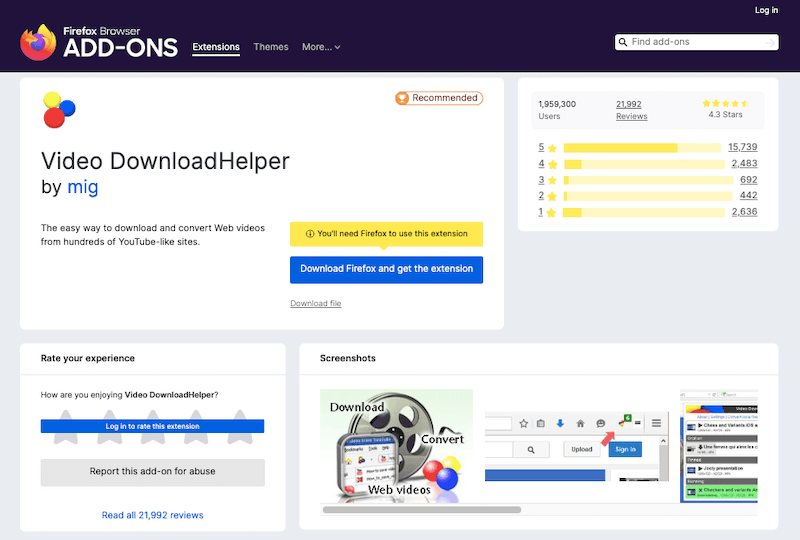 17

. Social Fixer
As the name suggests, this is a social browser extension that will fix your Facebook browsing experience and make it clutter-free.
With this extension, you can make your Facebook timeline simple and to the point.
It will remove all the sponsored stories, any specific categories such as politics from your timeline so that you see only what you wish to see.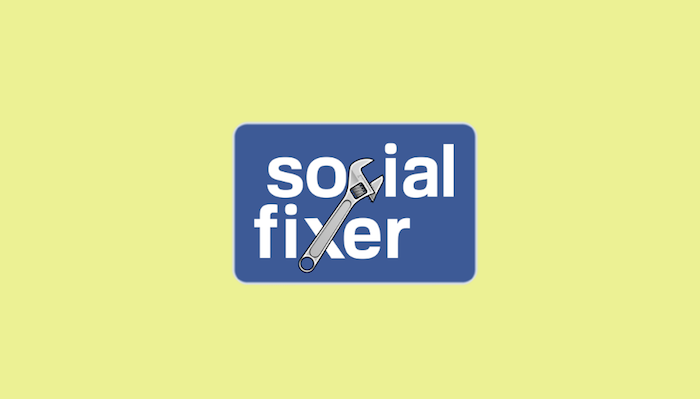 18

. Ghostery
Privacy is one of the biggest concerns for the online audience. This is where Ghostery comes in. It is a simple plugin that offers you basic privacy features.
By using it, you can easily block online ads and trackers. This way your online browsing experience will also improve significantly.
By blocking trackers, you are simply protecting yourself from hundreds of online trackers. You can also optimize your display and gain insight from the dashboard.
To use the plugin, all you need to do is install it and use the default settings.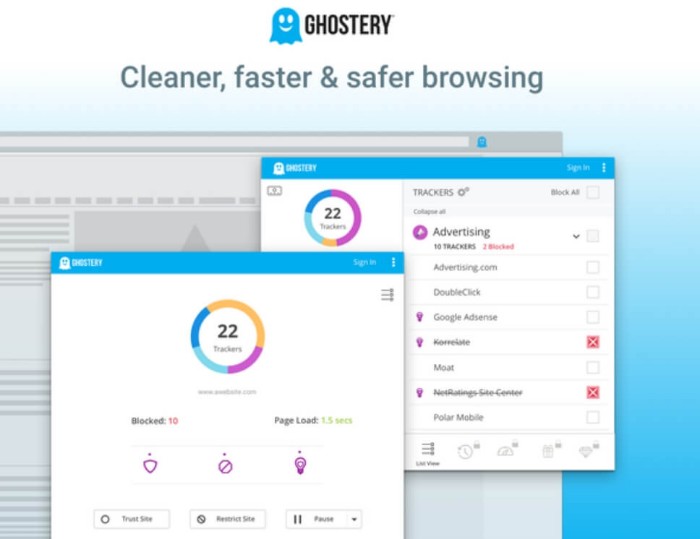 19

. Windscribe
Windscribe is yet another Adblocker and VPN. So, what differentials is from Ghostery? It has a proper VPN with it. Many sites are blocked due to location.
With Windscribe you can get access to the website. Not only that, but it also protects your privacy by blocking ads and trackers. With Windscribe, you can access anything from the online store.
Also, you can stay anonymous when browsing the internet. To do so, all you need to do is enable VPN.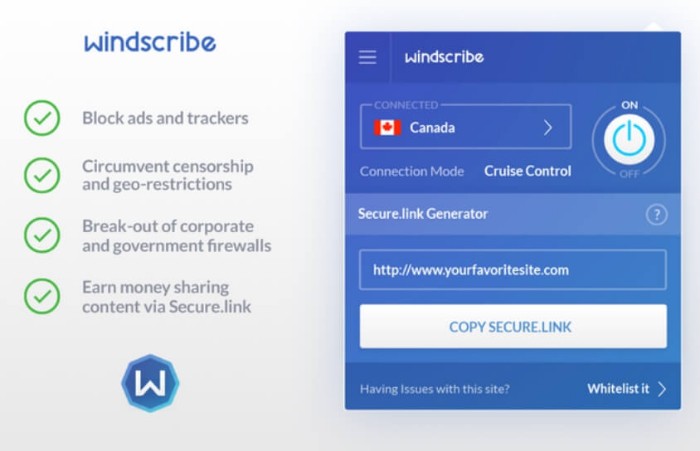 19

. Honey
Honey is a simple Firefox add-on that can be used to find coupon codes with just one click. Currently, you can use Honey from US, UK, Australia, Canada, and India.
Tons of shops across these countries are supported. Moreover, the process of finding coupon codes is completely automatic where it searches for them across 10,000 stores.
It also works well with Amazon, the most popular online platform.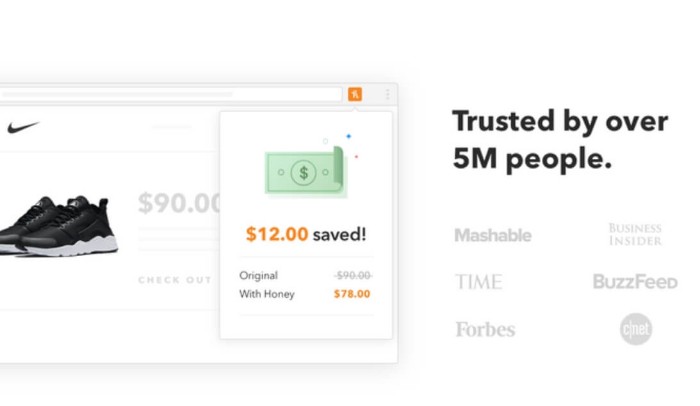 21

. Firefox Multi-Account Containers
Firefox Multi-Account Containers is a perfect plugin for anyone who is trying to declutter their online spending habits.
For example, not everyone wants to mix their online profile of work and entertainment. This is where this extension comes in.
It simply creates a separate profile for each of your online spending habits. You can create profiles for work, gaming, shopping, banking, and so on.
These give you finer control over your online time spending habits. It keeps you organized and also ensures that you don't have to open a new tab to do something different.
It also lets you add two different accounts.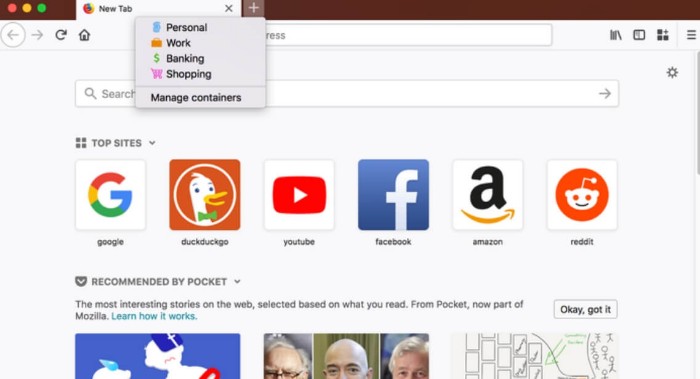 22

. Momentum
Our last plugin of the listicle is Momentum. It is a personalization plugin. With this plugin, you can customize your new tab.
You can add a to-do, weather checker, and much more. It is a unique plugin and should freshen up your working habits.
For example, you can also customize it to showcase daily inspiration.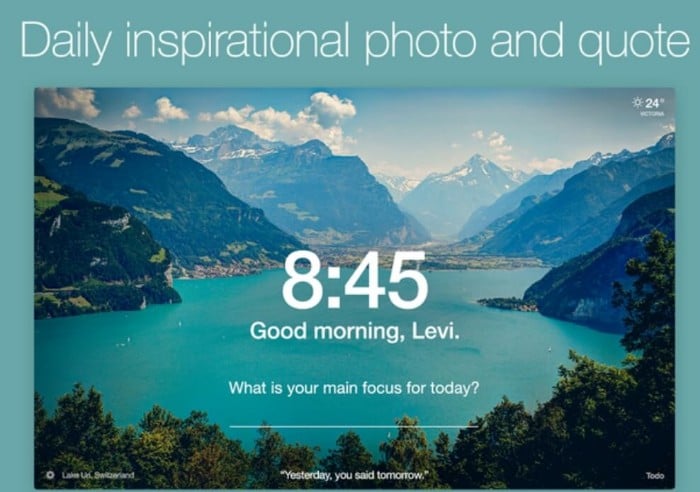 22

. uBlock Origin
With thousands of 5-star ratings, the uBlock Origin FireFox add-on is a popular option among content blockers.
uBlock Origin has much lesser memory as compared to any other popular ad blockers.
This can be a big solution to restrict the services that track your online activities making the web a lot safer for you.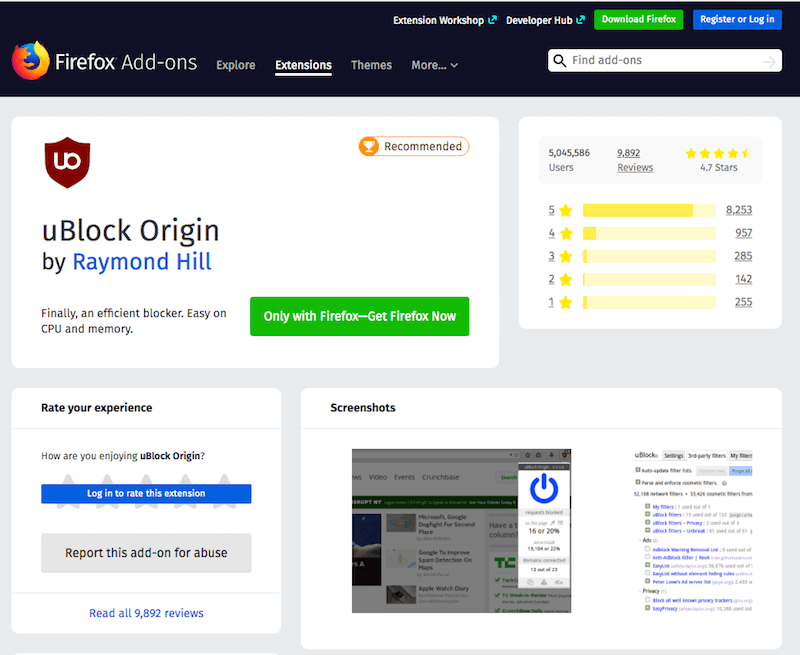 23

. uMatrix
uMatrix is a Firefox add-on that will make your browser safer for you. You can set a high level of security and privacy to make sure that it is secured.
This plugin will give you complete control over your browser to make sure that you define your set of rules, the sites you can browse the data you can download to have that extra layer of security.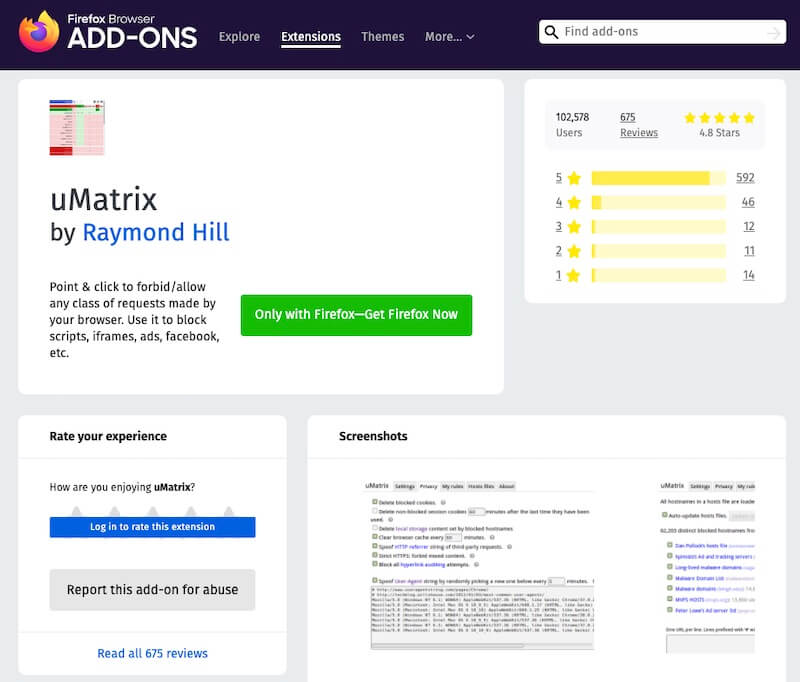 24

. Lightshot
Lightshot is a screenshot add-on for Firefox. This extension makes it very simple for Mozilla Firefox users to take a screenshot of anything in the browser.
As a blogger or marketer, you need to take screenshots regularly, and having an extension like the Lightshot will be of great help.
The add-on gives you the option to select the area that you wish to capture in the screenshot. You can share the captured screenshot on social media.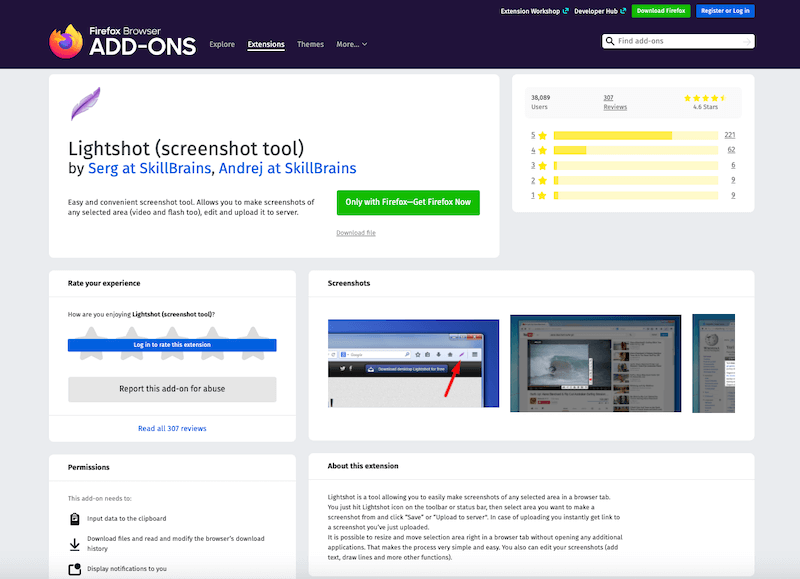 25

. Gesturefy
Gesturefy is a mouse gesture extension for Firefox that will enable you to do a number of tasks with your mouse. If you are using an Apple desktop, you are probably aware of how the mouse can do a number of different tasks with different gestures.
Similarly, you can use this extension to add different gestures to your mouse while you use the Mozilla browser. Your mouse will be capable of doing a number of tasks based on different gestures.
So, in a way, it works like keyword shortcuts to perform different actions on your computer browser. This extension can take more than 70 different predefined commands.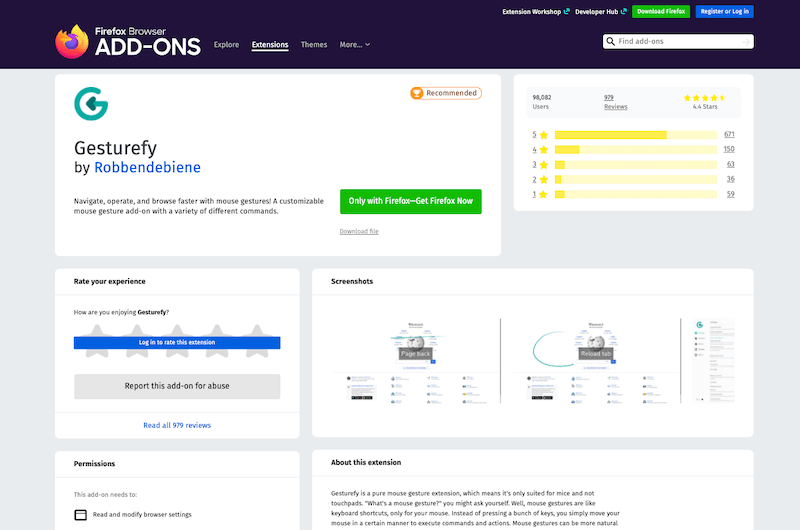 26

. AdGuard AdBlocker
The ads and the pop-ups can be very annoying at times, you are watching something important on YouTube, and there comes an ad break. Similar to most of the platforms, you will see ads that are distracting, so why not block those.
There are a number of ad-block extensions for Firefox, but the ad services find a way around dealing with the ad blockers.
This is a powerful adblocker extension that can block ads and pop-ups on Facebook, Youtube, and all other websites.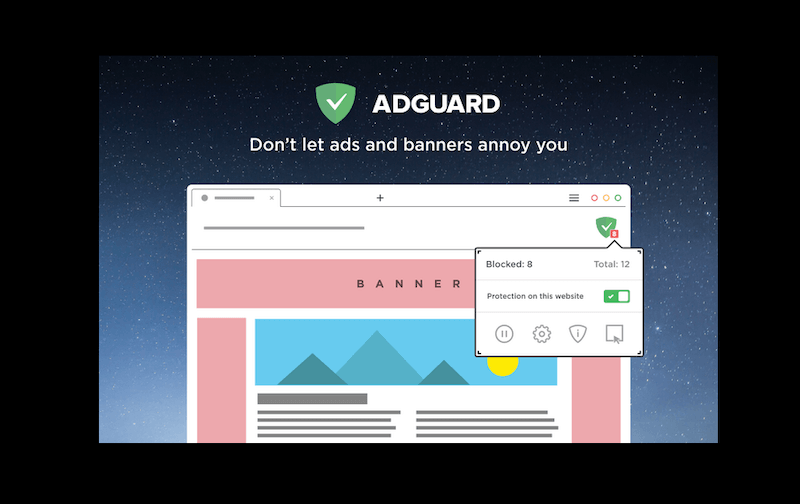 27

. SeoQuake Extension
If you are into any kind of online business, SEO-related business or you simply manage your own blog, SeoQuake is a must-have Firefox extension.
With this extension, you will have quick SEO data of any page right on the search page or the browser bar at the top. So, when you make a search for any keyword in Google, you will have all the important SEO data of every page instantly.
SEO data like an internal link to the page, external links, page rank, and a number of other details. You can click on those numbers and check the detailed page with the link details.
Overall, it is a very handy Firefox extension.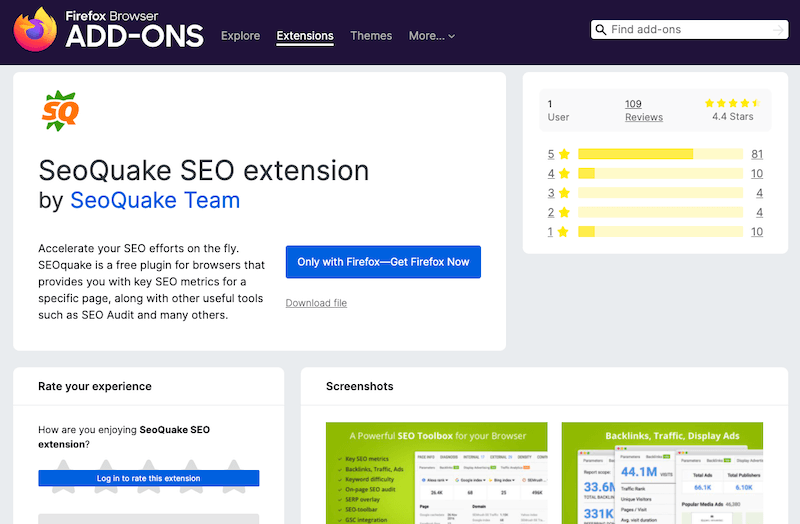 28

. FireShot
FireShot is a very handy extension for developers to keep a screenshot of any website while they are working on a project with all the development to store the versions.
You can save the screenshots in single or multi-page PDFs with hyperlinks. You can capture all the tabs in a single PDF to make it convenient for you or for your clients to check it.
Overall, it is a very handy add-on whenever you need a screenshot of a webpage.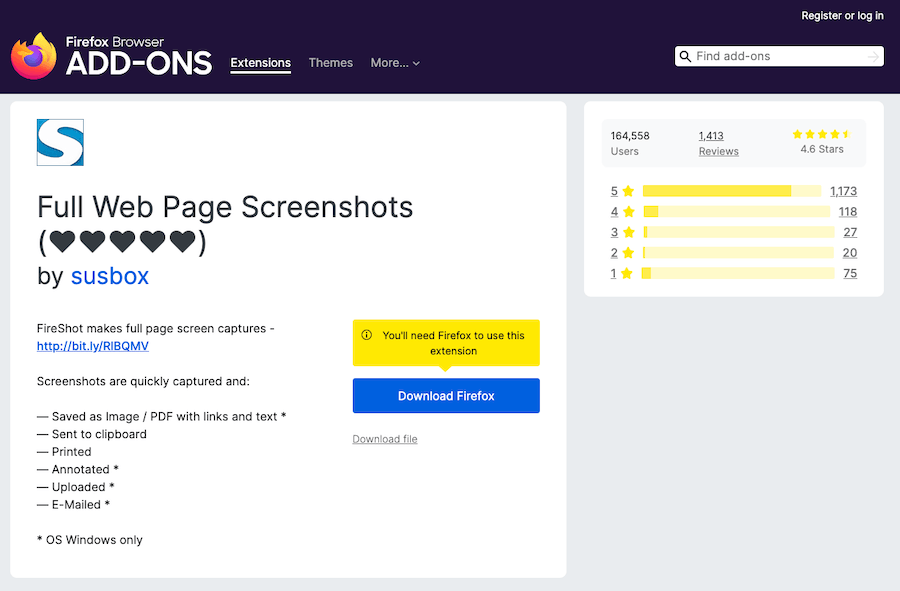 Privacy Badger
With the ever-increasing threat of online privacy invasion, it's more important than ever to install a reliable ad blocker. Among the most popular ad blockers is Privacy Badger, an extension for the Mozilla Firefox web browser.
Privacy Badger was created by the Electronic Frontier Foundation (EFF), a nonprofit organization that specializes in digital civil liberties. It's available for free from the Mozilla Add-ons website.
Privacy Badger works by Blocklisting advertisers and other third-party trackers that collect your data without your consent. It also uses a heuristic approach to identify trackers and blocks them accordingly.
One of the great things about Privacy Badger is that it's constantly being updated with new data about trackers and how they operate. This means that it's always getting better at protecting your privacy.
If you're concerned about online privacy, then you should definitely consider installing Privacy Badger. It's a simple and effective way to protect your data from third-party trackers.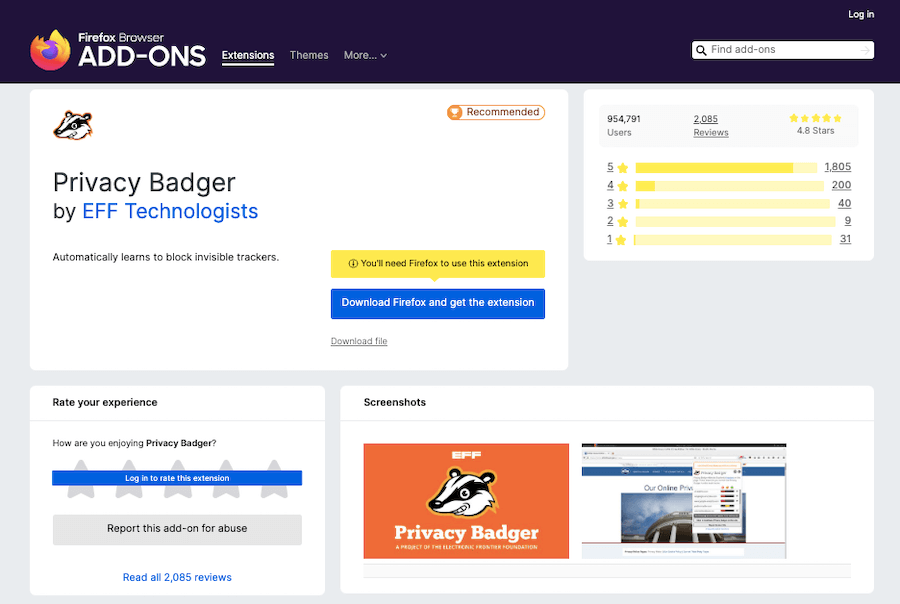 FAQs About Firefox Add-Ons
01. What is Firefox?
Firefox is a web browser that you can use on desktop as well as mobile phones to access any website on the internet.
02. Is Firefox Better Than Chrome?
No, Firefox is not better than Chrome. It may be slightly faster on mobile devices but if you see the overall performance, the number of extensions Chrome is better.
03. Is Firefox Free to Use?
Yes, Firefox is free to use. You can download the browser on your computer or mobile phone and start using it for free.
04. What Are Firefox Add-Ons?
Firefox add-ons or extensions are programs that bring in additional functionalities into the browser. You can search for add-ons according to your needs and start using them.
Conclusion
Mozilla Firefox is one of the under-rated web browsers. With the release of Firefox Quantum, it is slowly capturing the web browser's market share.
Today, we listed the best Mozilla Firefox plugins. If you think you agree with the list, comment below. We also request you to share the best plugin for Firefox. We are listening!