In this article, we have collected the best daily deal WordPress themes that will help you to create a site like Groupon and make a good amount of revenue for you.
When we talk about the best deal sites, it needs certain features which are custom-made for this niche and a design that is user-friendly and has the option to showcase the deals for maximum exposure.
With over a hundred million users globally, WordPress is not only a platform for writing or blogging, but it's also a great piece of software to sell your products, services, and even deals on products and services offered on the internet.
Deals and coupons site is one of the most powerful niches that have the competence to experience huge growth in a short span of time.
If you have a website offering various kinds of deals, coupons, and offers or you are planning to start one; you would surely have experienced the importance of a good website theme in generating sales.
Your customer will only navigate through the offers and deals on your website if your website is great in design and user-friendliness.
So, for certain success in this niche, you need a combination of a great design for your site, quality deals, and some promotion.
There are plenty of websites offering deals and coupons across the internet leading to a lot of competition in this niche.
To stand out from the crowd, you need a WordPress theme that provides an unmatched user experience.
Out of hundreds of theme options available, it becomes difficult to decide which theme will suit your requirement the best. Well, you don't have to worry about that anymore.
Here is a list of some amazing daily deals WordPress themes that you can use on your coupons and offers website:
Top Daily Deal and Coupon WordPress Themes
---
REHub
REHub is the most popular and powerful theme in the daily deal niche. You can use this amazing theme to develop deals, coupons, discounts, offers, and affiliations management for your site.
As a relatively advanced theme as compared to others, it provides a 'filter' option that lets visitors find the deals of their choice easily.
This is the most advanced design in this list of daily deal themes, and this theme can be created by some different niche sites in the same broad group as it is a multipurpose design.
Add the 'super advertisement' option that helps you earn those extra bucks from your deals site.
The REHub theme is loaded with amazing features and can transform your site from just another deal site to a fully loaded daily deal site with all the features and options that you see on the most popular site in this niche.
If you wish, you can create a complete community around your daily deal site as this theme is perfectly compatible with the BuddyPress plugin.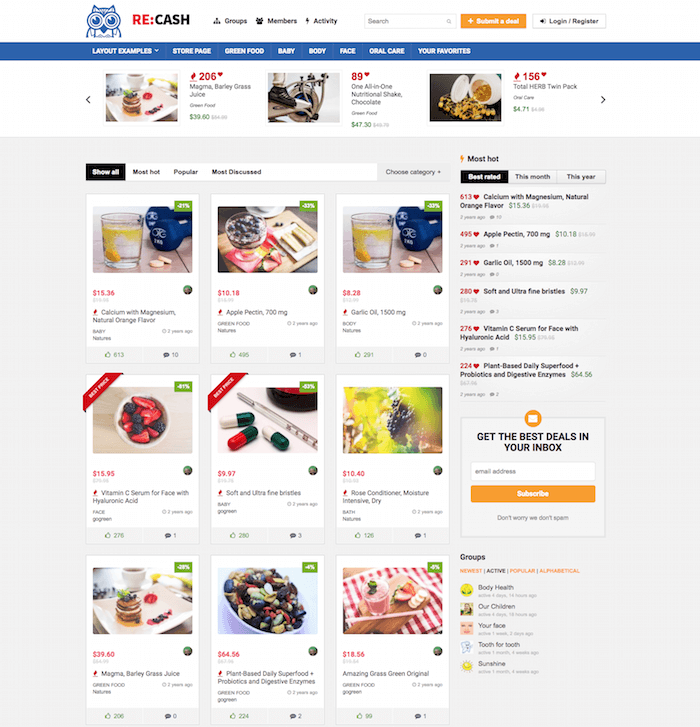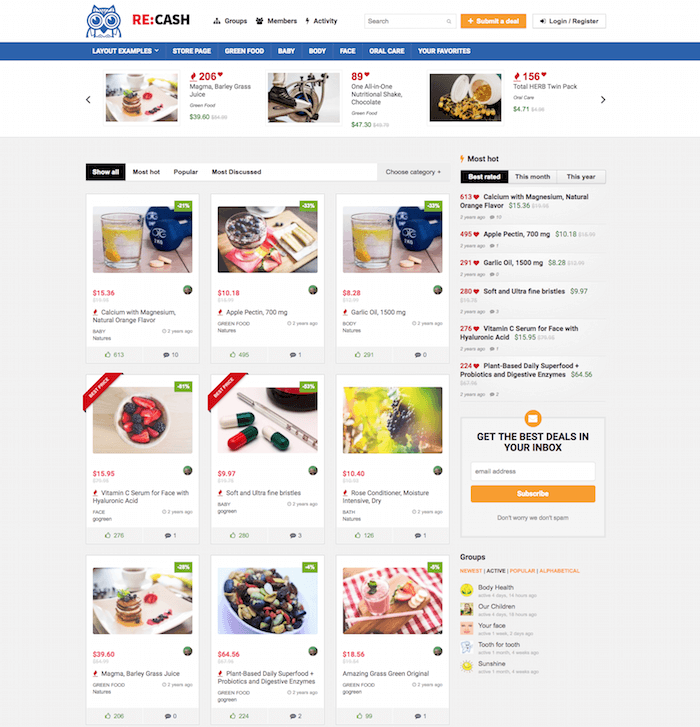 TopDeal
TopDeal is one of the most comprehensive eCommerce and daily deal WordPress themes. You can use this theme to create a multi-vendor marketplace site.
So, if you ever wanted to create a site like Amazon, here is the theme you need. The theme comes with a number of demo design templates that you can use on your site.
As the theme is compatible with the Elementor website builder, you can customize the design of your site without any coding.
It offers you multiple header designs to choose from. You can quickly get started with the theme and install it in one click.
It is fully responsive to make your site look great on all devices. Multiple shop layout, powerful mega menu design, product slider, drag and drop builder make it a great choice.
Kupon
Kupon is a WordPress coupons theme that can be used for coupon generations and dealings in a hassle-free manner. This is high quality and time-proven theme best suited for professional projects.
If you need a website where aspects such as quality, stability, and flexibility are more important than the cost incurred, Kupon is the one to choose!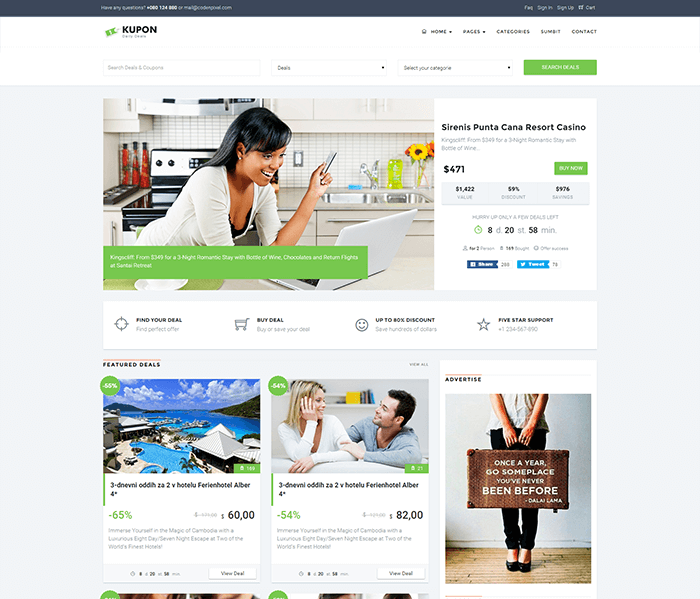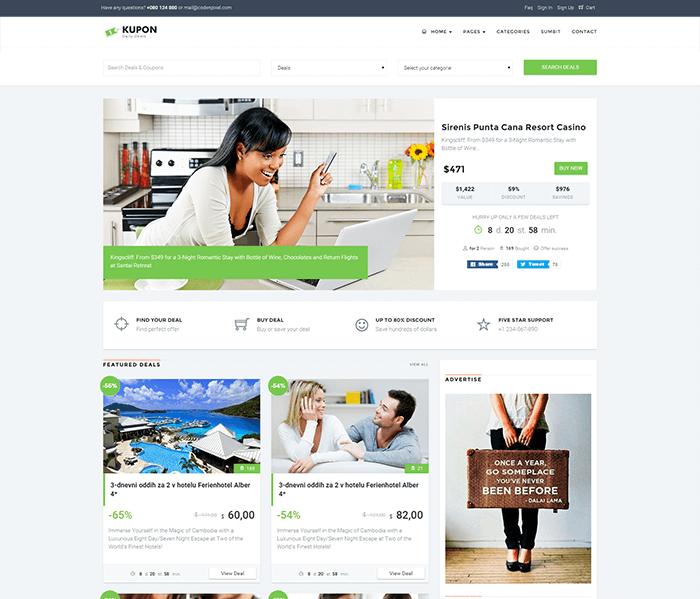 WP Deal
WP Deal helps you create fully functional and all-inclusive deals on your website. The theme makes your website compatible with mobile phones and supports different deals, discounts, and coupons to attract a large number of visitors.
Visitors are supposed to submit their deals and coupons with front-end submission which are then approved by the website administrator. The theme also supports multiple payment systems viz. Paypal, Google checkout, etc.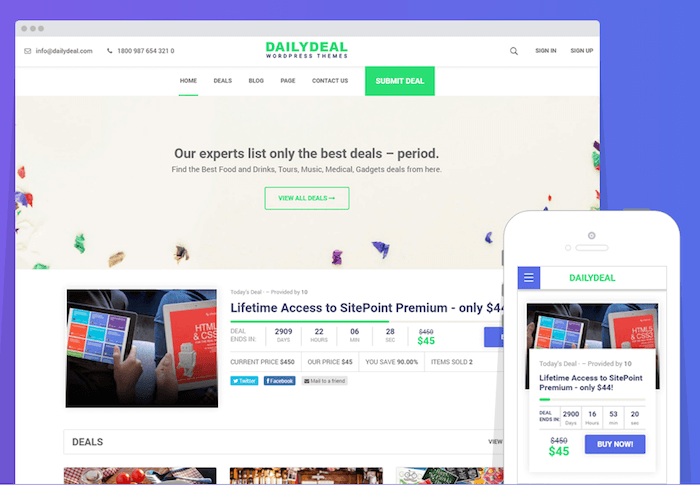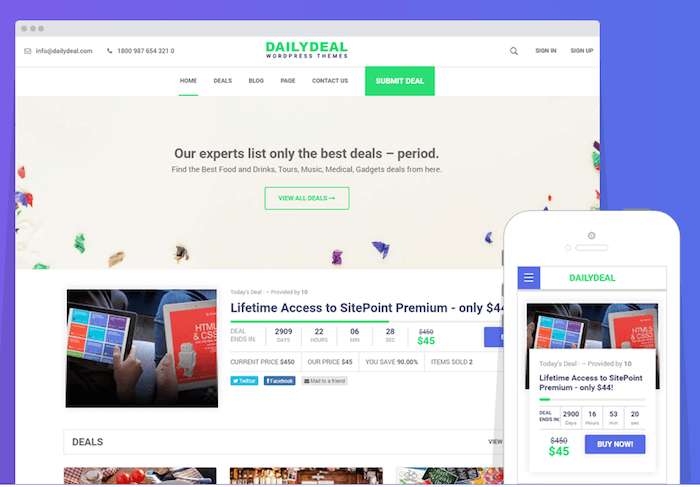 WooShop
WooShop is a simple yet powerful WooCommerce store and daily deal theme for WordPress. This theme is super quick and SEO-friendly to make sure that you can drive a lot of traffic from the search engines.
The theme comes with a powerful theme options panel where you can setup your site easily and changes things around whenever you need.
You can create an amazing deal site with this theme; you have the option to showcase the best deals for the day in a beautiful slider to attract the visitor's attention.
You have some beautiful homepage design options in this theme that will help you create a good-looking design for your site.
As this is a Google AdSense optimized WordPress theme, you can show AdSense ads along with your product deals to maximize revenue.
You have an off-canvas mobile menu option, amazing product detail page, flexible custom footer option, different pagination types, and more.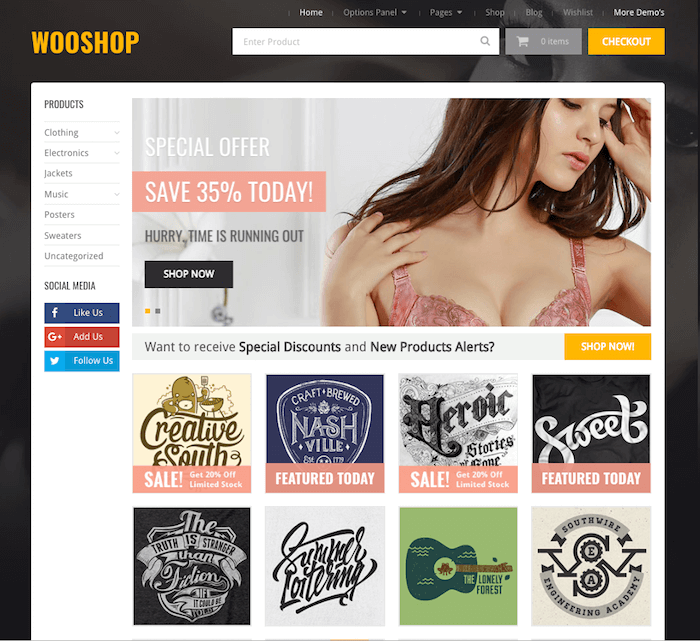 CouponSeek
CouponSeek is a beautiful modern WordPress theme created for a daily deal and coupon-related websites. There are sites that are making thousands of dollars every month with discount coupon deals, you can create your own version using this theme.
It is one of the most comprehensive deal themes in this list that offers you everything that you will need to manage your deal site, starting from affiliate management to vendor management.
In a way, it works like a directory theme that offers you the option to categorize the deals based on many different parameters. You can classify the listing country-wise, category-wise, and other filterable parameters.
The CouponSeek theme comes with the complete support of the WooCommerce plugin so that you are able to manage all eCommerce-related requirements easily.
As far as the design is concerned, the theme is created with a great looking modern design and you have the option to customize the design of your site using the drag-and-drop Elementor builder.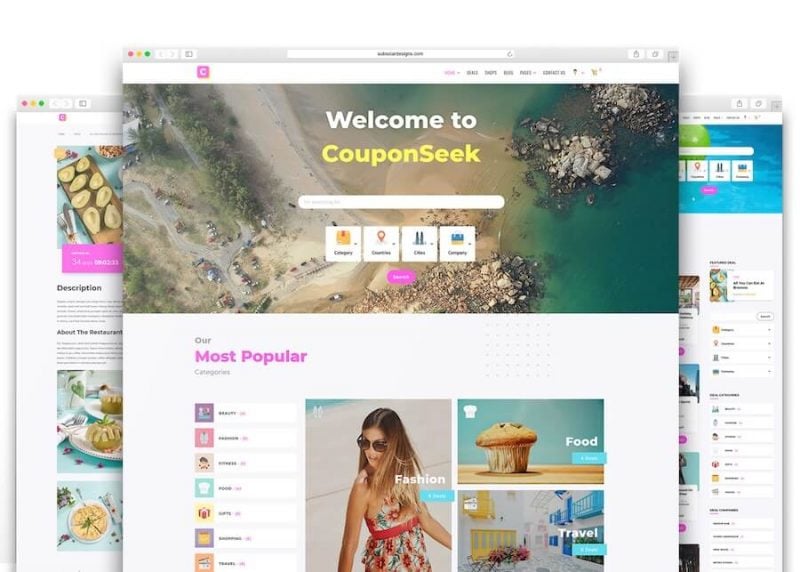 Comre
Comre helps you to create a smooth and responsive website for deals and coupons. With a highly detailed interface that has the potential to attract huge traffic, the theme also has a shop that offers premium coupons and codes to buy online.
It also incorporates a public form where it lets people submit their coupons. The submitted coupons are verified by the website administrator and then released. With Comre, you can integrate premium plug-ins to help you create a custom page that matches your needs.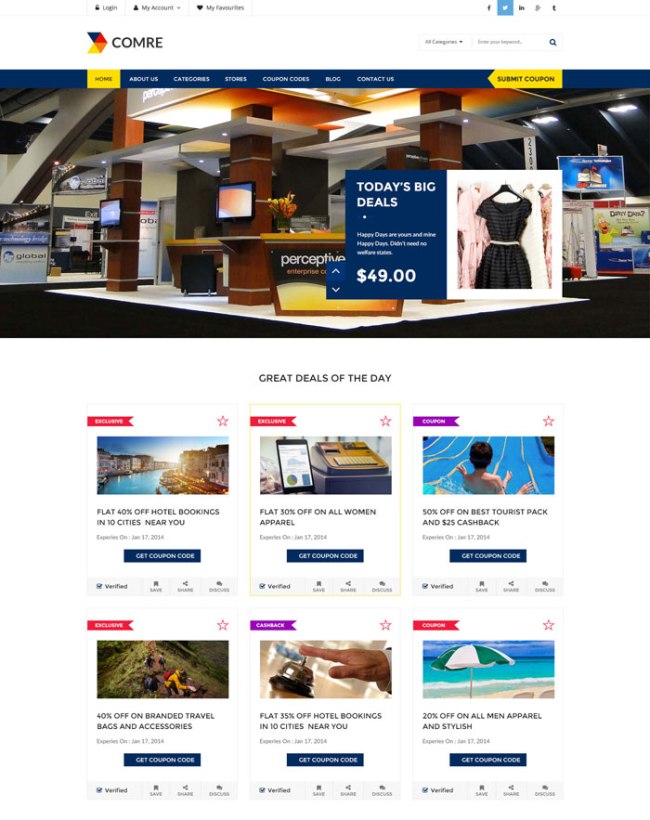 Bege
Bege is a beautiful new daily deal WordPress theme with amazing features. This theme offers you four great-looking homepage design options to choose from.
The bright color of the themes can easily attract the attention of your visitors and keep them engaged with a strong product network within the site.
You get the premium Visual Composer plugin, and the Slider Revolution plugin in the theme bundle for free so that you can easily create your custom layout for your pages.
The Bege theme offers you some beautiful header styles to choose from, and you can also customize it according to your need.
We already mentioned the demo design options offered by this theme, and have the one-click demo import option to make sure that you can get started on your site quickly.
You have some different modules to showcase your products such as the daily deal module, amazing sliders to showcase the popular products, the tab module, etc.
Bege is a great-looking design with multiple layout options to choose from. It's a mobile-friendly, fully responsive, and retina-ready theme that will make your site look great on all devices.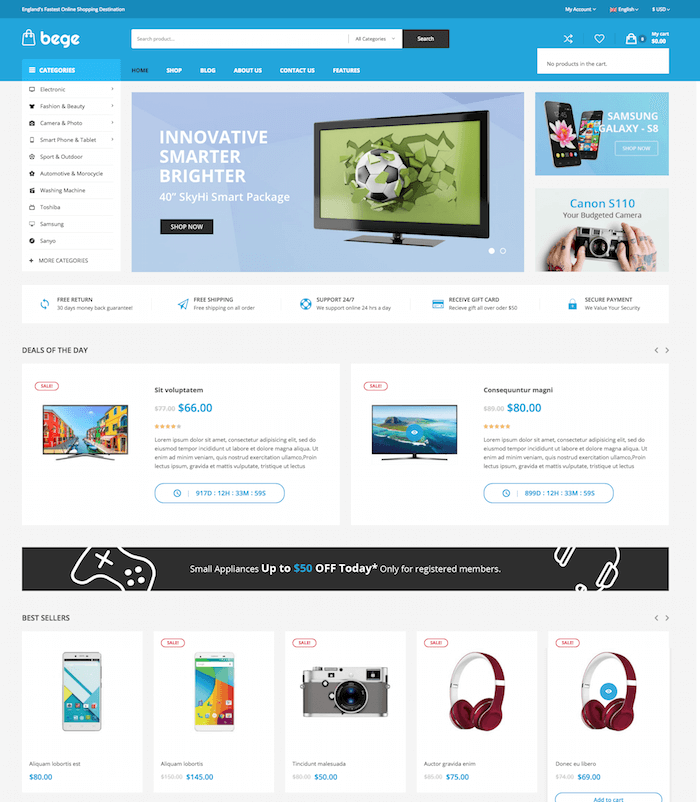 Geodeo
Geodeo is an easy and user-friendly theme that is highly customizable according to your needs. It helps you in modifying pages without even touching the files and codes.
Being one of the best themes for deals and coupons websites, it is really easy to use and resonates well with the big, bold line written on its search page, "The one place to save your money."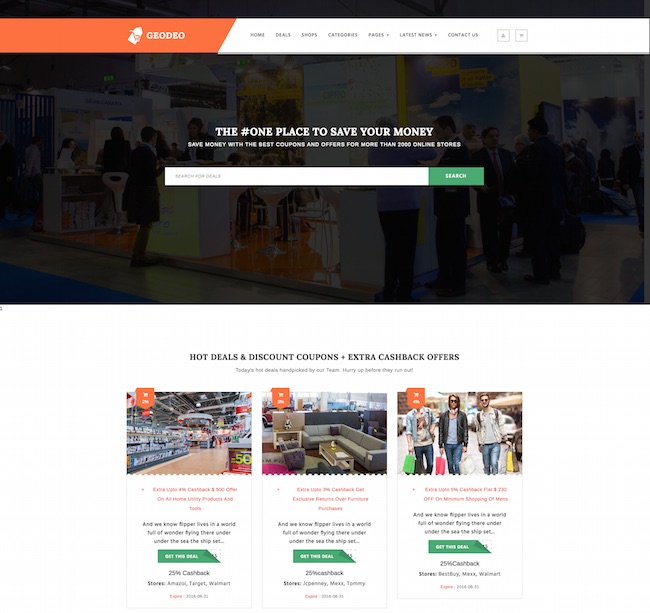 Caden
Caden is another beautiful daily deal WordPress theme with WooCommerce support. You can create a complete WooCommerce store with this theme.
It offers you amazing daily deal features to show you great deals with a discount amount and cunt down timer to maximize the conversion.
The Caden theme is loaded with features and options to make sure that your store looks like a professional and complete business.
It comes with some great looking ready-to-be demo design templates that you can import to use on your site quickly.
The theme offers you some amazing modules such as the daily deal module, great-looking product slider module, tab module, blog module, and a few others to make it engaging.
You can customize every section of the site to make it perfect according to your need. You can customize the header section of your site, include a user-friendly mega menu option, and more.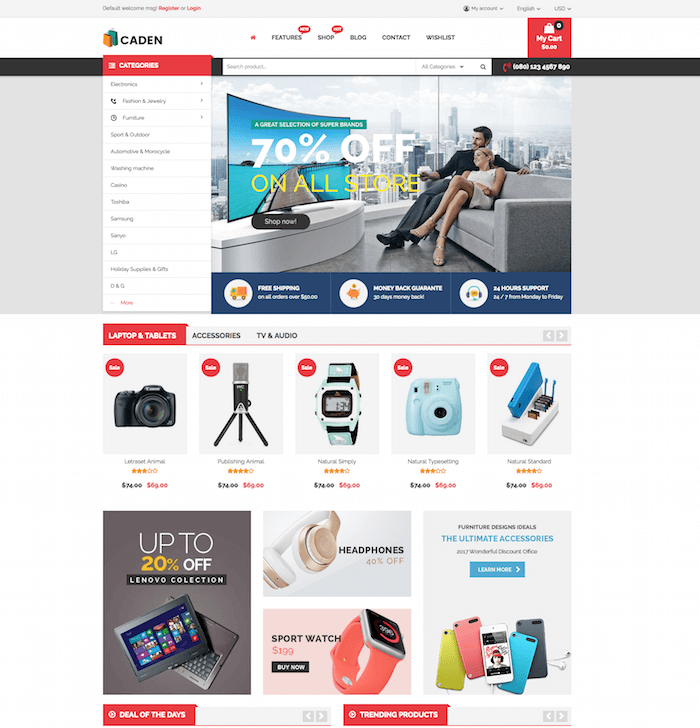 Sozo
Sozo is a mobile-ready theme that offers multiple variations to the homepage theme. Providing a full-screen layout, the theme can be customized concerning the color, font, background, etc. in your way. The multilingual template on the page also helps in dealing with different currencies.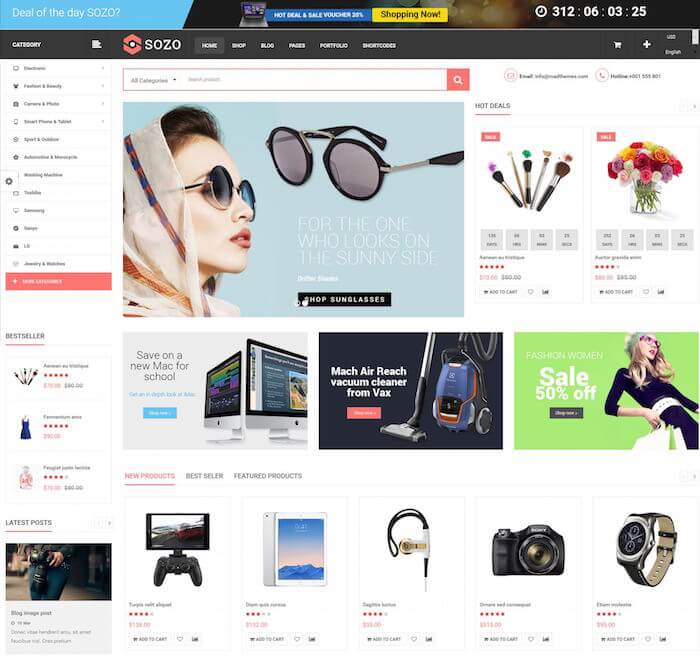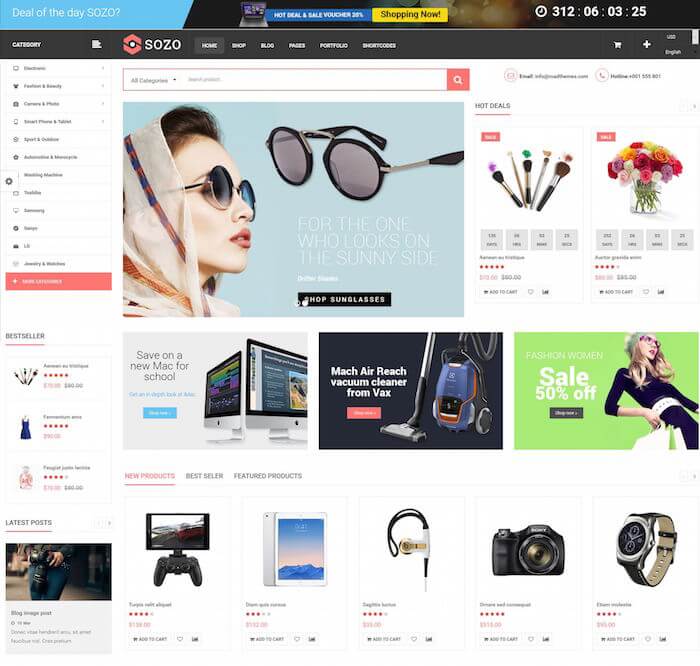 CouponXxl
True to its name, CouponXxl offers many useful features to magnify your website's visual appeal and user-friendliness. The theme comes with a unique credit system for your users that adds credit points to their accounts when they submit any deals and coupons.
The theme comes with many customization options along with seamless integration with payment methods such as PayPal, PayU, Skrill, etc.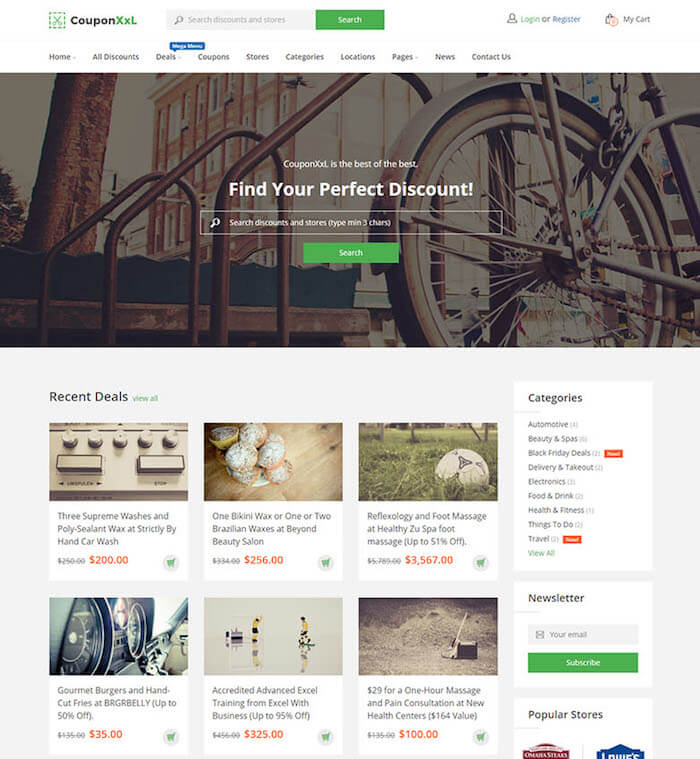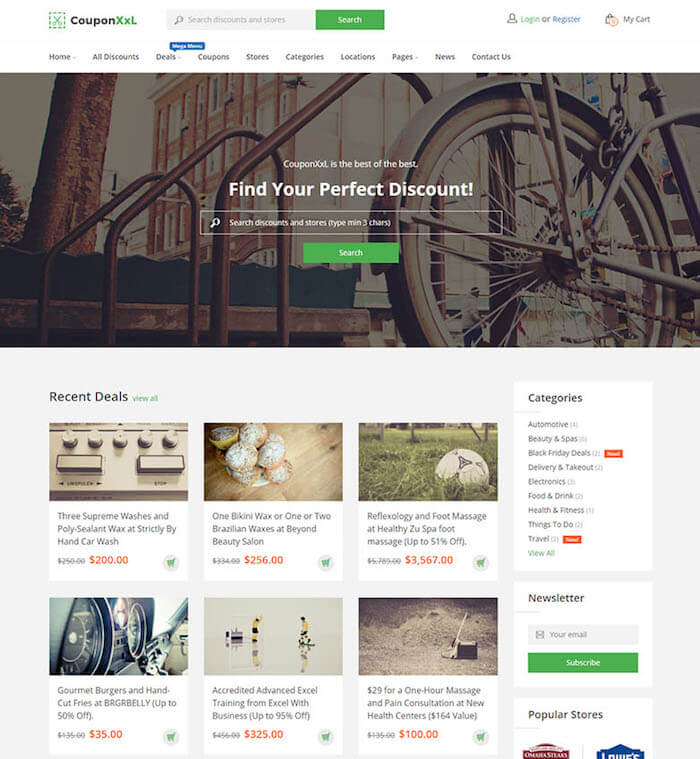 Coupener
Based on Bootstrap v3.1.1 and the latest version of WordPress, Coupener is one of the finest WordPress themes for setting up a user-friendly coupon and discount website.
The theme comes with a premium design built with many exciting features such as AJAX Search, mobile responsiveness, MailChimp integration, template options, and much more.
If you're looking for a theme offering a one-stop solution for design and features, then Coupener is the one you should go for.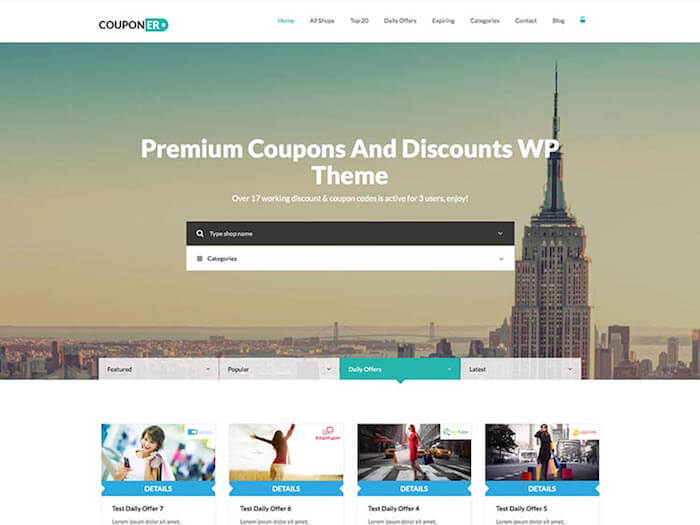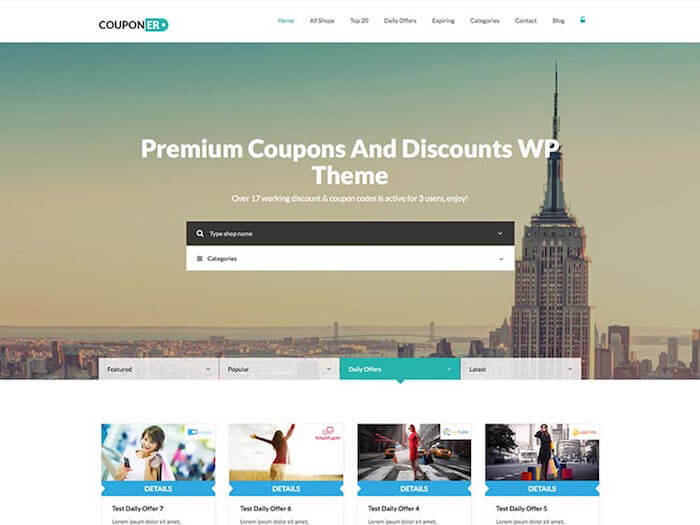 CouponHut
CouponHut comes with a spectacular video head and minimal design that primarily focuses on grabbing the attention of potential buyers on your site.
The review option for the theme helps your website to attain credibility and options such as coupon expiry and discount percentage invite huge traffic to your page.
Along with all this are the various shortcodes and page templates that help in speeding up the design process. Quite the package, this one!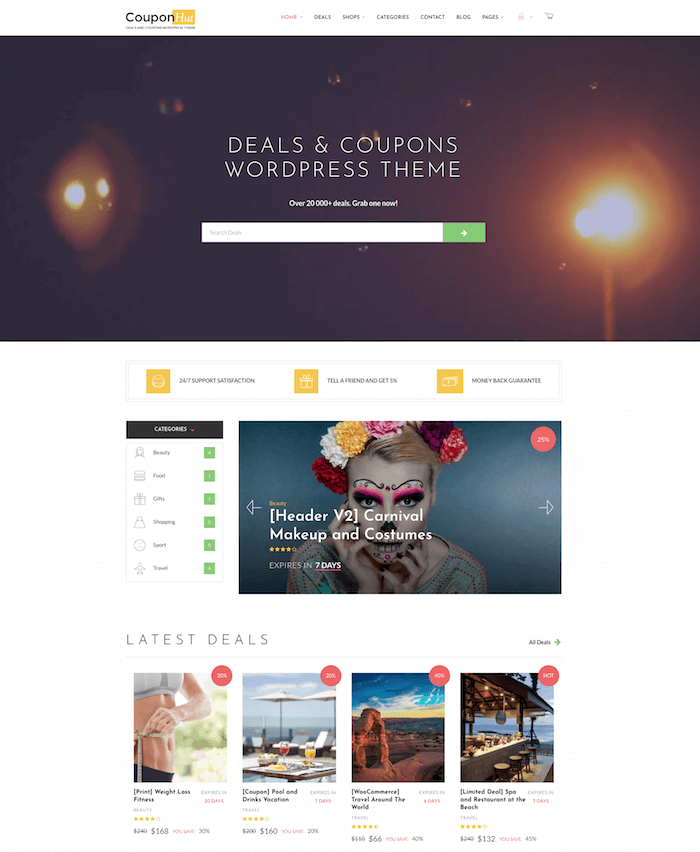 Clipper
Clipper is a wonderful theme that lets you set up your jumbo-saving coupon website, and monetize your traffic. It has a high integration with WordPress that enables you to sell coupons within minutes.
The theme is full of amazing features and is quite simple yet elegant. If you wish to spend less and attract more traffic, just go with the Clipper!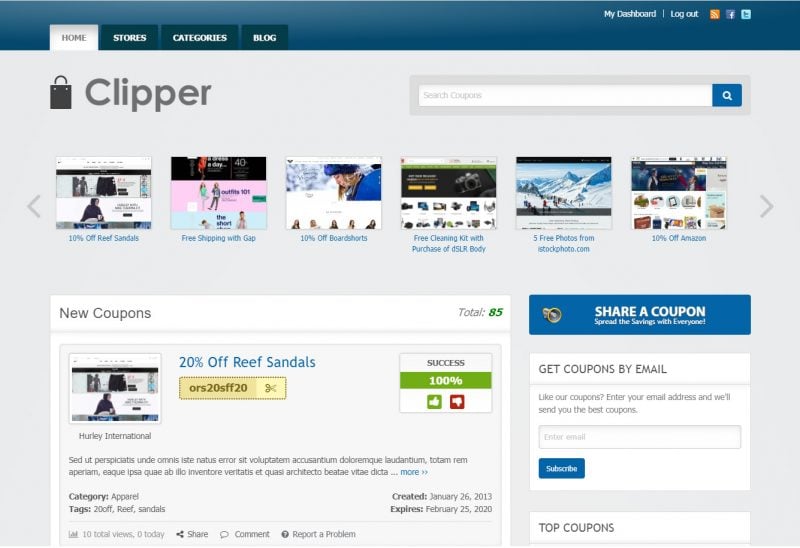 Dealpress
Dealpress theme is extremely useful if you wish to create deals for a specific target audience with similar interests. It comes with a custom post type to help you to publish your deals. The offerings can be customized using the tags like location, category, etc.
And since this theme can be seamlessly integrated with Facebook and Twitter, it is quite easy to share your deals and offerings on these platforms!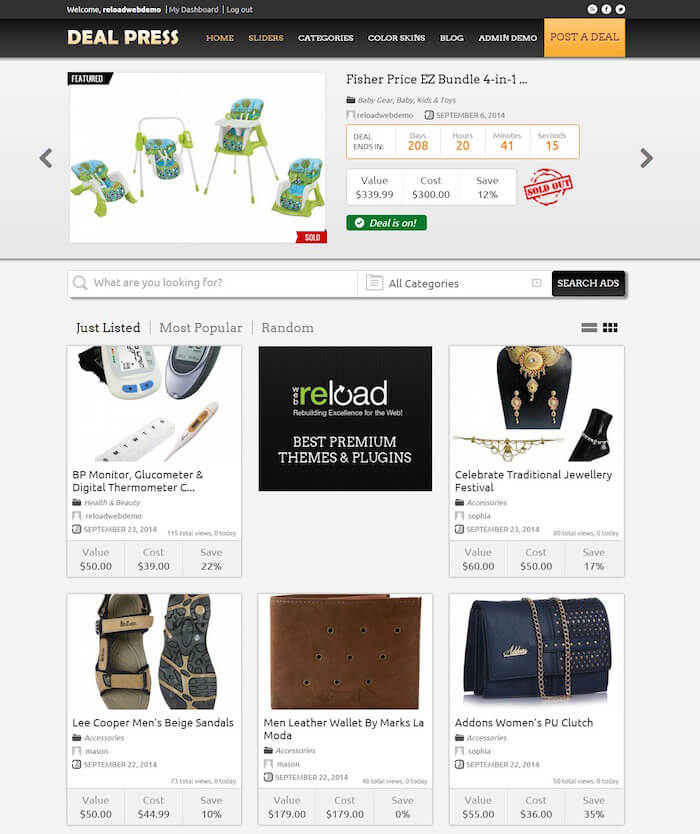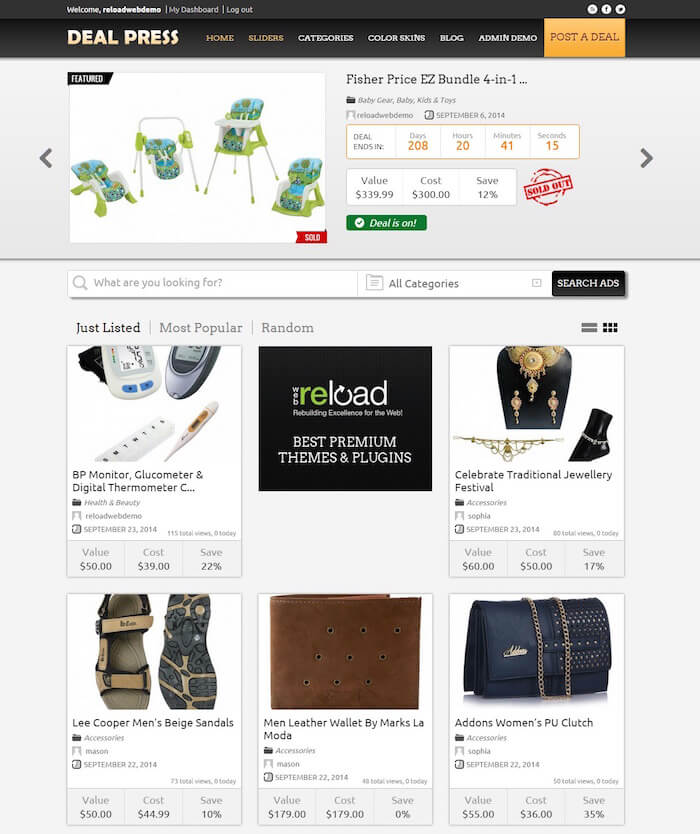 Coupon XL
Coupon XL helps in creating a daily deal website without much hassle and can be productively used to sell deals and coupons online. The theme lets you set up an SEO-optimized and fully responsive layout for any deals and discount website.
Coupon XL is a perfect choice for creating websites with affiliate marketing deals and also supports payment gateways like PayPal hence making it possible to offer promotions as well. Add to it the theme's offering of full membership systems, and you have a winner!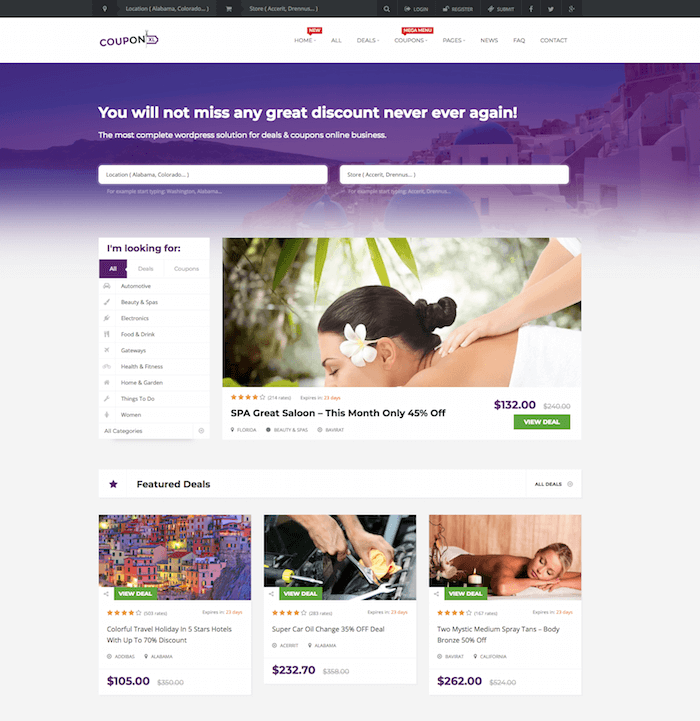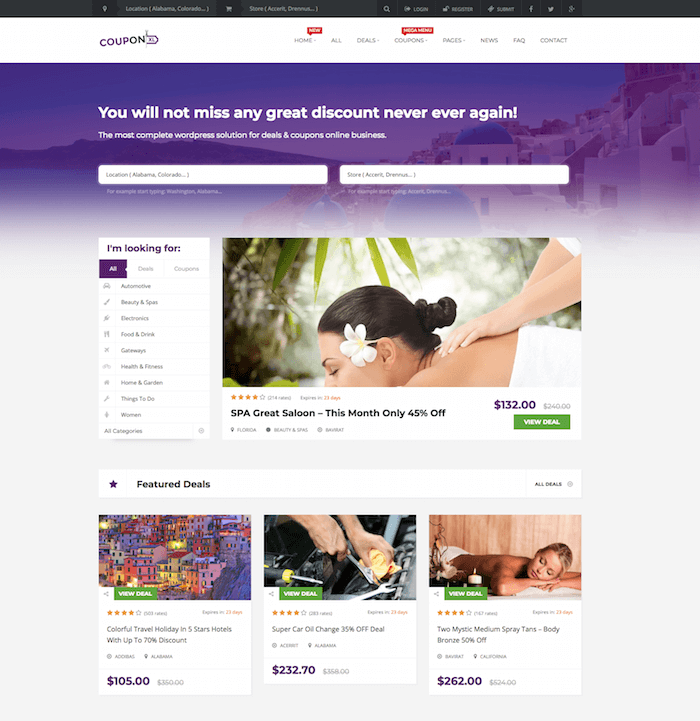 Daily Deal
Daily Deal will never let your website go out of the latest deals with its easy-to-use backend as well as front-end submissions. The theme offers an easy-to-customize widgetized homepage that can be built with the easy drag and drop builder.
Whether you want to create an affiliate deals website or a digital deals platform, Daily Deal is the ideal choice. The theme is seamlessly integrated with famous payment gateways like PayPal, Google Checkout, World Pay, etc.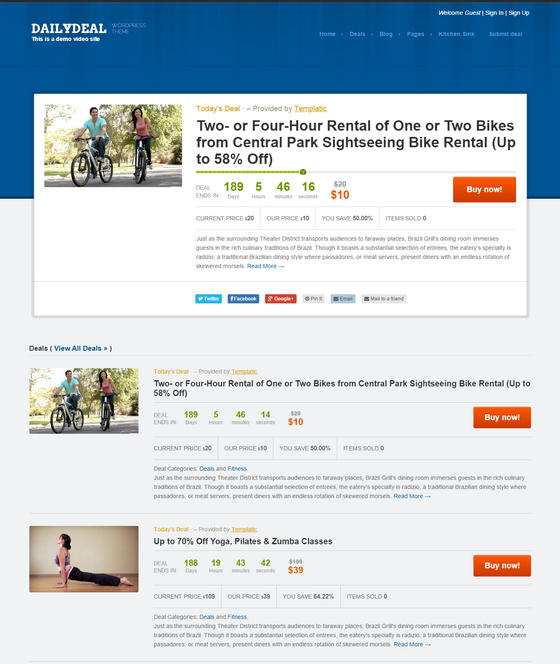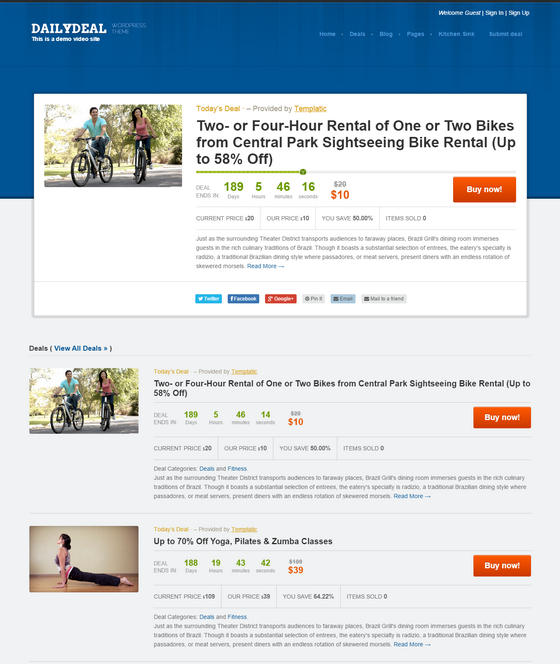 Style Shop
Style Shop is a theme that is centered on e-commerce and has everything you need to set up an online deal and offers business. It can be used on multiple devices and is even compatible with mobile devices.
Equipped with numerous page templates and shortcodes, Style Shop is an all-in-one business solution if you want to create an online deals website. The visitors of your website can filter their preferences and select the deals of their choice in a hassle-free manner.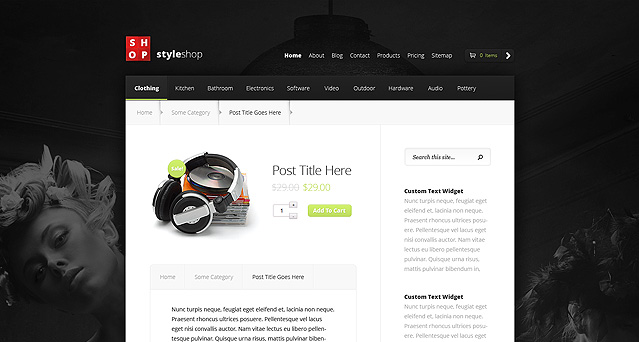 e-STORE
e-STORE is an amazing option for those who want to sell goods or create deals and discounts on their website. The theme offers integration options with various other e-commerce giants to make the deals and discounts available to the visitor all in one place.
Multiple payment gateways like PayPal and e-Shop are available, and if you want to establish your business online, this is the theme for you!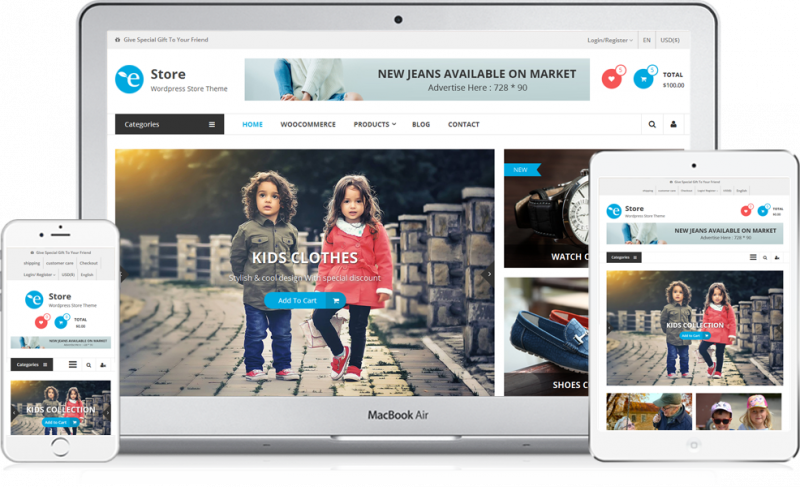 Divi
Divi Theme is one of the most popular WordPress themes available on the market. Though this is not a custom-created daily deal theme, you can use this theme to create any website including the daily deal sites.
Divi Builder plugin is the basis of Divi Theme which is one of the best drag-and-drop WordPress plugins; it offers you a huge collection of modules that you can use to create your site.
It also offers you some amazing rich page designs which are ready to be used. You can choose the design you like and get started with your site.
The theme is highly flexible and customizable, and you can customize the color, font, background, etc. of your website as per your wishes. If you are someone who knows exactly what your website should look like, Divi is the theme for you.
Divi is perfectly compatible with the WooCmooerce plugin to make sure that you can create an eCommerce site instantly.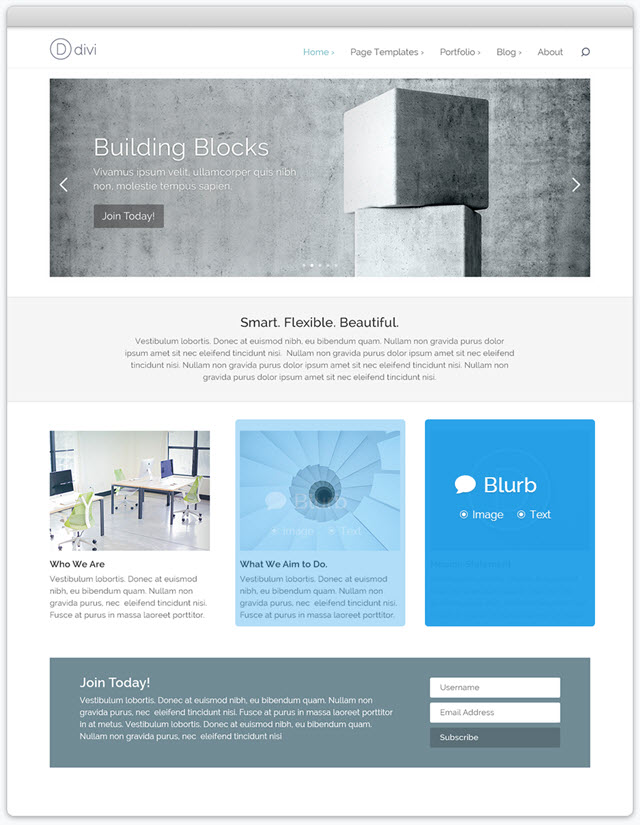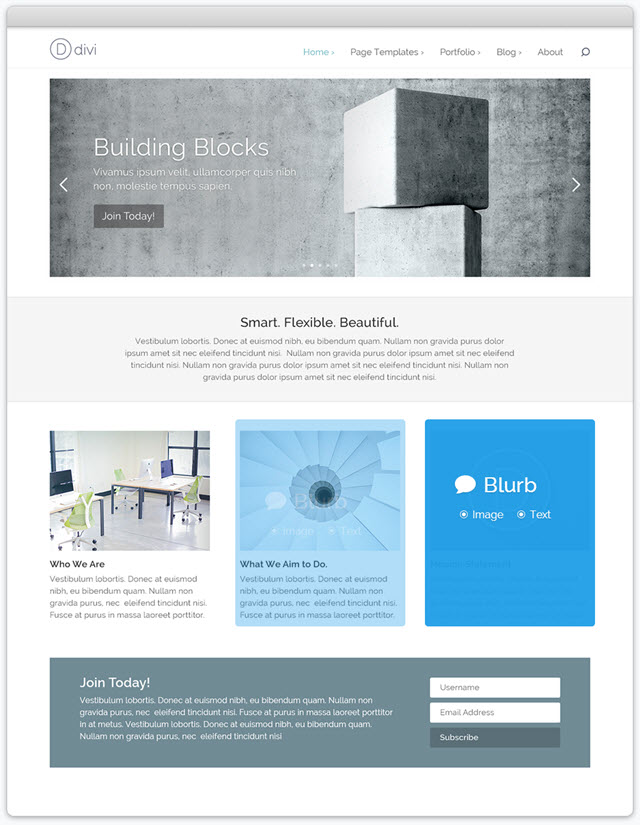 WordPress Auction Theme
As the name suggests, this is a daily deal and auction theme. You will have all the features and options that a high-quality traditional auction theme has.
This theme is designed to work perfectly on small screen devices, and it looks great on mobile phones. So, your users will be able to make the best use of your site on all devices.
This theme will not require any external plugin to create a successful deal site. You have all the required options built into the theme.
The auction theme comes with a powerful theme options panel that you can use to set up all the required details for your site.
This can be a long-term money-making venture for you. You can charge a percentage of each cell from the product owners for selling their products on your site. This feature is already there in the theme.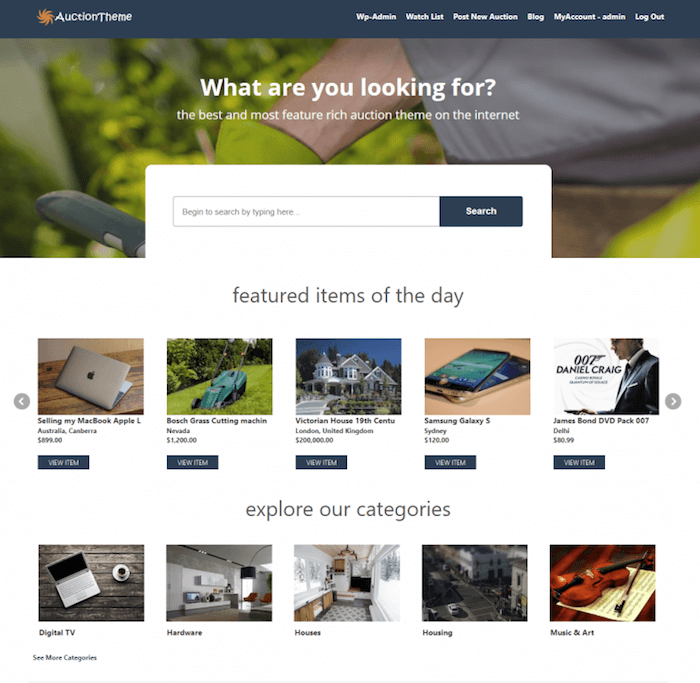 WP Groupbuy
WP Groupbuy is a great theme if you are looking to build a website with multiple merchant interfaces. The theme offers multiple payment gateways for the user to choose from along with supporting multiple languages as well as an inbuilt translator tool.
Moreover, WP GROUPBUY provides an amazing location as well as gift purchasing support.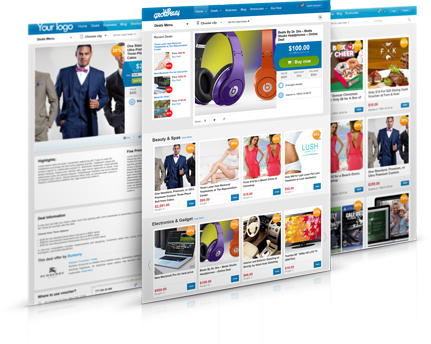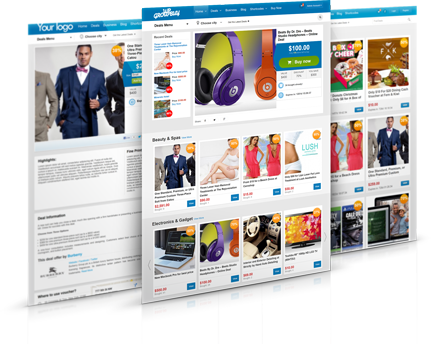 Final Word
The Daily Deals market is in its emerging phase. Your deals website is your identity on the web, and the theme you opt for will go a long way in shaping that identity and taking you along on the road to success.
There are huge companies making millions of dollars every month with established deal sites. But it is not a get-rich-quick policy; you have to work hard to make your daily deal site popular.
However, with proper marketing, you will be making a long-term evergreen business that will help you to make recurring revenue for years.
The themes mentioned about bring you all the features and options that will help you to create a daily deal site like Groupon almost immediately.
Choose wisely!