The top Amazon Affiliate WordPress plugins will help you to manage all your affiliate marketing-related needs quite effectively.
Most of the affiliate plugins mentioned in this article can handle all other affiliate platforms along with Amazon.
Affiliate marketing is one of the most widely used monetization methods on the internet. Most bloggers and online marketers promote affiliate products to make money.
There are marketers making 6-7 figure money every month only through affiliate marketing. If you know how to do affiliate marketing the correct way; the sky is the limit in terms of earning.
There are a few things you must know if you wish to make it big in affiliate marketing. 
The product you select can make a huge difference to your earnings, and it is not an easy job to find the best affiliate product that will work perfectly for your niche; you will need some research and testing.
You must stick to your niche-related products because that will ensure the best conversion.
If you are managing a site related to health but if you are promoting a web design-related product, it will not work because your audience is looking for health-related content, not web design.
The traffic of your site is another important aspect that will determine the amount of money you earn through affiliate marketing.
But, there are marketers who are making thousands of dollars every month with a few hundred traffic while some don't make much even with thousands of visitors.
So, you must do your research on what is working and what is not. Getting a targeted audience is a key to your success.
The best part about affiliate marketing is that you make money by promoting other's products, you don't need to create your product. All you need to do is to drive traffic to your site and make money.
Amazon has one of the biggest affiliate programs, and that's because of the wider range of products. So, there is something for everyone on Amazon.
If you have not yet joined the Amazon affiliate program; we have posted an article about how to get started with the Amazon affiliate program.
In this article, we have listed some of the must-use Amazon affiliate WordPress plugins that will help you to make the best out of the popular platform.
Also Read:
Top Amazon Affiliate WordPress Plugins
Lasso
Lasso is a very handy affiliate management WordPress plugin that can help you to increase your affiliate revenue. The theme offers you some amazing features to manage all your affiliate products and maximize your revenue.
The plugin can help you to create great looking affiliate product listing, it comes with a number of themes to select from. You can create an affiliate product grid and add into any of your posts. This will help you to optimize your product listing at the same time create new opportunities of generating revenue through all other posts.
The plugin comes with the affiliate link cloaking feature to help you create better-looking, SEO-friendly links for your affiliate products. This is an important feature when it comes to showcasing affiliate products. However, you need to check with Amazon if they allow you to change the link in any manner or not.
With Lasso, you can manage all your affiliate links from a single dashboard making it easy for you to keep a track of everything.
Another great feature of the plugin is that you can find new link opportunities within your content and check all the potential keywords where you can add your affiliate links. Once the plugin finds all the keywords, you can make the final decision whether you wish to add a link to a keyword or not.
This will help you to increase affiliate revenue with the same amount of traffic your site is receiving.
Create affiliate Link Boxes
Lasso plugin gives you the option to create affiliate link boxes to make sure that you can showcase the most rewarding affiliate links in all your posts as per your wish. These boxes are created with the link and some description about the products or the affiliate link so that your users are aware of what they are going to click.
So, while it gives you the option to increase revenue, it maintains the sanctity of your site by giving clarity about the link.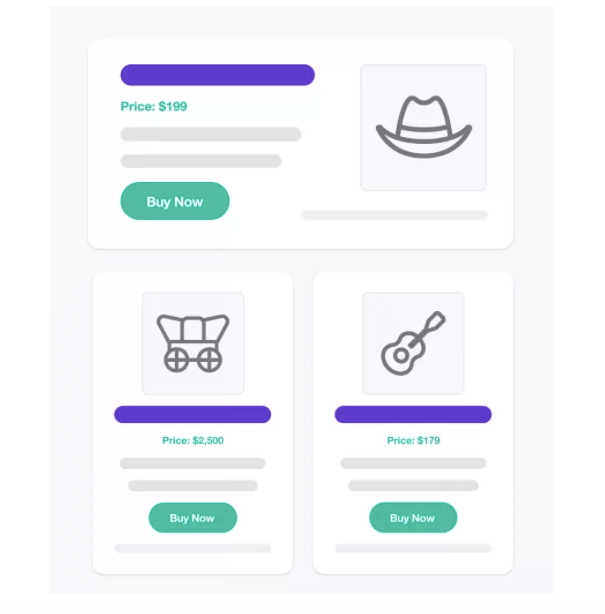 Create Optimized Affiliate Product Lists
With Lasso, you can create highly optimized affiliate product lists. This can be a great option for Amazon affiliate sites, you can create product lists with the image and descriptions of the products to display on your site.
The plugin offers a number of different design themes to choose from when it comes to creating product lists.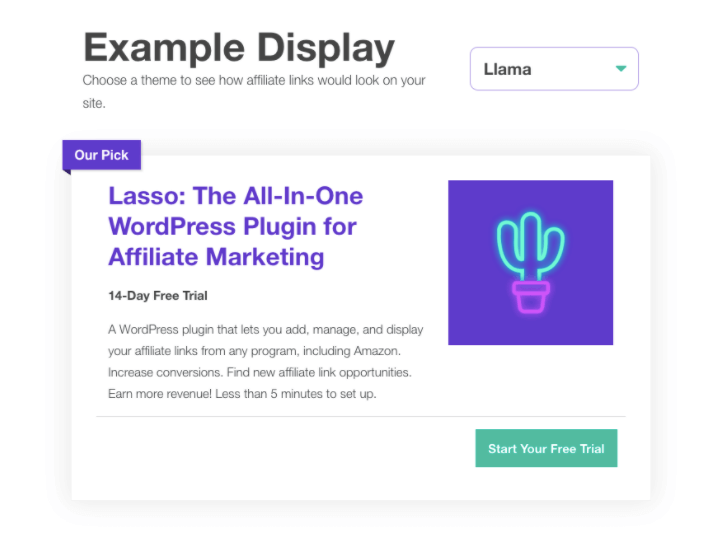 AzonPress
A comprehensive Amazon WordPress Plugin, the AzonPress is quick and simple to get started.
The plugin will make sure that you are able to update products and manage your affiliate store with ease like a pro.
AzonPress makes it super simple to start an Amazon store with your affiliate link and make money almost on autopilot.
The plugin gives you the option to update products automatically. You can add as many products as you need to offer a variety of options to your customers.
Another important feature is the tabular presentation of the products so that the users can check all the features in a simple and understandable interface.
You have to just select the products and the plugin will automatically create the table for you.
In fact, it will create an amazing product comparison table so that the users are able to make better buying decisions.
Here is a glimpse of a product comparison table.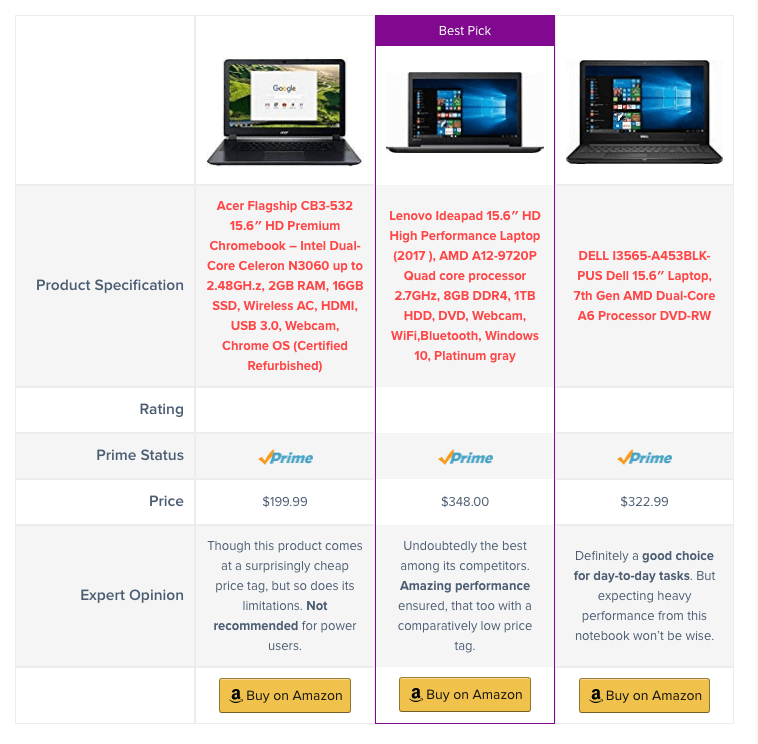 As the Amazon affiliate program runs in multiple countries and the products, and rates are different in different countries, the plugin gives you complete control over the geo targetting.
So, if you are looking for a top-quality premium Amazon plugin, AzonPress is certainly one of them.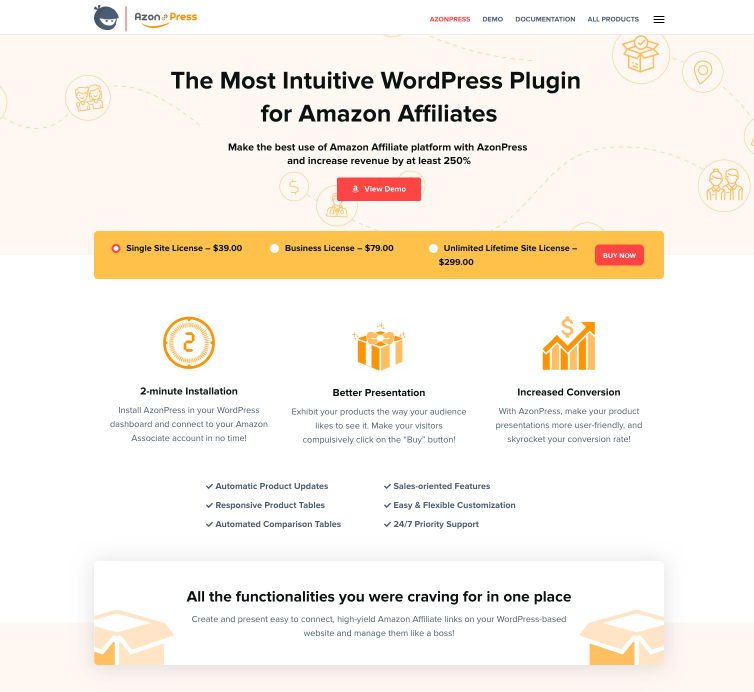 ThirstyAffiliates
One of the best affiliate marketing plugins for WordPress, ThirstyAffiliates is a must-have for active affiliate marketers.
This plugin is used by most of the leading marketers and bloggers who use affiliate promotion as their main money-making program.
This plugin will make sure that you make the best out of your content and do it the correct way. This plugin can do some different activities on your site.
This is primarily an affiliate link cloaking plugin to mask the affiliate links which is very important from the SEO and user experience point of view.
This plugin can do a lot more than just mask your affiliate links; it can automatically link your keywords to your affiliate links making sure that you never lose a penny from your content.
Just provide your keywords, and the corresponding links, and this plugin will keep doing the job for you on automation.
This plugin can create geolocation links through country targeting. The link fixing feature will make sure that your links are always up to date.
As we are talking about the Amazon affiliate here, this plugin is competent to integrate and import from the Amazon API.
Other than the features mentioned above, this plugin offers you quick and complete integration with Google Analytics and offers you complete statistics.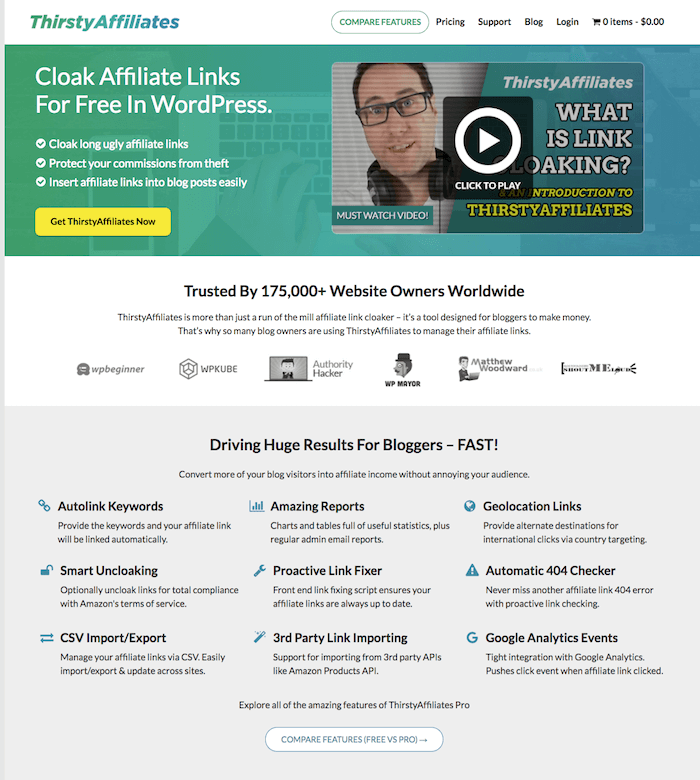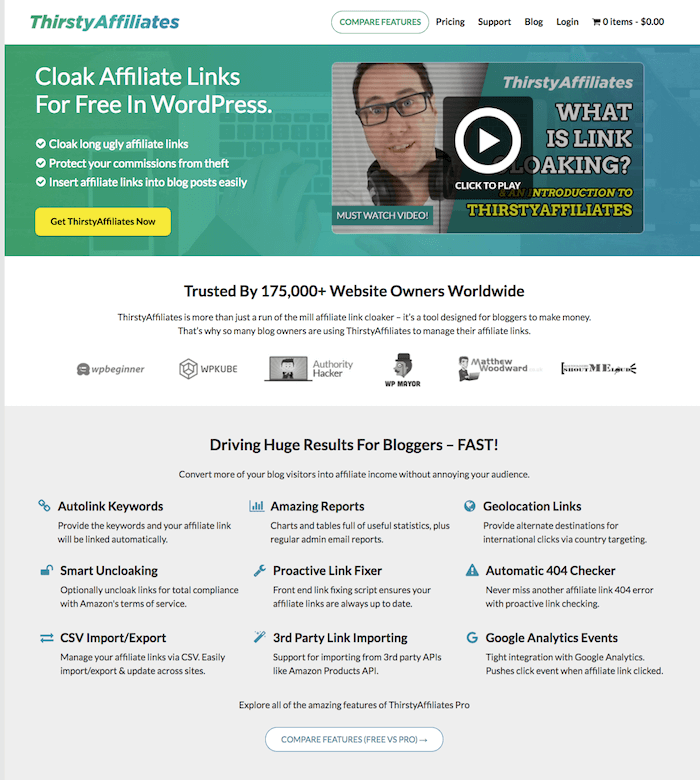 Amazon Affiliate for WordPress
As the name suggests, this plugin is custom created for the Amazon affiliates using the WordPress platform. This is a comprehensive plugin and if you are an active Amazon affiliate user; this plugin will be a great support for you.
In fact, you can combine this plugin and WordPress to create your complete Amazon affiliate site and start making money from the very first day.
There are some marketers who create custom niche affiliate sites based on Amazon products and make huge money every month, and you can do that too with this plugin.
This plugin can send any text to corresponding product links automatically saving a lot of time for you. It offers you a shortcode to display one or multiple products on any page or post.
It offers you the best-selling widget option where you can display the top-selling products from any keyword base and show any number of products according to your choice.
There are some other amazing features offered by this plugin. This is a highly recommended product for active Amazon affiliates.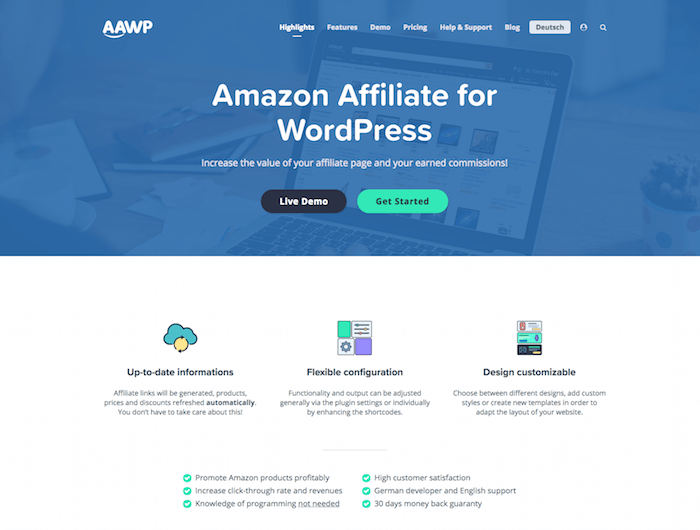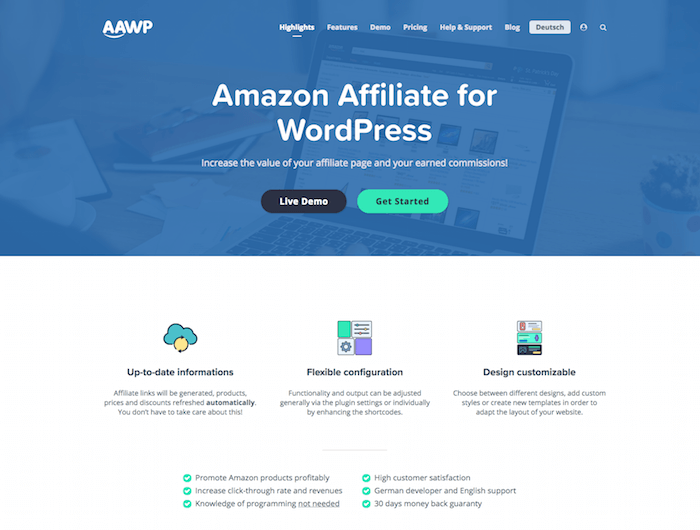 WooCommerce Amazon Affiliates
An interesting and effective plugin for Amazon affiliates using the WooCommerce plugin. With this plugin, you can easily import Amazon products into your WooCommerce store.
This plugin also offers you the option to the keywords search for more product suggestions, and that makes a huge difference to your affiliate business.
It can save a lot of time for you by suggesting the best and related products that you can promote on your site.
For example, if you are managing a store related to a book, the keyword suggestion feature will help you find other related books that you can promote on your site.
This plugin can import the products and Synchronise them how you have set them. This is one of the top-selling affiliate plugins for WordPress, so it is tried and tested already.
We have also listed some of the must-have WooCommerce plugins; you will find some very useful plugins in that list if you are using WooCommerce.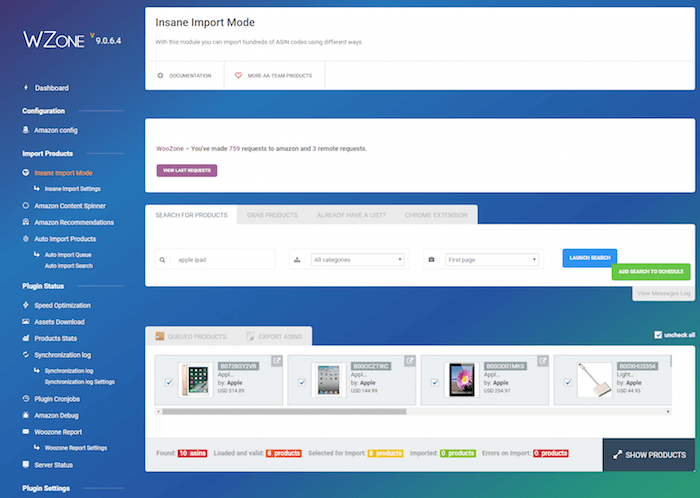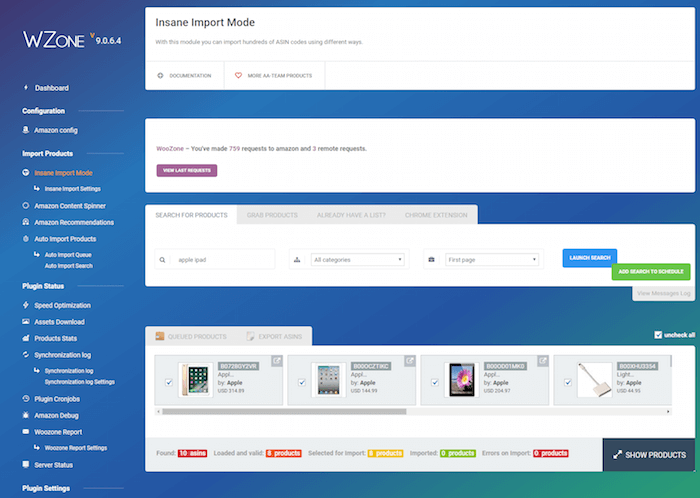 Amazon eStore Affiliates Plugin
This is another very useful WordPress Amazon affiliate plugin; you can use this plugin to create your Amazon online store.
This plugin offers you a pack of a few other very useful plugins like the Slider Revolution, and Visual Composer for free; so that you can create the perfect affiliate business site.
You can import Amazon products to your store with this plugin and showcase them on your site.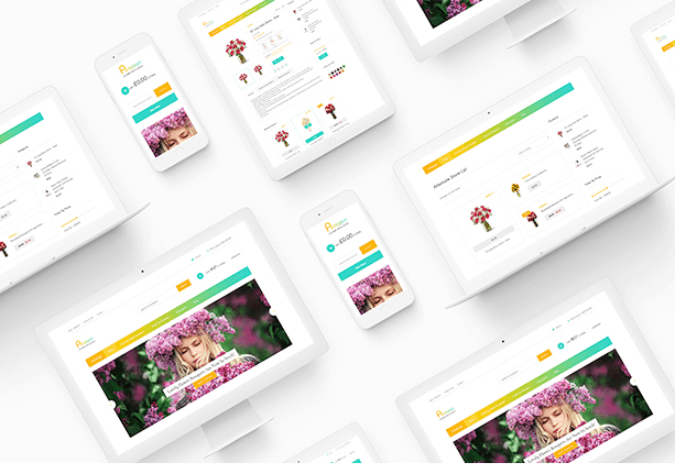 AdSanity
AdSanity is a complete advertisement management plugin for WordPress sites. This plugin can take care of a lot of things as far as your ads are concerned.
You can create as many as you want and rotate them to show each one at a different time. It offers you complete statistics of your advertisements on your site making it easier for you to know the performance.
Once you activate the plugin, it will create the admin settings for this plugin where you can manage all your advertisement-related settings.
It comes with a sidebar widget where you can create a single advertisement as well as a group of ads as per your requirement.
It also offers you the option to set the end date for any advertisement, or you can create infinite ads if you need to.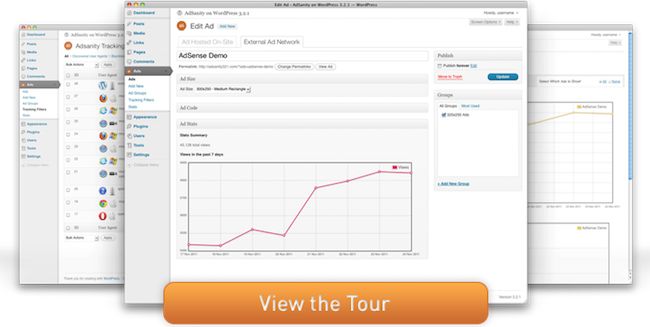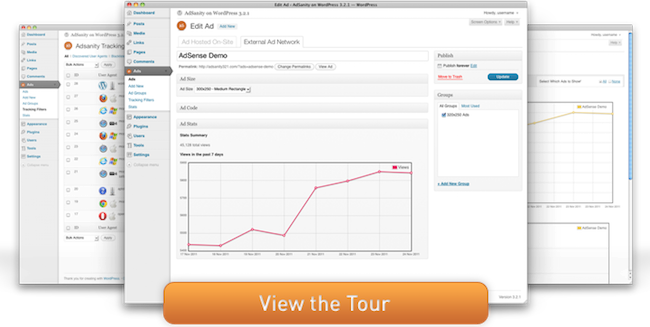 Amazon Product in a Post Plugin
A simple free Amazon WordPress plugin that you can use to add Amazon products to your WordPress posts or pages.
You will need access to Amazon API to use this plugin. Please note that a lot has changed after Amazon introduced API 5.0. Please note that having access to API doesn't always mean that it is active as well, so you need to make sure that it is in an active state.
If you were using an old API, you need to migrate to a new API before you can take the advantage of this plugin.
Please note that this plugin will not be useful until you have proper access to Amazon API and it is active.
Gives a quick option to add Amazon products to your posts
Add custom Amazon products that are a perfect fit for your post.
Add as many products as you want
Offers product elements, a product grid to make things easier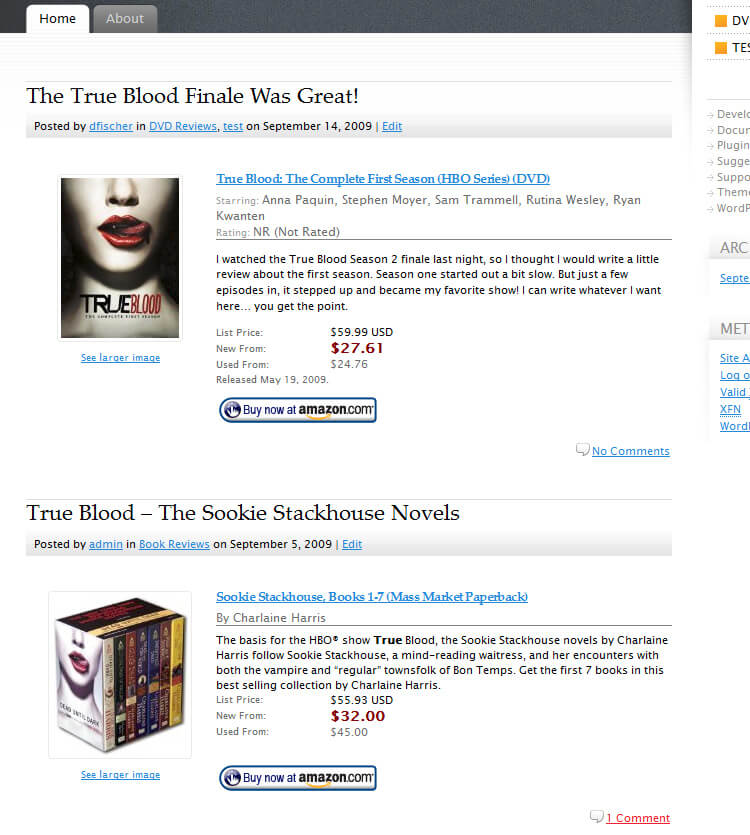 EasyAzon: Amazon Associates Affiliate Plugin
If you are a regular Amazon affiliate, this free plugin can be a life savior for you. This plugin helps you to create a text link for your Amazon affiliate products without going through the tedious process of creating links.
This plugin supports all the locations where Amazon associate network is present to make it super easy for the users.
It also takes care of the SEO of your site by offering a no-follow tag to the links and opening them in the new window option.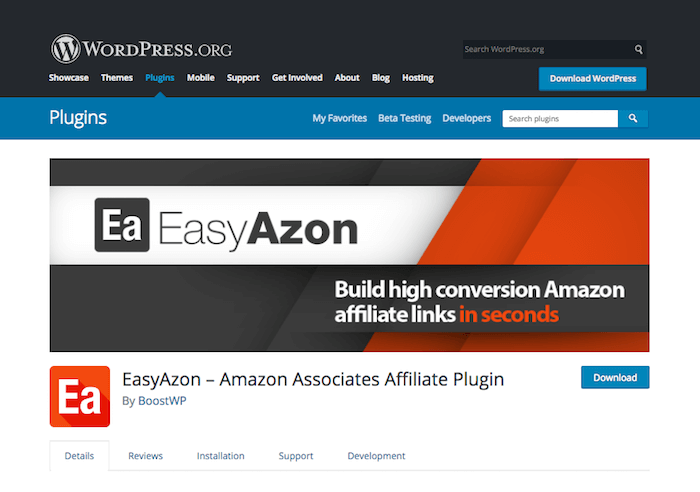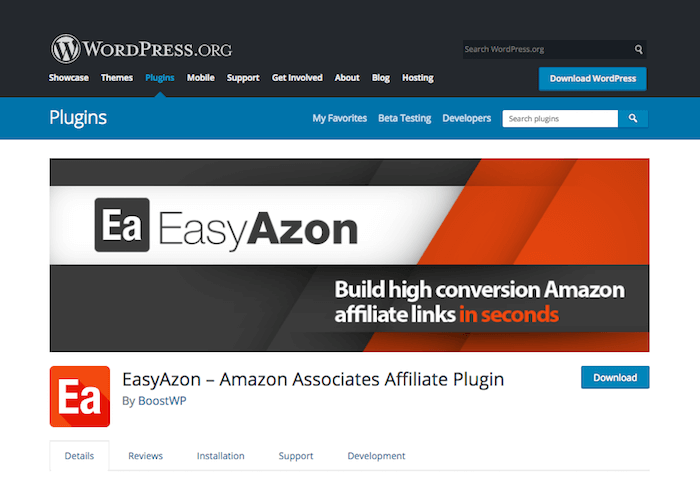 Amazon Link Engine
A very useful free Amazon affiliate WordPress plugin. As you know, Amazon is an international site that is localized for different countries; if you wish to earn an international commission, this plugin will help you to get that done.
As you install and activate this plugin, the Amazon product links are instantly localized to make sure that your users from different countries don't face any issues while using purchasing through your site.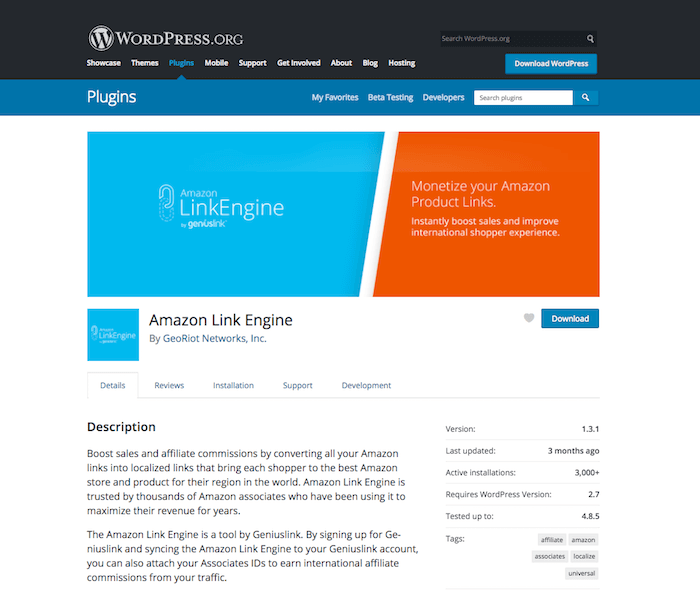 Easy Affiliate Link
Another very useful affiliate link management plugin that will help you to cloak your affiliate links at the same time you can leave some links uncloaked to be in line with Amazon policies.
This plugin offers you the option to categorize all your affiliate links and keep track of each click. You can check the monthly stats as well as lifetime stats for your affiliate links.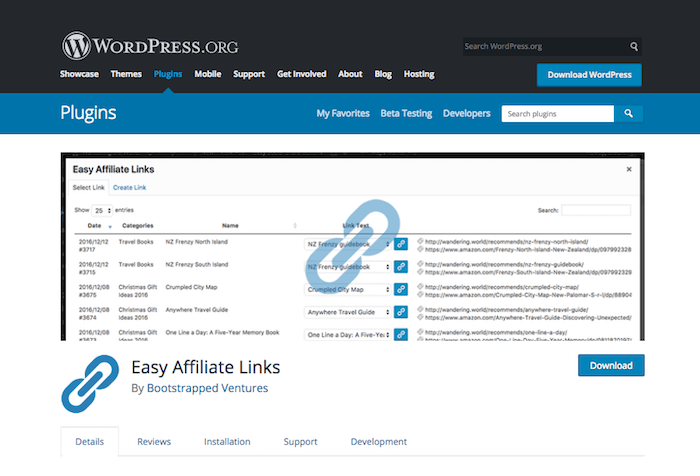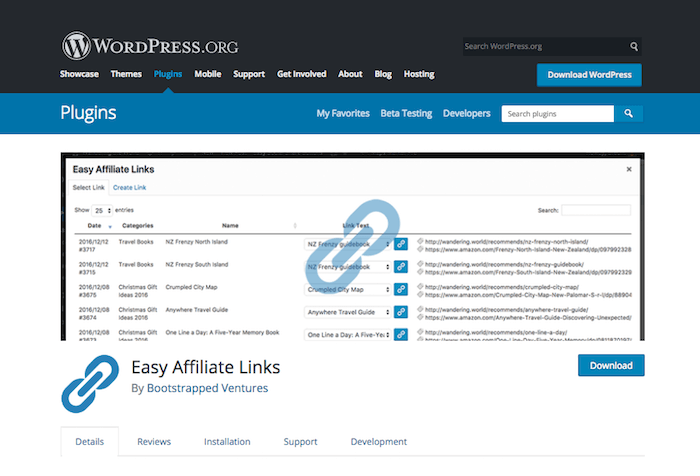 WP Offload S3 Lite
User experience is the most important thing for any website and the loading time of your site can make all the difference. So, you need to make sure that your site loads quickly offering a great user experience.
The images and videos on your site are the main elements that increase the loading time of any site. With this plugin, you can get that issue sorted.
If you manage an Amazon associate store, I'm sure there will be some product images that will impact your site, with the help of this free plugin you can serve the images and other attachments on your site from the Amazon S3 server.
All the images, media, videos, and documents that you post on your site through the WordPress media uploader will be replaced by Amazon S3 URL making your site quicker.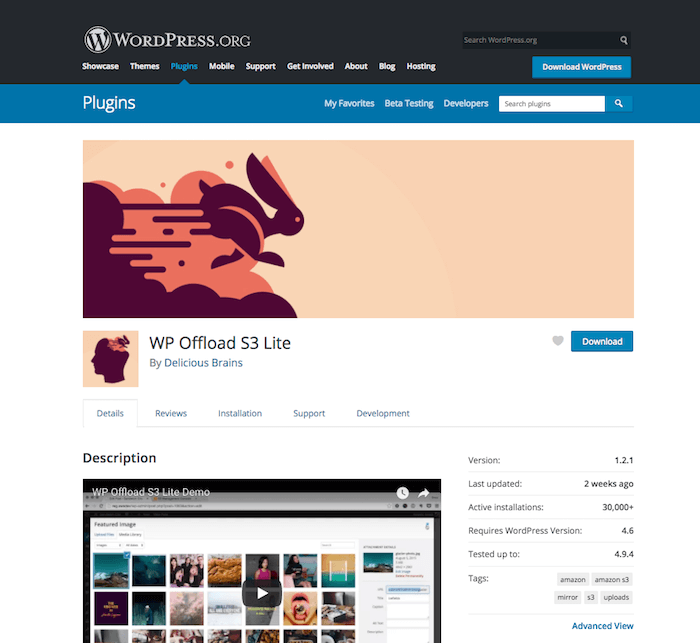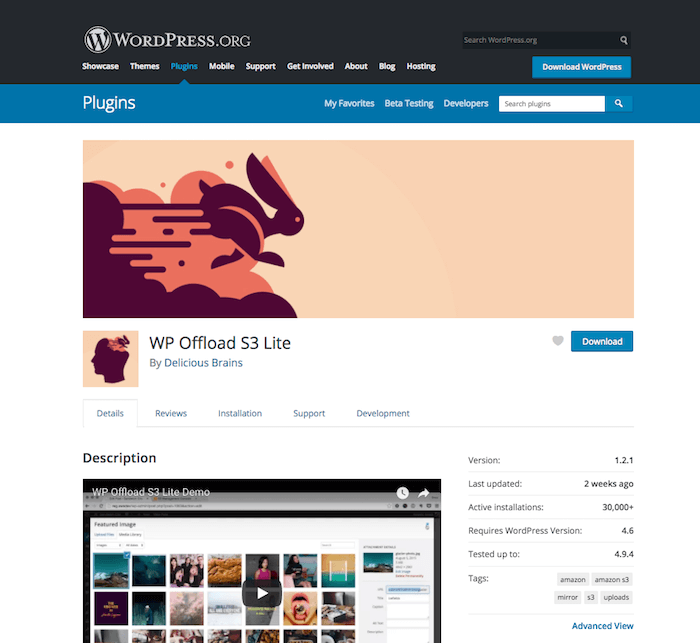 Amazon Auto Links Amazon Associates Affiliate Plugin
It's a free WordPress plugin for Amazon associates. This is a very useful plugin for Amazon associates to make sure that your site is always updated with new products.
If you do everything manually, you will have to go and remove the outdated old product links manually. If you manage your site with this plugin, it will replace the old products with the new latest products.
You can fully customize how you want to display the products with different parameters to define like image sizes, localization, link style, and more.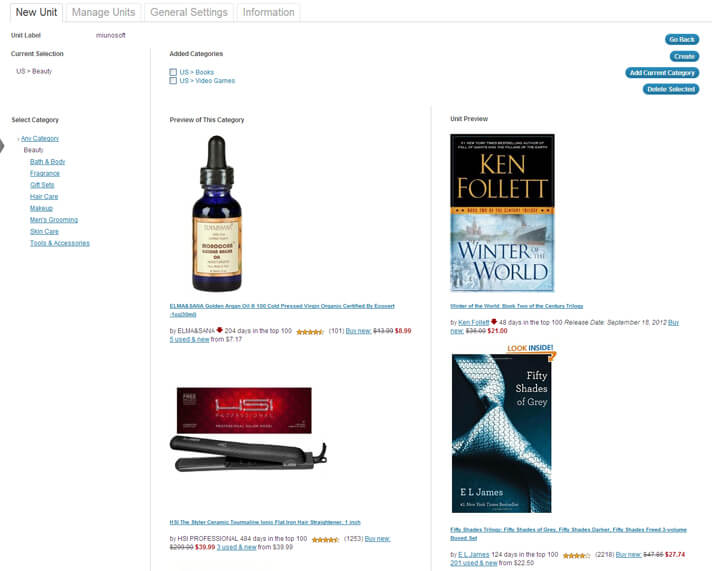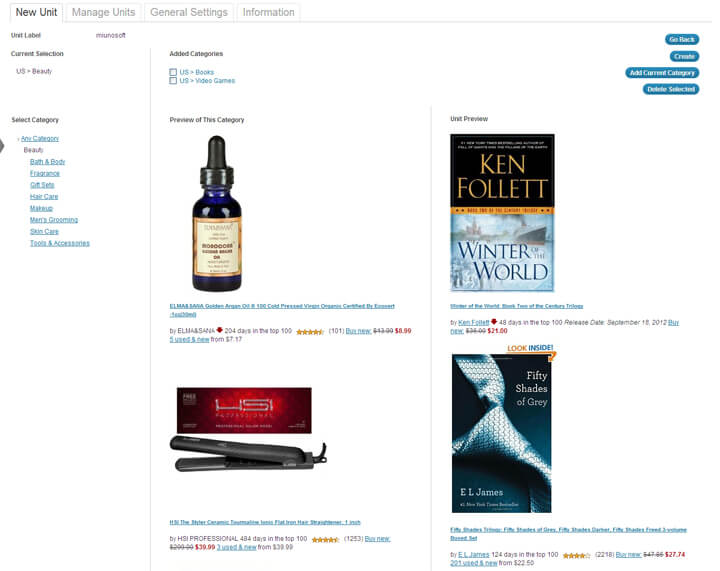 Pretty Link Lite
Pretty Link Lite is a free affiliate link cloaking WordPress plugin to mask ugly affiliate links. No matter you are an Amazon affiliate program or some other affiliate program, it is extremely important to mask the links properly before publishing.
The affiliate links are generally very long and come with many elements attached to it. This plugin will help you to redirect those links with your domain and shortened links.
Another useful feature is the stats it provides you. It will keep the number of clicks on any link you have masked using this plugin.
It comes with a pro version as well that offers you some useful features such as automatically replacing keywords with your affiliate links, adds some other redirection types, and more.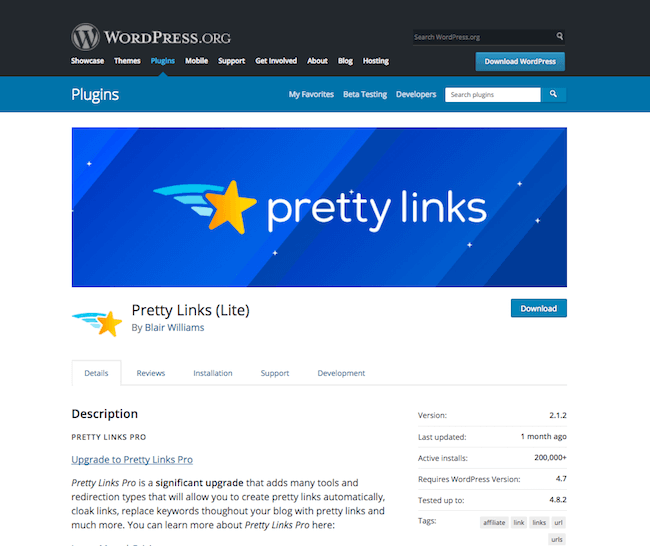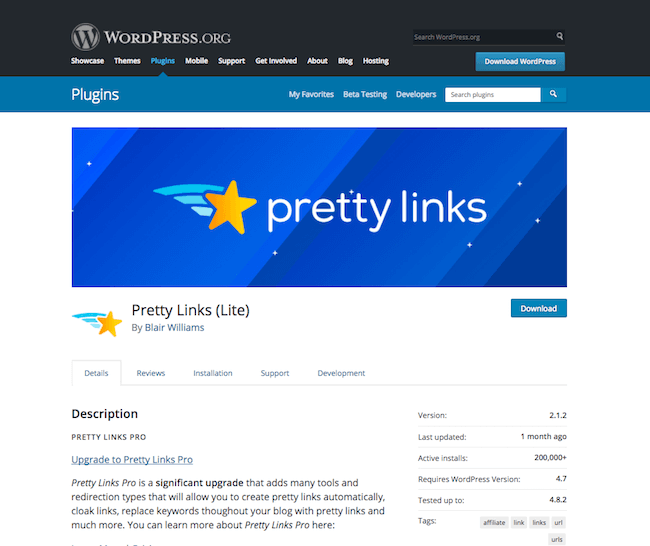 Auto Affiliate Links
Another very useful free plugin for affiliate marketers. On activation, this plugin gives you the interface to manage all your affiliate links and keywords.
This plugin doesn't modify your content in any way, but it can automatically add affiliate links to your keywords. You can also decide to add the links manually to the keywords on your pages.
This plugin works perfectly with many other leading affiliate platforms along with Amazon such as Clickbank, Shareasale, eBay, Walmart, Commission Junction, BestBuy, and Envato Marketplace.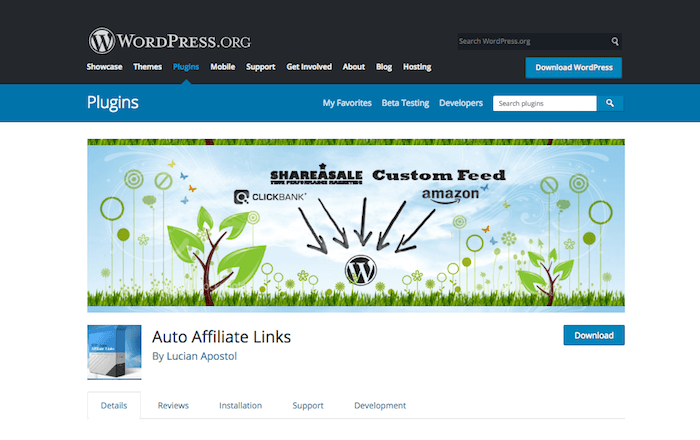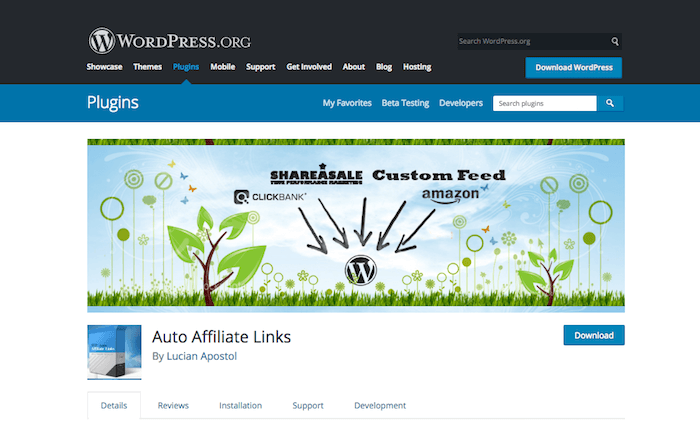 Affiliates
As the name suggests, this plugin is created for overall affiliate marketing and to make a good amount of money from your online business.
You can make the best out of this plugin by incorporating it with many different platforms such as eCommerce, memberships, forms, lead generation, etc.
This plugin offers the best possible solution for affiliates, store owners, and eCommerce businesses to make sure that you can manage it smoothly.
This is one of the most powerful solutions to track partner programs and affiliate links free of cost.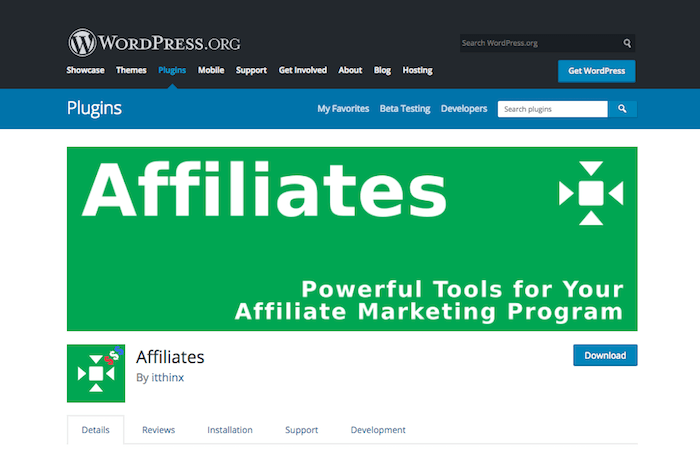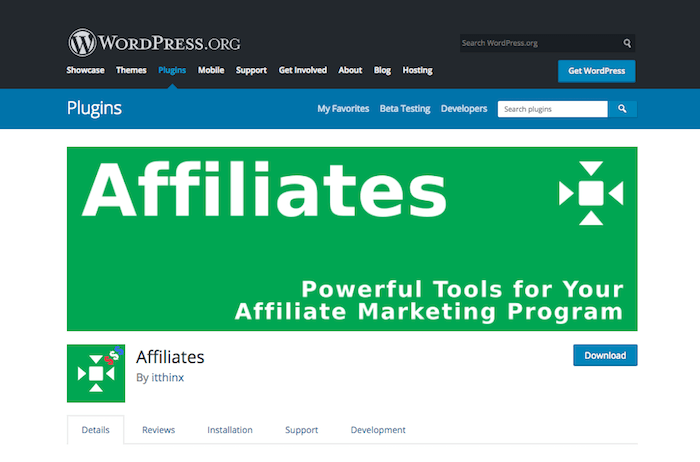 Final Word
The above-mentioned Amazon affiliate WordPress plugins are some of the top options for affiliate marketers to make sure that you do it effectively.
Amazon is one of the leading money-making platforms for millions of people from across the world; you can do it too. You just have to create your store and do some promotions.
Hope these plugins will help you to get your work done and make a good income from the Amazon associate program.
If you come across any other useful plugin that should be listed in this article, please do mention that using the comment form.