Facebook has been the primary reason for many people jumping on the social networking and online marketing bandwagon.
With its highly user-friendly layout incorporating text, images, videos and other forms of content, Facebook's layout is an ideal choice for many bloggers who want to do something different with their website's design.
And why not? The timeline style design of Facebook can be a perfect fit for websites that want to integrate social networking amongst the members of the website and present their content in the form of a timeline.
If you think that creating a Facebook timeline style website is an arduous task, you are mistaken!
All you need is the right WordPress theme, and you can make your website stand out with its unique and interactive design.
Read on to find great Facebook timeline style WordPress themes below
---
Flatco
Flatco is a highly responsive multipurpose WordPress theme. Flatco is multilingual and comes with some awesome features like 250+ font icons, custom widgets and shortcodes, a unique and classic menu, 28-page builder elements, unlimited containers and what not!
The theme comes with Bootstrap compatibility which means the website can be set up without any coding and any hassle.
There are five custom post types and nine custom post formats that you can choose to keep your Facebook timeline style website classy and interactive.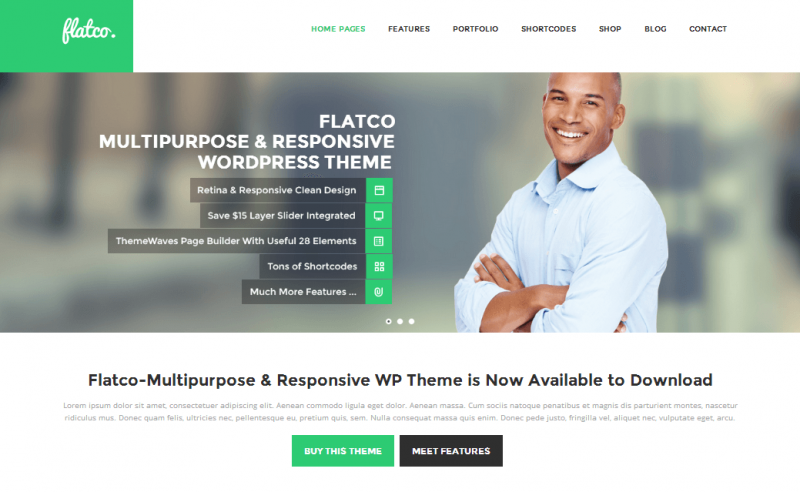 Shareit
Shareit is one of the best themes for setting up a personal blog or travel, wedding, sports or culinary blog. The theme's most distinguished feature is the super amazing glass effect option which gives a block-like look to the blog, making it trendy and modern.
It is a highly responsive theme and works smoothly on a laptop, an iPod or a mobile phone. Shareit is an ideal choice for those who want an elegant look along with the Facebook timeline style layout.
The theme also comes with a visual slider plugin that helps you to create beautiful pages without any extra efforts.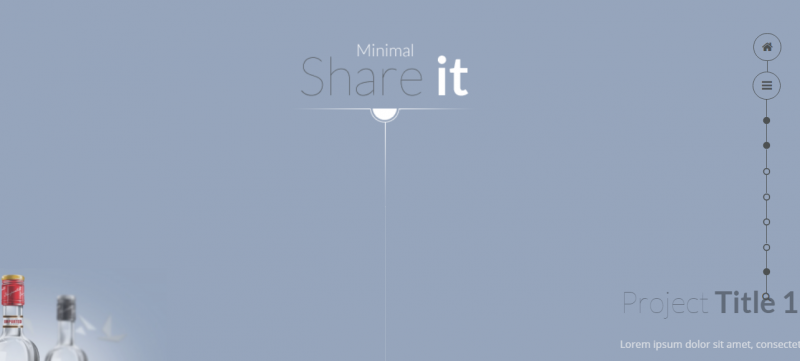 Falco
Falco is an outstanding WordPress theme that incorporates many useful features to add an interactive and modern look to your website.
The Muffin Builder adds up to the visual appeal of the website with features like general settings, layouts, sidebars, background, etc.
The theme comes with detailed credentials and unmatched support thus making it extremely easy to setup and install into a website.
There are four predefined skins in the theme that you can choose from and these can also be customized as per specific needs.
Falco offers five blog layouts and six portfolio layouts that make it a perfect pick for creating a Facebook timeline style website.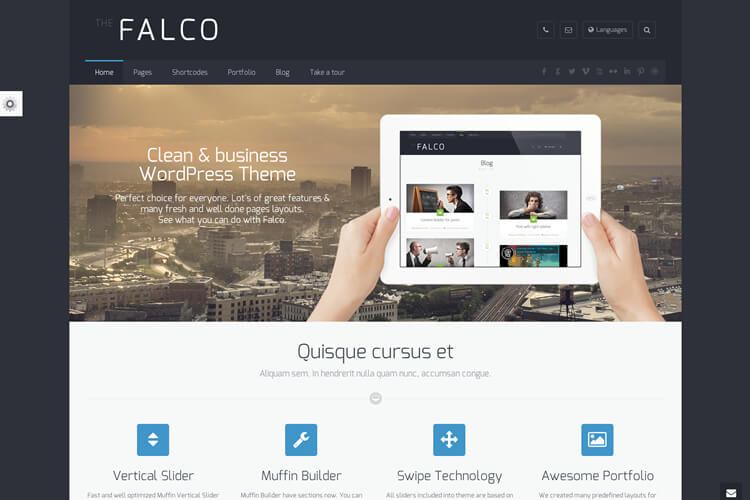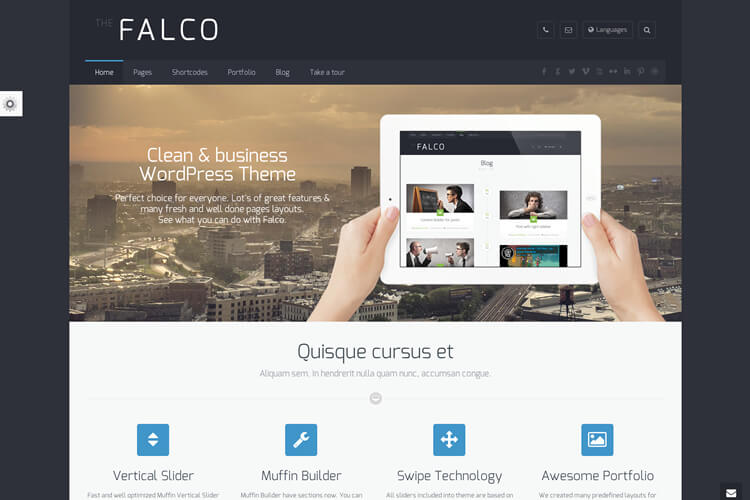 Chronology
Chronology is an elegant looking WordPress theme that comes with a masonry post display and offers a design layout that includes almost all essential elements of the Facebook timeline.
It has an options panel at the top from where you can configure and customize your timeline just the way you want.
The theme has an amazing variety of colors, fonts, and backgrounds, and features such as WooCommerce integration to keep your audience engaged.
The chronology also has many widgets and shortcodes that can be customized to build a Facebook timeline style website catering to any niche.
Sann
Sann is a uniquely designed WordPress theme best suited for personal blogs. The theme is easy to use and enables you to quickly share your photos, videos, notes and many other posts in the interactive Facebook timeline styled layout.
There are various post formats in the theme like a quote, link, standard, status, etc. to name a few. Sann is a highly responsive theme and is compatible with multiple devices.
Other useful features like a drop-down menu and a great design will further help you present your content beautifully.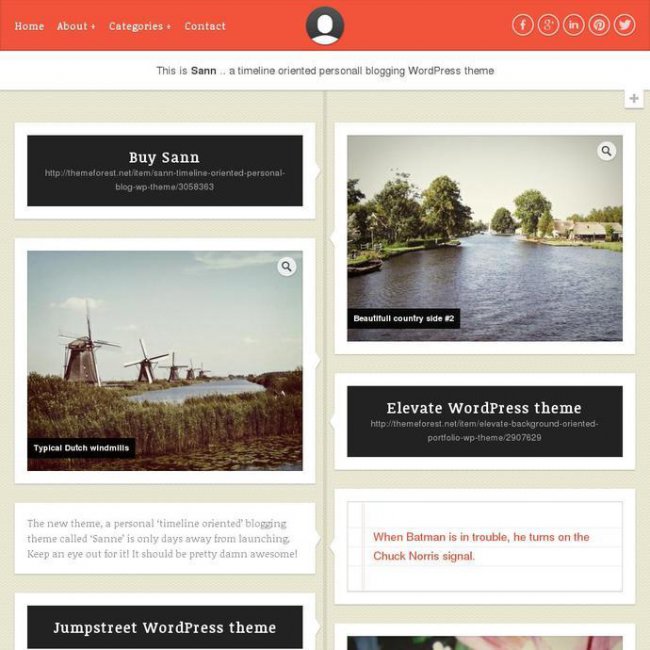 Metro Style
Metro Style is an all-purpose theme that caters to all business needs. The theme comes with a slider that can automatically resize the images and adds-up to the visual appeal of your website.
It comes with 450+ Google fonts and six custom widgets to help you present your content in an attractive yet professional manner.
As far as customization choices are concerned, Metro Style comes with a shortcode generator which offers numerous features including 380+ icons and country flags.
In a nutshell, Metro Style offers all useful features to engage your audience and a design that will suit all your requirements.
Ironband
Ironband is a music-inspired WordPress theme, perfect for musicians, DJs, and bands. The theme comes with a smooth scrolling design and is perfectly responsive to all devices. Ironband is a well-documented theme and can be integrated with MP3, YouTube or Vimeo.
For people who are looking for a website design that is as soulful as music, Ironband is the ideal choice. It comes with an interactive slider, seven different color schemes, and several background images to impress your audience with a Facebook styled experience.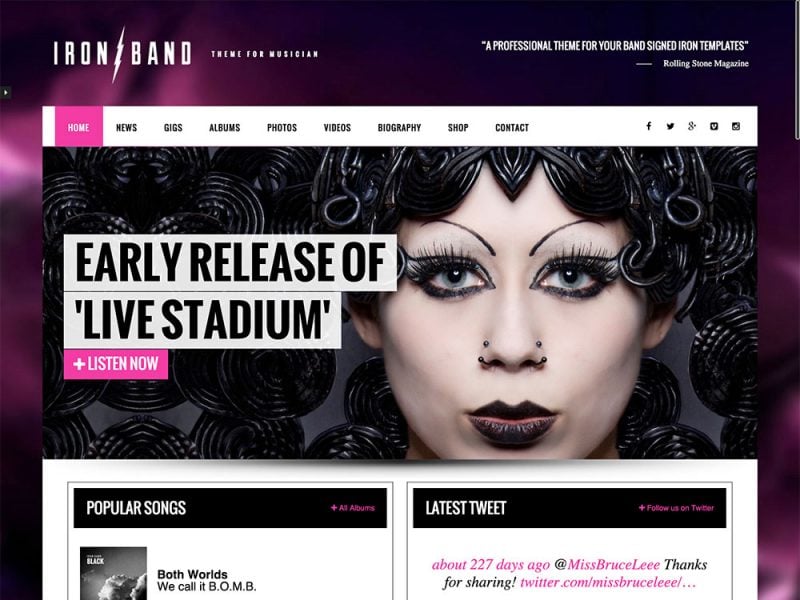 Safarica
This is a smart and creative WordPress theme that comes with a design that's chic and flexible at the same time. With Safarica, you can display your most important content in more ways than one owing to the attractive area sliders.
There are various built-in blog templates for you to choose from. Along with the unique featured content area, Safarica also lets you customize the number and style of columns. If you're looking for a Facebook styled theme that places content at the forefront, go for Safarica.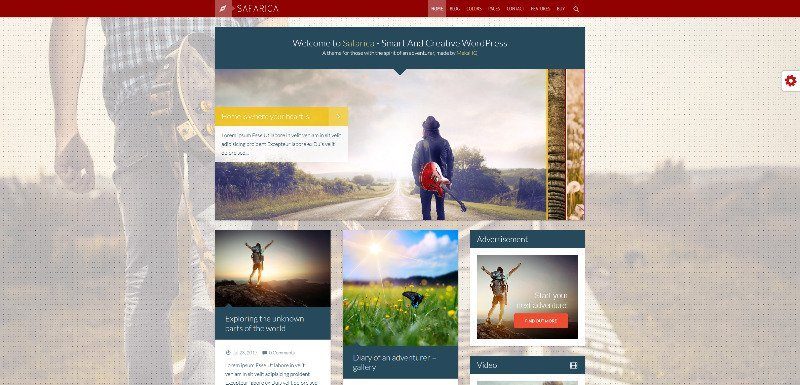 AWSM
AWSM is a simple and elegant personal portfolio theme that has a modular homepage, slider options and several predefined page templates that lets you create a page layout that attracts your audience instantly.
You can divide and customize the theme's homepage into sections like About Me section, Portfolio section, Careers section, etc. Awsm is best suited for personal bloggers or freelancers and features both one-page and standard layouts.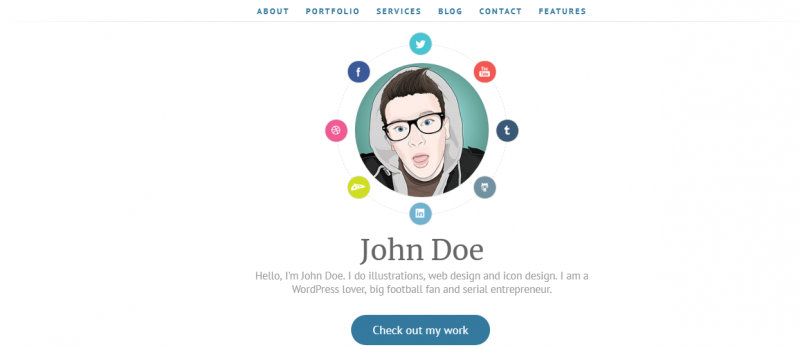 Time Travel
Time Travel is a powerful theme with plenty of useful features. If you want to create a blog, website or a corporate website that shows the history of your company, this responsive Facebook styled WordPress theme can come to your rescue.
The theme comes with over 15 color schemes, 600+ font choices and 14 voice commands that can be translated into your language.
Custom background for every post along with a native background video option makes it an ideal choice for businesses that want their audience to travel back in time and see where it all started. We just have one word for this theme; amazing!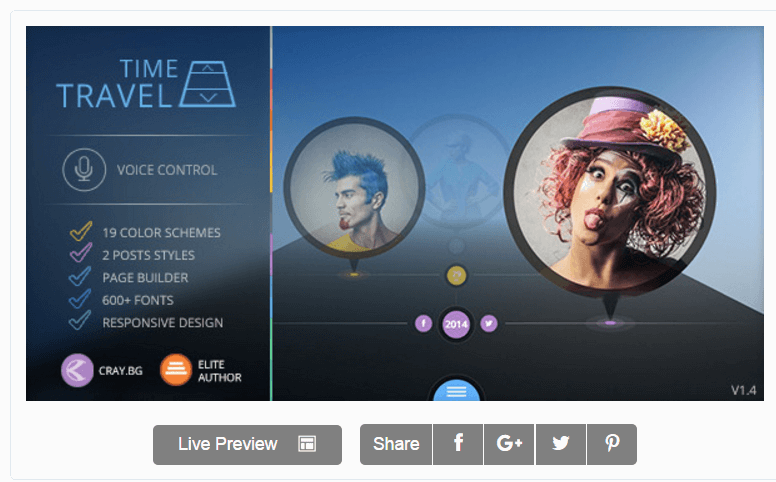 Tieme
Tieme is a timeline inspired simple and minimalist WordPress theme that comes with seven color schemes, Google fonts integration, and numerous other features. It is a well documented and SEO optimized theme that helps you to create an interactive design with minimal efforts.
The theme also comes with a Child Theme optimization feature and is a great choice if you want to create a simplistic website with the timeline style design.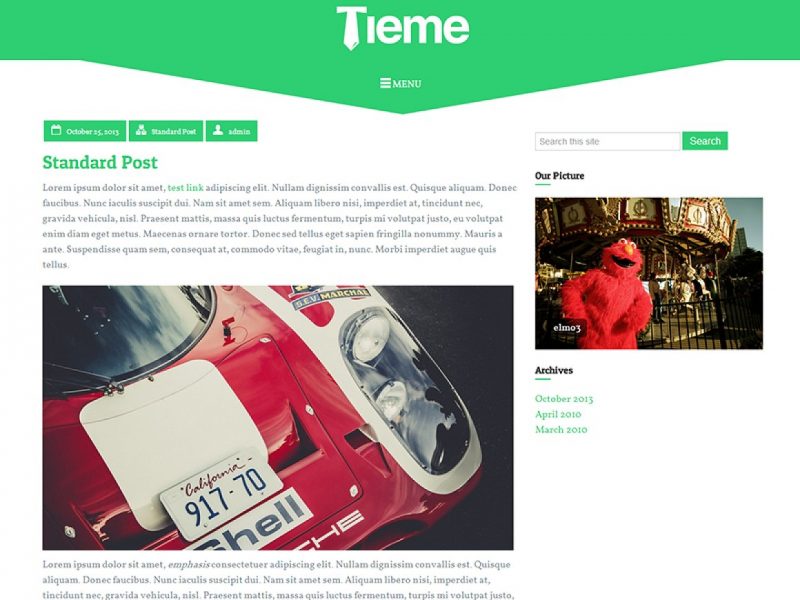 Twisted
Twisted is a sober and clean theme that attracts your website's visitors to the most important sections of your website. It is divided into seven sections and allows you to customize the content and design placement as per your specific needs.
The theme comes with nine custom template pages like masonry page, portfolio page, etc. and helps you in creating an elegant design with unlimited slider options using the shortcodes.
With over seven custom widgets like latest post/portfolio widget etc., Twisted is a feature-rich choice for those who want to customize everything according to their needs.
It's a beautiful Facebook timeline style WordPress theme that you can use to make your site look modern and trendy.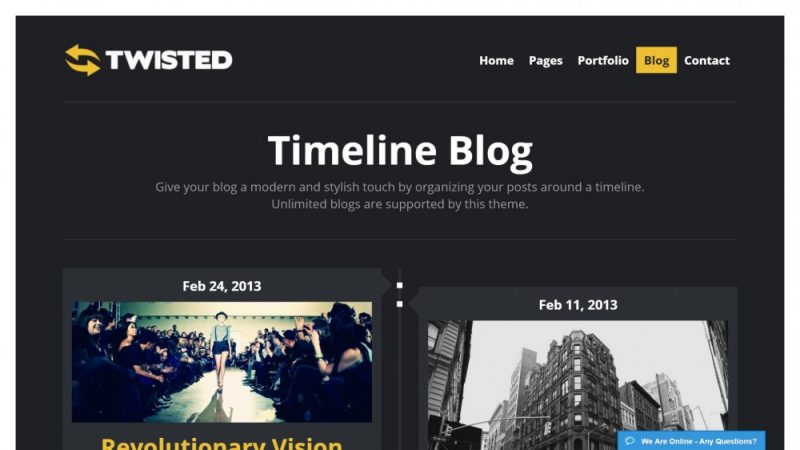 Cool Stuff
Cool stuff is a creative and multipurpose WordPress theme with a responsive layout that lets you showcase your products, services, and content in a smarter way.
With a plethora of customization options and WooCommerce integration, Cool Stuff is the ideal choice for e-commerce websites.
The theme comes with an interactive layout that makes your website or blog look modern and elegant. Moreover, the theme is well optimized to give your website an edge in performance.
The Curator
This is a clean and elegant theme best suited for artists and museums that want to showcase things in a chronological manner.
The Curator is a widget ready theme compatible with all popular browsers. The theme is well documented, has a single column and a liquid-like layout.
The Curator comes with a parallax effect thereby letting you use as many widgets as you like and create a timeline style website that will be loved by your audience.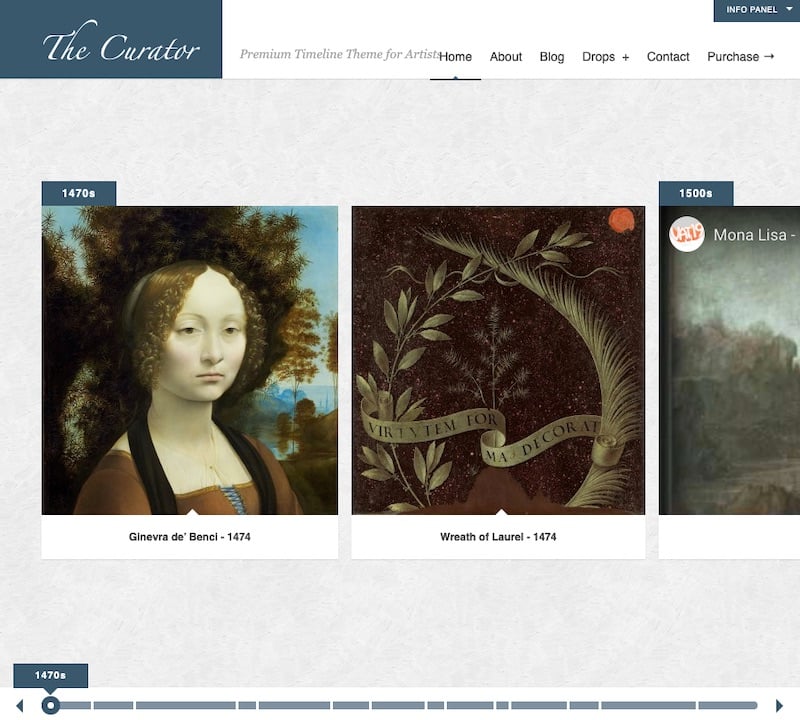 Postline
Postline is a highly responsive theme that allows you to engage your website visitors with various post formats such as quotes, photos, videos, etc.
The theme has a various list, and grid layout options to choose from and include a design that is interactive and modern.
Postine comes with a custom header and footer menu, an animated back to top button, custom footer text and many more useful features. There is seven theme skins and child theme support to help you create a beautiful website.
It is one of the best Facebook timeline style WordPress themes available in the market.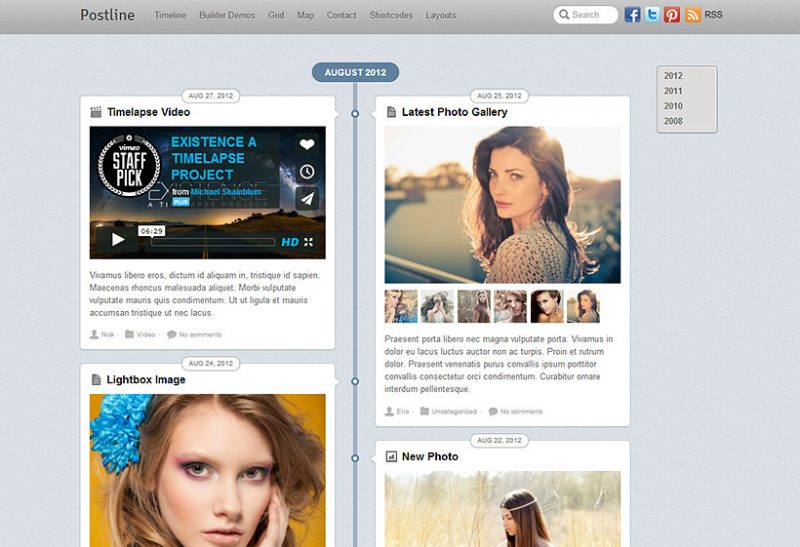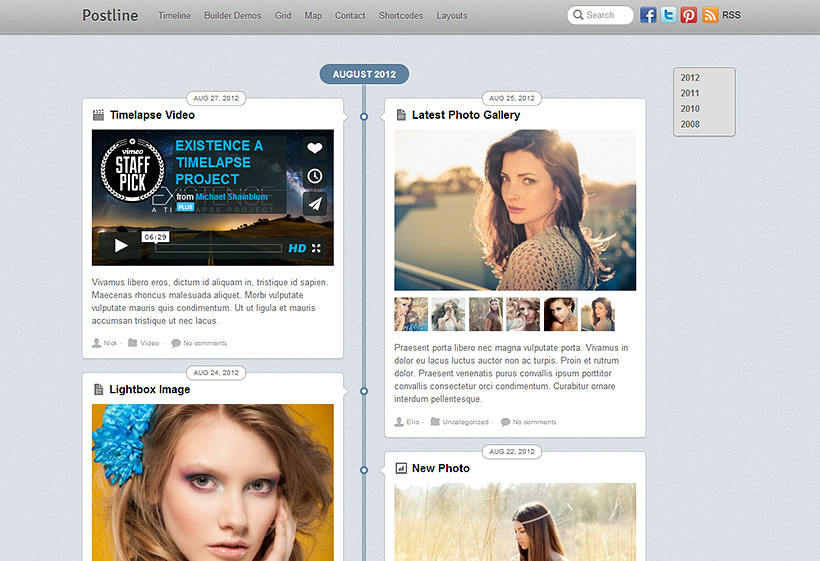 Scopic
Scopic is a personal styled theme best suited for bloggers and creative professionals. It is a high resolution and widget ready theme that is compatible with all major browsers.
Scopic comes with a responsive layout and wide customization choices to help you share content, audios, videos and even recent updates from your Twitter and Instagram handle in a hassle-free manner.
Scopic makes it possible for you to create a Facebook timeline style layout that is loved equally by search engines as well as humans.
Sacline
Sacline is yet another responsive and well-documented theme that comes with a JQuery slider option. It is an ideal option for business websites who want to display their content in an interactive manner.
The theme works well on all popular browsers like Firefox, Opera, and Google and lets you create a website that is quick and efficient.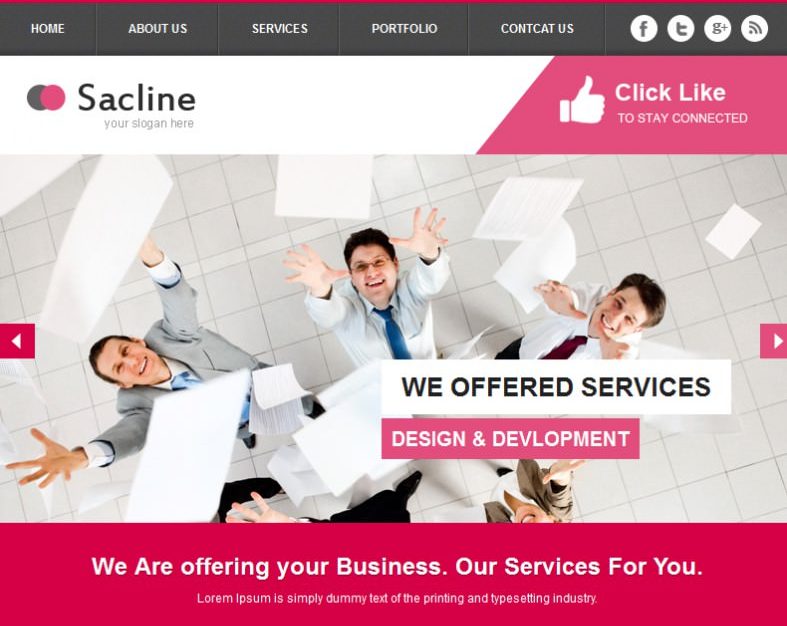 Mondrian
Mondrian is an excellent Facebook styled WordPress theme that comes with a visual composer to help you get complete control over the layout of your website and also makes your content look great.
With over 800+ Google fonts and multiple page layouts, Mondrian is a great choice for a modern blog or magazine. With Mondrian, you also get 12+ widgets such as custom slider and counter, testimonials, etc.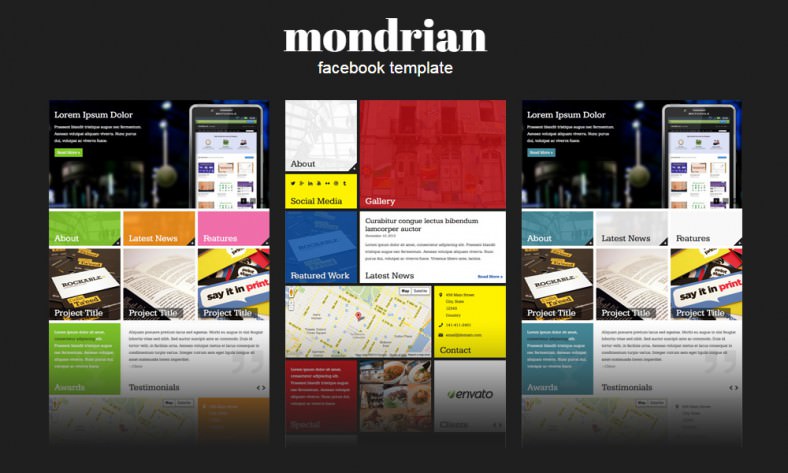 Timeliner
Timeliner is a clean, minimal, easy-to-use and responsive WordPress theme best suited for niche blogs like fashion, travel, photography, etc. The theme has unlimited colors, multiple backgrounds, 600+ google fonts and many other interesting features.
There are various page templates like width, slider, etc. and many custom widgets like top authors, shortcodes widget to name a few. Further, the theme has an amazing Popup galaxy that adds a tinge of awesomeness to it.
Final Word
With a Facebook timeline styled theme, it will be easier for your website visitors to find exactly what they are looking for. Choose one of the themes listed above and make your blog look like a Facebook timeline to make it awesome!