A collection of best amazon Store WordPress themes that you can use to create your own online store and make handsome revenue.
Why do new and emerging companies, products and services try to copy the style and aesthetics of some of the major well-known brands?
It is because people like familiar things, and don't want to be led down some learning curve to do some trivial tasks. And so, here we will be looking at some of the best Amazon affiliate WordPress themes which effectively implements Amazon's well-known design style onto your website.
Imagine this, you have managed to get a person to your online store, and all that remains is for them to make the final purchase. But since they can't find the checkout button due to a clumsy UI, you might lose a potential conversion.
So if you simply choose your site's looks and feels to resemble that of Amazon, one of the most popular online marketplaces where every person has gone one time or the other, you will know that customers will rarely face issues as discussed above.
Now, if you are building your website using WordPress, then you will be happy to know that there are hundreds if not thousands of themes designed to mold your site into something similar to Amazon. Some of them are good, but many of them fail to live up to the promises they make.
Here, we have curated a special list of some of the best Amazon look-alike themes for your WordPress Store. All of these themes not only nails the aesthetics but also manages to bring in essential functionalities you will need to extend your business. So without further ado, here is Best Amazon Affiliate Store WordPress Themes.
Note: It is clear that most of the themes will boast a design style identical with Amazon. So for this read, we will put more focus on their features and functionalities.
Top Amazon WordPress Theme
Electro Electronics Store WooCommerce Theme
Electro Electronics Store WooCommerce Theme can be used to build an online electronics store with all of the features and design style resembling Amazon. As per the name, it is a WooCommerce powered theme and can be used for websites resembling a vendor based marketplace, simple affiliate marketing sites, including the already mentioned Electronic store.
The theme is built on top of the Underscores framework and offers deep integration with some of the popular e-commerce plugins like YITH WooCommerce Wishlist and YITH WooCompare.
There are also loads of dummy data which you can use as placeholders to visualize how your site will look. Other than this, the theme comes with a lot of design and customization options, a lot of WooCommerce features like reviews, specification tabs, accessories for products, brands carousel and so on.
You can also incorporate a blog into your website if you like.
Coupon
As the name suggests, if you wish to create an Amazon affiliate store and publish the best deals, this is the theme you need. This theme is created with a beautiful engaging layout and fully responsive design to make your site look great on mobile devices.
This theme is well optimized for search engines and user experience. Like other MyThemeShop themes, this theme also offers you tons of customization possibilities, great loading time and styling options to make your site look very professional.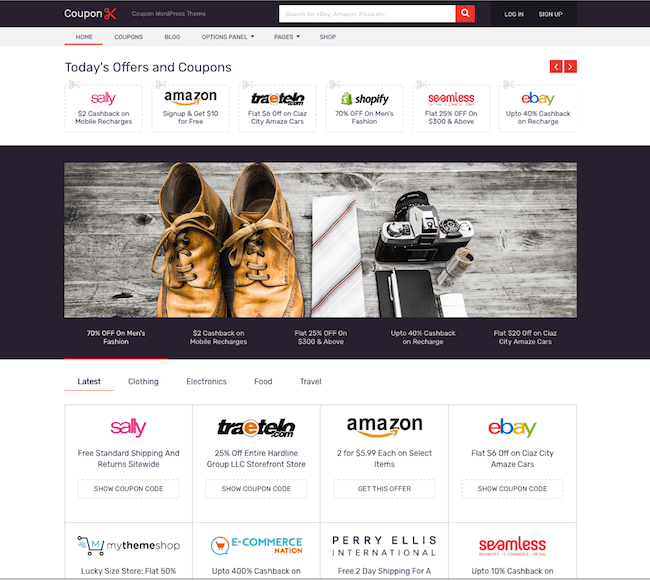 Techmarket
Techmarket WordPress theme comes with multiple demos which gives you a lot of choices and flexibility on how you want your online electronic store to look and feel. Overall, it embodies a clean design language by maximizing the space and giving more room for highlighting the products.
Customization options are also there so you can tweak around with the provided demos as much as you like.
The theme can be used for many more use cases besides an electronic store, such as an organic store, retail store, shoe store, garden tools store, glass store, and so on. It also comes bundled with some impressive plugins like Dokan, WC Vendors, WC Marketplace, Prosociate, WooZone and much more which can help add many more layers to your website.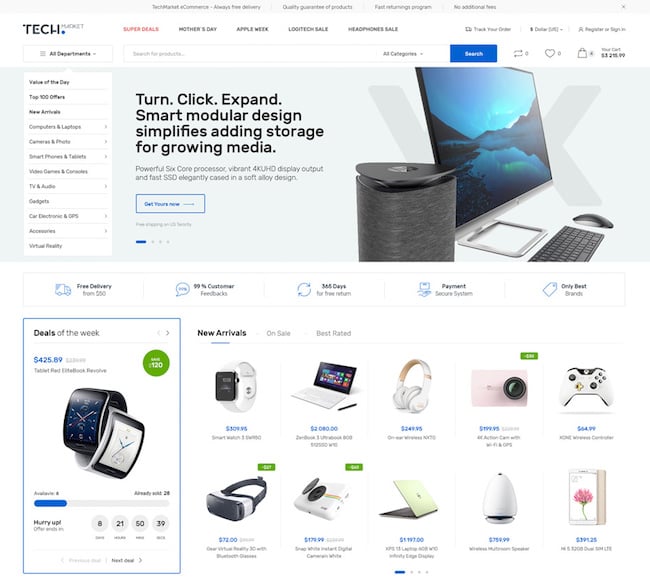 Tumbas
Tumbas is a responsive WooCommerce enabled the theme for your WordPress website. The theme is loaded with different kind of homepage layouts coupled with a powerful theme options panel which can help you set up a familiar and easy to navigate e-commerce marketplace.
There are also options for boxed and wide layouts, background images, color presets, a dedicated 404 page and much more.
Notable features that come with the theme includes a one-click demo importer, King Composer Page Builder, Redux Theme options, and a bunch of e-commerce related options like wishlists, an Ajax-powered shopping cart, quick product view, product carousel, product images lightbox and much more.
Social media integration is also well implemented so that you can generate even more leads via on your trusted customers.
Handy
Handy WordPress theme is intended for people looking to start an online shop or marketplace for handmade goods. Once you start using the theme, you will find a lot of resemble with Amazons design style and set of features and options. There are also many customization tools which can help you tweak around with the theme as well.
Some of the design-centric options of the theme include a layout configurator which lets you set up custom layouts for static pages, blogs, and the shop pages.
Then there is the option filled admin panel, plenty of custom colors, shortcodes, a dedicated page builder, the popular Revolution Slider and lots more. And to make your shop more feature rich, there are plenty of advanced settings, a dynamic sortable product listing, plenty of sample data, and so on.
Rigid
The Rigid WooCommerce theme for WordPress is designed to help build some enhanced shops and multi-vendor marketplaces like Amazon. It comes loaded with a bunch of features that will make crafting your online multi-vendor marketplace a piece of cake.
The theme gives you full control over your WooCommerce layouts as well as a bunch of custom product attributes, Ajax Filters Area, a quick view/buy button, and loads more so that you will need no extra third-party plugins.
However, it still comes loaded with some plugins like WooCommerce related plugin which gives your users the power to create individual stores, manage inventories, coupons, shipping and so on. Then there is an option for infinite loading and classic pagination help users browse through all your products.
Overall, this is a feature-packed theme when it comes to functions as well as design.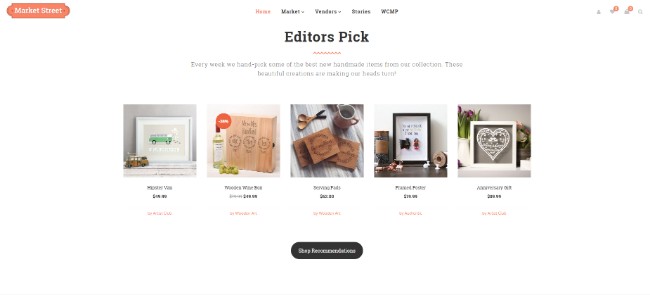 Ekora
Ekora is a powerful and wonderful WooCommerce enabled WordPress theme to setup your Amazon-like website. The theme is optimized for mobile performance, so your customers will get a convenient shopping experience on the go.
The theme is built on top of the powerful Bootstrap 3 framework and also comes with Visual Composer and an advanced theme options panel. So you can rest assured that you will get complete customization control over your website.
Apart from all these, the theme ships with plenty of widgets, social sharing features, unlimited colors, a WooCommerce catalog page, shop page, portfolio page, and some Ajax enabled functionalities such as add and remove products, quick view product, and of course predictive searching.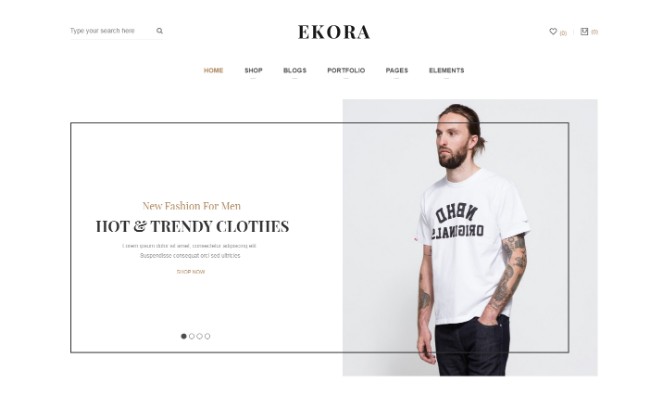 Unicase
Unicase is another Bootstrap powered WordPress theme for setting up your WooCommerce online store. The theme comes preloaded with some demo websites which can be used for an electronic shop, furniture shop, and a fashion shop.
On top of these demo content, you will also get Visual Composer and some customization options to tweak the design style as much as you like. For example, you will get plenty of header styles, unlimited colors, mega menus and much more.
Functionality wise, the theme supports two powerful e-commerce plugins: YITH Wishlist and YITH Compare. Then there are features like product live search, product quick view, advanced vertical menu, blog carousel, brands carousel, banners and loads more.
BigBazaar
BigBazaar multipurpose WooCommerce theme for WordPress is built on top the powerful Bootstrap framework using Visual Composer drag and drop page builder. The overall website is very flexible and can be customized to fit a wide variety of e-store designs.
Out of the box, the theme comes with about ten homepage layouts, on top of which there are multiple header and footer styles, unlimited color options and much more.
Other features of the theme include Revolution Slider, Mega Menus, Product in Cart, Ajax Product Search, Product Quick View, CSS3 animations, and much more.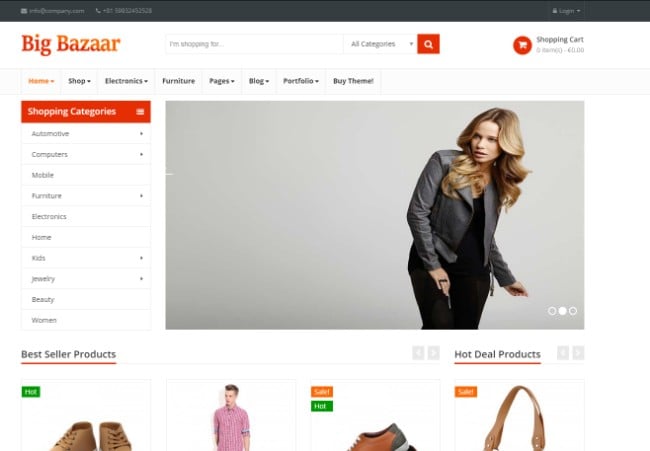 Bionic Amazon Affiliate Theme
Bionic is a digital store responsive PrestaShop theme for WordPress. It comes with plenty of options that can help you tweak the design layout of your website, as well as packs a bunch of cool features that will enhance the user experience of your online store. This theme is also built using the popular Twitter Bootstrap framework.
Design wise; the theme comes with over five different homepage demos, an eye-catching larger banner which you can use to showcase newest products, along with other features such as Swipe, Animations, Owl Carousel elements and much more.
In fact, much of the website can be managed with some Ajax modules. Apart from this, the theme also allows you to integrate an information blog as well as seamless social media integration.
MediaCenter
MediaCenter offers a clean and modern design WooCommerce theme for electronics store based WordPress websites. The design styles resemble the aesthetic choices used by Amazon, but it still manages to be its unique thing.
However, customization freedom is granted with a lot of tweaking options which lets you personalize the theme as you want.
Being an e-store theme, it ships with a lot of WooCommerce features like wishlist functionality, product comparison option, a custom taxonomy for brands, filtering options, product labels, and much more.
Apart from this, there are also a bunch of premium features such as the popular and powerful Visual Composer page builder, Slider revolution, and PSD Designs which altogether will save you about $56. Furthermore, if this is your first time setting up a WordPress theme, there is also a free WordPress installation service which you will find extremely helpful.
Technopolis Shop
Technopolis Shop is a flexible and robust electronics e-store WordPress theme that comes packed with over $300 worth of mods. This alone showcases the level of designing flexibility you will get with the theme.
Besides this, it comes with loads of customization options and grants you complete control over your website.
To start off its feature list, let's first consider the drag and drop page builder, Menu composer, SEO manager, unlimited colors, over forty custom widgets and loads more.
Then there is a style editor, an advance slider for images as well as video content, and plenty of options designated to deliver an optimal e-commerce experience for both you and your customers.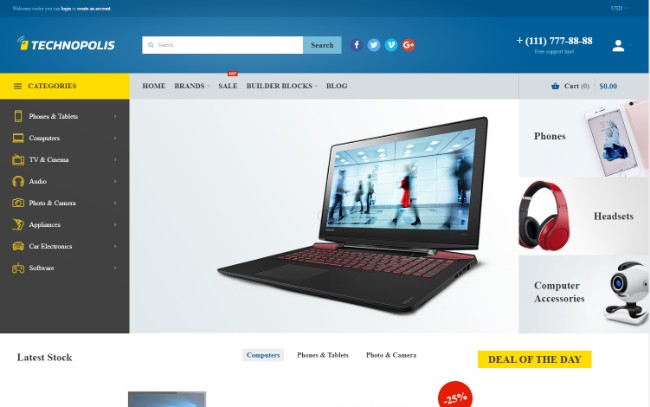 Divi
And for the last theme on the list, we have picked the uber-popular Divi WordPress theme from ElegantThemes. Now, it is not particularly a WooCommerce theme; in fact, it isn't that much of a WordPress theme as it is a website builder.
The Divi theme comes with a drag and drop Divi page builder which allows you to create any layout imaginable from the front end, without any coding know how. You will be able to create any website design you want, let alone Amazon.
Also, the theme is WooCommerce compatible, which means you will be able to create a fully functional store easily. Also, Divi comes with a default Shop module which syncs with your product categories and allows you to arrange, organize, and adjust even the smallest bit of details.
Don't miss Divi theme review here.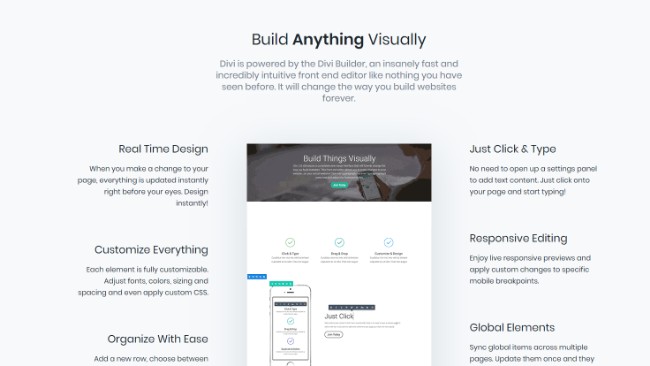 In Conclusion
So this was our picks for some of the best amazon WordPress store WordPress themes. Do let us know how you liked them in the comments section below. Again, if you decided to use any one of these themes for one of your projects then do remember to let us know how things turned out. Your fellow readers will love to learn from another user.
Also, as mentioned there are hundreds of such themes and composing a list with all of them exceeds the scope of this read. So if you happen to use a WooCommerce WordPress theme to create an Amazon-like website, then do tell us its name. Your contributions will be much appreciated.