A collection of best amazon Store WordPress themes that you can use to create your own online store and make handsome revenue.
Why do new and emerging companies, products, and services try to copy the style and aesthetics of some of the major well-known brands?
It is because people like familiar things, and don't want to be led down some learning curve to do some trivial tasks.
And so, here we will be looking at some of the best Amazon affiliate WordPress themes which effectively implement Amazon's well-known design style onto your website.
Imagine this, you have managed to get a person to your online store, and all that remains is for them to make the final purchase. But since they can't find the checkout button due to a clumsy UI, you might lose a potential conversion.
So if you simply choose your site's looks and feels to resemble that of Amazon, one of the most popular online marketplaces where every person has gone one time or the other, you will know that customers will rarely face issues as discussed above.
Now, if you are building your website using WordPress, then you will be happy to know that there are hundreds if not thousands of themes designed to mold your site into something similar to Amazon. Some of them are good, but many of them fail to live up to the promises they make.
Here, we have curated a special list of some of the best Amazon look-alike themes for your WordPress Store. All of these themes not only nail the aesthetics but also manage to bring in essential functionalities you will need to extend your business.
So without further ado, here is Best Amazon Affiliate Store WordPress Themes.
Note: It is clear that most of the themes will boast a design style identical to Amazon. So for this read, we will put more focus on their features and functionalities.
Also Read:
REHub
REHub is one of the most popular and widely sued affiliate business themes. You can create a great-looking, modern online store with powerful features.
This is a multipurpose WordPress theme for eCommerce sites. This theme offers you will the features and options that you find in the most popular sites in this theme.
You can create a popular coupon site, a daily deal site, an online store, an affiliate site any other kind of eCommerce site.
This theme is perfectly optimized for the WooCommerce plugin as well as the BuddyPress plugin, you can easily create a fully-features community site around your eCommerce setup.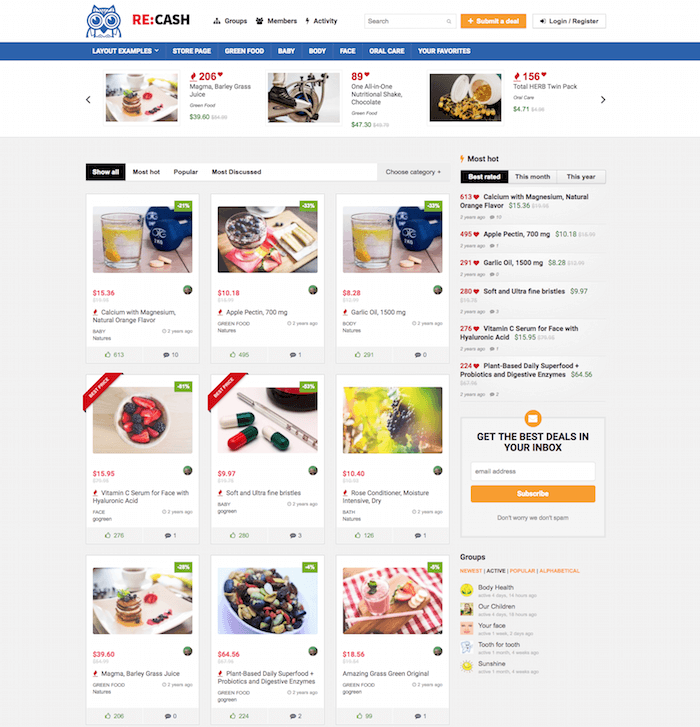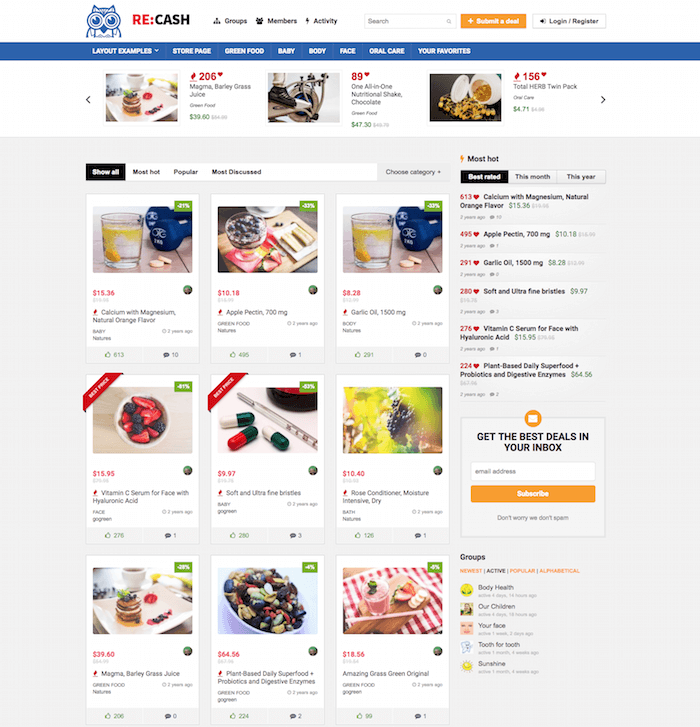 Divi
Divi WordPress theme from ElegantThemes is one of the most versatile WordPress themes that you can use on any niche site. Now, it is not particularly a WooCommerce theme; in fact, it isn't that much of a WordPress theme as it is a website builder.
The Divi theme comes with a drag-and-drop Divi page builder which allows you to create any layout imaginable from the front end, without any coding know-how. You will be able to create any website design you want, let alone Amazon.
Also, the theme is WooCommerce compatible, which means you will be able to create a fully functional store easily.
Also, Divi comes with a default Shop module that syncs with your product categories and allows you to arrange, organize, and adjust even the smallest bit of details.
Divi Leads is another important tool that will help you to grow your affiliate revenue. Divi Leads is the built-in A/B testing tool that you can use to test each and everything on the site to make sure that you use the best combination.
Don't miss Divi theme review here. Also, get a 10% discount on the Divi theme using our link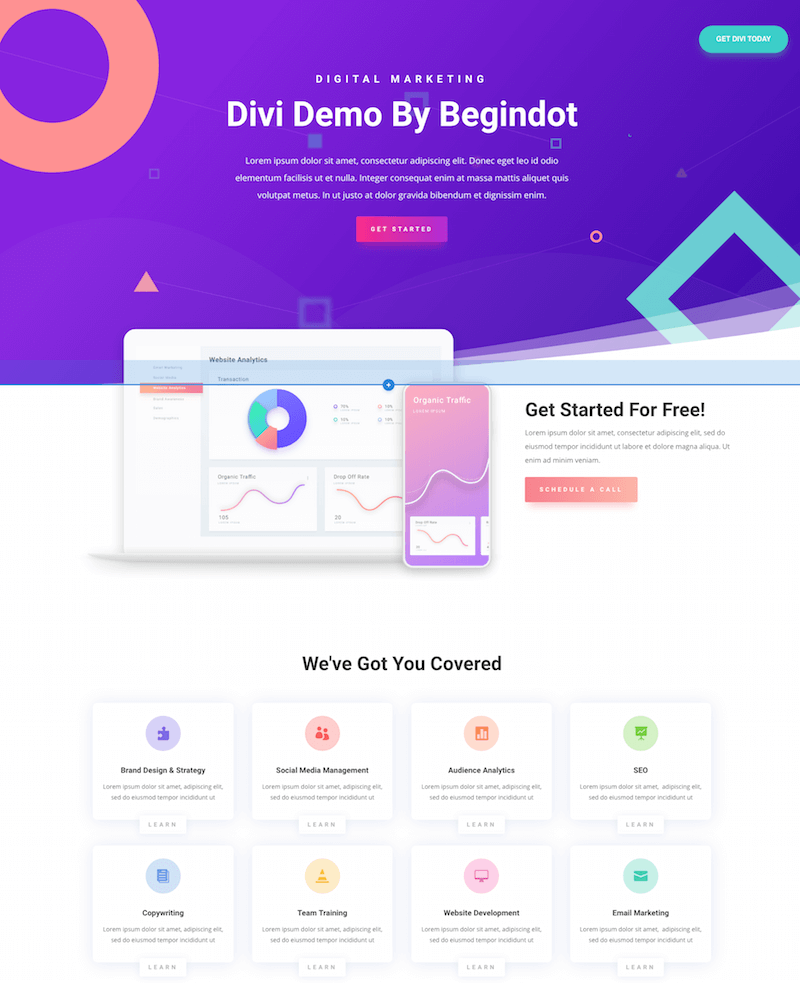 eCommerce Theme
A trendy eCommerce WordPress theme, you can create a highly optimized affiliate store with this theme and make it look like the best place to buy stuff.
It is powered by the WooCommerce plugin and backed by a great design and powerful features to make sure that you have everything that you need to create a successful Amazon affiliate store.
The theme offers you a number of ready demo design options to choose from and you can create unlimited custom designs by using the drag-and-drop Elementor builder.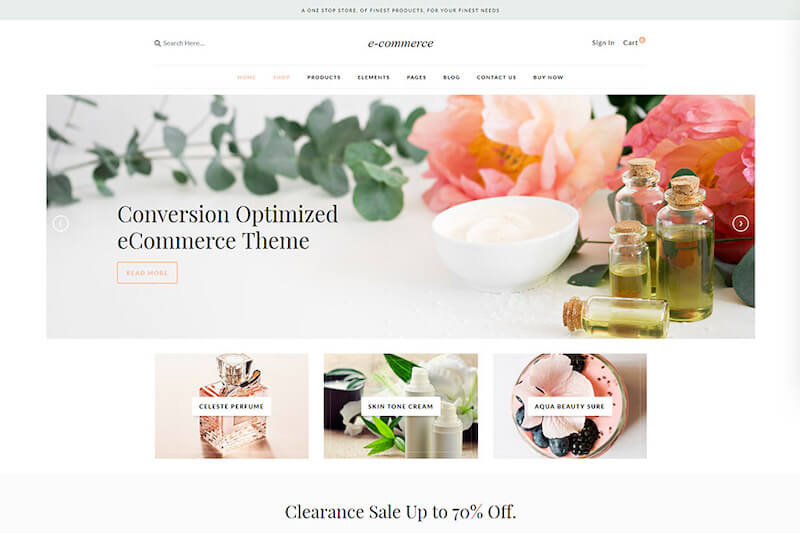 iffiliate Theme
iffiliate is a modern WooCommerce and Amazon affiliate WordPress Theme. iffiliate theme allows you to easily create an affiliate website.
It includes all the necessary features and tools that you need to get started, such as a built-in product finder, product comparisons, and more. You can also find beautiful templates and designs to make your site look professional.
The theme comes with AJAX live search option, Grid and List view for products, and beautiful product single pages to make your eCommerce site look great.
It offers multiple professionally designed inner pages that you can use on your site. You have mega menu options, and typography options to improve the overall look of your site.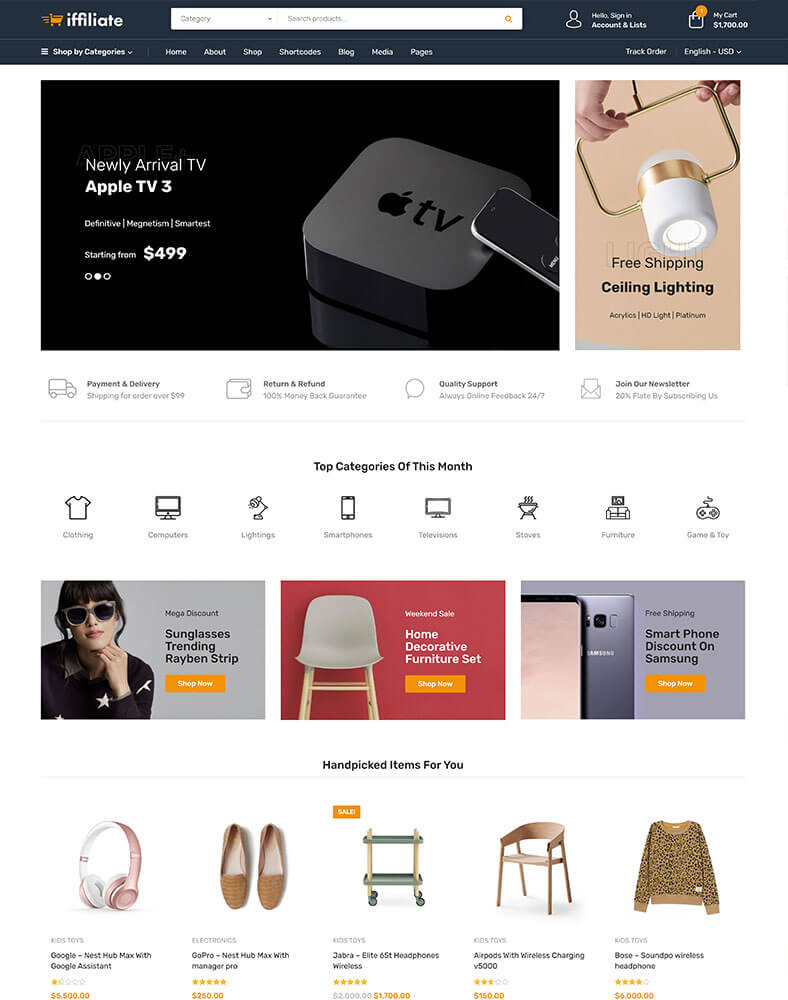 MediaCenter
MediaCenter is a custom-created theme for Amazon affiliates. The theme is created with a great-looking design that will instantly make your site look like a premium eCommerce site.
You can be able to customize the design of the theme as per your requirement. You get the premium Visual Composer plugin in the theme bundle for free that you can use to create a completely unique design for your site.
You get a number of other premium plugins in the bundle for free, such as the Slider Revolution.
The theme is completely customizable, so you can fine-tune the design of your site using the site builder. To make it easier for the users, the theme offers you a comprehensive theme options panel.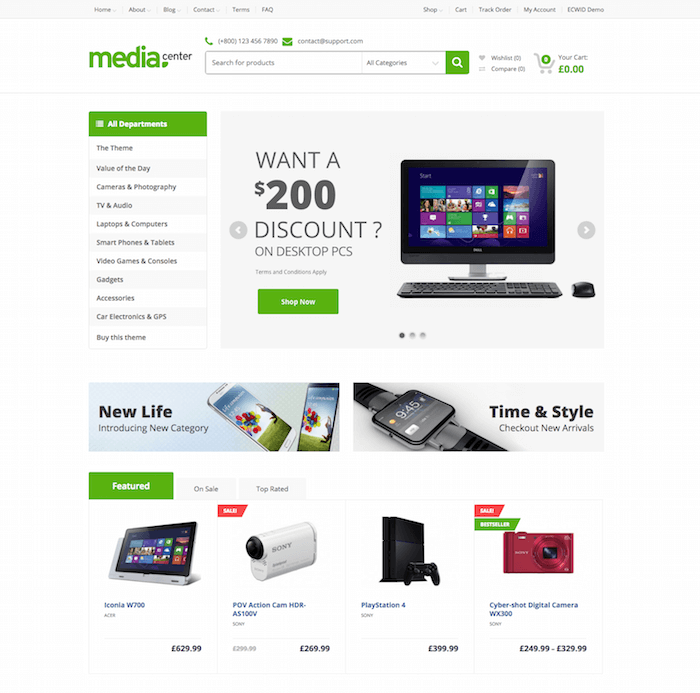 Astra Theme
Astra is a very popular and highly customizable WordPress theme that you can use to create your Amazon affiliate site.
It is one of the most versatile WordPress themes that will fit into any niche website you can imagine.
Astra is a lightweight in SEO friendly WordPress theme that offers you comprehensive customization possibilities so that you don't have to depend on the ready designs.
It works perfectly with most of the leading WordPress builders such as Elementor, Divi Builder, WPBakery and more.
The theme integrates itself perfectly with the WooCommerce plugin so that you can create your own eCommerce or affiliate business site without any hassle.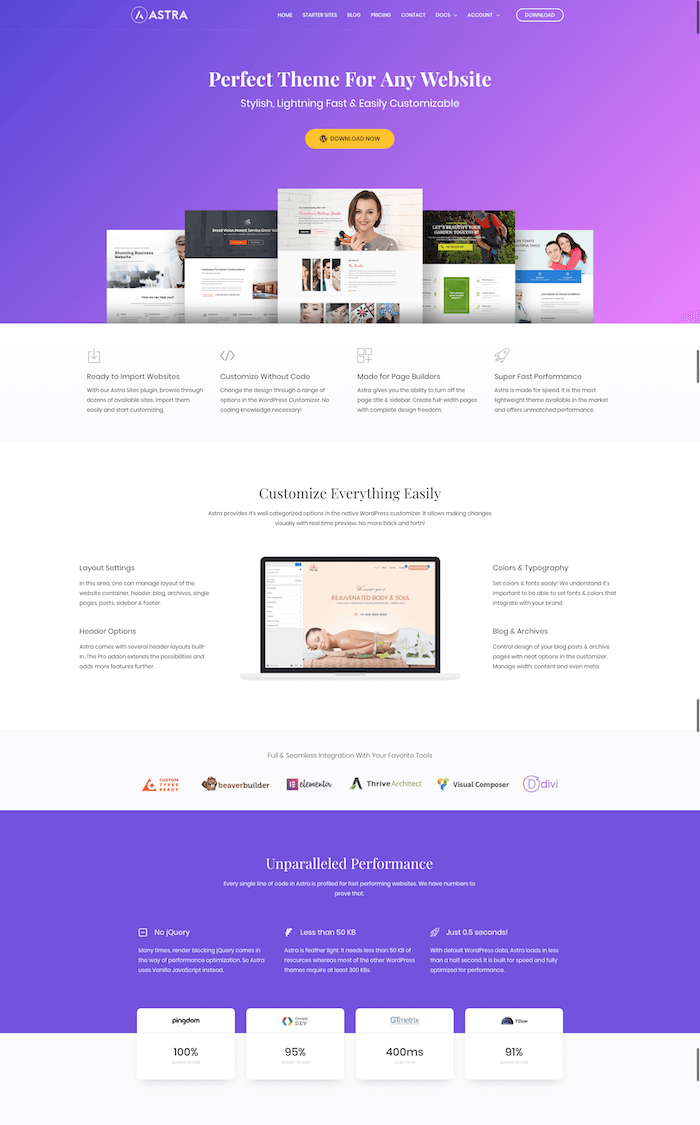 Extra Theme
Extra is another top-quality WordPress theme from the ElegantThemes store. It is a news magazine-style WordPress theme that is specifically created for product review blogs.
The Theme is powered by the powerful Divi Builder which is one of the top drag-and-drop website builders for WordPress. You will have complete control over the design of your website so that you can create a perfectly optimized affiliate site and make regular revenue.
Writing high-quality product reviews is one of the best ways to make money with affiliate links.
All you need is a fully optimized design for your website that looks professional as well as it is optimized for the search engine so that you are able to rank your articles better, and the Extra theme is just the perfect design for your business.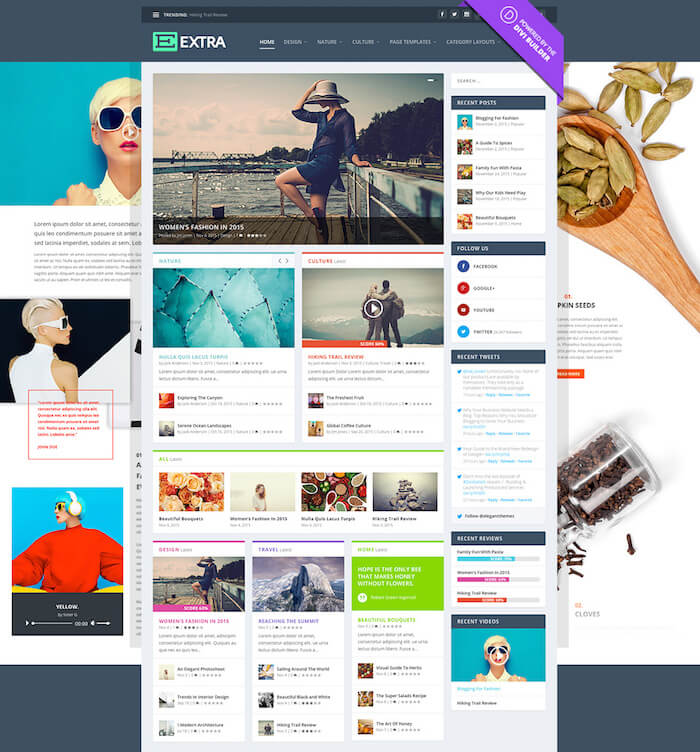 Electro Electronics Store WooCommerce Theme
Electro Electronics Store WooCommerce Theme can be used to build an online electronics store with all of the features and design styles resembling Amazon.
As per the name, it is a WooCommerce-powered theme and can be used for websites resembling a vendor-based marketplace, simple affiliate marketing sites, including the already mentioned Electronic store.
The theme is built on top of the Underscores framework and offers deep integration with some of the popular e-commerce plugins like YITH WooCommerce Wishlist and YITH WooCompare.
There are also loads of dummy data that you can use as placeholders to visualize how your site will look. Other than this, the theme comes with a lot of design and customization options, a lot of WooCommerce features like reviews, specification tabs, accessories for products, brands carousel and so on.
You can also incorporate a blog into your website if you like.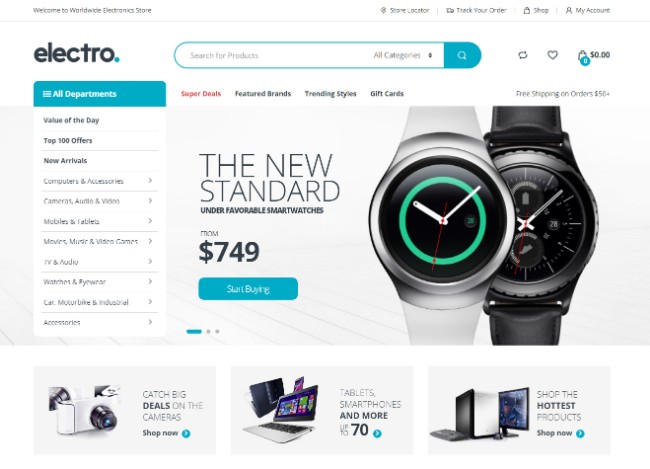 Coupon
As the name suggests, if you wish to create an Amazon affiliate store and publish the best deals, this is the theme you need. This theme is created with a beautiful engaging layout and fully responsive design to make your site look great on mobile devices.
This theme is well optimized for search engines and user experience. Like other MyThemeShop themes, this theme also offers you tons of customization possibilities, great loading time and styling options to make your site look very professional.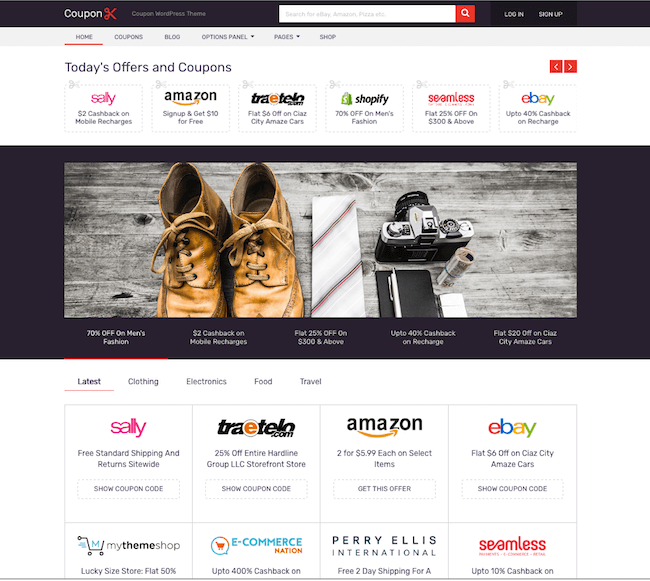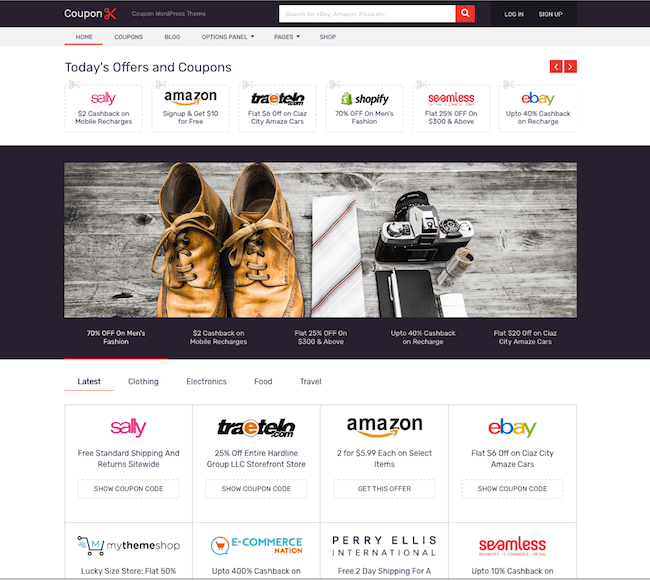 Techmarket
Techmarket WordPress theme comes with multiple demos which gives you a lot of choices and flexibility on how you want your online electronic store to look and feel.
Overall, it embodies a clean design language by maximizing the space and giving more room for highlighting the products.
Customization options are also there so you can tweak around with the provided demos as much as you like.
The theme can be used for many more use cases besides an electronic store, such as an organic store, retail store, shoe store, garden tools store, glass store, and so on.
It also comes bundled with some impressive plugins like Dokan, WC Vendors, WC Marketplace, Prosociate, WooZone and much more which can help add many more layers to your website.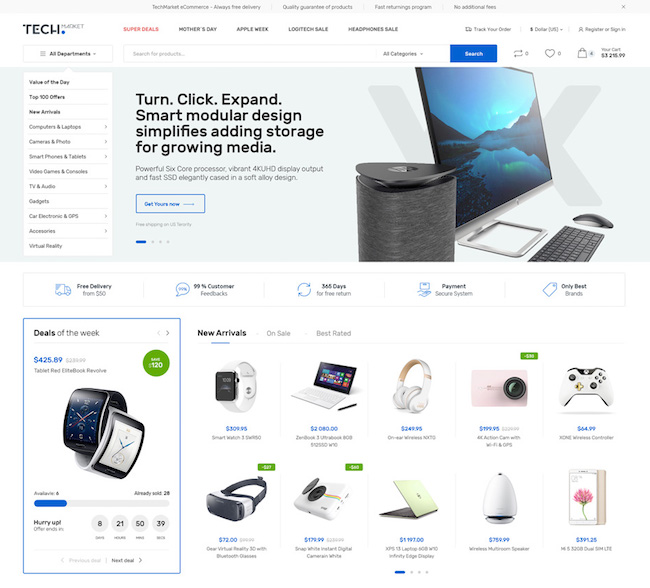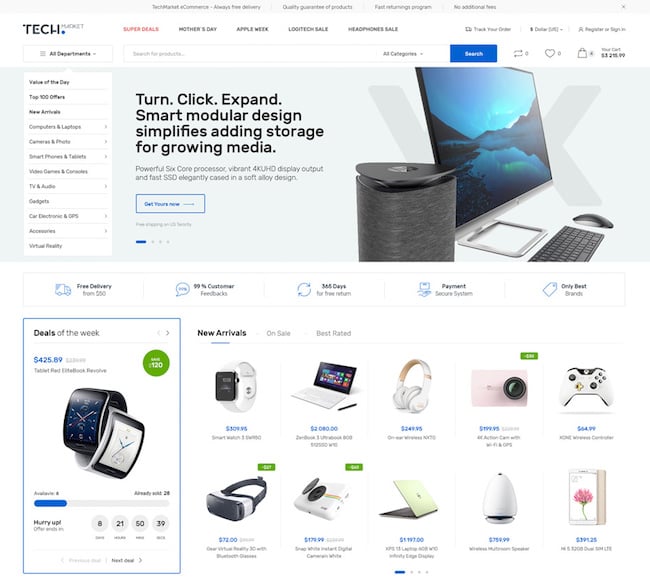 KUPON
One of the popular coupon WordPress themes, you will be able to create a comprehensive Amazon affiliate site with this theme.
The KUPON theme comes with a very professional-looking, clean and minimal design that will surely make your site look like one of the best sites in this niche.
This theme offers you multiple options to increase the number of sales on your site. You have the option to showcase amazing deals with a countdown timer, best deals, discount amounts, star rating for products to make sure that your site looks engaging and busy.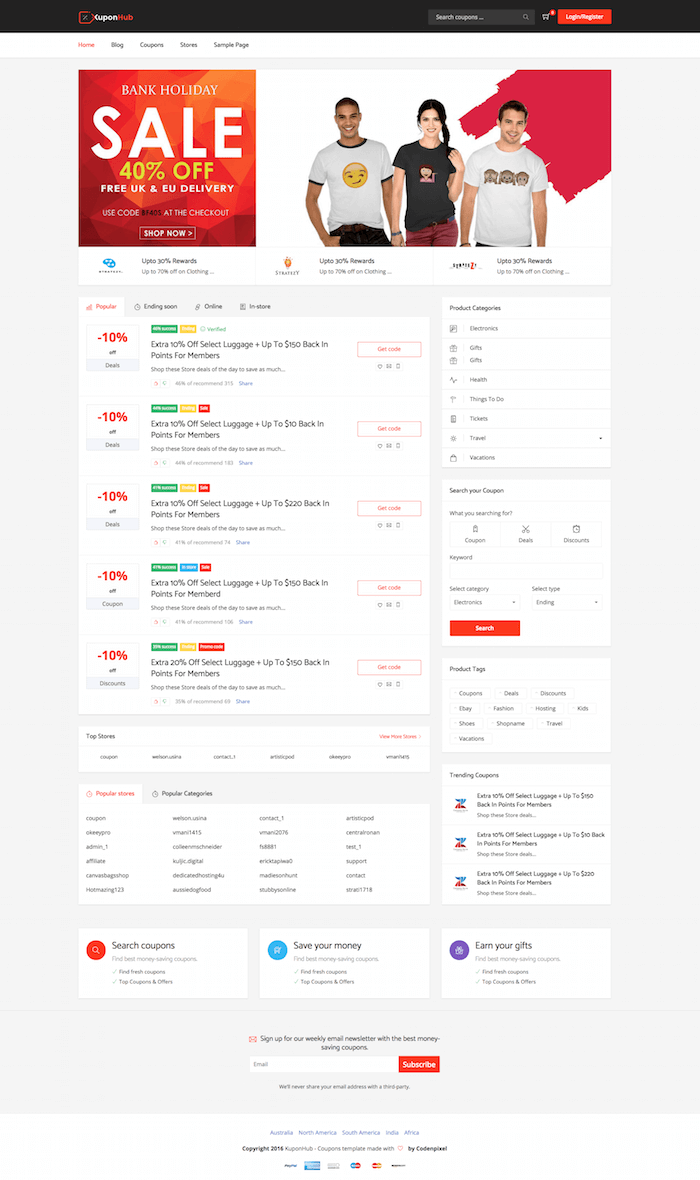 Tumbas
Tumbas is a responsive WooCommerce-enabled theme for your WordPress website. The theme is loaded with different kind of homepage layouts coupled with a powerful theme options panel which can help you set up a familiar and easy-to-navigate e-commerce marketplace.
There are also options for boxed and wide layouts, background images, color presets, a dedicated 404 page and much more.
Notable features that come with the theme include a one-click demo importer, King Composer Page Builder, Redux Theme options, and a bunch of e-commerce-related options like wishlists, an Ajax-powered shopping cart, quick product view, product carousel, product images lightbox and much more.
Social media integration is also well implemented so that you can generate even more leads via on your trusted customers.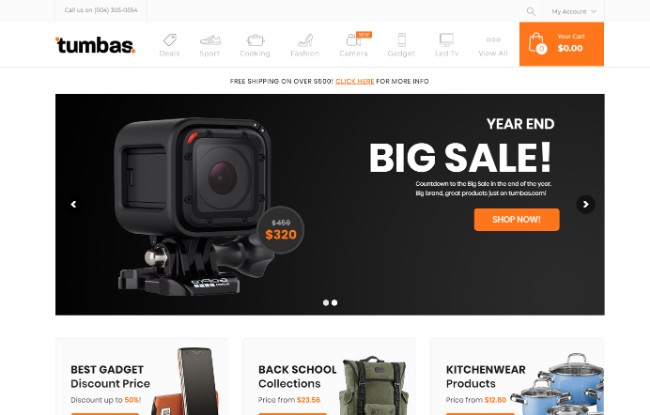 Handy
Handy WordPress theme is intended for people looking to start an online shop or marketplace for handmade goods.
Once you start using the theme, you will find a lot of resembling in Amazon's design style and set of features and options. There are also many customization tools that can help you tweak around with the theme as well.
Some of the design-centric options of the theme include a layout configurator which lets you set up custom layouts for static pages, blogs, and shop pages.
Then there is the option-filled admin panel, plenty of custom colors, shortcodes, a dedicated page builder, the popular Revolution Slider, and lots more.
And to make your shop more feature-rich, there are plenty of advanced settings, a dynamic sortable product listing, plenty of sample data, and so on.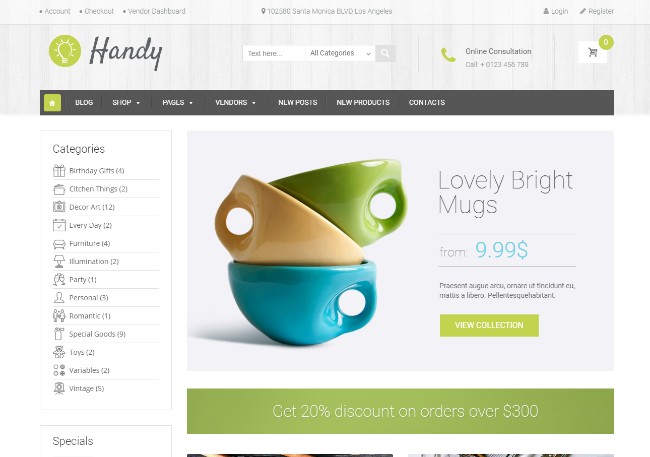 Rigid
The Rigid WooCommerce theme for WordPress is designed to help build some enhanced shops and multi-vendor marketplaces like Amazon.
It comes loaded with a bunch of features that will make crafting your online multi-vendor marketplace a piece of cake.
The theme gives you full control over your WooCommerce layouts as well as a bunch of custom product attributes, Ajax Filters Area, a quick view/buy button, and loads more so that you will need no extra third-party plugins.
However, it still comes loaded with some plugins like the WooCommerce-related plugin which gives your users the power to create individual stores, manage inventories, coupons, shipping and so on.
Then there is an option for infinite loading and classic pagination to help users browse through all your products.
Overall, this is a feature-packed theme when it comes to functions as well as design.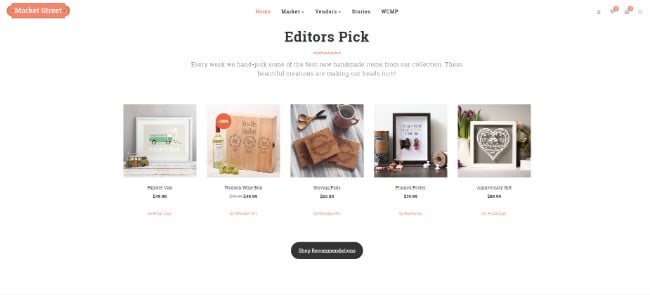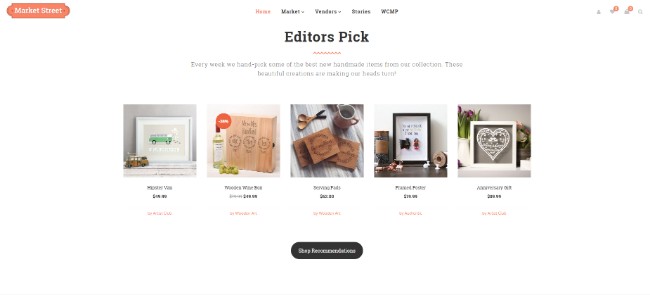 Unicase
Unicase is another Bootstrap-powered WordPress theme for setting up your WooCommerce online store. The theme comes preloaded with some demo websites which can be used for an electronic shop, furniture shop, and fashion shop.
On top of this demo content, you will also get Visual Composer and some customization options to tweak the design style as much as you like. For example, you will get plenty of header styles, unlimited colors, mega menus and much more.
Functionality-wise, the theme supports two powerful e-commerce plugins: YITH Wishlist and YITH Compare. Then there are features like product live search, product quick view, advanced vertical menu, blog carousel, brands carousel, banners and loads more.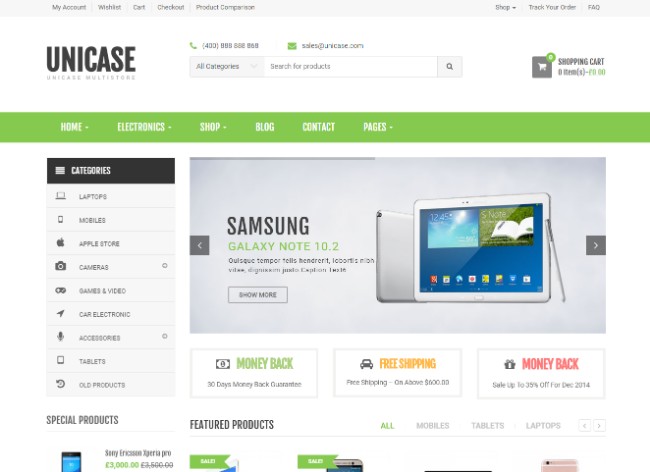 Showcase
A modern trendy Pinterest style grid layout affiliate theme that will offer an extremely engaging design for your site.
The theme comes with a number of different demo design templates and all are with amazing masonry templates that you can customize as per your requirement.
The theme offers you a front-end posting option. So, you can create a community kind of site with this theme and allow your visitors to submit their content on your site.
As the admin, you will get a message when a user submits content to your site and the user will get a success message that you can customize as you wish.
It offers you the shortcode option to place the post submission from anywhere on your site. And the theme also takes care of the potential spam with a proper captcha option.
BigBazaar
BigBazaar multipurpose WooCommerce theme for WordPress is built on top of the powerful Bootstrap framework using Visual Composer drag and drop page builder. The overall website is very flexible and can be customized to fit a wide variety of e-store designs.
Out of the box, the theme comes with about ten homepage layouts, on top of which there are multiple header and footer styles, unlimited color options and much more.
Other features of the theme include Revolution Slider, Mega Menus, Product in Cart, Ajax Product Search, Product Quick View, CSS3 animations, and much more.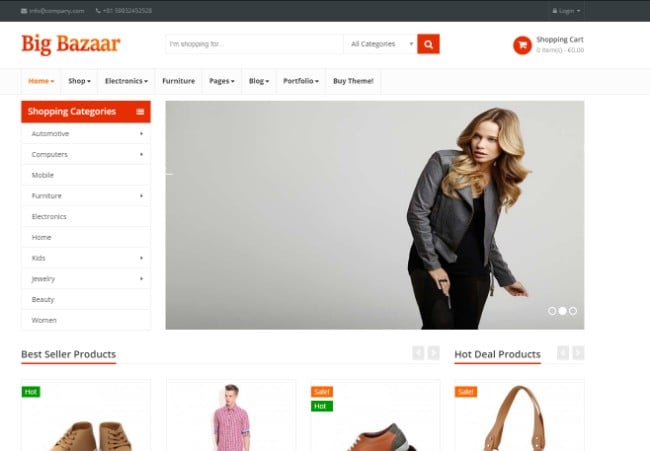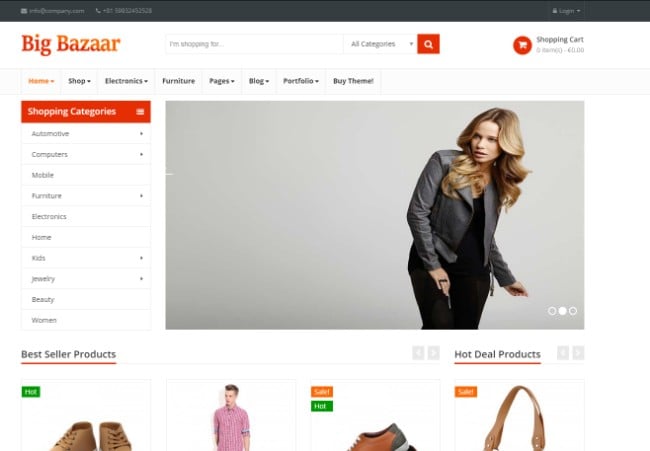 Bionic Amazon Affiliate Theme
Bionic is a digital store responsive PrestaShop theme for WordPress. It comes with plenty of options that can help you tweak the design layout of your website, as well as packs a bunch of cool features that will enhance the user experience of your online store. This theme is also built using the popular Twitter Bootstrap framework.
Design wise; the theme comes with over five different homepage demos, an eye-catching larger banner that you can use to showcase the newest products, along with other features such as Swipe, Animations, Owl Carousel elements, and much more.
In fact, much of the website can be managed with some Ajax modules. Apart from this, the theme also allows you to integrate an information blog as well as seamless social media integration.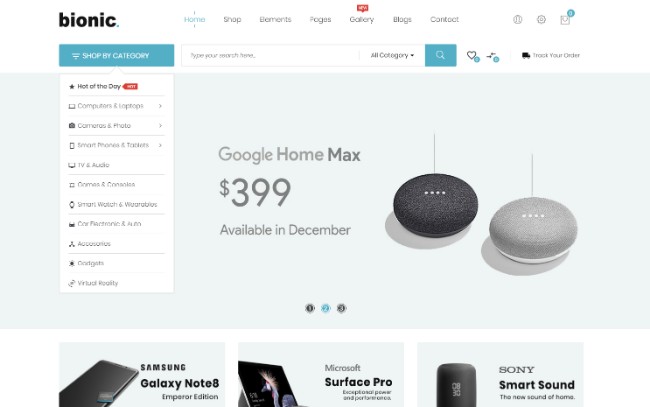 MediaCenter
MediaCenter offers a clean and modern design WooCommerce theme for electronics store-based WordPress websites. The design styles resemble the aesthetic choices used by Amazon, but it still manages to be its unique thing.
However, customization freedom is granted with a lot of tweaking options which lets you personalize the theme as you want.
Being an e-store theme, it ships with a lot of WooCommerce features like wishlist functionality, product comparison option, a custom taxonomy for brands, filtering options, product labels, and much more.
Apart from this, there are also a bunch of premium features such as the popular and powerful Visual Composer page builder, Slider revolution, and PSD Designs which altogether will save you about $56.
Furthermore, if this is your first time setting up a WordPress theme, there is also a free WordPress installation service that you will find extremely helpful.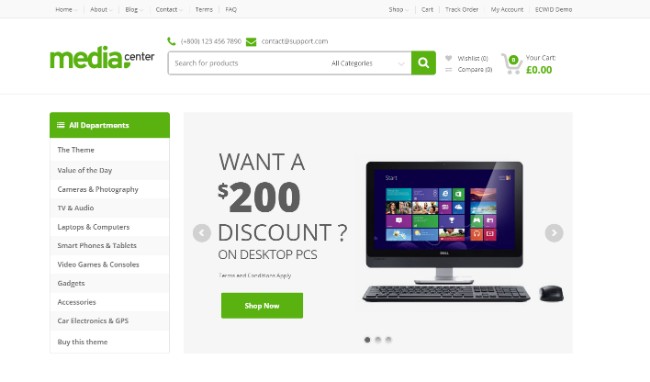 Technopolis Shop
Technopolis Shop is a flexible and robust electronics e-store WordPress theme that comes packed with over $300 worth of mods. This alone showcases the level of design flexibility you will get with the theme.
Besides this, it comes with loads of customization options and grants you complete control over your website.
To start off its feature list, let's first consider the drag and drop page builder, Menu composer, SEO manager, unlimited colors, over forty custom widgets and loads more.
Then there is a style editor, an advanced slider for images as well as video content, and plenty of options designated to deliver an optimal e-commerce experience for both you and your customers.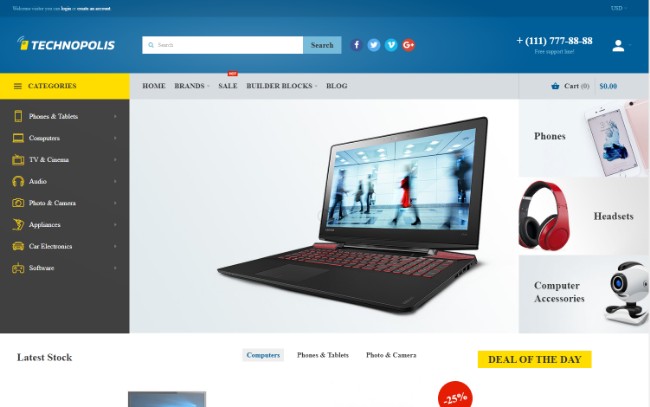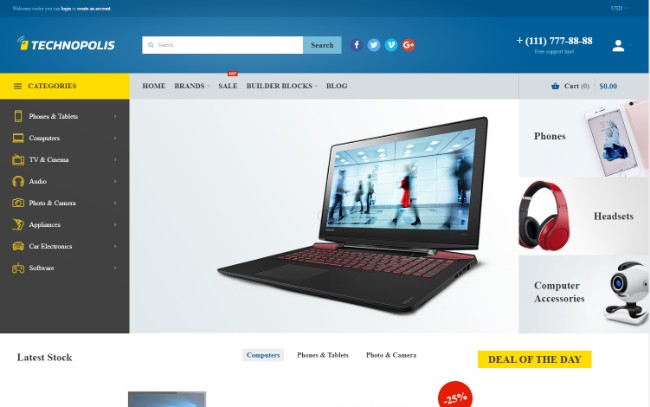 In Conclusion
So these were our picks for some of the best amazon WordPress store WordPress themes. Do let us know how you liked them in the comments section below.
Again, if you decided to use any one of these themes for one of your projects then do remember to let us know how things turned out. Your fellow readers will love to learn from another user.
Also, as mentioned there are hundreds of such themes and composing a list with all of them exceeds the scope of this read.
So if you happen to use a WooCommerce WordPress theme to create an Amazon-like website, then do tell us its name. Your contributions will be much appreciated.