A collection of best AdSense optimized WordPress themes that you can use to create your blog and make money.
There are plenty of ways in which you can use to monetize your website and make a passive income. Google AdSense is one of the most popular ways to monetize a site.
The Google Adsense program allows you to showcase advertisements on your website and then by views or clicks; you will get paid.
So essentially, the more traffic you have, the more money you can make with Adsense. However, you can't just populate your site with a bunch of ads and make navigation problematic to your users.
You will preferably need a website layout which strategically manages to place all the ads so that it doesn't miss the user's eyes, all the while not hampering the overall experience of your website.
Now, many developers have to take time to design awesome layouts for WordPress themes to make them more compatible with Adsense.
In fact, there are so many, that some of the best ones have gotten buried beneath the less potent but more advertised themes.
For this reason, we have done some research and put together a list of some of the best WordPress themes to help you make the most out of the Google Adsense program. So without further ado, here are theBest AdSense WordPress Themes
Note: Needless to say, all of the themes we are going to showcase here will be compatible with Adsense, and hence you should take that feature to be implied and won't be explicitly mentioned.
Also, since Adsense are mostly used by bloggers and sites catering news or other forms of trending content, this list will mostly be concerned with magazine, news, and blog based WordPress themes.
Don't miss this collection of best AdSense WordPress plugins that will help you to make the best out of this ad platform.
Best AdSense WordPress Themes
Ad-Sense
As the name suggests, this is a theme with custom and optimized AdSense placement options. This theme comes with all the options to maximize your ad revenue such as the ad blocker detector.
If ad blocker is installed in a system, it will prompt the user to deactivate it before users can view your content so that the ads don't go unnoticed.
It offers you some different design options and all are perfectly optimized for AdSense ads. This theme is perfect for blog and any other content site.
You will be able to set up your site without any issue from the theme options panel and change things around whenever you need it.
There are plenty of options provided by the theme to maximize the revenue from your site. It offers a very quick loading time which is one of the most important factors from the SEO perspective.
It also offers you some options to change the look and feel of your sites such as unlimited color options, sidebar options, background options, Google Fonts and a lot more.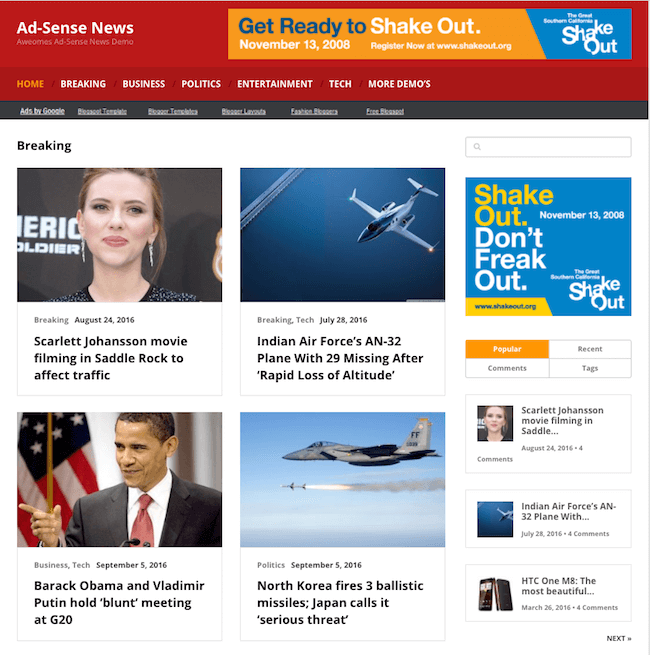 Divi
Divi is one of the most popular and widely used WordPress themes available on the market. This theme is created by the Elegant Themes team who is creating WordPress products for a long time.
It's a very powerful WordPress theme, and it is getting evolved constantly. The team is adding new features regularly, and you can expect this theme to be your complete solution.
Divi is packed with tons of amazing possibilities, features, and options. Divi comes with a huge collection of ready to be used design options, great looking landing pages, rich single page designs to make sure that everything is perfectly set.
Divi is powered by the amazing Divi Builder plugin, which is one of the best drag-and-drop website builders. It comes with multiple modules that you can use to create your pages.
The front-end live builder option makes it super simple for even a complete newbie user to create the perfect design for your site.
We have reviewed this theme in detail here; we recommend Divi theme for your site as it is backed by a very strong team and you can expect a safe online business if you are using Divi.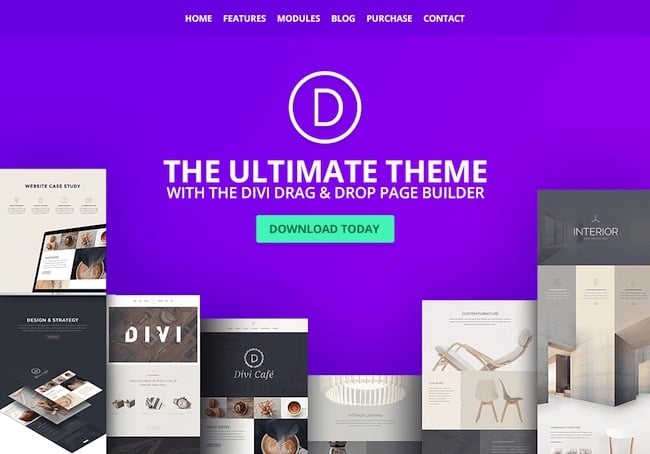 Bridge
Bridge is an extremely trendy and well-optimized WordPress theme for content-based sites. This theme is created for the viral content sites that drive tons of traffic from the social media.
The viral content sites are monetized with Google AdSense. The combination of social media traffic and AdSense ads working like a charm for many users and they are making huge money using his business model.
And this theme is custom created for such viral blogs or any other blog that focuses on user experience. This theme offers you a few different homepage designs, and all of them are perfectly optimized.
Newspaper
Newspaper is hands down, one of the most popular News themes for WordPress. The theme is ideal for news, magazine, and review based websites.
You will be able to showcase trending articles on a wonderfully crafted page layout which you can build and customize the provided tools.
It supports many types of post types including videos from YouTube. The theme also brings in useful features like the ability to create forums with bbPress, social networking features with the help of BuddyPress, and e-commerce functionalities thanks to WooCommerce.
It also implements the best of SEO practices for web design to help increase the overall traffic.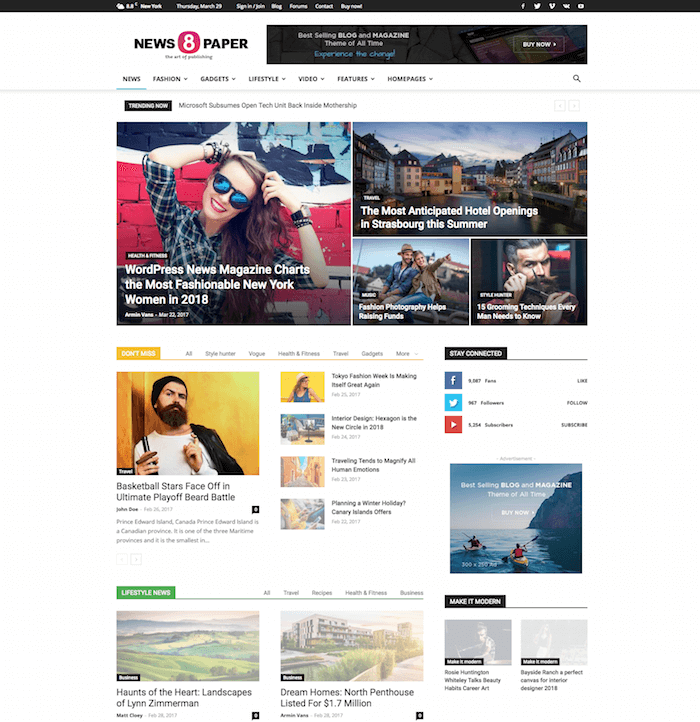 Feminine
A beautiful, minimal WordPress theme for blogging and news magazine sites. Though this theme is created for the female bloggers, this can be used for any blogging niche by anyone.
The professional and clean design of the theme can instantly attract your visitor's attention and keep them engaged with your content.
It's a very quick loading theme which is a great advantage regarding SEO and user experience. Well, know the loading time is extremely important these days if you expect your articles to rank well in search engines.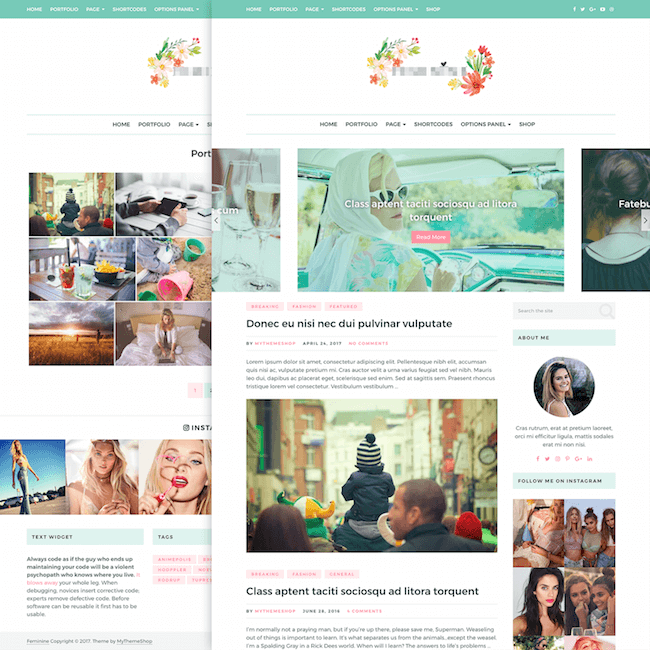 Interactive
A perfect WordPress theme for content-rich sites that is updated regularly with new content. if you are creating a multi-niche site, this is one of the best theme options for you.
The Interactive theme comes with a number of homepage design options to choose from. And you can use the theme customizer to fine-tune the design you select.
The theme offers you the one-click demo design import option to help you get started quickly. It is a fully responsive and retina ready theme to make your site look great on all devices.
You also have a very useful off-canvas mobile menu to optimize your site for the mobile version. The Interactive theme offers you a super quick loading time and SEO friendly design so that your content gets an edge in the search engine results.
This theme comes with unlimited color options so that you can style your site easily, you also have unlimited background options, sidebar options, over 600 Google Fonts, Icon fonts and more.
Admania
Admania is a simple yet powerful custom created theme for Google AdSense; this theme offers you all possible custom ad placement options.
This is a great WordPress theme for the affiliate marketers to maximize revenue. It offers you some ready to be used layout options which you can select as per your preference; you also have wide and boxed layout option.
It's a fully responsive design which works perfectly on the mobile device as well. And you have mobile optimized ad placements as well.
It comes with ad blocker detector, ad rotation option, multiple layout options, single page layout options, one-click demo import option and a lot more.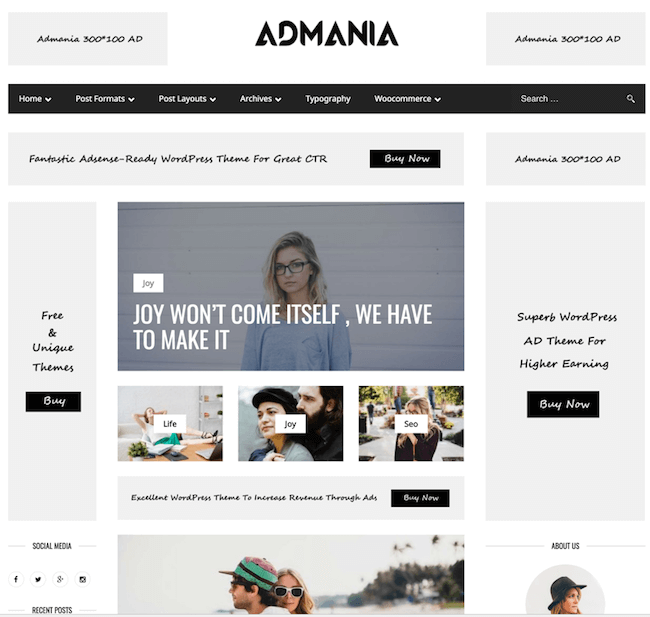 Clickright
Clickright is a simple and well-optimized WordPress theme for bloggers. If you wish to have a minimal design for your blog and offer a distraction-free reading experience to your visitors, this is a niche theme option for you.
Clickright is a perfectly optimized theme for the Google AdSense ads. You have multiple ad placement options in the top converting positions such as header, within the blog loop, sidebar etc.
It's a quick loading SEO friendly design that will surely help your content to outrank your competitors. Overall, it's a nice theme option for the bloggers.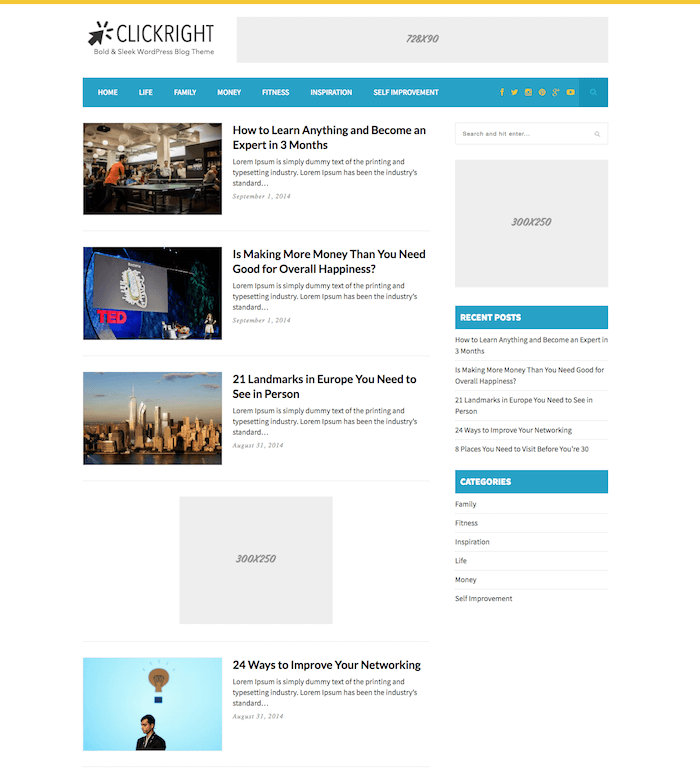 HowTo
Event wanted to create how to kind of a blog, here is the perfect theme for you. This theme offers you a great looking design perfectly optimized for the search engines as well as Google AdSense ads.
It is a very quick loading WordPress theme, so even if you host your website on a shared server it will load quickly. However, try to optimize your site with a quality WordPress hosting for an even better experience.
HowTo theme comes with two great looking homepage design variations to choose from. It is created with the best SEO practices to make sure that your content gets a better ranking in the search results.
The slider placed on the homepage makes the theme look beautiful. It also offers you nice looking parallax effect.
The theme offers you comprehensive theme options panel where you can manage everything about your site quickly.
It comes with unlimited color options to style your site, sidebar options, background options, Google Fonts, Icon fonts, related post options in the single blog pages.
The theme is fully responsive and retina ready to make sure that your site looks great on all devices.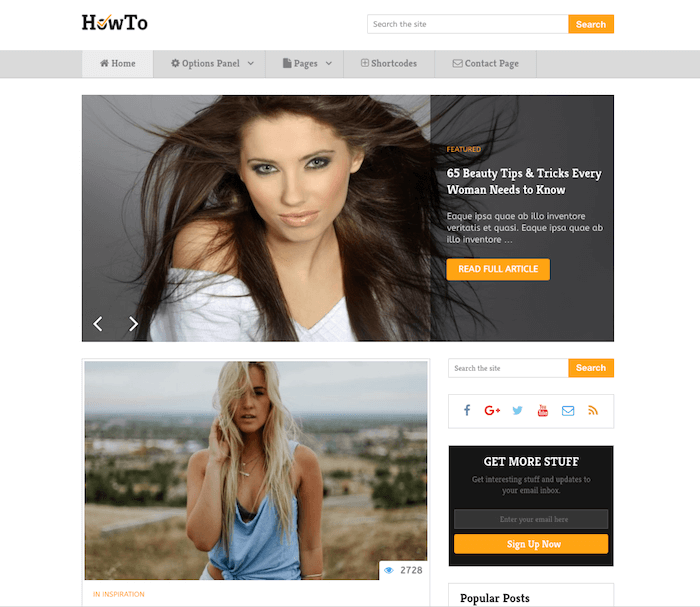 SocialMe
You will simply love the design of this theme. It looks extremely engaging and offers a highly optimized layout to make sure that your users are well-connected.
If you wish to create a community blogging kind of site where you allow your users to submit content on your site, this is a great theme option for you.
We have already written about the best user-content WordPress plugins that you can use with this theme to make it a complete community blogging site.
The three column layout of the theme gives a feel of Twitter & it gives you the front-end user registration and login options so that your users can get started quickly.
One important thing that you need to take care is the spam protection of your site. And for that, you can use the social login WordPress plugin to allow your users to use their social profiles to login.
You have a few other design options to choose from. You can quickly import any of the demo designs with just one-click and customize it as per your need.
You can fully redesign the look and feel of the theme with unlimited color options it offers. You also have the unlimited background, sidebar options, Google Fonts, Icon fonts.
The theme offers you readily integrated social sharing options, author bio, related content option, fluid responsive design, off-canvas mobile menu and more.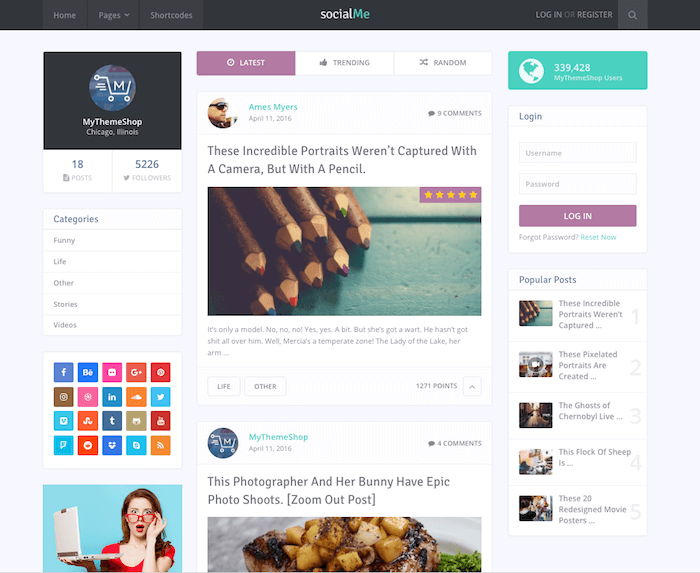 Blogging
As the name suggests, this theme is created for the bloggers. The theme comes with a very clean and minimal design yet very professional.
If you don't want to do any customization to your select theme, this Blogging theme is the perfect option for you as it already looks great as it is. And if you wish to spice it up with the best tools and drive tons of traffic, here is a list of over 300 blogging tools.
I have used this theme myself for one of my projects and it works perfectly. The theme is very quick loading that offers a great experience for the visitors.
It comes with powerful theme options panel where you can easily manage all the settings for your site, you can also change the look and feel of the theme.
The theme is loaded with features such as great design, unlimited color options, sidebar and background options, Google Fonts, Icon Fonts, mobile-friendly design, SEO optimized layout, perfectly optimized for Google AdSense.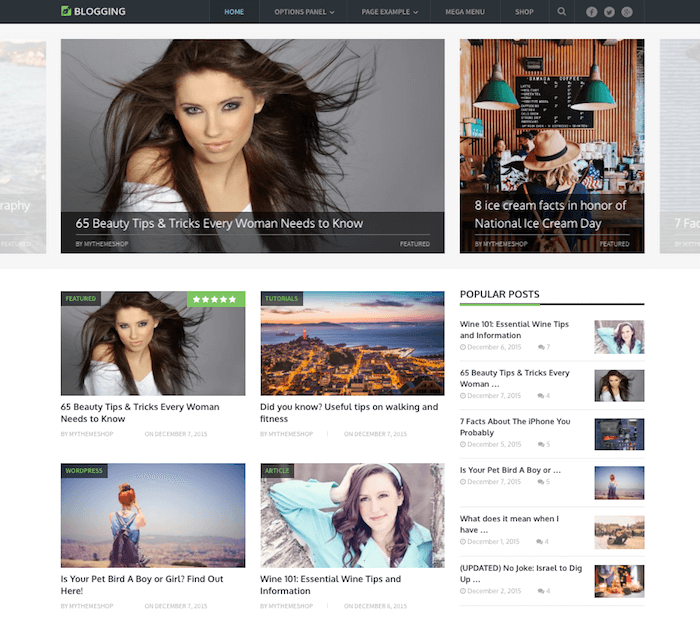 CheerUp
CheerUp is one of the most powerful WordPress themes you can get for blogging and crafting a story writing platform.
It can also be effectively used to design a news based website. It comes with luxury design options and implements design principles that are aesthetically pleasing.
The theme comes packed with over three hundred possible layout combinations, so don't think you are compromising by any means. You will also get a lot of social media share buttons, beautiful sliders, and a multitude of widgets.
Other than this, you will get multiple sidebars an off-canvas menu for mobile users, and Contact Forms to help increase subscription counts.
MoneyFlow
MonyFlow is another great looking and well-optimized WordPress theme. The big slider in the homepage of the theme gives it a beautiful design.
Like all other MyThemeShop themes, the MoneyFlow theme is also loaded with amazing features such as unlimited color options, background, unlimited sidebar options, you can spice up the typography with over 600 Google Fonts, Icon Fonts.
The theme comes with a powerful theme options panel that you can use to setup your site and change things around whenever you feel like.
You have the option to add an unlimited number of sections on the homepage of the theme, you can show posts from different categories right on the homepage of the site.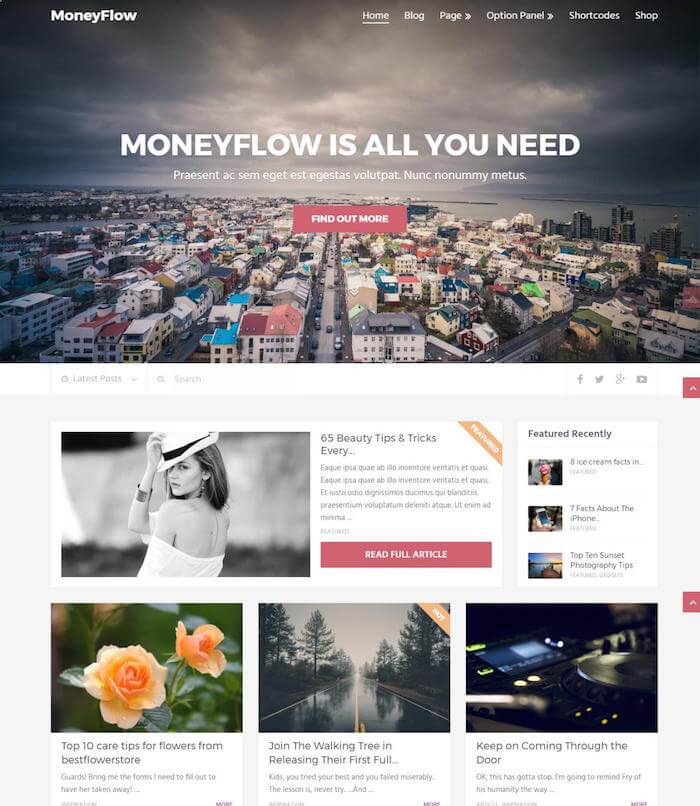 CTRSpace
CTRSpace is a simple and elegant WordPress theme for the AdSense sites. This theme is perfectly optimized for the Google AdSense ads.
You can easily add the AdSense code at multiple locations on your site making sure the conversion rate goes up.
Though the theme looks very simple, it does offer you amazing customization options. you can have classic blog layout or grid layout as per your choice. You also have beautiful color options if you wish to play around with the color skin of your site.
Another best part is the loading time of the theme. It is a very quick loading WordPress theme that will offer a great experience for your visitor.
As the theme is created with the best SEO practices, it will push your content higher in the search results.
Overall, it's a great theme option for those who don't want to get confused with too many options. It will be perfect for you as it has kept things simple as far as possible.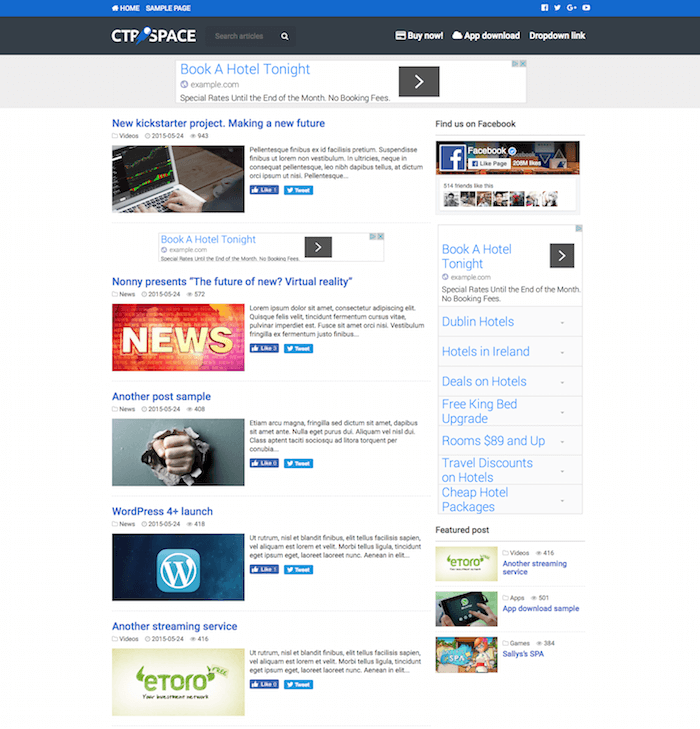 Sahifa
Sahifa is another one of the popular news and blog theme for WordPress. The theme is riddled with useful features and functionalities that will enhance the overall capabilities of your website and give you a lot of options to play with.
For example, you will get powerful features like ajax live search, post-view system, the premium Instagram plugin as well as the Taqyeem rating plugin and lightbox plugin, along with a weather widget, a multitude of different layout variations, shortcodes and so on.
It is also rich in customization tools and options to help tweak the look of your site to something more pleasing.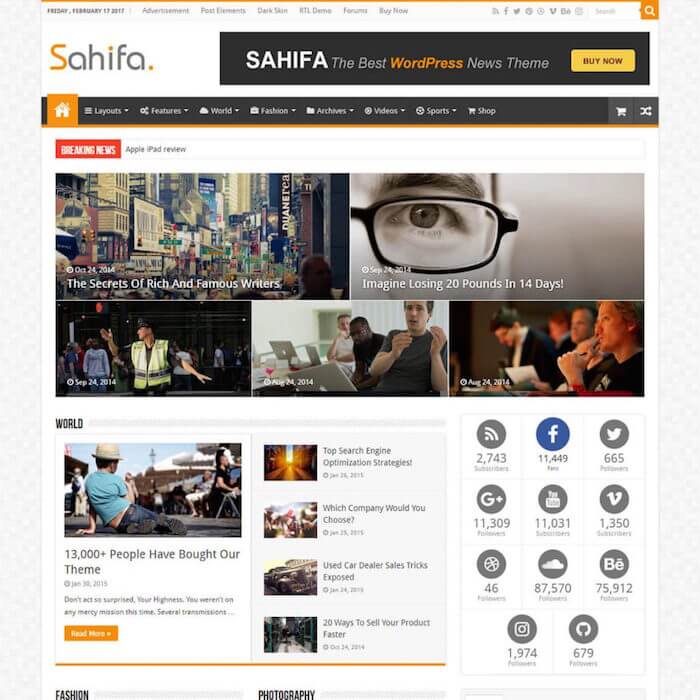 NewsMag
NewsMag is yet another designed for people running news, magazine-based website or simply a blog. It boasts excellent designs and awesome customization options which makes it one of a preferable News WordPress themes for aesthetic value.
Coming to its list of features, you will have an enhanced header and footer navigation system, custom sliders that are exceptionally well built, plenty of useful widgets, multip post format supports, and a design style that helps increase user engagement.
You will get social share buttons, author boxes, related post functionality and much more. In fact, it so features rich, that you will hardly find the need to install some third-party plugins.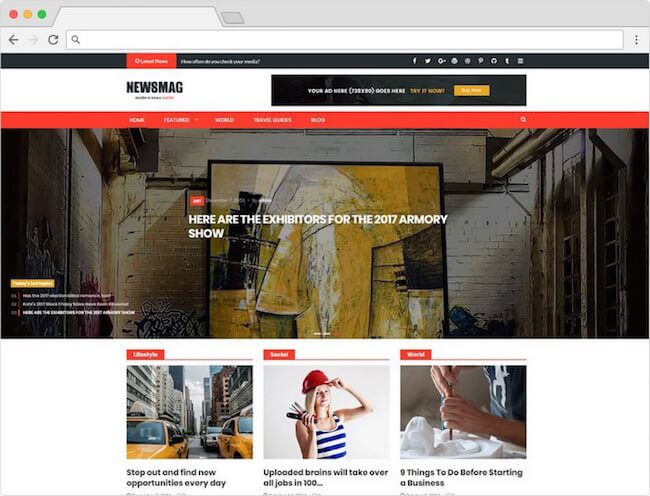 GoodLife
GoodLife WordPress theme implements impressive design principles and pre-built demo layouts that make for a stunning visual experience.
It comes with a range of different layout that has been previously curated to serve a particular type of content. Most of these demo pages are built to help you make a magazine or news site.
There are also many demo article pages, dedicated pages for gallery and video, WooCommerce compatibility for running your online shop, different header styles, and a bunch of premium plugins like the drag and drop page builder: Visual Composer, Essential Grid, Maintenance Pro, Viral Quiz Builder, and much more.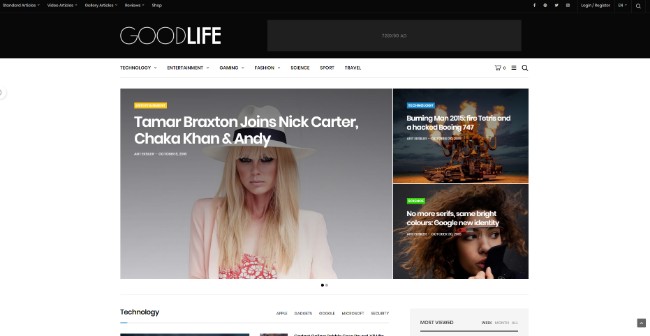 The Voux
The Voux is one of the most popular solutions for your needs of a comprehensive magazine WordPress theme.
It comes with a bundle of professionally designed pre-made demo layouts and also has Visual Composer in the mix to help you build on top of these demo materials.
Besides this, there are many more features included with the theme. You will also get your hands on Sidekick which will give you an interactive walkthrough on how to use the theme, making it very user-friendly.
Some of its noteworthy features include WooCommerce compatibility, stylish article pages, a full-on social sharing experience, a fuel studio, Infinite Loading, multiple header styles, and much more.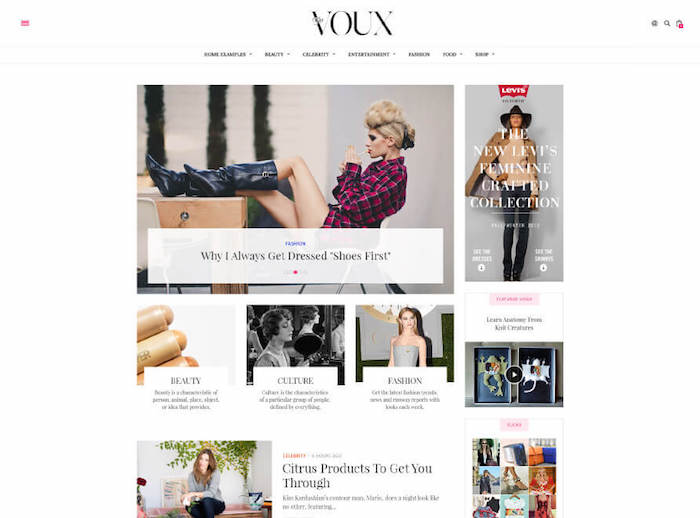 Flick
Flick WordPress theme is designed to create magazine/news-based websites. It is also suitable for bloggers and journalists who want to boast a website design focused on minimalism and is content driven. The theme also supports many media files including photos, graphics, and so on.
To display your ads, you will get a handful of ads spaces, including a banner below the menu bar and three more to the left side of the page.
Do note, that the position of these ads never changes in spite of you moving around the website.
The Flick theme is very quick and SEO friendly. It comes with a very simple yet professional looking layout that offers a great experience for the users.
You get amazing control in this theme; you can manage all the details about your site from the theme options panel. You can customize the look and feel of the theme with unlimited color options, sidebar options, background options, Google Fonts, Font Icons and more.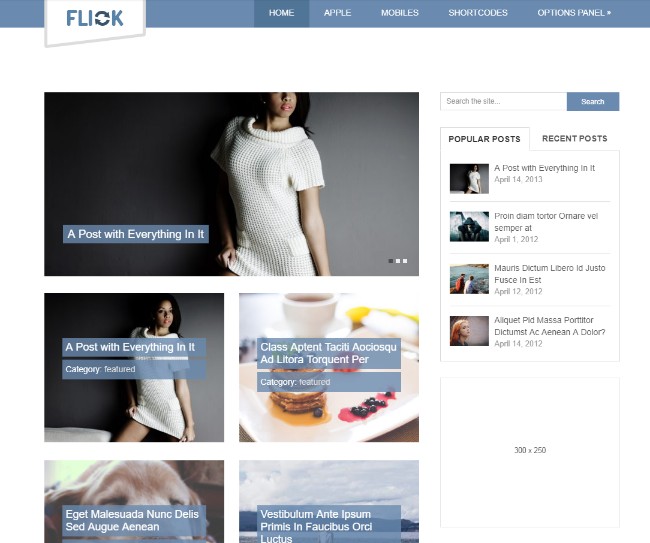 Digitalis
Digitalis WordPress theme is designed for multipurpose use and boasts a very clean and colorful design style. There are a lot of options to provoke contrasting color schemes which will serve as a great eye catcher.
Popular uses of the theme, however, is with blogs and magazine based websites.
However, WooCommerce functionality is also put into the mix just in case you need it.
The theme has a lot of ad spaces. Starting out, there are two on the homepage itself, and the option to include a lot more on every post and page.
Besides all this, the theme is also loaded with useful features such as an image lightbox, unlimited color schemes, custom widgets, SEO ready coding, and so on.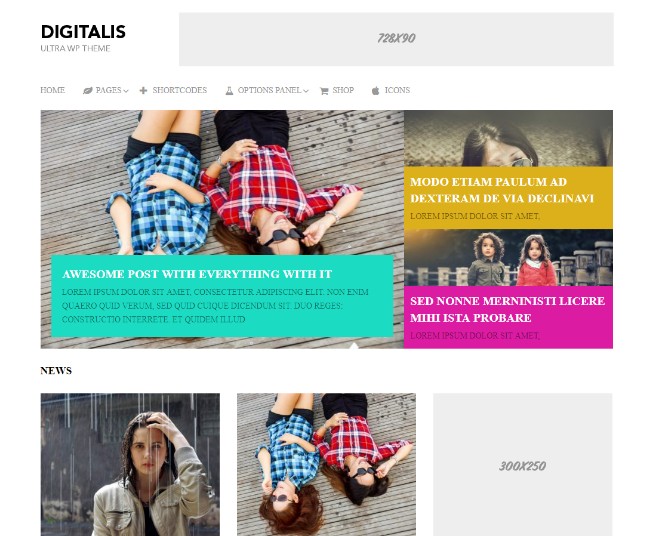 Pixeldom Theme
Pixeldom is another clean, minimal and simple AdSense optimized WordPress theme for the bloggers. This theme offers you a very simple, classic layot for your blog.
It is a light-weight and SEO optimized design that would offer a great reading experience to your visitors. This is perfectly responsive to make it work on the mobile devices.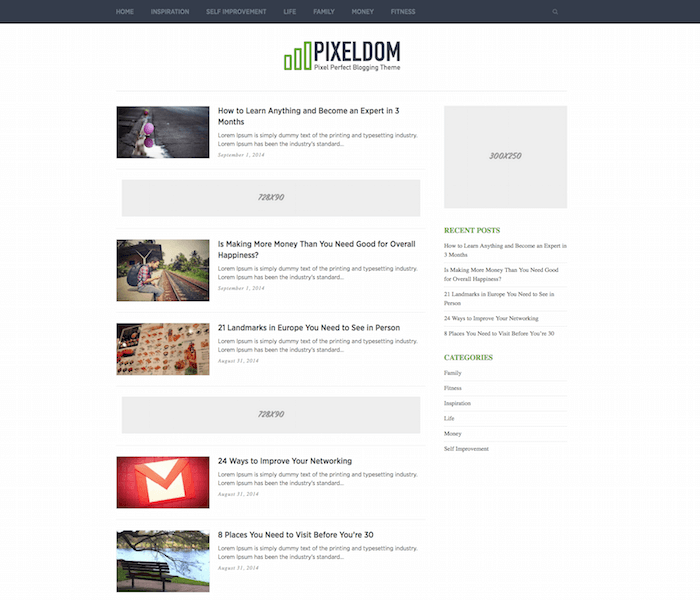 FlyMag Pro
FlyMag WordPress theme implements a modern and clean design coupled with well-organized content and an elegant layout.
It comes with beautiful sliders, widgets and video embed to help enrich the user experience. Many of the custom widgets provided with the theme can also function as an ad banner to help you include ads anywhere on your site.
The theme also has a decent number of customization and site building tools to help get a desired aesthetic design. Notable features of the theme include WP Product Review, unlimited colors, carousels, and featured sliders.
Overall, the theme can be used to help build your news, magazine, or review website, or anything of the similar category.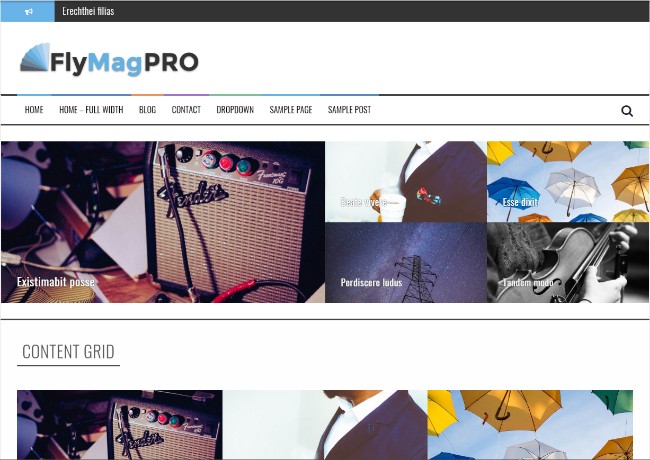 HotNews
HotNews WordPress theme caters to webmasters in need of a news, magazine or similar style themes. It has a special list of features which you can implement together and offer a satisfying reading experience to your users.
For example, there are some fascinating color schemes which you can implement to improve readability and provide a subtle color accent to your certain content.
It also gives you a lot of control over your website and comes with some appreciable features like a sleek and fancy lightbox, unlimited backgrounds, social media integration, pagination systems, custom widgets and so on.
Tabloid
Tabloid News and Magazine WordPress theme comes with more of a darker design style with black backgrounds and the combination of red and white text and buttons.
It is ideal for a tech news based or a gaming news-based website, but your imagination is at your disposal. The theme integrates four ad spaces on the home page itself and three more on other pages of the website.
Notable features include things like a featured slider, social media links, a news ticker, widgets support, multiple ad spaces, many layouts, a multitude of customization options and so on.
Also, if you are not too appreciative of the whole dark color schemes, there is an option to switch to a lighter one.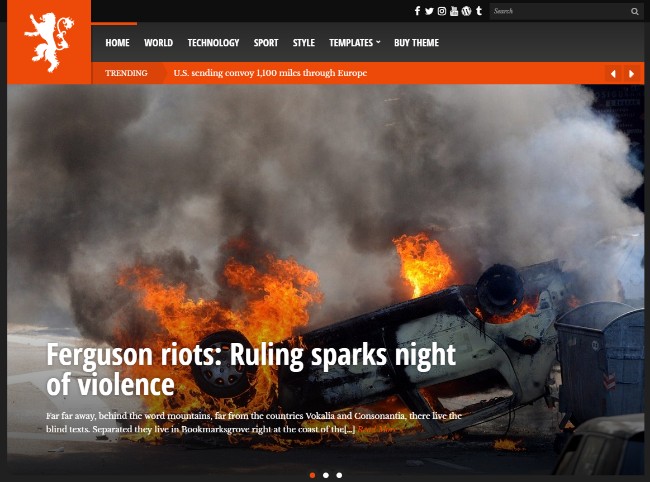 Magazine
Magazine WordPress theme offers a three column based news/ magazine website design. It is built using the powerful Themify builder which you also have access to for tweaking and reinventing the layout of the theme.
If you are not a fan of its simple layout design style, then you can even build far more complex ones as seen on many of the popular news sites.
The theme initially comes with over forty-two pre-built layouts, multiple sidebar options, mobile side navigation, mega menus, widgetized areas for placing your ads, footer menu and widgets, social share buttons, breaking news ticker, six color skins, styling panels and so much more.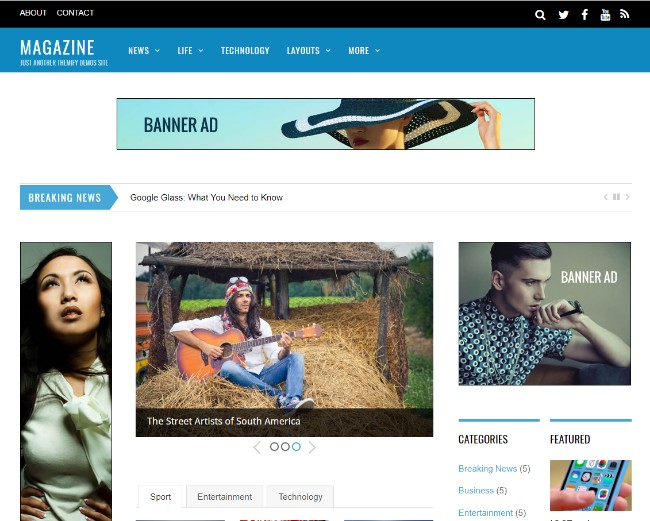 TruePixel
TruePixel is a blogger-specific WordPress theme designed to have a modern and elegant feel. Layouts and design choices of the theme are simply great to offer up a pleasing user experience.
However, the theme can also serve users with its array of useful features and functionalities.
To help you increase overall traffic to your website, the theme is Schema integrated; and furthermore, with optimized Adsense support, you will notice your CPCs, CTRs and RPMs skyrocket. It helps to improve your bounce rate as well.
Other than this, the theme comes with layout option for viral content, parallax scrolling, author box, WP Review Pro plugin built in, lazy loading for images and so on.
Herald
Herald is a news and magazine based WordPress theme which implements a great design and useful features. It also carries the powerful WP review plugin will make it eligible to be used as a review theme as well.
The theme is also high on customizability with over 500 possible variations with all the article listing layouts, unlimited Sidebars, Sticky Sidebars, unlimited color schemes, pagination types, custom widgets, and much more.
The theme is also compatible with WooCommerce and bbPress, not to mention, it carries with it an advanced theme options panel, smart categories, unlimited sidebars, sticky sidebars, infinite scroll loading, pagination types, social sharing options, support for different post formats and so on.
Valenti
Valenti is a modernized WordPress theme designed for the contemporary creative individuals. The theme is primarily designed to function as a magazine based website and comes with a custom drag and drop Valenti Page builder, to help you build website layouts as your contemporary mind sees fit.
Other than this, the theme is fitted with many customization options and other useful features such as a unique featured image system, a mega menu system, compatibility with bbPress, BuddyPress and not to mention WooCommerce among many more things.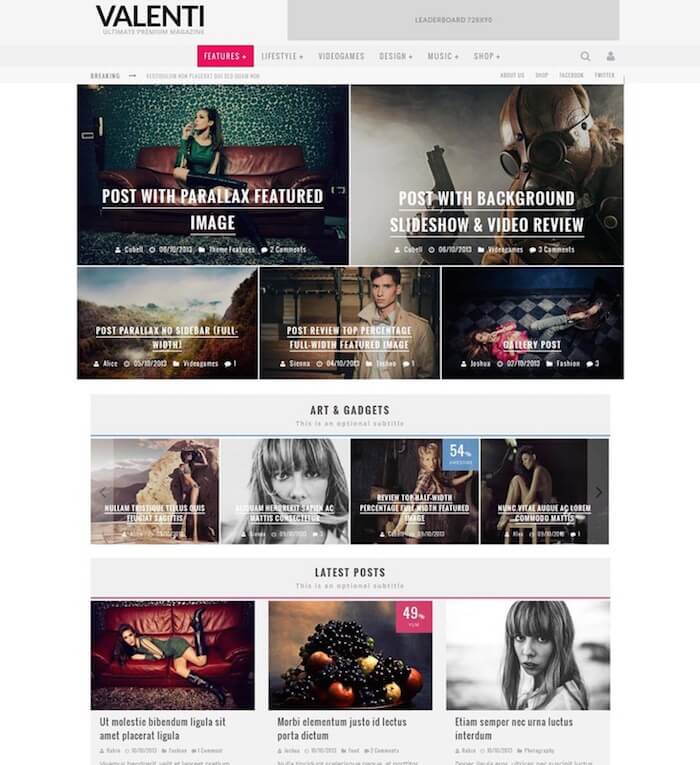 Max Mag – Responsive WordPress Magazine Theme
Max Mag WordPress theme is a fully featured, professional magazine based theme for WordPress. It comes with a powerful drag and drops homepage builder and loads of customization options to help make a website that fits your design criteria.
The advanced admin panel also grants you a lot of options to tweak around with the theme appearance.
To help showcase your content, the theme has some powerful sliders, and for branding or decorating purposes, you get access to unlimited colors.
Besides this, the theme is loaded with an array of custom widgets, different ad units, sticky menu bar, and so much more.
Grimag – AD & AdSense Optimized Magazine WordPress Theme
Grimag WordPress theme is designed for editorial use and has very powerful SEO features. You can rest assured, that your content is going to get the ladder rank it deserves to have.
The theme brings a well-organized site layout and translates that seamlessly to the search engines so they can better understand the content on your site. Besides this, the theme also manages to implement much design specific and feature specific options.
Noteworthy among its list of features would include the light and dark skins, customization support for posts and pages, unlimited sidebars, custom widgets, custom styles and so on.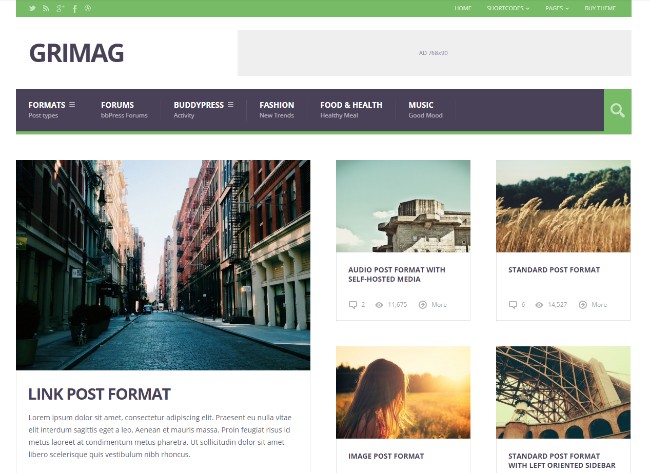 MH Magazine
MH Magazine is an excellent WordPress theme built to help you create a fantastic magazine website or similar editorial related projects.
The theme is loaded with many customization options, advanced theme layouts, and unlimited colors to help you craft a website that resembles your imagination.
A drag and drop page builder is provided to help you create your own layouts, as well as arrange the widgetized areas which you will be using to showcase all your ads. Then there are features like sliders, built in author box, custom menus, widgets and much more.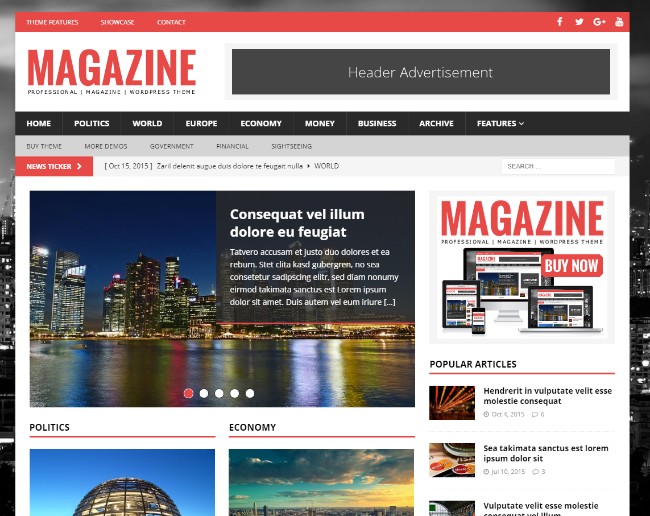 Spartan Magazine
Spartan Magazine WordPress theme is a designed to cater to the needs of magazines and news-based websites, including blogs.
The basic design of the theme includes three principal columns, two of which are used to showcase articles and the other one dedicated to social share buttons and links.
You will find multiple demo websites tagged with the theme designed to cater to different needs, but its health category demo is the most impressive.
Ads banners are allocated all over the design layout starting from the homepage to each article and posts. On the homepage itself, you will have two banners one located at the top and the other one to the bottom.
Feature-wise, the theme comes with customizable images, unlimited colors, sidebars, widgets, a login/registration form, and much more.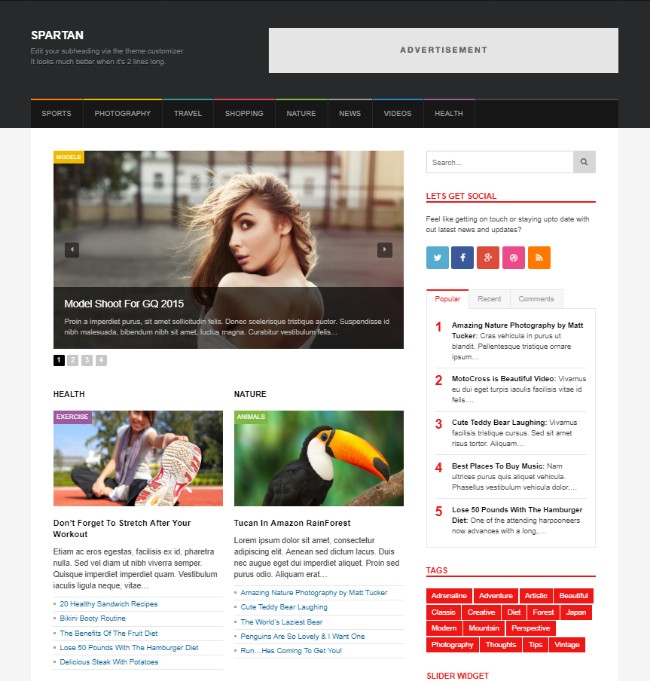 Alpha
Alpha WordPress theme is built using the popular Zoom Framework and is designed to showcase your articles as well as ads in a clean and modern UI.
The design language of the theme uses a content first approach with nice categorize to make everything well organized. There is also a dedicated section to help users find main stories of the day.
The homepage layout of the theme makes room for two Adsense banners, one at the top and the other one in the middle. The top ad banner is sticky which means no matter if you scroll down or move around, the ad will be ever-present.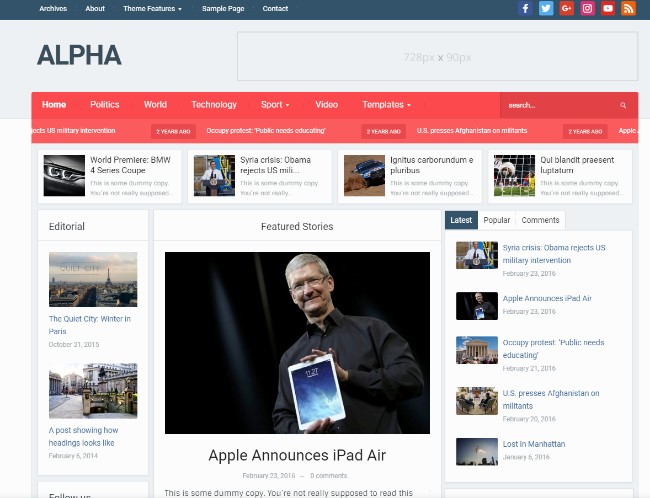 Daily Theme
Daily Theme for WordPress is curated for magazine style websites that have busy publication schedules. The theme is loaded with features to help you organize and publish your content as fast as possible.
On top of that, it has an easy to use Ad Management panel and a customizable sidebar to showcase all your ads.
The theme comes with many templates and customization options to help you achieve your desired look. Also, it further improves the user experience; there are many features such as archives, full-width layout design, custom widgets, and so on.
NewsDesk
NewsDesk comes loaded with features that are designed to help you run a flexible and dynamic news WordPress theme fitted with useful options and powerful features.
Design wise; it boasts the modern flat design which also helps to highlight your articles, headlines, and images on your website.
It is also fully widgetized, has social media integration and comes with plenty of ad spaces. The homepage itself has up to five ad spaces and three separate ones for when you navigate into other sections.
ProStore
ProStore is a feature-heavy WordPress theme designed to cater to the needs of news-based websites. However, it does come out of the box with WooCommerce, bbPress, BuddyPress and many more plugins.
The theme is SEO ready, and Adsense optimized making it a great source of building your passive income channel.
One of its features highly would be its efficient manner of bringing structure and organization to your blog. You get a separate block dedicated to every topic which you can arrange in an easily accessible manner.
Foundly
Foundly is primarily an SEO centric WordPress theme, but it does come with many features that will help you use Adsense to its fullest. It has a minimal and modern design style with neat content organization options.
You will get access to two demo websites, one of which boasts a classic website design style and the other one is curated for news and magazine based websites.
On the feature department as well, it is filled with tools and options that will help you run your website with ease like – multiple blog layouts, social links, live customizer, and much more.
In Conclusion
We have you have liked this list, and it was informative. Do let us know if you decided to use the themes we mentioned here, and tell us what you liked about it.
Again, if you have experience with any of these themes then also write about it in the comments section below. All of us will love to have another perspective.
Also, as we said, there are many Adsense themes out there and covering all of them exceeding the scope of the read.
We have listed the best Adsense WordPress themes we have personally come across, but if you know some more, feel free to mention them down in the comments section.
Your fellow readers will love to have even more options to choose.