A collection of the best AdSense-optimized WordPress themes that you can use to create your blog and make money.
There are plenty of ways in which you can use to monetize your website and make a passive income. Google AdSense is one of the most popular ways to monetize a site.
The Google Adsense program allows you to showcase advertisements on your website and then by views or clicks; you will get paid.
So essentially, the more traffic you have, the more money you can make with Adsense. However, you can't just populate your site with a bunch of ads and make navigation problematic for your users.
You will preferably need a website layout that strategically manages to place all the ads so that it doesn't miss the user's eyes, all the while not hampering the overall experience of your website.
Now, many developers have to take time to design awesome layouts for WordPress themes to make them more compatible with Adsense.
There are so many, that some of the best ones have gotten buried beneath the less potent but more advertised themes.
For this reason, we have done some research and put together a list of some of the best WordPress themes to help you make the most out of the Google Adsense program. So without further ado, here are the Best AdSense WordPress Themes
Note: Needless to say, all of the themes we are going to showcase here will be compatible with Adsense, and hence you should take that feature to be implied and won't be explicitly mentioned.
Also, since Adsense is mostly used by bloggers and sites catering to news or other forms of trending content, this list will mostly be concerned with magazine, news, and blog-based WordPress themes.
Don't miss this collection of best AdSense WordPress plugins that will help you to make the best out of this ad platform.
Newspaper
Newspaper is hands down! It is the most popular News theme for WordPress and is ideal for news, magazine, publishing, and review-based websites.
The Newspaper theme includes tons of unique pre-made demos and a gallery full of layout designs, social network integration, flexible elements, and its entire frontend customization enabled.
You will be able to showcase trending articles on a wonderfully crafted page layout which you can build using the drag-and-drop functionality.
A theme that's easy-to-monetize your website with, Newspaper allows you to place AdSense and banner ads all over your website. Styled and intuitive, this theme makes your website stand out.
It is a fast and performant theme that also implements the best SEO practices for web design to help increase overall traffic.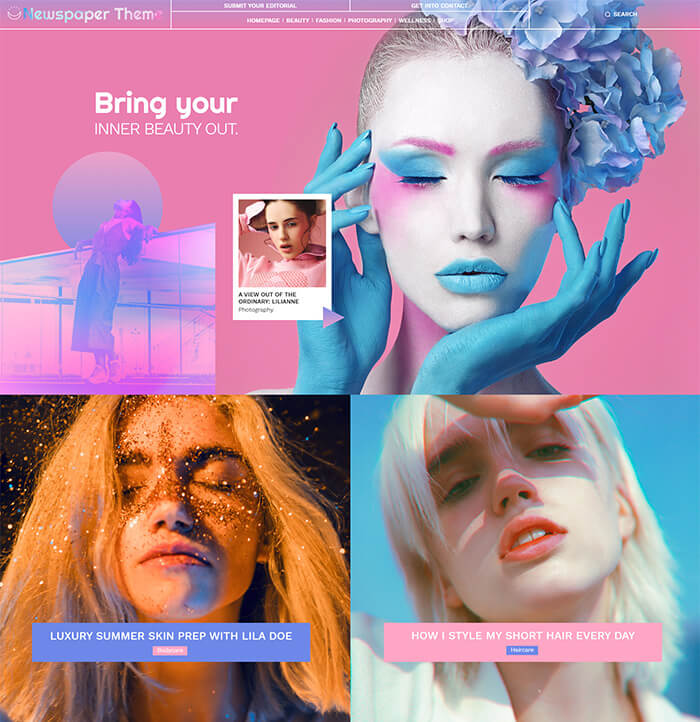 Ad-Sense
As the name suggests, this is a theme with custom and optimized AdSense placement options. This theme comes with all the options to maximize your ad revenue such as the adblocker detector.
If an adblocker is installed in a system, it will prompt the user to deactivate it before users can view your content so that the ads don't go unnoticed.
It offers you some different design options for AdSense ads. This theme is perfect for a blog and any other content site.
You will be able to set up your site without any issues from the theme options panel and change things around whenever you need it.
There are plenty of options provided by the theme to maximize the revenue from your site. It offers a very quick loading time which is one of the most important factors from the SEO perspective.
It also offers you some options to change the look and feel of your sites such as unlimited color options, sidebar options, background options, Google Fonts, and a lot more.
Divi
Divi is one of the most popular and widely used WordPress themes available on the market. This theme is created by the Elegant Themes team, they are in the WordPress product business for a long time.
It's a very powerful WordPress theme, and it is getting evolved constantly. The team is adding new features regularly, and you can expect this theme to be your complete solution.
Divi is packed with tons of amazing possibilities, features, and options. Divi comes with a collection of ready-to-be-used design options, great-looking landing pages, and rich single-page designs to make sure that everything is perfectly set.
Divi is powered by the amazing Divi Builder plugin, which is one of the best drag-and-drop website builders. It comes with multiple modules that you can use to create your pages.
The front-end live builder option makes it super simple for even a complete newbie user to create the perfect design for your site.
We have reviewed this theme in detail here; we recommend Divi theme for your site as it is backed by a very strong team and you can expect a safe online business if you are using Divi.
Get a 10% discount on ElegantThemes package ( Including Divi ) using this discount link.
Astra Theme
One of the most popular themes in the market, Astra is used by over 500k websites. This number says all about the quality of this theme.
Once you get the Astra theme, you will never have to look for another theme for your business. You can create an unlimited number of designs with this theme.
The Astra theme works out of the box with the Elementor website builder the Brizy website builder, the Beaver builder, etc to make sure that you are able to create the perfect custom design for your site without any coding.
Another big advantage of the Astra theme is that it is well-optimized to offer great performance.
If you have an established business and looking for a design change, you must consider Astra as one of the options because it will surely improve the overall performance of your site.
Also, check the available discount on Astra Theme.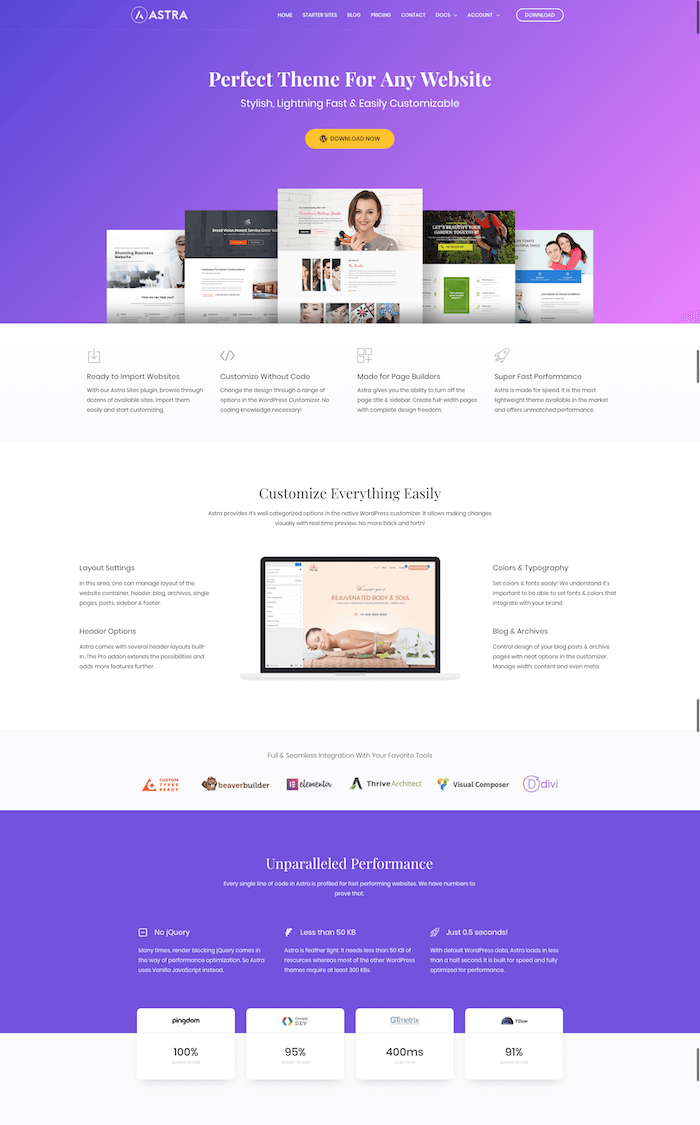 Kadence Theme
One of the most powerful and versatile WordPress themes at the moment, Kadence is a freemium theme for bloggers and business sites.
The free version of the Kadence Theme is much better than most of the paid themes available. It offers you amazing features and options even in the free version of the theme.
In fact, in most cases, you don't need the premium version of the theme as the free version is good enough.
The WordPress customizer section is loaded with all the important features of the Kadence Theme so that you can customize the look and feel of the theme without any external tool or plugin.
It comes with a comprehensive header builder with a number of elements and drag and drop setup to help you create a fully optimized and unique header section for your site.
Kadence is a very lightweight and fast-loading WordPress, so as soon as you start using the Kadence Theme, you will see an improvement in the overall performance of your site.
It loads in less than one second making it a top choice when it comes to selecting the best WordPress theme.
Kadence Theme is fully optimized to work out of the box with the Gutenberg editor. It will help you to make use of the flexibility and powerful block elements to create a unique design for your site.
Another advantage of using the Kadence Theme is that it is fully compatible with the Elementor Builder, Beaver Builder as well as Brizy Builder.
If you are planning to create an online shop, you can use the Kadence Theme theme as it is fully compatible with the WooCommerce plugin.
You can also create an eLearning portal with the Kadence Theme using the LearnDash, LifterLMS, or the TutorLMS plugin.
Overall, Kadence Theme is a great choice for any kind of website you wish to create using the WordPress platform.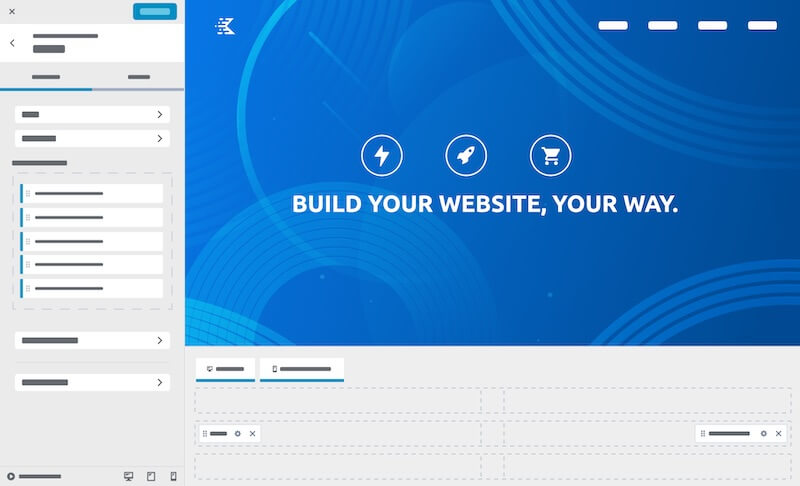 Extra
Extra is a magazine-style WordPress theme from the ElegantThemes store. This theme is powered by the amazing Divi Builder plugin.
You can create any kind of design with the builder without writing a single line of code. You have beautiful ready design templates that you can use to create your site.
Other than content publishing, you can use this theme to start your product review site as it offers you a perfectly optimized design for the review kind of posts.
You have a post and page builder who works out of the box. You will get access to a huge collection of amazing modules that you can use to create your site.
You also have the category designer make sure that your category section looks beautiful and is optimized properly.
The Extra theme is created to work perfectly on small-screen devices. It is a Google AdSense-ready WordPress theme so that you can easily place your ad code and get started.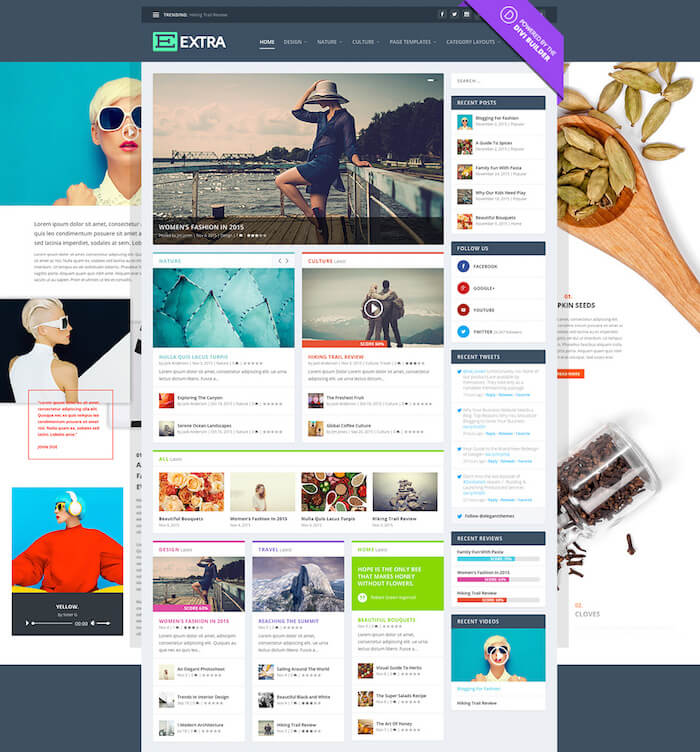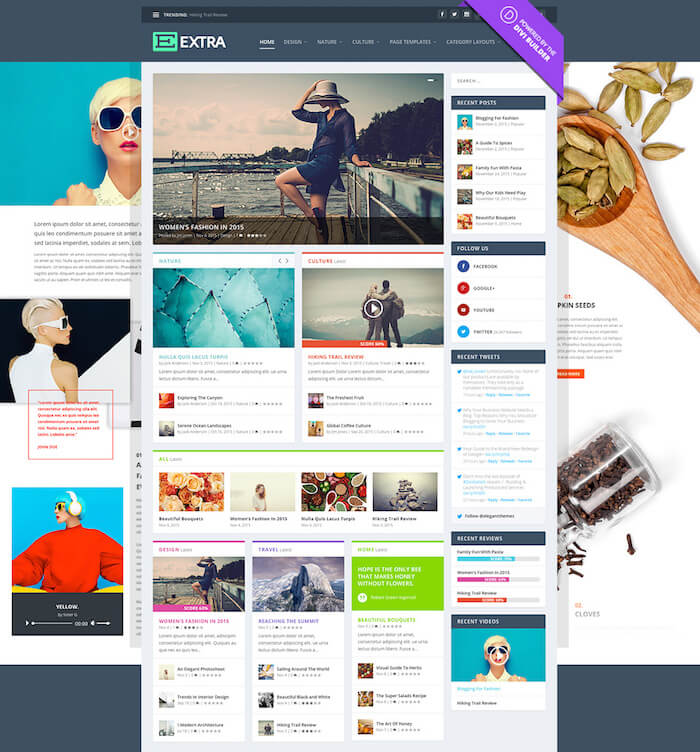 MagPlus
One of the most advanced and multipurpose magazine-style WordPress themes, the MagPlus is the theme you need if you are a blogger or managing any news type of site.
MagPlus theme comes with over 40 ready-to-use demo design templates that you can import with just one click and make sure that your site is ready instantly.
MagPlus is created to work perfectly with the Elemento website builder so that you are able to create beautiful-looking pages on your site without any coding.
The theme already offers you beautiful niche demo designs that you can import and start editing with Elementor to make sure that you have a completely unique design for your website.
It is perfectly optimized for search engines to make sure that your content is ranked well in the search results. You will have a built-in cache system to make your site load quicker.
MagPlus is packed with over 200 elements and widgets that you can use on your pages.
As we are talking about the AdSense optimized WordPress themes, this theme offers you ready-to-use a built-in ad management system.
You have multiple ad locations to maximize your revenue. The theme supports a responsive ad-option to make sure that you never lose any revenue.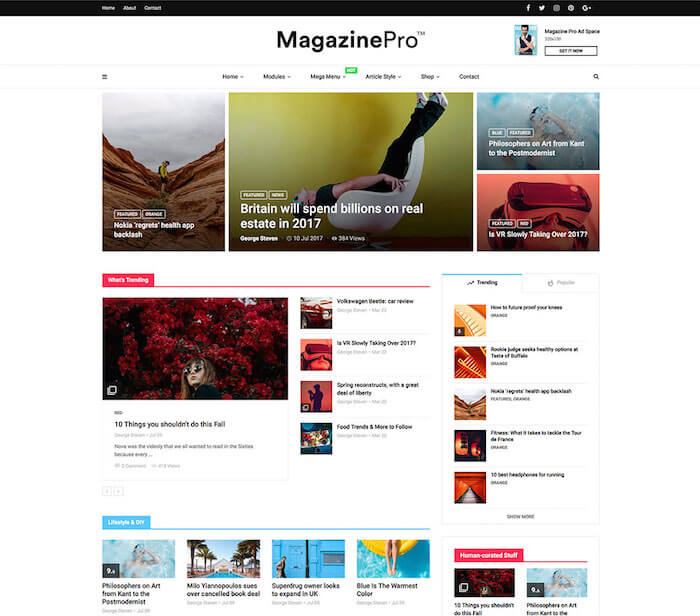 JNews
We have used the JNews theme for BeginDot for more than a year, and we can speak from our experience that it is a great choice.
If you are looking for a good-quality magazine-style WordPress theme for your site, the JNews theme is a great option.
JNews theme comes with a built-in ad management option that you can use to place the AdSense code in the top converting locations of your website without having to edit each page.
Just paste the AdSense code once in the JNews theme ad locations and the ads will start showing on all the pages.
You have the complete freedom to choose the placements on your site. For the ads within your content, you can select the number of paragraphs after which you want the ads to show.
Not only AdSense, but you can also display any kind of ad using the JNews ad management options. If you are using banner ads to monetize your website, you can use the JNews ad settings to place your banner ads.
As far as the design is concerned, the JNews theme comes with a large list of demo design templates to choose from. You have the freedom to edit chosen templates to fit into your needs.
The theme works with the WPBakery website builder as well as the Elementor builder to help you create completely unique design for your site without any coding.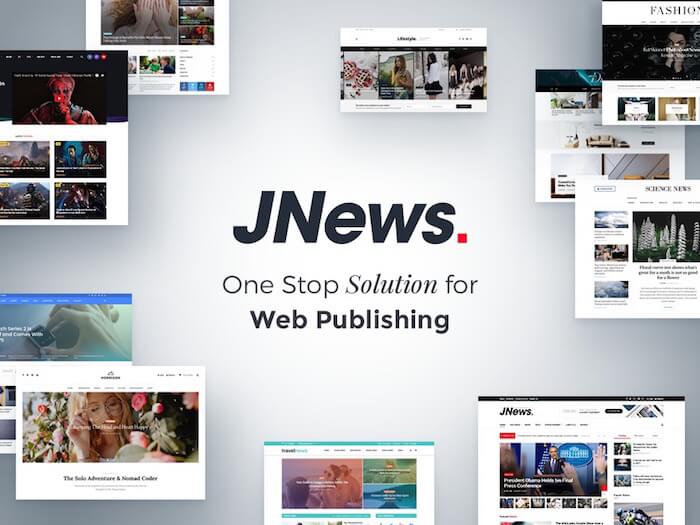 Admania
Admania is a simple yet powerful custom-created theme for Google AdSense; this theme offers you all possible custom ad placement options.
This is a great WordPress theme for affiliate marketers to maximize revenue. It offers you some ready-to-be-used layout options that you can select as per your preference; you also have a wide and boxed layout option.
It's a fully responsive design that works perfectly on mobile devices as well. And you have mobile-optimized ad placements as well.
It comes with an adblocker detector, ad rotation option, multiple layout options, single-page layout options, one-click demo import option, and a lot more.
Jannah News
Jannah News is one of the top-selling WordPress themes on the ThemeForest marketplace. The theme offers you tons of options and features to help you create the perfect website for your business.
The theme is updated with all the latest features and options that are important for websites. It is compliant with GDPR requirements and updated with the Gutenberg editor so you can start creating great-looking articles right away.
The theme comes with a number of amazing demo design templates to choose from, all these templates are perfectly optimized and created with the modern design trend in mind.
The theme is perfectly optimized for mobile devices and it comes with a number of mobile-specific features that will highlight your content and your design on small-screen devices.
If you have already created your site using any of the popular news magazine themes, the Jannah theme gives you the quick option to import your site from a number of popular news magazine WordPress themes.
It is a Google AMP-ready WordPress theme so you think loads quickly on small-screen devices which is very important these days.
The theme of SEO terms design and styling elements so that you can design your site as per your requirements.
It offers you an easy-to-use website builder that you can create custom pages for your site without writing a single line of code.
The theme translates over 15 beautiful-looking slider layout options over 40 different blocks to create the perfect layout for your pages.
You have multiple header design options and an unlimited number of footer styling options. As we are discussing the Google AdSense optimized designs this theme keeps you complete as management options and a number of perfectly optimized placement locations on your site.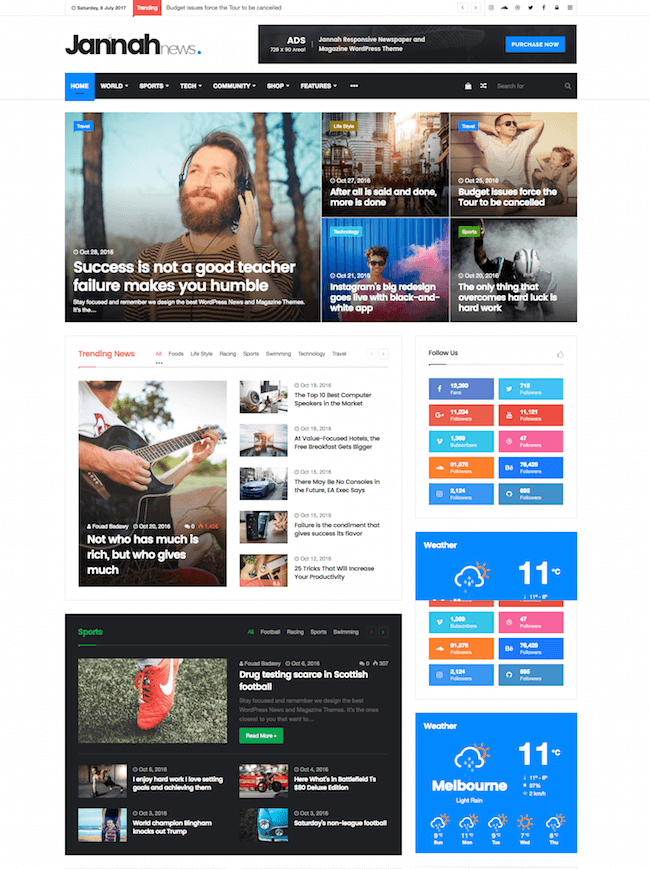 The Fox
The Fox is a top-quality minimal and professional news magazine WordPress theme. It's a lightweight and SEO-friendly WordPress theme that will surely improve the overall experience of your site.
If you are managing a blog or any news-related website, The Fox theme will surely be an advantage with its modern features and options.
The theme comes with ready-to-use demo design templates that you can quickly import and make your website ready. It also offers a custom header and footer design to make sure that your site looks great.
The live WordPress customizer is loaded with over 1000 different options to make sure that you are able to do all the required customizations with ease.
You can manage AdSense ads on your site to make sure that the ads are perfectly optimized like the top news sites so that you are able to maximize the revenue of your site.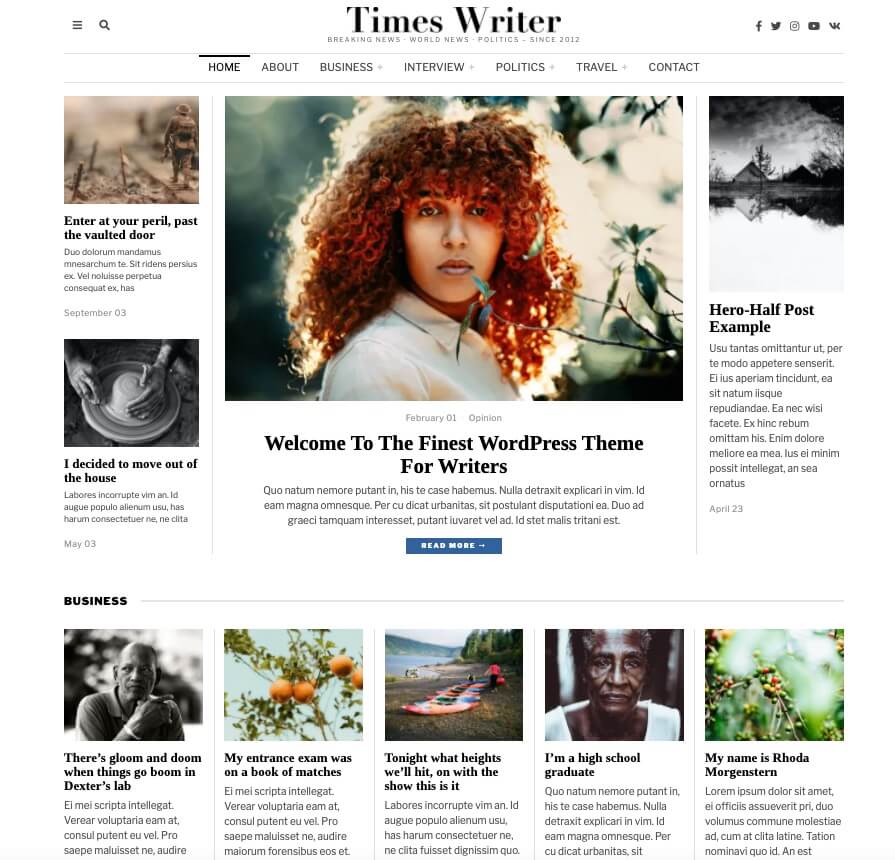 Gillion
Gillion is a great-looking multipurpose WordPress theme that you can use to create your blog, an online store, a magazine site, or any other niche site.
The theme readily offers you some demo design templates to create your site and you have a one-click demo import option to get started on your site quickly.
You have tons of design modules that will help you to create some great-looking pages for your site.
To make the header section of your site unique and custom, the theme comes with some header design options to choose from. And you can create a completely custom design for the header or any other section of your site without any coding.
Gillion theme offers you the drag-and-drop Visual Composer website builder in the theme bundle for free. You can use the builder to create unlimited custom layouts for your site.
The theme is very clean, minimal yet very powerful and trendy. The amazing use of white space makes the design very attractive.
Along with many other features, ad management is one of the important options. The theme is perfectly optimized for AdSense and other ads to make sure that you are able to monetize your site easily.
If you wish to create a modern Pinterest style gid design for your site, the theme readily offers you a template that you can use for your site.
Overall, this is a beautiful option for any niche blog or online store.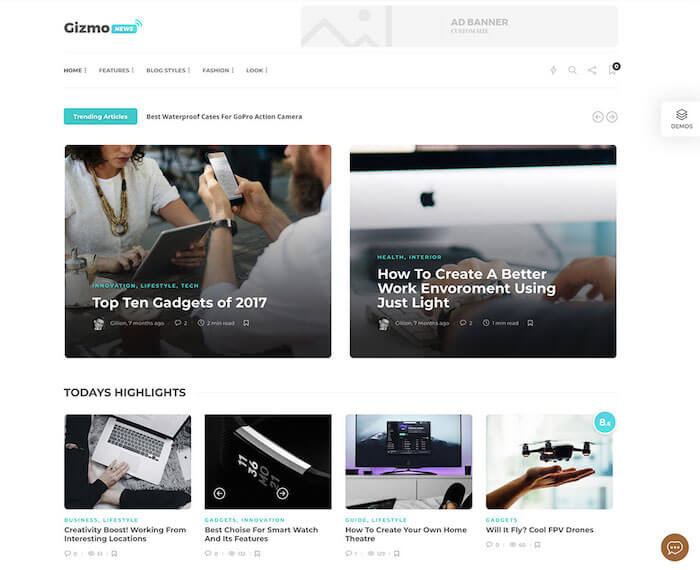 Admela
Admela is a custom-created theme for AdSense publishers. The theme offers you a beautiful magazine-style design that will help you showcase a lot of content right on the homepage of your site.
As far as the ad placement is concerned, this theme comes with some different optimized ad placement options created for different ad types & sizes (horizontal & vertical).
This can be a great design option for content-heavy sites, bloggers, and news magazines.
The theme is coded to make it an SEO-friendly theme and increase the click-through rate of your ads so that you can increase the overall review of your blog.
You have the font-end live customizer option to fix things quickly. The Admela theme comes in free as well as the premium version with a 30-day money-back guarantee.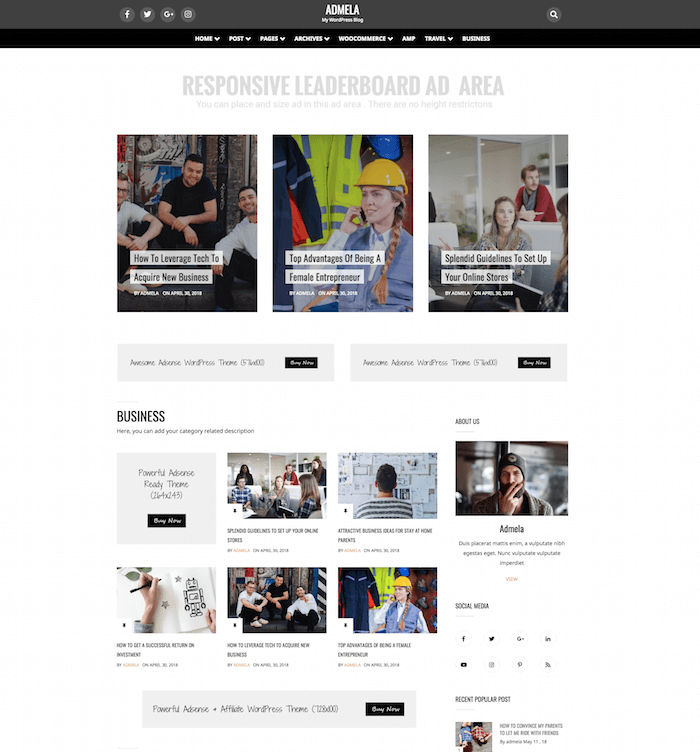 CheerUp
CheerUp is one of the most powerful WordPress themes you can get for blogging and crafting a story-writing platform.
It can also be effectively used to design a news-based website. It comes with luxury design options and implements design principles that are aesthetically pleasing.
The theme comes packed with over three hundred possible layout combinations, so don't think you are compromising by any means. You will also get a lot of social media share buttons, beautiful sliders, and a multitude of widgets.
Other than this, you will get multiple sidebars an off-canvas menu for mobile users, and Contact Forms to help increase subscription counts.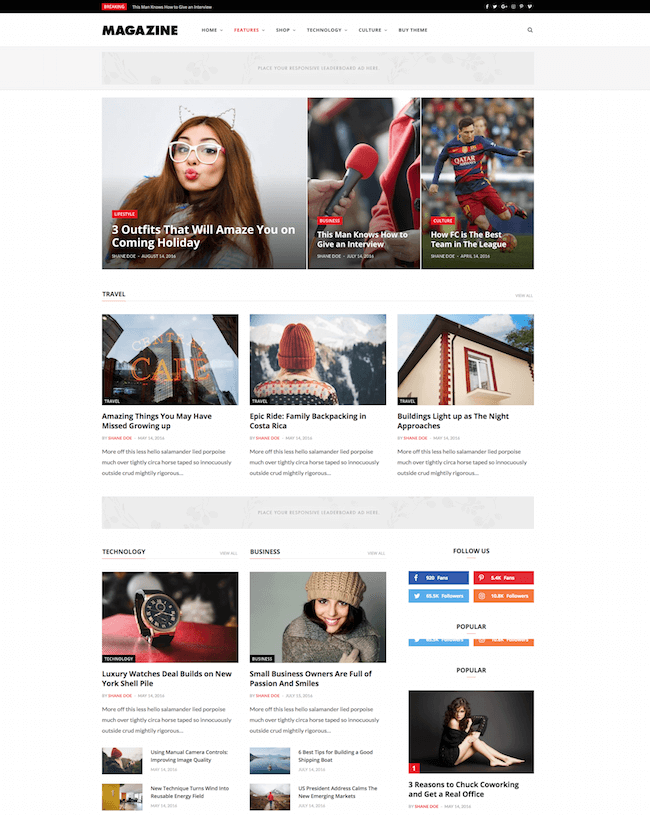 Sahifa
Sahifa is another popular news and blog theme for WordPress. The theme is riddled with useful features and functionalities that will enhance the overall capabilities of your website and give you a lot of options to play with.
For example, you will get powerful features like ajax live search, a post-view system, the premium Instagram plugin as well as the Taqyeem rating plugin, and the lightbox plugin, along with a weather widget, a multitude of different layout variations, shortcodes and so on.
It is also rich in customization tools and options to help tweak the look of your site to something more pleasing.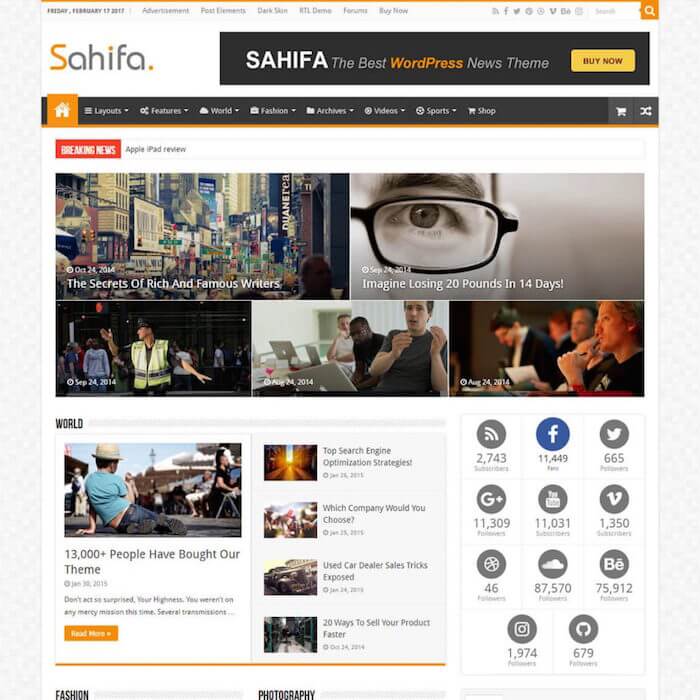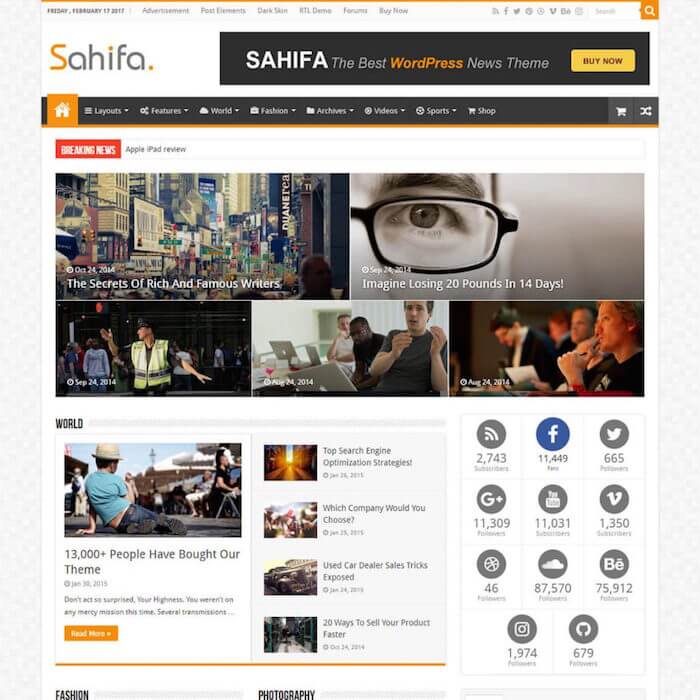 GoodLife
GoodLife WordPress theme implements impressive design principles and pre-built demo layouts that make for a stunning visual experience.
It comes with a range of different layout that has been previously curated to serve a particular type of content. Most of these demo pages are built to help you make a magazine or news site.
There are also many demo article pages, dedicated pages for gallery and video, WooCommerce compatibility for running your online shop, different header styles, and a bunch of premium plugins like the drag and drop page builder: Visual Composer, Essential Grid, Maintenance Pro, Viral Quiz Builder, and much more.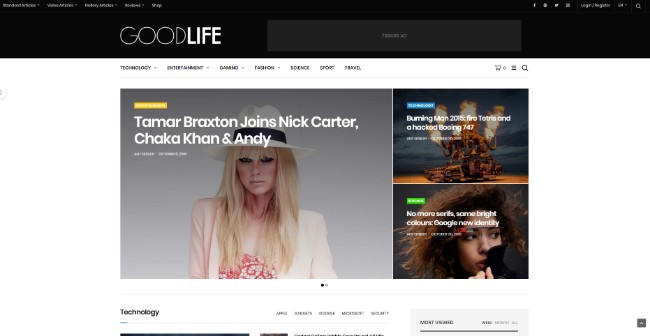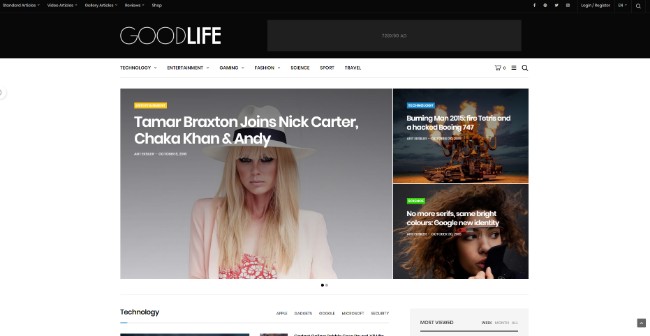 The Voux
The Voux is one of the most popular solutions for your needs for a comprehensive magazine WordPress theme.
It comes with a bundle of professionally designed pre-made demo layouts and also has Visual Composer in the mix to help you build on top of these demo materials.
Besides this, there are many more features included in the theme. You will also get your hands on Sidekick which will give you an interactive walkthrough on how to use the theme, making it very user-friendly.
Some of its noteworthy features include WooCommerce compatibility, stylish article pages, a full-on social sharing experience, a fuel studio, Infinite Loading, multiple header styles, and much more.
Read our detailed review of The Voux Theme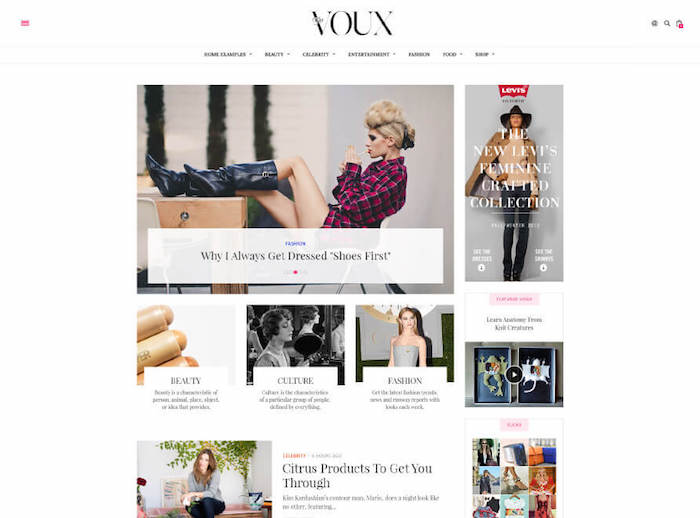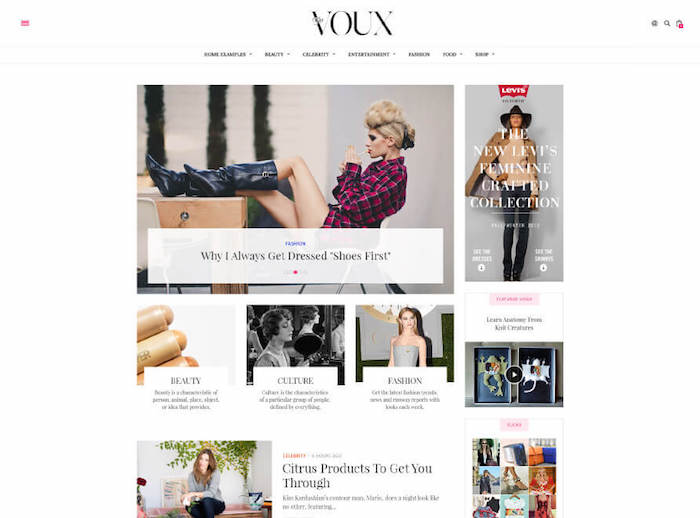 RedMag
RedMag is a very attractive news magazine and blogs WordPress theme that is perfectly optimized for AdSense ads.
You will love the design of this theme. It comes with fully optimized layouts that are perfectly created to attract users.
The theme is fully responsive and offers you three different homepage design options to choose from. You have a great-looking featured post section, video sections, trending posts, and more.
The RedMag theme comes with a number of custom widgets that you can place on the sidebar to showcase the most popular posts and other elements.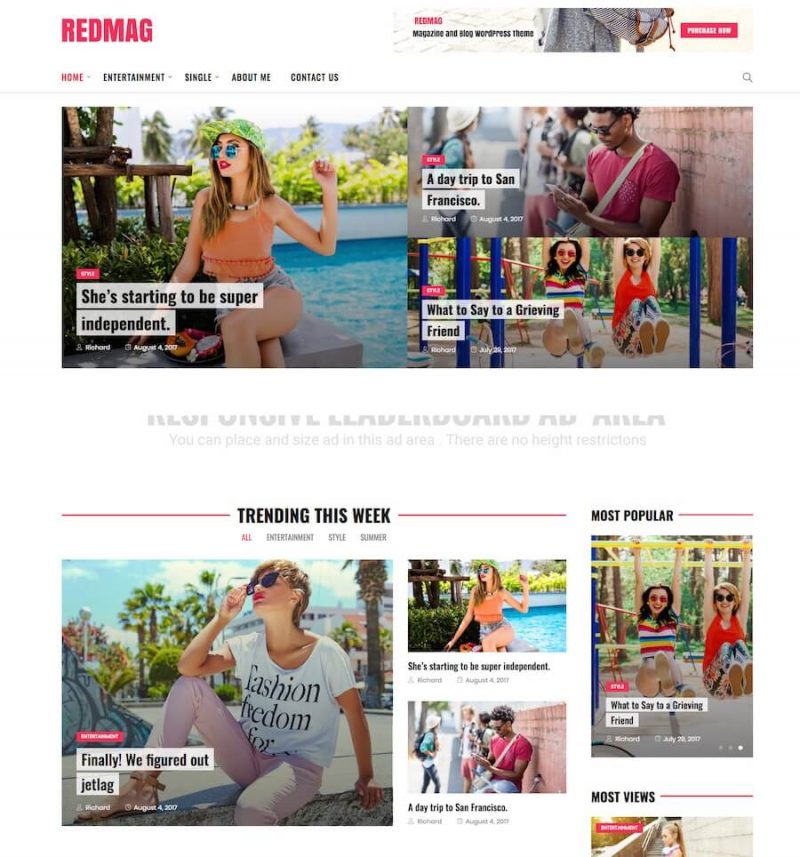 Magazine
Magazine WordPress theme offers a three-column-based news/ magazine website design. It is built using the powerful Themify builder which you also have access to for tweaking and reinventing the layout of the theme.
If you are not a fan of its simple layout design style, then you can even build far more complex ones as seen on many of the popular news sites.
The theme initially comes with over forty-two pre-built layouts, multiple sidebar options, mobile side navigation, mega menus, widgetized areas for placing your ads, footer menu and widgets, social share buttons, breaking news ticker, six color skins, styling panels and so much more.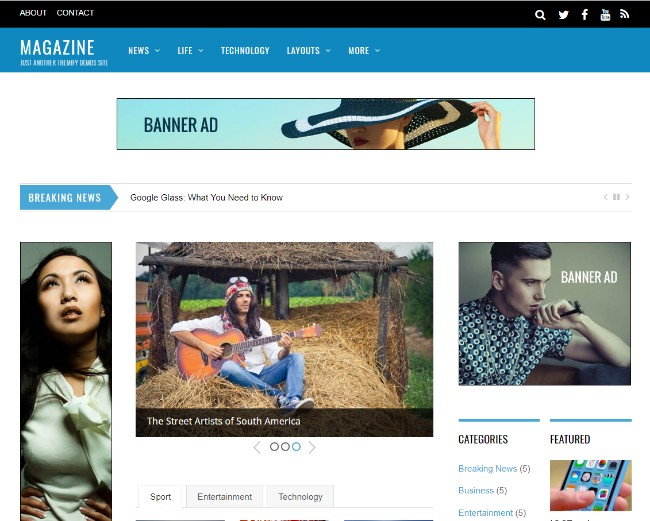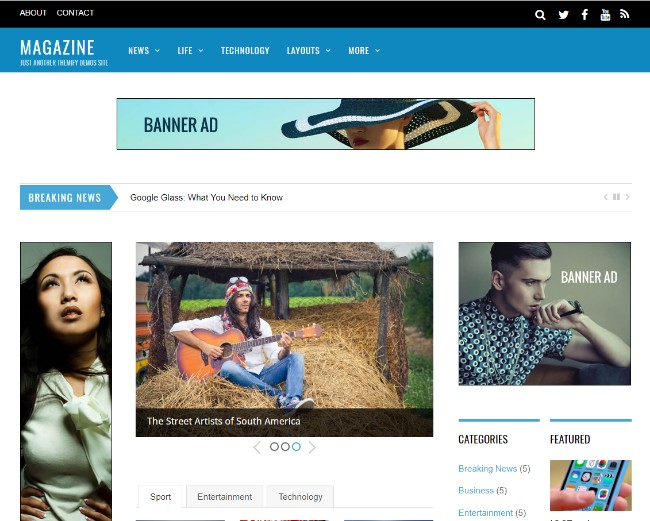 Herald
Herald is news and magazine-based WordPress theme that implements a great design and useful features. It also carries the powerful WP review plugin will make it eligible to be used as a review theme as well.
The theme is also high on customizability with over 500 possible variations with all the article listing layouts, unlimited Sidebars, Sticky Sidebars, unlimited color schemes, pagination types, custom widgets, and much more.
The theme is also compatible with WooCommerce and bbPress, not to mention, that it carries with it an advanced theme options panel, smart categories, unlimited sidebars, sticky sidebars, infinite scroll loading, pagination types, social sharing options, support for different post formats, and so on.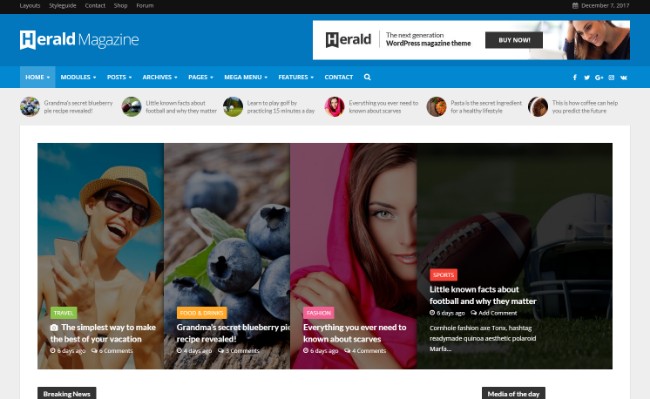 Valenti
Valenti is a modernized WordPress theme designed for contemporary creative individuals.
The theme is primarily designed to function as a magazine-based website and comes with a custom drag-and-drop Valenti Page builder, to help you build website layouts as your contemporary mind sees fit.
Other than this, the theme is fitted with many customization options and other useful features such as a unique featured image system, a mega menu system, and compatibility with bbPress, BuddyPress and not to mention WooCommerce among many more things.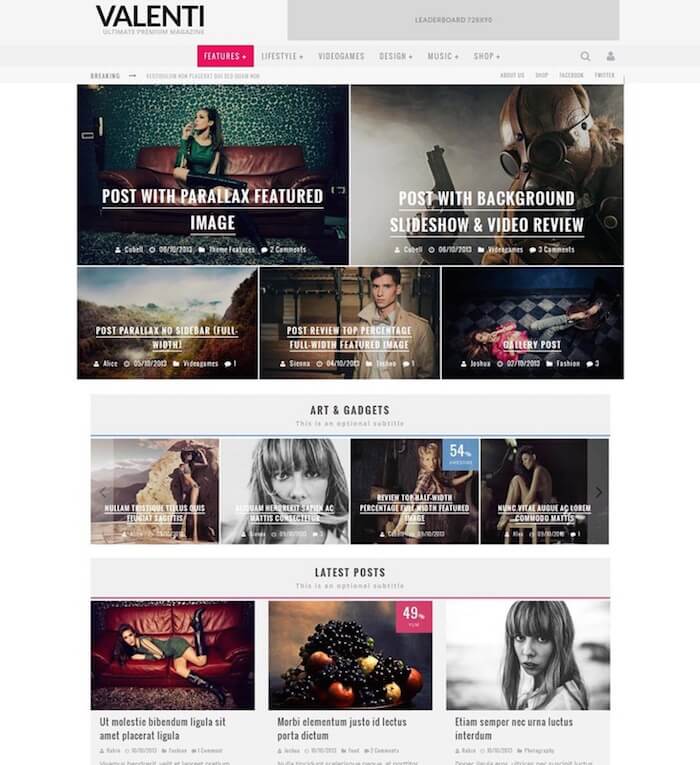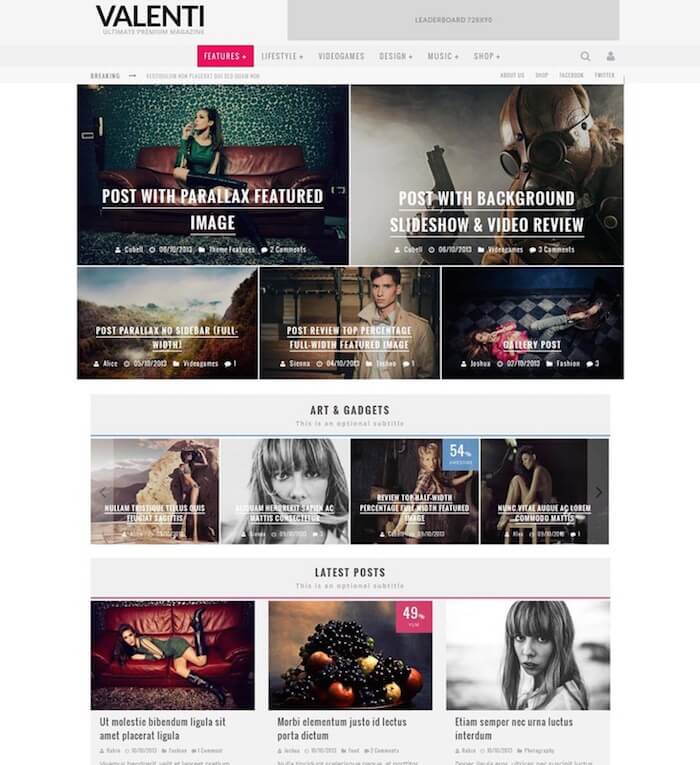 Grimag
Grimag WordPress theme is designed for editorial use and has very powerful SEO features. You can rest assured, that your content is going to get the ladder rank it deserves to have.
The theme brings a well-organized site layout and translates that seamlessly to the search engines so they can better understand the content on your site. Besides this, the theme also manages to implement many design-specific and feature-specific options.
Noteworthy among its list of features would include light and dark skins, customization support for posts and pages, unlimited sidebars, custom widgets, custom styles, and so on.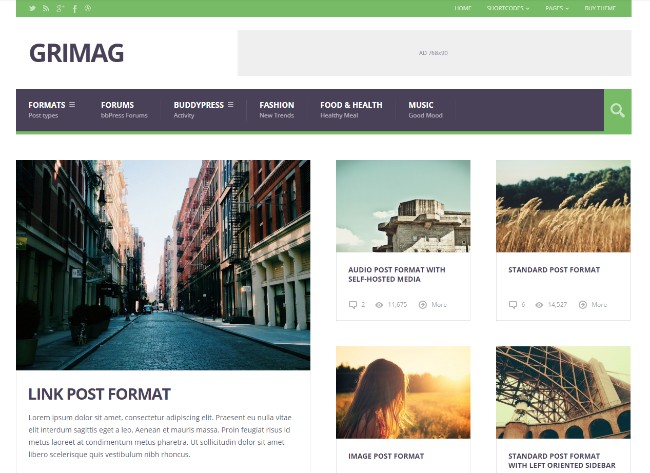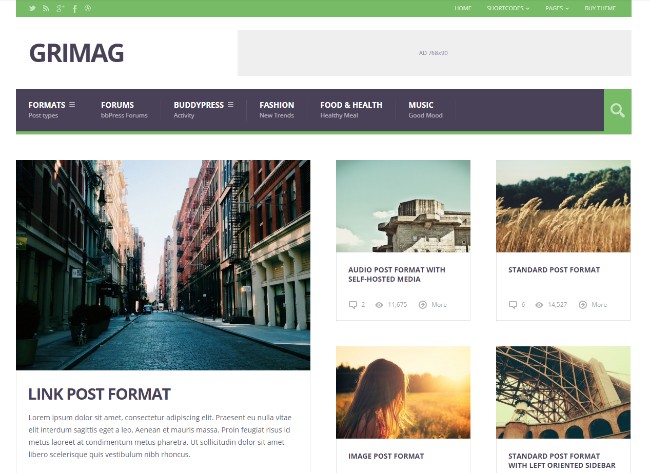 MH Magazine
MH Magazine is an excellent WordPress theme built to help you create a fantastic magazine website or similar editorial-related projects.
The theme is loaded with many customization options, advanced theme layouts, and unlimited colors to help you craft a website that resembles your imagination.
A drag-and-drop page builder is provided to help you create your own layouts, as well as arrange the widgetized areas that you will be using to showcase all your ads. Then there are features like sliders, a built-in author box, custom menus, widgets, and much more.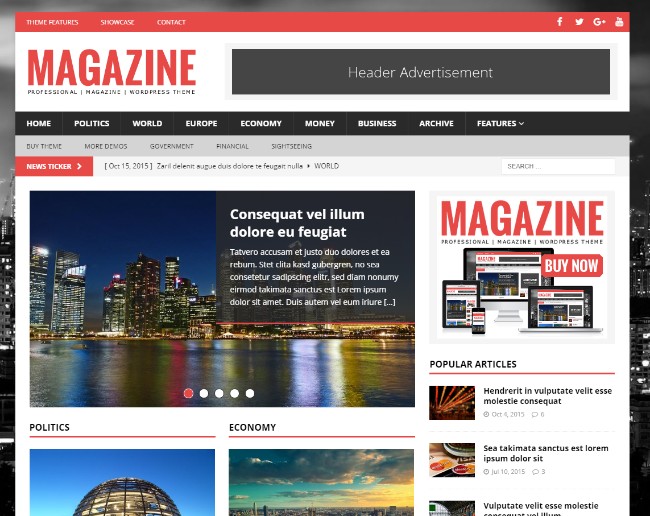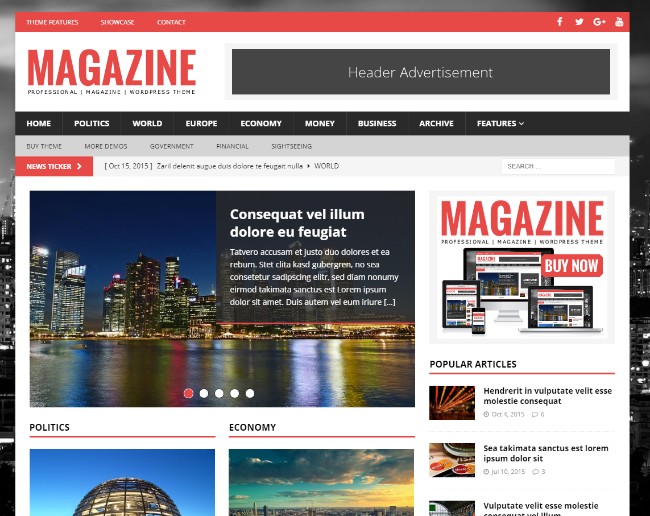 Daily Theme
Daily Theme for WordPress is curated for magazine-style websites that have busy publication schedules. The theme is loaded with features to help you organize and publish your content as fast as possible.
On top of that, it has an easy-to-use Ad Management panel and a customizable sidebar to showcase all your ads.
The theme comes with many templates and customization options to help you achieve your desired look.
Also, it further improves the user experience; there are many features such as archives, full-width layout design, custom widgets, and so on.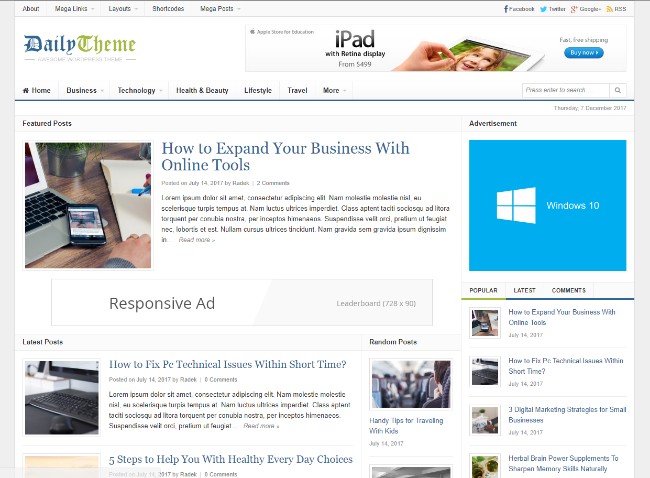 FAQs About AdSense Themes
01. What Is AdSense?
AdSense is a Pay Per Click advertisement program by Google. Once your site is approved by Google, you can place the ads on your site.
If any user clicks on any of the ads on your site, you get paid. But make sure not to click on your own or ask anyone to click on the ads otherwise your account will get banned.
02. Is It Important to Use an AdSense Optimized Theme?
Not necessarily. But a theme that is optimized for AdSense will certainly make things a lot easier for you.
You will be able to place ads instantly and monetize your site. The overall management of your ads because very simple.
03. Can I Use a Plugin Instead of a Theme?
Yes, there are a number of WordPress plugin created for AdSense management. You can use a plugin instead of a theme.
Once you have a good plugin, you can use it with any WordPress theme.
04. How Much Can I Make With AdSense?
It depends on a number of different factors such as traffic to your site, the placement on your site, and the niche of your site.
In Conclusion
We hope you liked this list, and it was informative. Do let us know if you decided to use the themes we mentioned here, and tell us what you liked about it.
Again, if you have experience with any of these themes then also write about it in the comments section below. All of us would love to have another perspective.
Also, as we said, there are many Adsense themes out there and covering all of them exceeds the scope of the read.
We have listed the best Adsense WordPress themes we have personally come across, but if you know some more, feel free to mention them down in the comments section.
Your fellow readers will love to have even more options to choose from.