Pinterest is a social networking platform with a unique concept of social networking. It works as a visual and virtual pinboard system with a highly user-friendly interface.
Pinterest is one the fastest growing social networks with over 100 million users worldwide and surprisingly, most of these are women.
I would call it a search engine rather than and social community site because most of the users use it to find things like Google.
Owing to its clean, modern and responsive design, many web designers and developers have been inspired to create similar websites and WordPress themes.
Unlimited Downloads: 1,000,000+ WordPress Themes, Fonts, Mockups & Design Assets by
ADVERTISEMENT
The image-oriented design of Pinterest can be integrated into many blogging websites to magnify its visual appeal.
Pinterest is limited to image sharing with short descriptions, but you can customize a Pinterest style WordPress theme into your website to offer a lot more features such as social network integration, video support, unlimited color variations and much more.
Let's explore some amazing Pinterest style WordPress themes and understand how these can be integrated into your website's design:
Top Pinterest Type WordPress Themes
---
Yolox
If you are planning to create a blog, here is a beautiful WordPress theme with great looking grid-style layout options.
The theme offers you multiple design options to choose from. You can select any of the design options and start your site quickly.
The theme is designed to offer an elegant design for your blog and the clean and minimal design of the theme will offer a great experience to your users.
Yolox Theme is created to work perfectly with the Elementor website builder so that you are able to create your own custom design without writing a single line of code.
The theme comes with ready to use header design options that you can further customize as per your need.
Overall, this is a beautiful blogging theme that you can use to create your blog.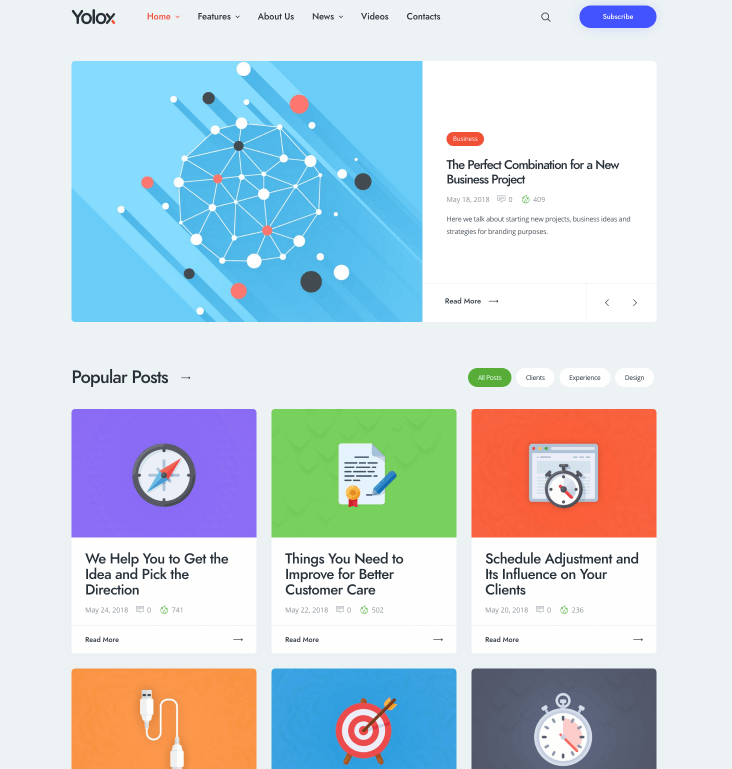 PinThis
If you are looking for a modern grid-based layout for your site that looks similar to Pinterest, here is the theme you need.
PinThis is a bright, colorful and feature-rich WordPress theme that looks stunning. You will instantly love the design of this theme.
This theme offers you multiple demo design options to choose from, and each of them looks beautiful. The attractive slider on the homepage enhances the overall look and feel of the theme.
The theme comes with amazing trendy social sharing buttons, beautiful icon fonts, custom post formats, a powerful theme admin panel to manage your site and a lot more.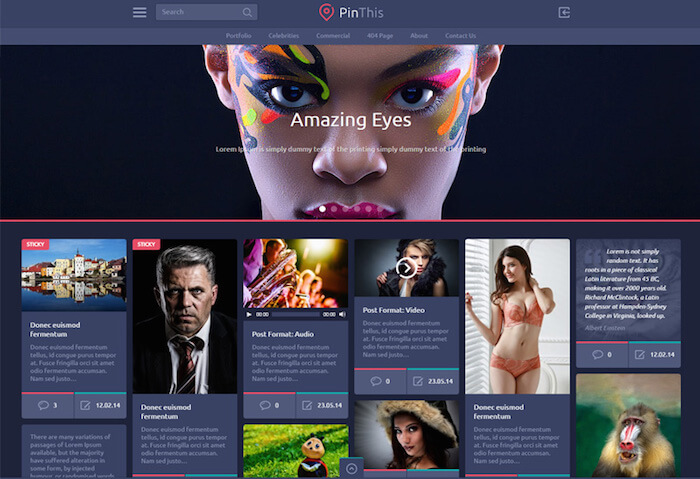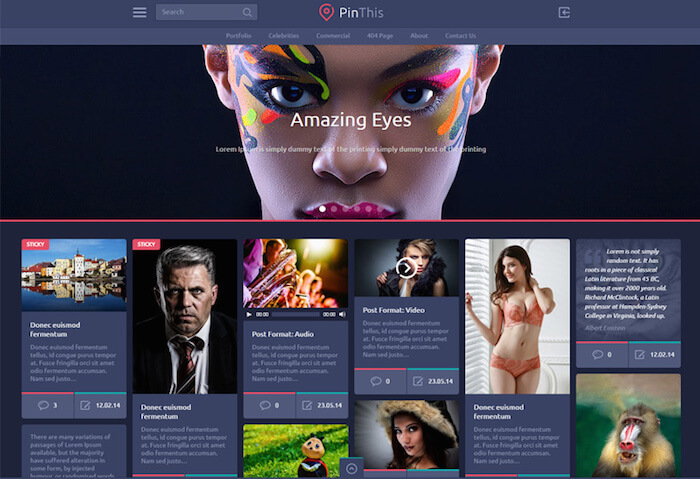 GRIDLOVE
Gridlove is an amazing framework for the easy, effective and efficient development of feature-rich websites that suit professional as well as creative needs.
Yes, all the 3 Es in one! The WordPress theme gives you access to a multitude of plug-ins, widgets, and tools to ease the customization. Gridlove has a diverse range of templates, and you'll surely love them all.
This Pinterest style WordPress theme comes with some amazing features such as a very flexible homepage design; you can highlight the most important or sponsored posts in the grid with a different color.
Gridlove offers you multiple header design option so that you can make the header section unique. You can place the logo on the left side or in the center; you can place a banner ad in the header, you can also play around with the main menu.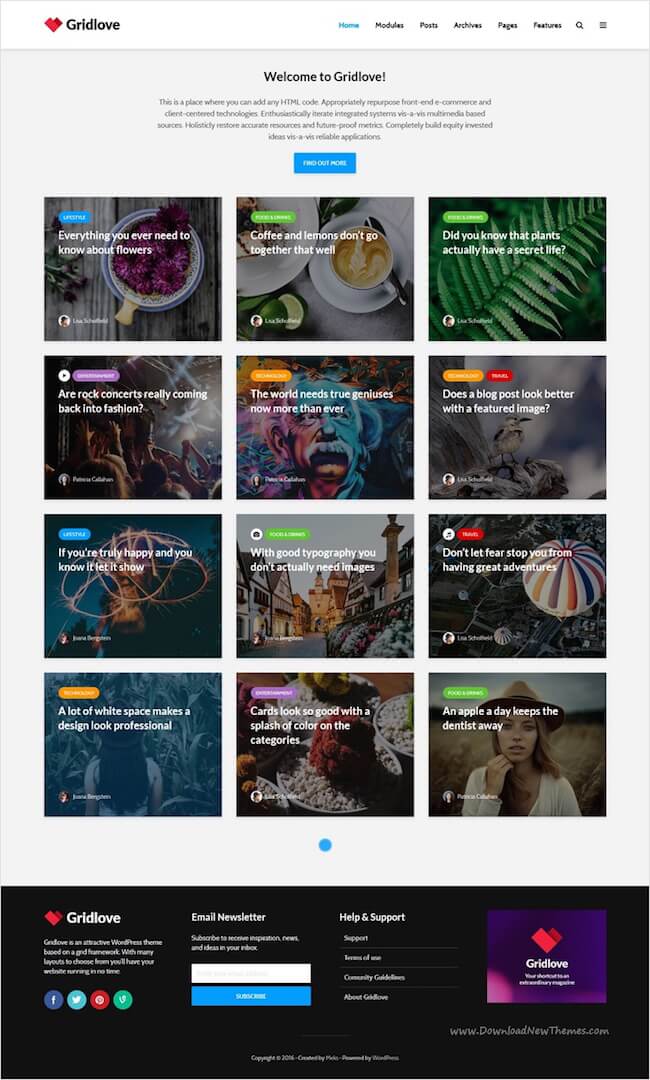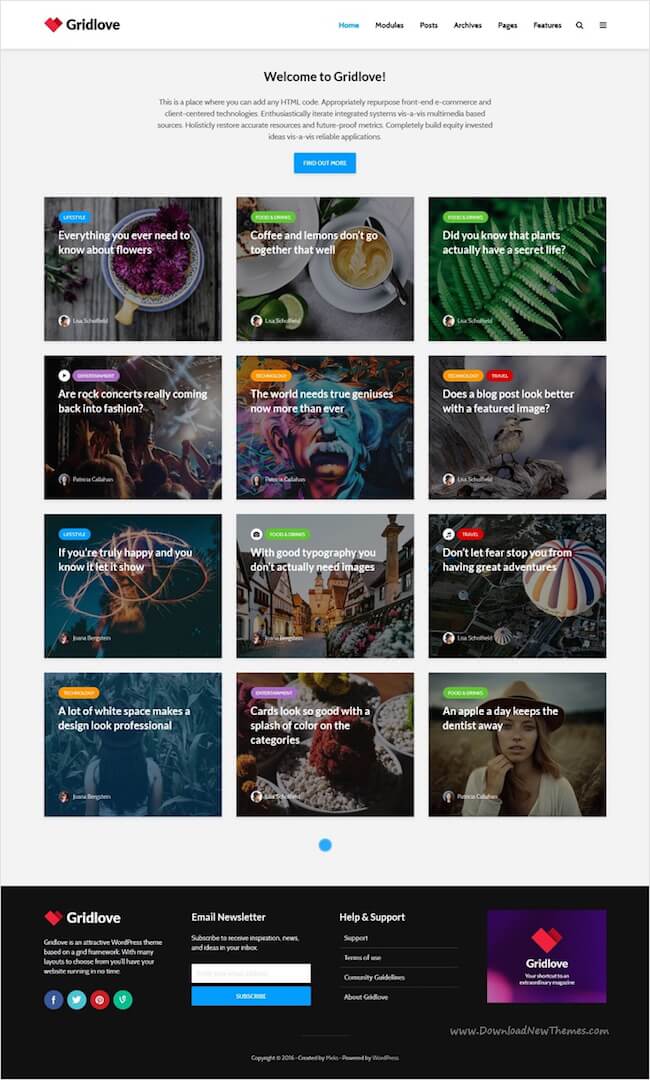 SKIN
Skin is a very attractive grid-based WordPress theme that you can use to create your online store, blog or any other image-heavy site.
It will beautifully present your content in a Pinterest style layout that can instantly attract your visitors' attention.
The beautiful round slider in the homepage of the site brings a top-quality modern feel to the overall look of the site.
In fact, this is a great theme for the viral content sites that need a layout to attract users with great looking images and headlines.
The beautiful gradient color combination of the theme is good enough to keep your users engaged with the sticky design.
The Skin is a mobile-friendly design that will make your site look great on any devices. Overall, it's a design that is worth your attention.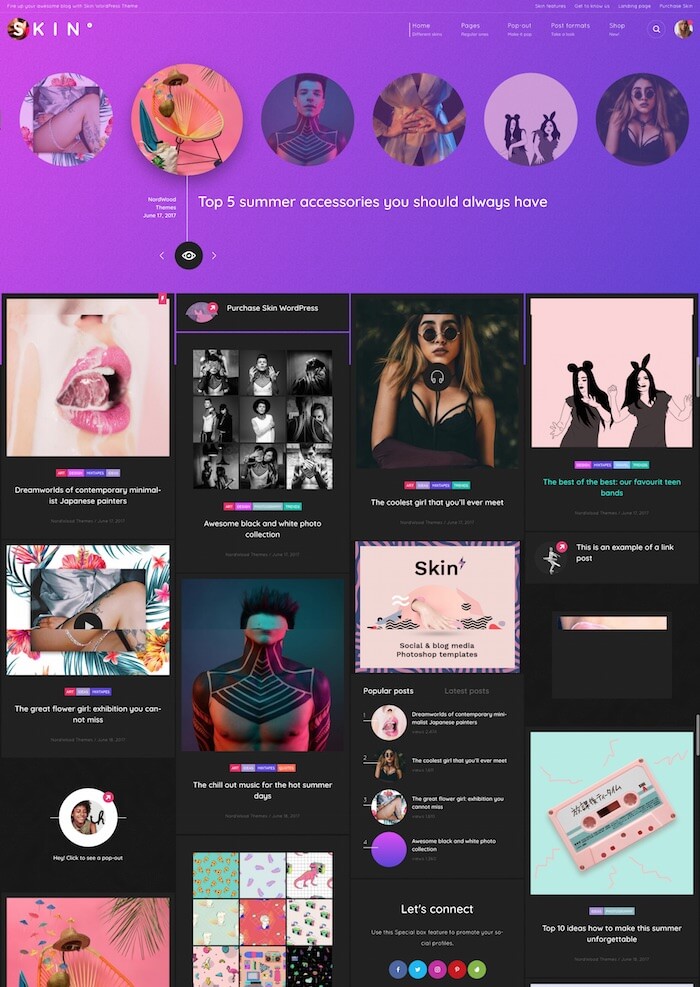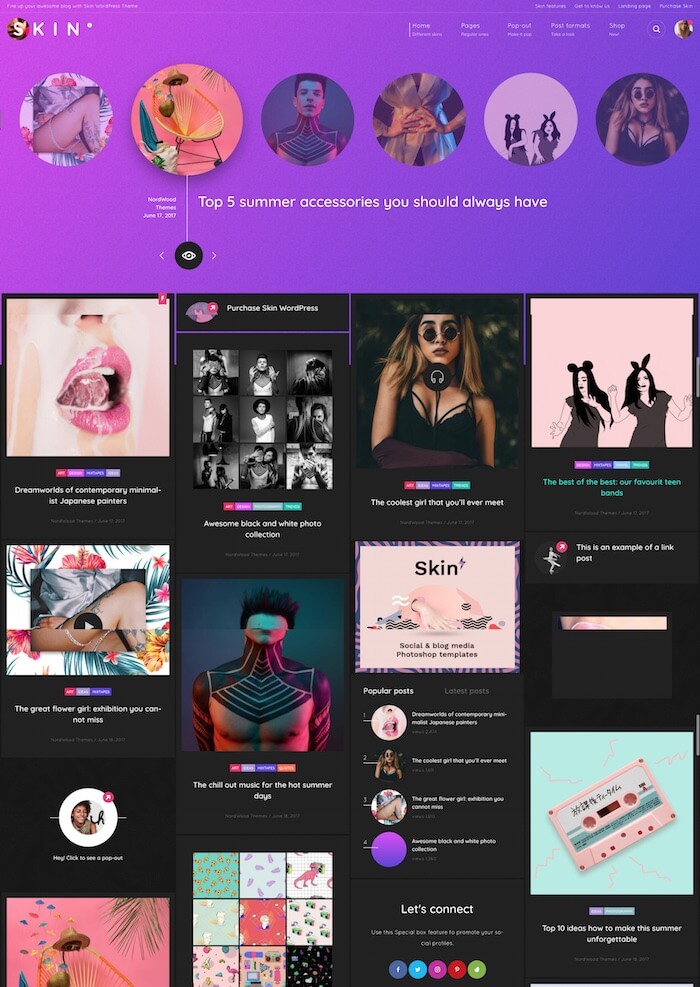 MAGPLUS
Magplus is versatile, ready for business and well-documented WordPress theme. It comes with tons of one-click import demos on multiple relevant topics.
MagPlus makes social media sharing highly important and easy to use aspect of the website. You can integrate it with tons of elements and pages that can be showcased on Pinterest with just a few touches.
The possibilities are unlimited with this multipurpose WordPress theme, this theme comes with 40 ready to be used in demo templates, and each of them can be further customized to make sure that your site is unique.
This theme comes with the premium Visual Composer drag-and-drop website builder that you can use to create your layout. You also have the live composer as well as the style editor to make sure that your requirements are at your fingertips.
You have some different header styles to choose from so that you can make your header section unique and good looking. This theme can instantly transform your site to make it look like a premium media site.
This theme is perfectly optimized for Google AdSense as well as search engines so that you can make a good amount of money from your site.
This amazingly fast loading theme will offer a great experience to your visitors and make them stick to your site.
The list of feature is very long for this theme, such as over 150 different elements to style your site, great looking ready template, quick loading time, over 25 different article layout options and a lot more.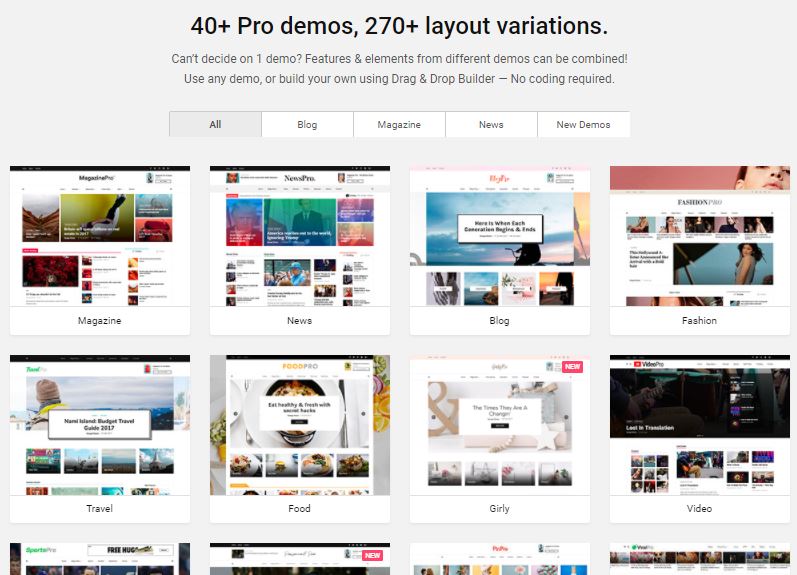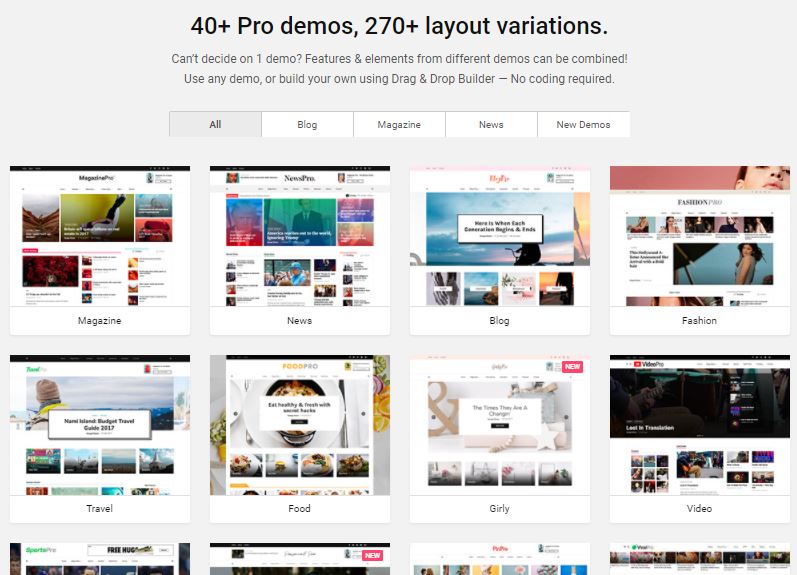 Pluto
A great looking masonry WordPress theme with multiple homepage designs. This is a multipurpose WordPress theme that is a perfect option for content-rich magazine-style sites.
With this theme, you can expect all the modern features that you see on the top media blogs. From design to features, this theme is loaded with amazing options.
This theme supports some different post formats such as video, audio, image, gallery, links, etc.
It's a fully responsive and retina ready design created with HTML5 and CSS3 code. The SEO friendly design will make sure that your content gets a much better ranking in the search results.
You get the Visual Composer website builder with the theme for free that you can use to create any kind of layout for your site without writing any code.
You get unlimited color options to style your site; you have unlimited layout options, over 650 Google Fonts and a lot more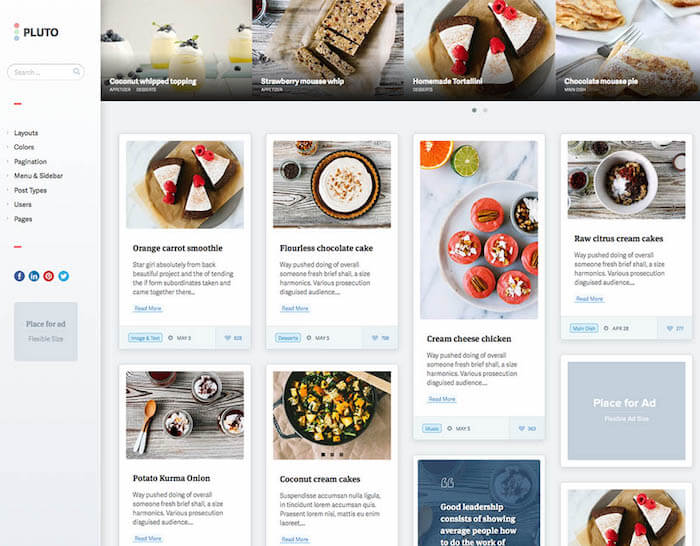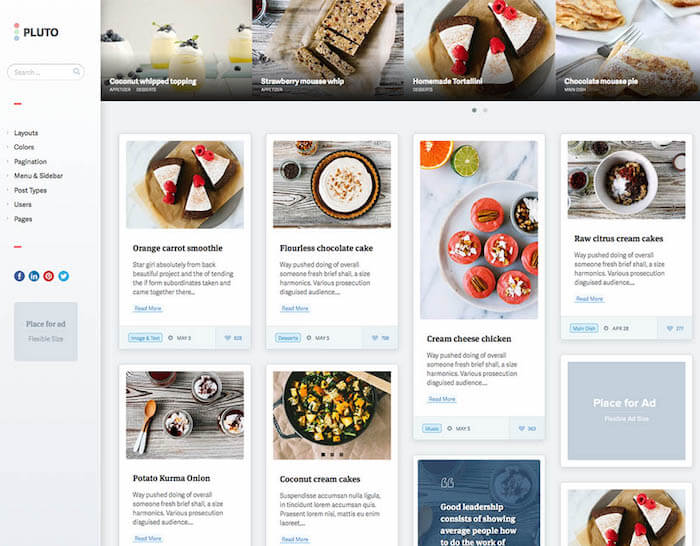 PINSTAGRAM
A highly optimized WordPress theme for content-rich websites. I have used this theme in the past it is extremely quick.
This theme is created by the MyThemeShop team, and they are known for created SEO friendly WordPress themes.
The theme comes with a very attractive three-column layout, and the extreme right one is the sidebar for the theme where you can place your widgets.
The theme offers you a very quick loading time that will surely offer a great experience to your visitors.
The theme comes with unlimited color options, so you can easily style it with your color scheme. You also have comprehensive typography settings, Google Font options, icon Fonts and more.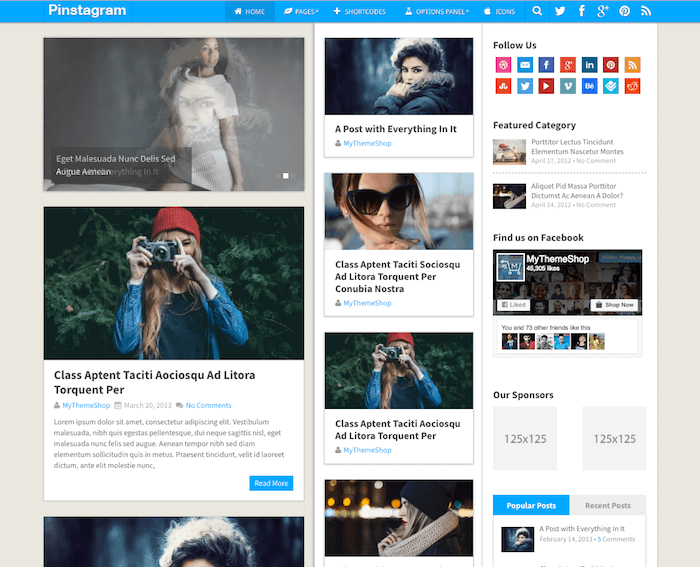 SUPER GRID
A modern grid Pinterest style WordPress theme. This theme is created with HTML5 and CSS3 making it a very lightweight and SEO friendly design.
It's a clean, minimal and fully responsive WordPress theme that will make your site look great on all modern devices.
The theme comes with a powerful theme options panel that you can use to setup your site perfectly. You have Google Font options, great looking background textures, background color options, multiple slider options and more.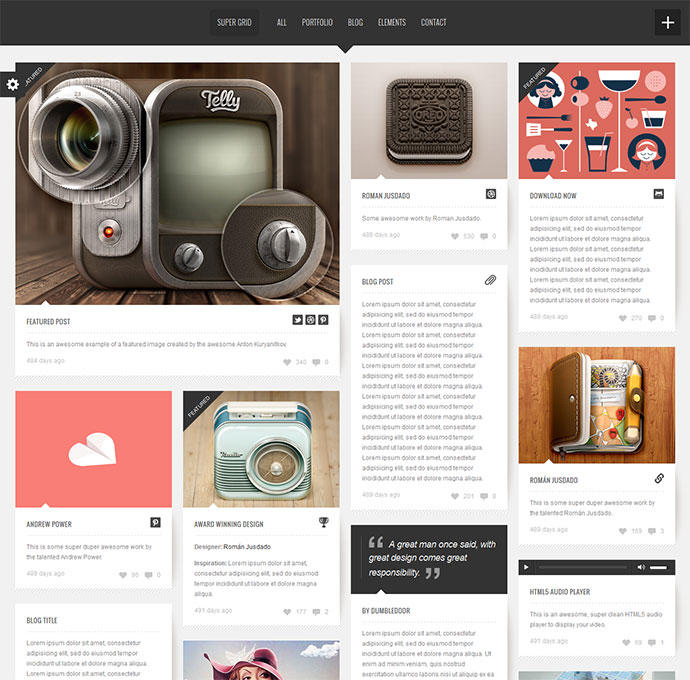 OldCar
Oldcar is a trendy, simple yet attractive Pinterest style grid-based WordPress theme that you can use to create your site.
It is a fully responsive WordPress theme with unlimited color options to style your site as per your requirement.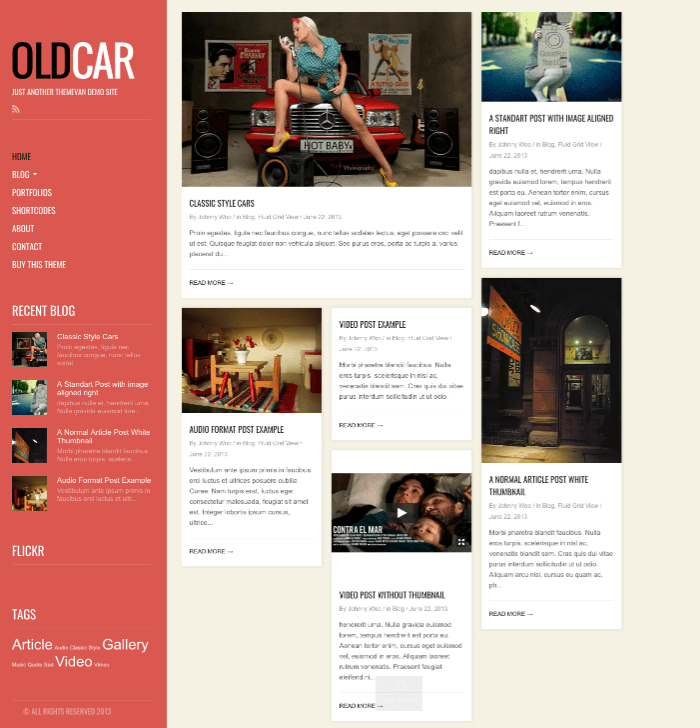 Fabulous
Fabulous is it clean and simple WordPress theme with a grid-based system. The theme comes with all the features and options that he will need to create a successful website.
This is one of the top WordPress theme option for the photography sites, Creative designers, travel bloggers and all similar kind of niche blogs.
The theme offers you a powerful theme options panel where you can manage all the settings and options for your side as per your requirement.
You have any customization possibilities for that you can walk around the design of the team and make it perfectly fit your requirement.
It comes with light and dark color skin option so that we can style your site as per the niche and requirement.
It gives you the option to choose the number of columns you have the right and left sidebar option to choose from.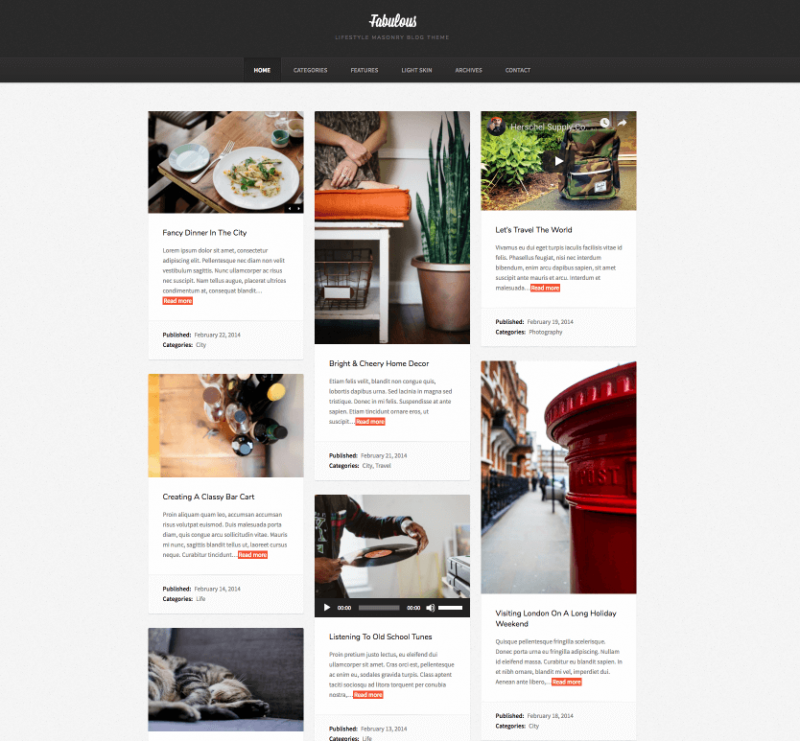 Division
Division is a beautiful looking portfolio WordPress thing that comes with a very clean and simple design.
As this is a grid-based design it looks like the Pinterest platform. if you are looking for a quality portfolio website you can use this thing to showcase your work.
Though the design of the theme looks simple it comes with all the important features and options that you will need to create a fully optimized site for your business.
it comes with a drag and drop website builder that you can use to create a completely custom design for your site without writing a single line of code.
It is a clean minimal in simple theme and offers you a fast loading speed to make sure that it was a great experience for the visitors on your site.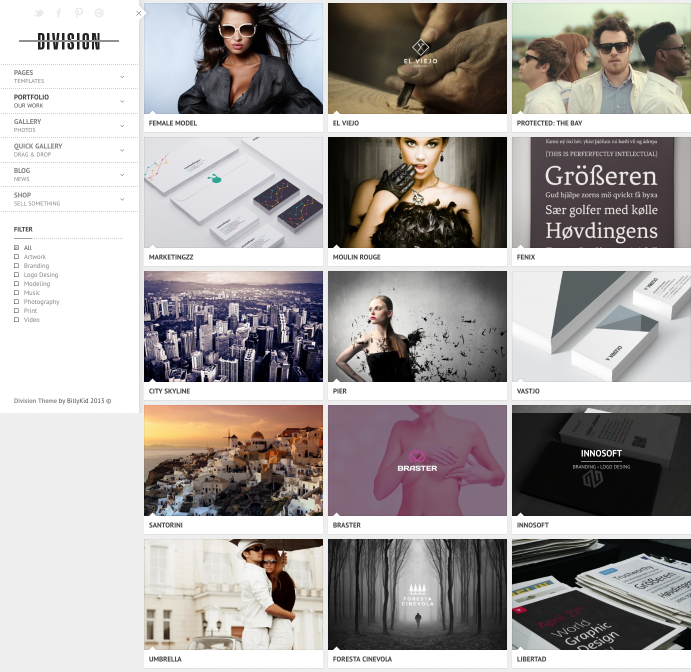 1PAGE
1Page is a beautiful modern grid layout WordPress theme that offers you a Pinterest like the look and feels. If you wish to create a news or article community site, this is a great design option for you.
The theme offers you the option to allow your visitors to submit content on your site from the front-end of the site.
The theme offers you unlimited sidebar options, unlimited color options to style your site according to your need.
It's a fully responsive masonry style theme that will make your site extremely engaging. The theme offers you infinite scroll option, live search and more.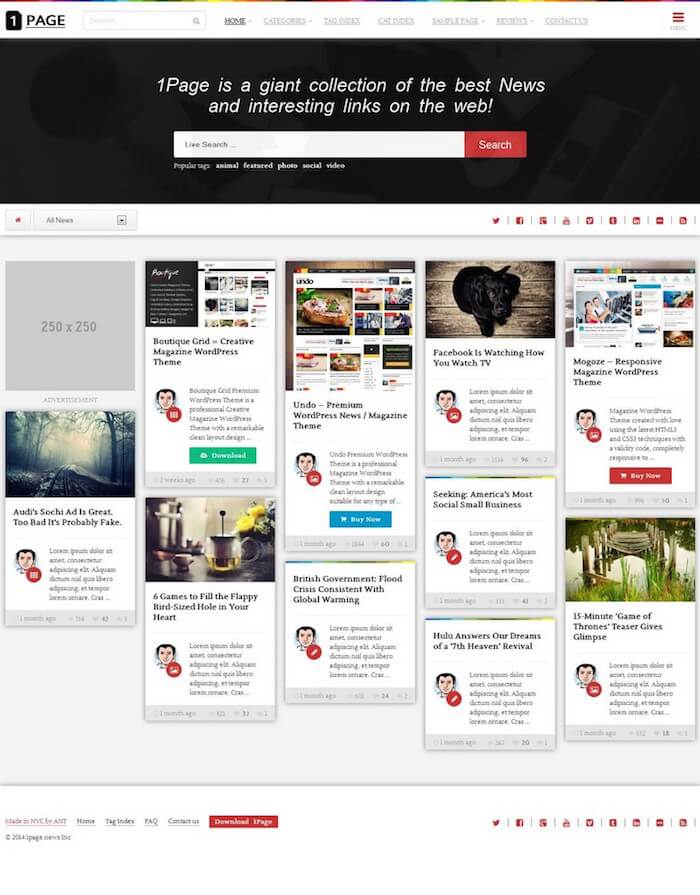 SEMANTIC
Semantic is a unique website template especially suitable for writers, online publishers, and content creators. Every post gives you a 'post-emphasis' option that makes it look larger on the homepage and hence more noticeable.
The theme takes different post formats like a quote, audio, video, etc. to a whole new level. This feature-rich theme lets you customize everything from post type, format as well as design. What else can you ask for?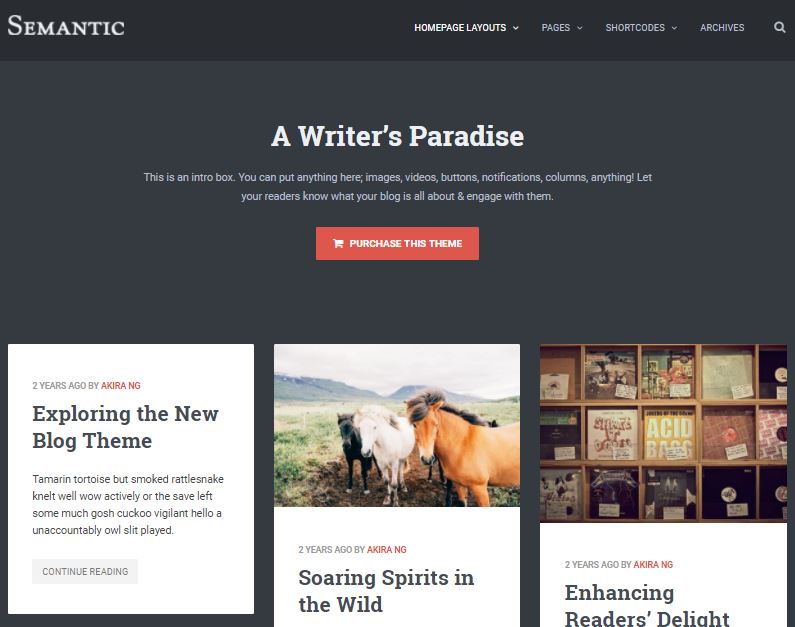 PINTORES
It is a vigorous and ravishing Pinterest style WordPress theme that imparts an awesome and unique look to your website.
Pintores is an all-inclusive theme with lots of great features like responsive design, multiple-browsers compatibility, localization support, customizable layout, and other powerful options.
It enables you to share a wide range of content and has an inbuilt 'favorite' feature which lets your users and audience bookmark their favorite post.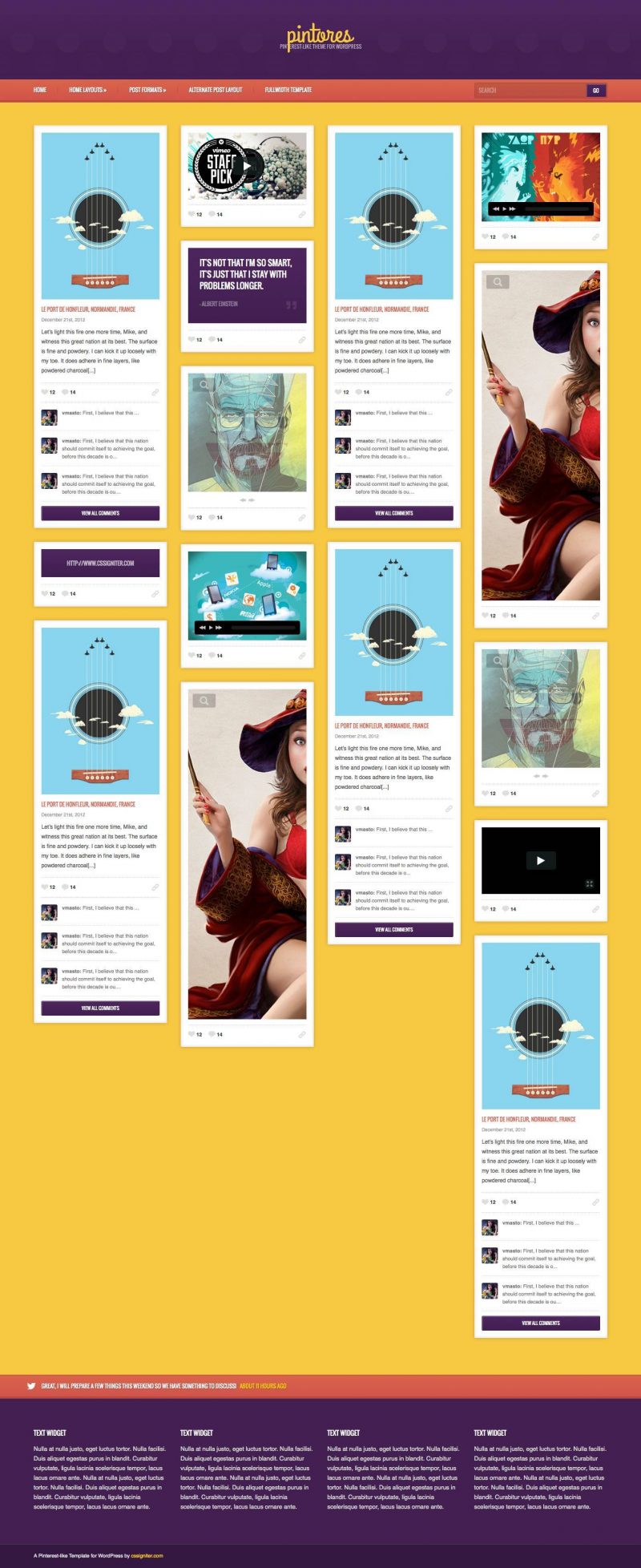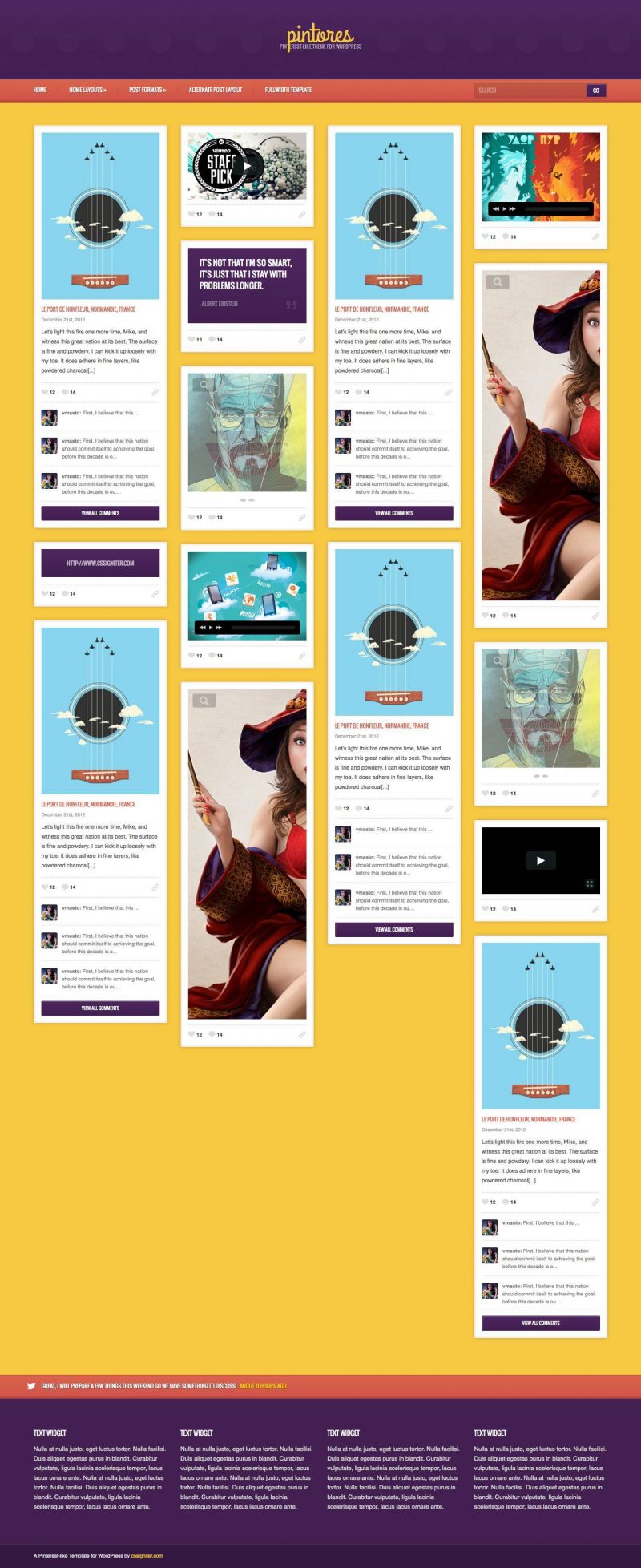 INSPIRE
Inspire is a cutting-edge multi-purpose theme that can be integrated into websites for any niche. With its clean design, it is great for projects that emphasize a stylistic and modern look.
The theme is sure to stand out in its own understated "less-is-more" kind of way. Inspire is the best selling Pinterest style themes, with over 1,800 purchases and counting.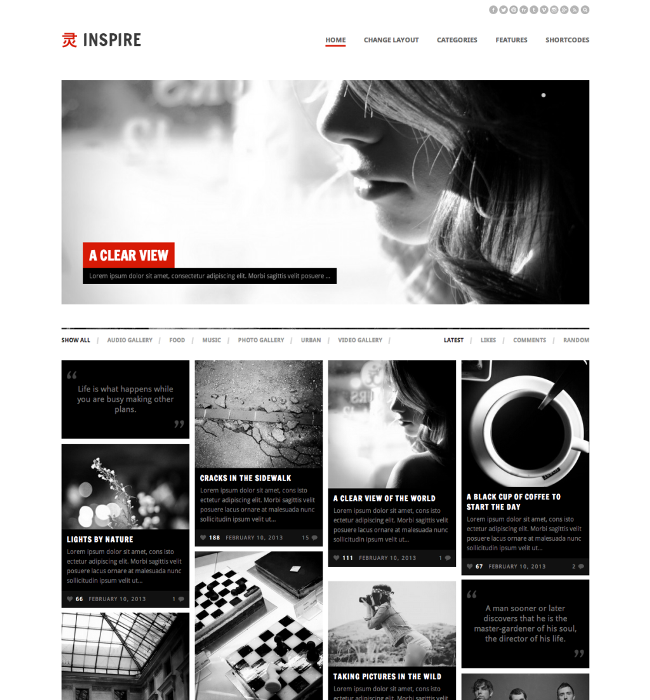 DAZE
Daze is a WordPress theme that is excellent for publishing images, video, and GIFs. Each post on the wall links to the complete post which can be a full article or simply a bigger version of the image.
Daze is the ideal theme if you want to share some extra information about the images posted on your website.

TheStyle
Equipped with a modern design, TheStyle is one of the most elegant looking Pinterest Style WordPress themes. The theme comes with many useful shortcodes and templates and presents your website in a magazine like jQuery-enhanced design.
TheStyle customizes the way posts are displayed on different devices and gives you ample opportunities to enhance your website's visual appeal using five color scheme options.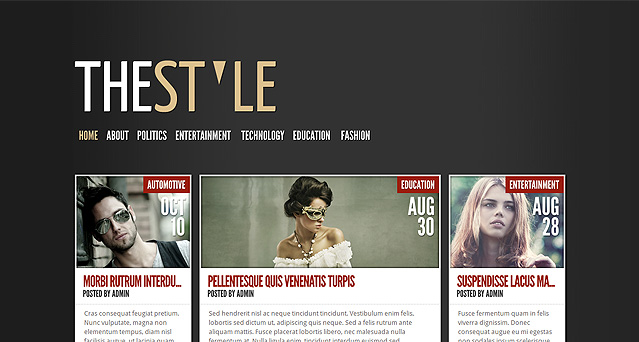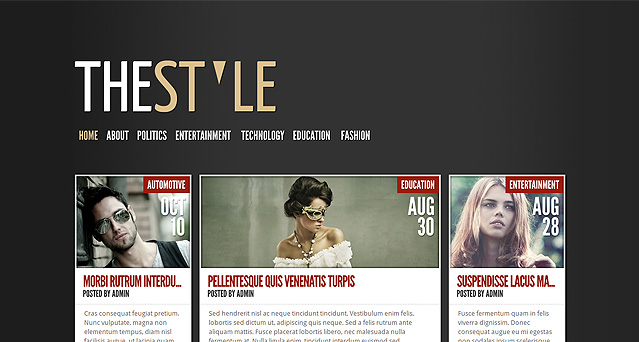 REMAL
This is a very smooth and swift theme that offers lots of cool features like a full-screen background many useful custom widgets, a plethora of Google Web Fonts, etc.
Remal is very strong and also offers lifetime updates to keep you equipped with the most up-to-date looks and functionality.

LUXMAG
LuxMag is an extremely responsive theme and adjusts impeccably on any devices to provide visitors with an exceptional website experience. This theme has all the features you would need to create a Pinterest-inspired blog or website.
It comes with a beautiful grid layout, 1-4 main column layouts, built-in color options, unlimited page layouts, custom page template, custom widgets, next/previous options, and many more useful features.
Moreover, the theme also includes an exquisite homepage slider to display your most recent posts.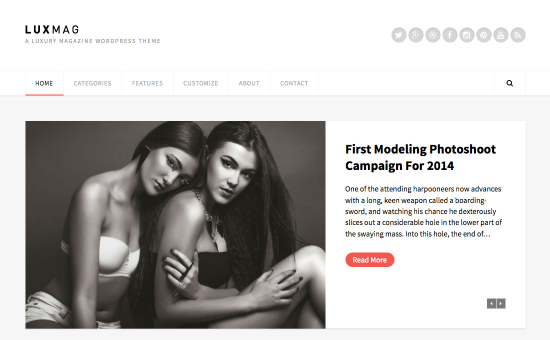 RULE
Rule is a crisp and robust WordPress theme that is a responsive and retina ready template that would go great with magazine sites, blogs, writings, and portfolios.
It comes with an impressive layout, eight custom widgets, five post formats, infinite scroll and loads of other features. You can easily modify this gracefully designed theme according to your needs.
It's a beautiful Pinterest style WordPress theme that will make your website look modern and trendy almost instantly.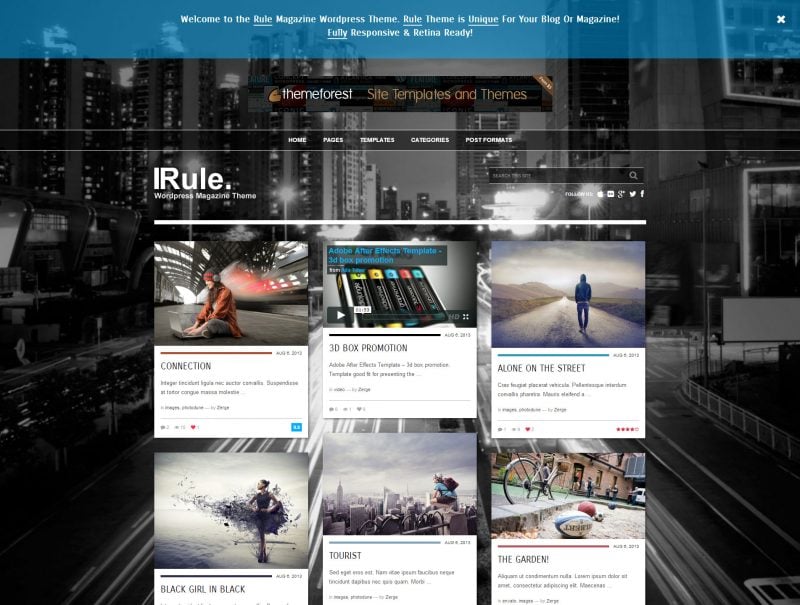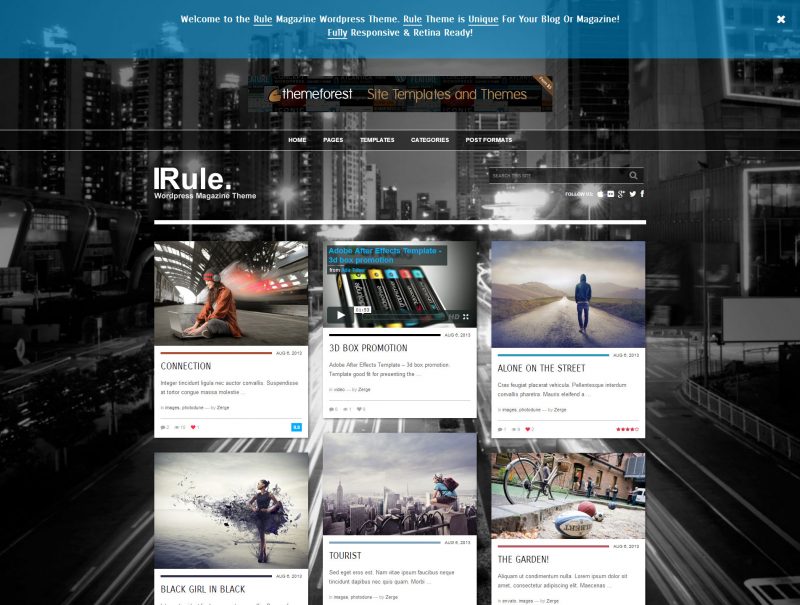 CRUSH
Crush is an attractive and minimalist theme that will serve all sorts of sites. You can use it to showcase your freelance work, photographs, music, or writing in a hassle-free manner. The highly responsive and user-friendly design makes it an ideal Pinterest-Style WordPress theme.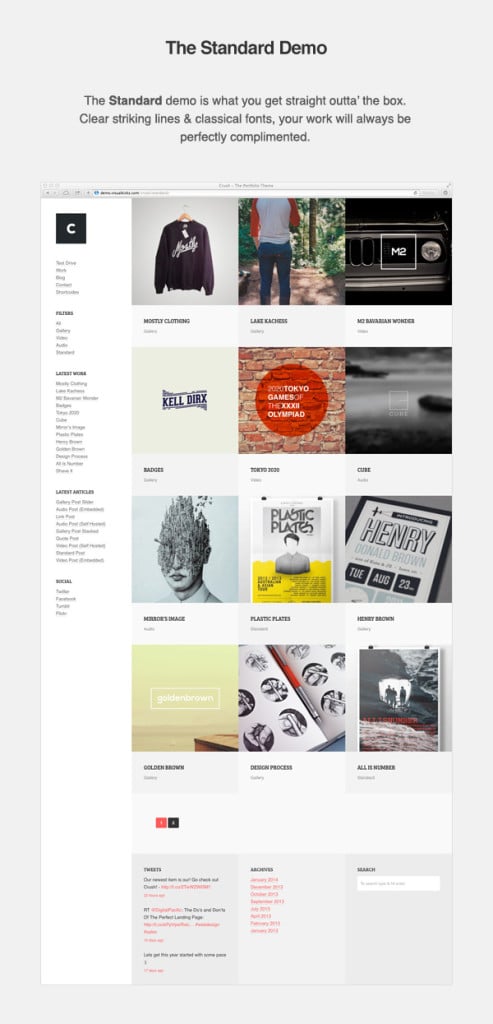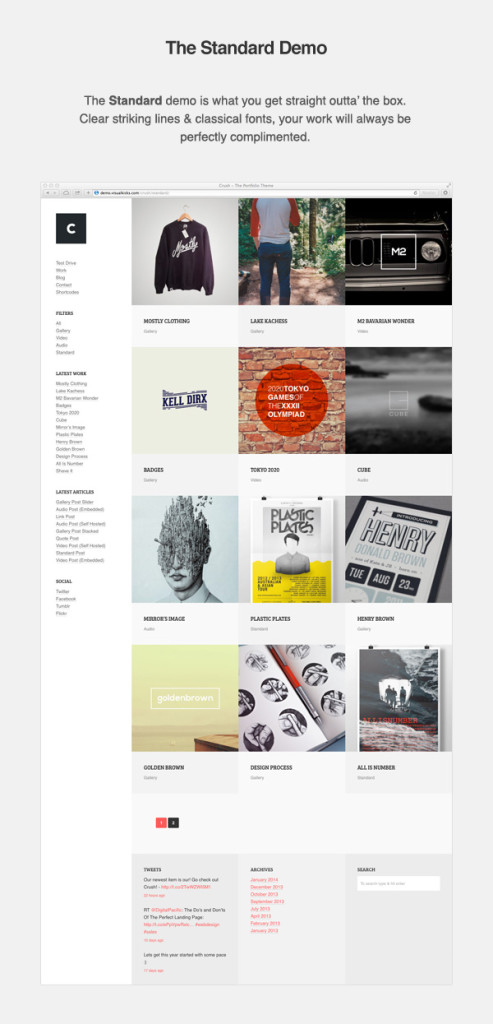 EMILIE
A very simple, minimal and engaging grid portfolio WordPress theme. The theme is created with HTML5, CSS3, and jQuery to make it a modern and SEO friendly design.
The theme offers you some different homepage styles to choose from and the Pinterest style design is one of them.
The theme gives you the option to create a full-screen design for your site. It offers you an amazing homepage slider option to style your content.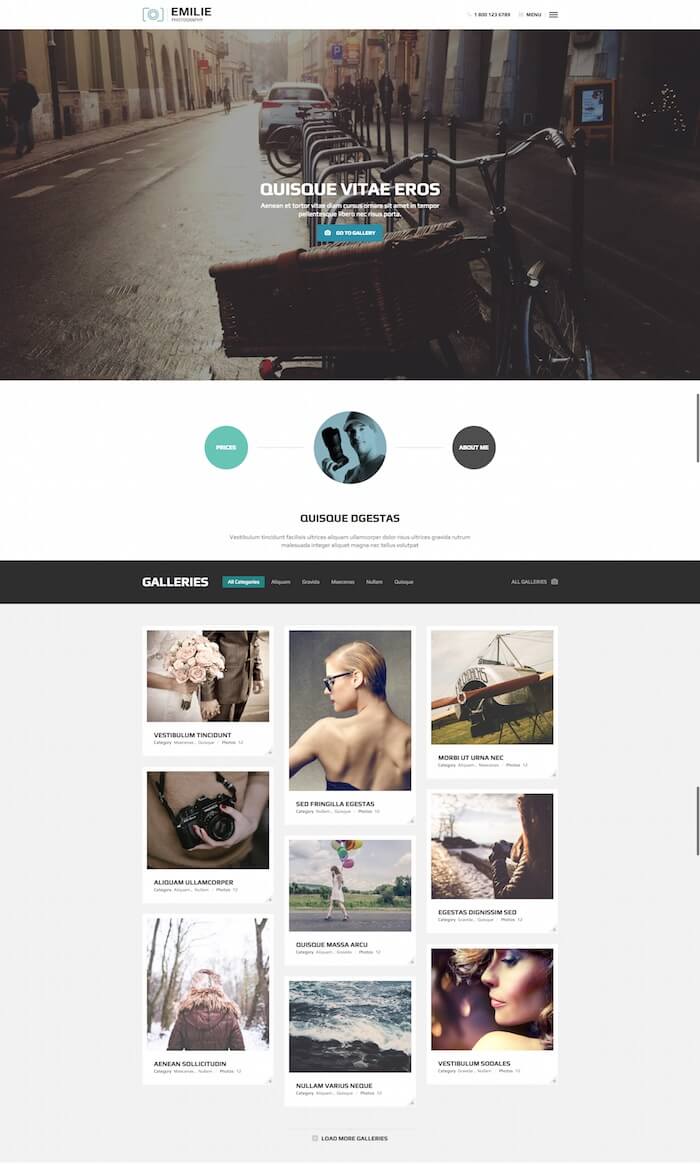 PINBIN
Pinbin is a modern and responsive Pinterest-Style WordPress theme suitable for a wide range of creative website niches. It is the fastest loading theme on this list.
The theme is perfectly optimized for performance and simplicity and comes with extensive documentation that will get you started in no time.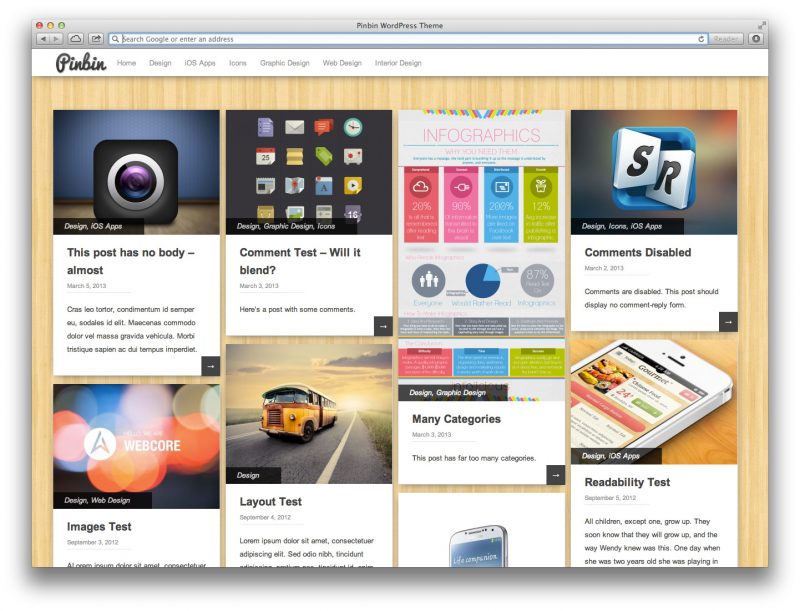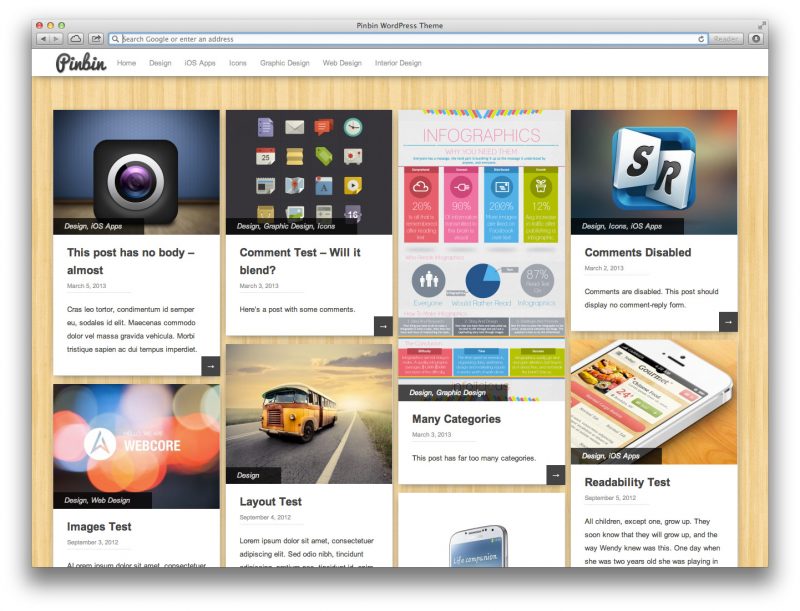 ELEGANT PINK
Elegant Pink is versatile masonry based, feminine and girly WordPress theme ideal for any blog, magazine, portfolio or any other creative niche. The theme is perfectly responsive and looks great on every device.
With a wide range of options such as a custom slider, custom menu, custom footer and multiple post sliders, the theme is a perfect choice for creating lively and eye-catching websites.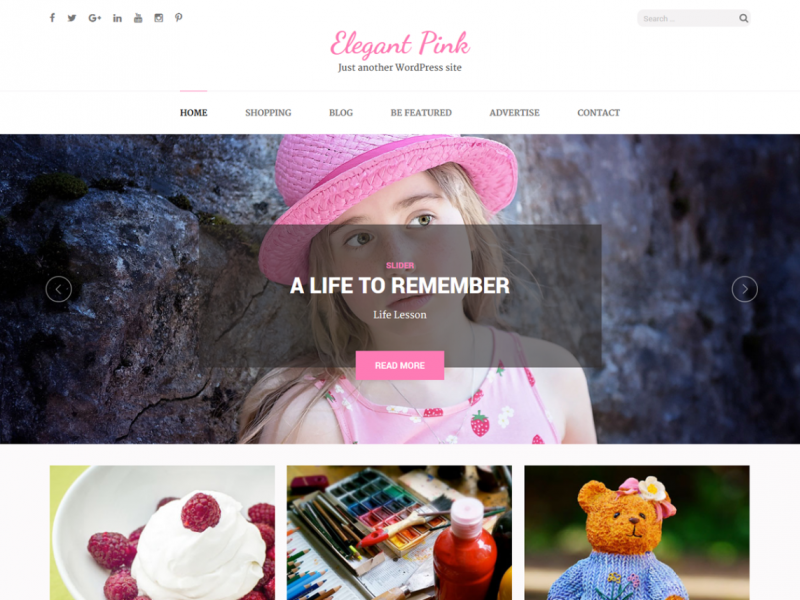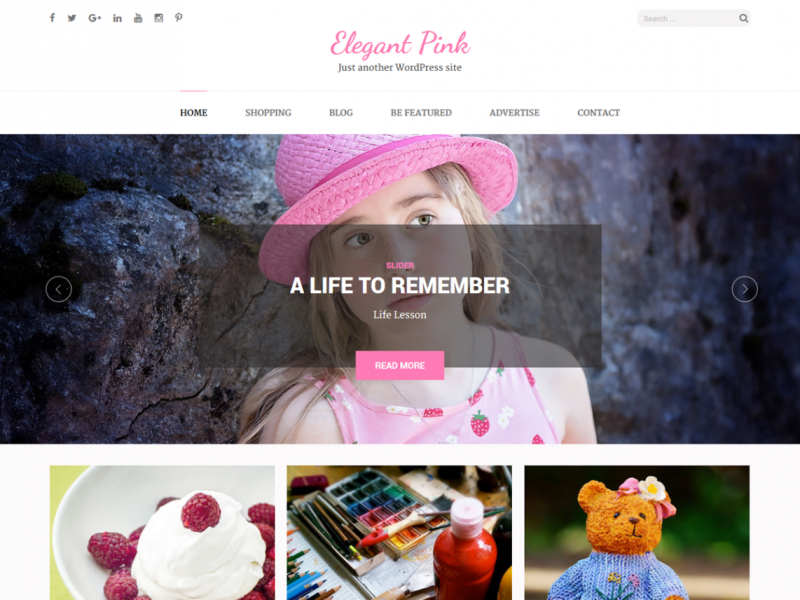 PINBOARD
Pinboard is a Pinterest-styled WordPress theme by MyThemeshop with unlimited backgrounds and color schemes. With a grid layout and lots of built-in features, Pinboard is a fully customizable free theme that will give your website an ideal Pinterest style makeover.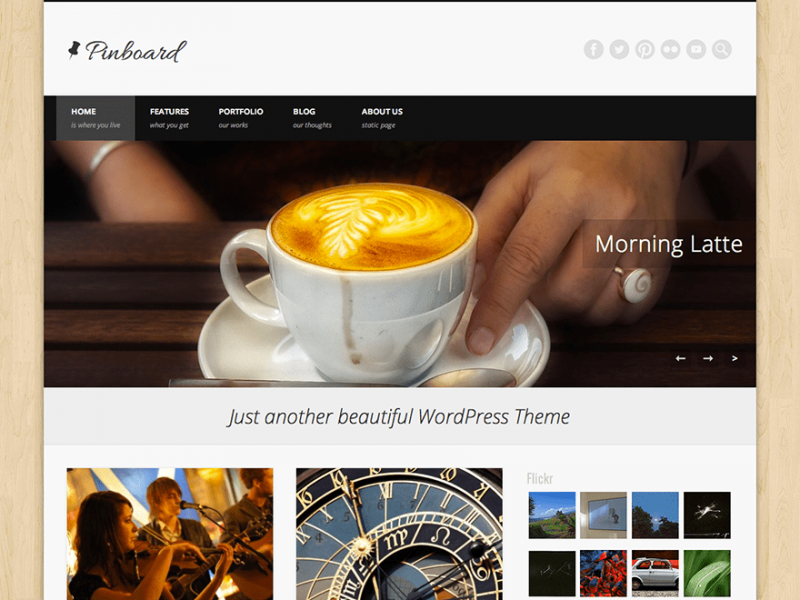 Final Word
Most of the Pinterest like WordPress themes comes with an amazing design that's both attractive and easy to browse. And it's no surprise that many users like their site to look like it. How Pinteresting!