A collection of best affiliate WordPress themes that will help you to start your own affiliate business and make handsome money every month.
Everyone is looking towards the internet as a source of making money or at least a steady passive income. One of the best ways of doing so is with an affiliate marketing blog/ website.
If you want to venture in this area, then WordPress gives you access to an abundance of features and functionalities to help you out.
If you are just starting your affiliate business, here is how you can become a successful affiliate marketer.
With a WordPress theme, you get all the necessary design styles as well as features implemented to your website in a breeze.
A well-designed Affiliate marketing theme will do wonders to move your business forward.
However, the market is filled with themes posing to deliver an excellent experience which fails to live up to its promises. So, for this read, we have put together a list of theBest Affiliate Marketing WordPress Themes.
Also Read:
Top WordPress Themes for Affiliate Marketers
REHub
REHub is one of the best and well-known money making themes for WordPress. It can help you will Affiliate Marketing, as well as setting up multiple vendor stores, help create price comparison charts, and function as a community theme as well.
The main advantage of the theme comes due to its two powerful e-commerce plugins: WooCommerce and Easy Digital Downloads. Both of these help you to make money on an affiliate basis, or by selling your stuff if needed.
The theme is also really flexible and comes with loads of customization options to make your site as much personal as possible.
With a regular blog layout, online store layout, and magazine layout, you can publish your content just the way you like. Then there are options such as social business directories, multi-vendor shops, deals, coupons, and much more.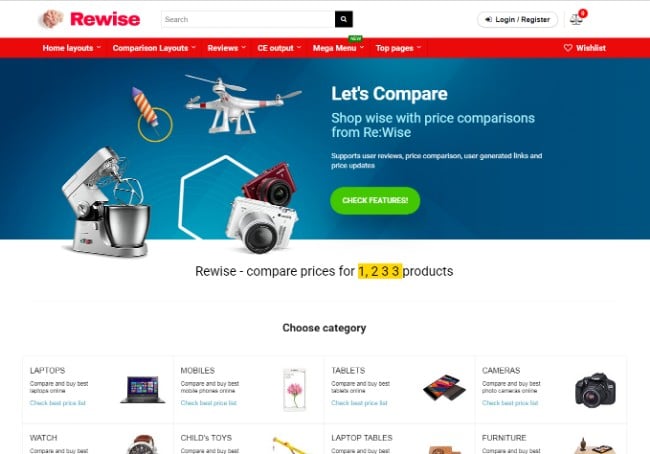 Auction Theme
As the name suggests, this theme is created for the auction sites. Now, you can create a premium auction site with the affiliate products.
This theme offers you all the options and features to help you create a top quality product auction site. The theme comes with comprehensive theme options panel that you can use to set up your deals.
It offers you easy to get started option by setting your deals and pricing for the auctions quickly. There are a number of sites that come up with amazing deals that you can promote through your affiliate links.
BinarySales
BinarySales is an SEO and Digital Marketing WordPress theme boasting a clean and modern design style. It is perfect to reel in potential customers from the search engine, engage them through the sites wonderful design, and finally have them click on all your referral links.
The theme puts a lot of effort into how your website will look and feel. And so, to let you tweak and fine tune all the visual aesthetics, the theme boasts TemplateMonster's drag and drop page builder, multiple layout options, content modules, custom widgets, live customizer, and much more.
Ascendio
Ascendio is a business WordPress theme with a clean and professional design style that perfectly fits any affiliate marketing website.
The theme is also super lightweight, enabling fast load times, as well as comes with an abundance of customizability options, an advanced admin panel, and a bunch of other tools to enhance the visual aesthetics.
Also, a testimonial plugin is provided which can be useful to showcase all the client feedbacks. Then there are plugins that will help you display catchy images as well as organize a powerful service page which will also help your readers get a better understanding of all the services you provide.
Laraway
Laraway is an SEO and digital marketing theme which is designed to showcase your proficiency in the business, but it can also be used for affiliate marketing as well.
It comes loaded with many favorable functions that not only helps to highlight your business but can also help increase user engagement, a certain aspect necessary for a successful affiliate marketing gig.
The theme is filled with a lot of customization options to help you fine-tune the look and feel of your website. It is also capable of immersing your readers will find a parallax effect.
Also with the SEO friendly design and social media integrations, you can rest assured that more people will be coming to your site to increase the referral click count.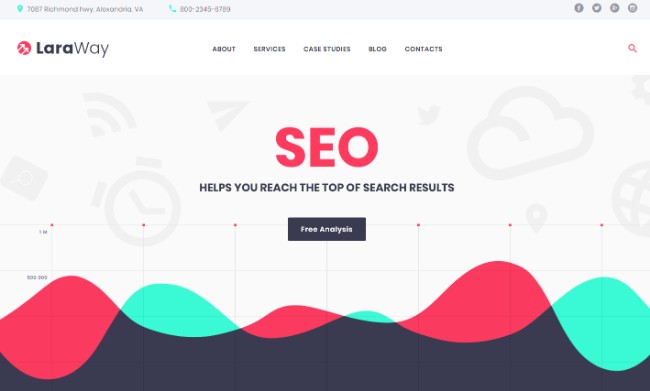 Authority
Authority is a leading WordPress theme for affiliate marketers that you can use to create your site. The theme is created with the best SEO practices to make sure that your content gets better ranking in the search results.
It is a theme created for the authority bloggers to make sure that your content is backed by a good design, strong SEO and a very fast loading speed.
The authority theme comes with a powerful theme options panel to help you set up your site quickly, you have unlimited color options to style your site, unlimited background, sidebar options.
As this is a content publishing theme, you have comprehensive typography options, Google Fonts, icon fonts and a lot more.
Compare
Compare in essence is a price comparison theme for WordPress. If you are planning to host a review based website, then such tools that help to compare products/services can be very helping in getting all those click referrals.
The theme also comes with a host of custom options and widgets which you can use to tweak the look and feel of your website as well as how each product is shown to the users.
Also, design wise it offers a plenty of screen estate which you can use to add even more content. There is also an option to add product information to your website manually through the intuitive WordPress editor, or by uploading a CSV file, or simply establishing a regularly updated feed which will automatically import products to your website.
Voice
Voice is a flexible news/magazine WordPress theme loaded with a lot of demo content and customization features.
It also has an extensive list of layout options, out of which we would recommend the full-width layout style with a cover image if you are planning to start your affiliate marketing business.
The theme also boasts its handy share of shortcodes which can be used to integrate a range of elements like a progress bar, front icons, a library of buttons, tabs, and some even column layouts.
Other impressive features of the theme include support for WooCommerce and bbPress, so you can start a shop as well as a forum on your website if you desire. Also to help you manage Ads on your site, there is a built-in Banner Ads system.
Splash
Splash WordPress theme is designed to help build a blogging website with a focus on content and an inbuilt review system. Besides the review system, the theme also focuses on visual to make its site as interactive and engage as possible.
It comes with a good selection of page templates which can be applied to different types of content. The theme also supports WooCommerce so that you can go for another method of site monetization if affiliating wasn't your thing.
Besides all things mentioned above, the theme also includes a full social media integration, a comprehensive options panel, flexible homepage layouts, custom widgets, a bunch of useful shortcodes, a performance tab, lazy loading, and much more.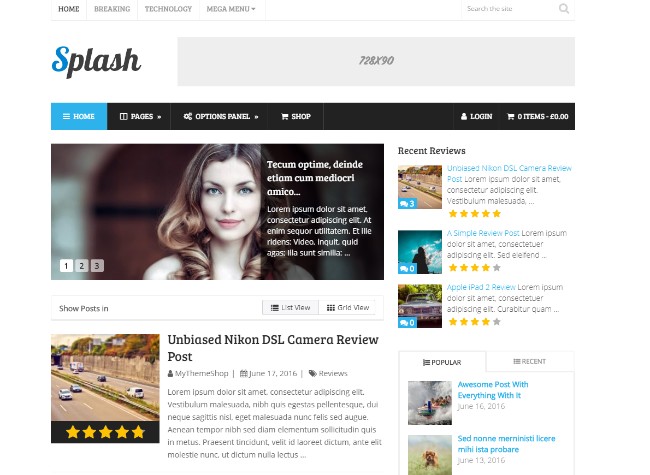 Expert – Blog WordPress Theme for Marketer
Expert is a creative blog WordPress theme curated for Marketers to help them grow their business as well as online presence.
This is, in fact, one of the first WordPress themes ever designed for affiliate marketing purposes. The theme not only boasts a lot of functional tools and options but also allows you to make visually appealing websites.
The theme takes in the best practices that have been documented to show an increase in conversion rates. It is also SEO optimized and offers fantastic load times. Apart from that, a lot of shortcodes are provided to help make your content more attractive and noticeable.
Besides this, the theme is also compatible with WooCommerce, offers a bunch of customization tools, and so on.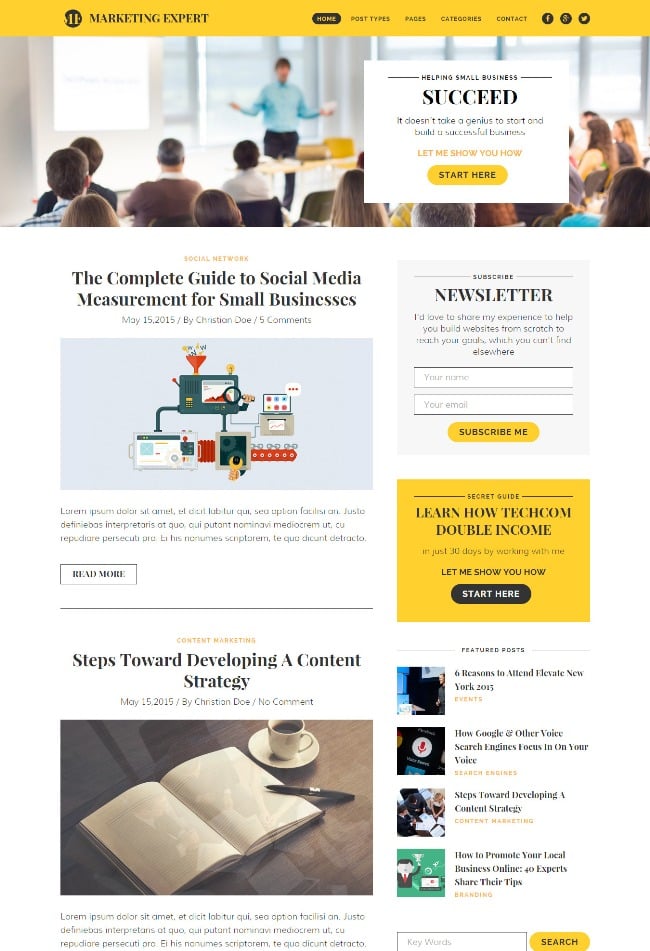 Marshal
Marshal WordPress Theme is specifically designed for business analysis and market research agencies. A theme with these type of features will help out your affiliate marketing program a lot.
It comes with all necessary features to point out all the services and benefits for your client as well as help you to set and achieve a particular goal.
Other notable features of the theme include its drag and drop page builder, multiple layout options, content modules, custom widgets, live customizer, and much more.
Another thing you might also want to note is that the theme is built on top of the powerful Bootstrap framework, which is always a plus.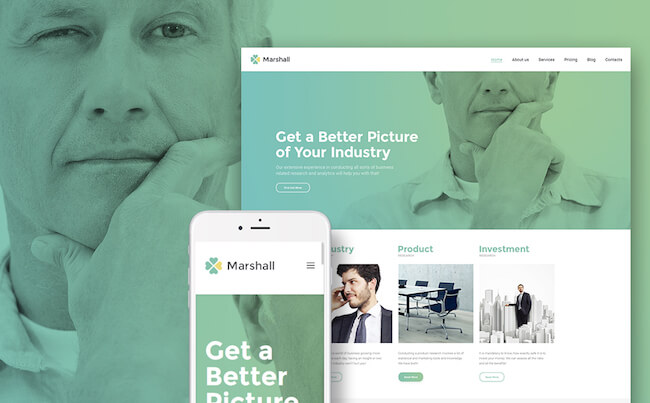 BigVenture
BigVenture WordPress theme is a great choice to start your affiliate marketing website. The theme is primarily curated for business and consulting websites but can be used for your affiliate marketing partner project.
It comes loaded with a handy set of our 40 pre-built pages, a website slider for intuitive navigation, and so on. Your audience will love their time spent on your website.
Important functionalities provided by the theme comes with the Cherry service plugin which allows you to state the main occupation of your company, as well as help you showcase your staff, add personal information, achievements, skills and so on.
There is also a booking form, in case your customers want to book an appointment with you. Apart from this, all the staple TemplateMonster features are also available with the theme.
Echo
Echo is a blog/magazine theme for WordPress with tools and options to help you start your affiliate marketing business. The theme is ideal for people looking forward to making a content-rich website compatible with an affiliate marketing business strategy.
Visually speaking, the website is stunning and boasts a masonry grid layout. You will also get eleven ready to use home pages and an easy to use drag and drop page builder, to help you further tweak them if necessary.
Besides affiliate marketing, the theme is also optimized for Adsense and will help you generate an income with Google Ads.
Other than this, you will get access to different post types, Sooperfine Mega Menu, Sooperfine Slider and Revolution Slider, and SEO friendly design.
With this theme, all you have to do is focus on the content, and all its inbuilt features will reel in more traffic and help generate a steady passive income.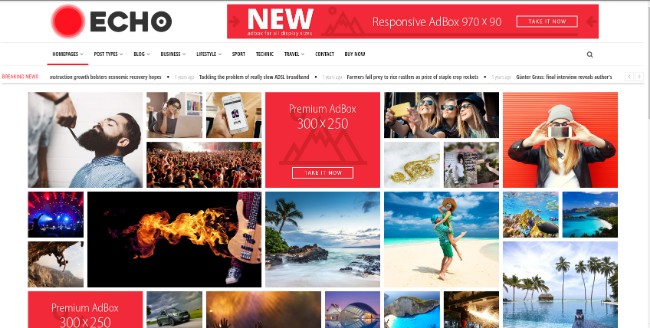 SteadyIncome
SteadyIncome WordPress theme is designed for bloggers, online marketers, and entrepreneurs. The theme is filled with powerful features to help you grow your business and develop a powerful online presence.
The theme is totally SEO ready and manages to maximize your content exposure to its fullest.
The theme comes loaded with a handy set of features to help you start your affiliate marketing website. It also encompasses a bunch of tools that you need in your day to day workings such as an engaging design style, WP Subscribe Pro, built-in rating system, Adsense optimization, Schema integration, parallax scrolling, Social Media integration, an Amazing options panel, Author Box, and much more.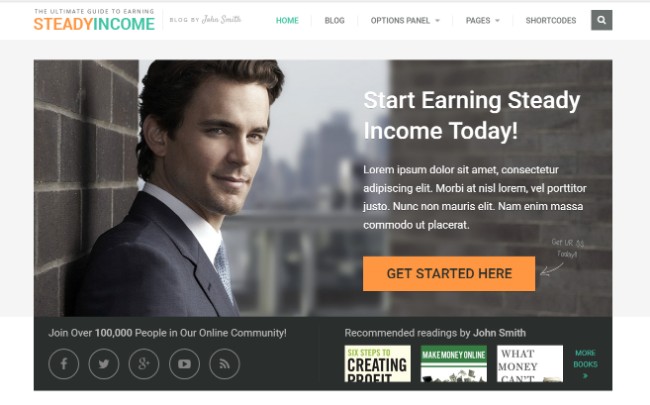 Entrepreneurship
Entrepreneurship WordPress theme is a premium magazine theme for WordPress designed to give your content maximum exposure.
It comes SEO ready, offers social media integrations, loads fast, and offers many layouts and page templates to help build the perfect aesthetic.
You can rest assured that not only more users will come to your website, they will also love every single second they spent here.
Now talking about some of its other features, we have featured sections to help showcase the best of your work, parallax scrolling, an amazing options panel, Author Box, WP Review Pro, WP Subscribe Pro, a bunch of customization tools, and so on.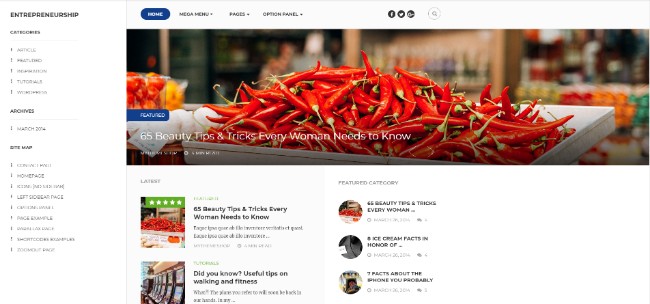 Everly
Everly is a WordPress blogging theme with features to help with your affiliate marketing and Adsense program.
Its design style comes with a content first approach which manages to lure the eyes of your readers onto your content without causing unnecessary distractions. This is one one of the best theme for photo bloggers or people from a creative background.
The theme comes with a dedicated options panel to help you properly manage your affiliate marketing programs from your dashboard without any hassle.
Apart from this, it also boasts an extensive array of other features such as different homepage and blog layouts, social media integration, an Instagram feed, a bunch of customization tools, and SEO ready coding.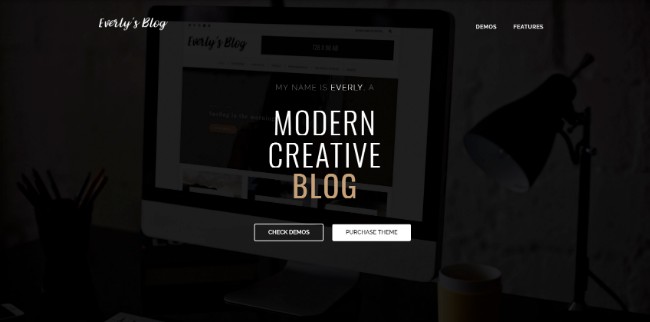 In Conclusion
Hope you liked our picks for the top affiliate marketing themes for WordPress websites. If you decide to choose one of the above-mentioned themes, then do let us known which one you picked and why.
Also, if you currently use an affiliate marketing theme which you find powerful, but not mentioned here on the list, the do your fellow readers a favor and mention it in the comments below.
All of us will have to have more options available to choose from, especially recommended by a person in the community.