Looking for the best Ahrefs alternatives? Well, we have listed the top options for you in this article.
Ahrefs is arguably one of the best SEO tools available in the market and will be there for a long time.
There are many features of Ahrefs that make it different from its competitors. Ahrefs does keyword research for search engines, provides backlink graph updates daily, analyzes SERP history and many other such things, making Ahref the leading player in the market.
It is often the price tag that makes you think about Ahrefs as your go-to tool. It floods you with so many tools in the same price range which might be unnecessary and make you feel like you are overpaying.
The basic pack of Ahrefs starts from $99/month and for a beginner, like most of us, it creates a barrier. It also fails to offer customized plans to its users.
These issues have made many other SEO tools companies come up in the market and some have started to give competition to Ahrefs.
I have been using Ahrefs, SEMrush, and a number of tools from this list for the last few years, and here is our list of top Ahrefs alternatives that can help you to do a complete analysis of any domain.
What Are The Best Ahrefs Alternative Tools?
Ahrefs is a leading SEO tool that offers a comprehensive SEO analysis toolset to help you do an in-depth analysis of any website.
SEMrush is one of the most popular alternatives Ahrefs. However, there are multiple quality tools that you can use, Here is the complete list.
01

. SEMrush

SEMrush is one of the best alternatives to Ahrefs available in the market. It is a website that offers solutions for SEO, PPC, content, social media, and competitive research and is backed by around 5 million marketers like you.

Here is a list of top SEMrush alternatives.

Top Features:

Pricing: SEMrush provides a monthly Pro package of $99.95, Guru Package of $199.95, and Business $399.95 for freelancers, growing marketing agencies, and businesses with extensive web presence respectively.

Do Competitor Analysis

You can use SEMrush for a detailed analysis of your competitor's site. As you start using the tool, you can search check for your own domain to find your organic competitors.

Once you have the list of your competitors, you can start analyzing the top traffic-driving pages on those sites.
Keyword Magic Tool
Another very useful and popular tool by SEMrush. The Keyword Magic Tool will help you to find profitable keywords that you can work on.
You can start by making a search for the main seed keyword and the Magic Tool will offer you all the possible keyword suggestions around that seed keyword along with the keyword difficulty score to help you understand how easy or different it is to rank for those keywords.
You will also get the total search volume for those keywords.
As SEMrush is a set of tools, there are a number of very useful SEO analysis tools that you will get access to.
Don't forget to get an extended trial period using our link below.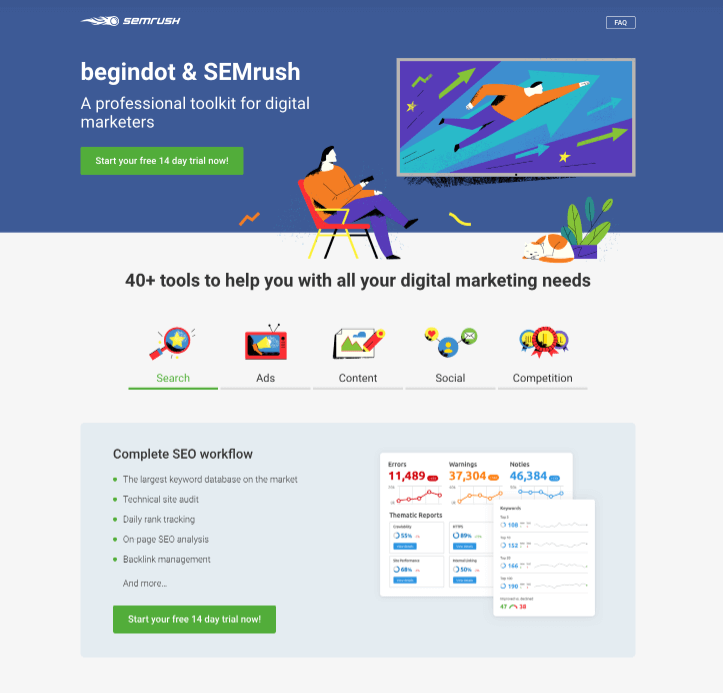 02

. SE Ranking

SE Ranking is one of the leading SEO software available in the market for business owners, agencies, and SEO specialists. It provides you with all the most useful SEO tools in a single platform

Top Features:

Pricing: It comes up with a free 14-day trial and you can sign up for as little as $7 per month.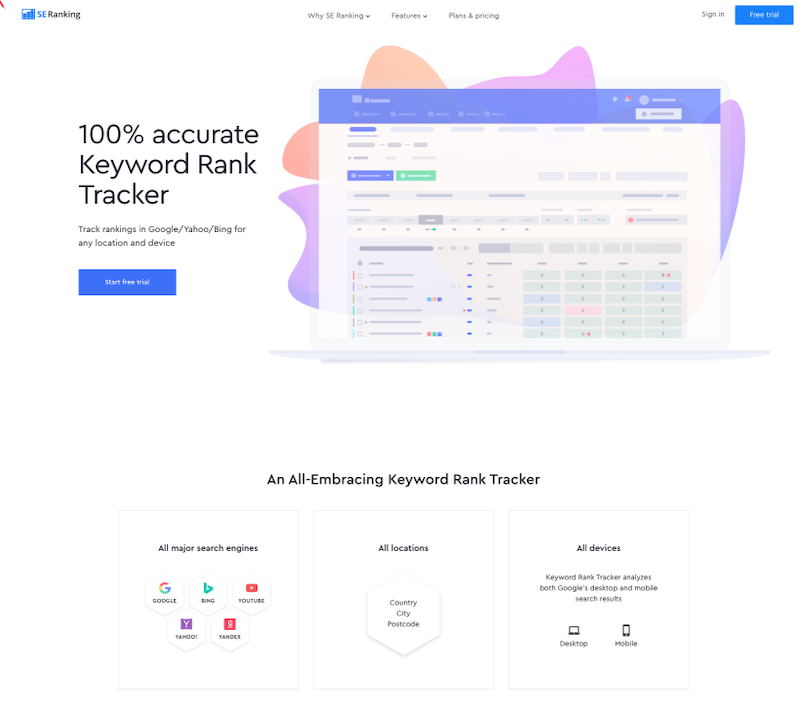 03

. Serpstat (Save 20% on Yearly Plan)

Serpstat is a software as a Service (SaaS) company that offers you keywords research, rank tracking, backlink analysis, site audit, and competitors keyword analysis.

Top Features:

Pricing: The monthly package starts from $69 provides 4000 search queries per day to $499 which provides for 12000 search queries per day.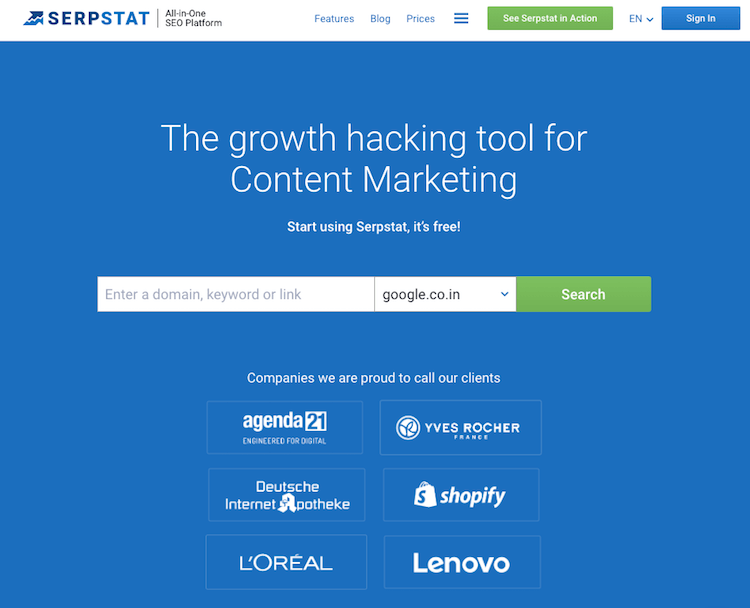 04

. SpyFu

SpyFu is a tool that you'll need if you want to reverse-engineer your competitor's success. It basically helps you in exposing the search marketing secret formula of your most successful competitor.

Top Features:

Pricing: Its basic plan starts at $33/month which gives 5k weekly traced keyword rankings as compared to a $199/month team plan which gives 40k weekly traced keyword rankings.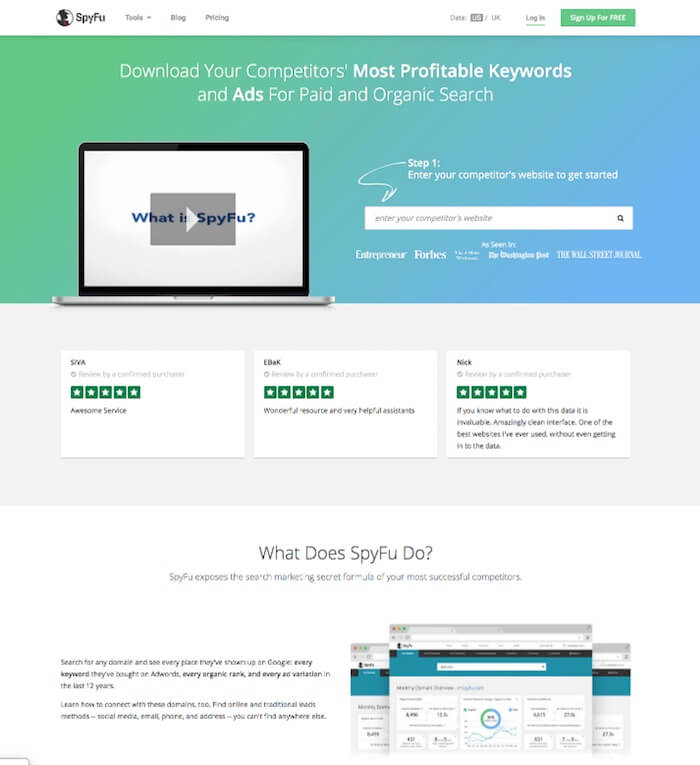 05

. Moz Pro

Moz tools are not only used for checking metrics like PA and DA but also make an ultimate choice to crawl and audit your sites, discover link-building goals and explore on-page optimization opportunities.

Don't miss our list of top Moz alternatives.

Top Features:

Pricing: The standard pack starts from $99 a month and the premium package costs $599 a month which is popular among the large SEO-focused agencies.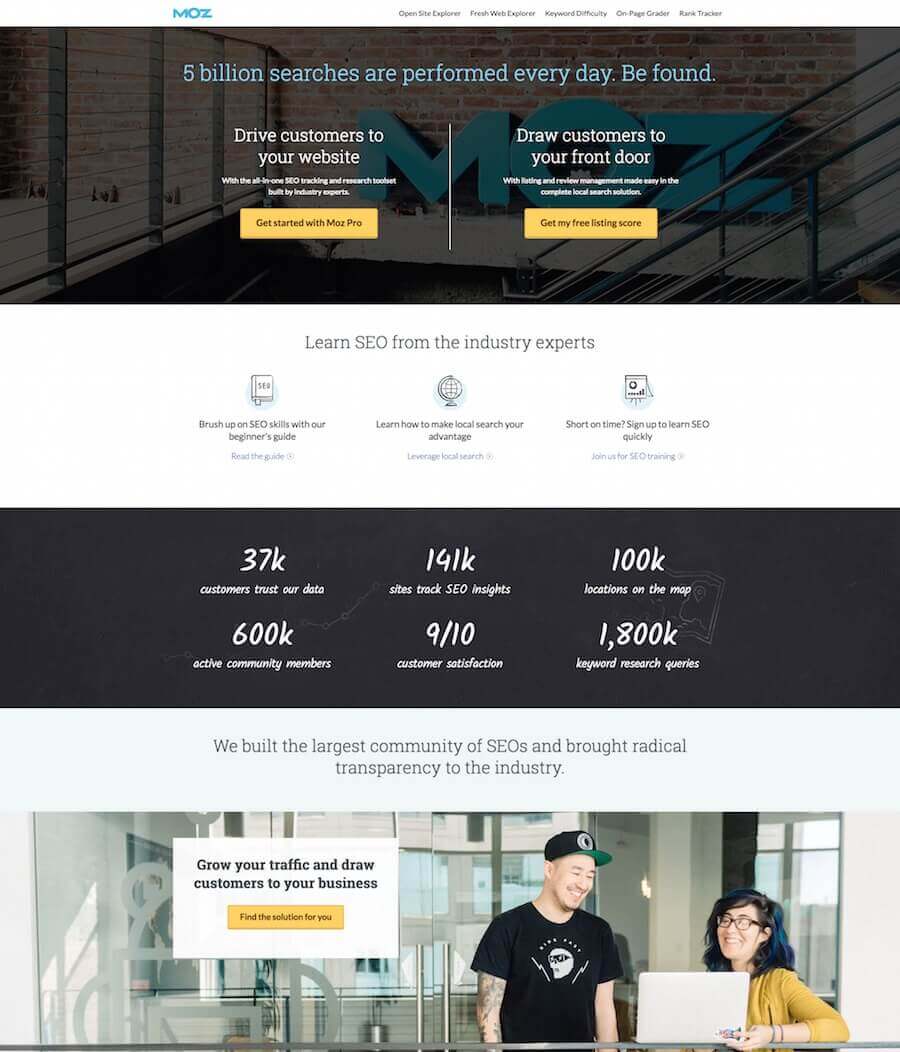 06

. Raven Tools

It is a technical SEO-focused software program with Site Auditor as its best feature.

Top Features:

Pricing: The pricing starts at $79/month provides 20 Campaigns and ends at $399/month that providing 320 Campaigns. Raven Tools provides a free trial too.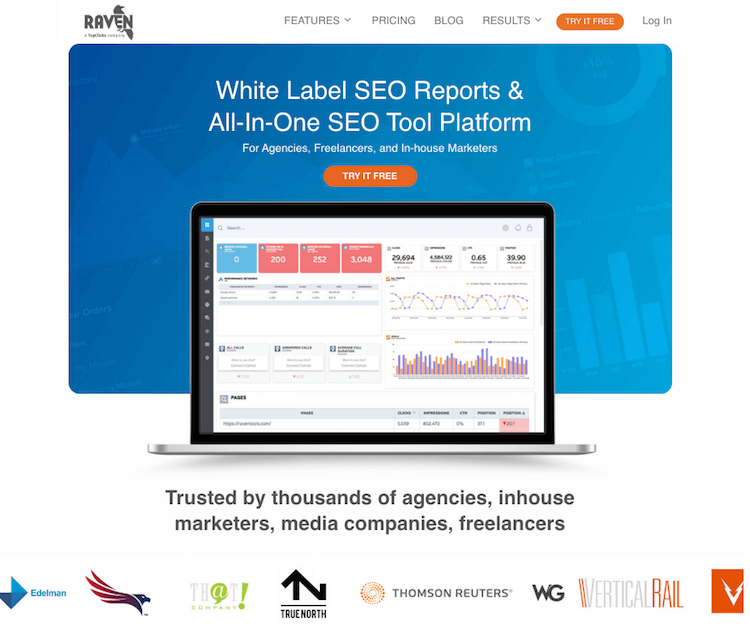 07

. Monitor Backlinks

It is said to be the best monitoring tool for backlinks and keywords. It is best known for its super-friendly user interface.

Top Features:

Pricing: It provides you a free trial and you can customize your plan as well. Prices start at $24.90/month.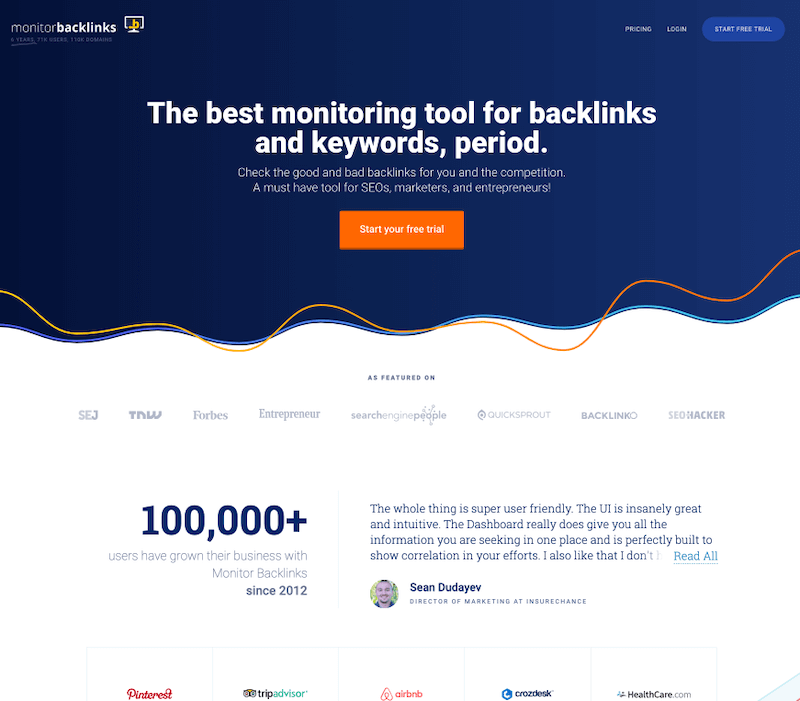 08

. SiteGuru
SiteGuru is an online tool that runs a weekly audit on your website and gives you a prioritized SEO to-do list. SiteGuru helps you find the low-hanging fruit to quickly improve your website and get you more traffic from Google.
Top features:
Pricing: Subscriptions start at $29/month. For this price, you can analyze 2 websites and unlimited users are allowed.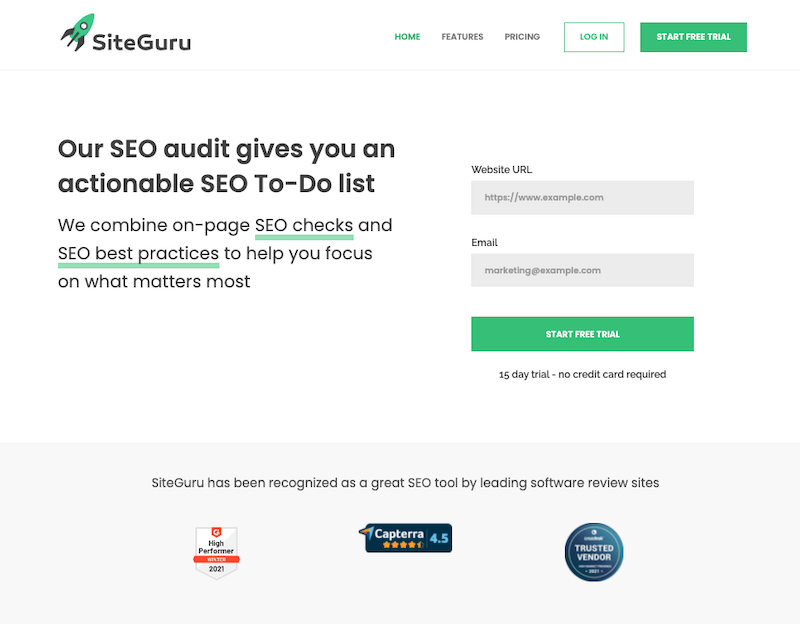 09

. SEO Spyglass

SEO Spyglass provides you with the most complete and accurate link profiles of both your site and that of competitors. With this tool, you get to know about all the backlinks of a domain, its anchor text, and page title.

Top Features:

Pricing: Free version limits you to 1100 links per project, but you can upgrade to Professional or Enterprise versions.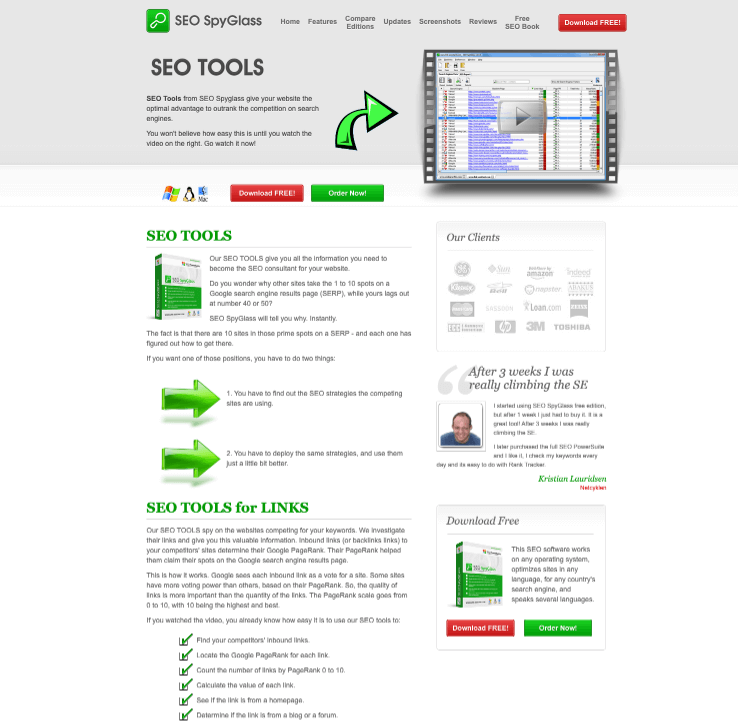 10

. Majestic

Majestic matches Ahrefs in terms of backlinks but offers many other features such as bulk backlink checking and analysis.

Top Features:

Pricing: For limited features, you can use it for free. Subscriptions start at $50/month.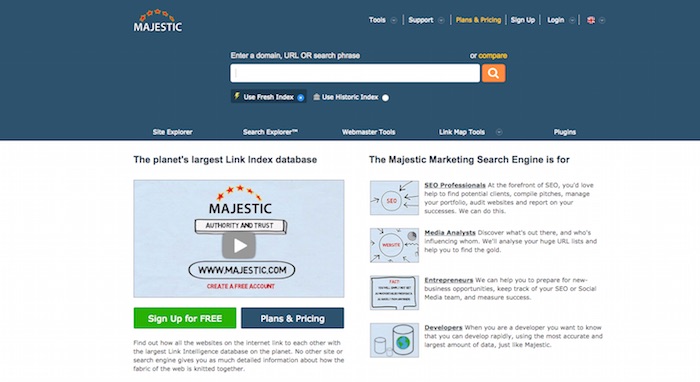 11

. Authority Labs

Authority Labs focuses mainly on search engine ranking and keyword data. It provides both rank tracker and data services

Top Features:

Pricing: It comes with a free trial, but the basic package starts from $49/month which offers 250 keywords. The maximum price is $450/month which offers more than 5000 keywords.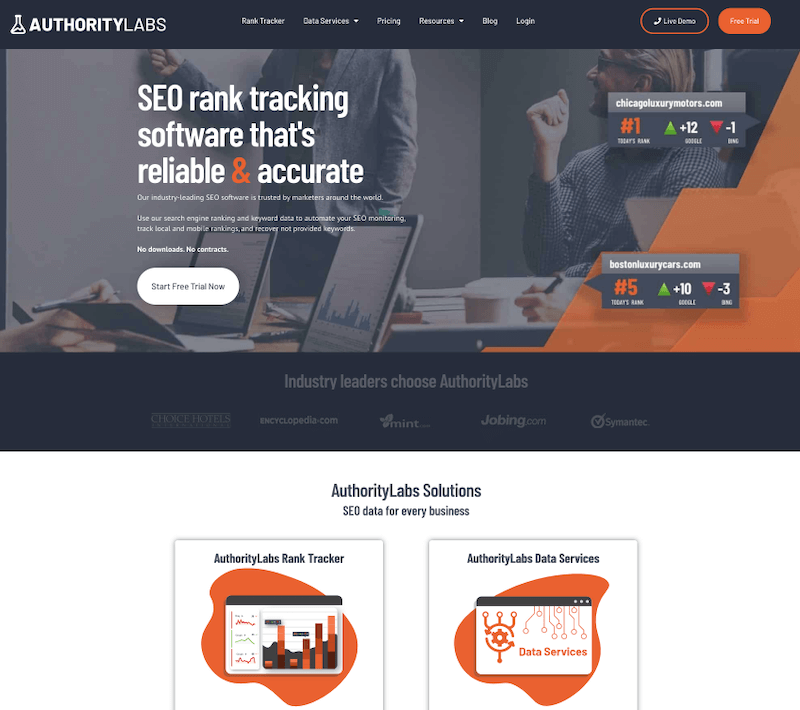 12

. Ubersuggest

If you don't want to spend a ton of money on just keyword research, Ubersuggest is tailor-made for you. There is also no need to sign up.

Top Features:

Pricing: $12 per month.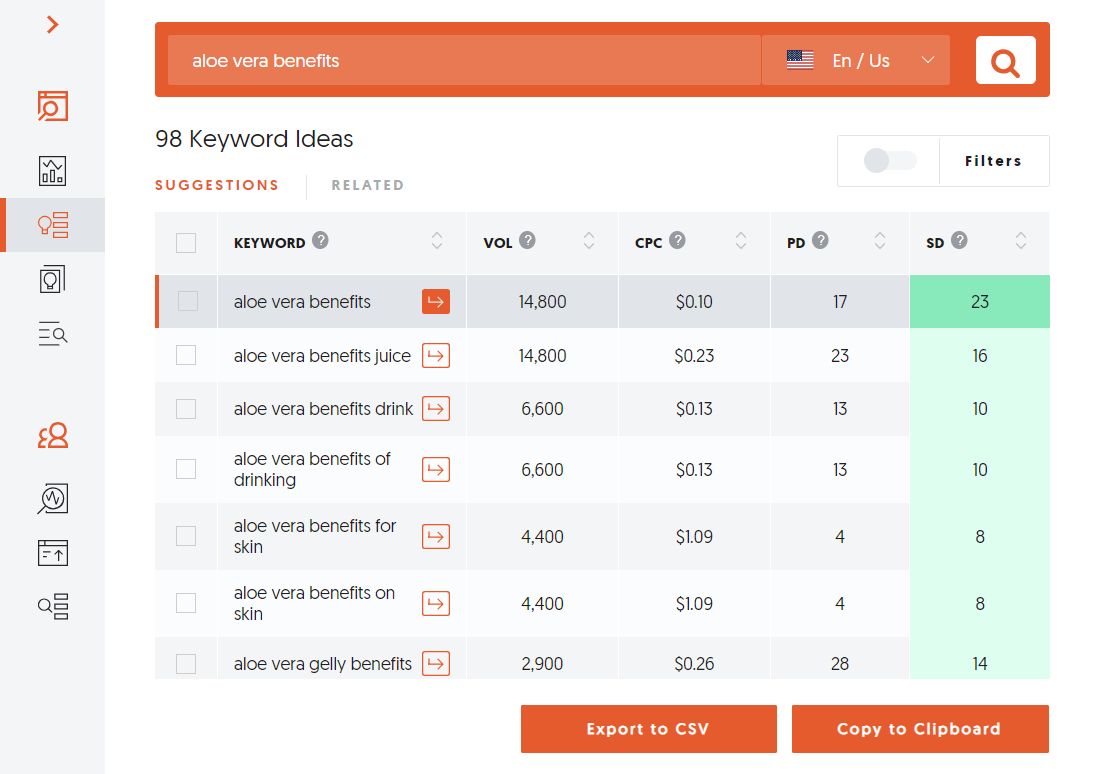 13

. Pro Rank Tracker

It is a mobile and web app that you can access from anywhere for tracking keywords, analyzing and reporting.

Top Features:

Pricing: Rank Tracker provides a free trial plan. The basic package costs $25/month which provides 20,000 site audit pages whereas the business plan costs $180/month which provides 1.5 million site audit pages.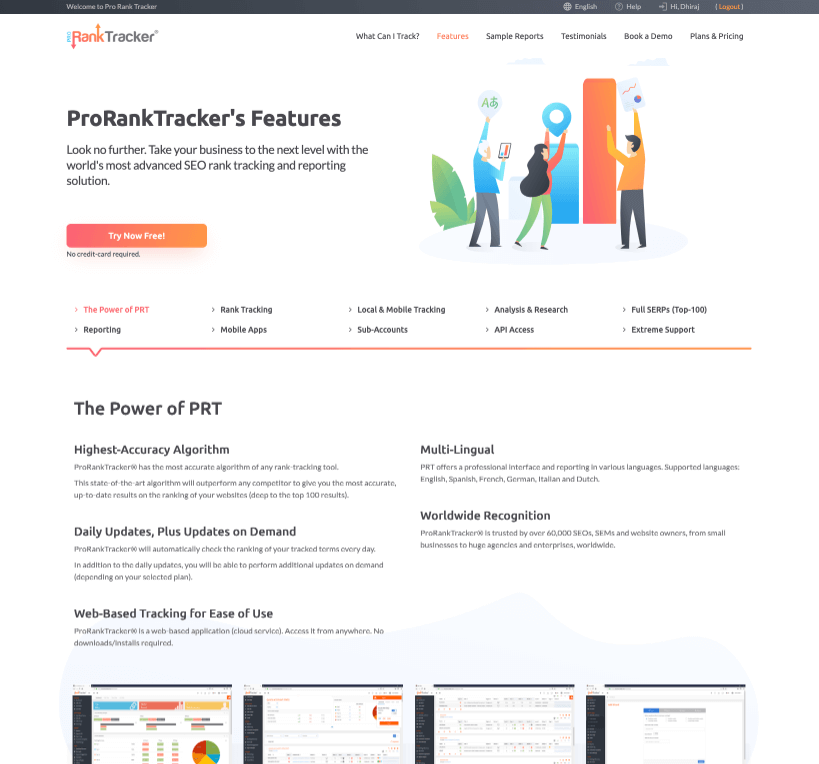 14

. Buzzsumo

If you want to quickly search for the best content related to your topic, Buzzsumo is the tool for you. The search results show the content with the most engagements and links.

Top Features:

Pricing: There's a free trial available for new users. The basic package starts from $99/month providing 5000 mentions whereas the enterprise package costs $499/month providing unlimited mentions.
15

. Awario

Awario stands out for its mention-monitoring feature. It helps you understand your audience better with meaningful customer insights.

Top Features:

Pricing: The starter package costs $29/month which provides 3 topics to monitor. The enterprise package, being the maximum costs $299/month providing 50 topics to monitor.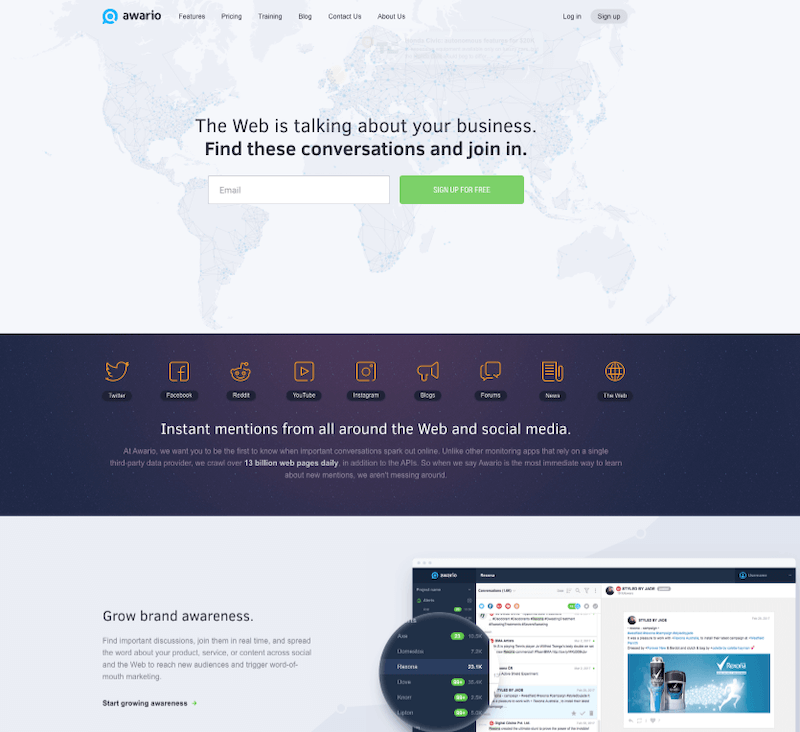 16

. KWFinder

KWFinder is a keyword research tool from Mongool Tools that helps you discover profitable keywords with low SEO difficulty.

Top Features:

Price: It comes with a 10-day free trial. The basic package costs $29.90/month which provides you 100 keywords lookup/24 hours while the agency package costs $79.90/month that provides 1200 keywords lookup/24 hours.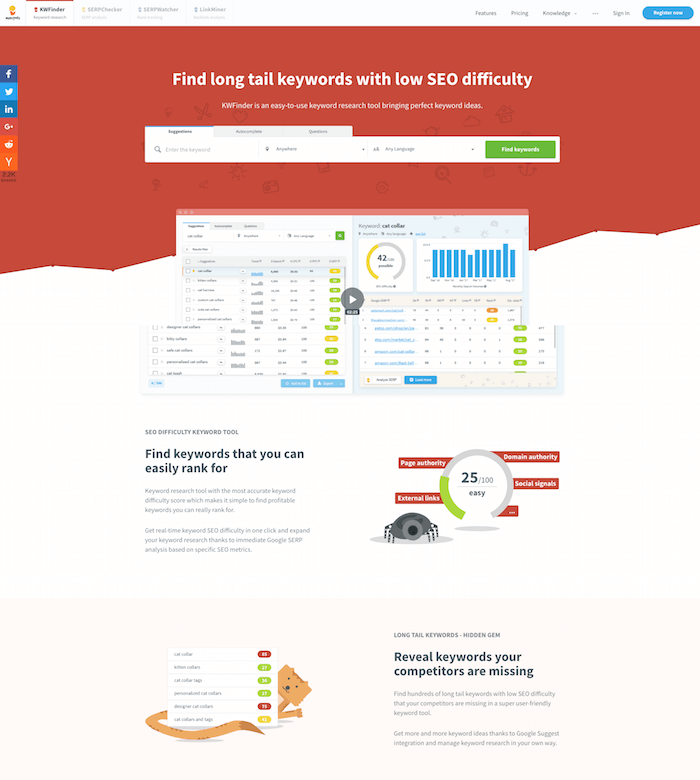 17

. WebCEO

It offers a collection of various tools such as keywords research, SEO audits, keyword rank tracking, backlink analysis, and lead generation.

Top Features:

Price: There's a free trial to work on your first project. The startup package costs $99/month which lets you work on 5 projects whereas the Corporate package costs $299/month which lets you work on 30 projects.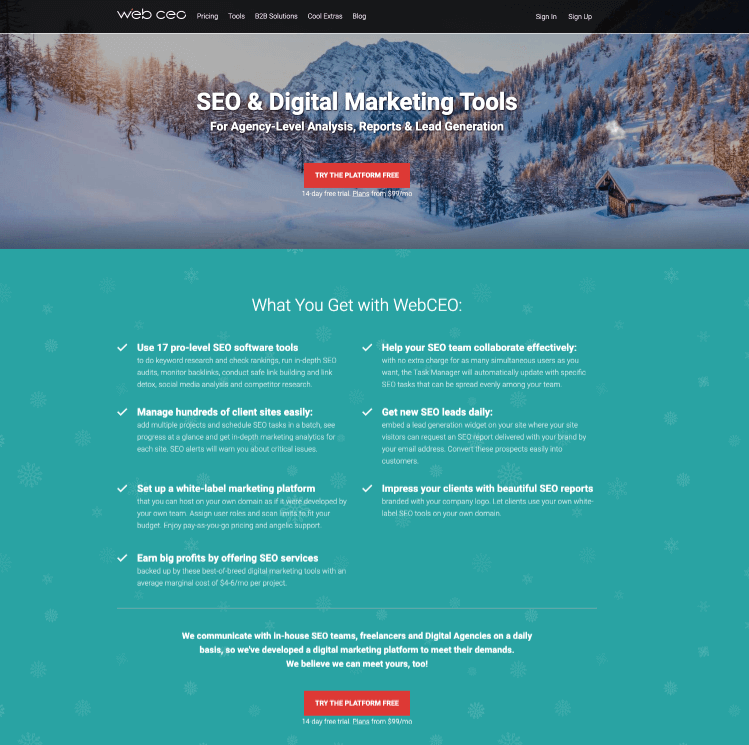 18

. Google Keyword Planner

It is the best tool to be used by a beginner and the best free alternative to Ahrefs.

Top Features:

Pricing: It is a free tool.
19

. Keywoordtool.io

It is yet another free tool that helps you find long-tail keywords on different search engines such as Google, Youtube, Bing, Instagram, etc.

Top Features:

Pricing: You don't even have to create an account for this tool.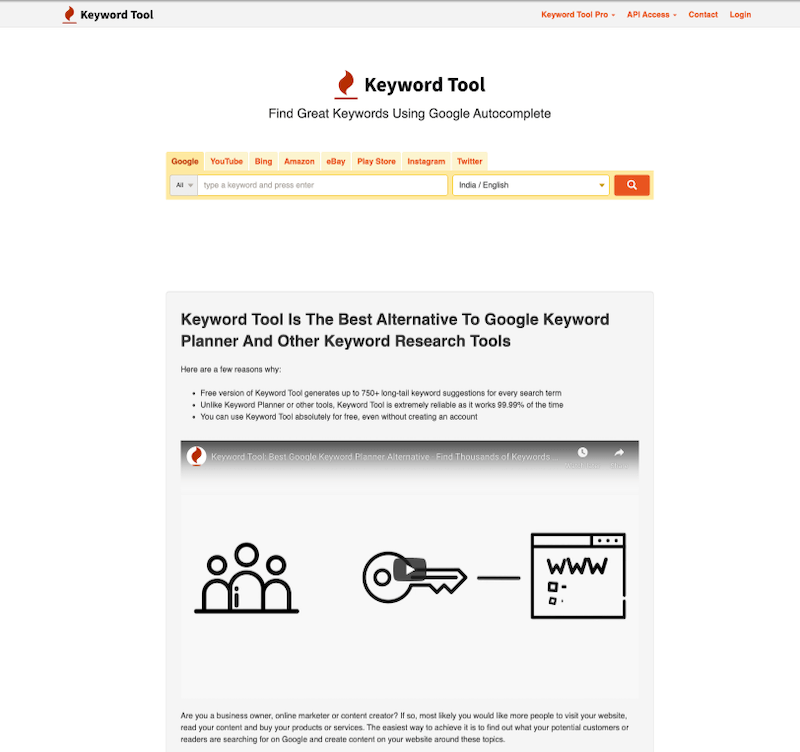 20

. Wordtracker

Wordtracker helps you better understand what your target audience is looking for. It is more than just a keyword research tool, providing in-depth PPC and SEO insights.

Top Features:

Pricing: It comes with a 7-day free trial option. The bronze package costs $27/month providing 1000 keywords whereas the gold package costs $99/month providing 10000 keywords.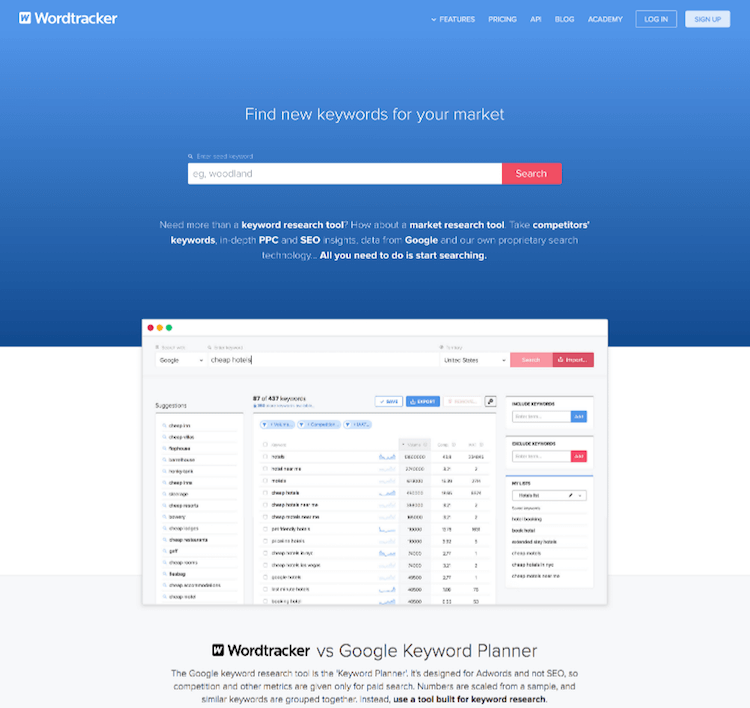 21

. SimilarWeb

If you want to develop an organic SEO strategy, SimilarWeb is the right place.

Top Features:

Pricing: There is a free version of the platform which offers 5 results per metric. To get a paid version, you need to talk to their consultant which will offer customized plans.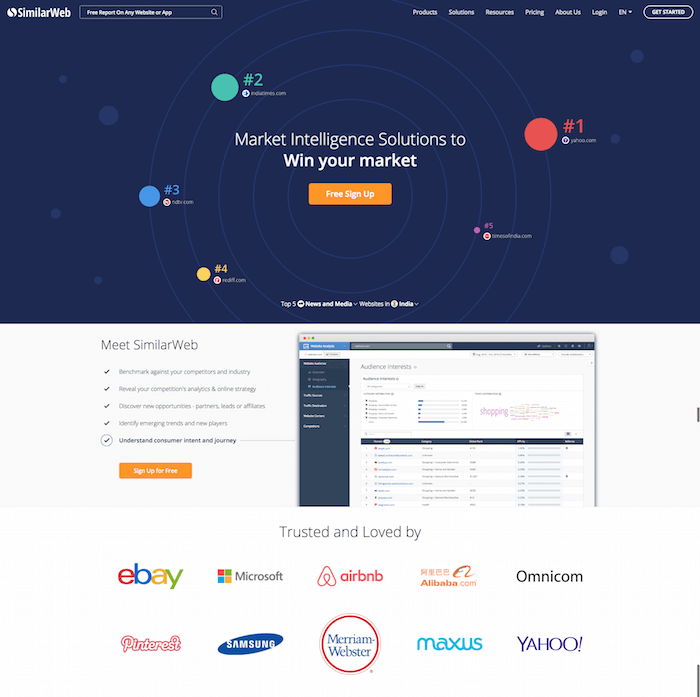 FAQs About Ahrefs Alternatives
01. What is Ahrefs?
Ahrefs is an SEO & backlink analysis tool. You can use this tool to do complete research on any domain. Ahrefs can be the best option to do a detailed competitor analysis to understand their traffic sources, the backlink sources and more.
02. What is Ahrefs used for?
Ahrefs is one of the most widely used digital marketing tools that will help you to do a complete analysis of your competitor site. You can find out their backlink sources, the anchor text used, the traffic sources and all other details that you will need to grow your site in a similar way.
03. How much does Ahrefs cost?
Ahrefs offers you 7 days trial period for $7 and after that, you can select any of the plans from four available options. Ahrefs offers 4 pricing plans, Lite for $99, Standard for $179, Advanced for $399 and Agency $999.
04. How to create backlinks using Ahrefs?
Ahrefs offers you a detailed backlink analysis tool that will help you to find out the exact linked pages of any website. You can use the tool to create your list of link opportunities and find ways to get those links for your site as well.
05. What are the best Ahrefs alternatives?
SEMrush is the best alternative of Ahrefs that you can use to do a detailed analysis of any domain to find out the top pages, traffic sources, backlink sources like Ahrefs. You can go through this article to know more about other available alternatives to Ahrefs.