What are you doing when aiming to reach Twitter influencers? Are you looking for Twitter influencer marketing to grow your business?
This listing of the ten best Twitter influencers tools includes many that will serve your promotional needs and highlight everything you have to offer on your site.
Before you move ahead don't forget to check our article on the best tools to grow Twitter following, some of those tools might overlap here.
Note: Some of these Twitter influencer tools are free to use, but others require you to spend extra. Be aware of what each tool has to offer as you look for a solution.
01

. Hootsuite

Hootsuite is one of the most popular social media management software that gives you the option to manage multiple social accounts from a single dashboard. You can add multiple streams for your Twitter account, the latest tweets, and messages to manage everything from a dashboard.

You can schedule your posts in advance so that your Twitter stream is always active with fresh new content around the clock.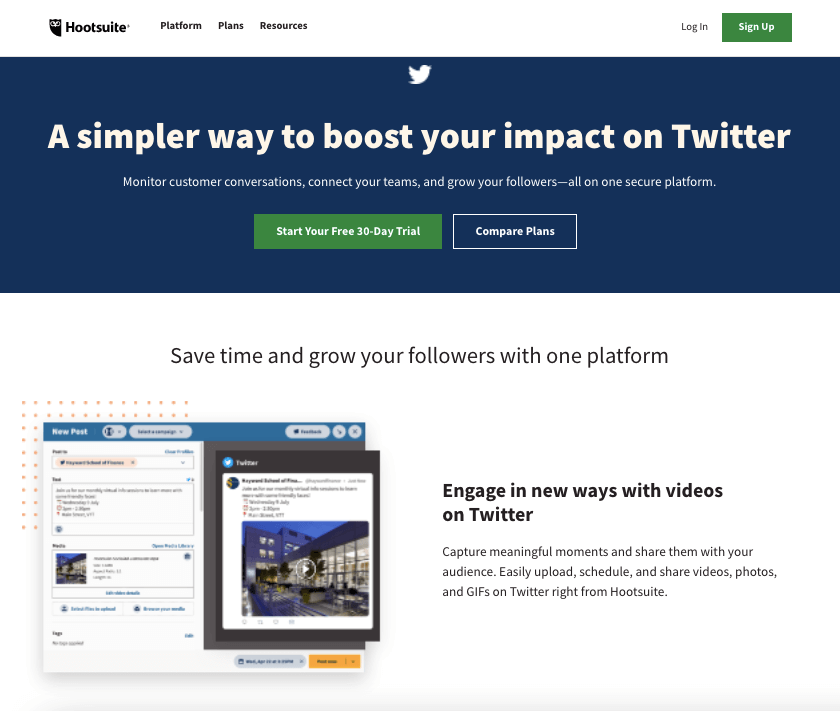 02

. AgoraPulse

AgoraPulse is one of the most comprehensive solutions to manage multiple social media accounts from a single dashboard. You can use this software to schedule all your Twitter and other social media posts in advance so that you have plenty of time to focus on other important tasks.

It offers you a comprehensive social media inbox where you can manage all comments and messages from all different platforms in one dashboard so that you never miss any important message.

It will help you to improve your overall engagement with your audience and help you grow your brand.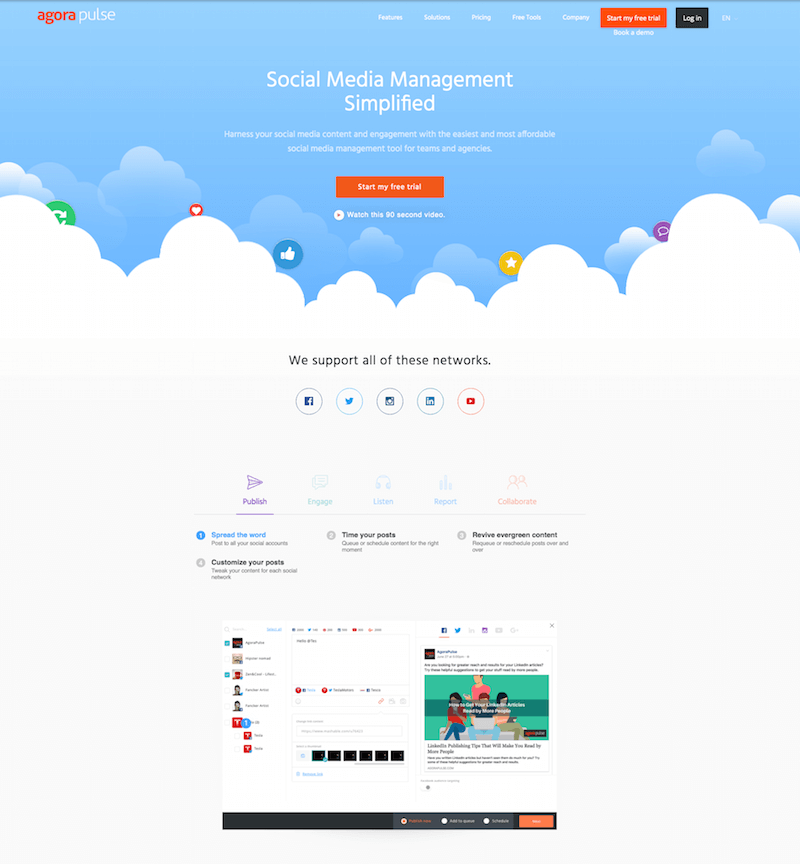 03

. SARAL

SARAL eliminates the need for a bunch of other tools by bringing together everything from Discovery, Outreach, Tracking, and Management. Its highlight is the relationships board which puts the creators front-and-centre for you, so you never miss out on a relationship.

If you're a DTC brand that wants to work with influencers long-term and create a robust influencer marketing channel without all the manual work, it's worth checking out SARAL. 

They have a spam-free outreach tool built-in to the app so you can automate sending 100s of emails and follow-ups to influencers. 

They have some other time-saver features like auto-finding influencers, automated shipment tracking, a handy chrome extension, and reminders that make you great at building and maintaining long-term relationships with creators.

The best part is it's one of the only platforms that offer a free trial (without asking for a card upfront) and does not need you to commit for a full year upfront. So you can test it out, and only keep paying a modest $150 monthly fee if you find it valuable. SARAL is the least risky way to try influencer marketing for your brand. 

Pricing

7-day all-access free trial, then $150 per month.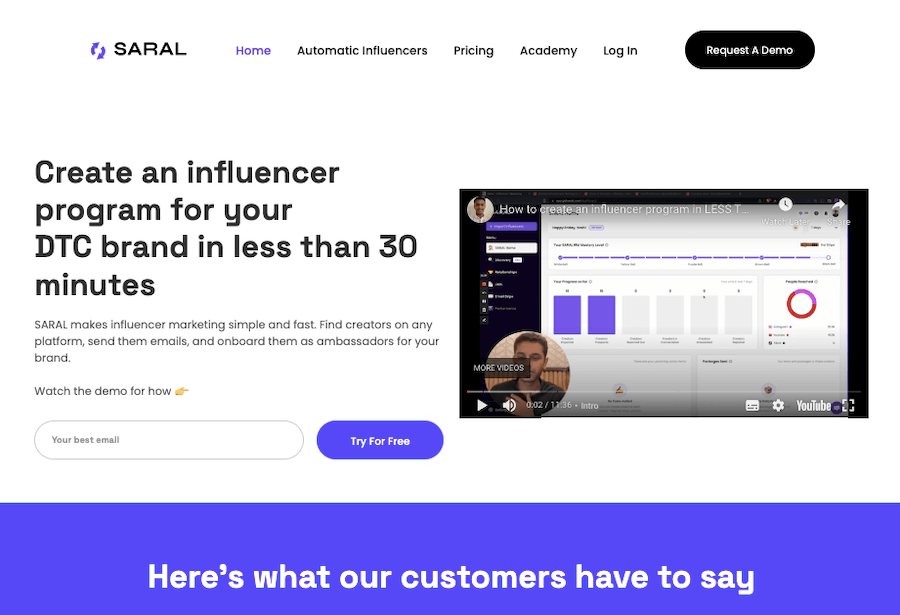 0

4

. Buffer

When it comes to Twitter marketing, Buffer needs no introduction. It comes with comprehensive tools to grow your brand on Twitter.

You can schedule all your Twitter posts in advance so that you can keep your account active with fresh content while you are busy doing other things.

Get detailed analytics for your posts so that you can plan your content in a better way.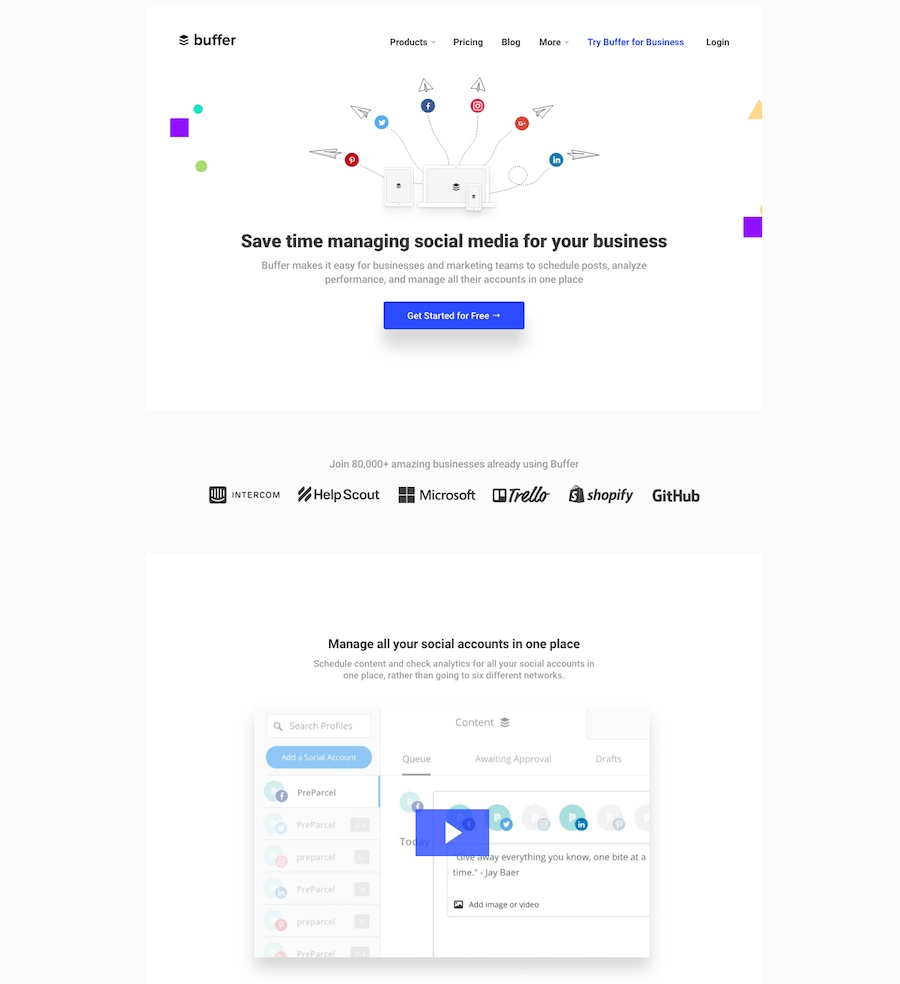 05

. FollowerWonk

Your first option to notice is FollowerWonk. The tool lets you search for Twitter bios and find possible influences to get in touch with.

You can use FollowerWonk to figure out what's available and to make your marketing work more attractive. You can also use FollowerWonk to look at how well different influencers might be following other people.

This is useful for cases where you want to know what is going on with others on a site.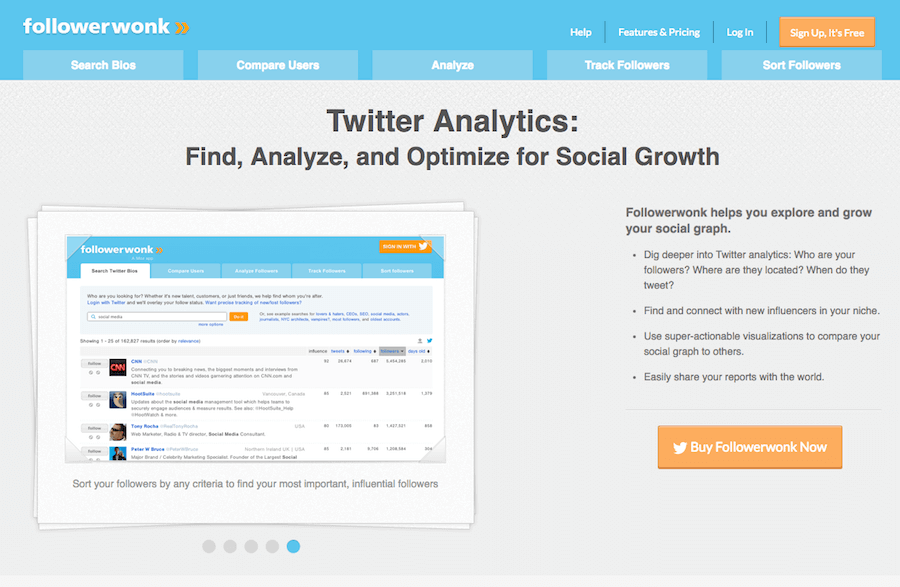 06

. BuzzSumo

BuzzSumo is a popular choice that is easy to utilize. You can get BuzzSumo ready to identify the most popular bits of content that you are aiming to market and how people can review that work.

You can use BuzzSumo to quickly identify many things happening on a site, but this tool works best when you have enough of an idea of what you want to promote at a time.

If you are looking for similar tools, here is a list of best Buzzsumo alternatives.
07

. TweetReach

Get in touch with more people in moments with TweetReach. The tool helps you identify the best Twitter influencers in moments.

You can search for people on Twitter based on keywords, accounts, hashtags, and other important bits of data.

The system on TweetReach provides you with detailed points on how well your site is recording data.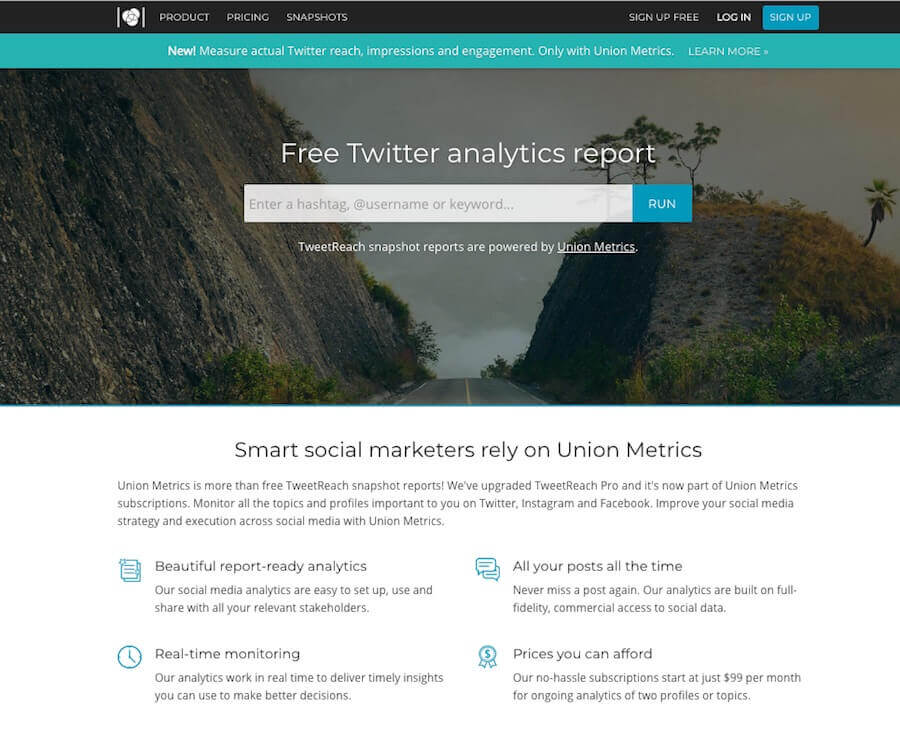 08

. Kred

Kred is an intriguing influencer analysis tool that reviews how well a site is working to get information.

You can use Kred to find details on how well an influencer works and what one might be managing to get out of one's work.

The site is designed with an analysis based on how many followers someone has, how often a person's words are retweeted, and any engagements that a person has with others among other points.

The detailed information included on each Kred profile should help you with noticing how well you are taking in the content.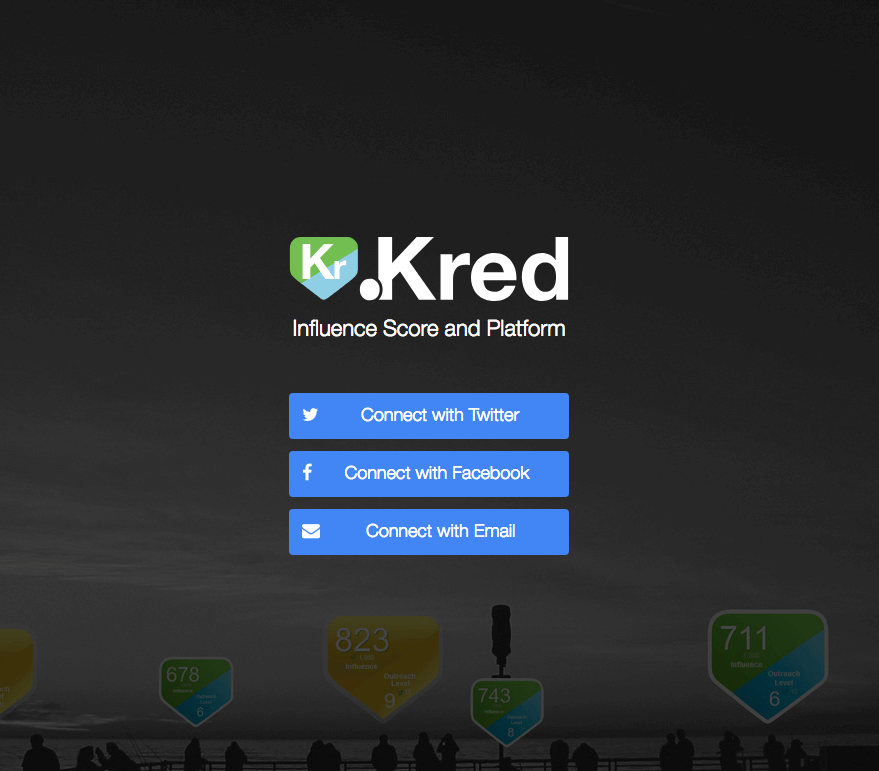 09

. Lithium

Lithium is the next choice see when looking for influencer tools. The tool helps you to find information on different influencers and to see how people are getting on your particular social media page.

The design that Lithium uses helps you to make the most out of your content while being easy to follow.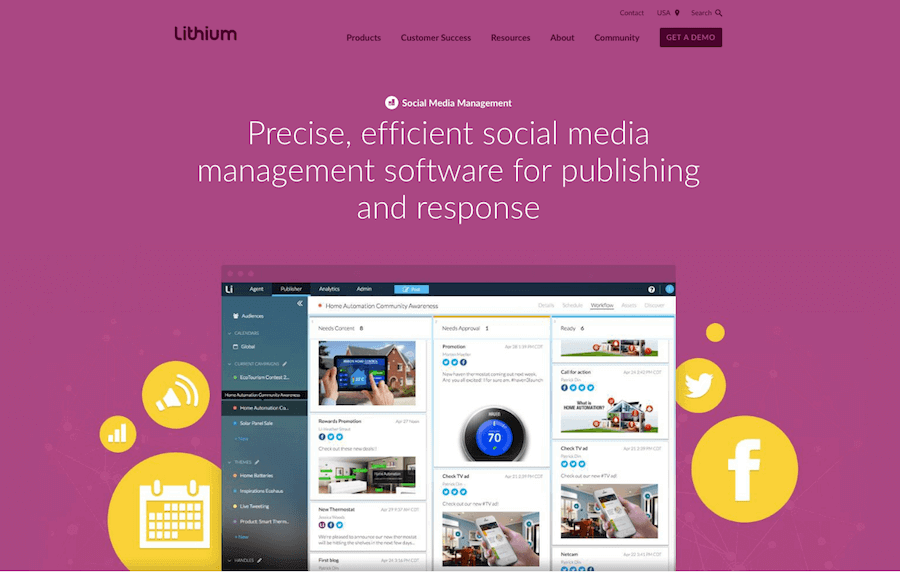 10

. Klear

Klear provides a simple source for managing influencer marketing efforts that is easy to work with.

Klear works with a useful search engine that makes it easier for people to find content on different influencers and other popular figures.

You can also sort through the results based on factors like how many followers people have and how often they interact with others.

You can use this to get an idea of which influencers are the most active and can make a positive impact on what you are offering.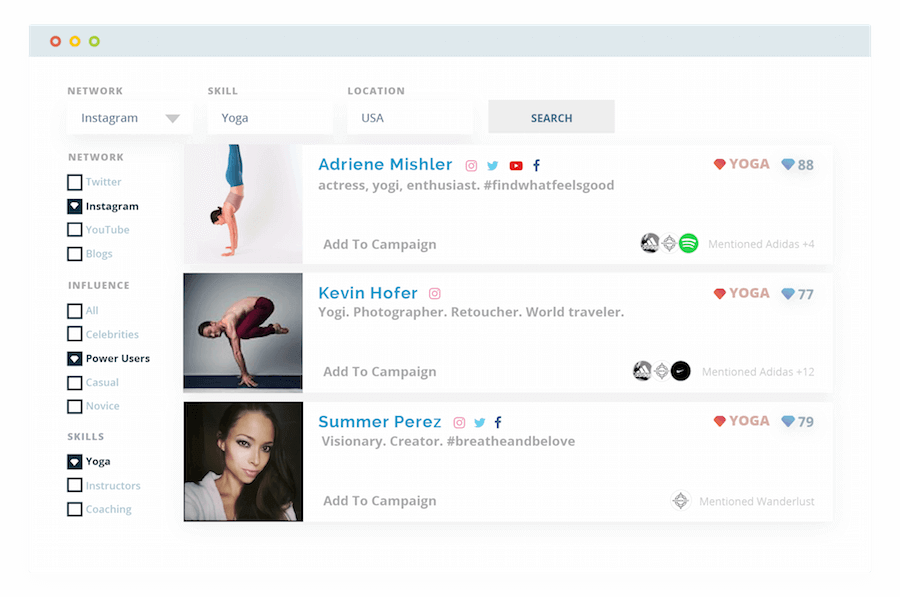 11

. PeerIndex

PeerIndex is part of the Brandwatch series of tools that you can use for monitoring your brand's activities and functions.

With PeerIndex, you can find people in moments and use many search parameters to find the people that are right for you.

The influence parameters used in PeerIndex will provide you with an idea of what to expect out of your work and how well the content may operate. You can use this quite well for making more out of your task.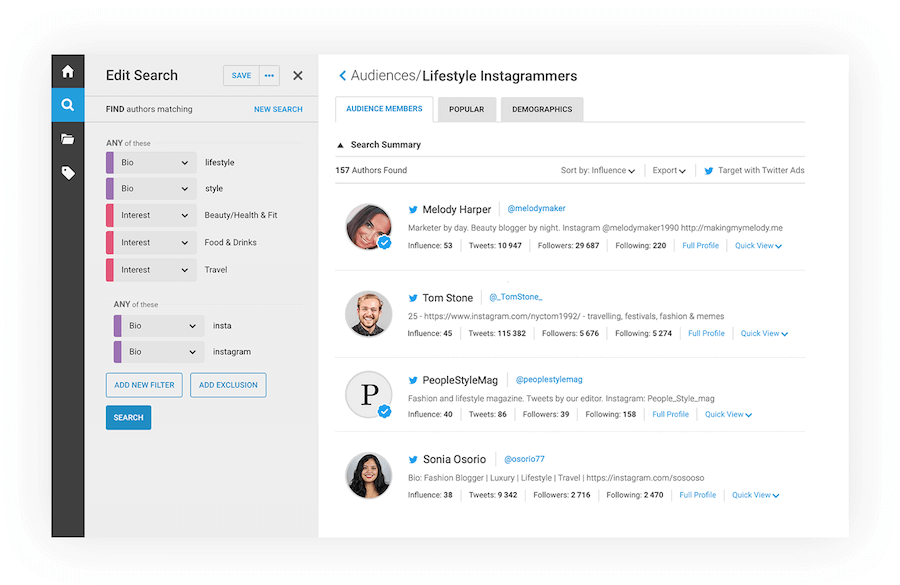 12

. TweetDeck

TweetDeck works as a full-scale Twitter management tool that helps you review everything surrounding how well your site is operating.

You can use TweetDeck to analyze content relating to your tweets and how people are interacting with them.

You can reach more audiences when you use TweetDeck, although it helps to notice how well the tweets are laid out.

As for influencers, TweetDeck gives you full information on all the users on Twitter. You can find data by entering the names of the people involved and confirming the content listed on each page.

The design helps you find the people that you can trust and will want to support.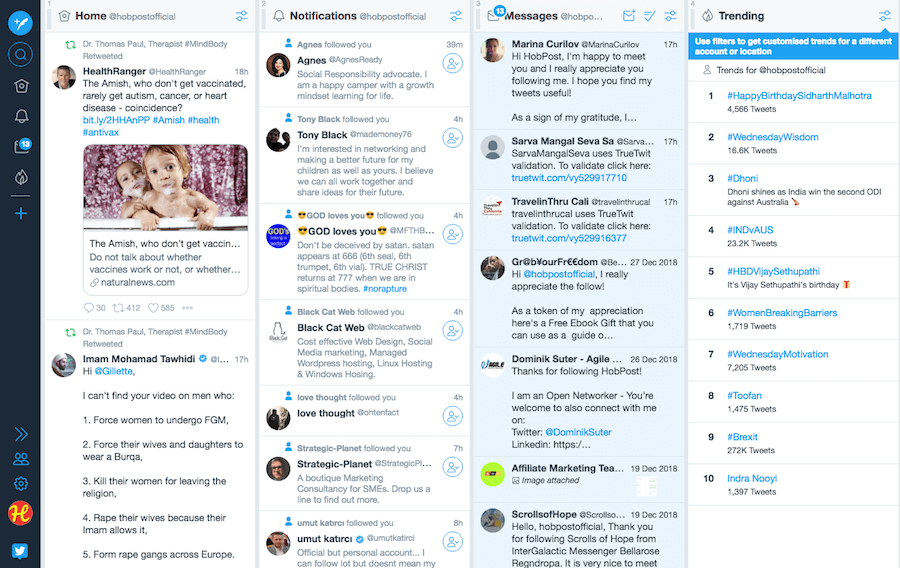 13

. Commun.it

Commun.it does well with tracking influencers and is especially useful when you're trying to interact with Twitter users who have gotten in touch with you recently.

You can review points based on who should be followed and how you're going to get people on your page.

Reviewing the results included here will help you to find the right parties who you can trust and support.

You can also review the impacts of each influencer on the site. You will get this information based on the interactions a person has with others, how often people retweet one's messages and the number of replies that someone regularly gets.

The support included here provides a simple interface that only takes a few moments to work with.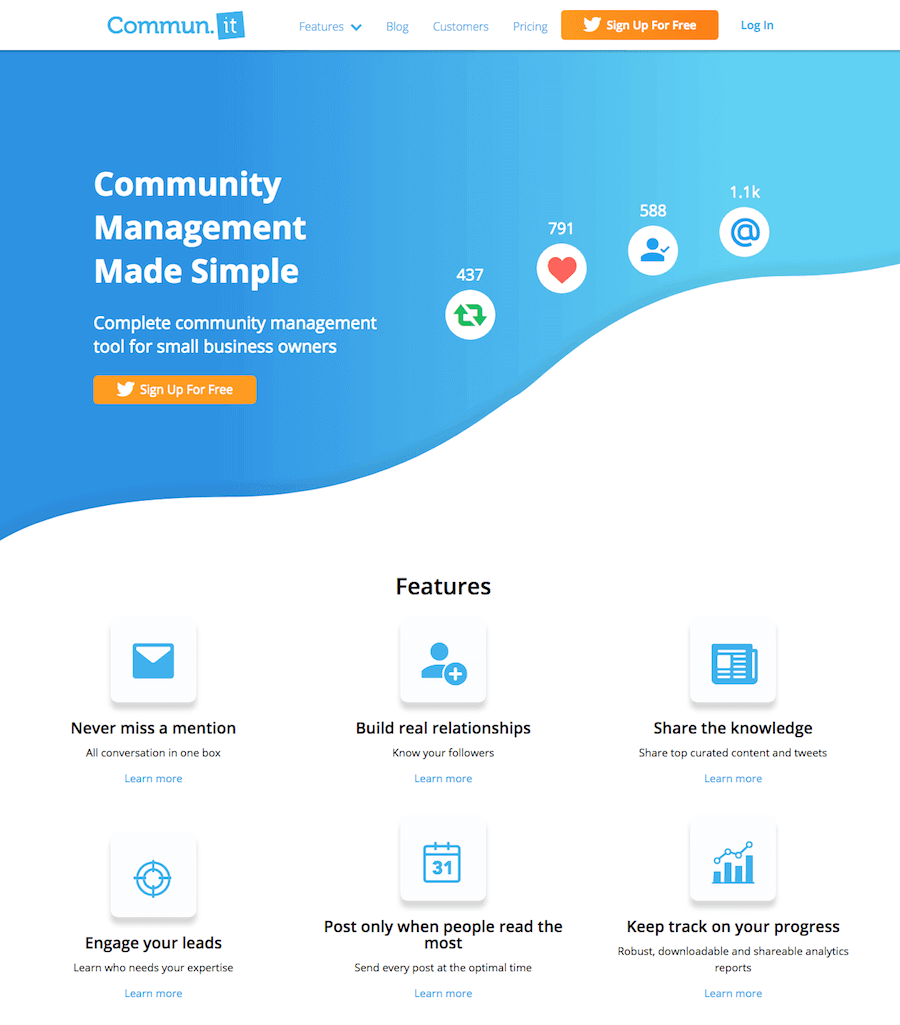 14

. Mention

A great tool for all marketers and social influencers to stay updated with all the mentions around the internet.

Mention gives you real-time updates as your brand gets mentioned by any other site, or social media to stay on top of your marketing game.

Also, Mention offers you a dedicated section for finding social media influencers to start your influencer marketing.

Mention creates custom insight and statistics for your business to help you make an informed decision.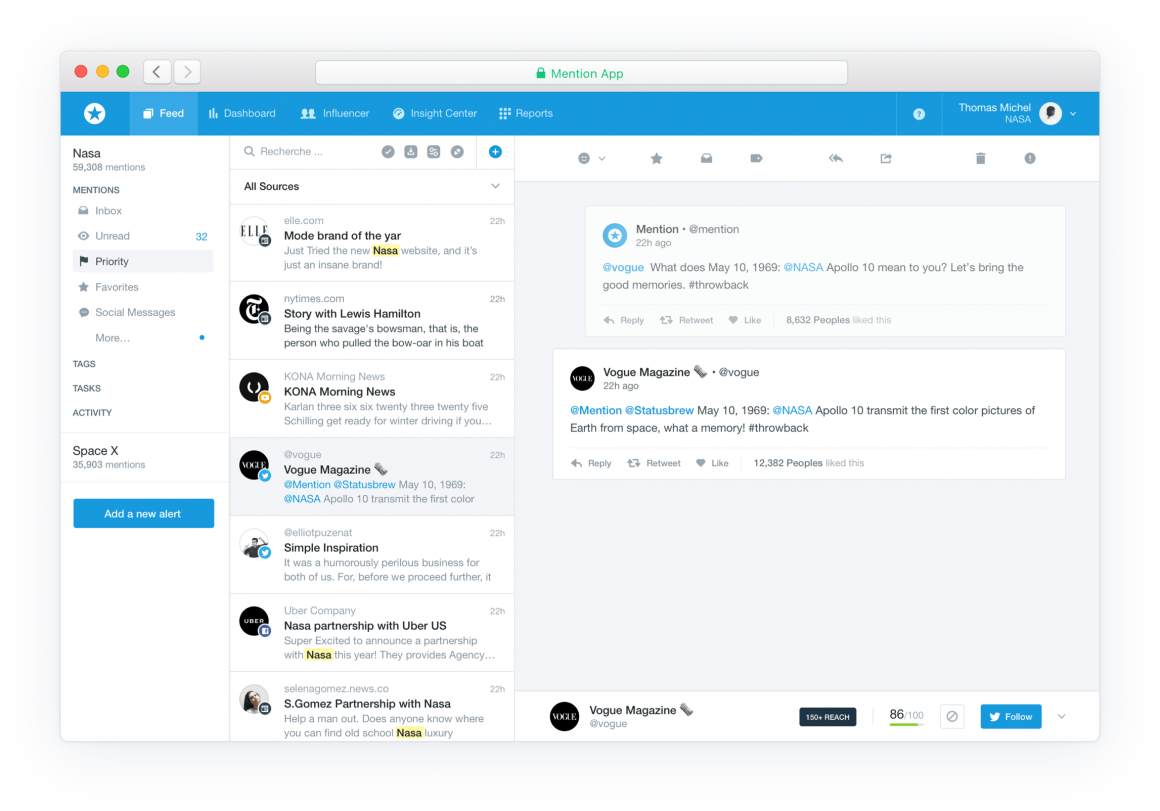 15

. Socialblade

Socialblade is another great tool for a detailed analysis of any Twitter account. If you are looking for a Twitter influencer, Socialblade is a great tool for you.

The best part of this tool is that it is free to use. You can just go to the site and start your analysis. This will give you a detailed insight into the following, followers and how the account has grown over time.

You can also find out the genuineness of the followers by looking at the growth pattern of the account if there is a sudden increase in following the user could be acquiring paid followers.

Here is a screenshot of Barack Obama's Twitter handle, it shows the total number of followers the increase and decrease of the following, and how active the account is.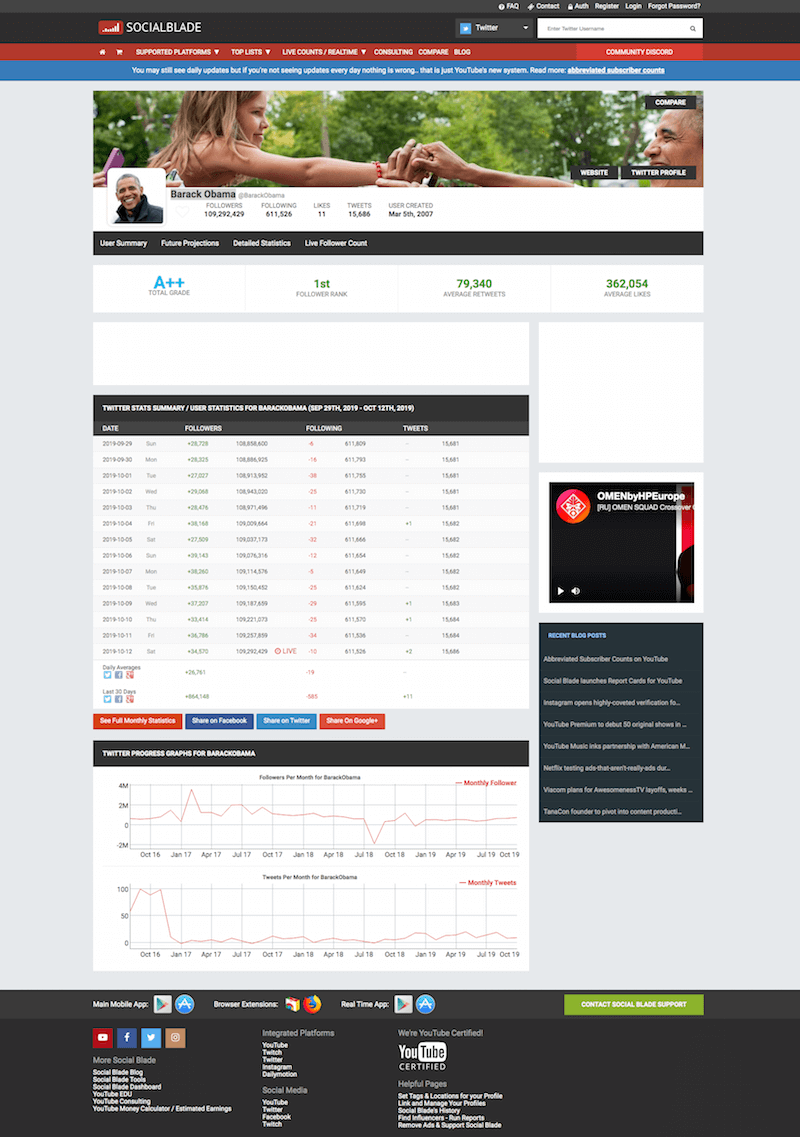 16

. Twitonomy

Twitonomy is another Twitter management tool that offers a comprehensive solution for marketers to track everything around any Twitter account.

Though it is not a tool to find Twitter influencers, it will give you a detailed analysis of any Twitter account that will be very helpful before you make a deal with any Twitter influencer.

Twitonomy gives you a detailed insight into any Twitter account's followers, following Tweets, retweets, hashtags, etc. You have the option to import the reports to Excel & PDF in just one click which will be very helpful while making your decision.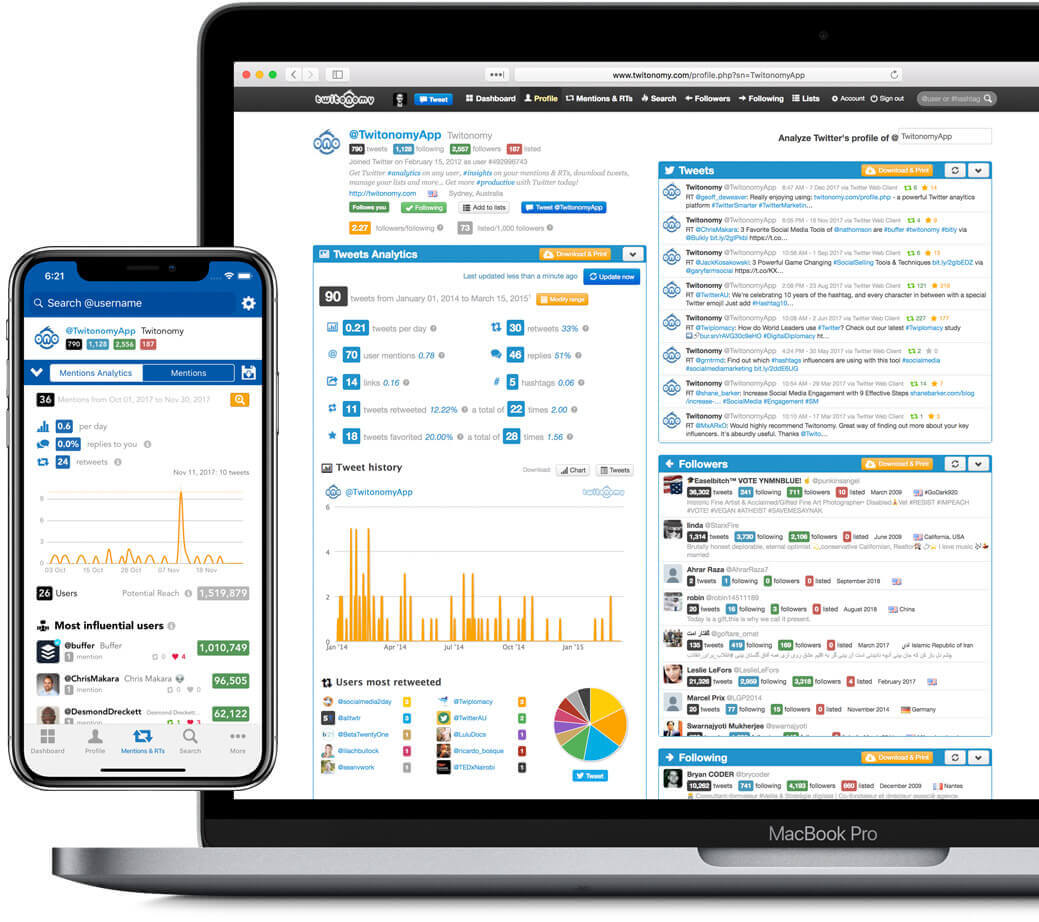 17

. Who Tweeted Me

A simple yet very useful tool for Twitter marketing. You can use Who Tweeted Me to analyze the most influential Twitter users for any URL.

You can select a blog URL that is around one or two weeks old because by that time the initial tweets settle down, and analyze the most influential Twitter users who tweeted that particular post.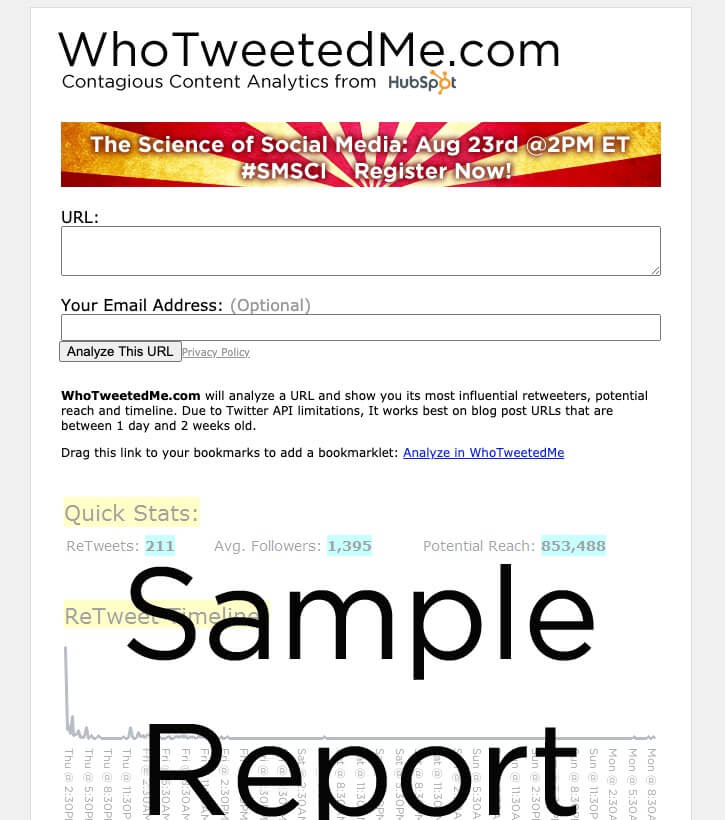 18

. Brand24

Brand24 offers a complete Twitter monitoring tool section where you can do detailed research on various Twitter metrics. You can track a brand or a hashtag and categorize them as per sentiment positive, negative, or neutral and find strong voices in the timeline.

You can use them too to track Twitter reach to find influencers and keep a track of engagement like comments, likes, or shares.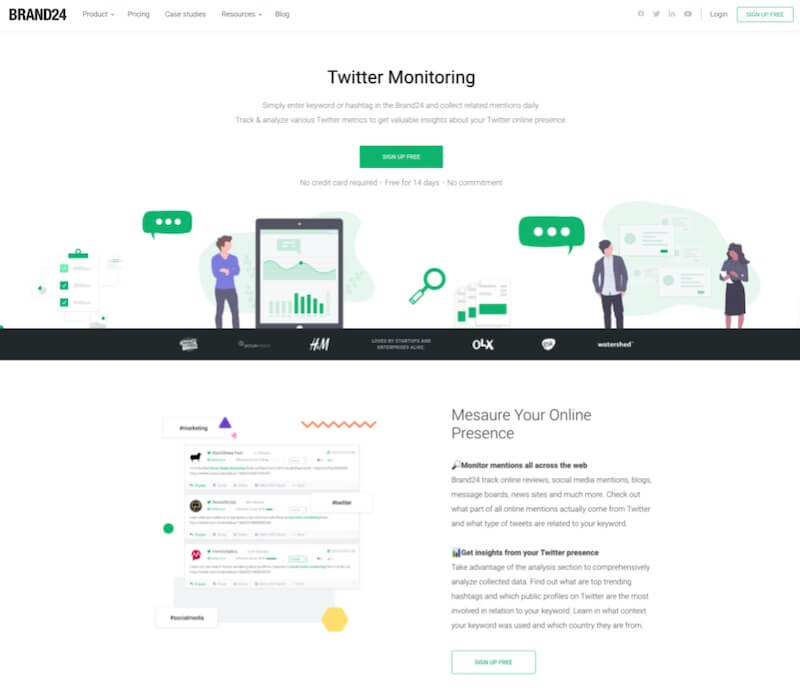 Final Word
Check the respective websites for each of these Twitter influencer tools to see what you can get out of each tool.
You should notice how these tools are useful and that you can find options that are appropriate for your marketing work while being easy to follow.