Do you have your own blog? Or perhaps you are considering starting one and are looking for some advice on the best way to go about it.
Either way, blogging is a very enjoyable way to earn money, but it is important to use the best tools and implement the most workable ideas.
This article will discuss some great tools and ideas that you can use for your blog.
Let's take a look!
01

. Consider Maintaining a Video Blog
Blogging is great, but video blogs have become incredibly popular over the past few years. Regardless of what your blog is about, if you are able to record regular videos discussing your field of expertise, you could be very successful.
People love watching videos, but they need to be fresh, exciting, and interesting. If you can manage to achieve this, you will be able to build a strong connection with your fans even more effectively than by writing alone.
To start a video blog, you will need a high-quality camera and a tripod to balance your camera.
You could record your video blog in your studio, at home, on the street, or anywhere you feel it will give the video blog an interesting background. Creativity is key, so be sure to talk about new and fun topics every time.
Looking for some interesting ways to make your video blog more exciting? Why not check out some great video editing tools? Fastreel and Animoto offer you some easy-to-use tools, video editing features, and templates to bring your video blog from zero to hero.
Also Read: How to Convert Your Article Into a Video Quickly
02

. Remember to Organize Your Blog Properly
No one enjoys visiting a website that is all over the place and doesn't have any logical order. As you progress with your blog, you will naturally have more content on your site, and it is very important that you maintain a neat and minimalist look to your blog.
Your visitors should also be able to search your site easily for old items, and content should be ordered correctly.
The good news is that organizing your blog is very easy if you make use of organization tools such as Dropbox or tools like Trello.
These tools will help you store content until you are ready to publish it online, and they offer a variety of cost-effective packages. Their free packages are also attractive, but you will be limited to the number of files you can store.
03

. Surveys and Interviews
When it comes to blogging, as mentioned, it is essential that you keep things interesting and exciting. You may want to consider introducing surveys or interviews every now and then.
Most people enjoy giving their opinions on subjects and usually enjoy completing surveys. This is also a good opportunity to engage with your followers and to start a discussion.
If you get the chance to interview a celebrity or a well-known person in your field, you should definitely do it! Not only will you be creating content that has the potential to go viral, but you will also be driving organic traffic to your site as more people hear about the interview.
04

. How to Attract an Audience Your Blog?
Any blog's success will be dependent on its content and how interesting people find this content. To create interesting content, the first step is to write about something you are passionate about, as writing on this subject will come naturally to you.
For instance, if you've always been interested in vintage cars, write about them! Love makeup? Why not start a makeup blog discussing your favorite products?
If you are still stuck for inspiration for blog topic ideas, why not check this page out? The following tool will help you to generate ideas and topics for your blog and is worth having a look at blog topic generators.
Once you have decided on a good topic for your blog, you will need to start attracting followers, and this is done by creating good quality content. Take your time when creating your content and make sure that it is grammatically correct, engaging, and original.
A regular newsletter is also a great idea to attract followers to your blog. Most people don't like newsletters cluttering up their inboxes, so you may need to run a competition where subscribing to your newsletter is a requirement. This can drive a lot of organic traffic to your site!
Another highly effective way to drive more visitors to your blog and create fans is to have social media platforms for your blog. This makes sharing content much easier, and your fans might choose to share your content with their own friends.
05

. Analyze Your Competitors
One of the best ways to grow your blog is to understand your competitors and what is working for them so that you can replicate that for your own blog.
You can use Semrush to analyze your competitors in detail to understand their top-ranking keywords and complete backlink profile with anchor text and other details. So, you can create your list of keywords that you need to target and starting publishing content around those keywords.
Get an extended free trial of Semrush using our link.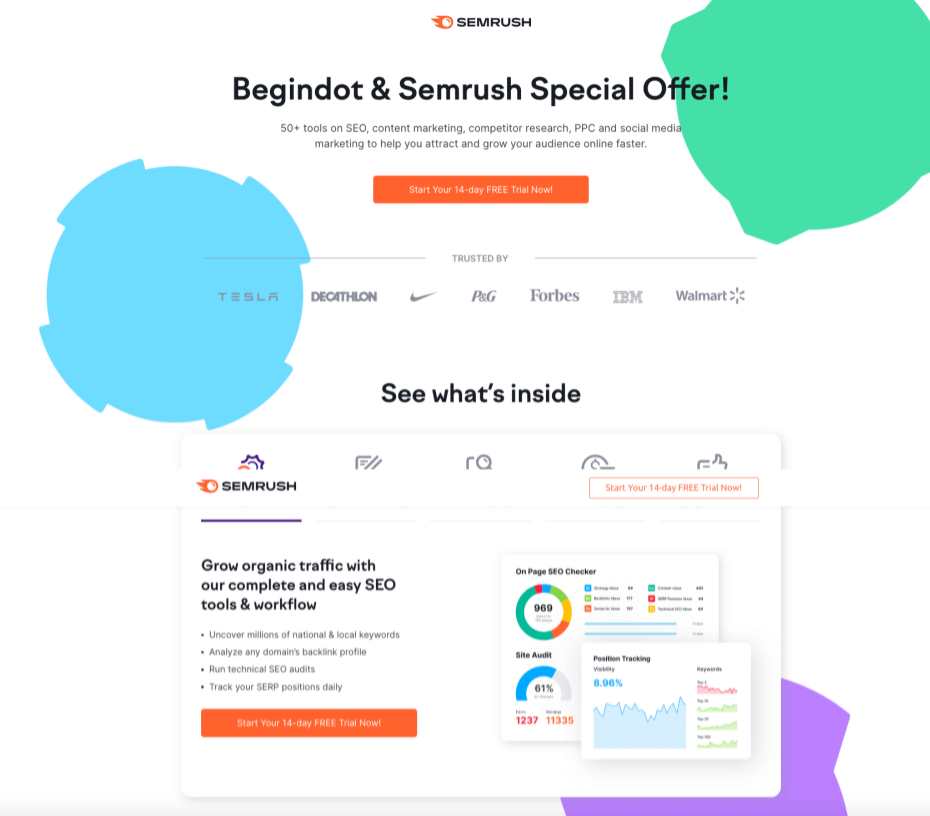 06

. Use High-Quality Pictures for Your Blog
Nothing screams "unprofessional" or "amateur" more than poor-quality images on your website. This is why it is crucial to have a good camera for your images.
Tools such as Canva and PicMonkey can help you edit your photos professionally and create beautiful effects that your followers will love.
BeFunky is also an excellent tool. If you are not sure which tool to use, you could always experiment with one or two of them before deciding on the one you like best. You would be amazed at how your photos can be transformed by using these great image editing tools!
07

. Promote Your Blog as Much as Possible
If you don't promote yourself, no one else will! Take every opportunity to share content on social media and encourage your friends and family to promote you as well.
A simple share on Facebook, Twitter, or Instagram can do wonders for your blog and gain you a lot more followers. Just take care not to promote yourself too much as this can get irritating and will have the opposite effect.
08

. Track Important Statistics of Your Blog?
The key to any successful blog is, first and foremost, a steady increase in organic traffic. This should always be your goal. However, there are other elements that you should be measuring, and they are as follows:
Tools such as WebLOAD, LoadUI Pro and Apache JMeter can help you measure your blog's performance and understand where you need to take action.
09

. How to Write Engaging Blog Post?
A very important fact to consider for a blog is that your followers are reading your content for their enjoyment.
Your writing should therefore be readable, conversational, and informal (without being too informal). If you are struggling to set the tone for your blog, try writing as if you are talking face to face with your audience.
Many bloggers like to write content as if they were telling a story. This can be very useful if you have writer's block because all you need to do is pretend that you are telling a story to a close friend. You will find that it works almost like magic!
Blog readers don't like to feel as if they were reading a professional report or an academic paper. That being said, your content should still be informative, with your followers walking away with more information when they've finished reading your content.
Also, make sure that your content doesn't have any spelling or grammatical mystiques.
On social media, you can find top tips on how to write great content for your blog.
10

. Choose a Suitable Design for Your Blog
When starting a blog, you need to think of a suitable design related to the topic you write about. For example, if you have a wedding blog, you would probably have a romantic and classic theme for your blog website.
Gamers, on the other hand, will have a completely different theme and would normally choose dark and neon colors with futuristic fonts.
If your blog is about baby and childcare, you would likely select bright, primary colors with pictures of toys and smiling faces.
Most website building tools allow you to choose your own theme, and there are normally a lot of themes to choose from.
If you are using WordPress for your blog, you can use themes like Astra or GeneratePress to create your blog.
Here is a detailed comparison of Astra Vs GeneratePress to help you understand the one you should choose.
11

. Titles Are Very Important
In order for your audience to want to read your content, you need to have catchy and exciting titles. No one wants to read content with a boring title as this implies that the blog is boring as well!
We recommend spending a bit more time thinking up interesting titles to engage your audience. If you find that you are struggling to come up with suitable titles, why not visit Portent Title Maker?
This tool helps bloggers to title their content in an effective way and can help to drive more traffic to their blogs.
Here is how you can write quality post tiles for your blog posts.
Final Word
You have read some tips and ideas for successful blogging. All of them are relevant and used by beginners and already well-known bloggers.
We hope that you will use some of the ideas in this article, find new tools for your blog, or increase your audience.