Designing and executing a top-notch email marketing strategy for your e-commerce business is no easy feat. Multiple factors can be applied to all kinds of companies and others that would exclusively benefit e-commerce platforms.
One of the most crucial aspects of an e-commerce business is to find out your prospects' email addresses and build an email list.
What's even more important is what you do with that extensive email list; in fact, it's as important as how you interact with your customers on-call or on social media.
While tracking e-commerce sales is essential, building a relationship with your customers is also crucial. And, through an email marketing campaign, you can do just that and take advantage of the different touchpoints email marketing provides.
So, without further ado, here are seven email marketing strategies for your e-commerce business:
01

. Ask Visitors To Subscribe
Building a subscriber list needs to be your top priority. Not only does this database need to be extensive, but it should have high-quality subscribers, too.
The best way to obtain the email addresses of your site's visitors is by simply asking them. The subscription process needs to be easy to find and complete, regardless of how tempting it may be to ask your followers' a lot of information since you risk sending them the other way entirely.
Keep your subscription form to the point to encourage people to complete it and add additional details once your relationship with your subscribers grows. Static and pop-over forms, both, are quite effective.
By adding a double opt-in loop, you can also confirm whether the subscription is requested and the data you've collected is legitimate.
Once someone fills out the subscription form, the data will automatically be added to your database and will be prime to be used in your next email marketing campaign.
Additionally, there will also be many people who will not subscribe but will purchase products and services through your website and you should those email addresses to your database.
This way, you can address cart abandonment when your customer decides they don't want your product anymore and remind them to complete the purchase.
02

. Pay Attention To Abandoned Carts
Today, cart abandonment stats show that 76 out of 100 customers are walking away from their carts. From opting for a competitor's products to merely getting distracted by other tasks, there could be a multitude of reasons why a potential customer abandons a cart.
One of the primary reasons why this happens, though, is finding out there are additional charges or steps involved with the transaction.
With a high cart abandonment rate, it's vital for e-commerce platforms to have an automated basket recovery campaign in place.
By sending one or a couple of emails to encourage the shopper to continue their transaction reminds customers and nudges them in the right direction. Lastly, cart abandonment emails are most effective within the first 24 hours.
There are email marketing services that can help you to retarget those customers and bring them back to complete the purchase. You can use services like Omnisend that can be really helpful to increase your overall sales.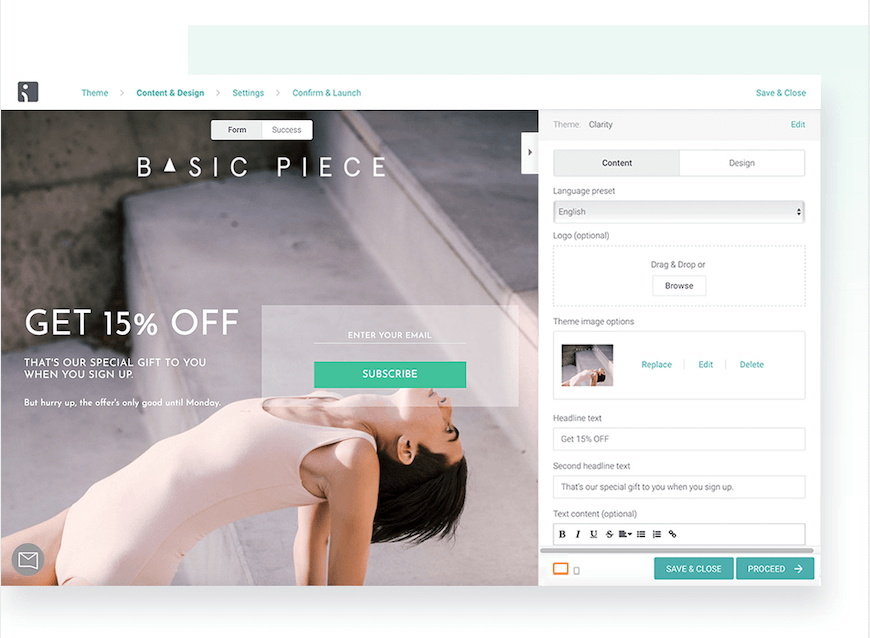 03

. Send Out A Welcome Email
A welcome email is the best way to address a new subscriber and eventually build a connection.
Automating a system where an email is sent out every time someone new subscribes will establish one-to-one engagement and improve user engagement. Users who receive a welcome email show 33 percent more engagement with a brand.
Take your welcome email up a notch by including an introductory discount and asking your subscribers to fill out additional details, such as their demographics.
The email you send out, the design of the email can make a big difference. You have to make sure that your email looks professional.
You can refer to this article about how to create a professional and responsive email template to understand it better.
An important aspect would be the date of birth since that would allow you to send customized birthday offers.
You can also consider adding a history of your company or add a few details about the background of the name of your business. It's all about building a connection.
04

. Ensure Emails Are Mobile-Friendly
Today, 59 percent of emails are accessed on a tablet or a smartphone, ensuring that your emails will most likely be read on mobile. While subscribers may open your email again, chances are they'll be using their mobiles to at least preview the email.
Hence, if your email campaigns aren't optimized for mobile and aren't legible on a small screen, the message will most likely be deleted.
While users can sometimes put in the extra effort to scroll down or zoom into the content, it's probably not a wise idea to test the patience of the reader.
Setting up a responsive design ensures your content will be readable across many devices.
05

. Ask For A Review
There is nothing that boosts a product's publicity more than a recommendation from another customer.
E-commerce businesses, especially, benefit from positive reviews since customers don't get the chance to see or interact with your product or service.
Post-purchase emails are quite easy to add to the automation process, and the email should ideally arrive a couple of days after the delivery date.
Satisfied customers will be comfortable leaving a review, especially if you've made the process easy by including their chosen products in the email.
06

. Send Automated Purchase Confirmations
One of the easiest ways to keep customers engaged is by sending customized confirmation emails regarding purchases, or even emails about returns, delivery, and other post-purchase problems.
Purchase details can easily be reiterated in emails by merging profile fields to email templates. Such emails should be sent immediately after a purchase is made or once the status of the order changes.
Since automated confirmations are personalized, they generally lead to higher engagement rates as compared to other kinds of campaigns. While all of this can be done manually, it saves you a lot of time if the entire process is automated.
If you allow your customers to enter their mobile numbers as part of the order or subscription process, you should add SMS messaging to the post-purchase process to provide delivery updates.
07

. Take Advantage Of Special Occasions
Campaigns that are timed around various holidays and seasons can draw many potential customers to your e-commerce platforms. Online shopping during the holiday season continues to grow, and it's vital for businesses to take advantage of that.
Through email campaigns, inform customers when you have a holiday discount going on or if there's a new holiday collection they would like to see. You should also take advantage of the season and design your emails according to the holiday, something a customer is bound to love.
08

. Email Personalization to Target Different Segments
Personalizing your email content is a great way to target different segments of your list. It allows you to send more targeted, relevant emails that will resonate with each segment, and ultimately lead to more conversions.
There are a few different ways you can personalize your email content:
By using Dynamic Content: This allows you to insert different content into your emails based on specific criteria that you set, such as location, job title, or purchase history.
By using merge tags: These are special codes that allow you to insert personalized information into your emails, such as the recipient's first name or city.
By using segmentation: This allows you to send emails to specific groups of people on your list who share common characteristics, such as location, age, or interests.
By using personalization tokens: These are similar to merge tags, but they allow you to insert even more personalized information into your emails, such as the recipient's favorite color or a recent purchase.
Final Word
The strategies given above will help you make the most of your email marketing campaign and build strong relationships with your customers.
Have you tried any of these strategies or do you have suggestions of your own? Sound off in the comments below!