If you are managing a small business, digital signage can be a great way to reach your potential customers.
Brands and companies find it a real struggle to keep their clients and prospective clients informed. Digital signage offers an opportunistic chance to utilize the minimal chances available.
Digital signage uses LCD, projections, and LED to display images text, videos, and other messages.
A customer queuing in a metro, train station, bank hall, or any other service points can be targeted for this. Banks, for instance, use the opportunity customer spends in the service bay to run informative posts.
What impact can digital signage have on your business?
Let's review some of the benefits that your business can get from this method of marketing.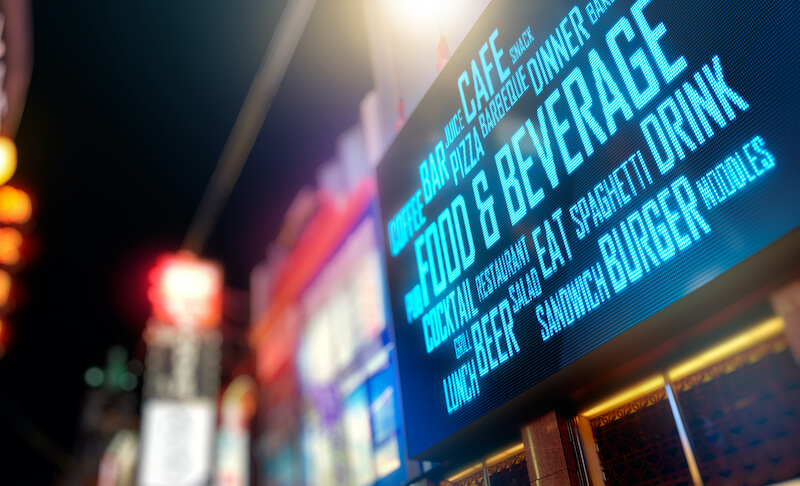 01

. A Low-Cost Budget Marketing Method

Marketing campaigns can run dry the coffers of an organization. This is because you must pay platforms, agencies, staff, and other related costs to sustain them. Digital signage can help trim marketing budgets to a manageable fraction.

This is a perspective of how it can the department's budget: –

Digital signage can help brands to keep sending messages even when businesses are not performing well.
02

. Captures Attention Better

Compared to static signposts and adverts, digital signage captures the attention of prospective clients. In instances where clients are in a dilemma where to shop, digital signage can give you a competitive edge.

Digital signage helps calm the nerves of patients or customers in the waiting bay. Providing important information helps reduce complaints and sometimes provide instant solutions—this consequently helps in queue management.
03

. Increase Brand Awareness and Social Presence

Brand awareness and authority is increased by making tangible steps in getting in the customers' yard. Digital signage can be elect in public spaces to make your brand more visible. Brand awareness includes giving valuable information in right and opportunistic places.

Incorporating digital signage is authoritative and customers view brands with digital signage as superior.
04

. It Helps Improve Sales

Digital signage creates an instant connection to customers. In situations where videos are being projected to clients, it is even more effective.

Below are some areas digital signage can help to boost your revenues: –

Digital signage helps to give out information without being intrusive to your customers. This complements the marketing teams' efforts and brings in more sales.
05

. Easy to Install

Unlike other modes of advertisement that can take time to effect, digital signage offers a simple approach. The biggest handle can only be concerning acquisition of hardware and software to run it.

Once the system is set, you can run pre-set messages over a long period. You can also edit to give current updates like prices, weather, currency exchange rates, and any hot deals.

You can use digital signage in airports to give them important updates regarding flight availability, delays and departure alerts. For small businesses there are generic signs that help market business even at night, providing vital details.
06

. Digital Integration

Depending on your business needs, a fully digitally integrated device is a great addition. This can help you give live feeds to customers on currency changes, weather patterns, allow feedbacks and social media integration.

In a market exchange hub, digital signage can help participants get real-time data to aid in their transactions. Platforms or businesses that have integrated digital signage can benefit by getting valuable feedback and reactions from clients.
Take Away
If you are not sure which marketing method to employ, digital signage is one option you can explore. Unlike other methods of marketing, digital signage can be partly owned media which helps cut down the expenditure.
Digital signage will help you take advantage of small windows to upsell, cross-sell, and promote impulse buying.
To achieve brand awareness, this can be an ultimate low-cost and adaptable solution.