Building, promoting and growing your personal brand can help you reach wider audiences and grow public awareness. There are plenty of ways to expand your presence on the web and through offline channels.
Whatever strategy you choose, you will be searching for the ways to maintain consistency in how you present your personal brand.
Not only can this help more people to identify you but also establish a strong web presence that lets others share a word about you.
A consistent image of your personal brand can help you avoid any sort of confusion.
Whenever you attend conferences and other public events, you are likely to be communicating with your potential clients and partners.
In order to look reputable and leave a long-lasting impression on new acquaintances, you need to consider using smart branding techniques.
There are lots of ways to promote yourself and your personal brand. For example, while speaking at public events, you can impress your audience with a remarkable and professional presentation.
While looking for new connections, you can hand out your masterfully designed business card that would include your contact details and name. When people come to your office, you can impress them by means of a number of certificates decorating your walls.
In fact, there are plenty of ways to promote your business and make your personal brand stand out from the competition. Take a look at 10 tools that we have handpicked for this showcase.
All of them are premium-quality designs that can save you lots of time and efforts in the promotion of your venture.
Infographic Pack – Presentation Asset v2.2 PowerPoint Template
Creating an effective PowerPoint presentation is a proven way to present yourself and your personal brand in front of your audience. If you'd like to leave a long-lasting impression on your audience, then you need to create something truly remarkable and attention-grabbing.
A pre-designed Infographic Pack PowerPoint template can perfectly fit such purposes. It features a bold and catching design.
Thanks to the infographics-inspired layout structure, the template lets you present the most complicated pieces of content in a comprehensive and easy-to-follow style.
The design is ready to be used for 30 various topics. It is ready to be modified intuitively in the drag-and-drop mode.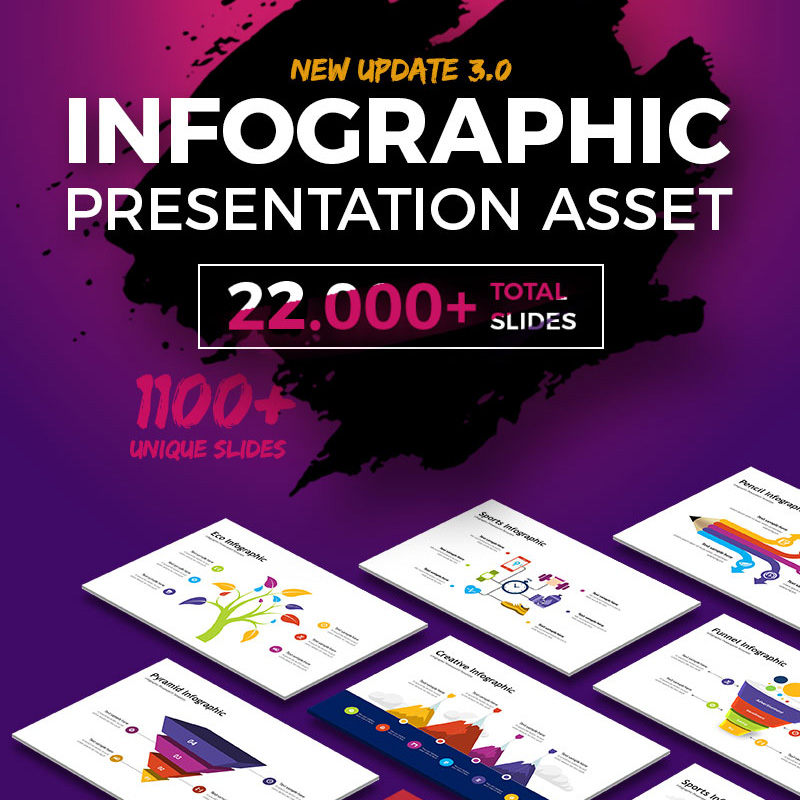 Power Edge – PowerPoint Template
The following PowerPoint template is more suited to build a clean and professional business presentation. When speaking in front of large audiences at public events, you need to look like a real expert of your craft.
A solid PowerPoint presentation is one of the major factors that will help you present your ideas in a professional and reliable style in front of your listeners.
The PowerPoint template that you can see here is an all-in-one solution containing a collection of 225 unique slides. All designs are fully editable and easy to be modified in the drag-and-drop mode.
All slides are easy to be personalized with your branded colors and fonts. Using this PowerPoint template, you may feel certain that your presentation will have a splendid look on all screens.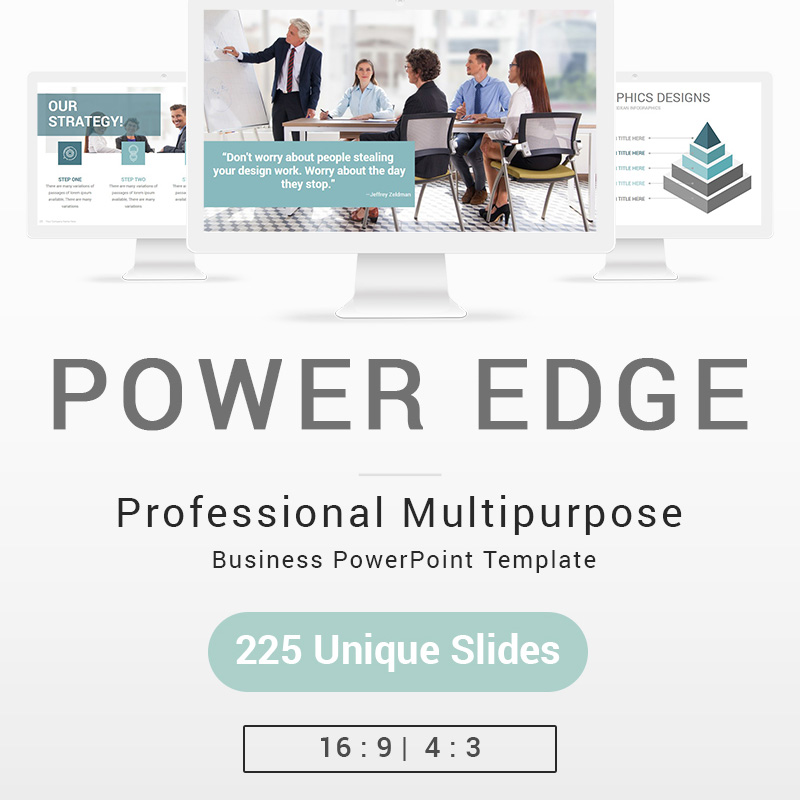 Pitch Deck PowerPoint Template
Here is another ready-to-go PowerPoint presentation template that's designed to help you convey your message and business ideas in an effective and memorable way.
It includes 210+ ready-to-use slides that you can adjust in accordance with the topic of your presentation. It's easy to modify the look of the slides thanks to the drag-and-drop pictures placement.
Bringing a branded look to the slides won't take you lots of time due to the customizable fonts and colors.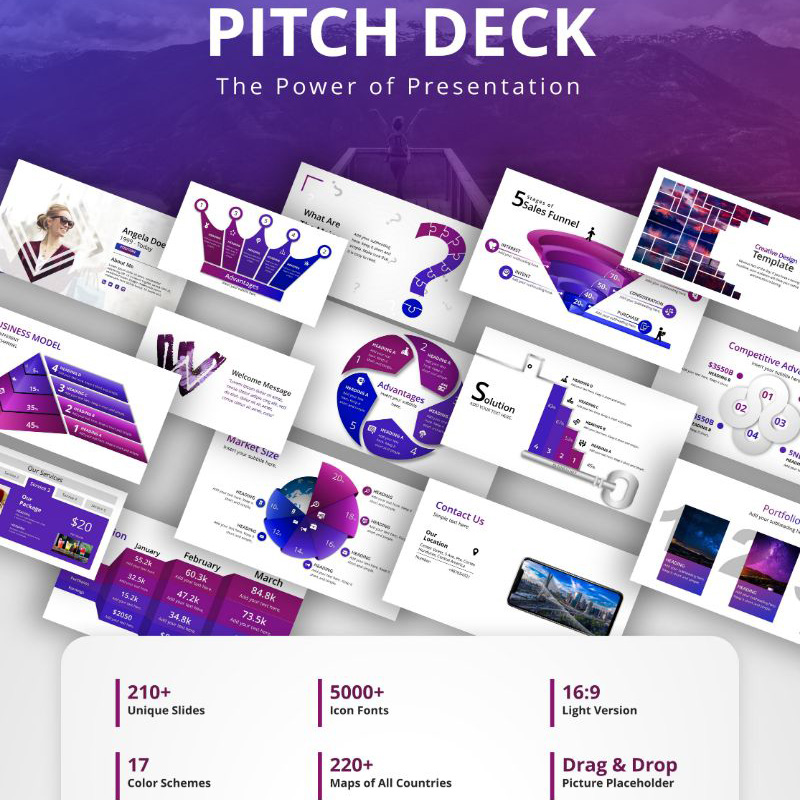 SINBAD Social Media Pack Social Media
Every brand needs to have a solid social media presence. Creating a unique and unified look for your official pages on different social media platforms won't cause you any difficulties using ready-made social media templates.
Here you can find a pack of 14 unique social media themes of different styles and matching such popular platforms as Instagram, Facebook, and Pinterest.
Highly organized and fully editable structure of the templates saves your time on the creation of unique social media posts for your campaigns.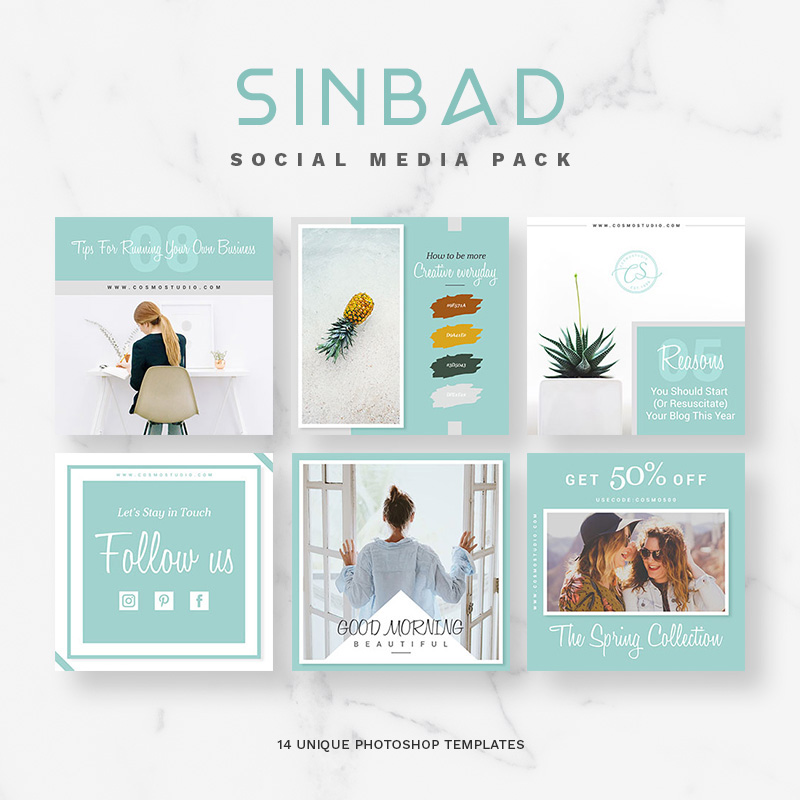 Colorful Instagram Banner Pack Social Media
If you mainly use Instagram for your social media promotion campaigns, then you will enjoy working with a colorful ready-made template like this. This is a pack of ready-to-go social media banners.
All that it takes to build your Instagram promotional campaign is to replace the default texts and images with your own custom designs and publish them on your account page.
All items that are included in the pack are Illustrator-based.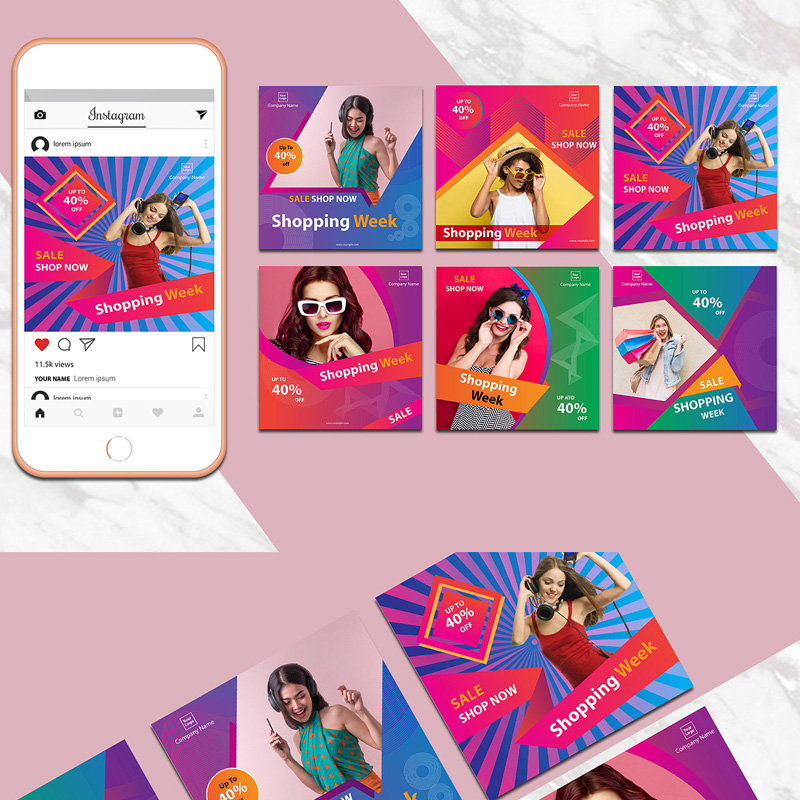 Hello Pack Social Media
Here is one more pack ready to be used to fit your social media needs. It includes collections of 12 ready-to-use templates that are adjusted to meet the standards of Instagram, Facebook, and Pinterest posts.
The social media templates pack is ready to be applied for a range of occasions, including business, lifestyle, and a number of blogging purposes.
With its help, you may forget about the need to create unique designs for your publications from scratch. Simply upload your content and add a few lines of description with hashtags.
Liza Brown – Human Resources Manager Resume Template
No matter what business niche you belong to, it's essential to have a professional resume that outlines all your professional achievements, skills, and working experience.
You shouldn't necessarily look for a new job to outline your skills. You can keep on updating your CV while attaining new knowledge and achieving new heights. Using pre-made resume templates, you may focus on your data and forget about the need to create designs from scratch.
In addition to a resume template, there are 2 business card design options available. Use them when you visit conferences or simply communicate with clients.
Johnson Graphic Designer Resume Template
The following resume template is perfectly suited to be used by creative graphic and web designers. It's optimized to present your skills and working experiences in a visually stunning manner.
It includes charts and graphs for better visualization of your content. If you prefer a classic style of the content presentation, then you may select from any of the 2 pre-made layouts from the pack.
Corporate & Modern Word Multipurpose Certificate Template
It's prestigious to have certificates proving the high level of your experience in multiple niches. This is twice more effective to have such laminated pieces presented on the walls in your office.
Using a certificates template like this, you can showcase your personal or branded achievements in a modern and visually stunning manner. The pack contains 2 layout styles – a landscape and portrait orientation.
There are also 3 color variations available. All layouts are fully editable and print-ready.
Press Certificate Template
Here is one more stunning certificate template that you can print for governmental and business establishments. It's available in 5 color versions, thus letting you choose the optimal style for your brand.
Fully editable files from the package are delivered in several most widely used formats, including EPS, PSD, and MS Word. It's easy to edit and totally print-ready.
A4 paper size certificates will look effective on the walls of your establishments or the portfolio of your achievements on your site.
As you can see, the web offers plenty of solutions that will help you promote your business more effectively.
By means of pre-designed themes, you can create a reputable brand presentation during public speaking events, create effective promotional campaigns in social media, promote yourself by means of resumes and certificates, etc.
which of these tools do you find to be the most effective? Please share your thoughts with us in comments.