NextGEN Gallery is one of the most popular gallery plugins for WordPress sites. With over 900k downloads in the WordPress plugin repository and over 27 million overall users, it stands tall among all its competitors.
This plugin will take care of all your needs as far as showcasing images on your WordPress site is concerned. From a simple gallery to the most complex presentations, it can take care of everything.
In this article, we will have a look at the NextGEN Gallery WordPress plugin in detail to understand how it can be helpful for WordPress users.
Why Do you Need a Gallery Plugin?
Well, if you are managing a simple blog; you might not need a gallery plugin. But if you are managing a blog related to lifestyle, photography, a product showcase site or you are a designer, an artist a gallery plugin becomes very important.
A plugin like NextGEN Gallery makes the process of creating high-quality galleries and managing it very simple for you. You don't have to be a technical expert or a creative designer to make the best use of this plugin.
The Free NextGEN Gallery Plugin
The free version of the NextGEN Gallery plugin is one of the most active and well-managed gallery plugins in the WordPress plugin repository. As already mentioned, it has over 900k active installations.
It is good enough for any website that needs a high-quality gallery plugin.
For the front-end, you have a few options to showcase the images
Gettings Started with NextGEN Gallery
You can install and activate the free NextGEN Gallery plugin right from your WordPress dashboard. Go to Plugins > Add New on your admin dashboard.
Make a search for the plugin and you need to install the one shown below.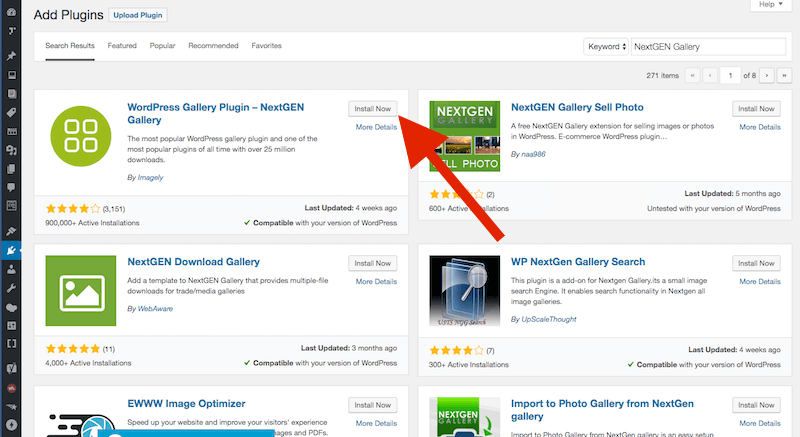 As you activate the plugin, you will get the option to manage your galleries in the WordPress dashboard.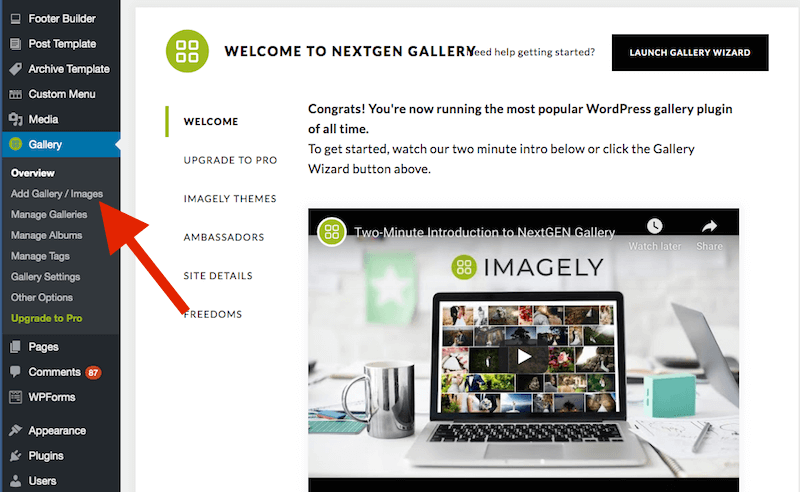 Watermark Your Images
I think this is an important setting for your galleries. if you wish to watermark your images with your brand logo or text name of your brand; you have an option in the settings to get that done automatically.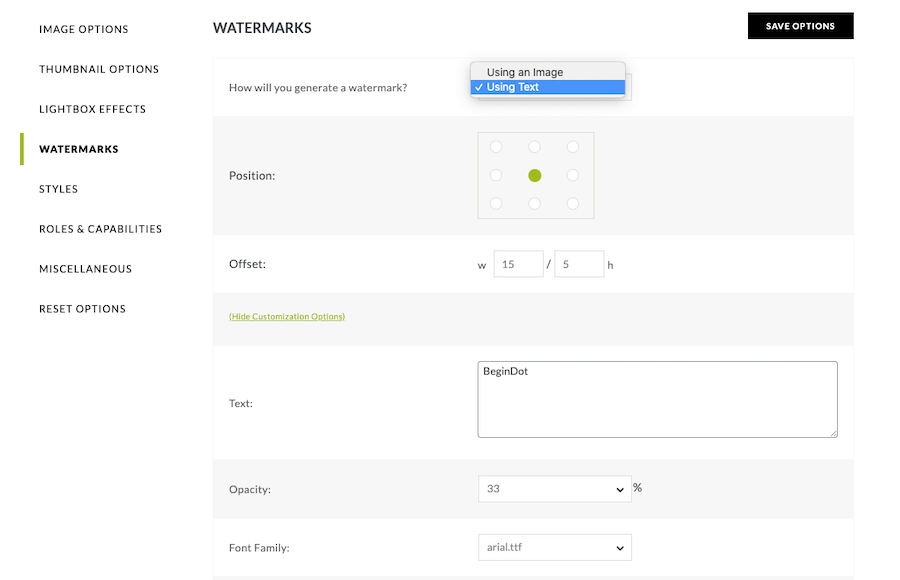 Basic Thumbnail Gallery
If you are using the basic free version of the plugin, here is how the thumbnail gallery will look like.
You can add images from your media folder or import it from your computer. The images will be presented as sown below.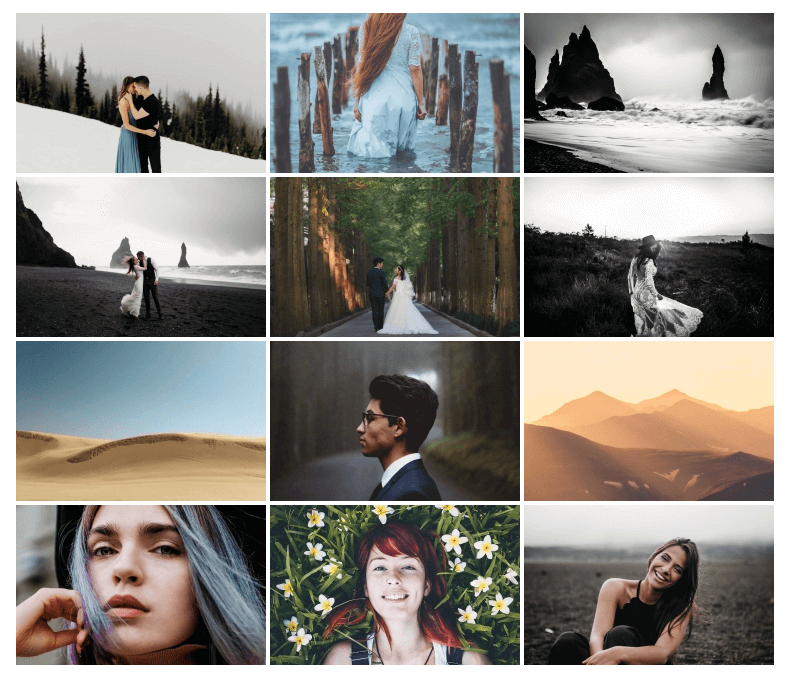 As you click on any of the image thumbnails, the slideshow will open up for the users to view all the images in a much better presentation.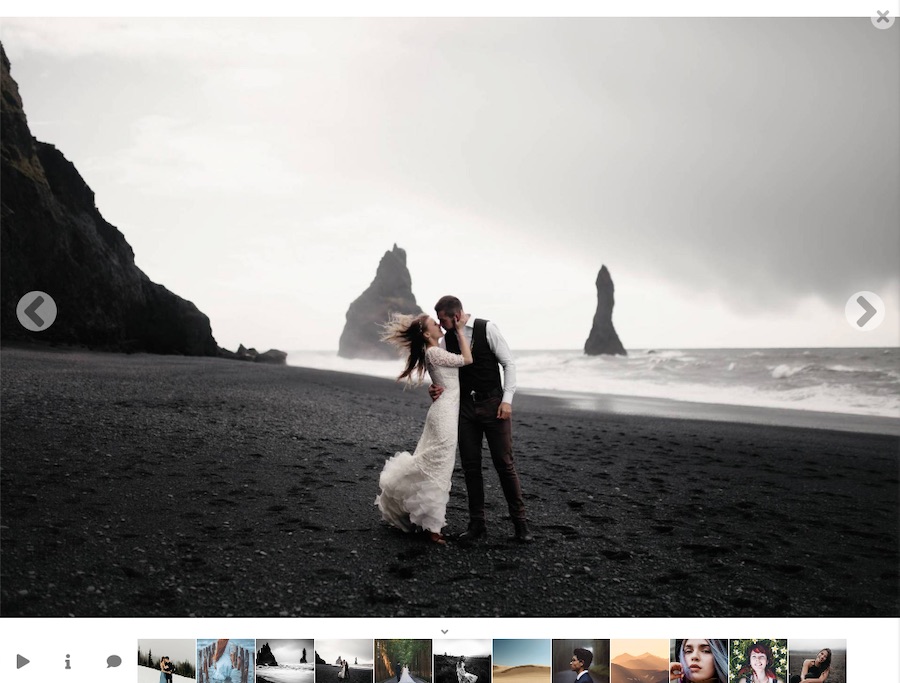 Comprehensive Plugin Options
NextGEN Gallery plugin comes with detailed settings options to setup the plugin as per your need. You can go ahead and change the settings for each gallery when you add it to a post. However, you can do the global settings for your galleries on the settings page.
Adding Gallery to a Post
If you have started using the Gutenberg editor, you can add the galleries to your posts just by using the default add block option. You can click on the (+) sign to add the gallery block
Custom Settings for Each Gallery
As mentioned above, you have the option to do custom display setting for each of the galleries that you insert on a post because depending on your post type the requirement can vary.
Resize Images
If you are uploading full resolution images for your galleries, the plugin offers you an option to resize the images in the system. You have both the options to resize an image before uploading or after uploading.
You have a bulk image resizing option to optimize and resize all your images at once. You will get more information about the image resizing feature here.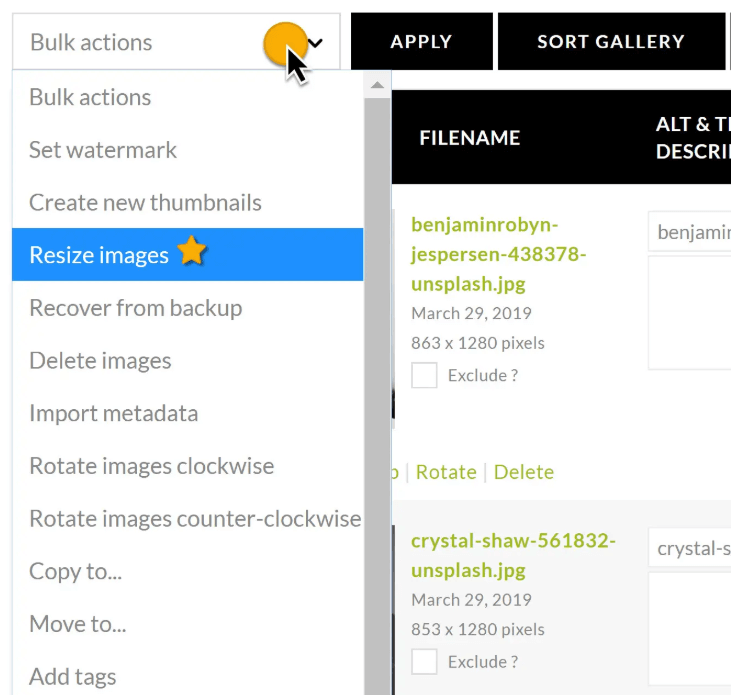 Premium Extensions
Both NextGEN Plus and NextGEN Pro offers a number of different premium extensions to take your galleries to the next level.
NextGEN Plus: In the NextGEN Plus package you will get access to 16 different extensions that you can use on your galleries such as Image Deeplinking, Image Protection, Twitter Card, Image Commenting and more.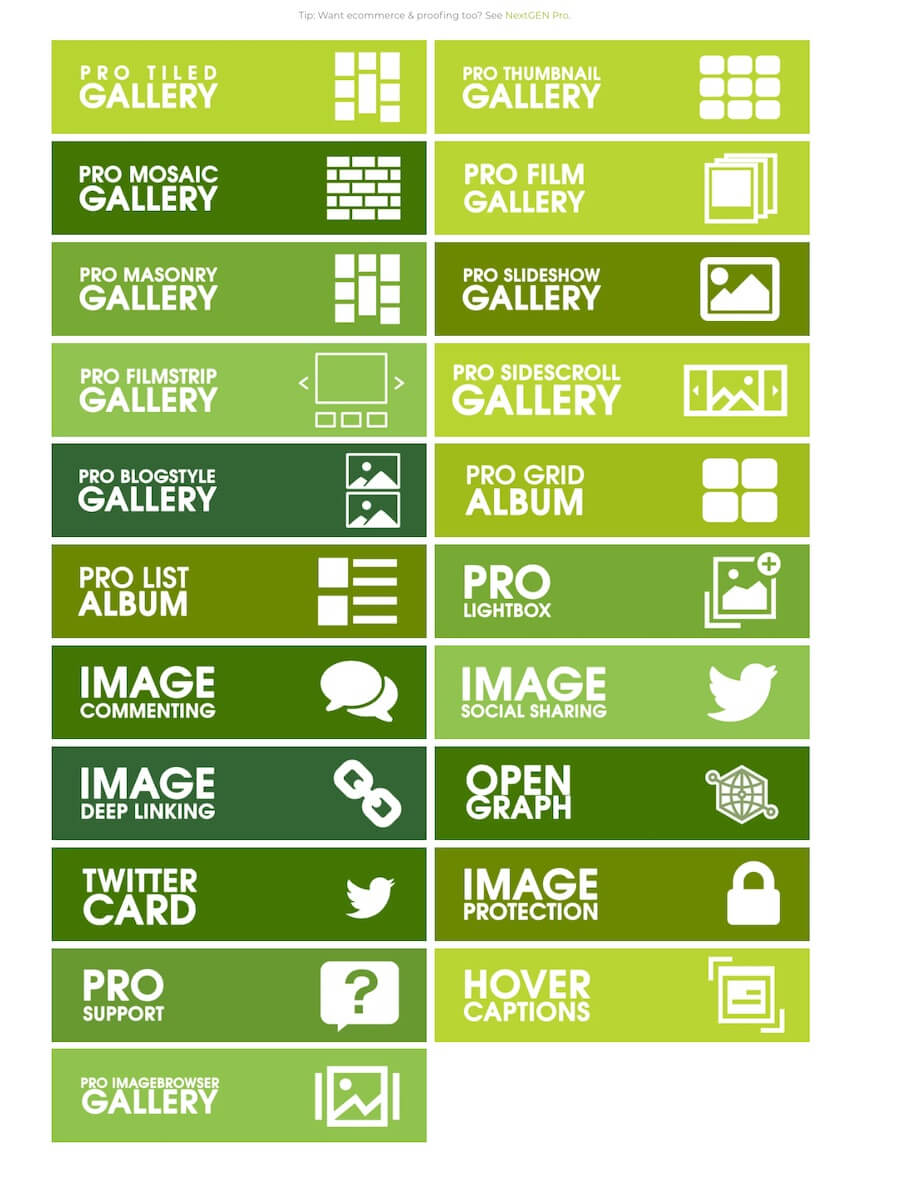 NextGEN Pro: The Pro version of the plugin offers a number of important extensions especially related to eCommerce helping you to take your images based site to the next level.
Here is the comprehensive list of extensions.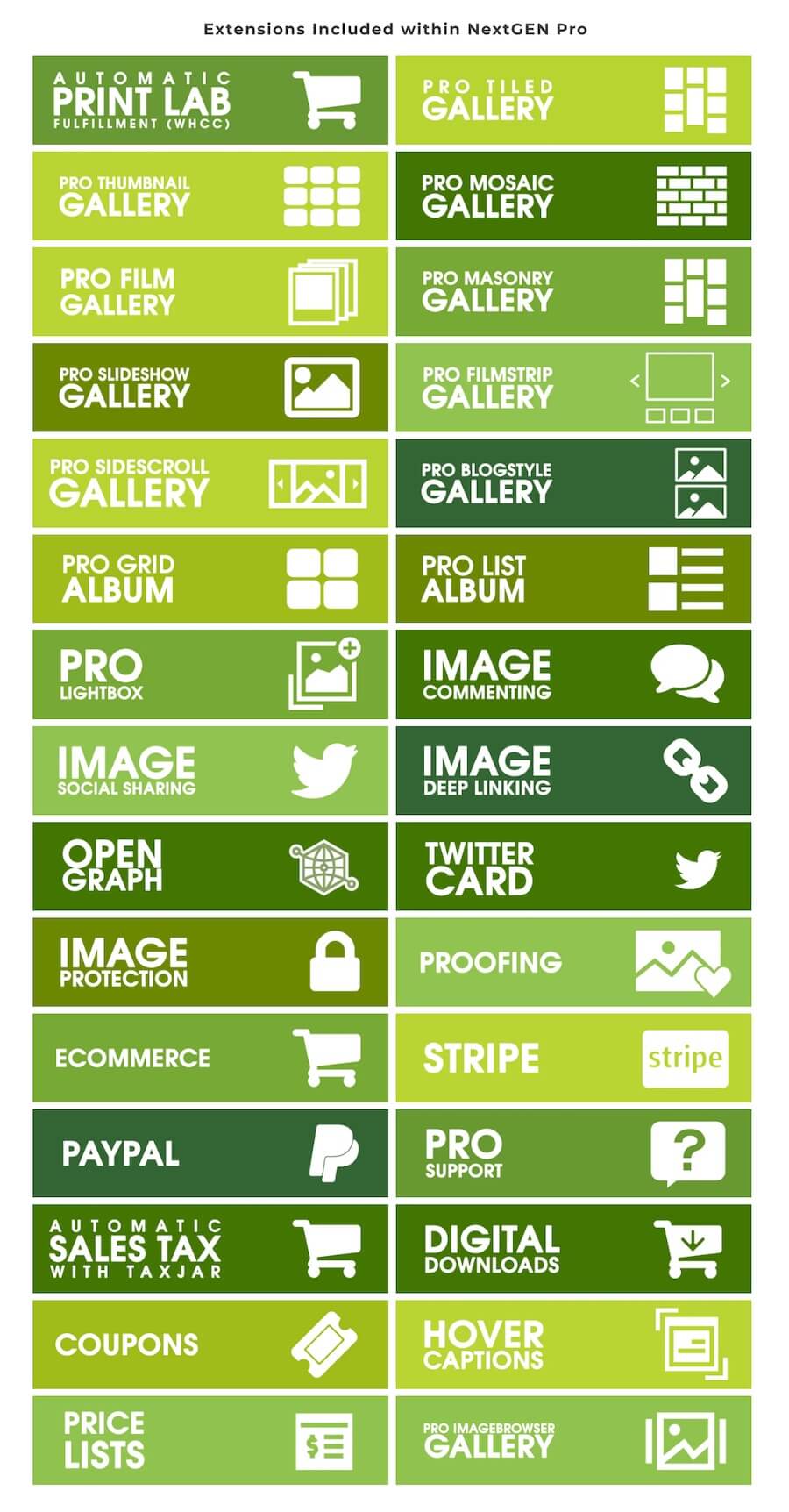 Create a Stock Image Selling Website With NextGEN Plugin
If you ever wanted to start an image selling business (which is an evergreen business model) you can do that easily with the NextGEN plugin. You can sell both digital and physical copies of the images on your site.
The automatic print lab fulfillment one of the unique features of the plugin to make your business comprehensive. You can use payment gateways like Stripe or PayPal to receive payments for your images.
Pricing
The premium version of the plugin comes with a number of features and options to help you create modern and feature-rich galleries.
Let's start with the pricing of the NextGEN Gallery premium versions.
The plugin offers 3 different packages to select from, here are the details.
| | | | |
| --- | --- | --- | --- |
| Features & Pricing | Plus | Pro | Lifetime |
| Price | $79 | $139 | $399 |
| Number of Sites | 1 | 3 | Unlimited |
| Support | Pro Support | Pro Support | Pro Support |
| Features | Limited | All Features but One Year Update | All Features + Lifetime Updates |
Final Word
NextGEN Gallery is one of the top gallery plugins for WordPress. This plugin has been around for years and has a strong user community around it. The proven track record and features offered by the plugin makes it a top choice for your WordPress site.
If you are managing any site that revolves around images, be it a photography site or anything related, the NextGEN Gallery plugin will offer you comprehensive options to take your website to the next level.
As already mentioned, if you are planning to create an image marketplace to sell stock images; this plugin will be very handy for you.
Get 20% discount on NextGEN Gallery plugin using our coupon code
Code is "BEGINDOT"