OptionMonster is offering a 35% discount on this Black Friday sale. We have listed this product multiple times on Begindot posts, such as this one.
Considered one of the top lead generation tools for websites, it will surely increase the conversion rate of your email subscription.
Marketers come up with amazing offers to attract email subscribers because it's not easy to grow the list without any offer that attracts users to giveaway their emails. When you don't have the right kind of tools, it becomes even more difficult.
We have been using OptinMonster on some of our sites and it works perfectly. We are using Bloom plugin on this site which is another top-quality plugin.
Don't miss our mega Black Friday deal page with over 100 deals
OptinMonster Black Friday Discount Deal 2022
OptinMonster is used by some of the big names in the industry and of course the affiliate markers. If you are a newbie in the online business, you must consider creating your email list from the very first day.
Creating an email list important because..
It can send you traffic on demand. That's true. The users who like your content or the products you offer will subscribe to your email list and whenever there is anything good to offer just send an email and you will receive traffic almost instantly.
So, why to use OptinMonster and not a free plugin?
There are a number of free email opt-in plugins for WordPress that you can use on your WordPress site, so why do you spend money on this tool?
You will find the answer when you look at the features that are offered by OptinMonster, this tool is Payoneer in many ways.
A quality email opt-in is an investment that you make towards your business which will surely pay off in the long run.
The team at OptinMonster is offering the highest discount of the year for the next few days, so don't miss it.
The Black Friday Deal
Click on the link below to get the discount. Make sure to use the coupon code in order to get the 35% discount.
The process is very simple
Visit OptinMonster Site
Select your plan
Enter the coupon
Complete the checkout process.
OptinMonster Plugin: The Top Features
One of the most comprehensive email subscription tools, you will have the best options and features to make sure that your email opt-in is perfectly optimized.
#1. Ready to Use Templates
OptinMonster offers you a number of ready-to-use templates that you can choose depending on your opt-in type.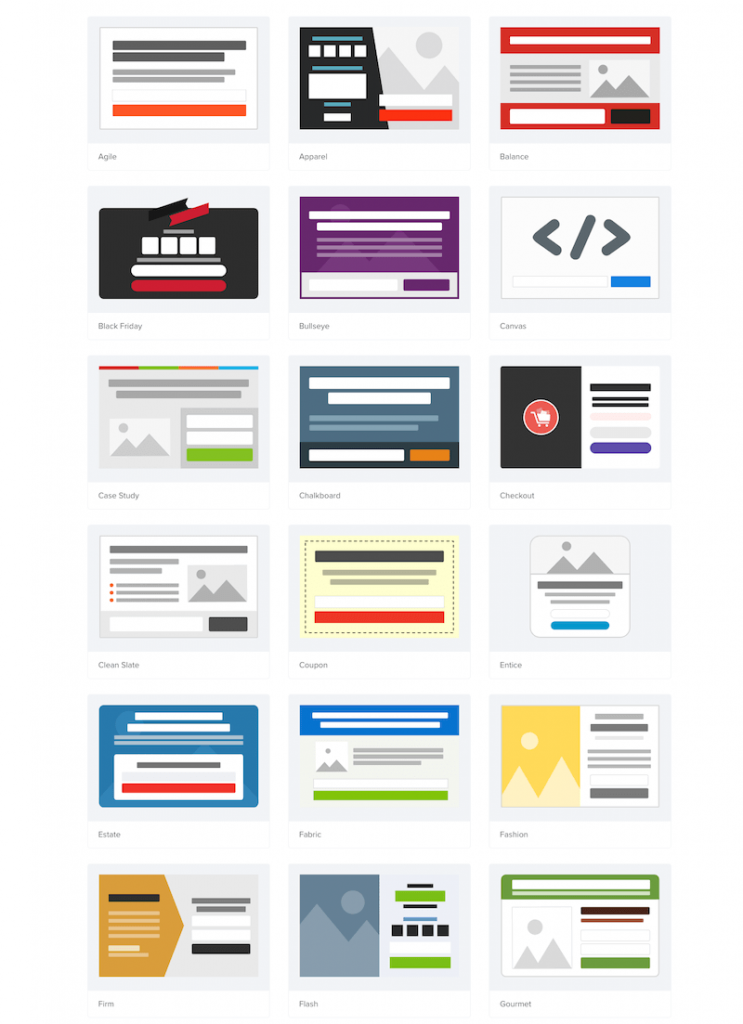 #2. Drag And Drop Editor
You Don't have to stick to the ready templates because you have a very easy-to-use drag-and-drop opt-in form builder to create unique designs.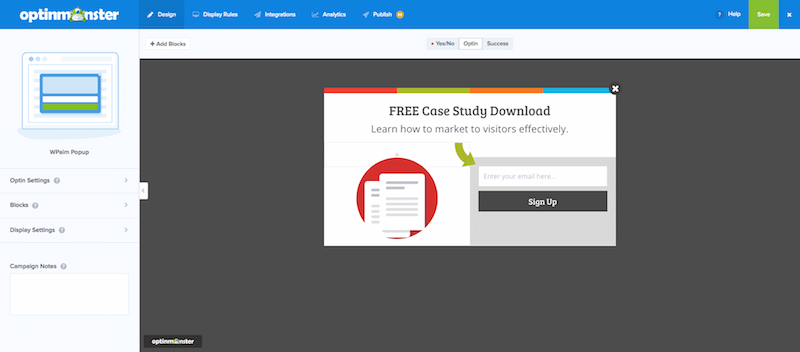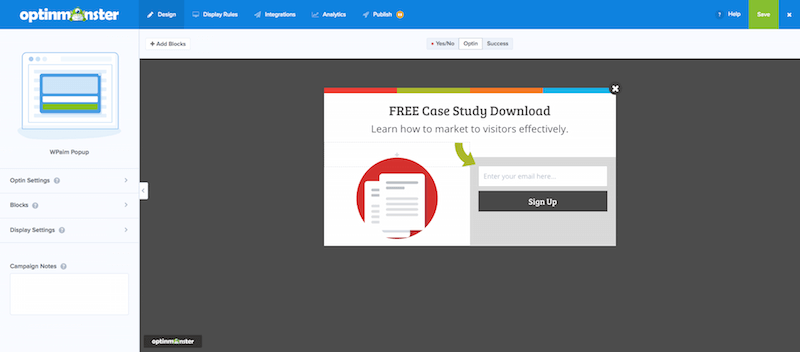 #3. OptinMonster Exit-Intent Technology
Exit-Intent technology is one of the proven methods to increase conversion. You must have seen the email subscription popup or some offer popup when you just intend to leave the site, this is called the Exit-Intent.
The Exit-Intent option has been effective in many ways, it can help any site to retain a user with some exciting offer or more engaging content along with the subscription form.
#4. The Monster Links
The monster link is a nice feature offered by OptinMonster. You can convert any text link or image to an opt-in popup. As your visitor clicks on the link, the popup will be triggered which can be extremely effective in terms of conversion.
If you are offering any freebie on your blog or any kind of goodies on your site and you want your users to subscribe in return you can use this option.
#5. Page Level Targeting
Create different subscription form with a different offer based on the content or offer in the user landing page to make it even more targeted.
For example, if your user lands on a page with the information about web hosting, offer them some discount coupon related to hosting
#6. Other Specific Targeting
There are a number of other specific targeting options along with the page level targeting such as the Geo-Location based, device-based targeting.
#7. Display Rules
The OptinMonster plugin offers you a number of different display rules to make the entire process more effective.
Time on your site
After scroll
Just before exit
After inactivity
On click of a button
And more
# 8. A/B Split Testing
A quality email subscription tool will never be complete without an easy A/B testing option to get the perfect combination to increase the conversion on your site.
The OptinMonster tool gives you the option to test the template designs that you use on your site as well as other combinations to get the perfect combination of offers and design.
#9. Comprehensive Statistics
You will have complete statistics of how your email subscription offers are performing at your fingertips to make sure that you take an informed decision to keep growing your business.
So, here is the Black Friday 2022 OptionMonster deal
As mentioned above, you will be getting a 35% discount on this amazing tool that will surely help you grow your business.
Get The Tool For Free for 90 Days
Yes, you have an option to get 90 days absolutely free OptinMonster access. This offer is valid for the users who enroll for the Optin University to learn about digital marketing.
So, it's a win-win offer, you learn how to do and grow your digital media business and you get free access to one of the most widely used tools.