Most business owners think that social media promotion like Twitter, Facebook, Instagram helps them grow their business. However, many of them miss a social media, YouTube.
YouTube is one of the significant and most popular social networks in the world. It is the 2nd biggest website in the world.
If you want to put together a video marketing strategy that gets results, you should consider YouTube marketing. YouTube marketing will help you reach a better and broader audience and improve awareness about your business and generate more engagement, traffic, and leads than any other form of marketing.  
Here are some ways by which YouTube can be beneficial to grow a business.
01

. Start Tapping into the Crowd of YouTube's Traffic.
Online video is growing with high potential, with over 4 billion videos viewed daily. If you choose to use YouTube as a promotion tool, you can easily reach your audience by creating videos and advertising your brand on other people's videos and channels.
YouTube is the 2nd largest search engine after Google and the 3rd most visited website after Facebook. Nearly 1 billion people visit YouTube each month worldwide, meaning if you properly promote your videos over YouTube, you can attract more customers and spread your business overseas.
02

. If You Market On YouTube, It Will Help Your Business Get Found On Google.
As Google is a Universal search for videos, images, news, book, and local searches, they get blended in one simple Google search result to give you the most helpful information you have been searching for.
You will notice that videos appear at first more often in the Google search results; this shows that Google considers videos to be as important as text-only websites and pages.
You can take advantage of this by creating high-quality articles on your sites and making complimentary videos on YouTube. By doing this, you will build backlinks to your site, meaning you will get found on Google more often by people searching.
By utilizing YouTube as part of your marketing strategy for your company, you are increasing your website's authority. The more authoritative your website is in Google, the higher your pages will rank in the search results.
It is essential to rank higher in the Google search results as over 60% of searchers only click on the first three results, and over 40% of all Google searchers click on the first ten organic results.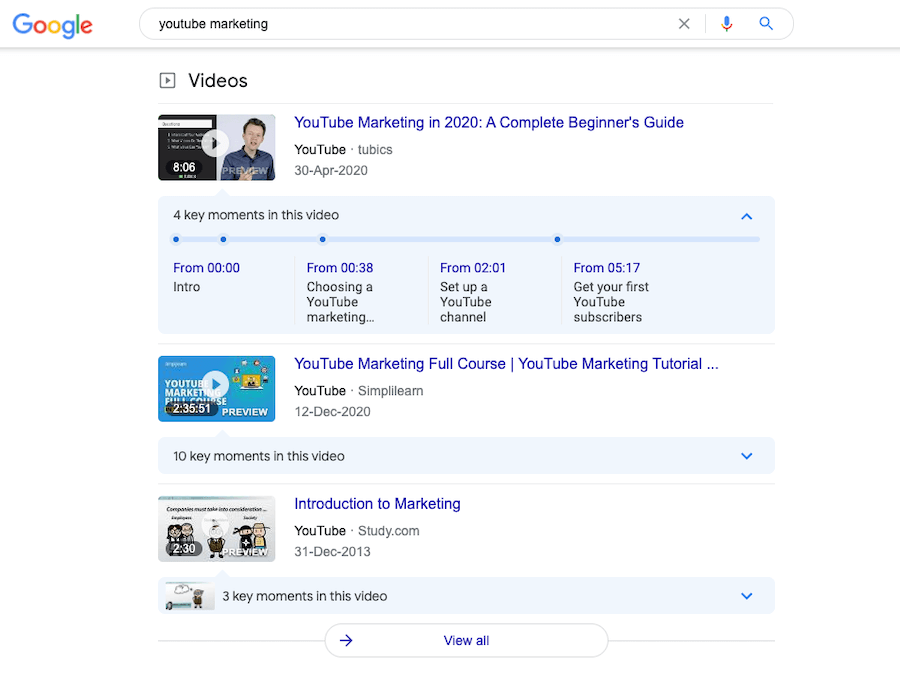 03

. YouTube in Numbers 
How can YouTube be so popular, and how can it generate billions of views every day? To answer that question, you need to take a deeper look at YouTube statistics.
YouTube is available and localized in over 100 countries, which means that the platform adapts to different languages of different markets and consumers. This makes it more inviting and more attractive for its users, increasing the engagement and usage of its content.
Plus, it can be used in 80 different languages, the range of languages is from the world's most spoken languages like English, Spanish, and Mandarin to more obscure languages like Azerbaijani, Khmer, and Laotian.
The majority of videos posted on YouTube are not in English. According to a survey, two-thirds or about 67% of the most popular YouTubers' videos are in other languages. On the other hand, just about 28% of the videos are in the English language.
The survey also found that even though there are significantly fewer videos in the English language, videos tend to receive attention from around four times more views than videos in other languages.
Here are some key statistics of YouTube for marketers to keep in mind:
If you know these statistics as a marketer, then you can play around with the numbers and create engaging videos to attract more traffic to your company.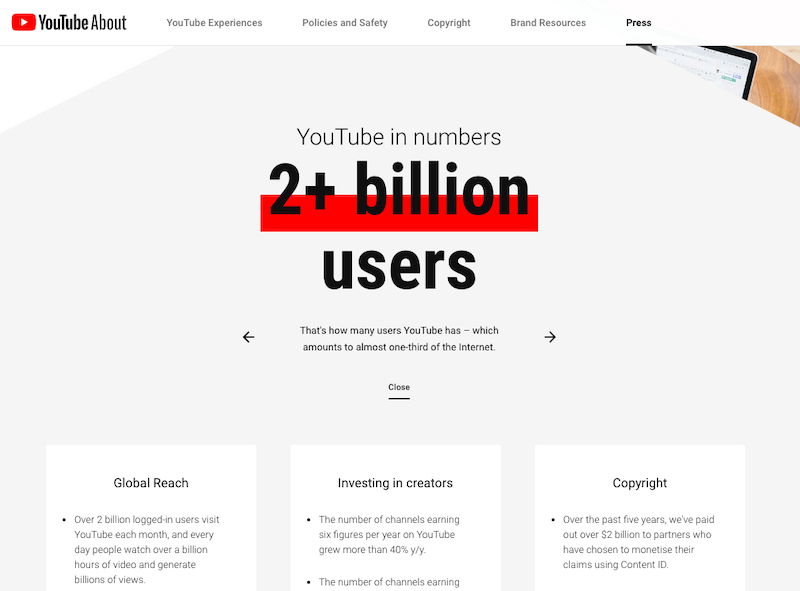 04

. Your Content Never Dies On YouTube. 
When you use YouTube for your company, you can repurpose the content that you have already created without spending a lot of time creating a new video.
Repurposing content that you have already created is very effective for content marketing. You can reach a broader audience that will love to learn about your company.
For example, any blog post can be repurposed into many formats like
Podcasts
Infographics
Presentations
Video series
This approach helps you to create four pieces of content from just one idea, which results in an engaged audience who will easily digest the information you give them in their desired way.
05

. Through YouTube, Your Viewers Can Buy From You and Even Promote Your Company. 
Videos with some personal touch will help you increase conversations between you and your viewers. That will intent lead people to buy from those they trust, and once the audience trusts you, you can connect with them on an emotional level.
Research shows that for many professional services and public companies if you drive the crowd to a landing page with a video of an important person in the company speaking about its product and services to the audience, it helps create a dramatic increase in leads and sales.
Ending Note
YouTube is the future of entertainment. It has been that for years now. And for that reason, you and your company should be aware of how it can help the company, so you do not overlook the advantages that come your way through YouTube marketing strategies.