For the past several years, the workplace as we know it has undergone many transformations.
If, in the past, people were used to having the same employer for most of their career, now, things are not the same anymore.
Working individuals are not afraid to switch employers and they seem to prefer short-term projects over long-term employment.
These changes led to the apparition of what we now call the gig economy, where workers are no longer being employed on a full-time basis, but rather on a project basis.
A 2019 survey indicates that, in the past year, 57 million Americans worked on at least one freelance project, 4 million more than back in 2014.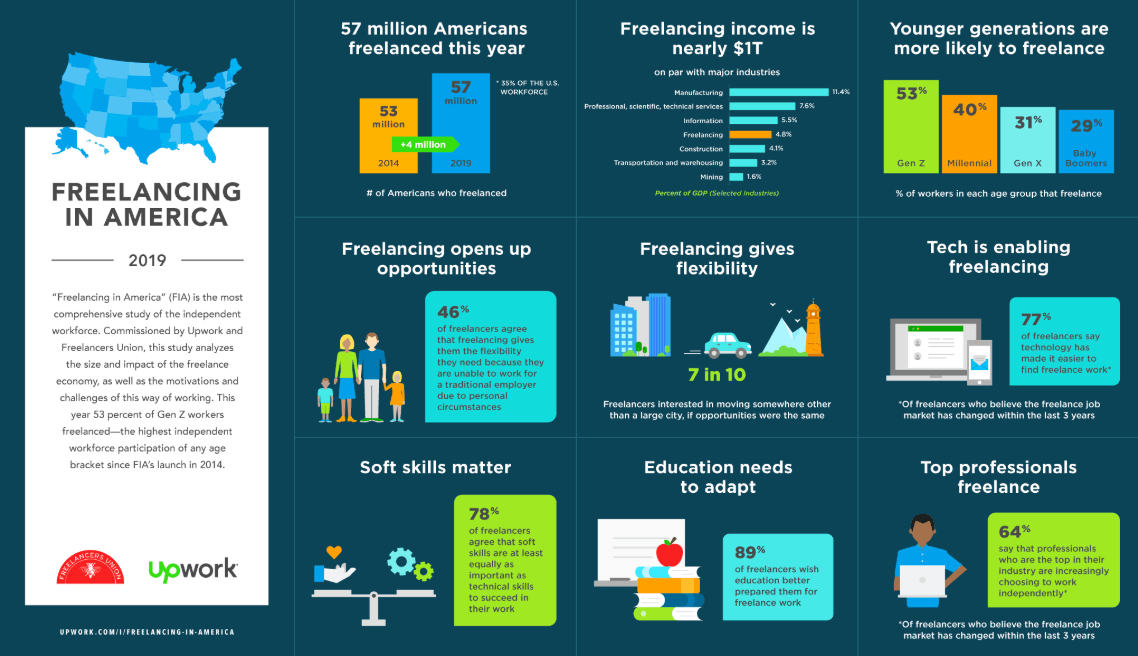 This makes the freelancing world more competitive than it ever was. Now, freelancers need to step up their game to stay on top of their competition, especially in the development segment, which is one of the most in-demand freelance jobs out there.
But how can you ensure that, in this competitive gig economy, you are doing the best you can to turn your freelance career into a successful one? 
Never stop learning
Knowledge is power, and that is a proven fact, especially in the world of technology, where things are changing faster than you can say JavaScript. This is why you must keep up to date with everything new in the industry.
Self-development matters in every kind of industry, but especially in the gig economy, where everything is driven by science and technology.
Seek courses that allow you to improve your coding skills, as well as personal-development seminars that teach you how to handle clients, how to market yourself, or how to face rejection.
Thankfully, the Internet is full of programs you can follow to improve your skills, no matter if you are looking for an Angular Js Course, or for a course on time management.
Take advantage of your flexible schedule and reserve some time to work on yourself, to maintain a competitive edge.
Specialization is key
Employers expect those they hire to have a little bit of knowledge in all fields of a particular industry, but in the world of freelancing, specialization is key. If you want to be successful, you need to find your niche and establish yourself as an authority in that field.
Sure, you can learn a bit of this and a bit of that, but employers are looking for professionals. They are looking for people that know a particular subject like the back of their hand because they know you can't be the best in everything.
Find a niche that you feel particularly drawn to, and work to improve your skills in that field. Think of it from a supply and demand perspective.
The more specialized you are in a certain domain, the more likely it will be for people to pay good money for your skills and make employers trust you.
Anyone can learn the basics of development with just a bunch of online tutorials, but becoming specialized in a single programming language does require more time.
Developers specialized in C#, for example, which is a relatively new coding language, have an average base pay of nearly $70,000 a year, and that's only with one year of experience.
Market yourself the right way
Freelancers don't have the advantage of working under the umbrella of a big-name corporation, so they need to learn how to market themselves to attract clients.
One of the most professional ways to do so is to invest in a website, where you can host your portfolio and allow people to get to know you a bit and leave reviews.
You can also add a page to your website where people can contact you directly by completing a short job request form.
However, the best way to put yourself on the market remains registering with freelance-focused work sites, such as Freelancer and Upwork, which host jobs from multiple industries, or more niched websites, specially created for developers.
Impress each one of your clients
While most companies are typically hiring freelancers on a short-term basis, if they are going to be content with your work, there is a high chance they will contact you again for further projects.
This is why you need to ensure you are treating every project with the same importance. Most companies prefer to have a go-to person when a project comes up, instead of searching for new talent every time.
Besides doing your job a la carte, you also need to follow some basic rules to ensure clients view you as a professional:
Learn how to handle rejection
Sometimes, things simply don't go out as planned, and clients end up rejecting your application.
You need to learn that it's nothing personal, and employers sometimes think they can resonate better with a different developer. Take this as a lesson and see what you can do to improve.
If you manage to keep a positive mind even when being faced with a solid no, you are one step closer to success.