Gator website builder review, a drag and drop website builder offered by HostGator.
Anyone familiar with websites and web hosting would probably know what HostGator is and what it does. This Texas-based web hosting company is popular around the world for its amazing services like shared hosting, cheap pricing, and fast servers.
Other than that, a very popular feature provided by HostGator is the Gator Website Builder.
We all know that there are tons of different website builders available these days, which are cheap, as well as serve their purpose quite admirably. But what is so special about Gator Website Builder? Is it worth the time? What all features does it offer? What are its limitations?
We present you an in-depth review of HostGator's popular feature, Gator Website Builder. We look deeply into its striking features and take a look at what makes this website builder different from others.
So, check out this review of Gator Website builder and decide for yourself if this is the website builder for your next website or not.
Gator Website Builder: An Overview
Gator Website Builder is a drag and drop website builder that is quite simple to use and is designed and developed for those having very little or no technical or coding knowledge.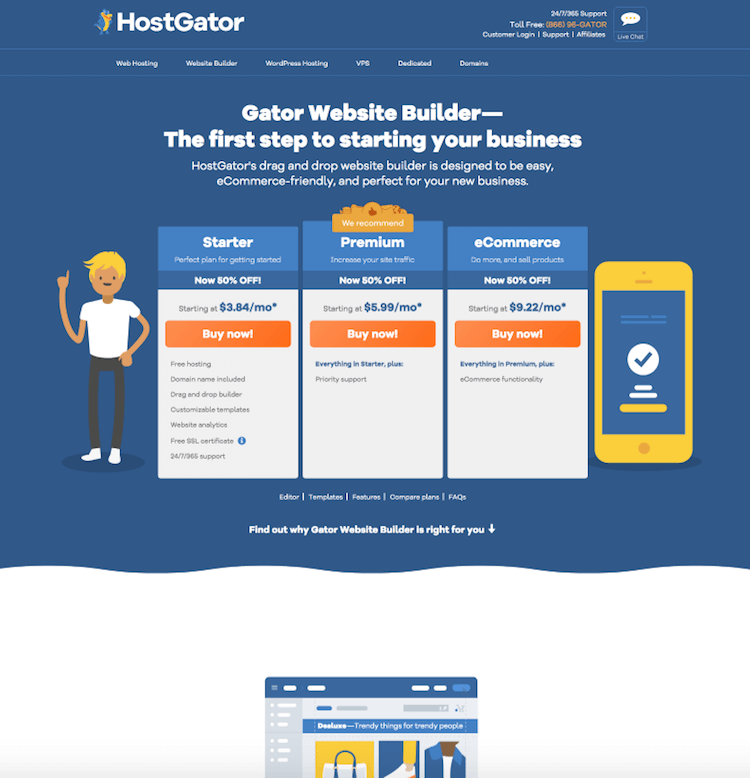 The website builder comes with some of the easiest to use and amazing features. You can actually build and host your website, with a domain name in a few minutes using the Gator Website Builder.
HostGator being traditionally a hosting service and domain name provider is venturing into an all-in-one website service providing a market where a subscriber can get hosting, domain name and website building service in a single subscription.
Get Discount on Gator
Get the Gator website builder and create your site at a discount price.
Getting Started With Gator Website Builder
Getting started with Gator Website Builder is a cakewalk. In just a few steps you can get a simple website built and get it hosted on HostGator, taking less than a few minutes.
So let's have a look at how does one get started with Gator Website Builder.
STEP 1

: Select Domain Name
Choose a domain name to get started. You can buy a new domain from HostGator or can connect your already owned domain name.
The best part here is that you can get a free domain name. All you have to do is to get the 12 or 24 months hosting plan.

This is typically much cheaper than buying a domain name from a third-party vendor and then connecting it to HostGator. 
STEP 2

: Available Pricing Plans 
Buy a pricing plan. HostGator provides you three different pricing plans to choose from. All three of them differentiate on the basis of a number of unique features and functionality they provide.
All of these plans have few common features like website builder, free domain name and free advertising credits.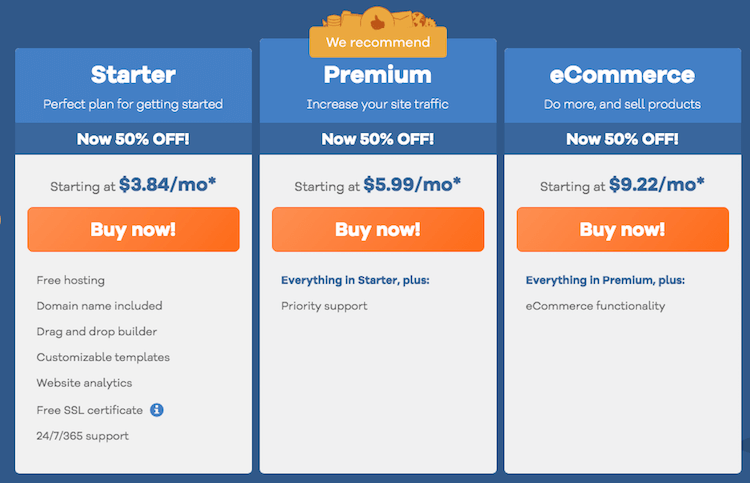 You'll need to buy the "eCommerce" plan if you wish to create an online store on your website, which is the costliest among the three, but compared to other web hosting platform, this is much cheaper and flexible.
You get complete priority support in the "eCommerce" and "Premium" plan, where you don't have to wait hours for customer support to answer your queries.
STEP 3

: Choose Pricing Plan
After choosing a pricing plan, you'll be prompted to make your payment before you get started with your website builder.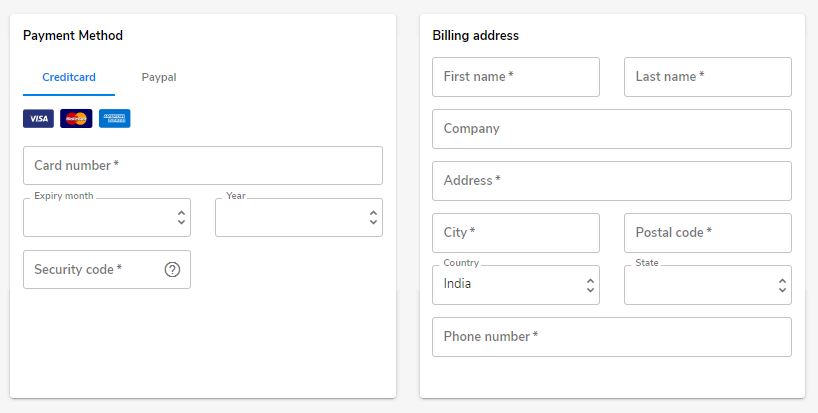 You'll have to fill out your account details, select the type of package and choose a billing cycle.
STEP 4

: Confirmation
After completing your billing formalities, you'll receive a mail from HostGator with a link, clicking on which you'll be redirected to your main dashboard.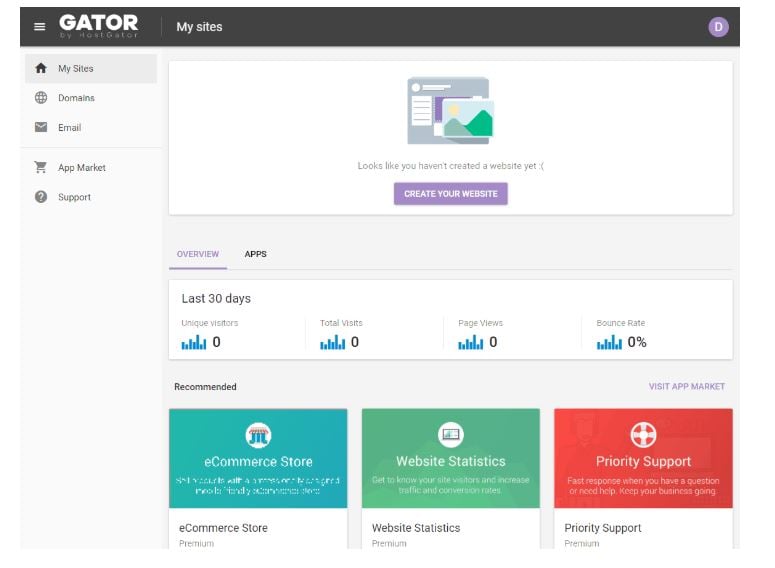 By default you'll arrive in the "My Sites" section. Here, click on the "Create Your Website" button to get started with your Gator Website Builder.
STEP 5: Ready Website Templates
Choose your theme to give a layout and design to your website. You get to add lots and lots of different things on your website. Gator allows you to customize your website at any point of time.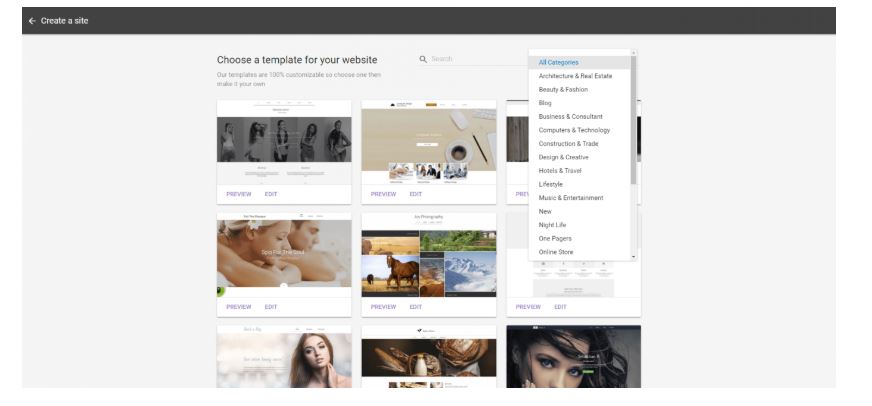 Gator offers many different themes to choose from. You can use the filter search to pick out one theme that fits best with your niche and your desirable website's look and functionality.
You also get to preview the themes, so as to check how would they look in proper functionality and on different devices. And if you like the theme you're previewing, you can start to work on it by clicking on the "Start Editing" button.
Features at a Glance
You get a ton of different features to choose from and make us build your dream website.
Although the different pricing plans offer a different set of features, you do get a lot of important common features in all of them, such as :
Unlimited Storage and Bandwidth
Yes, you heard that absolutely correct. Gator offers you unlimited bandwidth, which means an unlimited number of data can be transferred from your website.
Also, you get an unlimited amount of data storage, which means you can add any number of images, posts, videos, text, and other content on your website.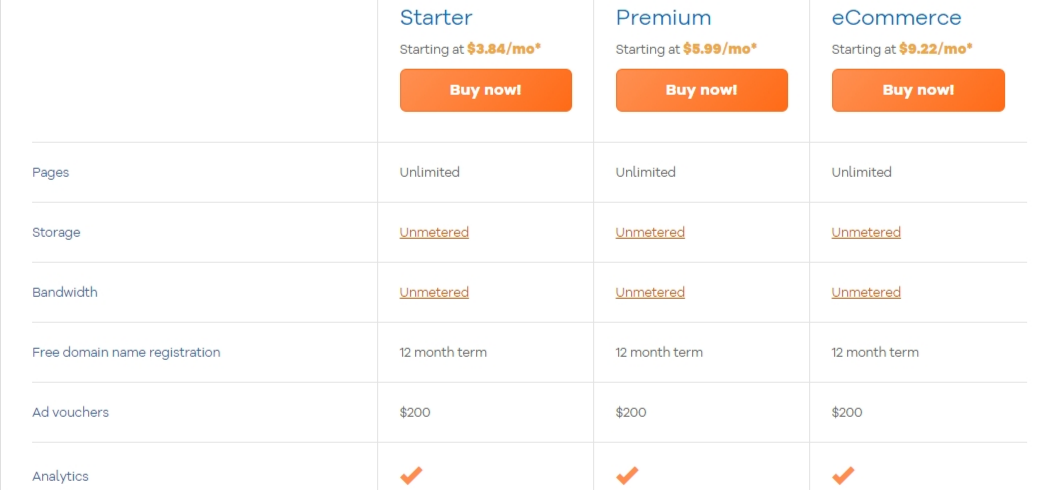 This is a key factor why Gator Website Builder is a must-try. You don't get an unlimited amount of storage and bandwidth in other website builders.
Mobile Responsiveness
According to Statista, 47.96% internet users are using only their mobile phones to access the internet.
If your website, especially if it is a business one, is not mobile responsive, it will definitely lack behind in the long run. Gator offers you complete mobile responsive websites.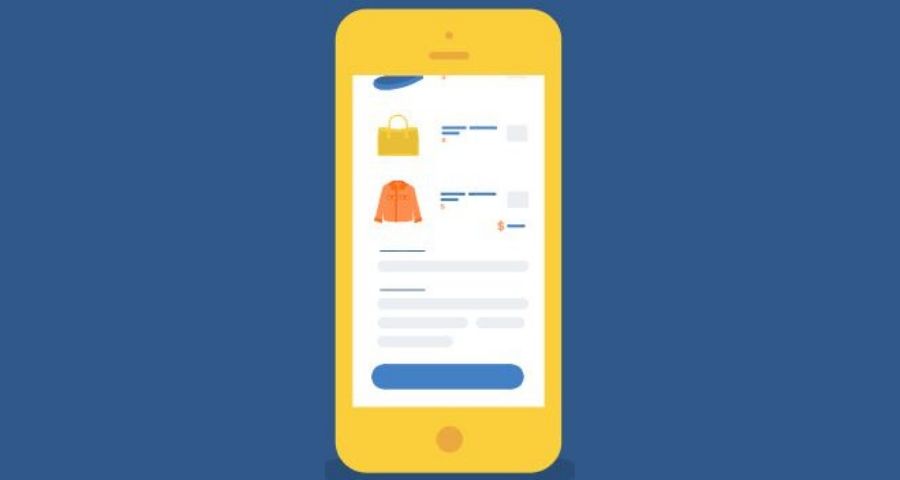 Analysis of Tracking
It tracks and shows you the important data related to your website, such as a number of visitors and clicks, which can help to improve your website.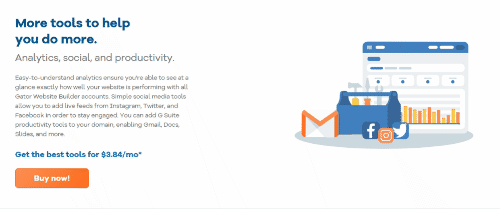 Domain Name: One of the significant features of Gator Website Builder is the free domain name that you get with all of the three pricing plans.
Free SSL
SSL certificates make browsing safer for your visitors. This can be seen at the top left of your URL. Gator offers you a free SSL certificate which is definitely a great feature. 
Integration from Social Media
Gator lets you add content from different social media platforms like Facebook and Twitter directly on your website. This will also improve the activity and engagement on your website.
The Drag and Drop
The drag and drop website builder is very basic and easy to use. No extra animation hassle and no rubbish hidden menus.
You get a clean and simple left bar from where you can simply select and drag elements to suitable positions on the website.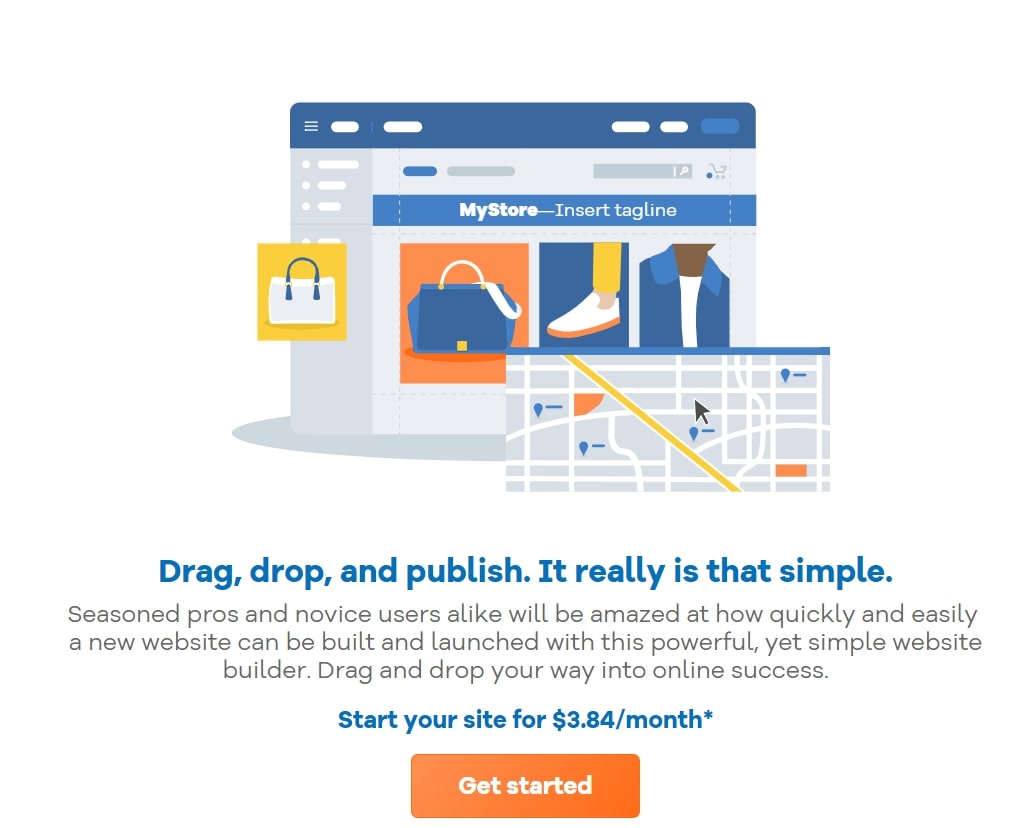 You get all the basic and must-have elements, such as font options, color selection option, and alignment.
For anyone who has no expertise in web designing and web page building, this is a great option, to begin with.
Pricing Plans and Comparison
Gator Website Builder offers you three different pricing plans to choose from.
The three different pricing plans are named as Starter, Premium, and eCommerce. The names of these three plans are quite evident for the types of features you get with them.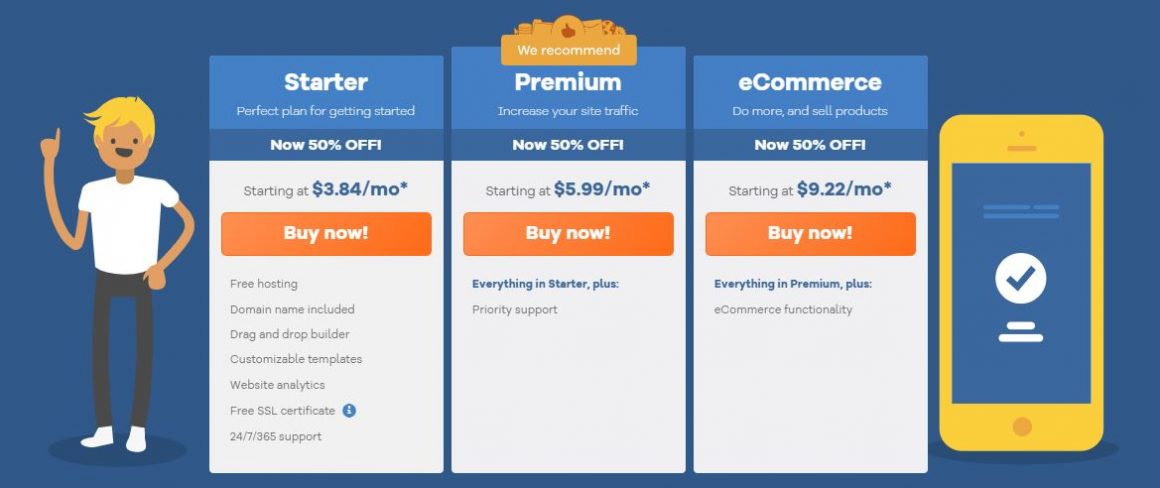 As mentioned above, there are few important common features that are available in all of them, such as free domain name, free SSL certificate, 24/7 customer support, website analytics and so on, but you do get a few more interesting features in Premium and eCommerce plans.
Unlike a few other website builders and website hosting services, Gator Website Builder does not offer any free plan or trial. Gator Website Builder is still new, hence it is quite evitable that Gator might launch a free trial in the future.
The three pricing plans are priced at $3.84, $5.99 and $9.22 respectively
(VAT not included and prices are reflecting discount on a user's first term).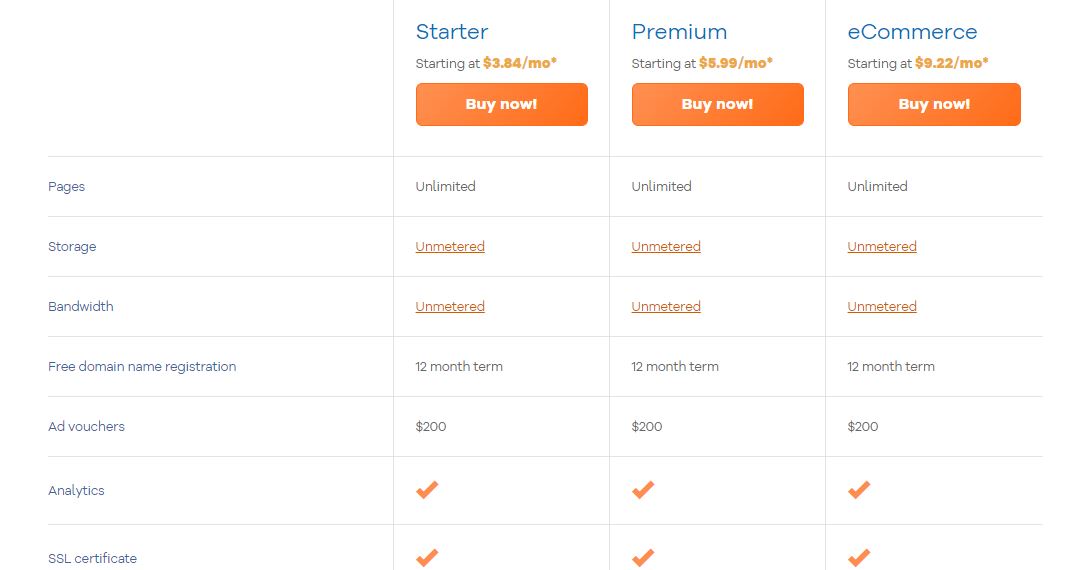 The pricing plans offered by Gator are a bit low as compared to others in the market, such as Weebly and Squarespace, but the number of features provided in Gator are very unique and must-have for anyone looking to build a website for the long run.
Ecommerce with Gator
The third pricing plan of the Gator website builder lets you build a complete eCommerce store on your website. You get a ton of must-have and complete set of eCommerce important features to add to your online store on your website.

You get to sell both physical products and digital products, such as e-books and software ( up to 1 GB). You also get a lot of different styles to design your online store and product display layout.
It does take a while, but you can add a large amount of detail in your product's description.
PayPal integration, quick adding of product details and ease of use makes Gator a great choice for beginners who are looking to create an online store on their website.
Pros of Gator Website Builder
---
1. Pricing Plans
If you compare the three pricing plans with other competitors, you'll actually see how cost-efficient and convincing is the price at what this website builder is being offered.
It starts from as low as $3.84 and you actually get a free domain name with it.
If things come down to only the price tag, Gator Website Builder is a clear winner. This pricing plan will definitely be lower in the future as till now Gator Website Builder is quite new.
The beginner web builder community will definitely see this price tag as an affordable one.

2. Social Media Integration
This is a pretty common feature these days, but with Gator, it becomes even simpler and easy to execute. The engagement and traffic redirections you get are an added advantage also.
3. Unlimited Bandwidth and Unlimited Storage
This is an insane feature that many other competitors don't offer. You get unlimited storage space to add any kind of content on to your website and unlimited bandwidth to transfer data from your website.
Cons of Gator Website Builder
---
1. No Free Plans to Try
Many similar web building and web hosting platforms do offer your free of cost, basic plans, but that's not the case with Gator.
You do get monthly payment options that are comparatively very low, but still, you can't get a trial of the website builder for free.
2. No Priority Support for Basic Plan
Keeping certain high-end features in for costlier plans makes sense, but it doesn't make sense to not give common support plan if you're targeting the beginner kind of audience, who will definitely need a good amount of customer support at most of the steps.
3. Pay Extra For Email Functionality
You don't get any in-built email functionality with Gator. You still can access this email functionality feature, but for that, you'll have to buy and connect G Suite additionally. But this also gives you premium functionality for the other Google Apps.
4. No Advance eCommerce Features
You get all the basic and minimal eCommerce feature in Gator, but you don't get any advanced level feature to use in your desired online store.
Final Verdict
Gator Website Builder is a great option for beginners. People who don't have a lot of money and resources to invest in website building and domain name, Gator is definitely a go-to website builder for them.
The easy to use drag and drop website builder, the unlimited bandwidth and storage space, website analytics, social media integrations, and various other must-have and high-end features, under some of the most affordable pricing plans are seriously an appreciable thing.
So, for all the newbies and people with very little money to spend on website building, Gator Website Builder is the website builder for you.
This was the review of Gator Website Builder. Here we went in-depth of all the features, pricing plans and pros & cons of Gator Website Builder to find out if it is worth the time and investment or not.
Decide if Gator Website Builder fits your budget and fulfills your requirement before making your final decision.
Got anything to say about the review? Or got any review for this review? Do let us know in the comment section below.
If you find the article helpful, don't forget to share it with your friends.