Marketing anything is a tedious task. It takes extensive planning, intricate strategies, and comprehensive plans of action. The coronavirus has further complicated things for event planners and marketers worldwide.
The Transition From Physical to Virtual
While on one side, several people are thirsty for the good old days of physical contact and in-person events, they are also worried about the potential dangers of COVID-19.
As the friction between the two increased, hybrid events have started to become common where people can experience an in-person event at a virtual event. 
This shift from physical events to virtual events and then to hybrid events has given birth to a new marketing landscape.
Companies and brands worldwide are leveraging hybrid events to gather potential leads, relevant clientele, network within the same niche, market their products, services, and platforms, generate content, market content, raise brand awareness, and create values. 

Guy Kawasaki at Restart 2021
Restart 2021 is a hybrid experiential event by Hubilo that seeks to bring together the most eminent experts from every corner of the globe in event planning and marketing. Among these experts is Guy Kawasaki, the Chief Marketing Evangelist of the popular online design tool Canva!
Guy Kawasaki has always played a key role in whatever company he worked for, including Apple, Google, and more. Today, several years later, he still sticks to what he does best, evangelism marketing. Simply put, evangelism marketing is word of mouth marketing.
While several marketers keep customer satisfaction at the top of their list of key performance indicators (KPIs), evangelism marketing works when customer loyalty is at its peak. It depends greatly on the customers and clientele to persuade or reach out to other potential customers.
However, evangelism does not come easy. As Guy Kawasaki once said, "Many people want to know that the key to evangelism is and the key is called 'Guy's golden touch.' So, 'Guy's golden touch' is not whatever I touch turns to gold because that simply is not true, I wish that was true, 'Guy's golden touch' is whatever is gold, Guy touches." 
Guy goes on to add, "What I am trying to communicate is that the key to evangelism is that create or affiliate yourself, or go to work for a company that has something great, because it is very to evangelize something great and it's very hard to evangelize crap. That's the key to evangelism. Knowing what to evangelize."
The entire event, Restart 2021, is planned for two days with two episodes each day and is divided into 12 sessions.
One of the featured speakers, Guy Kawasaki, will explore the unprecedented shift in marketing and the new opportunities marketers get in this newfound landscape of hybrid events. 
Restart 2021 is a Must-Attend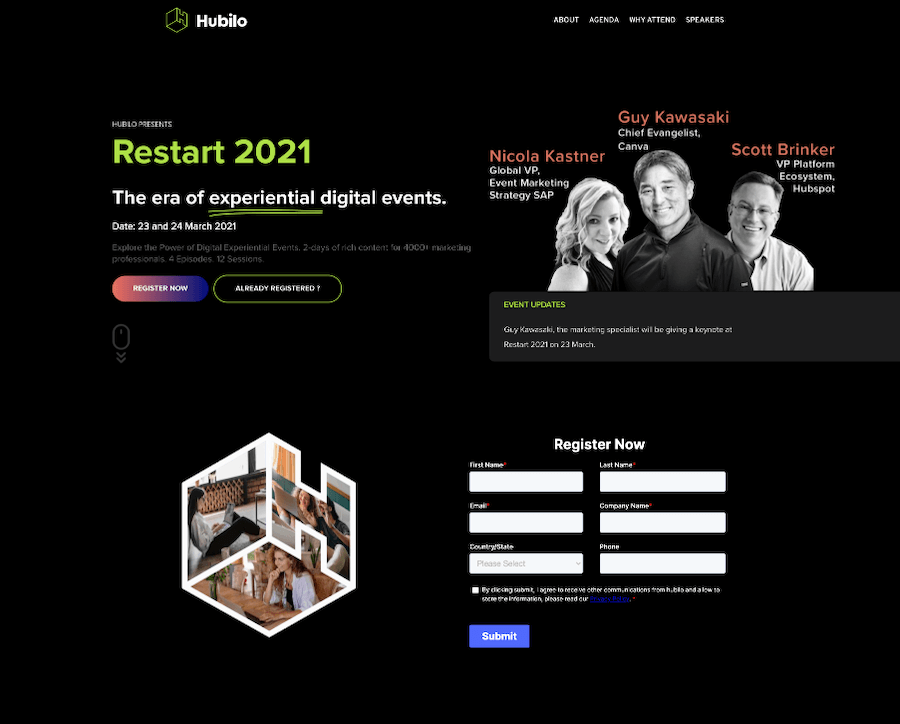 At Restart 2021, more than 40 Chief Marketing Officers from the best B2B and consumer SaaS companies will be speaking directly to the audience.
Along with them will be more than 4,000 marketing professionals who expect to learn the power of experiential digital events. To register for the event today, head over to Hubilo's official event page.
Article sponsored by Hubilo.