Here's a collection of the best WordPress themes for Artists that you can use to showcase your skills and creativity and build an online presence.
When it comes to Artists, it's quite hard to find the perfect theme that'll highlight your creative skills in a desirable way.
Also, the theme you select makes a significant impact on your online presence. Since you are using WordPress, there is no doubt about the flexibility and advantages it offers.
A careful selection of the theme based on the features that suit you the most will help you in analyzing the best option for you.
This collection will take you through the best theme options for artists that can be used in building a website for showcasing your skills.
Premium themes are highly recommended because they come with regular updates and great functionalities.
Check out the best WordPress themes that are hand-picked exclusively for the artist in you.
Divi Theme
Divi is one of the most powerful and popular multipurpose WordPress themes that you can use to create any kind of website.
Divi theme comes with a number of ready to use templates that you can use to create your site. However, you will not have to stick to the ready templates as you have unlimited design options with this theme.
The theme is powered by the amazing Divi Builder plugin which is one of the best drag-and-drop website builders for WordPress theme you can use to create a completely custom design for your site without writing a single line of code.
The Divi Builder brings you a number of useful modules that you can use to create your site. You can create a custom design and save that in the library for future use.
The theme offers you a number of stunning header design options so that you can create a unique header design for your site easily.
We have reviewed the theme in detail here, you will also get a 20% discount with our link below. Along with Divi, you will get access to all other ElegantThemes products such as the Bloom plugin, Extra Theme, Monarch Plugin in this package.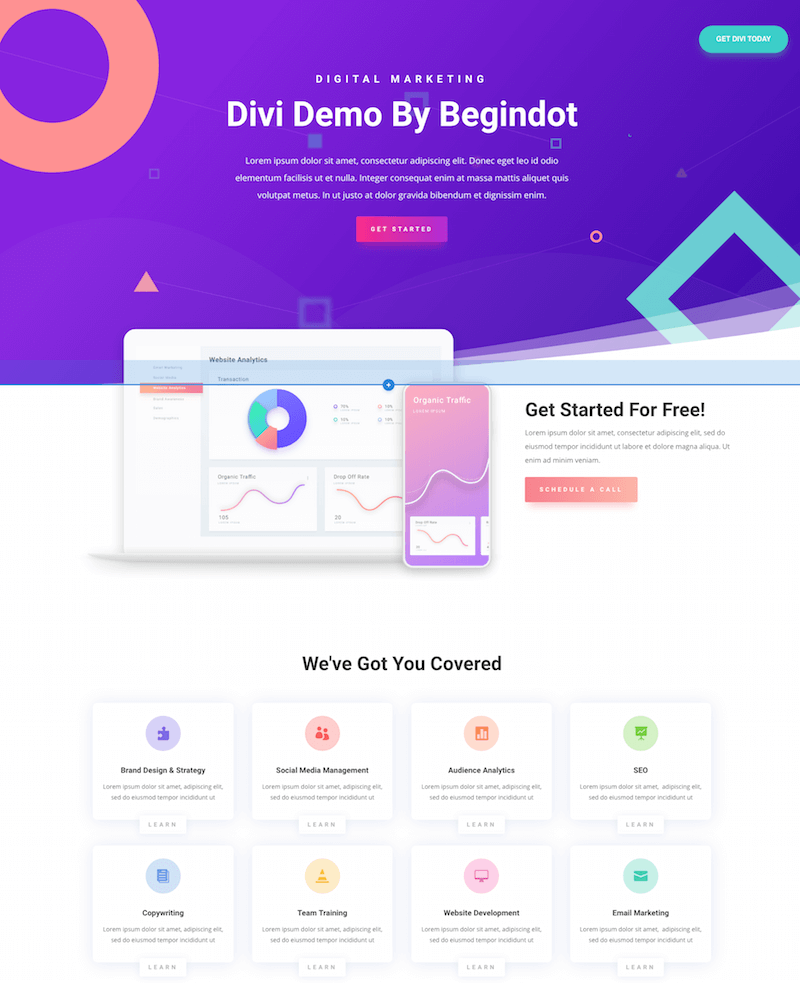 Colibri
A very responsive theme built exclusively to satisfy the needs of musicians. Calibri is an effort to bind WordPress and popular social tools like Soundcloud, Twitter, BandsIn Town, Instagram, etc.
A huge chunk of the content on the theme is accompanied with the easy accessibility of these tools and the theme is just perfect for singers, DJs, Bands, or any other musician.
Some of its excellent features include photo albums, video albums, next level parallax, nice intro animation, Demo .xml file etc.
social media tools, MailChimp, AJAX, etc are integrated into the theme with many customization options. Customer services are provided anytime to fix bugs and reported issues.
All in all, Calibri is a great pick for anyone who has a passion for music and wants to share it with the world!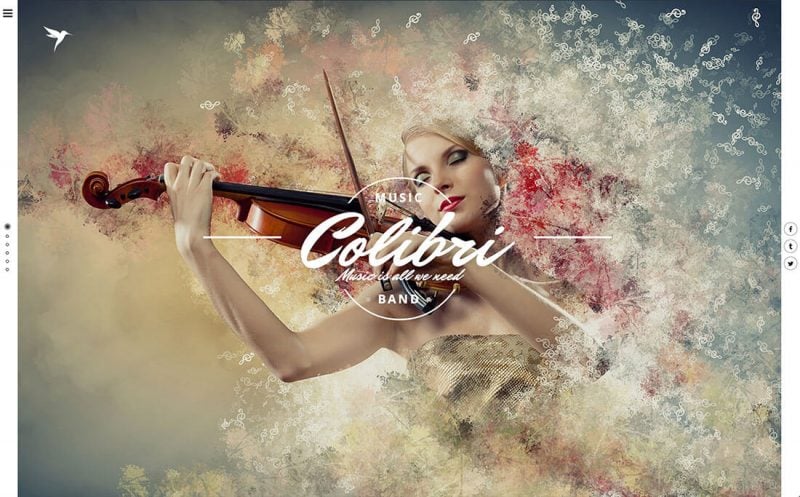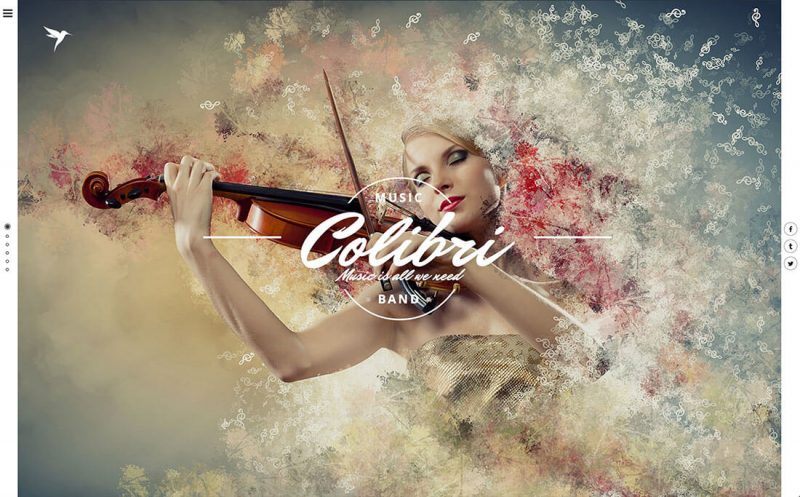 Dance School WordPress Theme
The theme is crafted solely to satisfy the needs of dance studios, fitness and sports centers, and other studio-oriented centers.
You can enroll students in your dance course and be a part of an incredible journey that helps them achieve their dreams.
There's a total of 4 primary pages including a home page and 3 types of class details page which help you highlight the services and dance genres.
Being a niche theme, it'll help you position your brand above others. In order to provide the personal qualities, a separate page has been incorporated into the theme.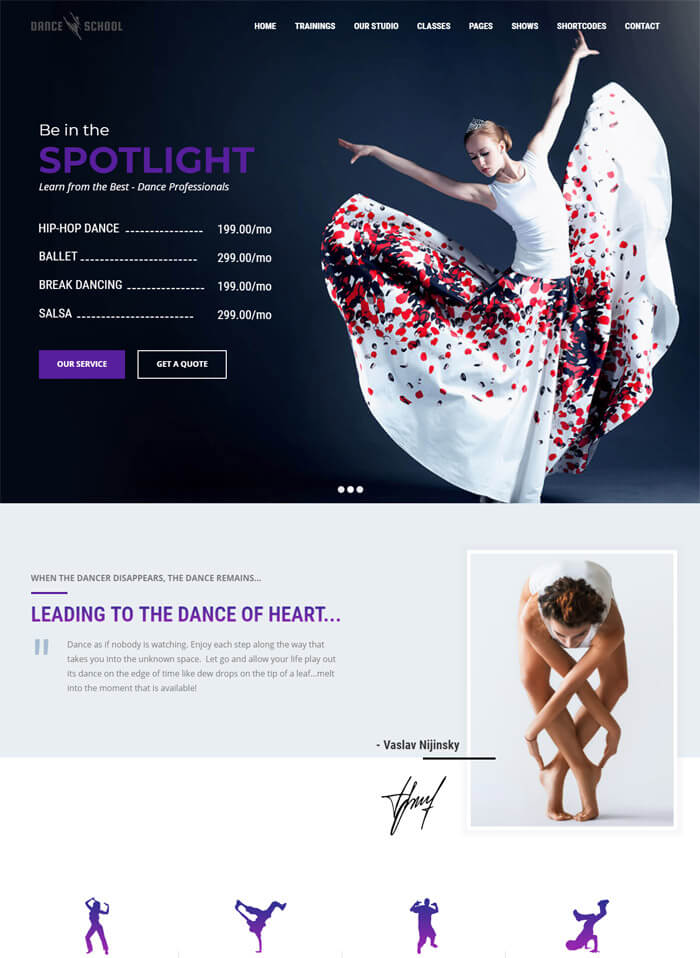 Jupiter
Jupiter is one of the best multipurpose WordPress themes that you can use for any niche websites you wish to.
The theme comes with a number of different features and options that will help you to create a successful website for your business.
With over a hundred thousand downloads the Jupiter is one of the top-selling WordPress themes which is driven by a strong team that is constantly adding new features to the thing on a regular basis.
So, if you are looking for a quality theme that offers you all the features and options that as modern day website is expected to have, this is a theme you need.
Jupiter theme offers you a number of ready design templates that you can quickly import to your site and get started with your website.
If you don't want to use any of the ready demo design templates you are free to use the Elementor website builder to create a completely new design for your website without writing any code.
You can customize each and every section of the theme as per your requirement and make sure that you have a completely unique design for your site without hiring a developer.
The theme offers you over a hundred different design blocks and modulus to help you quickly add new features and sections into your site and make sure that you have the best design in the business.
As we are talking about the website design for the artist, the Jupiter thing comes with the number of different templates that are specifically created for the creatives, artist, music related website and any other similar niches.
Needless to say that Jupiter is one of the best in that is optimized for the small screen devices to make sure that your site perfectly and the mobile devices.
Salient
The Sailent theme is one of the leading WordPress themes in the ThemeForest marketplace. It comes with the number of different design options that you can use to create your website.
It is a multipurpose WordPress theme that can be used for any niche site including the sites for art and music and related topics.
It offers you a number of different demo design options to choose from, you have the quick option to choose from the available demo templates and import that with just one click to get started with your site quickly.
The theme Comes with over 500 different styling options to make sure that your website is completely unique and up to date with all the latest requirements.
Is a fully responsive and retina ready WordPress theme that will make yourself look rate on all devices including the mobile phones.
The theme offers you drag and drop website builder that you can use to create your own custom designed without adding a single line of code.
It comes with a number of different layout options header design options to make sure that you have a unique header section on your site which is a very important part of any website.
The Sailent is quick loading and SEO friendly WordPress theme that will surely make your site perform better in the search engines.
Here is a detailed review of the Silent theme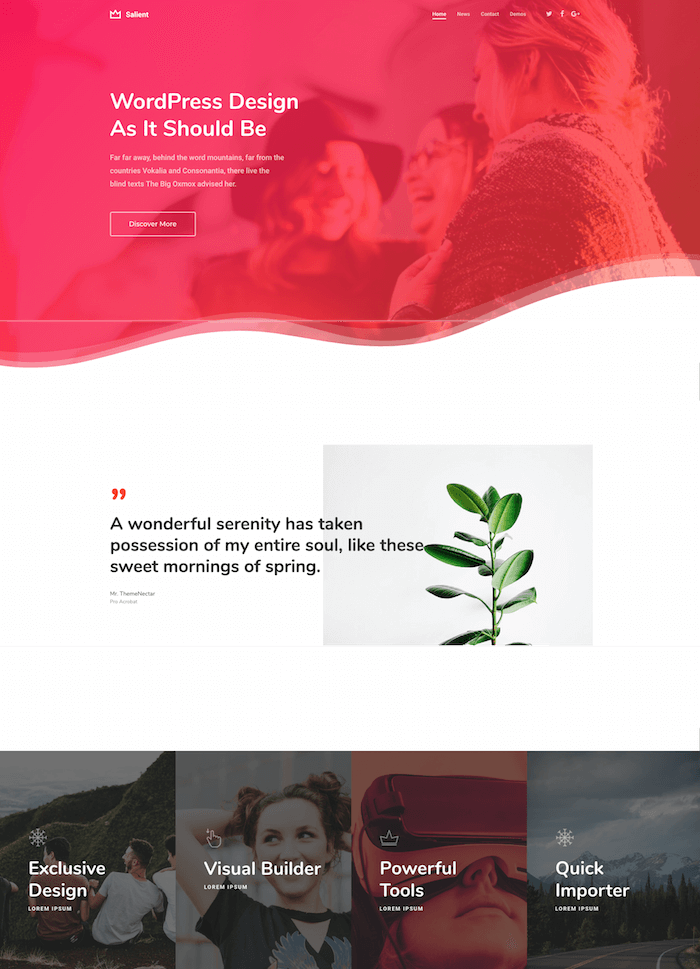 Ultra Theme
Ultra is one of the most powerful and comprehensive WordPress themes created by the Themify team. It comes with a big list of ready to use website templates that are created for different niche sites and you can quickly customize them to make it suitable for your site.
The theme is backed by the powerful and easy to use drag and drop builder and it comes with a number of useful modules that you can use while creating your pages.
With the Ultra theme, you will have complete control over the header and footer of your site, the flexible layout of the theme makes it perfect for any kind of website.
You can play around with the placement of logo and the navigation menu. You can add it at the top or if you want to have a completely different design, you can add the logo and the navigation in the sidebar and create a vertical design.
There are a number of value added features such as animated color options that you can add to any section of your site to make it attractive. You have mega menu option, multiple content archive layouts and a lot more.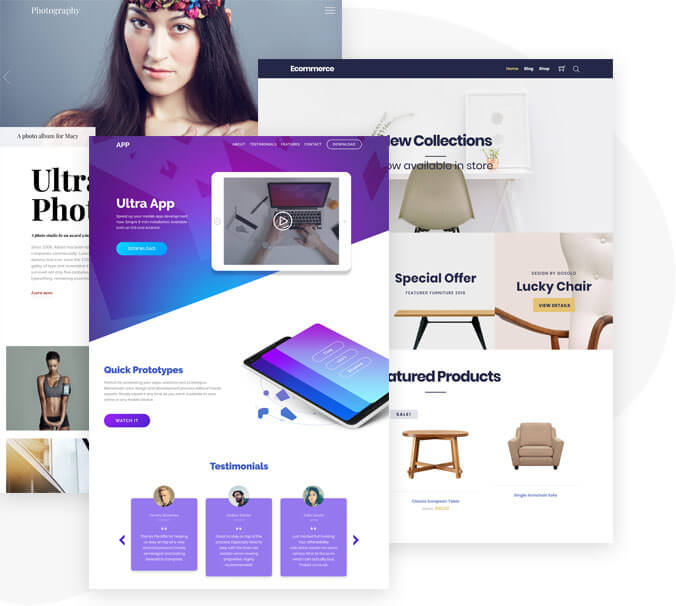 Flicker
Flicker is designed for musicians and performers who are striving to promote their career. It helps to spread your music and your band will soon get noticed in the music industry.
The theme is built upon Unyson framework and its feature drag and drop page will let you create whatever pages you like by simply moving the sections. You can either choose a boxed or wide layout that comes with 3 color schemes.
The fonts are taken from Google Fonts Library and there's 24 by 7 support system provided to help solve issues.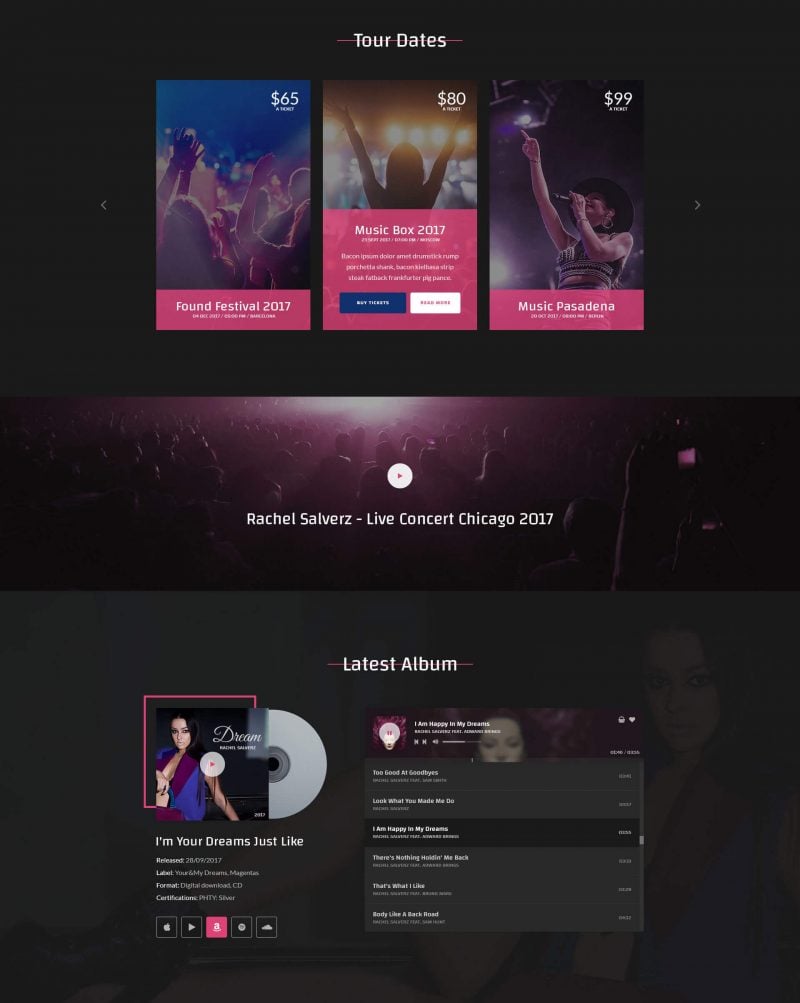 Hares
It's a vintage theme that gets along with your website featuring tattoo salon, barber shop, pub, restaurant, motorcycle club, etc.
You can use it as a portfolio, blog, photo website, shop, resume or any other relevant purpose you can think of. It's created by giving attention to flexibility and performance. Hares contains all the features for making your website truly a professional one with least effort.
It's out of box functionalities and customizable widgets will help you build the best website with all the necessary attributes. You can both import the demo content and edit it or you can spread your imagination into the website.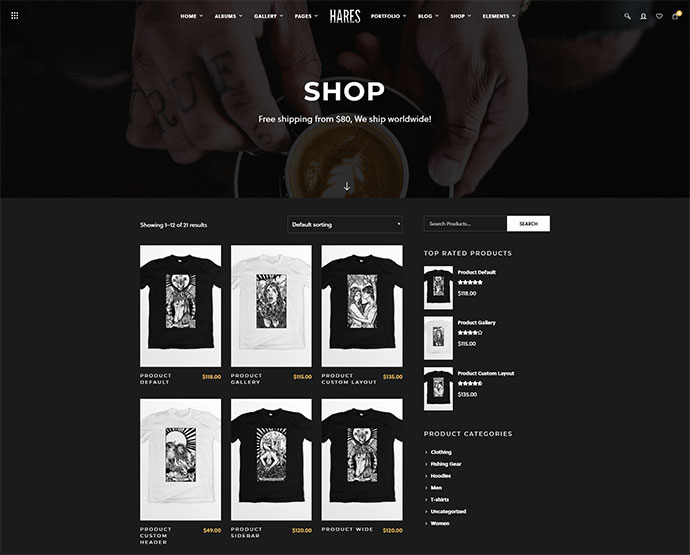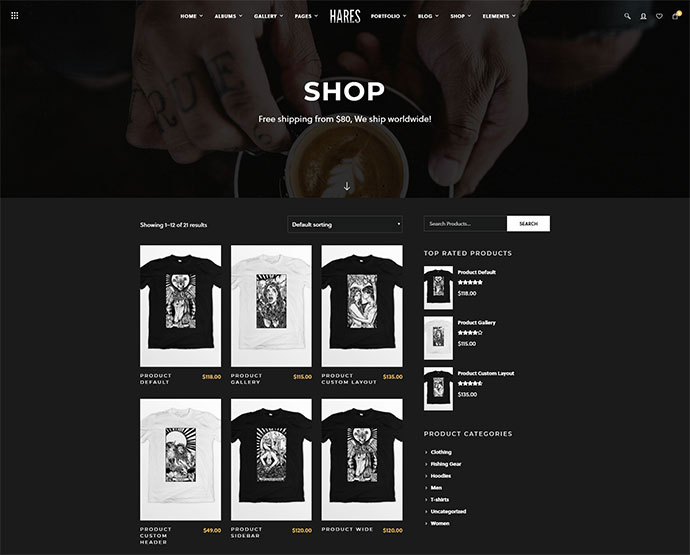 Conceptix
This artistic word press theme will help you easily create a stunning website for your art studio. The theme comes with amazing page layouts and artworks.
Conceptix is a very user-friendly theme that is very easy to customize and is the right pick for your design studio. As far as beginners are concerned, there's no scope for tension because no deep knowledge of websites is required to manage it.
You just have to install and fill it with quality content and set about your business. So definitely try out this art studio WordPress theme crafted exclusively for creative website owners.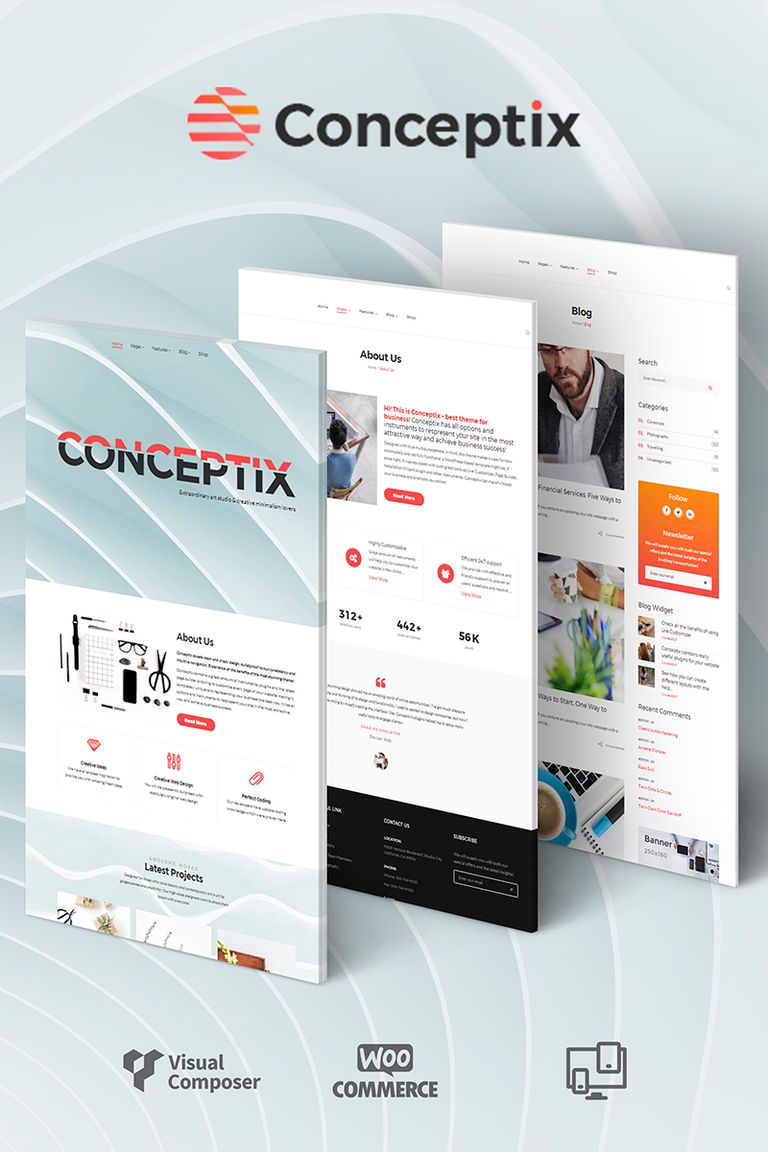 Exhibita
Make a stunning presentation of your artworks with Exhibita. It's a well-documented theme which has a responsive design. You can showcase your artworks and exhibitions through the powerful TM gallery.
You can obtain the reviews of your work from the visitors and leading artists through the cherry testimonials ad the plugins. The visitors can now easily book an appointment to the exhibition directly on the website.
Multiple blog layouts are provided that comes with a versatile header and footer design, this will add a unique style to your art gallery.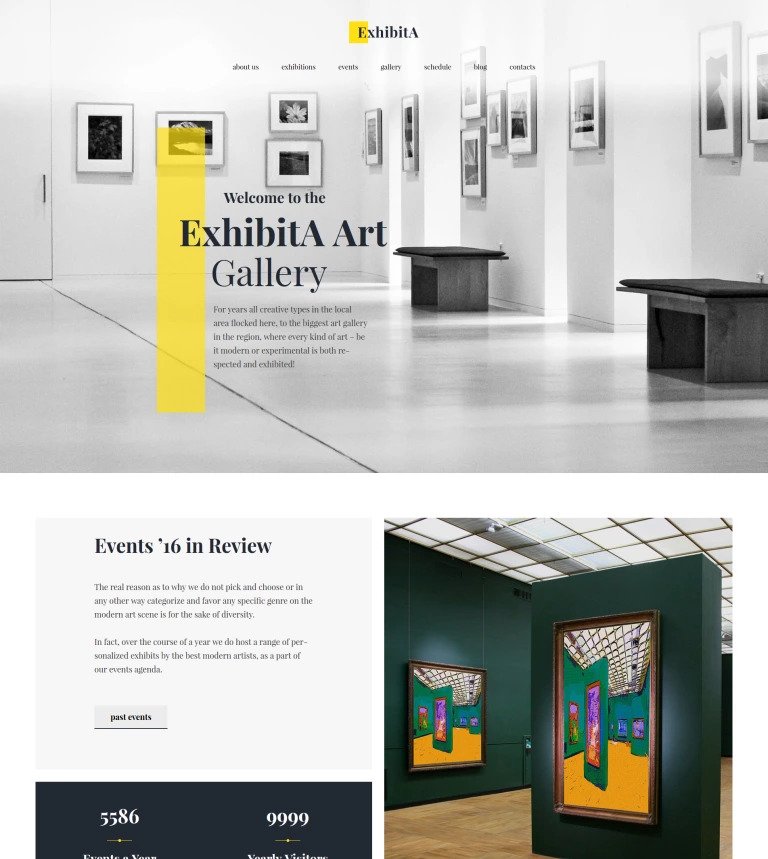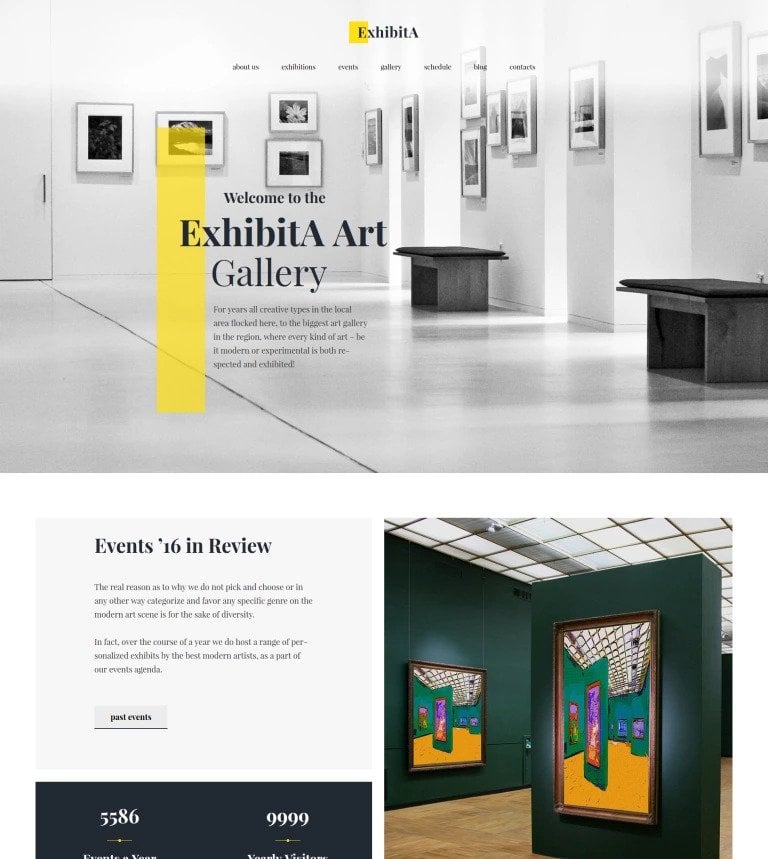 Dorsey
Dorsey is a minimal WordPress theme built specifically to showcase the talents of artists. The theme is very easy to install and handle.
There are many options to customize the colors and the fonts which give an adventurous experience to artists. Dorsey comes with a left-aligned header design with tree submenu and thumbnail gallery view.
There are many options to choose from the basic style settings. On buying the theme, you can avail a 12-month access to all the updates plus it provides access to essential features like social media, WordPress blogging and much more.
Color schemes can be easily managed with the responsive page layouts.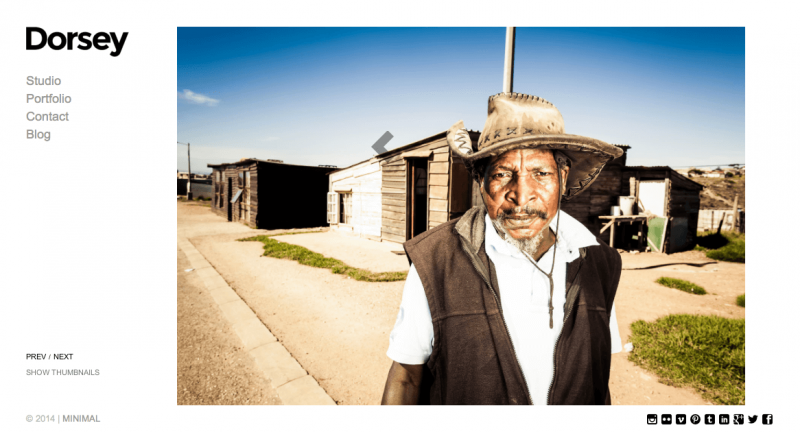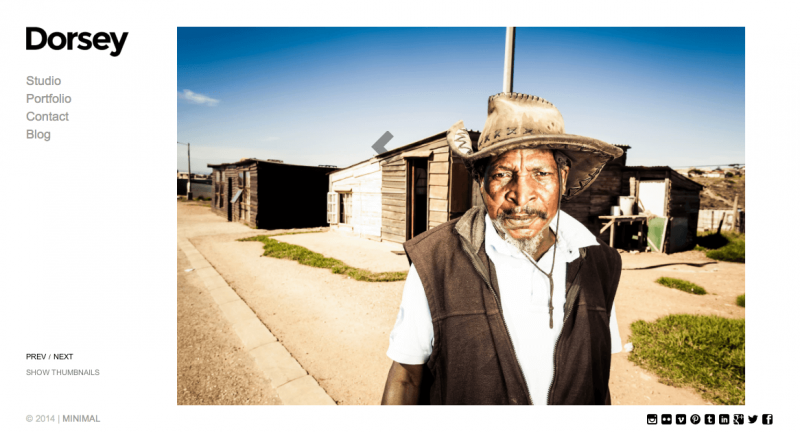 Tattoo Studio
It's a stylish theme that fits into any website featuring tattoo, body art, piercing studio and creative studio.
The theme not only provides great support but also some fantastic features like drag and drop page design, extensive redux option framework, responsive design, parallax scrolling, styled google map, etc.
The exquisite theme owns equally elegant booking models and image modals crafted especially for the artists.
It uses a responsive Bootstrap 3 framework and all the widgets that come under the theme are very user-friendly as well as customizable.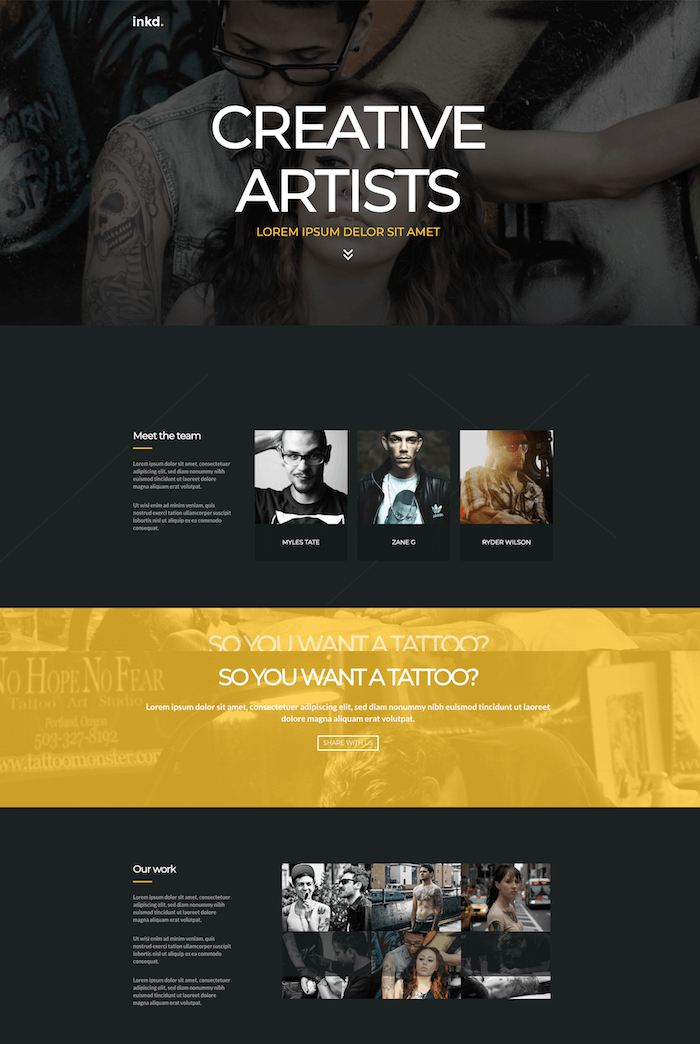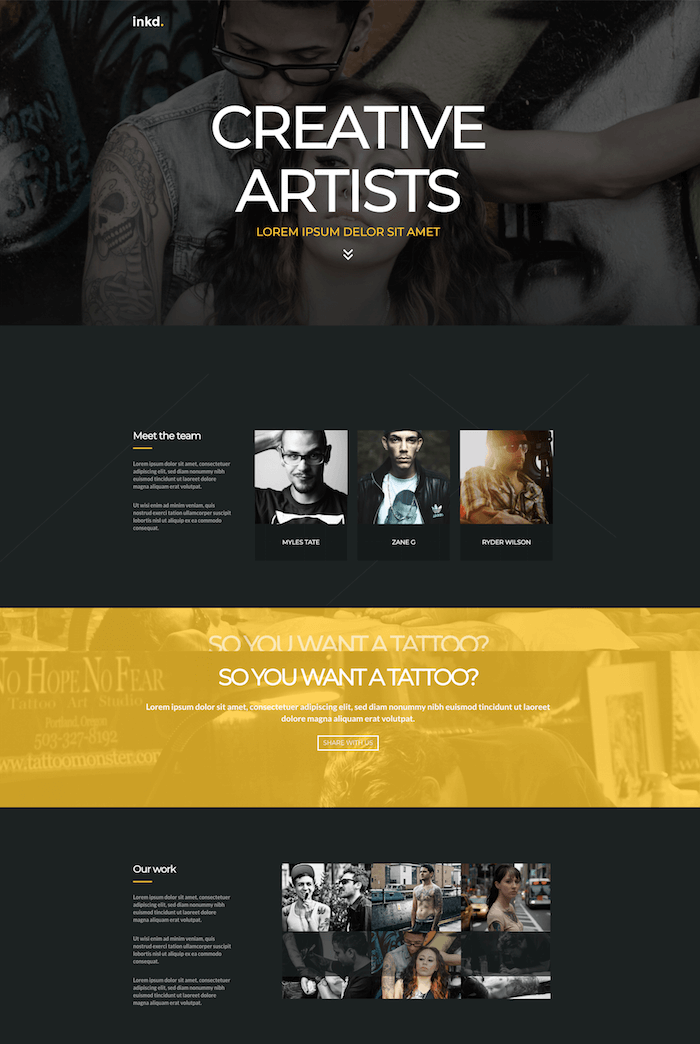 Contrast
It's a fully responsive theme made exclusively for exhibiting photography and art. The minimal design theme is perfect for all creative people ranging from photographers to innovative agencies.
The full-screen layout helps you showcase your artworks in the most stunning way possible.
The latest CSS3 and JavaScript techniques are utilized to create the theme. You can create your project through the gallery by choosing the style and design that'll work best for your theme.
You can customize the color schemes and make your own logo that'll remain unique to your business.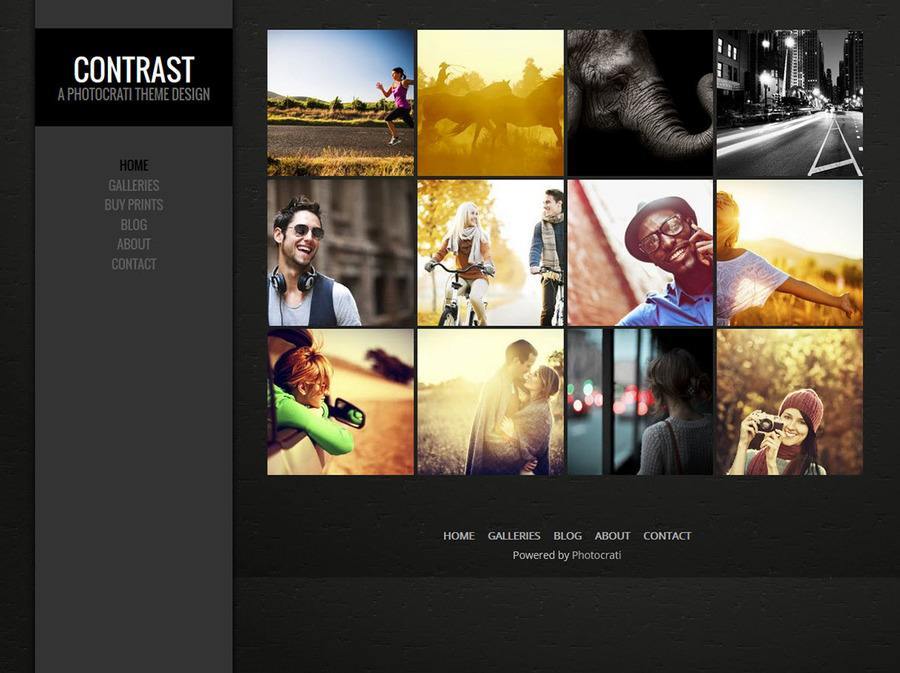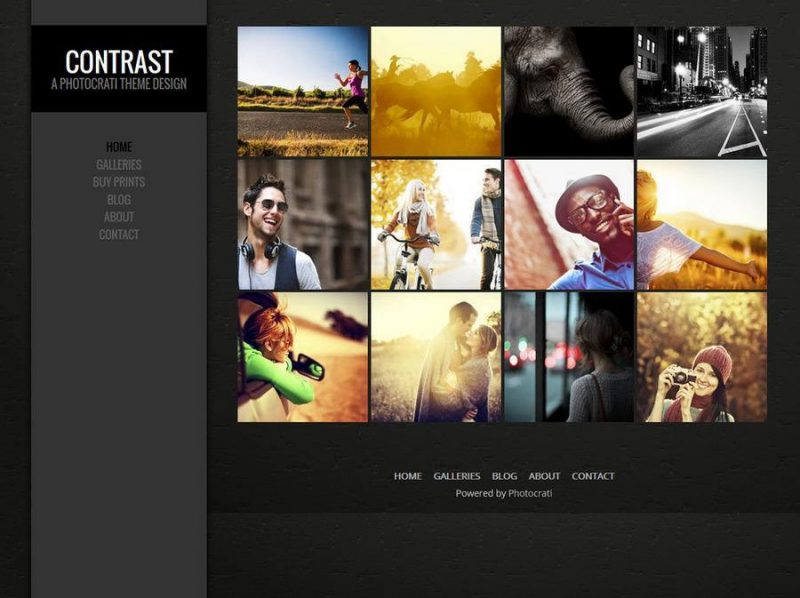 Pantone
Pantone is an awesome theme suitable for anyone working in the field of music. The theme is highly flexible allowing you to customize it according to your interests.
The most prominent features include a full-screen slider, responsive layout, custom posts related to discography, events, photo gallery or videos. It's suitable for any level of experienced users and it looks amazing on any device.
Pantone provides a platform to easily change the settings and edit everything neatly on the intuitive interface. The theme features a powerful audio and video support and you can easily embed the player anywhere inside the website.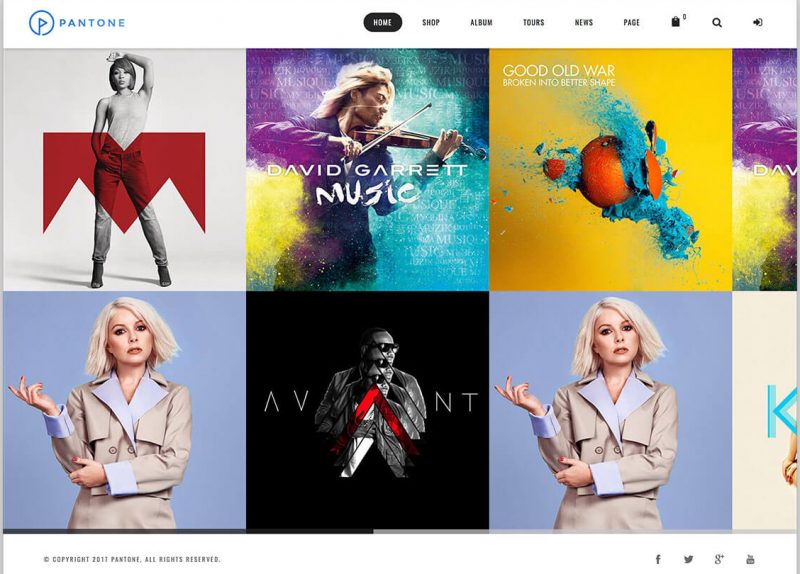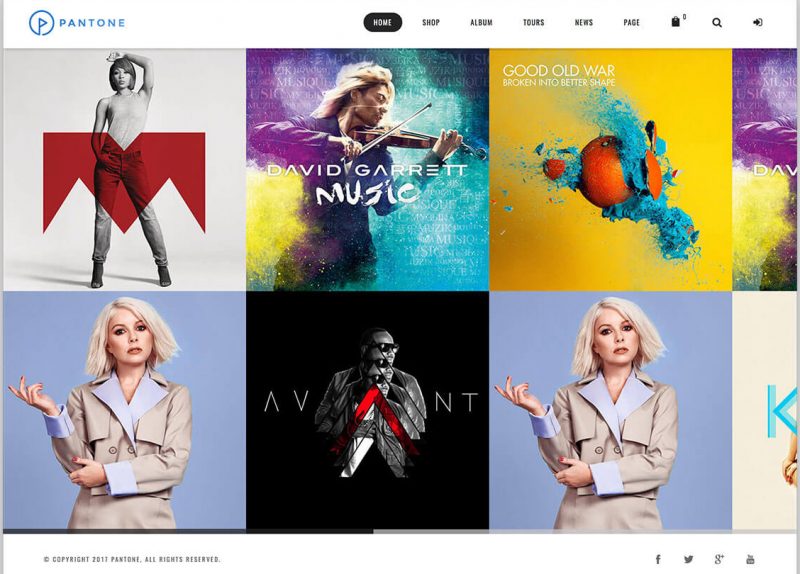 Art Gallery
This particular theme has been featured in the top pick themes for artists and in the top collection for stylish WordPress themes for artists. The theme is highly responsive and the site will adapt to any gadget with any screen size.
Texts and images available in the theme pack are very flexible and the visitors to the site will not be restricted by any means. Parallax is incorporated which give your visitors an illusion of depth in a 2d environment of the website. This way, visitors will come back to your site every now and then increasing the website traffic.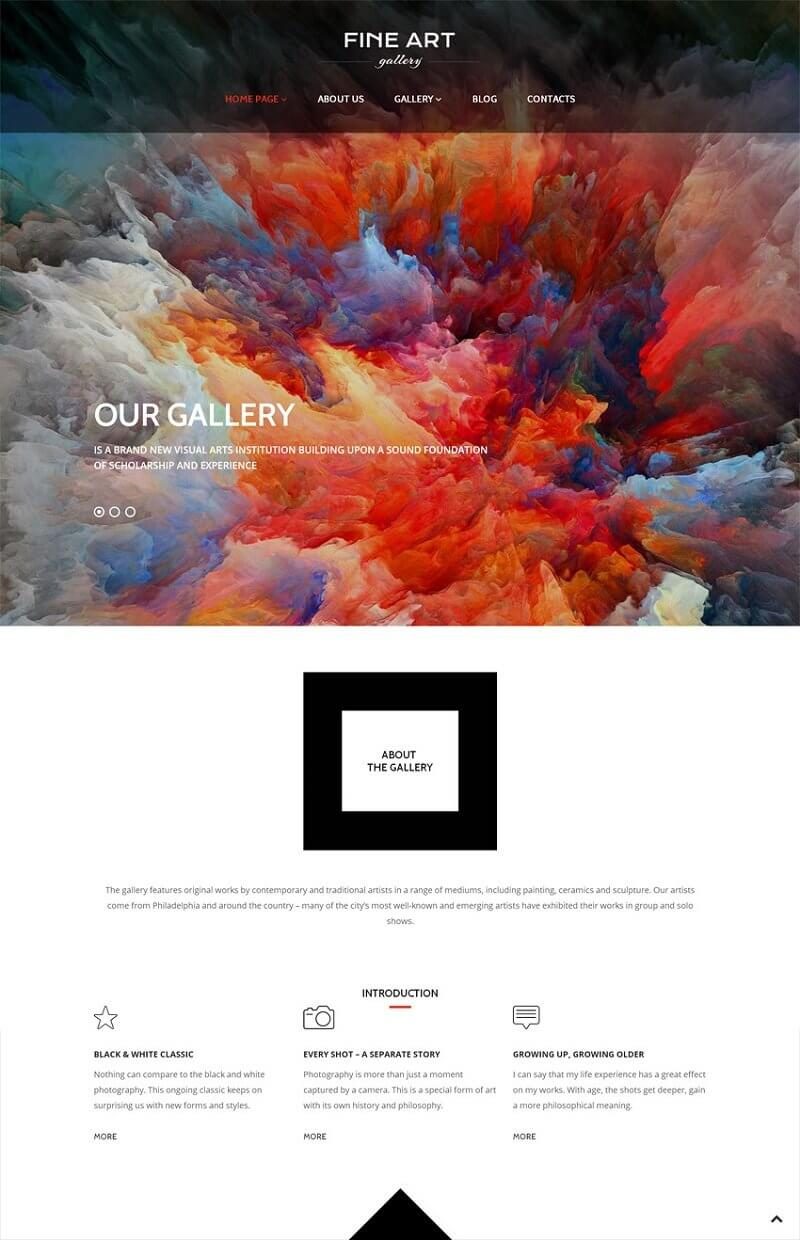 Artwork
It's an extremely gracious WordPress theme that caters to the need of art and photography related websites. The parallax effects keep the visitors engaged and they'll be able to focus on even the smallest details.
The splendid theme comes with tons of customization options with a variety of colors and fonts.
The theme focuses mainly on photographers, painters, an online museum, online art exhibition, interior or fashion design blogs, and other relevant niches.
The theme aims at presenting any creative work in an extraordinary manner and it's used exclusively by fine art creative.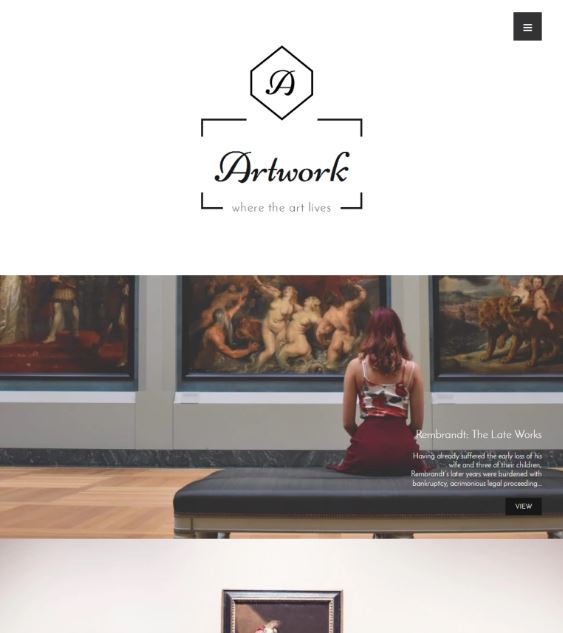 TheCurator
This premium theme for WordPress is suitable for artists museums trying to showcase their works with a chronological focus.
Some of the exciting features of the theme include touch gesture support, WP theme customizer, overflow text scroll effect, translation ready, POT file included, color control, semi-responsive layout, custom background support, etc.
You can control how to arrange the timeline content (by year, decade, century, or millennium). Parallax background effect is provided that gives a great user experience.
You can display any number of widgets in the info panel. The logo can be easily selected and customized according to your preferences.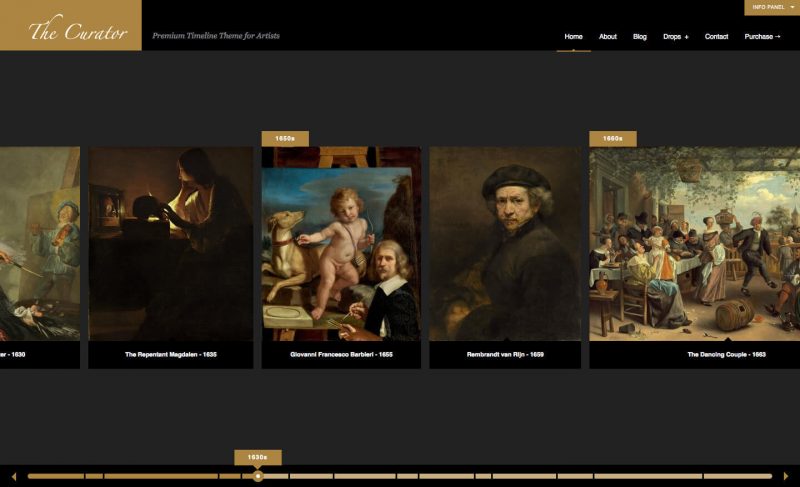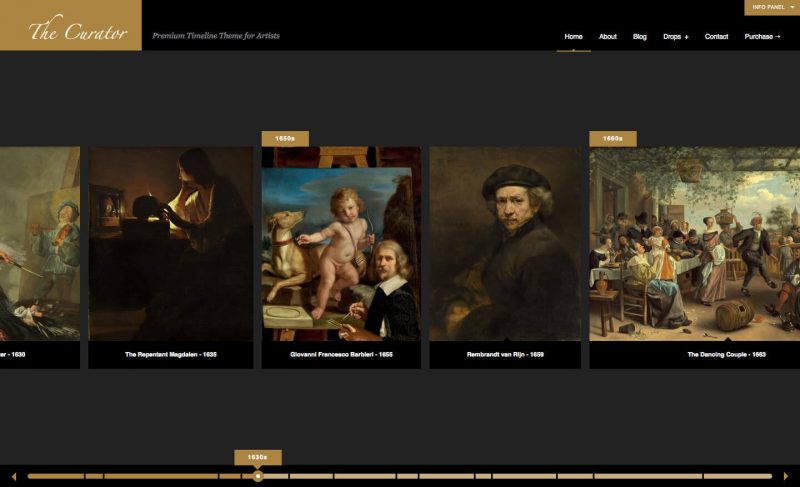 Avamia
This theme perfectly translates the uniqueness of your creation through a creative medium. The theme is designed by giving an emphasis on modernism, minimalism and by giving attention to detail while making every attribute.
It works exceptionally well for artists and photographers who are looking for a platform to showcase their skills. Some of the significant features include password and image protection, gallery navigation, keyboard navigation, logo, and menu positions, multiple color options, and there are 5 color palettes for a great website.
Many social media or network icons like Bitcoin, chrome, Facebook, Dropbox, Github, Tumbler, etc are incorporated into the theme Avamia.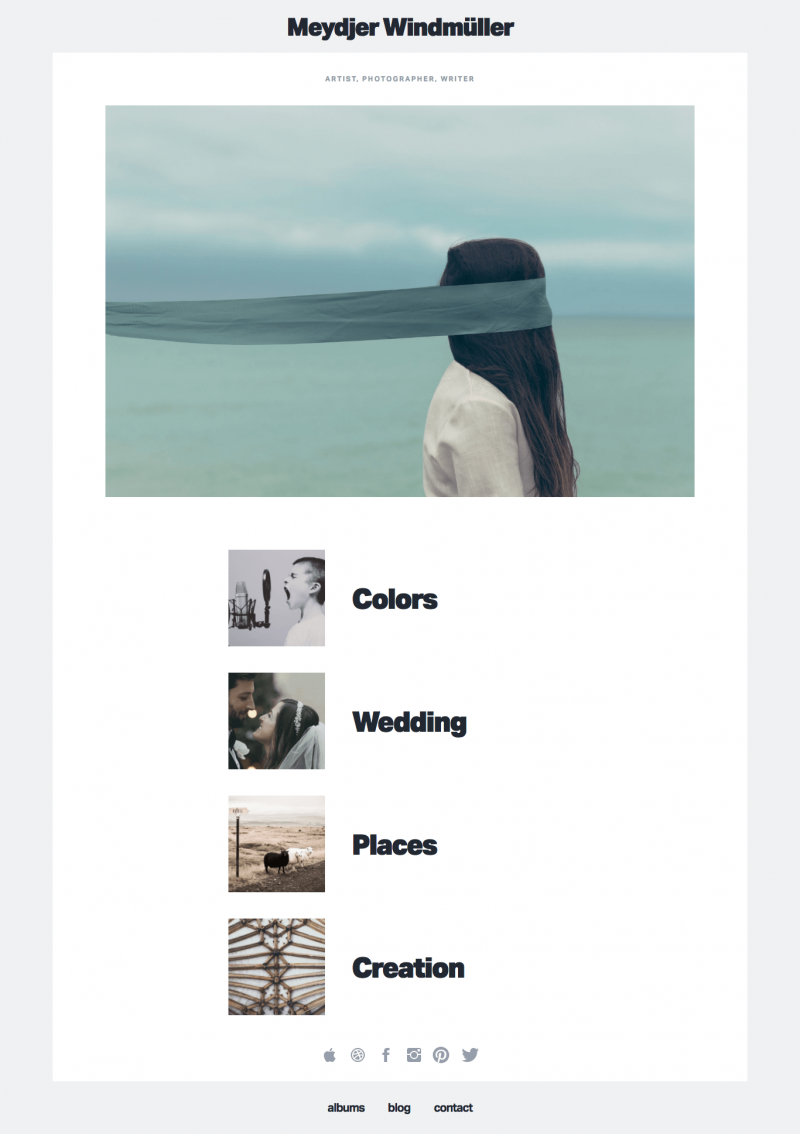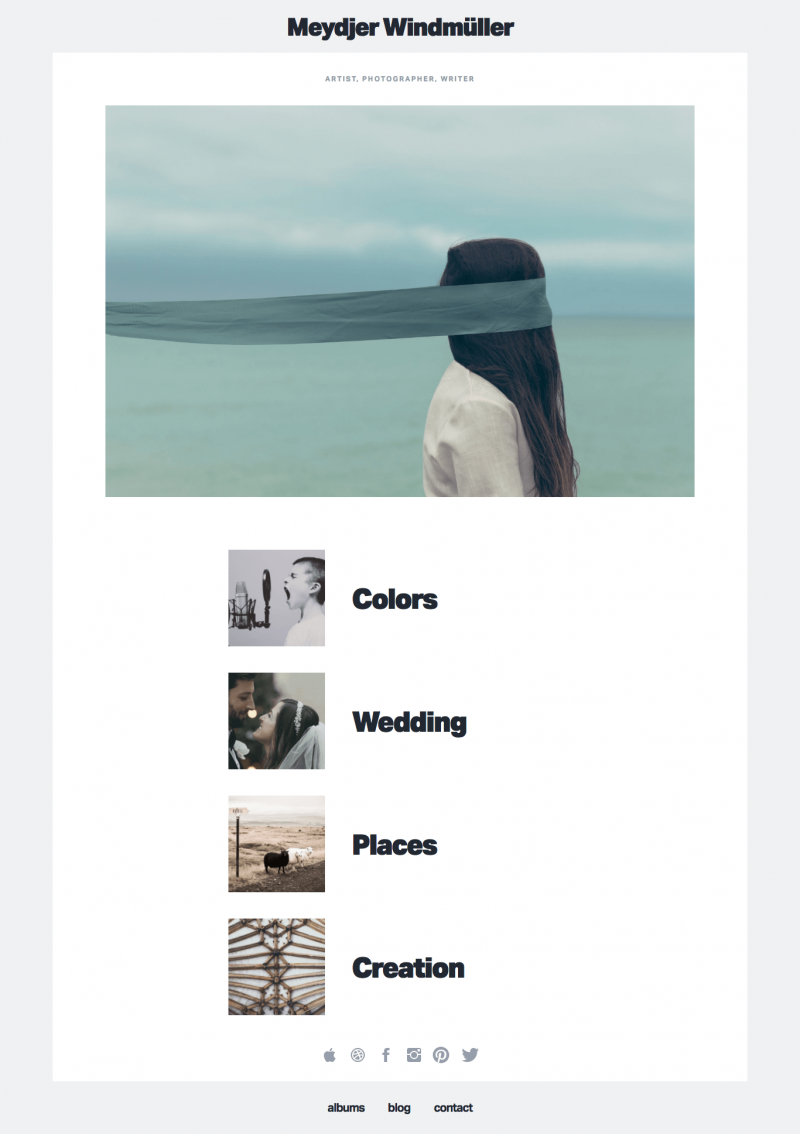 Viking
The theme is perfect for any company or agency dealing with creative works. You can easily create a page using the visual page builder and can avail the service of awesome Add-ons.
The theme boasts more than 5 header layouts and a lot of other interesting functionalities.
The fully responsive theme provides a flexible navigation with many additional options. The theme is highly optimized for speed and it provides full retina support.
It is built on HTML5 and CSS3 framework and it provides many amazing widgets. The admin panel is quite powerful that supports all post formats.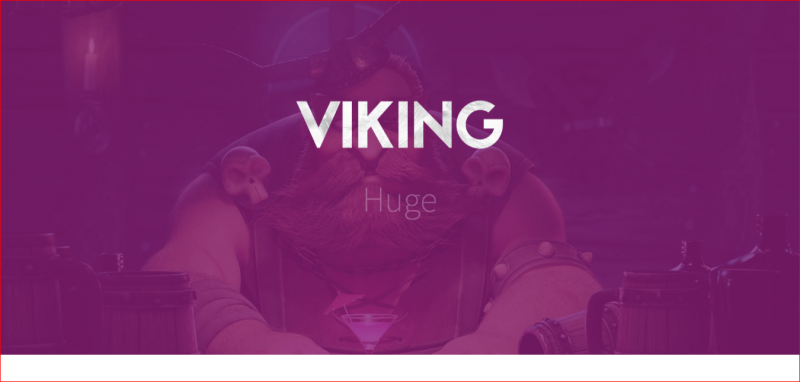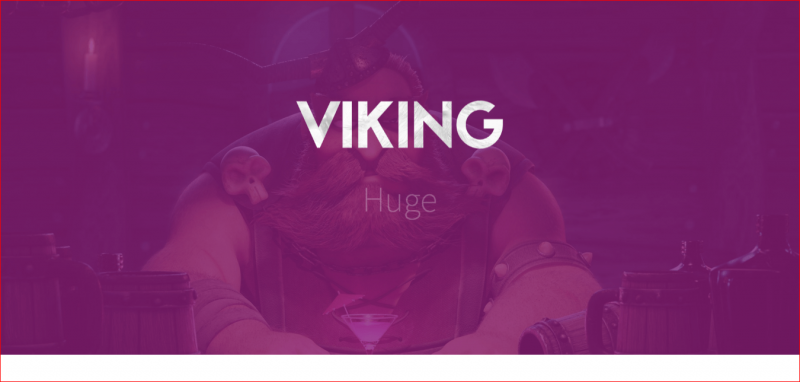 Arte
Yet another premium WordPress theme suitable for art galleries, it's an ideal solution for websites dedicated to museum gallery, exhibition, exposition, or other creative display businesses. The theme is a great choice for all types of art galleries like painting, sculpture, photography, drawing, visual art, costumes, etc.
The theme is tailor-made satisfying the needs of the gallery and you can find amazing functionalities like collection grid, events schedule, timeline, journals, etc. The theme comes with an Xtender plugin which is a powerful tool to improve the client's WordPress experience.
Features like custom elements, sidebars generator, custom shortcodes, custom widgets, custom options for footers, etc comes along with the plugin.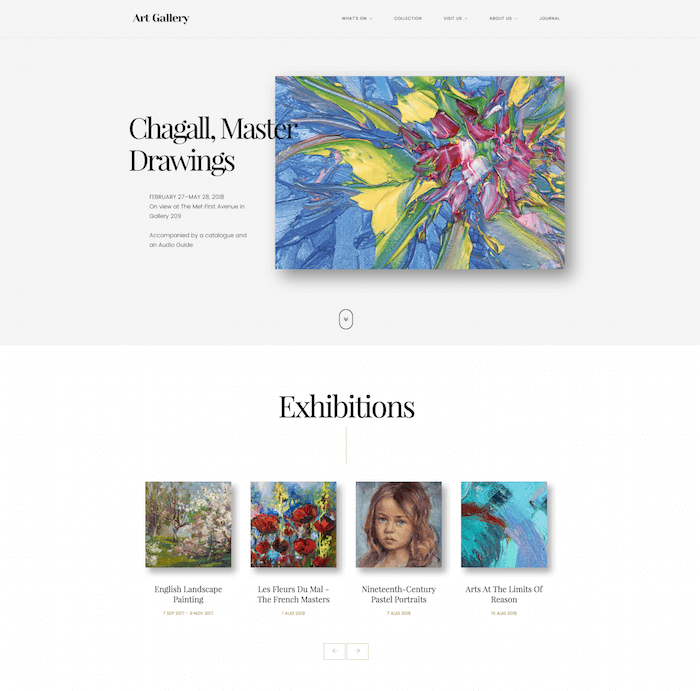 Forest
Forest is a vintage collection which allows you to build websites in no time and spread your creativity to make impressive websites. It was designed with great effort to make it look perfect.
The retina display makes your site look splendid in retina devices like iPhone, iPad, MacBook, pro retina, etc. Forest make use of the latest version of the unique page builder so that the website will load very fast making it easier to update functions and widgets.
It's both speeds optimized and mobile optimized. Some of its captivating features include exclusive page builder, simple for development, unlimited layout, lightbox plugins integrated, portfolio, custom page design, sidebar options, etc.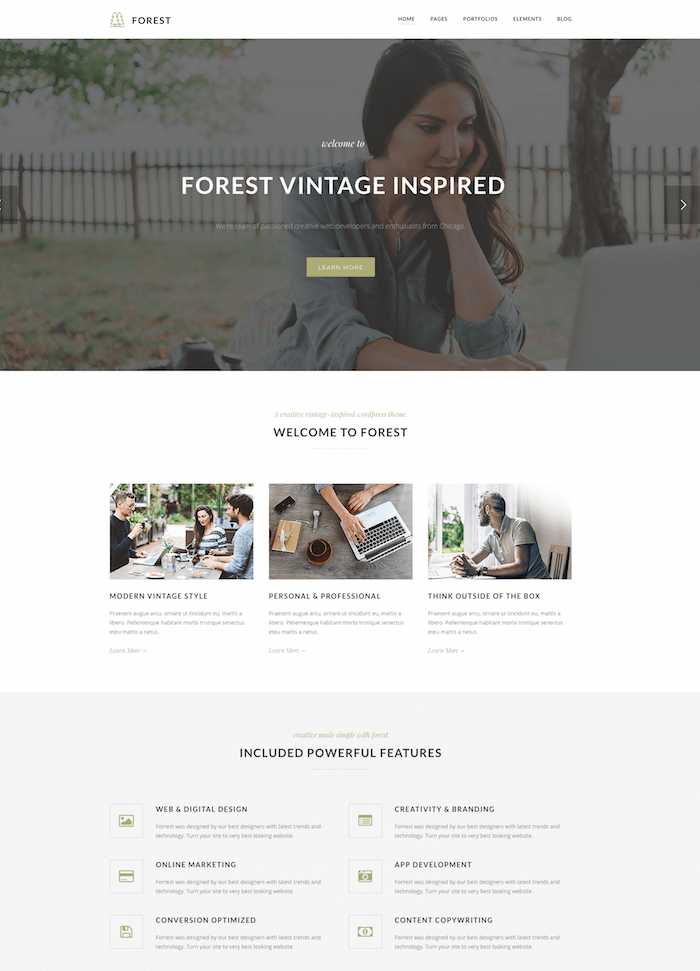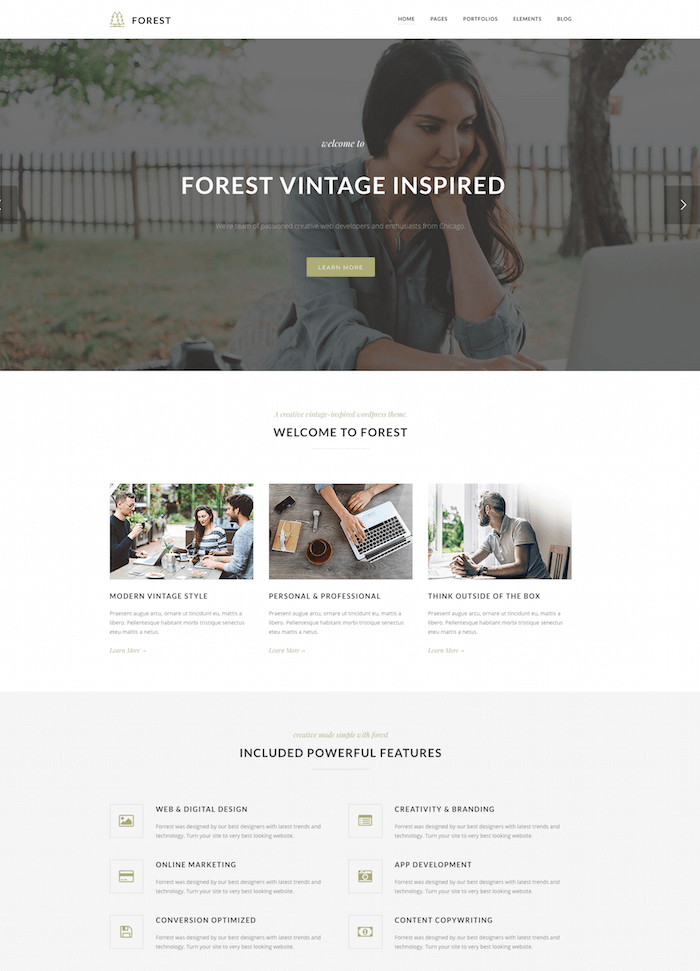 Heeey
It's a gorgeous and highly functional art gallery theme which is perfectly crafted with many attractive plugins. If you are on the edge of making an online art gallery, this is the theme which you need to definitely give a try.
The theme is highly compatible with any level of users; plus, you require zero coding skills to manage it. You can now easily embed an online schedule for exhibitions and other related events with the help of plugin made exclusively for booking appointments.
You can show up your company's details and services through the testimonials provided in the theme. It's a truly SEO friendly theme that allows you to edit your website in a visual mode.