Knowledgebase Wiki WordPress plugins can help you quickly convert your WordPress site into a wiki-style informative website.
There could be some reasons why you would like to create a site like that. If you are managing a niche business and you want your users to know more about that business, you can create a wiki site.
If you are selling any product and want to create a support site, you can create a knowledge base site so that it becomes easier for your users to stay updated.
No matter what your objective is, getting started with your support site or knowledge-sharing website like Wikipedia is a lot easier with WordPress as you have some amazing plugins to get that done quickly.
Now for this article, we will be focusing on the Best Wiki WordPress plugins. So without further ado, let's get rolling.
What Are The Best Knowledgebase Wiki Plugins?
Here are some of the best premium & free knowledge base, wiki, documentation plugins that you can use on your WordPress site to create your support section.
BetterDocs
A powerful knowledge base WordPress plugin that you can use to take your customer support section to the next level. It comes with the most comprehensive solution when it comes to creating a complete support portal.
You can make it easier for your users to find content on your support portal and make it a self-help section so that your team has the time to focus on other important tasks for your business.
The plugin comes with a great-looking ready-to-use design template for the knowledge base section so that you don't have to keep doing it from scratch.
It offers you a website builder as well as a number of shortcodes to customize the section as per your need. The scrollable table of content will make it easier for the users to find the content.
It also comes with an advanced live search option so that the users can quickly find the answers they are looking for.
Once you are ready with a complete knowledge base for your product or service, you will not able to spend hours solving your customers' queries as they will be able to find answers to most of their questions in the support portal.
The comprehensive support portal will also give confidence to your potential customers to buy your product.
All you need is a great support portal plugin like BetterDocs to get started.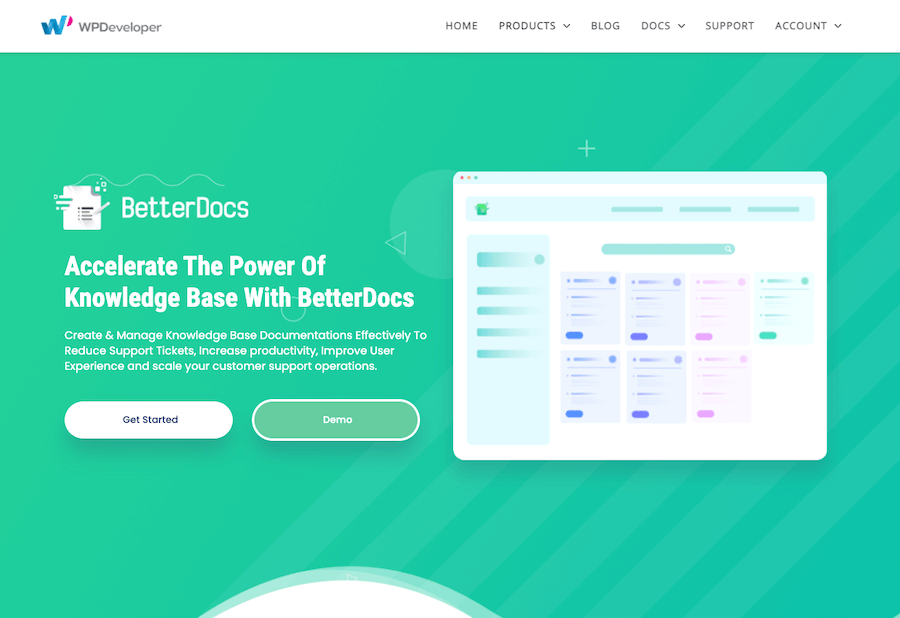 Helpie
Helpie is the most advanced Knowledgebase Wiki Plugin for WordPress. Helpie is the first plugin to come with full-fledged wiki features like the front-end editor where any users can add content from the front-end.
The revision system shows all the revisions done by the users and the admin can approve any of the revisions and can revert back to any previous revision as well.
You can also assign capabilities to users with 'who can edit the article', 'who can publish the article, and 'who can approve articles and revisions'.
Besides this, there are a plethora of features like live ajax searching, the ability to restrict user access, password protection, article voting, table of contents, and many more.
There are also shortcode support, breadcrumbs, integration with page-builders like Elementor, plenty of new templates, and plenty of other useful features.
With this bountiful of features, Helpie's price is even more exciting for the best Knowledge Base Wiki solution with complete support from their support team.
This plugin helps you to create a community and collaborate with your team who can contribute to your support site. Your users will also be able to contribute to the support process making it a complete community-driven support system.
The plugin offers you beautiful theme options. You can use these demo templates to create your wiki site.
You will have built-in style options for the support documents that you can further enhance using the Elementor page builder.
It also allows you to create a full-fledged demo site to try out its feature before you buy it.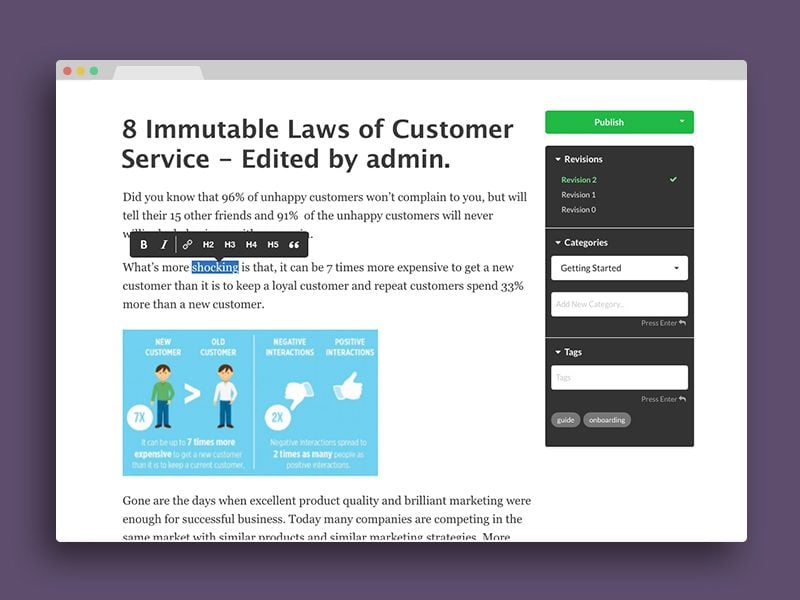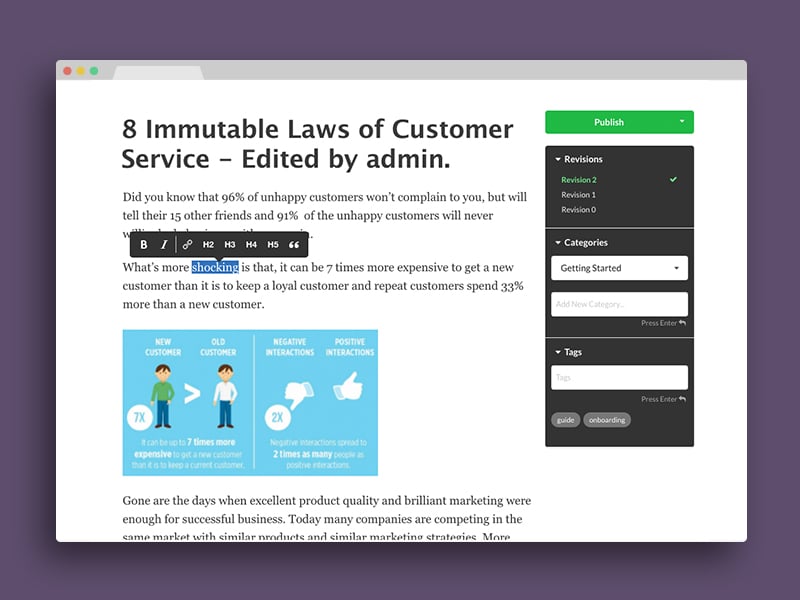 BWL Knowledge Base Manager
Starting off our list, we have BWL Knowledge Base Manager – one of the most popular knowledge base WordPress plugins on the market.
It is a premium plugin but gives you all the important functionalities that you will need to run a high-quality knowledge-base website.
One of the key aspects of the plugins is that it is super user-friendly and doesn't require the user to have high/demanding technical knowledge.
It also offers a stunning mobile-friendly grid layout style to showcase all your content. You can categorize your content based on categories and display them in an organized hierarchy.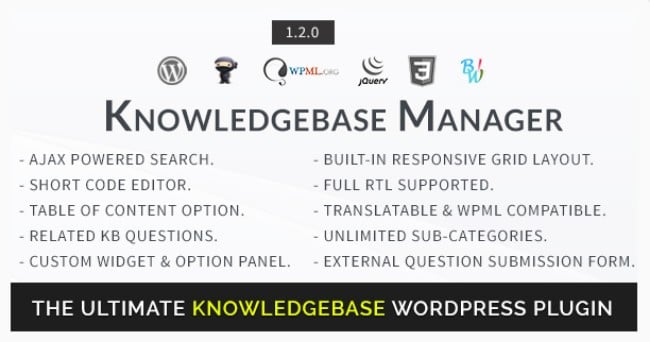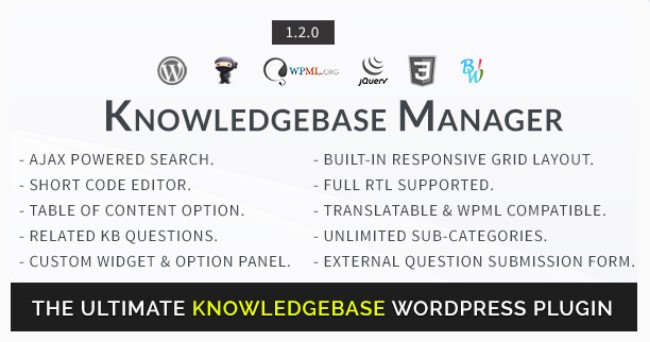 Knowledge Base by PressApp
Knowledge Base is another one of the best-selling WordPress plugins for the discussed category. The key idea of the plugin is to create self-service help desks on your website that resemble wiki-style pages.
This is also another one of the premium plugins in this category and more on the expensive side. And so you can expect a lot of useful features.
Notable ones include drag-and-drop knowledge base posts, category counts, search widgets, translation support, and responsive design. Their customer support is also widely acclaimed.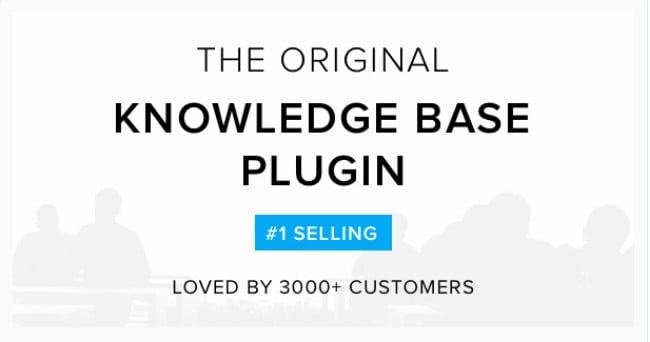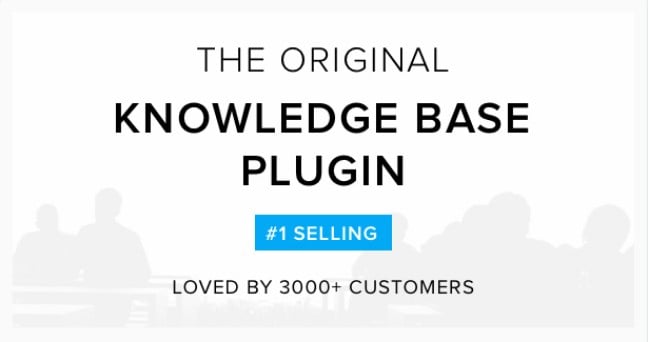 WP Glossary
Here is a WordPress plugin that will help you add your own glossary of terms for your Wiki website or online encyclopedia.
The plugin works using a custom post type which gives you a full editor at your disposal. But you will also be able to use any of your existing post types if that is what you want.
Some of its feature highlights include the option to show glossary items with animation effects, the ability to hyperlink terms and phrases to posts and pages to enhance SEO, the functionality to show a tooltip window on mouse hover and a whole bunch of custom styles and shortcodes.
The plugin is also super easy to setup and use.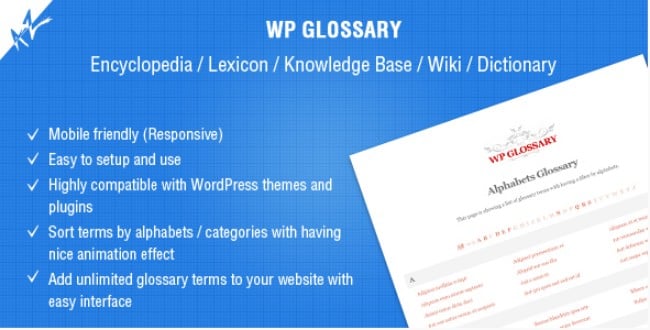 MinervaKB Knowledge Base for WordPress with Analytics
MinervaKB is another Knowledge Base WordPress plugin that users can use to create their wiki. However, it does come with a whole lot of features that can be considered to be a lot more than what is actually needed by such a website.
It has been mainly created to serve as a powerful knowledge base plugin.
The plugin brings rich features such as a life ajax search option, content shortcodes, an analytics dashboard, Google Analytics integration, content restriction, like and dislike button, color customization, nested topics, and much more.
It is also SEO-friendly which is always a plus.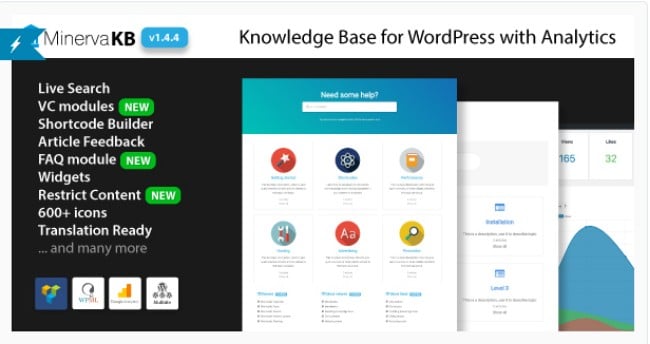 DW Knowledge Base Pro – WordPress Plugin
Here is another one of the affordable premium knowledge base WordPress plugins.
It not only helps to add a fully functional knowledge base to your site but also helps to improve the user experience by implementing various layouts, clean design options, rich features, and a whole lot more.
Mentionable features of the plugin include predefined layouts for the knowledge base index pages and archive pages, comment forms, breadcrumbs, article view statistics, a search form with article auto-suggestion, and much more.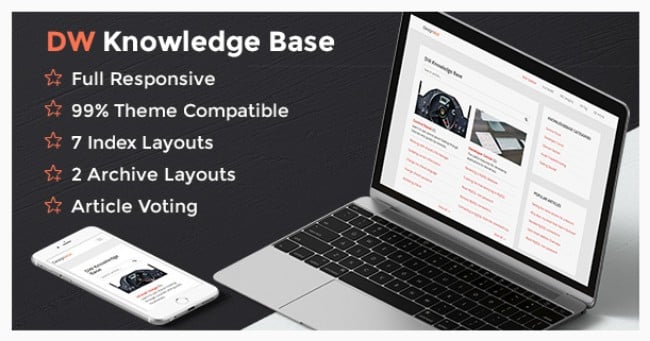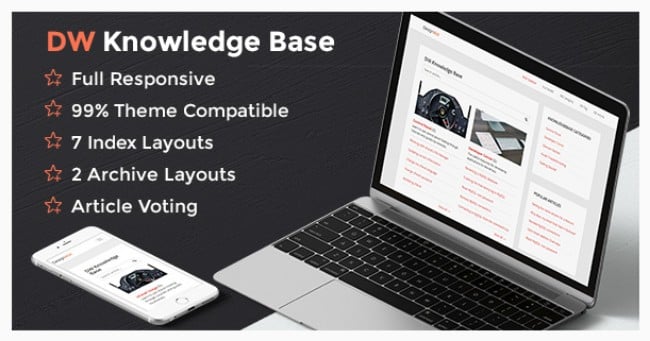 Wikiomatic
If you ever wanted to create an auto blogging site and get high-quality content from Wikipedia, this is the plugin you need.
This plugin will help you to import content from Wikipedia to WordPress and WordPress to Wikipedia, and all these will happen on autopilot.
Another amazing feature of this plugin is that it can change the generated content with their synonyms which is a great feature from the SEO perspective.
So, you will have regular high-quality content and you can make them unique on autopilot to avoid the duplicate content issue.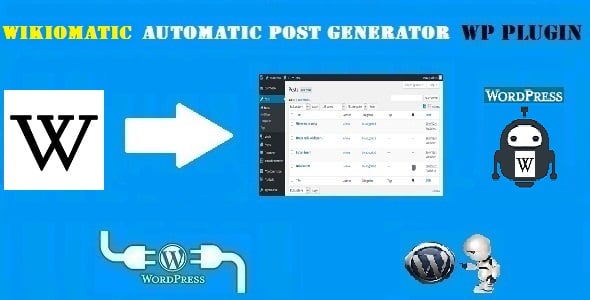 Up till now, we have been discussing much of the powerful, premium options you have to set up your wiki page. Up next we will be discussing some of the free alternatives.
weDocs
A simple free WordPress knowledge base documentation plugin that will help you to create detailed documentation for your product or services right on your WordPress site.
This plugin is created by the team behind popular WordPress plugins such as Dokan Multivendor and WP User Frontend Pro. So, you can expect a top-quality product as the team is experienced with WordPress plugins.
This documentation plugin will be helpful because even if you are a newbie, you will be able to take complete advantage of the plugin and create your documents using the same WordPress environment.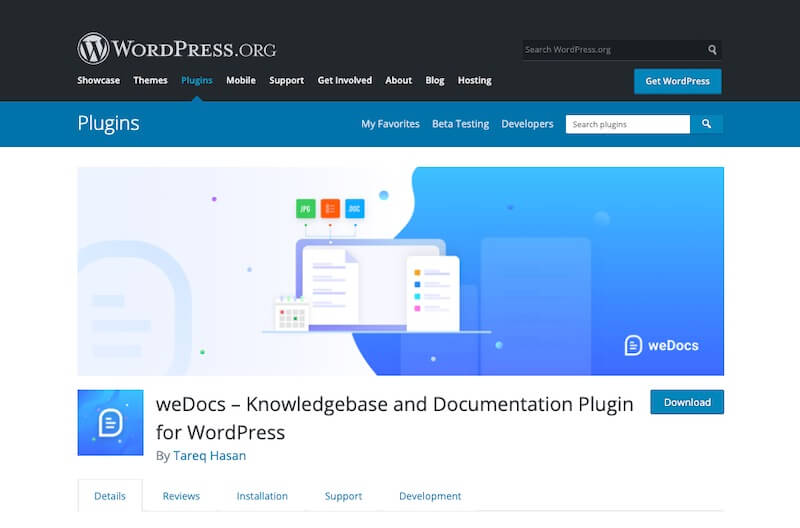 Echo Knowledge Base
A free and useful wiki, documentation, FAQ plugin for WordPress with five stars rating in the WordPress repository. This plugin will be very helpful while you work on the support section of your site.
This plugin will make it simple for you to create your knowledge base section for your product with all possible questions and answers.
Over 10k users are already using this theme. You can fully customize the design of your support section created with the Echo Knowledge Base plugin.
It comes with a number of different themes and color schemes to make sure that you are able to make it match your site completely.
Here are some of the key highlights of the plugin.
26 Ready to use themes
Advanced search option for your documents to make it easier for the users
Automated table of content
Over 500 icons and the option to add your own icon
Beautiful ready template for the FAQ section
And a lot more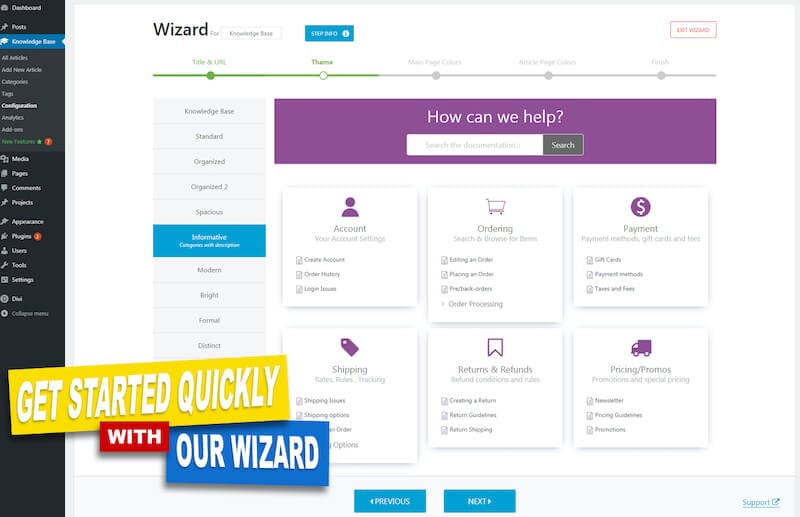 Very Simple Knowledge Base Plugin
Very Simple Knowledge Base Plugin is a WordPress plugin, and as the name describes, it is a simple means for creating knowledge bases like bulletin boards, FAQs, link portals, and Wikis.
The plugin makes use of the WordPress built-in system, so all you need to do is use a shortcode for showing the categories and posts in the desired columns.
It can help you display your categories and posts in 3 or 4 columns of a page. The plugin is also mobile-friendly and reduces the number of columns to 2 when viewed from a mobile device.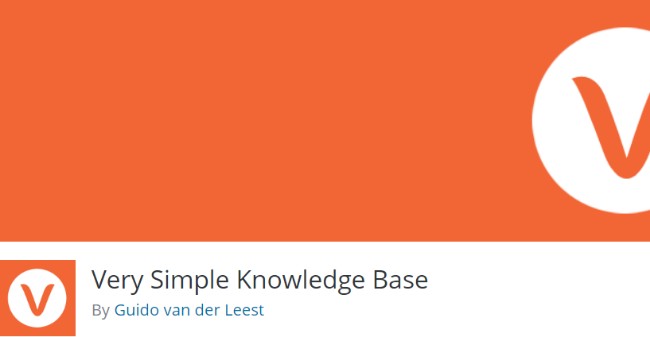 Encyclopedia WordPress Plugin
Encyclopedia is a free-to-use wiki/ dictionary/ encyclopedia plugin for your WordPress website. It allows you to create, manage and present your knowledge base with seamless integration with your WordPress website.
Besides this, the plugin can also help with cross-linking your website content, as well as add your own glossary to give you a search engine boost.
Other features include auto-generated index pages, SEO conform URL structures, tags, and categories for classifying items, a prefix filter, WPML compatibility, and much more.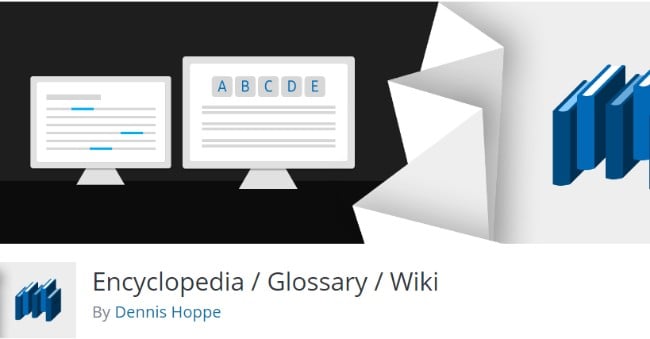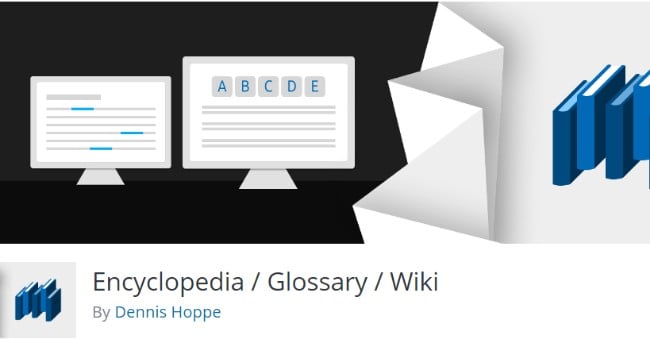 Yada Wiki
Yada Wiki is a basic Wiki WordPress plugin that comes with the necessary options and features to help you build your Wiki.
You will get a wiki post type, custom tags and categories, indexing, table of contents option, and so on. You will also be able to link your wiki pages together using the wiki page titles.
On top of these, there are shortcode buttons to help you easily add wiki links and wiki listings. There is also a sidebar widget to help you show the TOC page and a list of article titles for a given category in the sidebar.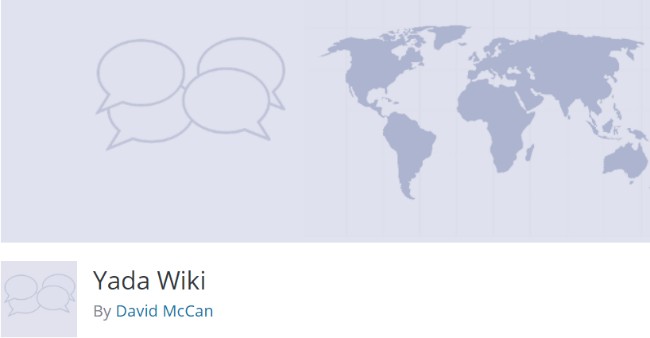 WP Knowledgebase
WP knowledgebase WordPress wiki plugin helps you to create an attractive professional knowledge base. It is super easy to use and is highly customizable.
You are given total customization control over your catalog presentation including the theme colors, sidebar layouts, number of articles to showcase, and so on.
Other useful features of the plugin include super-fast predictive texts, the ability to turn on or off comments on your knowledge base articles, a drag-and-drop option to reorder articles and categories on your site, integrated breadcrumbs, an editable slug, and a whole lot more.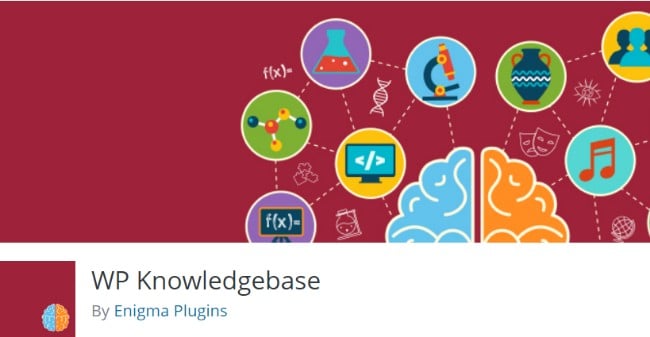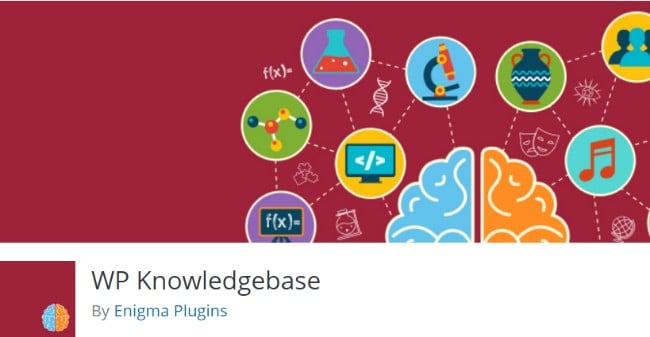 BuddyPress Docs
If you are managing a BuddyPress-based community site and looking for the best wiki plugin, this is the option for you.
It is one of the most comprehensive WordPress plugins that comes with comprehensive multi-level privacy options.
You can link it to groups, users with custom privacy settings. The plugin supports the private document upload option to make sure that you are able to share documents with other users, groups in the site while it is not available to the public.
If you are managing an intranet site using BuddyPress and looking for an option to share documents with all the users in the group, it comes with version history to keep everyone in the group on the same page and go back and forth while managing the project.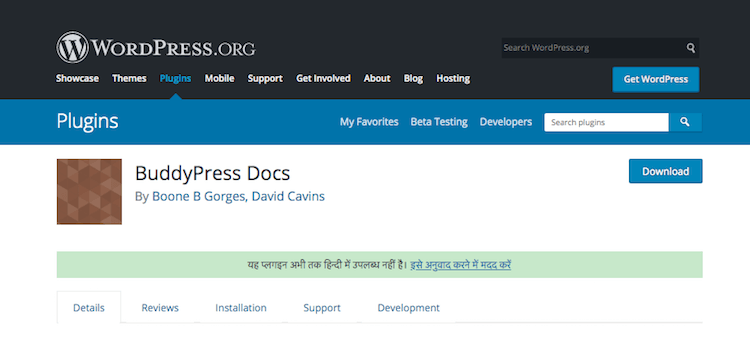 FAQs About The Best Wiki Knowledge Base Plugins
Q1. What is Knowledge Base?
Knowledge Base is an information section on a website where the users of the site can find the answers to all possible questions so that they don't need to spend time contacting the support team.
Q2. How a Knowledge Base Section Can Help?
A comprehensive knowledge base section can be very helpful for the business as well as for the users. If you are offering any product or service on your site, you can create a wiki knowledge base section on your site with all possible questions and answers.
This section will help you to save a lot of productive time that you will otherwise spend on replying to customer queries. Also, it will help the customers to find the answers to their questions quickly.
Q3. What Are The Best Knowledge Base Plugins?
There are a number of top-quality wiki knowledge base WordPress plugins that you can use to create a support portal on your site. You will find the top wiki plugin options in this list. You can use plugins like BetterDocs as it is a comprehensive solution.
Q4. Do I Need a Wiki Plugin to Create a Knowledge Base?
It is not mandatory to use a plugin to create the knowledge base section on your site. However, it is certainly helpful if you use a quality plugin as it offers you all custom features to make the section work much better.
In Conclusion
So this was our list of the best wiki WordPress plugins including the free and premium options. Do let us know if you will be using any of the mentioned plugins for creating your Wiki.
Also, if you happen to know any other powerful wiki or knowledge base plugins for WordPress that we forgot to mention, do mention them down below in the comments sections. Your contribution will help prove to be valuable to your fellow readers.