A collection of best question-and-answer WordPress themes that you can use to create your Q & A community like Quora.
WordPress Themes allow users to change the look and functionality of a WordPress website without changing the code or site contents.
It is designed using WordPress standards with structured PHP, HTML, and CSS.
Question and answer WordPress themes are used for knowledge, help support, live chat, coding, marketing, or forum.
These great themes are come up with all the needed support we require and have your forums or questions and answers running with all standard functions.
In this post, I have included the best WordPress themes for the question and answer related websites.
Discy
Discy is by far the most elegant question and answers theme available currently. I love the design of the theme, it is ready to compete with the best in the business.
This theme offers you everything that is required to create a high-quality Q & A site like Quora. The amazing use of white and gray color makes it look very professional.
Though, the theme offers you unlimited color options to make sure that you are able to style your site the way you want.
The Discy theme offers you a beautiful presentation and amazing performance to make sure that it is able to handle a high-traffic setup.
The theme is fully responsive and retina ready to make sure that your site looks great on all devices. In fact, the theme is mainly optimized for mobile devices.
You will have a great-looking user profile on your site with all the important details that are required so that other users can quickly visit any profile and follow them.
The theme comes with the following user option, a user badge system to highlight users depending on their activity on the site.
The users will have a detailed and easy-to-use question submission page and other users can easily answer them. You have the option to categorize the question depending on if they are answered or not.
The theme comes with a powerful admin panel but all the user-related activities can be managed from the front-end of the site.
Other than general questions the theme offers you the option to create polls that are super engaging content types on the internet, so you don't have to use a separate poll plugin for that.
There is the traditional upvoting option to let users know about the most accurate answer with more votes.
Overall, it's a recommended theme if you wish to create a quality Q & A site.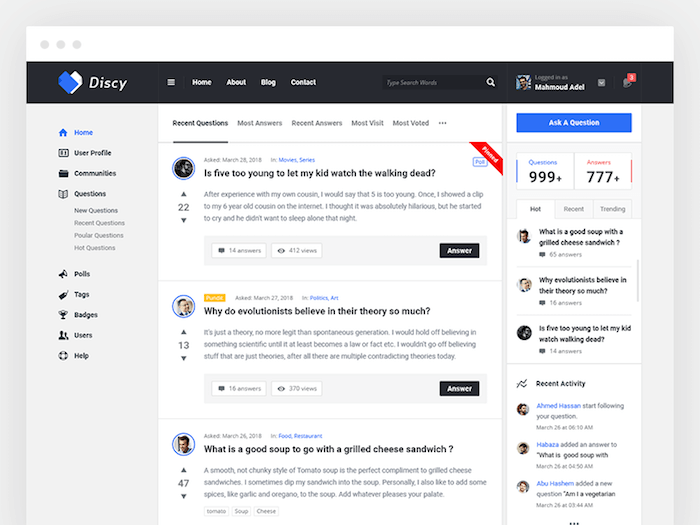 QAEngine
QAEngine is a new theme for WordPress questions and answers from "Engine Themes." This theme contains all the things you need to build, and it helps encourage your visitors to sign up.
This WordPress question and answer theme are highly configurable, modern, and attractive designs.
QAEngine includes a "Point scoring system" which allows users to grow and earn privileges based on interaction with the content published. It also has "Up and down the voting system" for rating the answers, to help the best content rise to the top.
Some key features of QAEngine are a monetizable question pump, responsive design, natural questions, quick user interactions, best answer checkmark, user badges & point system, and more.
Ask Me
Ask Me is a fully responsive WordPress theme for questions and answers. Its features are a bold and modern design that follows the flat user interface and material design trend.
Ask me includes pre-built color schemes and custom color pickers which are used to provide its flavor and personality.
This theme contains three homepage layouts that enable you to pick the right style for your website. The styles extend to the entire site, including registration, login, and question and answer submission pages.
Some notable features include an amazing control panel, ten predefined color schemes & unlimited color, three header layouts; edit profile, user follow question and answer, and more.
DW Helpdesk
A minimal and clean WordPress theme for question and answer forums. This is a great theme option for product support websites.
It's a fully responsive and retina-ready WordPress theme making it look great on all devices. This theme includes a few useful premium plugins that you get free with the theme.
You can create the knowledge base section, FAQ section and customize the overall look and feel of the theme to make your site look unique.
Disputo
Disputo is a theme created to work perfectly with the bbPress forum plugin. When we talk about the best forum plugins, bbPress is the most popular name. It has been around for years and offers the service to create fully optimized forums.
Like BuddyPress, bbPress also needs a compatible theme that supports the plugin. Disputo is a great modern theme created to work out of the box with the popular forum plugin.
In fact, this theme will take your bbPress forum to the next level.
This theme comes with a number of features that will help you to create a complete Q & A community. It offers the option to allow your users to submit content or question using the front-end form, it comes with live and dislike rating system so that other users can quickly find the best answer in a thread.
Another important feature offered by the theme is the private messaging system. So, all the users can discuss with other users in the forum just by messaging them.
If you wish to add an online store to your site, you can do that easily by adding WooCommerce as the theme is fully compatible with the WooCommerce plugin.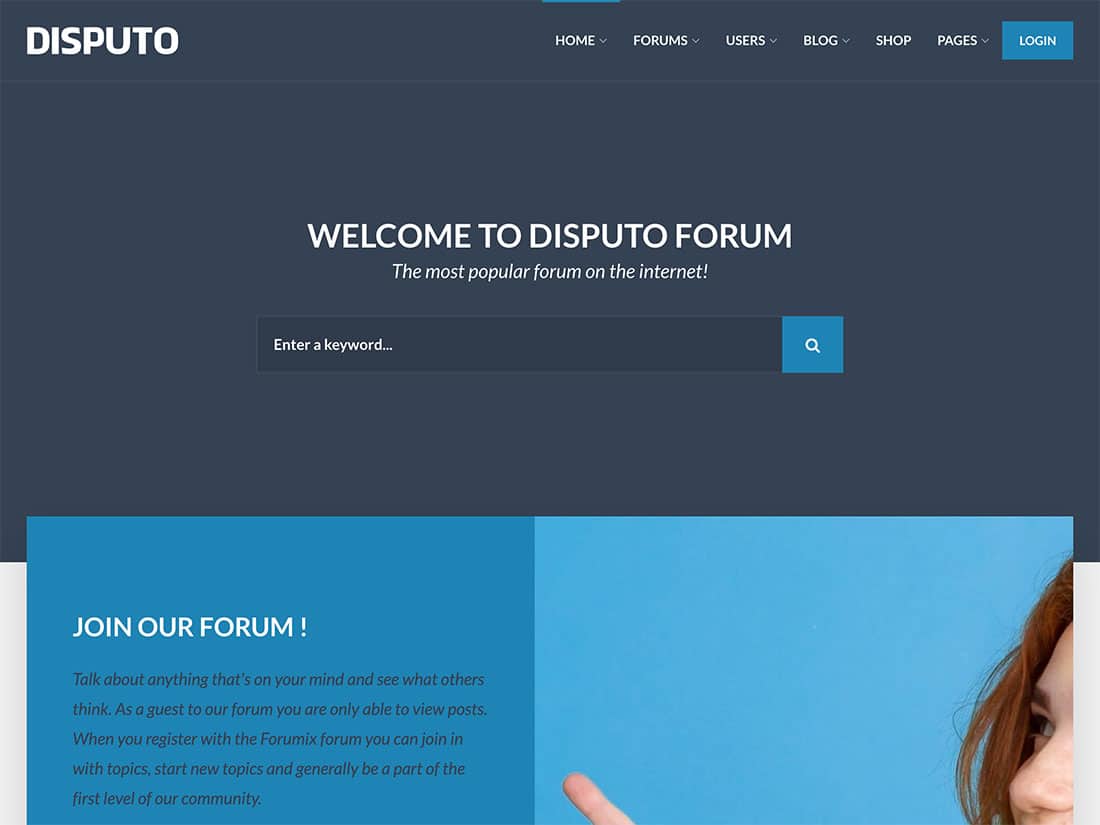 CyberChimps – Q & A WordPress Theme
CyberChimps Responsive theme is a perfect WordPress theme. It comes with a ready-to-intall site for Q/A, FAQs, Knowledge Bases, Forums, Online Communities as well. 
This very theme consists of a detailed question layout. The same may be integrated with many features like Filter, Sort, Pagination, etc. The theme is more useful with WP Answers plugin integration. This is why it makes this theme more powerful as a WordPress Question & Answer theme.
Import Q&A: One can easily import questions and answers from Stack Exchange using this WordPress Theme. This way your community will have all the content to read right from the start.
Voting System: Users can mark the answers given to a  particular question. They can upvote, downvote or pick winning answers. There's an option to reward the best answers. 
Moderation: When integrated with WP Answers plugin, it has an inbuilt spam protection system.
Ask Question: Users can ask questions using the simple steps in the form. Users can set titles, provide detailed descriptions, select the category, and write tags.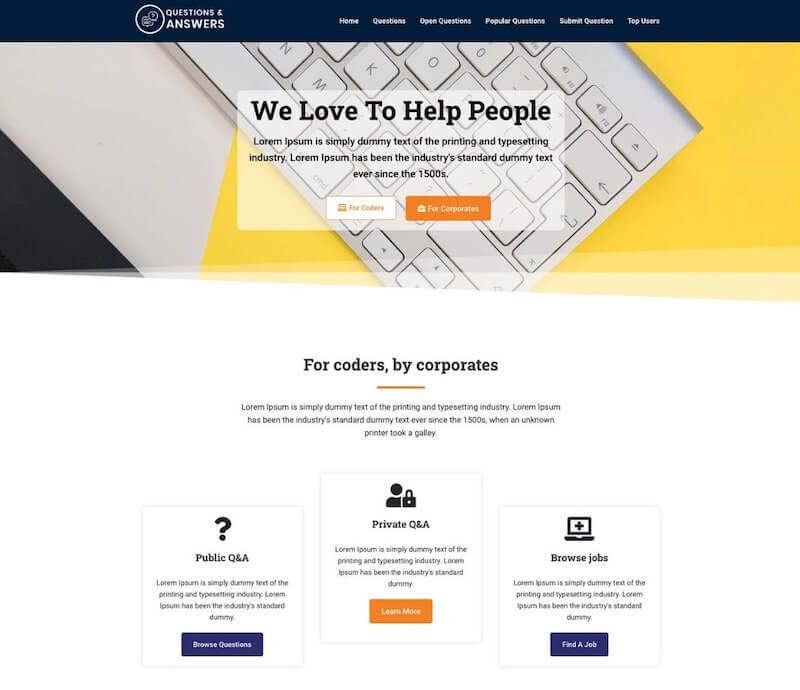 Answers
Answers WordPress question and answer theme from "Templatic Themes" has the capability of turning your WordPress site into a full-fledged question and answer portal. Questions and answers can submit the front-end forms.
Users can vote for the answers, with the help of a question starter that can declare the best answer. The theme integrates with PayPal and makes a good choice for anyone looking to set up a commercial question-and-answer website.
It is compatible with most of the plugins like WooCommerce, Google XML, Gravity, WordPress SEO, and Total Cache. Some key features are a custom register form, user dashboard, vote on answers, translate answers, and more.
Knowledge Base
Knowledge Base is a great responsive theme for question and answer and is much loved for its amazing ability to provide immediate answers to customer queries.
We can customize it easily as per our needs and have a responsive theme that carries all the features needed for running a robust knowledge base useful shortcodes, article attachments, handy widgets, and a translation-ready facility.
Some notable features are article ordering, category ordering, plugin compatibility, article tags & comments, WPML compatible, online documentation, and more.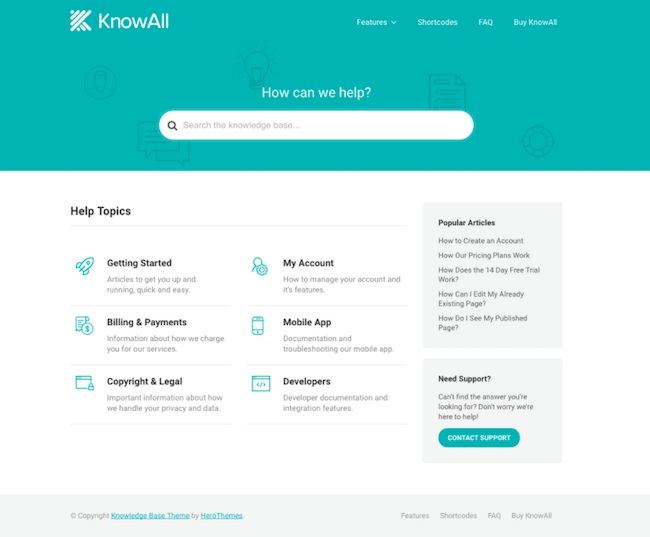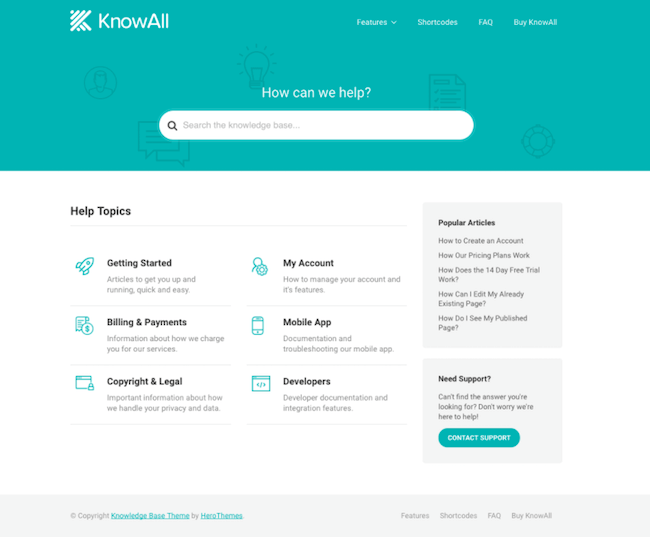 Global Tech
Global Tech is a responsive knowledge base question and answers the WordPress theme.
Adding a discussion forum to our website is very easy as the Global Tech gets integrated with the free and popular bbPress plugin and gives a consistent look, and feels users switch between the online documentation and forums.
A notable feature of this theme is it supports high-resolution retina displays and icon integration. Some other features are super-duper customizable, live search, AJAX Thumbnail Rebuild, and ten widgetzed areas, built with Bootstrap 3, retina-ready, integrated social sharing, and more.
Flat Base
The flat base is a knowledge-based question and answers the WordPress theme. It is nicely crafted and a complete all-in-one solution for customers to create their own platform.
It's a clean and detail-oriented flat design that provides support articles, informing and teaching users. It offers tons of nice features with the help of Knowledgebase, FAQs, and forums. This theme reduces support costs and saves time and money.
Some key features are bbPress integration, FAQ templates; AJAX based live search, different layouts, 700+fonts, a powerful options panel, gallery template, SEO Optimized & clean code.
Sentric
Sentric is a support forum and knowledge-based WordPress theme. It supports both the knowledge base and FAQ sections with a focused theme.
The forum is a powerful bbPress plugin added that eases managing support requests from customers additionally. It contains three filtered Forum Monitor namely filter by status, filter by
It contains three filtered Forum Monitors namely filter by status, filter by an assigned member, and filter by replies.
Some main features are specific forum search, quick summary, knowledge base voting, FAQ accordions, color pickers, visual shortcodes generator, SEO optimized, WPML multilingual ready, and more.
TechDesk
TechDesk is a helpdesk WordPress theme for the question and answers business site. It requires no technical knowledge or professional expertise as it is a clear way to create your help desk, FAQ, and knowledge base information.
The theme is powered by the SMOF Options Panel which provides additional options to manage any aspect of the theme, and it is best suited for both beginners who have no coding knowledge and developers.
Some key features are supported RTL languages, built with Bootstrap 3, nine custom widgets, unlimited homepage layouts, minimalistic design, awesome font icons, and more.
ForumEngine
ForumEngine is a flat responsive WordPress theme for a question-and-answer site.
Get the things done in the front end and visit the backend occasionally to modify some initial settings. With the use of this theme, we can do more creative work rather than struggle.
Some main features include sticky threads, infinite scroll or pagination, log in to Facebook & Twitter, quick search preview, title badges for different roles, two levels of replies, follow threads, set members as moderators, and a dedicated mobile version.
It supports common features like easy administrative tasks, a simple interface, weekly updates, front-end controls, and more.
Q1. What Are Q & A Themes?
Q & A themes are used to create a question-and-answer type of website. These themes come with all the features and options that are needed for the question & answer forums.
Q2. Does Question & Answer Type of Sites Work?
A quality question-and-answer site can drive millions of traffic. All you need is quality content and an active community. Sites the stack overflow, Quora gets millions of traffic every month.
Q3. Can I Create a Q & A Site Without a Custom Theme?
Yes, you can. However, having a custom theme created for a question-and-answer type of site is certainly an advantage. You will need features like front-end posting so that your users can contribute to your site.
Q4. What Are The Best Q & A Themes?
The themes we have listed in this article are the top options when it comes to creating a question-and-answer type of site.
Endnote
These Q&A WordPress themes are suitable for various niches. You can create a nice community of users helping each other with solutions. You can have your own Reddit!