A collection of best minimal WordPress themes that you can use to create a clean interface for your site and offer a distraction-free reading experience to your users.
WordPress users have the option to use a plethora of different themes which can change the site's aesthetic and design to create a dramatically different user experience.
And when it comes to design the minimal WordPress themes always works as it offers a distraction-free experience to your users.
Generally, people see the minimalist design language mostly as a style preference. However, it can also help to improve audience engagement level as well.
You see, if the site is too flashy, then users might get distracted from the main content. But while using a minimalistic theme, your content is always under the spotlight.
Now, if you are interested in trying out your hands at some interesting minimal themes for WordPress, then we suggest you start out with some free options.
We have scavenged throughout the internet and have brought you a list of the most feature-full and wonderfully designed minimal WordPress themes in the market.
So without, further ado, let's get started:
Top Clean & Minimal Themes
---
XClean
Starting off our list, we have XClean WordPress theme. The free theme boasting a minimal design has been curated for blogging as well as for e-commerce use.
The design is such that the focus of your audience will always be on the content, whether it be your blog posts or the products you are selling.
Features:
Easy to use.

Option to customize almost all aspects of the theme.

Header menu has an integrated cart as well as a search option.

And of course WooCommerce support.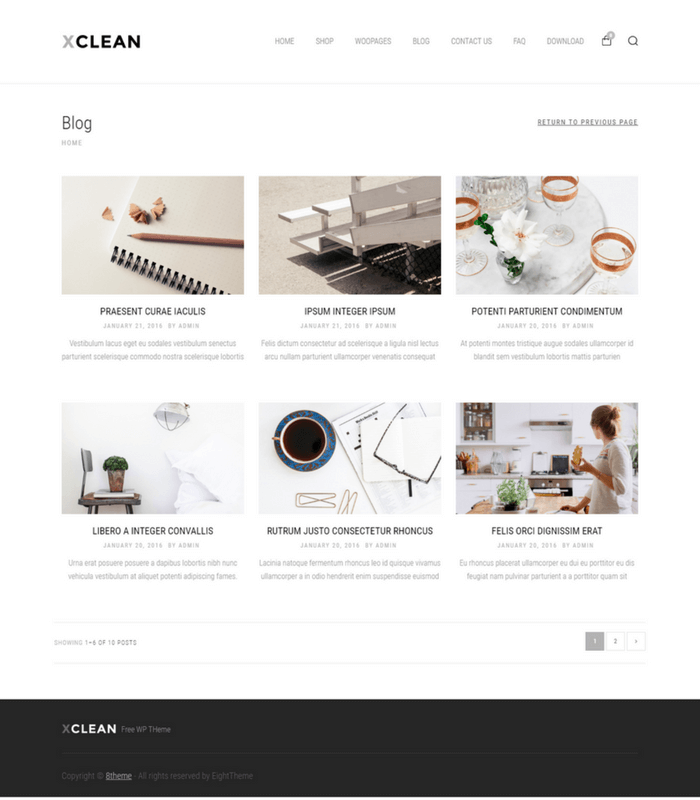 Demo & Download Theme Get WordPress Hosting
Basic
Basic is a simple and clean, minimal WordPress theme. It boasts a responsive design with sufficient whitespaces to help your audience focus on the content.
And speaking of content, the theme supports a whole barrage of different content.
Entering the website users will be greeted with a large slider which has video options where you can showcase Vimeo or YouTube videos. It also supports images as well. And scrolling down, all your blog posts will be visible as well.
Features:
A responsive slider.

Plenty of customization options, including the option to tweak background.

Advanced theme options panel.

Menu capabilities.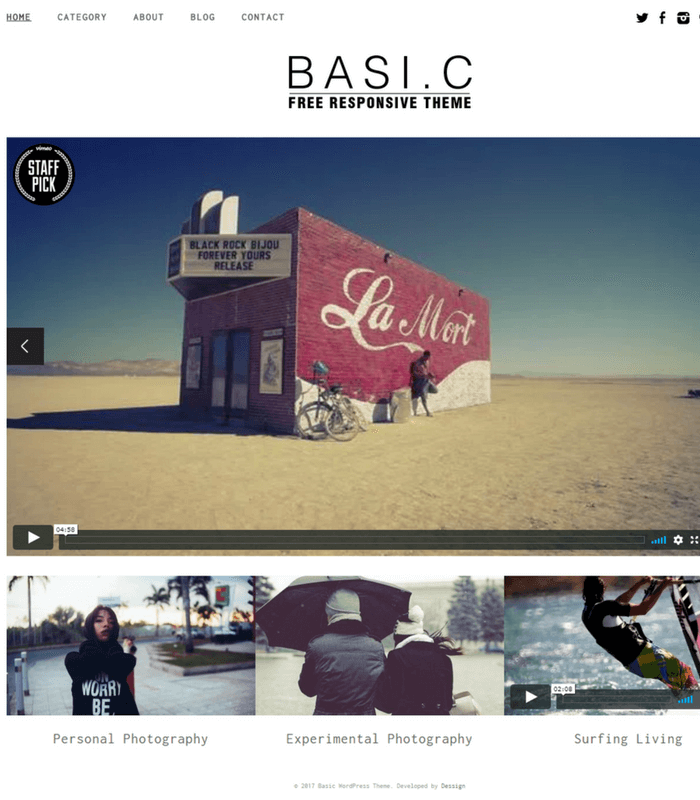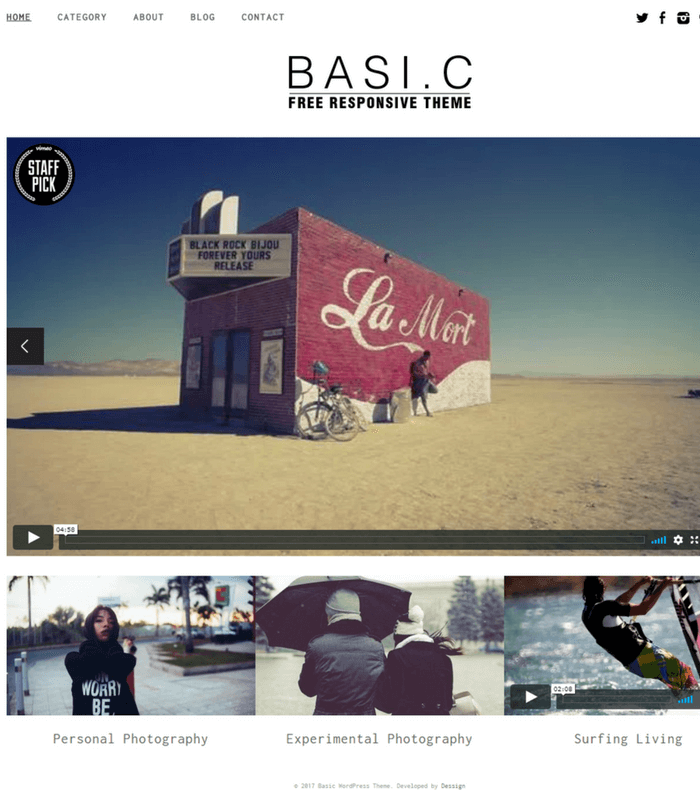 Demo & Download Theme Get WordPress Hosting
Simple
After Basic, now we have Simple, another WordPress minimal theme which strikes a perfect balance between minimalism and vibrant imagery. The theme has been designed with businesses and startups in mind.
The design style of the theme carries full-width bold images alternating with white spaces where you can highlight certain aspects of business services/products.
Features:
Supports Parallax effects.

Rich customization options along with unlimited colors.

Unlimited color schemes for properly branding your site.

Woocommerce support which enables you to have an online store.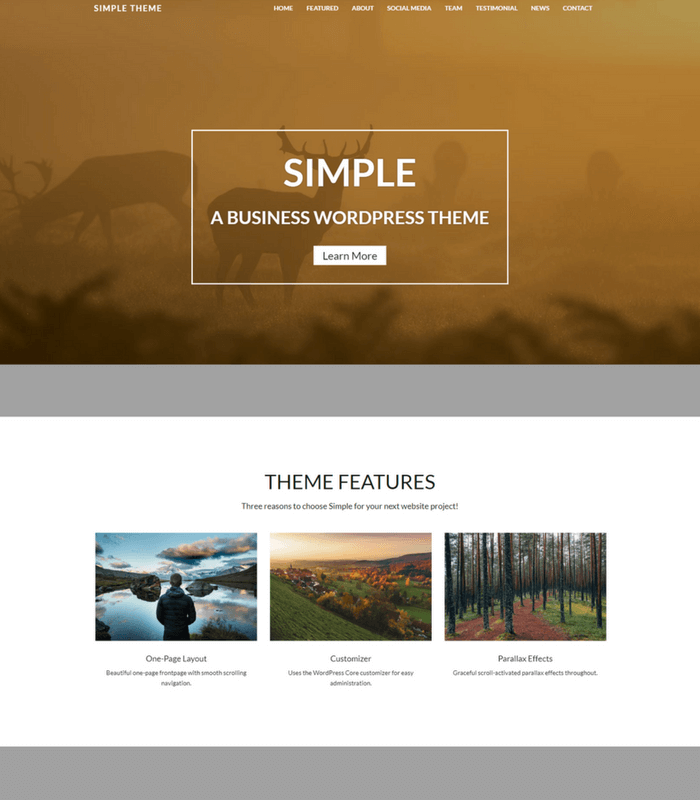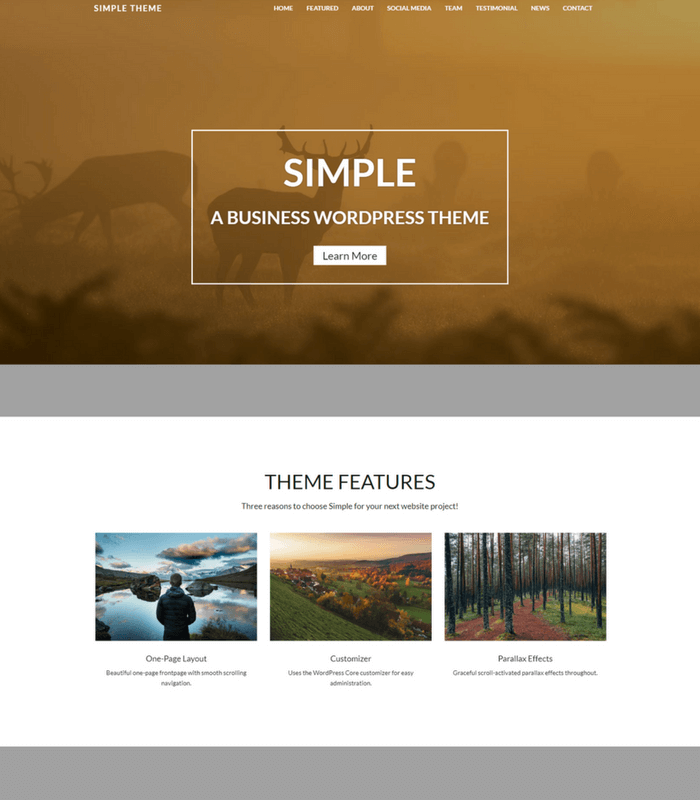 Demo & Download Theme Get WordPress Hosting
Hestia
Hestia is one of the most popular multipurpose themes for WordPress which comes with a free price tag. It comes with plenty of design options which you can use to incorporate a minimalist design style to your website.
You will get access to a material UI kit, WooCommerce compatibility, and even a page builder to tweak the layout as you like. Furthermore, you can also set up Pinterest-like shops on your site as well.
Features:
Parallax sections.

Zigzag blog layout.

Supports one-page structure.

Sendinblue integration for newsletter forms.

Widgetized footer.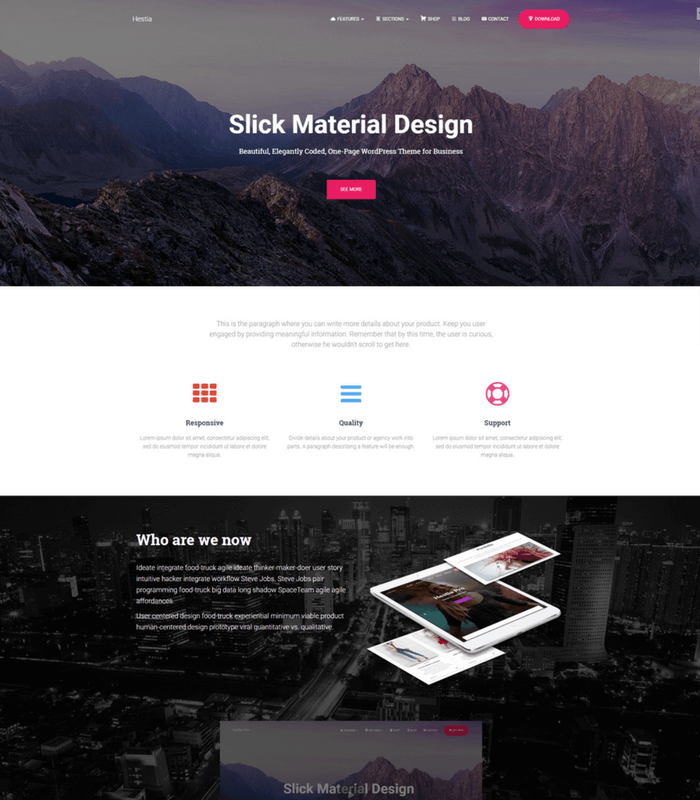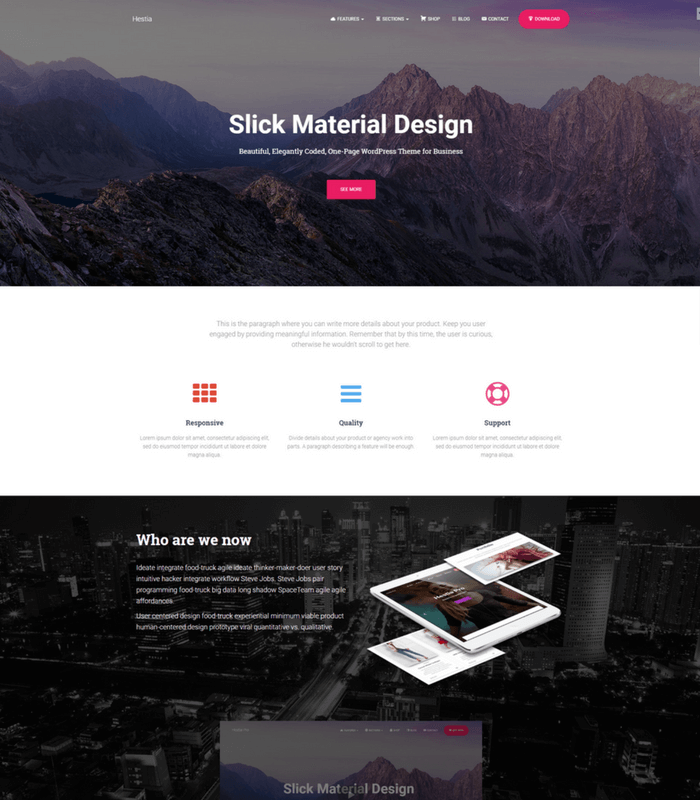 Demo & Download Theme Get WordPress Hosting
Zillah
Zillah is a great looking minimal WordPress theme that has a classy design and is particularly targeted at bloggers.
Despite the minimalist styling, its support for imagery and card like blog posts can make your site look quite stylish.
The main target of the design is to give your content the spotlight it deserves. Furthermore, it has a super-fast load time, so your readers will be able to view your content without waiting.
Features:
Unlimited colors for customization.

Live customizer support.

Full width featured slider.

Author box attached to each post.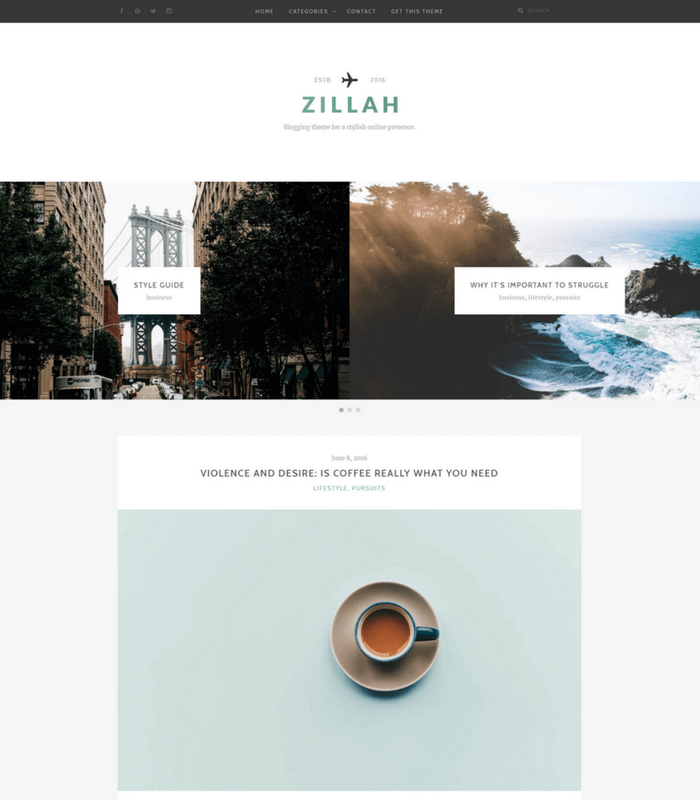 Demo & Download Theme Get WordPress Hosting
Activello
Activello WordPress theme brings together a wonderful blend of elements of traditional blogs and magazine style websites.
There are a few customization options to help you tweak the theme to suit your desired layout.
Furthermore, despite being free to use a minimal theme, it is not minimal as far as features are concerned. As a matter of fact, it covers most of all the vital functionalities you will need to run a successful website.
Features:
Advanced Slideshow widget.

Widget for showcasing author information.

Social media icons.

Footer area can be divided into three columns.

Customization options for Header.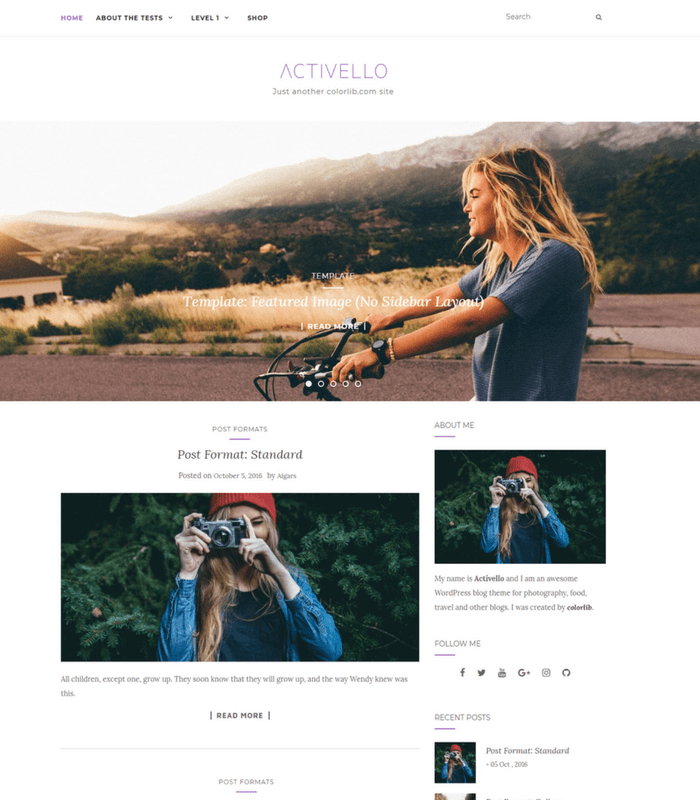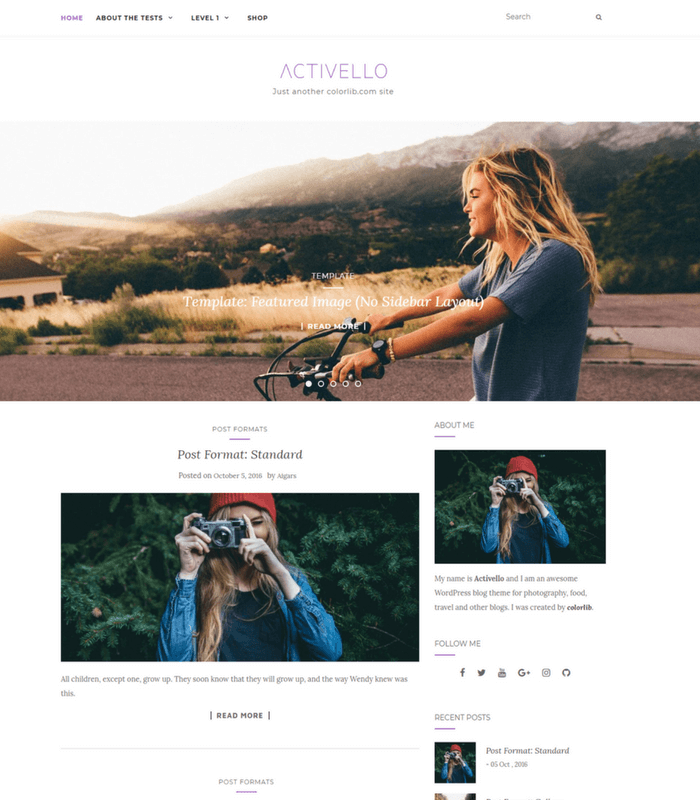 Demo & Download Theme Get WordPress Hosting
Authentic
Highly responsive, Authentic is sleek and is brimming with attractive details embedded in its interface. An old theme in itself, the incorporated minimalism at its finest.
Suited for lifestyle blogs, its robustness is derived from the evident parallax backgrounds, carousels featuring your images or video compilations and several other widgets.
With its default Montserrat font, the text is stocky and upright. Analysing the importance of social media presence, the theme has shortcuts to several platforms where you can advertise your website or blog.
AMP and powerkit supported (pack of custom plugins)
Four new demos
Complies to GDPR
Separate contents table and numbered headings
Automated buffering of consecutive posts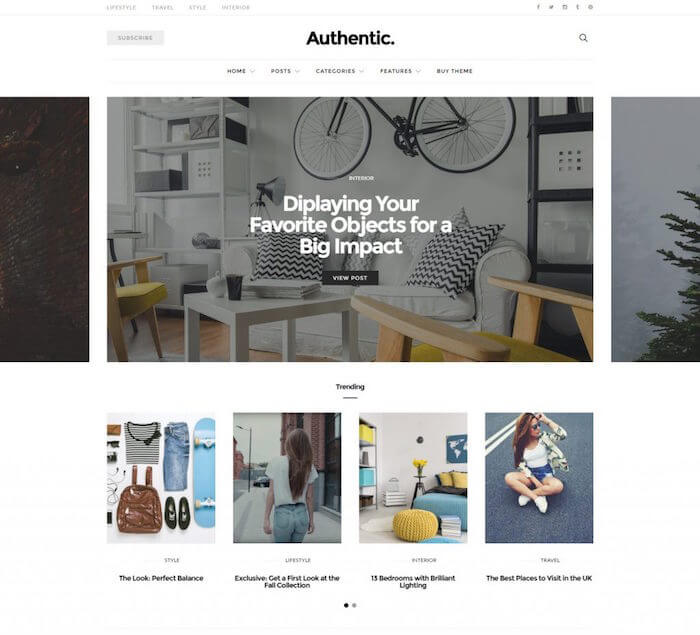 Demo & Download Theme Get WordPress Hosting
Jinn
Jinn is a minimal and simple WordPress theme designed for creating portfolio type websites. The design aspect of the theme follows more of a flat, minimalist style.
Your users will be greeted with a wide header image followed the navigation menu, then the services you offer, clients you have worked with, your personal bio, and all your latest projects.
Features:
JetPack compatible.

Support for multiple sections.

Integrated image gallery.

Supports blog posts.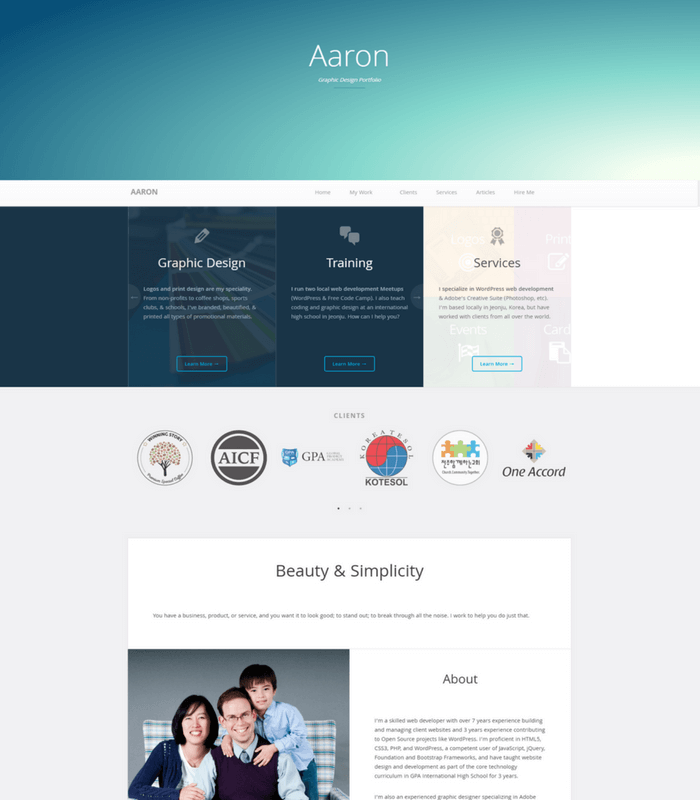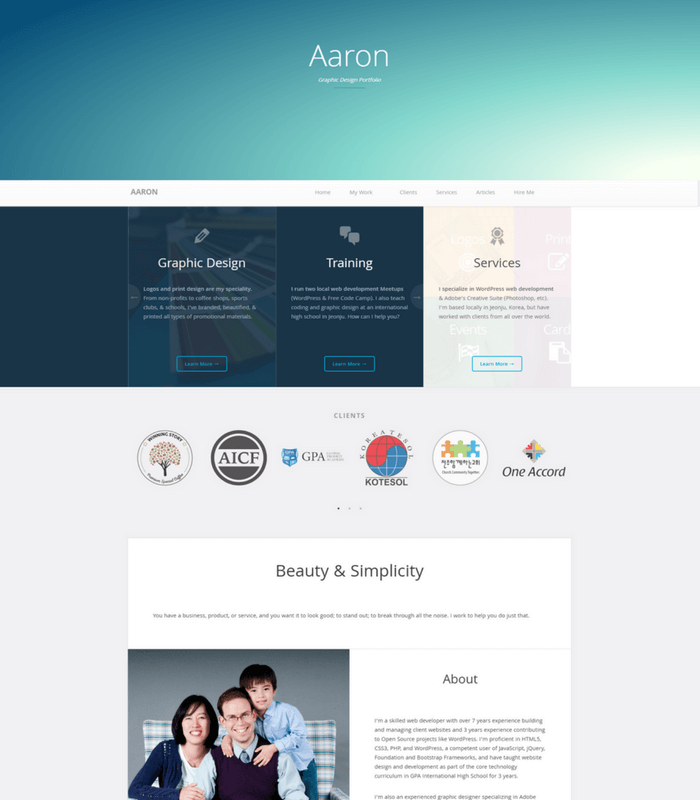 Demo & Download Theme Get WordPress Hosting
Blaskan
Next up we have Blaskan WordPress theme. It offers a minimal design language and is catered towards blog and magazine based websites.
In fact, it features 8 different categories including cinema, adventure, landscape, and so on.
The theme basically features a three-column layout. Two columns are dedicated to showcasing your content, and the other one can be used as a sidebar.
Here you can showcase your recent post, author bio, categories and so on.
Features:
A search bar to help users find posts they are looking for.

Social media buttons.

Comes with demo content.

Option to include a feature image for welcoming visitors.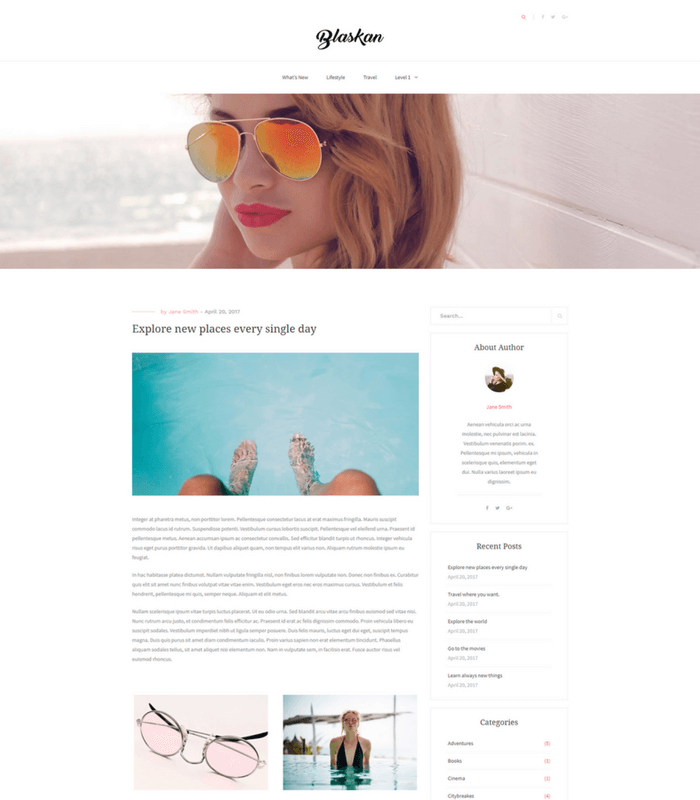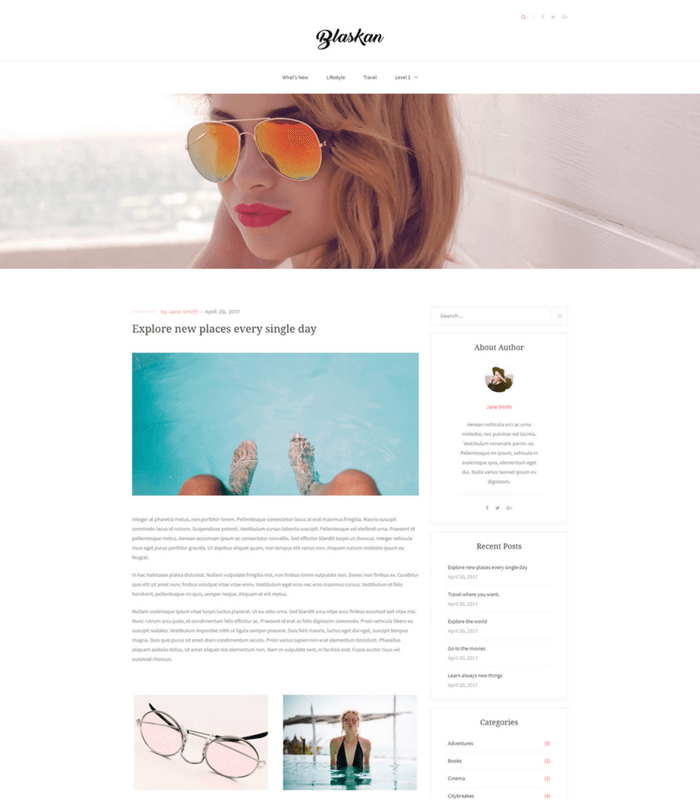 Demo & Download Theme Get WordPress Hosting
Hatch
Hatch is a simple and easy to use WordPress theme which caters to photography blogs and portfolio websites in mind.
The main highlight of the theme is that it has been designed with mobile browsing in mind. This allows the abundance of images to be easily viewable even from small-sized displays.
The theme utilizes the core functionalities of WordPress in regards to images and gallery management. But it also throws in the in-built Fancybox script to deliver some enhanced functionalities for organizing your images.
Features:
Support for a custom background, if you don't like the white-space minimal look.

Custom header.

Advanced widget support.

Lightbox support.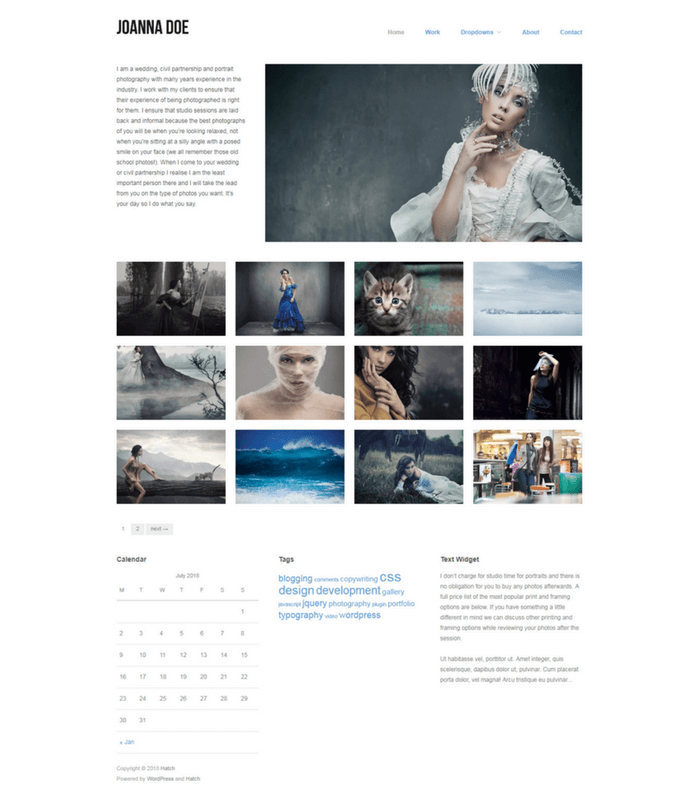 Demo & Download Theme Get WordPress Hosting
Stockholm
Minimalism was often associated with dull, sparse and boring. The Stockholm theme on WordPress offers an excellent argument challenging that notion.
It is aesthetically pleasing with adequately placed headings and subheadings that are bound to catch the viewer's attention.
The interface is designed to offer layouts and framework that can easily incorporate your logo, menu and other commercial elements that will make your brand appealing to the market.
Multiple demos
Highly responsive and functional
Header and footer builder
Versatile usage across devices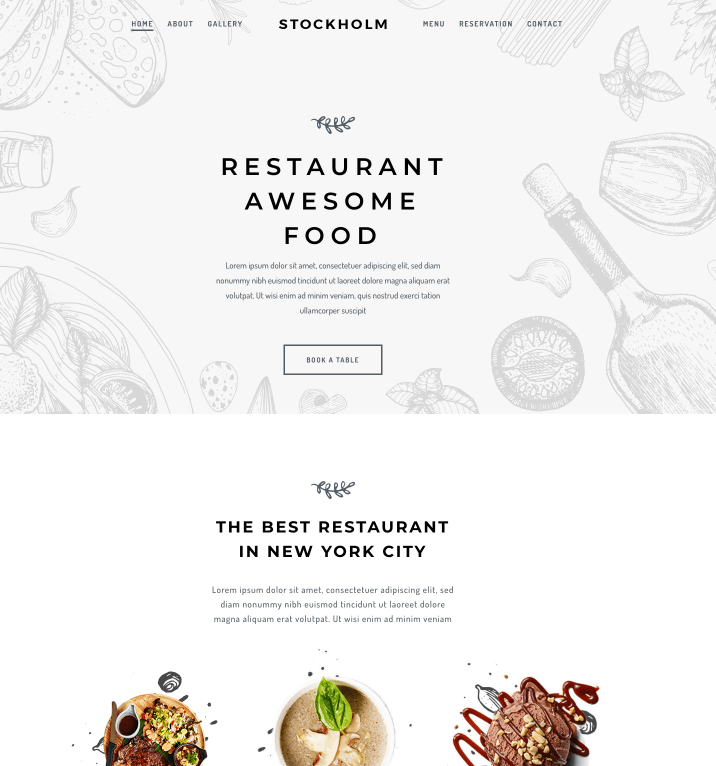 Demo & Download Theme Get WordPress Hosting
Fagri
If you are planning to start a business or if you are looking to build a website for your startup, then Fagri is an excellent theme to consider.
It comes with the minimal design style, however with the right amount of color and images so that things don't look dull.
In fact, with specific features and options such as parallax scrolling, and certain animation effects, the user experience is extremely good – despite being made available for free.
Features:
Supports Elementor page builder.

Rich color options.

WooCommerce compatibility.

A full-width header with an embedded contact form.
Demo & Download Theme Get WordPress Hosting
Hitchcock
By now you should have noticed that minimal themes are mostly filled with white spaces all around. But that need not be the case as long as users are not distracted by the surrounding aesthetics.
And so with Hitchcock WordPress theme, you have the liberty to include background images if you so desire.
Features:
An ideal minimalist theme for photography and blogging.

Support for a grid-style gallery.

Portfolio items show up with lazy loading effect.

Social media integration.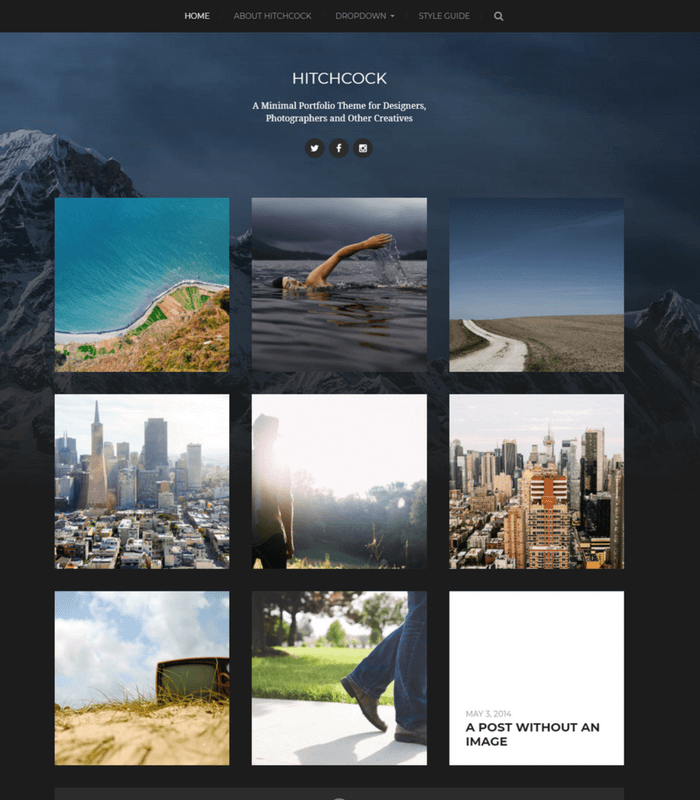 Demo & Download Theme Get WordPress Hosting
Portum
Portum is an incredibly intuitive WordPress theme which is free to use, boasts a minimalistic design, and has been built with business websites in mind. In fact, the theme is flexible enough to be used for a variety of business niches.
Much care has been taken to design the theme as well. It feels extremely professional and won't give off the impression of a free theme.
Features:
Support for WordPress Widget.

Built-in option for managing pricing tables.

Show your business with Google maps, and also display contact details.

Testimonials with social proofs.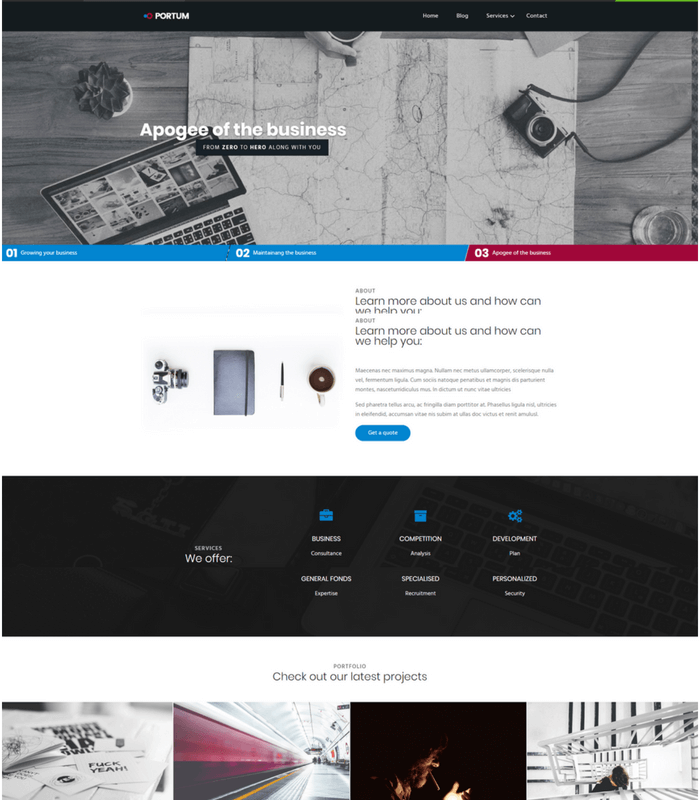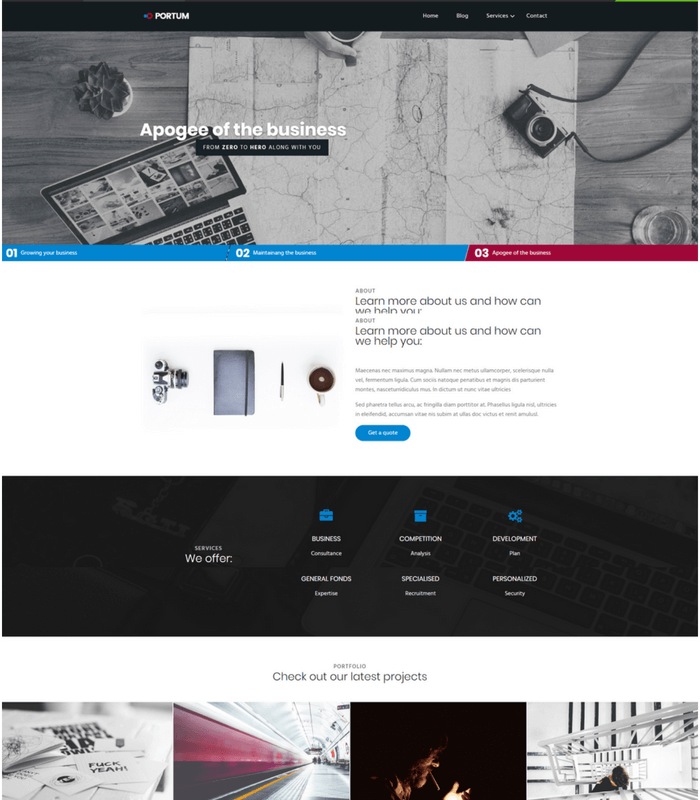 Demo & Download Theme Get WordPress Hosting
Oblique
Oblique WordPress theme sports a minimalistic flat design layout. Instead of all the whites or background imagery, the theme uses a black background which makes it unique in its own way.
As far as design is concerned, it is really eye-catching and is ideal if you are starting a fashion blog.
Features:
Masonry layout with slanted lines.

Supports animations.

An oblique/slanted header image.

Slide-out menu.

Parallax header.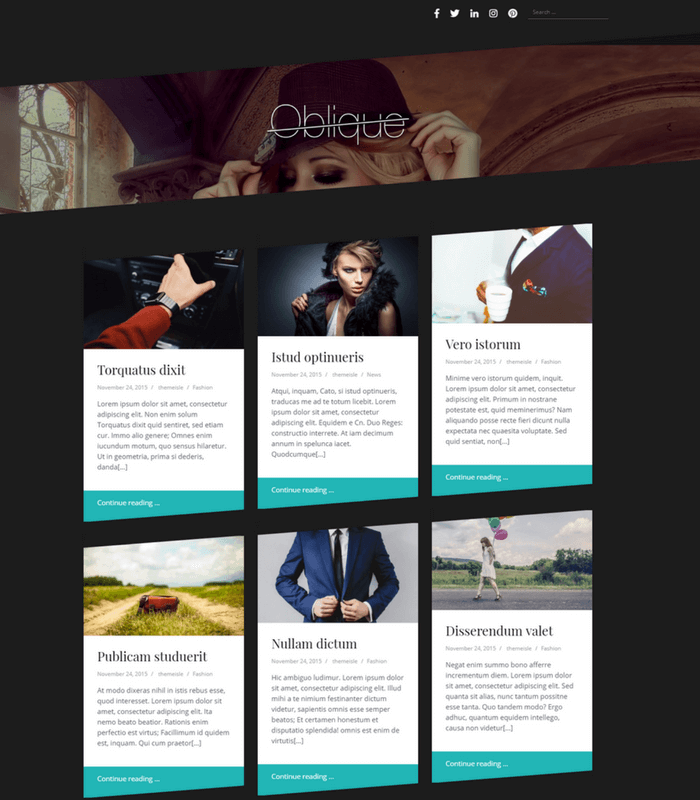 Demo & Download Theme Get WordPress Hosting
Parallax One
Minimal themes can become a little lackluster. However with Parallax One WordPress theme, not only will you get the minimal design principles, but also an attractive parallax effect.
The theme has been primarily designed with business and corporate websites in mind and is also great for organizing events as well.
Features:
Parallax header.

Supports multi-page and one-page layout.

WooCommerce integration.

Social media integration.

Support for pricing table.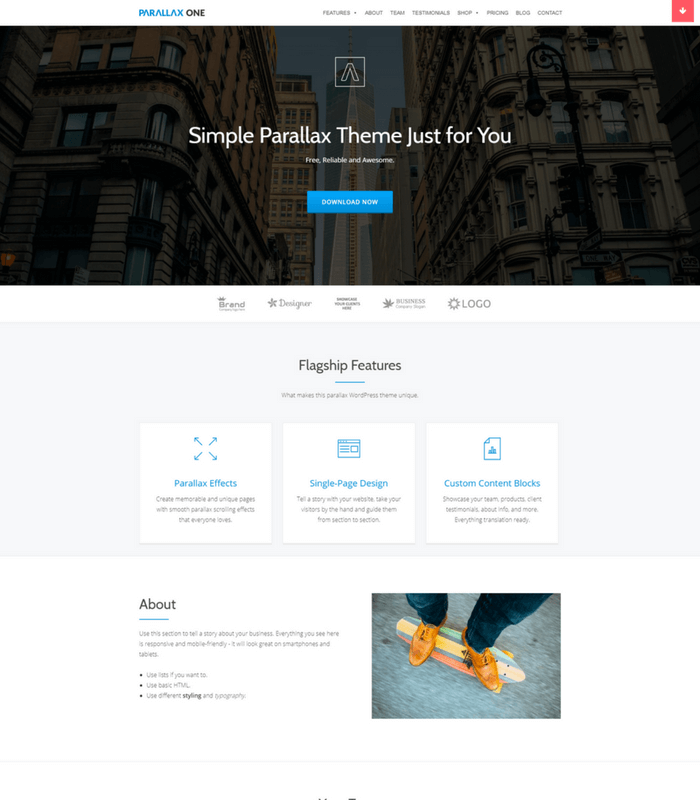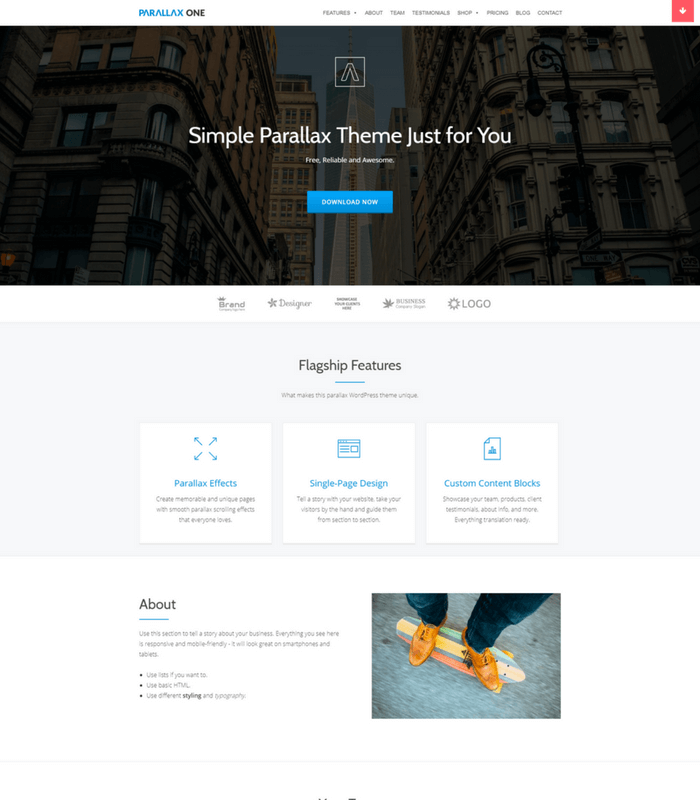 Demo & Download Theme Get WordPress Hosting
Pixova Lite
For the next minimal WordPress theme on our list, we have Pixova Lite. It supports a modern one-page parallax design style. However, you can also use it as a multi-page theme if you want.
For a free theme, it packs in plenty of customization options, and all the design elements thrown into making the layout is simply outstanding.
Features:
Showcase your recent works.

Highlight testimonials.

Blog support.

Inbuilt contact us form.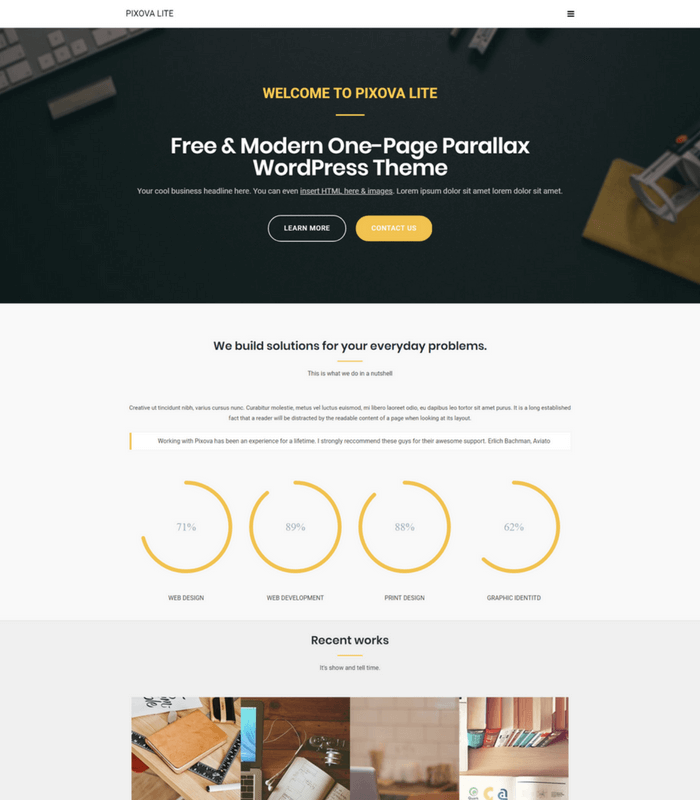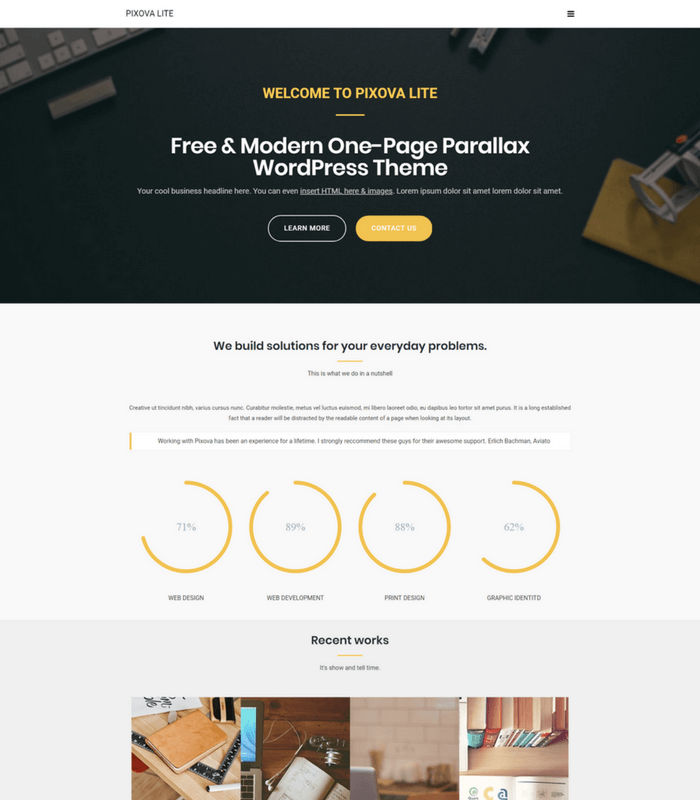 Demo & Download Theme Get WordPress Hosting
Anariel Lite
Anariel Lite is a minimal theme for WordPress based fashion websites and fashion blogs. The design is also suited for magazine sites as well.
Users coming to your website will be welcomed by a series of featured posts on the top with the header button above and a two-column layout below. The right sidebar holds the author bio, newsletter signup, your Instagram feed, a search bar, gallery widget, and so on.
Features:
7 blog post layouts.

Sidebar with a boatload of options.

Multiple photo gallery templates.

Vintage looking social media icons.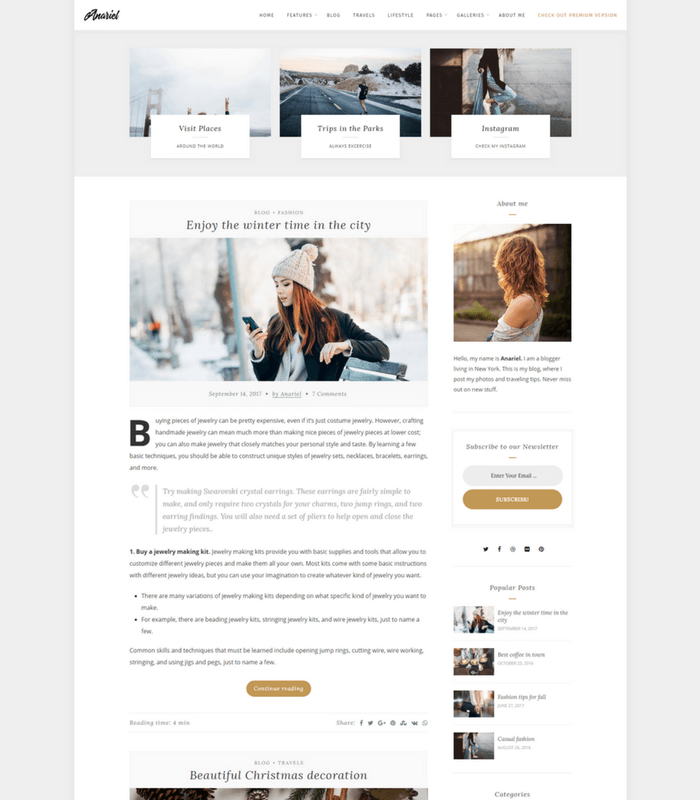 Demo & Download Theme Get WordPress Hosting
Belise Lite
Belise Lite is a minimalist WordPress theme for restaurant websites. However, it can also be effectively used and implemented by personal chefs looking for a modern and simple design.
It covers many of the features one will consider for effectively managing a restaurant website. However, you shouldn't be expecting premium and advanced functionalities, such as the option to take reservations, and so on.
Features:
WooCommerce compatibility allows you to take orders from your website.

Live customizer to help you tweak how the site looks.

Support for food menu posts types.

Blog support.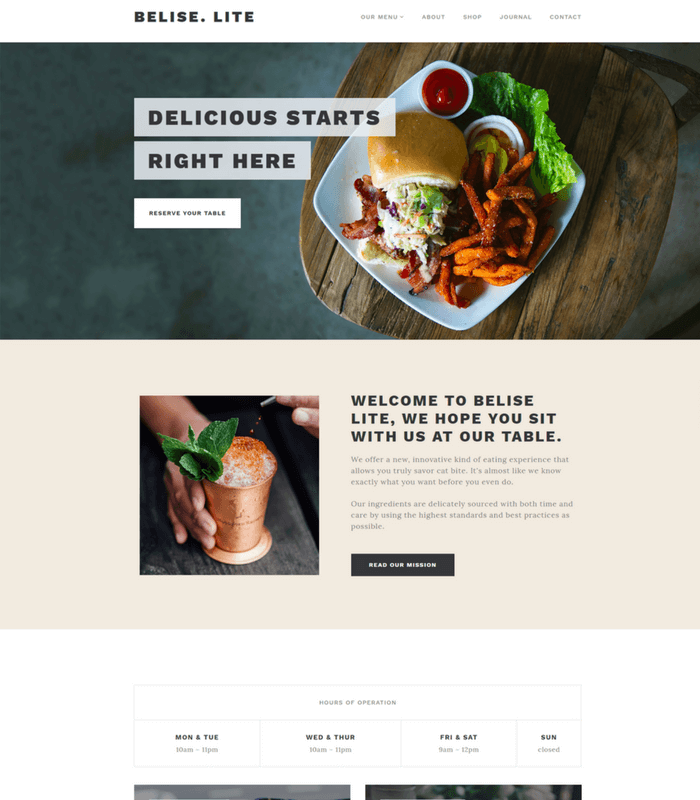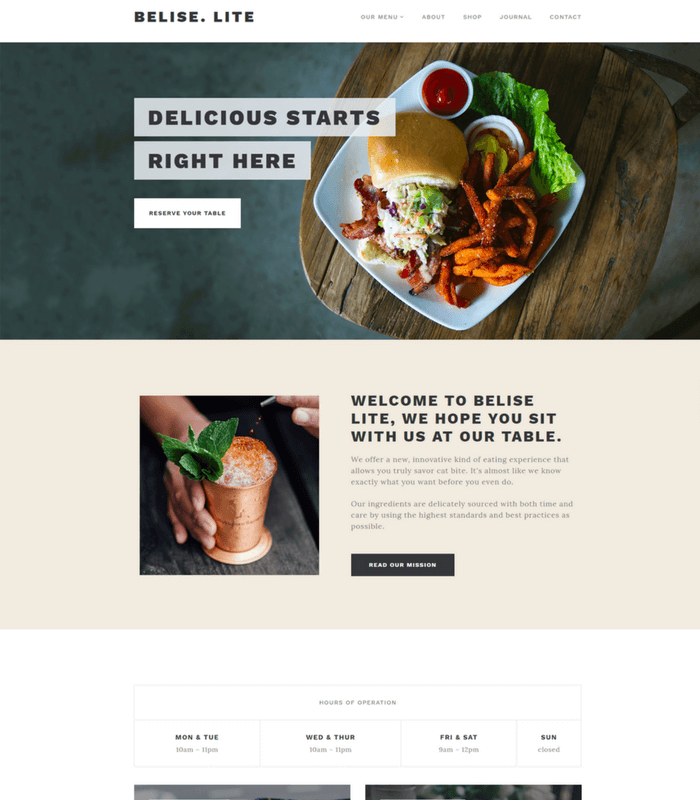 Demo & Download Theme Get WordPress Hosting
Breviter
Breviter is a dedicated minimal theme designed for WordPress blogs and writers in general.
It is one of the more neatly designed minimal themes. However, it has been designed such that your audience's attention is always on your content.
Features:
Two column design.

Showcase your author bio with social links on the sidebar.

Support for image, text, and video posts.

Rich menu with integrated search functionality.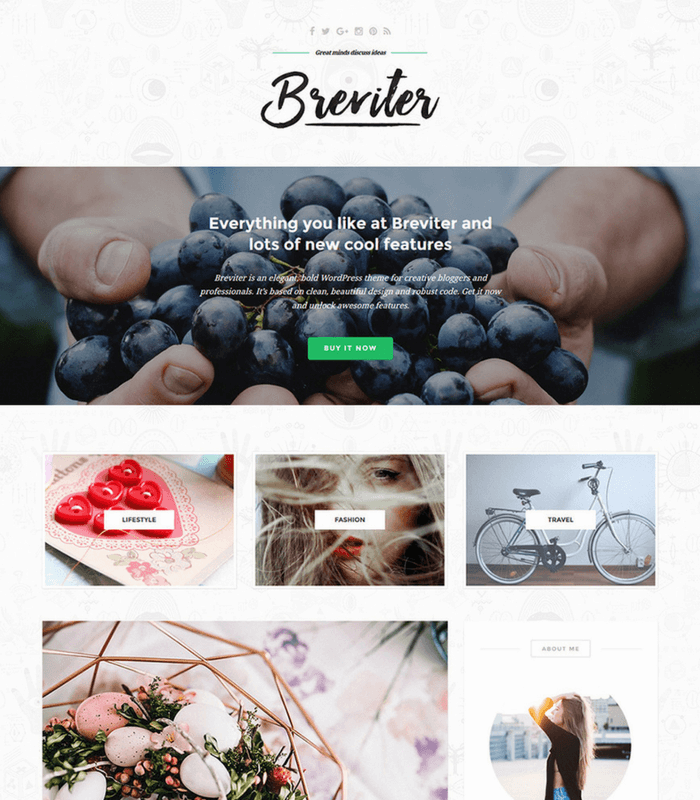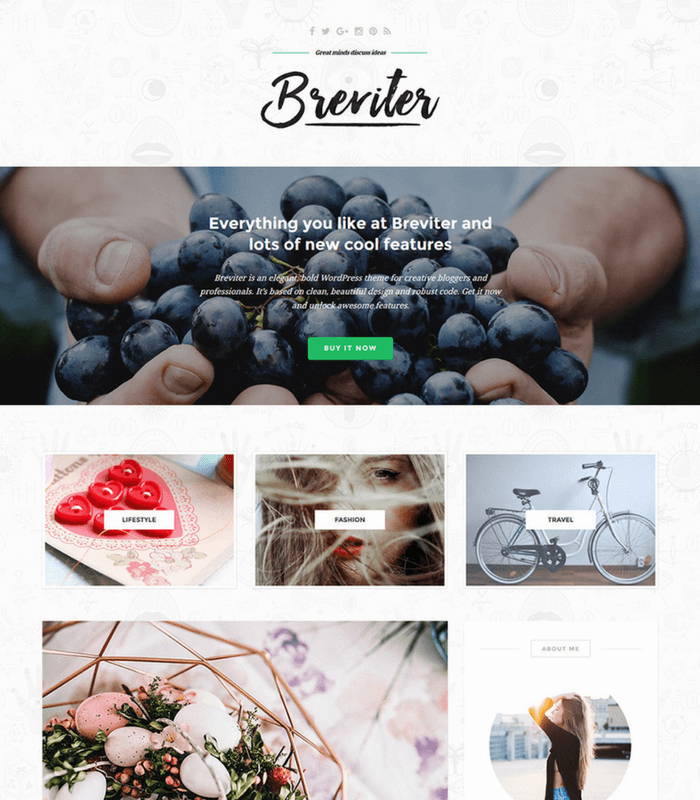 Demo & Download Theme Get WordPress Hosting
Adler
And now, coming to a closing to our list, we have Adler. The WordPress theme, much like some of the other mentions, isn't too bland or lackluster.
The design language is rich enough to not look boring. However, it still manages to fixate attention of your reader specifically on your content.
The theme is ideal for writers and sports something of a notebook like design. It is ideal for any blogger or photographers.
Features:
A unique typography which feels like handwriting.

Images showcased at their full dimension.

Emulates a book reading experience.

Supports full-width header images.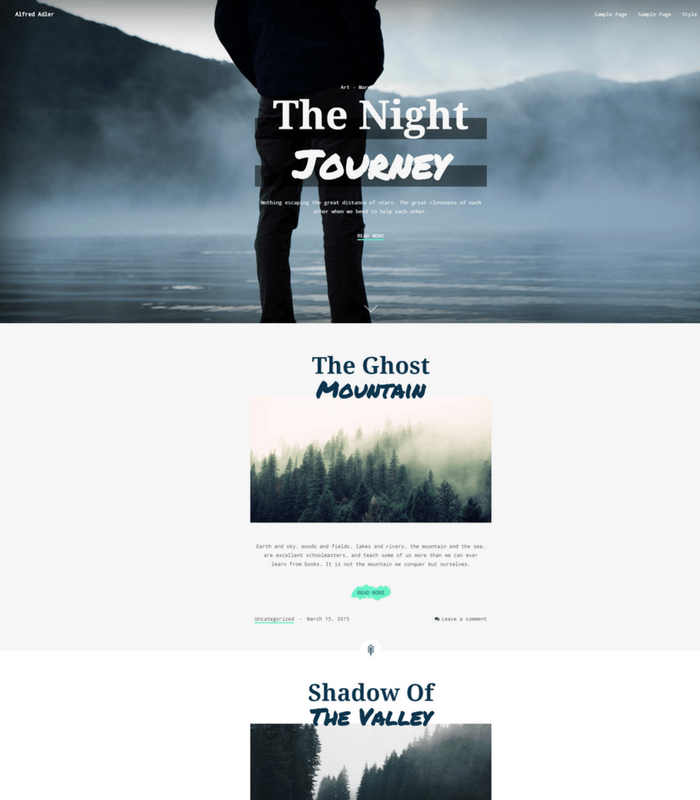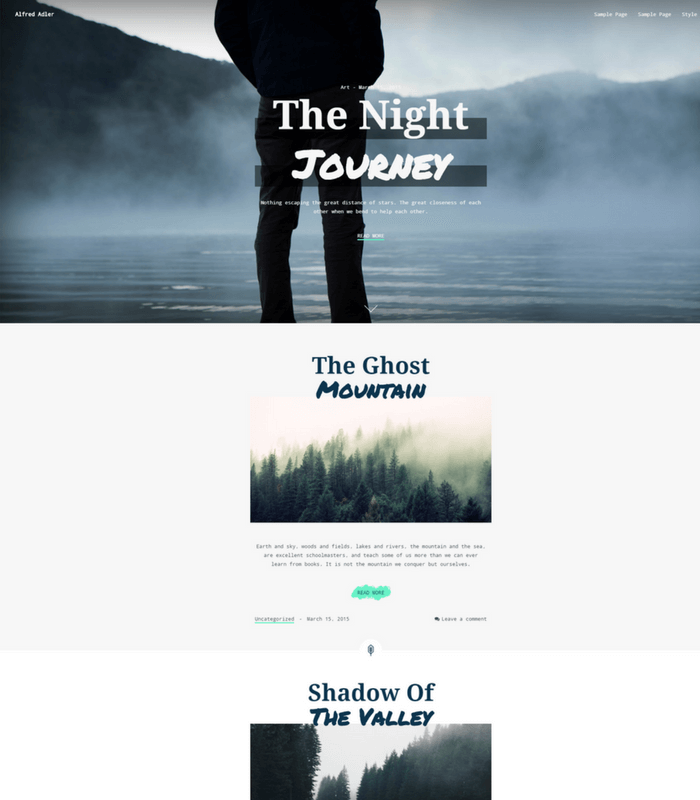 Demo & Download Theme Get WordPress Hosting
Blogger
And now for the last entry on our list, we have Blogger, the free minimal WordPress theme aimed at – bloggers. It is a very clean and simple theme for bloggers who are looking for something minimalistic, in all sense of the term.
The design, even though carries a lot of clean white spaces and is as simple as possible, feature-wise, it does carry a punch.
Features:
Super easy to use and can be set up quickly.

Support for infinite scrolling.

2 column layout along with a right sidebar.

Support for custom widgets.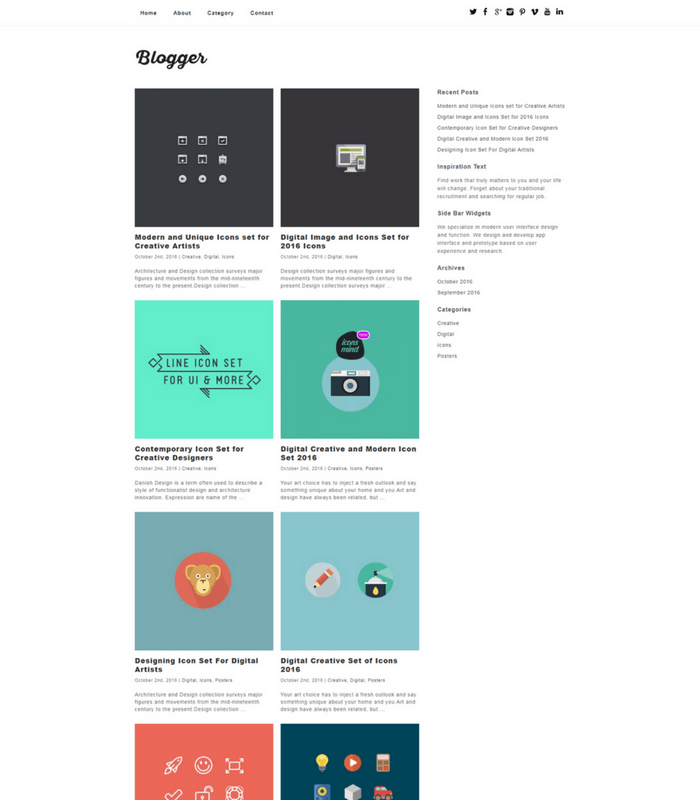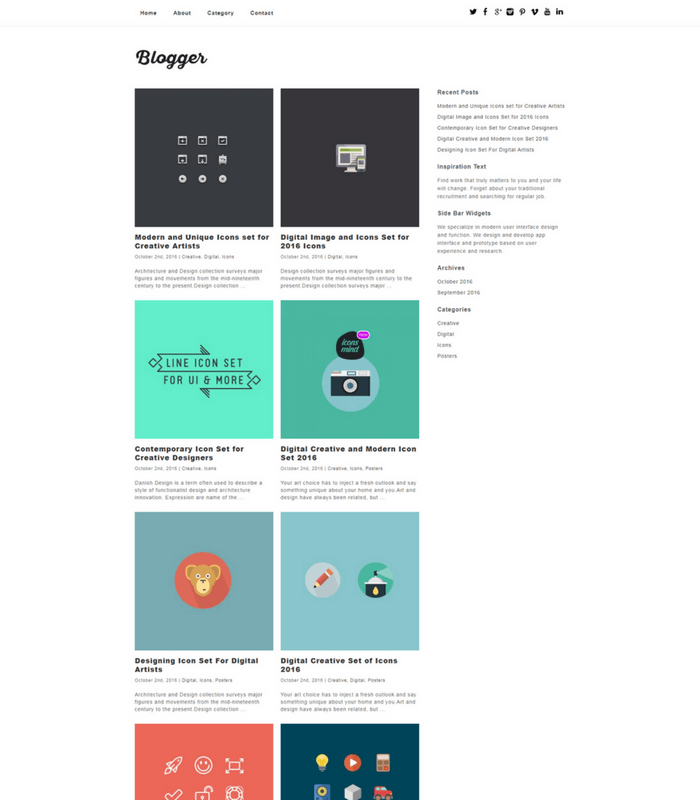 Demo & Download Theme Get WordPress Hosting
MinimalistBlogger
Befitting the name, Minimalist Blogger is an ideal place for you to publish your creative content. The layout is versatile and compatible across serves.
It is easy to use interface allows you to tailor your content accordingly, you can make it your photography journal, fashion design page, poetry collections or create a music label.
Here, the world is your canvas!
Allows you all the creative liberty
Easy to use
Optimal text readability
Several customisable options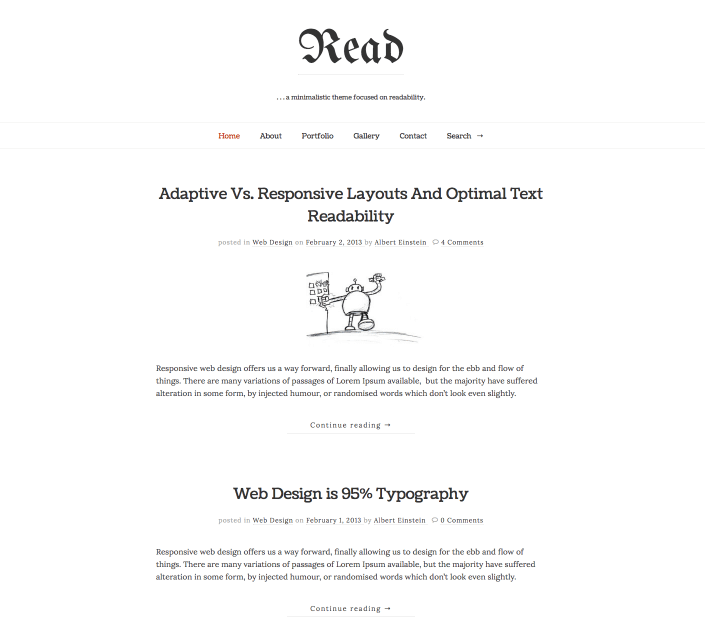 Demo & Download Theme Get WordPress Hosting
Proton
Edgy, timeless and expansive- that is what the proton theme is for you. With the background done up in shades of grey and white, you can choose to make your content pop out against the sombre backdrop.
There is the absence of bundled plug-ins, and also limited column options so that your homepage will not look crowded; and the viewers can devote ample attention to each vertical. Its lauded for its easy usage.
High-quality portfolio domain
Limited columns but unlimited color and fonts
SEO
Uninterrupted speed and functions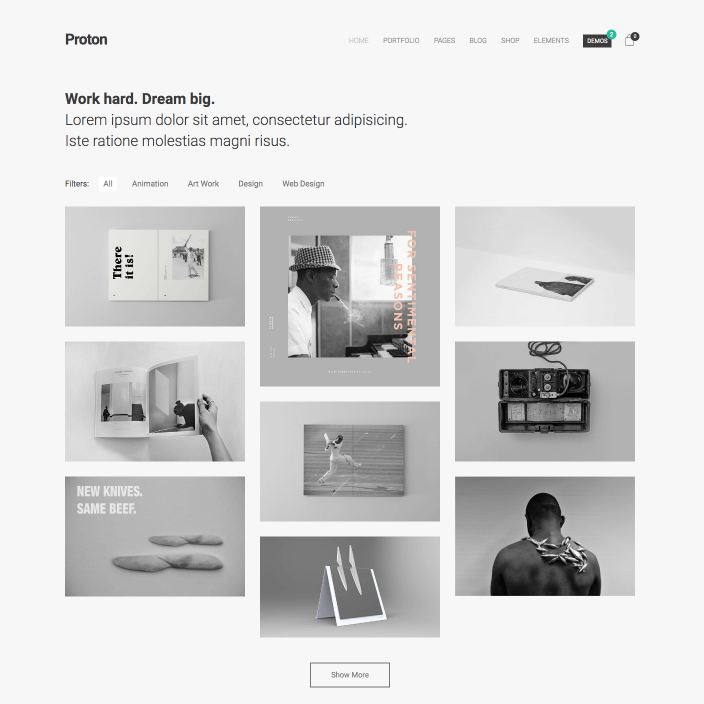 Demo & Download Theme Get WordPress Hosting
Savoy
Savoy is a modern design at its peak. With a dark monochromatic background, Savoy dedicates the entire home page for the introduction of your website- in terms of your logo, background, brand name or title.
There is a separate Menu dialogue box where you can explore more specific options. This single-layout theme rests on qualitative design, and also introduces a one of a kind touch-enabled slider.
There is a wide array of carefully chosen default color themes and fonts that are adaptable to all kinds of websites and blogs.
Multiple page layout
Pre-installed AJAX function
Seamless user-customer experience
Sophisticated and professional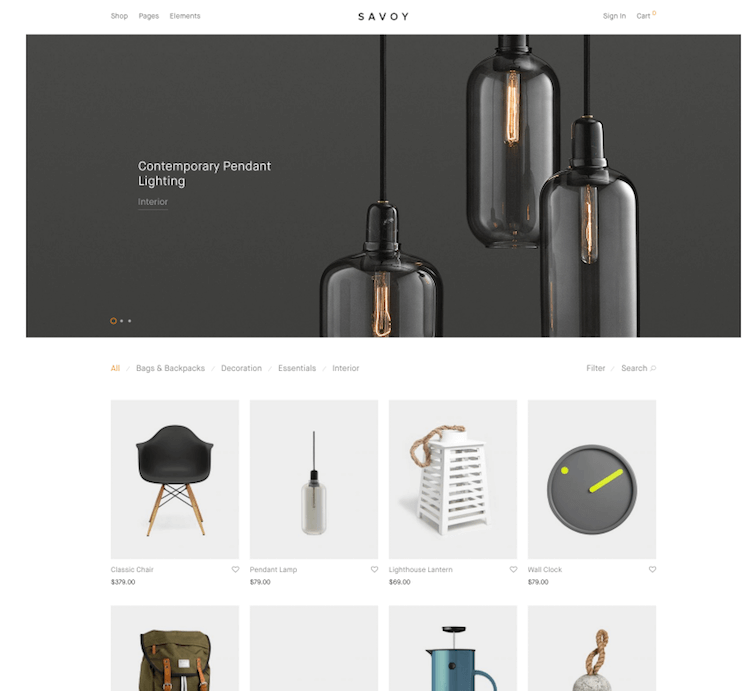 Demo & Download Theme Get WordPress Hosting
Mauna
Exclusively for creative professionals and brands, this WordPress theme is easily customisable. Its numerous features like single click demos, 600 available Google fonts and ethereal themes cater to your specific needs.
This interface is image-driven, which means that there are background encompasses the menu options, and is indefinitely unique. There mutually complementary fonts and themes are carefully crafted to enhance the viewing of your content and publications.
Efficient categorization of templates
Monochromatic subtlety
Vast typography and color options
Portfolio rows, masonry, and grid
Intriguing homepage with SVG decorations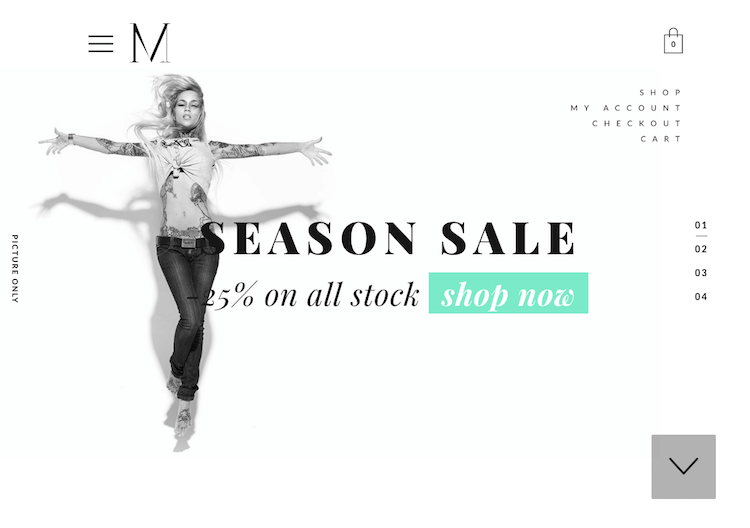 Demo & Download Theme Get WordPress Hosting
Vinero
Although a lot of websites aren't keen on animations because it might shift the attention from your content to the movements, Vinero is adamant about its animations complementing your content.
The visual composer ensures that your layout is tailored to suit your references, and this singular-layout theme is extremely beneficial. The theme is also focused on keeping the animated movements minimal and revolving around your content for traction.
HTML5 and jQuery coded
MailChimp supported
WPML and SEO compatible
Ready to use widgets
Free and regular updates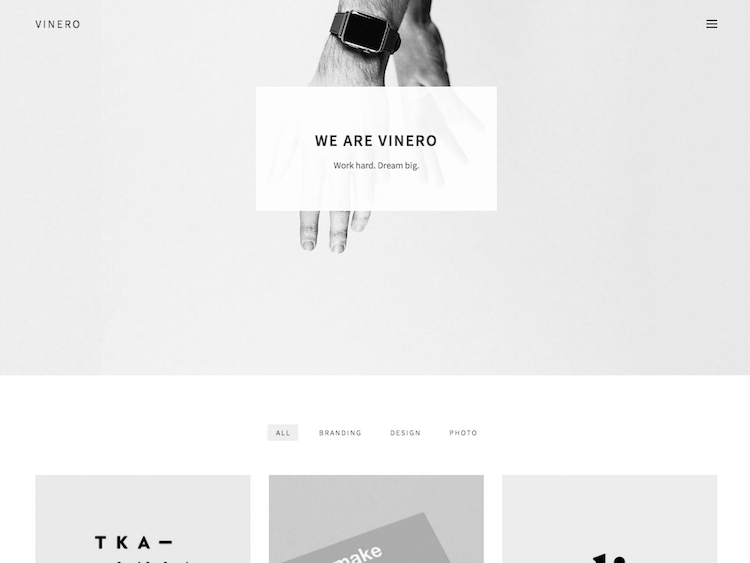 Demo & Download Theme Get WordPress Hosting
Modesto
Modesto has a hint of vintage edge overpowering the minimal creativity of the theme. One of the most functional themes, Modesto has over a dozen demo templates with elaborate animations and slides.
It's extremely sustainable for any kind of content and the pre-built layouts will have you spoilt for choice. Its an easy-view, and present a sharp and modest framework.
Well-suited for photography and portfolio
Widely used by freelancers, corporate and personal website owners
Extensive customisation available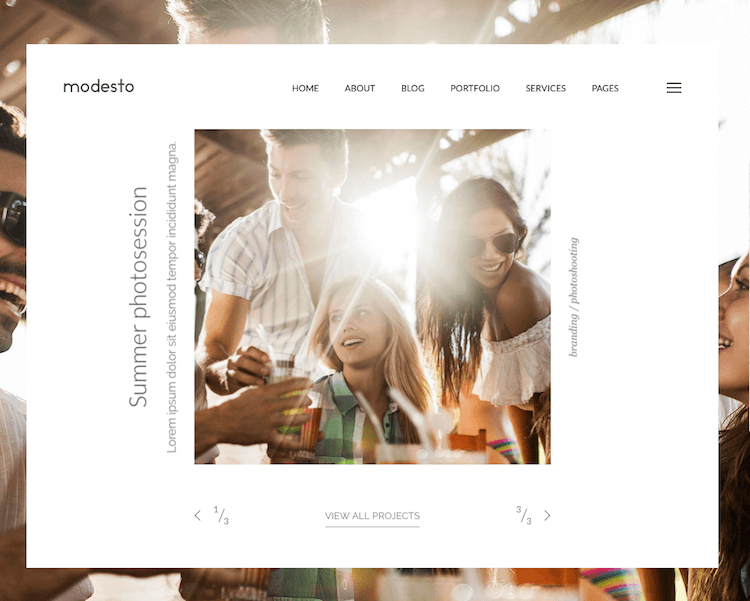 Demo & Download Theme Get WordPress Hosting
Alice
A bohemian pandora box, Alice's distinctive topography is filled with eye-catching imagery and luminous font that will not take away attention from the backdrop. Infamous for its full- screen homepage video, the moving visuals will draw parallels to your title or headline, leading towards your blogs or posts.
With no buffering time, this theme is adaptable across devices and servers; and is widely preferred by freelancers, artists and musicians.
Perfect for fashion and styling brands
Does not require separate coding
SEO optimized
Drag and drop-down dialogue boxes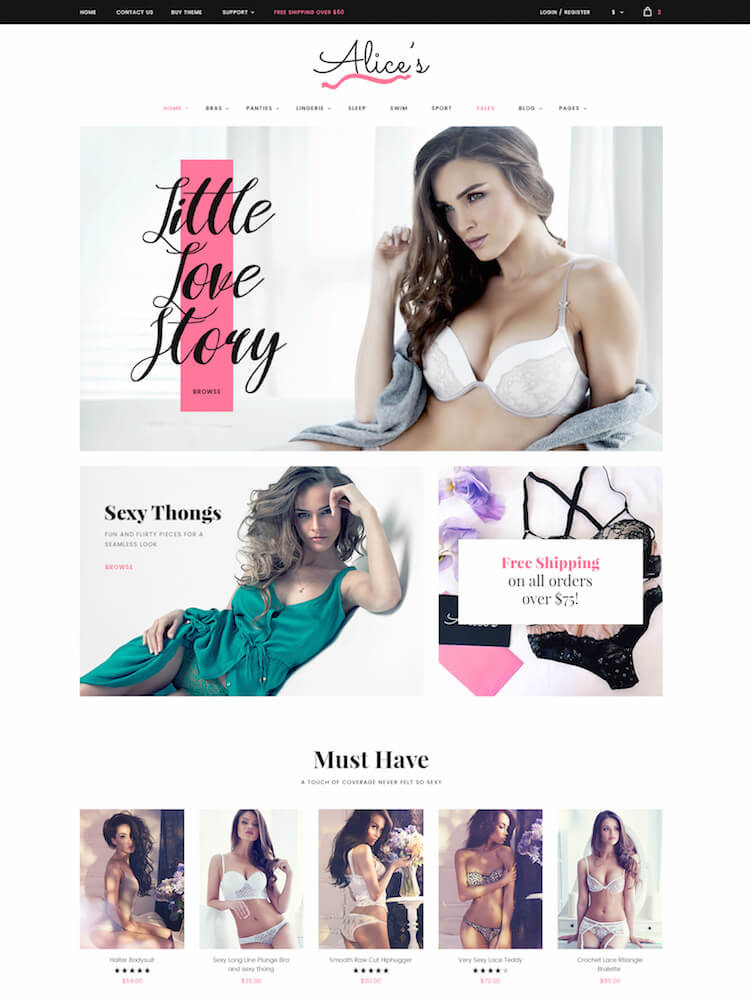 Demo & Download Theme Get WordPress Hosting
In Conclusion
So these were our picks for the best minimal WordPress themes. We hope you found this read to be helpful.
If you end up using one of these themes for your own site, then do let us know how it turned out.
Furthermore, if you think we missed out on some other wonderful minimal themes that are available for free, then feel free to expand upon the list through the comments section.
Fellow readers will love to see some of your recommendations.