Are you looking for the best Google keyword planner alternatives? Well, we have the perfect list for you.
As search engine optimizers and marketers, you're constantly searching for new search terms or keywords for your website, and that has led you to quest for the best alternatives for Keyword Planner.
The keywords you select plays a vital role in any content marketing plan and is the driving force behind the topics of your content, social media targets, and PPC campaigns.
Basically, it works as a language in the digital marketing world.
While Google Keyword Planner is a great tool and has been serving the community for many years, there are a number of quality alternatives that you can use for keyword research.
In this article, we will look at the top Keyword Planner alternatives that you can use for your business.
Here are the 10 best alternatives for Keyword Planner.
Best Keyword Planner Alternatives
Here is a list of top keyword planner alternatives that you can use to do your keywords research.
SEMrush is an all-sufficient marketing platform that covers all the topics of SEO, Content, and SMM. Having a database of more than 140 countries, SEMrush is a paid tool that covers everything right from organic and advertising research to traffic and link analysis.
SEMrush has 45 tools and reports to offer to its users consisting of SEO tools, Competitive research tools, advertising tools, and many more.
How does it work?
The "keyword magic tool" enables you to find your niche long-tail keywords by providing all the advanced filters to be used such as match modifier and question filter.
Moreover, to be able to rank higher for every keyword, you get a keyword difficulty tool and competitor-based research tool where you can discover your organic and paid competitors or compare the keyword portfolios.
Using the SEMrush Keyword Magic Tools is simple, all you have to do is to start your search with the seed keywords and the system will guide you with hundreds of potential keyword combinations that you can use.
To start with the tool, you have to first make a list of your seed keywords. THese are your main keywords for your niche or site and you can create content around all possible long tails keywords around these primary keywords.
So, considering "digital marketing" as your seed keyword, you can start a search with this keyword to find more potential long-tail keywords.
As you make a search with the keyword "digital marketing" you will get a number of keyword combinations that you can work on.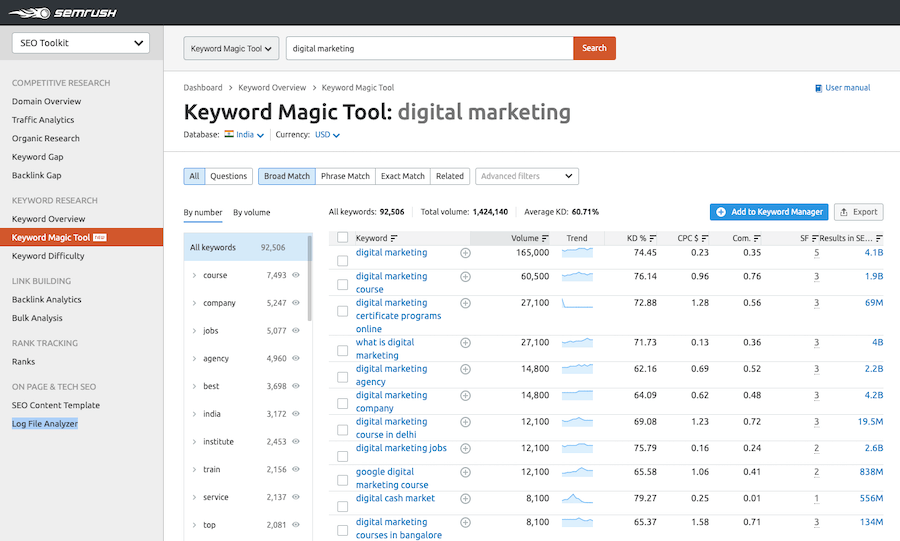 Also, don't miss these articles
To get thousands of keywords suggestions from more than 10 different search engines, Ahrefs Keywords Explorer can be your go-to tool and act as a perfect paid replacement for the Keywords Planner.
The fact that you can enter 10,000 keywords in one go and generate thousands of ideas in a number of ways, such as phrase match, question, having the same term, makes Ahrefs Keyword Explorer hold the second position on our list.
How does it work?
To start with, you just have to type the desired keyword and use a variety of filters such as volume, word count, and SERP features.
Next, the "keyword difficulty score" on a scale of 1-100, 100 being the hardest, will help you determine the potential of your keyword to rank among the top 10 search results.
Moreover, you can also use advanced metrics such as clicks per search, % of clicks, and return rates that make it different from its competitors.
Also, don't miss this list of 20 top Ahrefs alternatives
A product created by digital marketing expert, Neil Patel, Ubersuggest can be an ideal free Google Keyword Planner alternative. The best feature of Ubersuggest that won't let you miss the Keyword Planner is its simplicity.
Moreover, the website provides plenty of informative blogs and newsletters that would keep you informed on all the latest marketing tips. With this tool, not only do you get keyword suggestions but also domain overviews and backlink data that help your site rank higher in search rankings.
How does it work?
As we said, it is probably the easiest tool in this list in terms of usage. From head terms to long-tail keywords, you just have to type the keyword you're looking for and the algorithm will generate hundreds of ideas. The suggestion would be based on volume and the level of competition.
Moreover, to reverse engineer your competitor's marketing strategy you get tools such as Domain overview and Backlink data.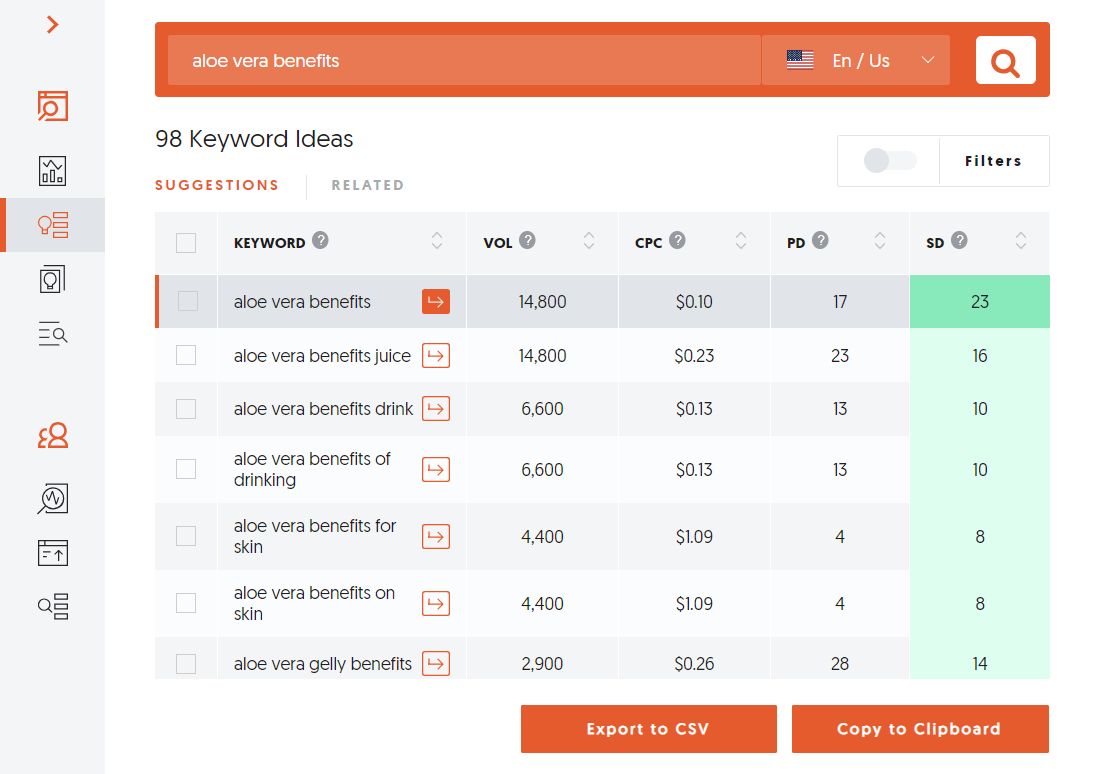 Keywordtool.io is another great alternative that uses Google Autocomplete to show the most relevant keywords search by the audience on Google.
To solve all the limitations shown in Google Keyword Planner, Keywordtool.io manages to showcase descriptive keywords so that they can be used for content marketing and blogging.
How does it work?
To generate ideal long-tail keyword suggestions, you just have to write the matching keyword in the box and the tool will extract more than 750 suggestions (free version) in an easy-to-understand interface.
You can subscribe to the advanced versions of Keywordtools.io unlock advanced features such as 2 times more keywords, competitor keyword analysis, and CPC data.
Nevertheless, it is still considered the best free tool for identifying long-tail keywords.
By using Google search data, Wordstream is not only officially supported by Google but also was designed by keeping the Google Keyword Planner in mind.
This tool helps you generate hundreds of relevant keyword ideas along with additional features such as the competition level and estimated CPC in its free plan. The best thing about using this tool is that it provides relevant keyword results that are tailored to your industry and country.
How does it work?
To drive traffic through organic and paid searches, you just have to enter a keyword or website URL as per your industry and location. This list of keywords generated will show you the competition score and the estimated CPC of each keyword.
Then, you can simply download the list in CSV format to directly upload on Google Ads.
The only major drawback is that the free tool is not accessible after 30 searches. Although you can have an estimate of its working before purchasing its premium plan.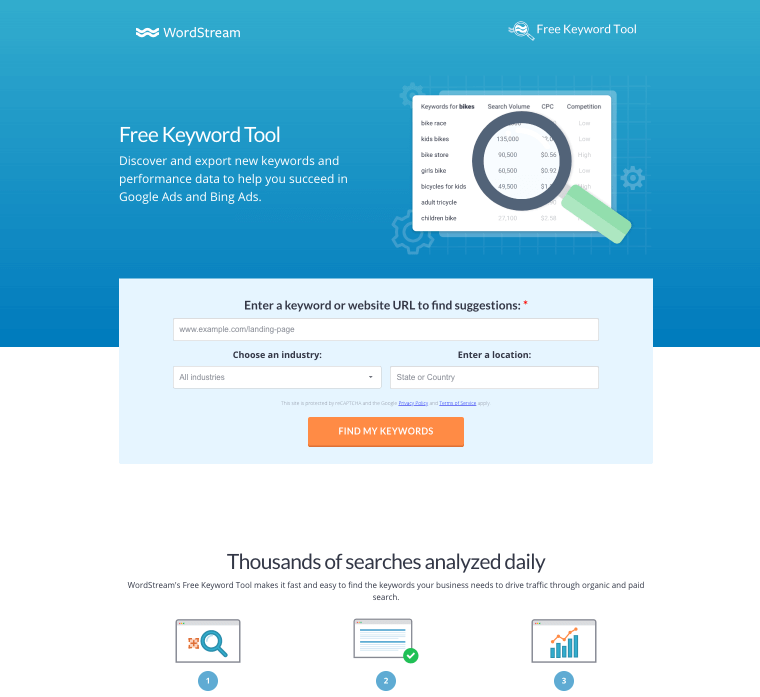 KWFinder is a comprehensive keyword tool that claims to provide the most reliable SEO difficulty scores and search volumes.
From finding hidden long-tail keywords and importing keywords in bulk to a competitors research tool, it has the ability to provide an in-depth SERP overview.
How does it work?
The simple and straightforward interface guides you to search for keyword ideas either by entering a keyword or paste the URL of a website. Then, you have to select within 5 countries available on the platform. Also, you can choose the language for your keyword suggestions.
The tool will provide you with suggestions, autocomplete, and question filters to find the right keyword for your niche.
Moz's Keyword Explorer, being a part of the Moz SEO analytics platform, has a wide collection of features to offer. From performing in-depth keyword research by comparing the search volumes and difficulty scores to SERP analysis, the tool has made the complex process of analyzing keyword research easier.
How does it work?
To generate high-impact keyword suggestions from a database of 500 million keywords, you would have to enter a URL or keyword. This would redirect you to create an account to access the tool. Next, it will send a verification email on your registered email address.
This keyword tool allows you to export your data into CSV format, review SERP details, and perform competitive keyword analysis.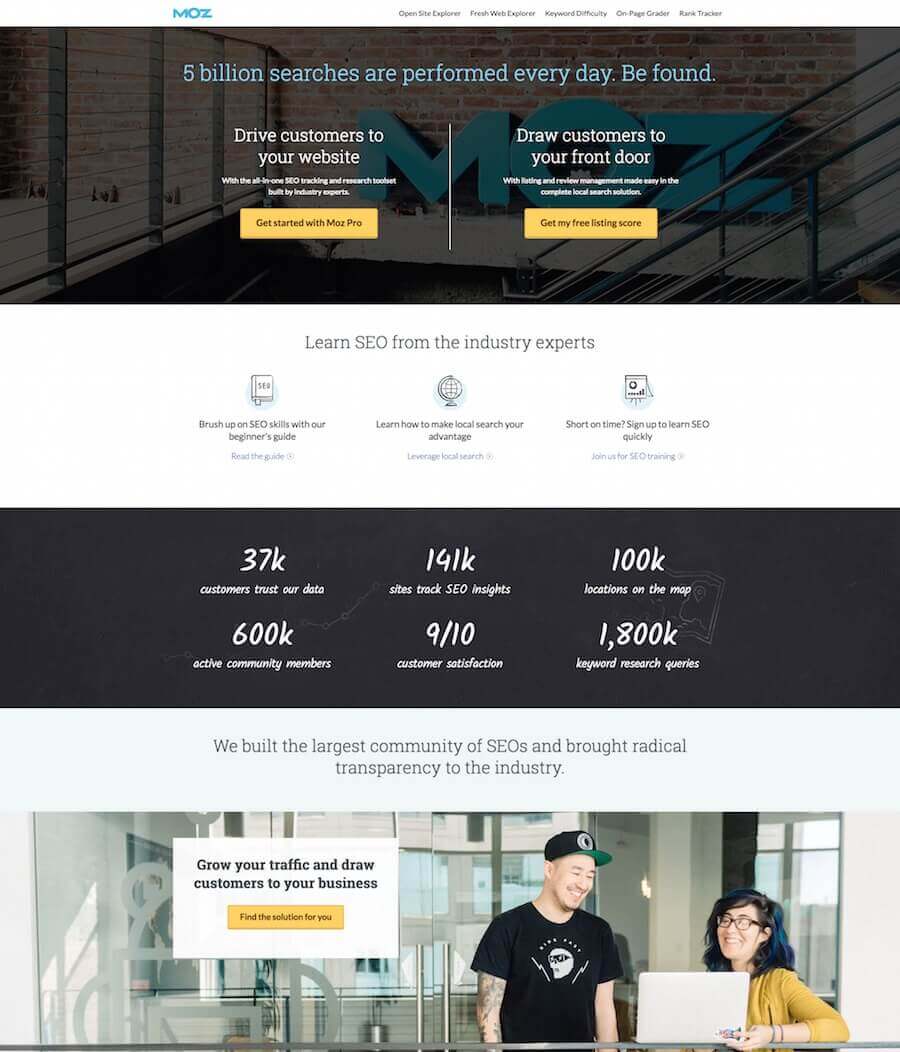 Serpstat is an all-in-one SEO platform that masters in rank tracking, keyword research, site audit, backlink analysis, and competitors' research. It has all the necessary metrics to expand your marketing influence even further.
The tool provides a collection of adaptable and specialized filters to help you get just what you're looking for. Moreover, in terms of in-depth analysis, it allows you to identify missing keywords for the whole domain.
How does it work?
To find the keyword information/data on this tool, you just have to enter the relevant keyword you're looking for. Yes, it's that simple!
Later, you can turn to the advanced features such as the insights on search questions, "tree-view" keyword distribution, and related keywords to rank your website better.
Don't miss our detailed review of Serpstat.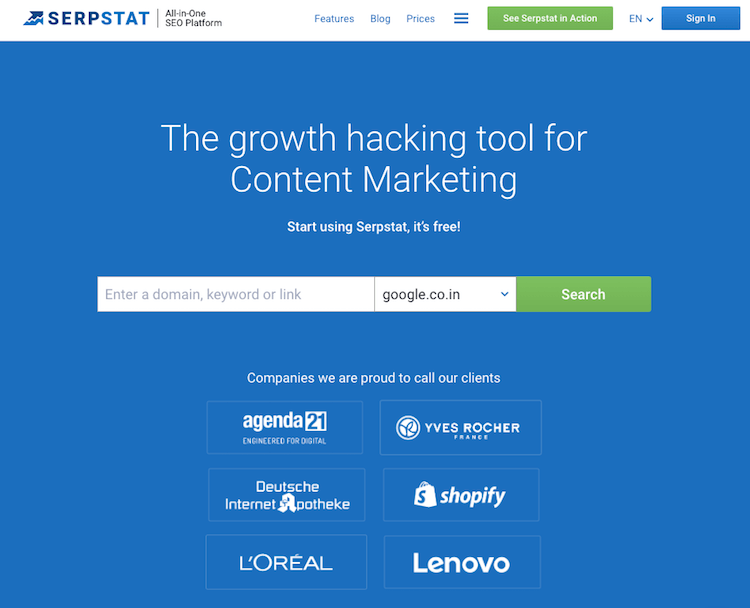 SpyFu, through its keyword research tool, helps you to plan comprehensive SEO and PPC campaigns faster than ever. From recommending quality backlinks to finding questions and transactional keywords to plan new content, this tool has managed to cover all aspects.
How does it work?
To get useful keyword data, you just have to type in the search box a relevant keyword and the algorithm will generate the advanced insights for you to dominate the rankings.
You can also paste in a list of keywords and the tool will add CPC data and search volume to each keyword.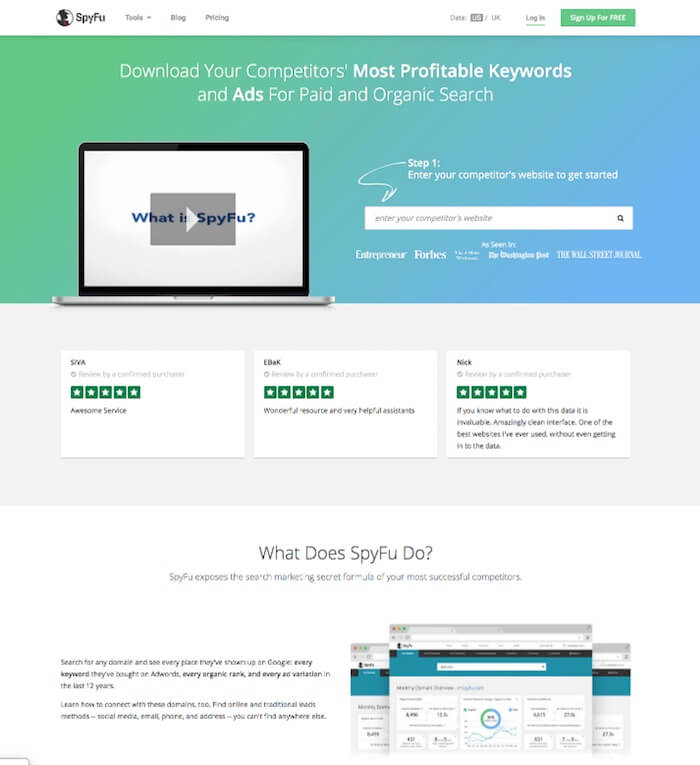 Let's just say Wordtracker fixes any drawback that the Keyword Planner lists. Available on multiple sources, such as Google, Amazon, and Youtube, Wordtracker uses its own proprietary data as well as Google data to generate up to 10,000 keywords in a single click.
How does it work?
You just have to simply enter the seed keyword in the search box and wait for the tool to load in-depth analysis. The keywords generated would also show the related keywords and competition level to help you effectively outrank the competition.
Also, don't miss our review of Wordtracker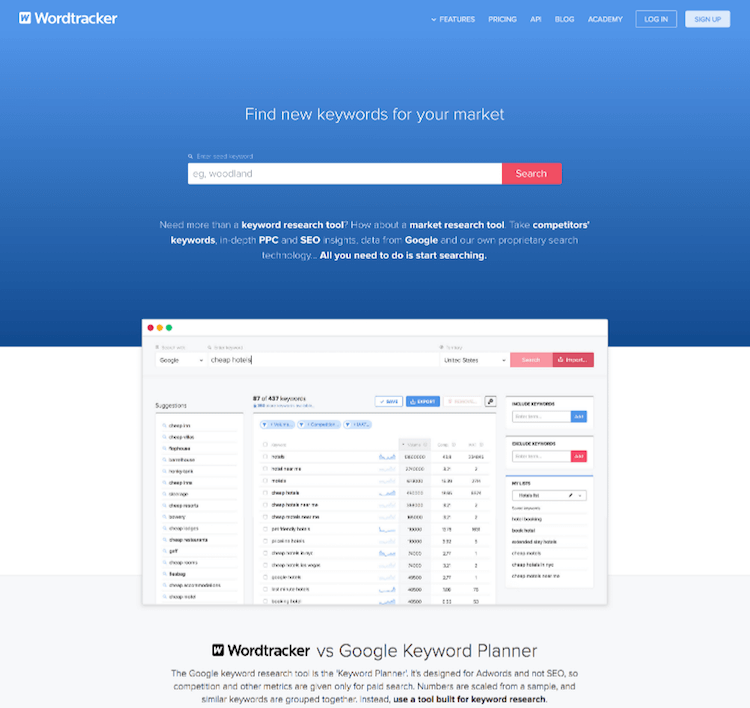 Conclusion
Each of the keyword tools listed above works in its own unique way and has its own strengths and limitations. Although the Google Keyword Planner tool is still one of the best on the market, these alternatives have the potential to fill the void perfectly.