Shortcodes are used to insert amazing functionalities into your post and pages with just one click. For example, you can add a great looking call to action button to your post with a shortcode.
So, whenever you need the button to be placed on a page you don't have to write the detailed code for that, just use the shortcode & you are done.
As WordPress is the most widely used content management system, there are some amazing shortcode plugin options to choose from.
In fact, most of the top quality WordPress themes come with their shortcode option, so you don't have to use a shortcode plugin separately.
However, it can create some issues when you change the theme. So, I prefer to use a shortcode plugin instead of using the theme-specific shortcode.
Coding can be quite a monotonous job and write a set of complex codes every time you wish to insert a button, or a line can get tedious.
So, using a shortcode plugin is the solution, and it can add custom elements to your pages whenever you need.
You can add more functionalities to your websites like custom button, content boxes, tabs, and many more attractive features within the blink of an eye.
And by copying the code to wherever you want on your website, you can have the required content live in a few seconds.
Here are some of the best WordPress shortcut plugins which will help you add various functionalities to your webpage as per your needs with just a single click
Top Shortcode Plugins for WordPress
WP Shortcode Pro
A shortcode plugin by the MyThemeShop team, WP Shortcode Pro will take care of all your shortcode related need.
The plugin offers you a number of different shortcodes that are frequently needed in a website. Shortcodes like buttons, double buttons, notifications, row and columns, list items, dropcap, quote, tabs, Accordion and many more.
The plugin makes it simple for the users to add new functionalities into a page with just one click.
If you are creating an affiliate product landing page, you can use this plugin to create and optimize your page with a proper call to action, testimonials, social sharing buttons to increase conversion.
WP Shortcode Pro is one of the best shortcode plugins that offers you over 80 different shortcode options to use.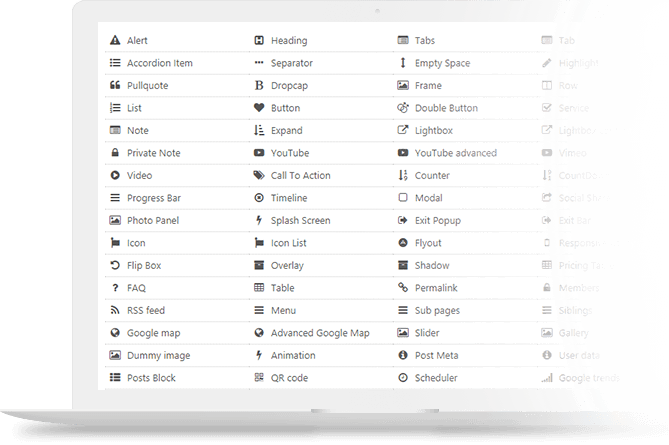 Easy Bootstrap Shortcodes
When it comes to flexibility and adaptability, the Easy Bootstrap Shortcode is one of the most useful plugins to customize any web page in a hassle-free manner.
This well-optimized WordPress Plugin is a versatile tool and works smoothly with Internet Explorer 6 and its higher versions.
The font bestows you with the choice of 500+ icon fonts, and you can also customize the plugin CSS to create your own custom-coded elements.
Quite true to its name, Easy Bootstrap Shortcodes lets you create and add Bootstrap 3.0.3 designs to your website just in a blink of the eye.
This feature-rich plugin is best when you want to include custom designing for grid columns and grid size on the layout of your website. Worth a try!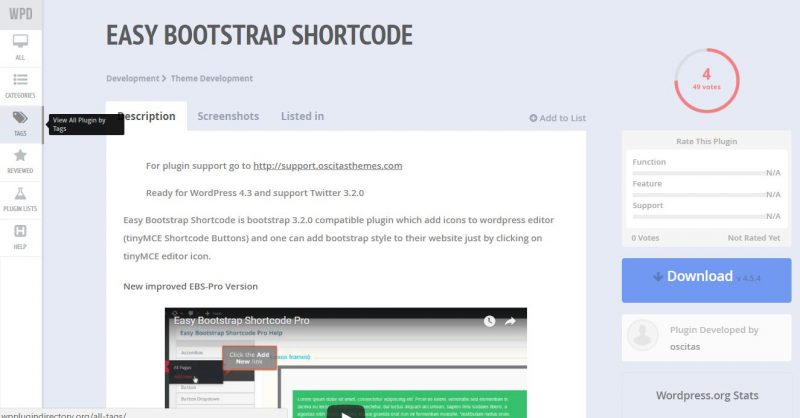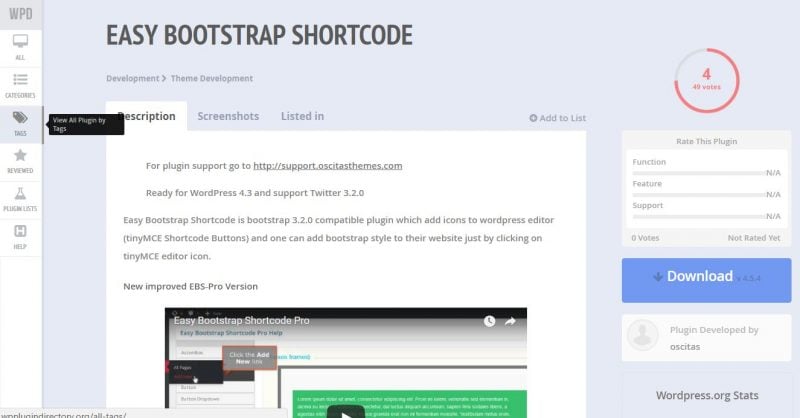 WordPress Shortcodes
WordPress shortcodes is a free WordPress plugin that allows you to add some useful and beautiful elements to your website.
This plugin offers various functionalities such as You Interface creation, Layout Management, Button, Lists, Message Boxes, Smart links to easily connect content to your site without using any complete URL's.
This plugin offers all common jQuery UI functionalities as well as jQuery UI Accordions, jQuery UI Tabs, jQuery UI Buttons and more.
This plugin offers services such as conditional shortcodes that allow exhibiting content based on certain conditions such as if you are logged in or if you are an administrator.
It also includes shortcodes to hide content for adding comments and notes to posts and pages.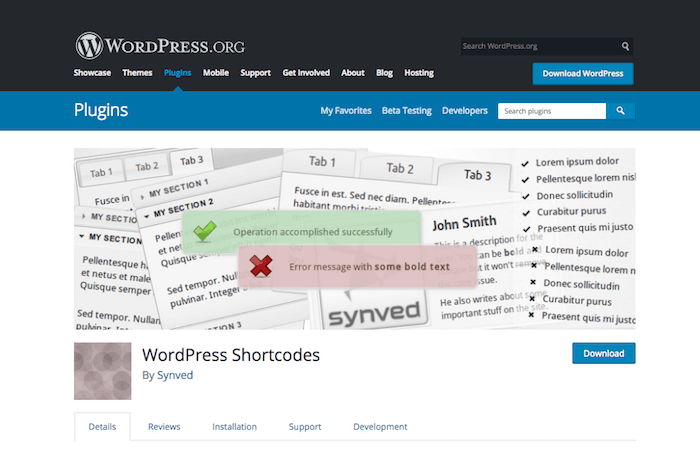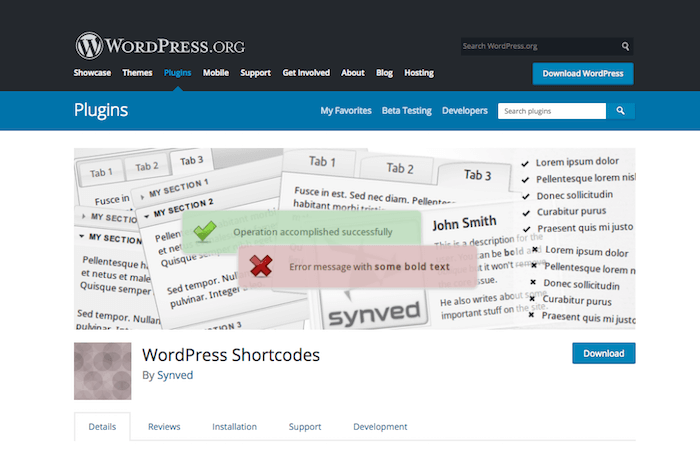 Shortcodes Ultimate
Shortcodes Ultimate is a powerful, popular and highly flexible WordPress supported plugin that offers unlimited possibilities of adding shortcut functionalities to your webpage.
It is an easy way to add numerous buttons to posts, embed files or add custom content to the website with just a few clicks.
The plugin includes more than 50 germane shortcodes, designed and developed in a modern style that offers a fully responsive layout for providing unprecedented experience on every device.
The plugin also allows custom CSS editor to change the overall appearance of your blog or website and it contains multilingual support as well. Quite friendly!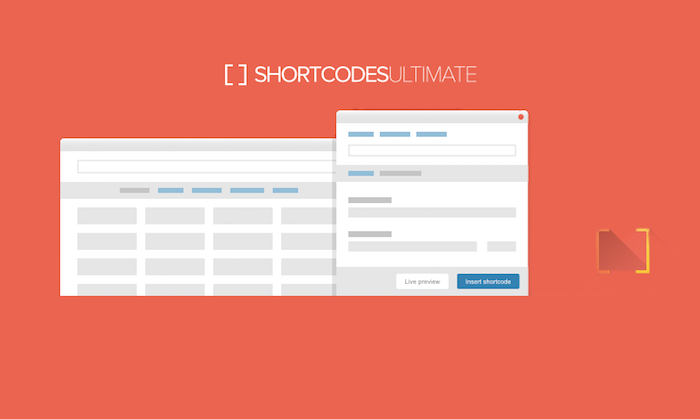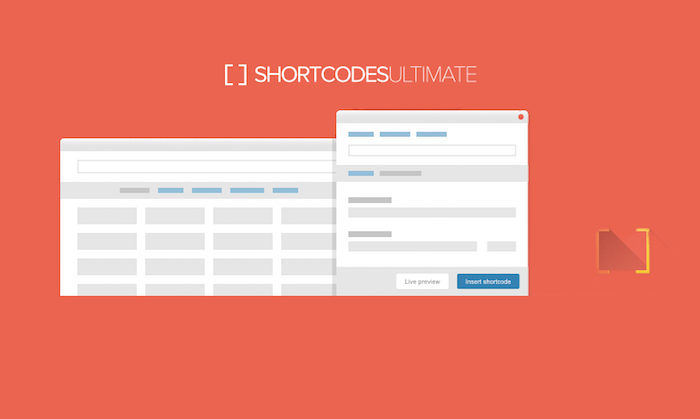 EasyVideo Responsive Video Shortcodes
EasyVideo Responsive Video is yet another powerful plugin that helps you to insert any video from a video sharing website.
It allows you to use the shortcode buttons of your choice in the editor and videos into the post or page. All you need to do is open buttons.php from the plugin folder and add the required snippet.
Likewise, to add/support a new video site, you need to open buttons.php and add the required snippet. This plugin allows you to embed and display videos anywhere on your blog via shortcode.
Moreover, the video content is highly responsive and will respond to the screen size automatically.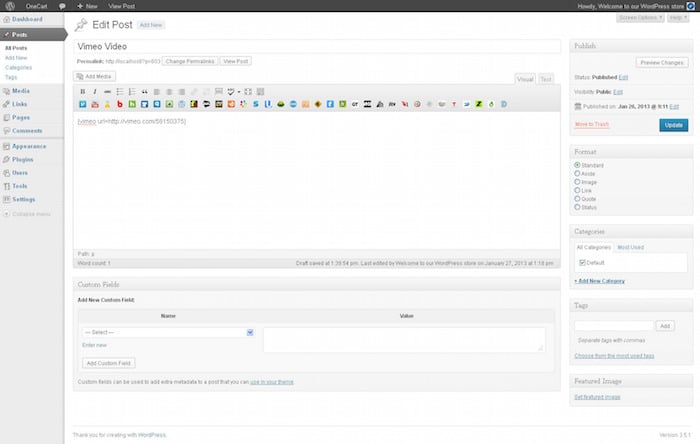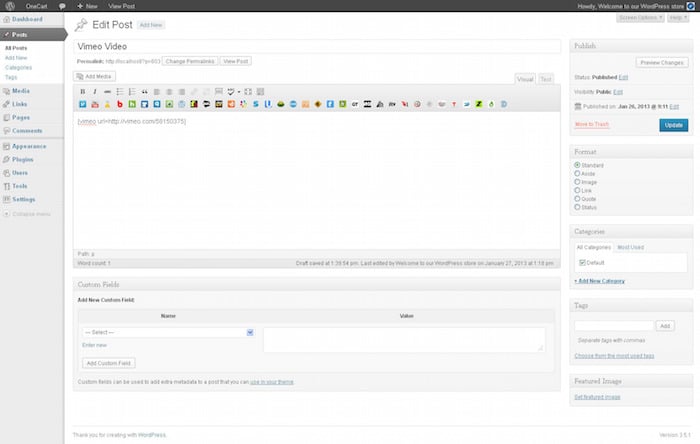 WP Shortcode by MyThemeShop
WP Shortcode by MyThemeShop is another amazing WordPress shortcode plugins. We have been using this plugin on most of our sites and it works perfectly.
This plugin offers you an amazing shortcode option to add a number of different elements on your site. You can add different color buttons, lines, page break, alert notes, Google Map etc with just a lick.
When you install and activate the plugin, it adds the shortcode option in the WordPress editor. So, when you wish to add any shortcode, you just need to click and select the shortcode option you want.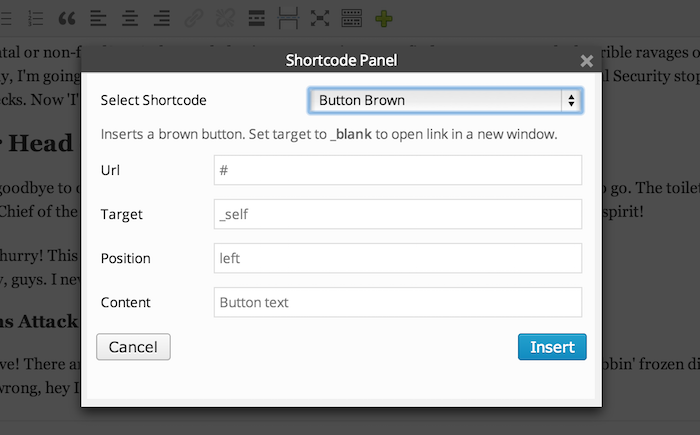 Shortcoder
Shortcoder is a powerful plugin that helps you in creating a custom shortcode and store HTML, JavaScript, CSS and other snippets in it.
You can use the shortcode in any post or page, and the set of code stored in the shortcode gets executed in a hassle-free manner.
It is a great plugin when you need a custom element on your website, and other plugins don't offer the element as a shortcode.
To create a shortcode, all you need to do is give a name for the shortcode, then paste the HTML/JavaScript code that you want to be executed as content and save it.
Once done, insert shortcode [sc name="my_shortcode"] in the post and you will have your custom element in your post.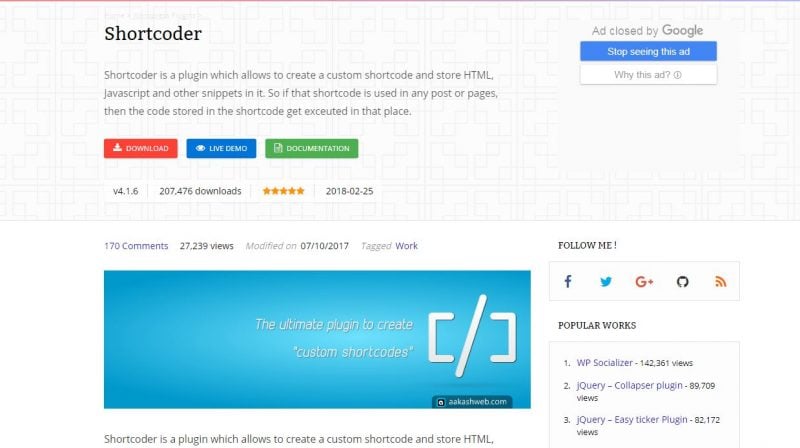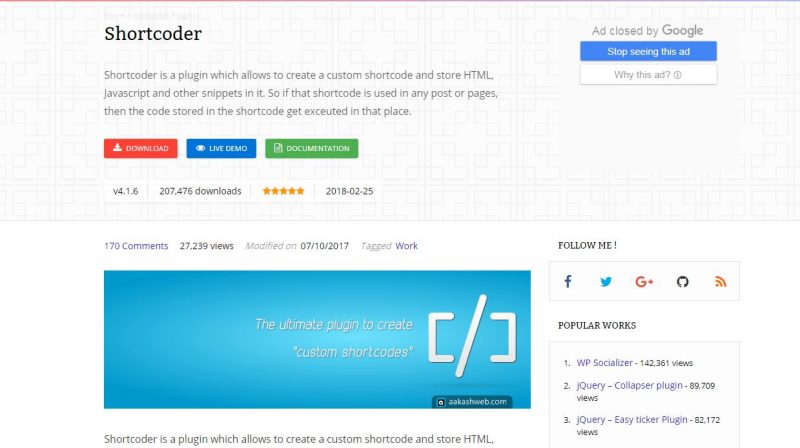 Intense Shortcode Plugin
Intense shortcode is a plugin which includes sets of functionalities such as custom post types, animation, icons, and can also work as a page builder.
It's a stunning shortcode plugin for WordPress that provides you with more than 100 amazing shortcode options that you can use on your pages.
Apart from shortcodes functionality, it offers 19 different post types, over 140 different animation effects and over 5000 icons.
The plugin will also contribute significantly to the design of your website as it incorporates the Visual Composer drag and drop website builder.
Shortcode elements like buttons, slider, progress bar, counter members, social icons and much more are present to help you customize your website the way you want.
More features include mobile responsiveness, speed optimization, customizable templates, snippets and much more.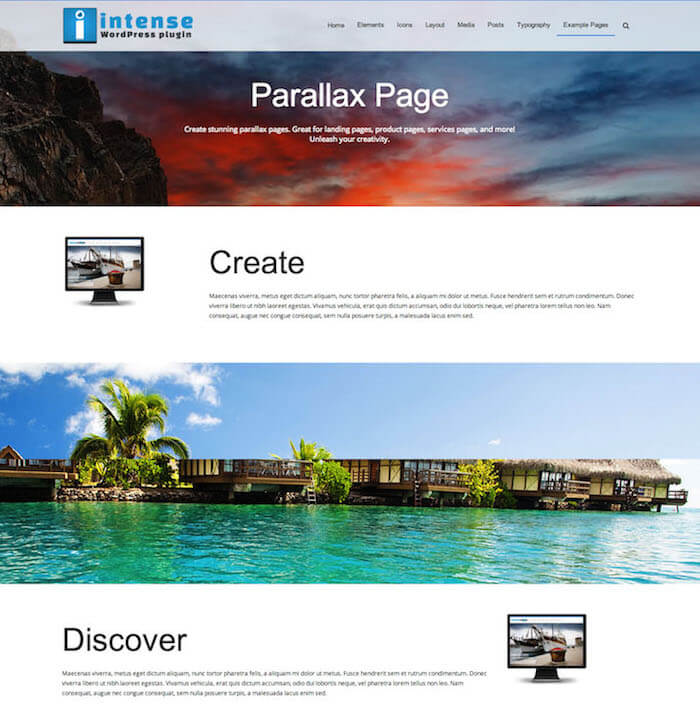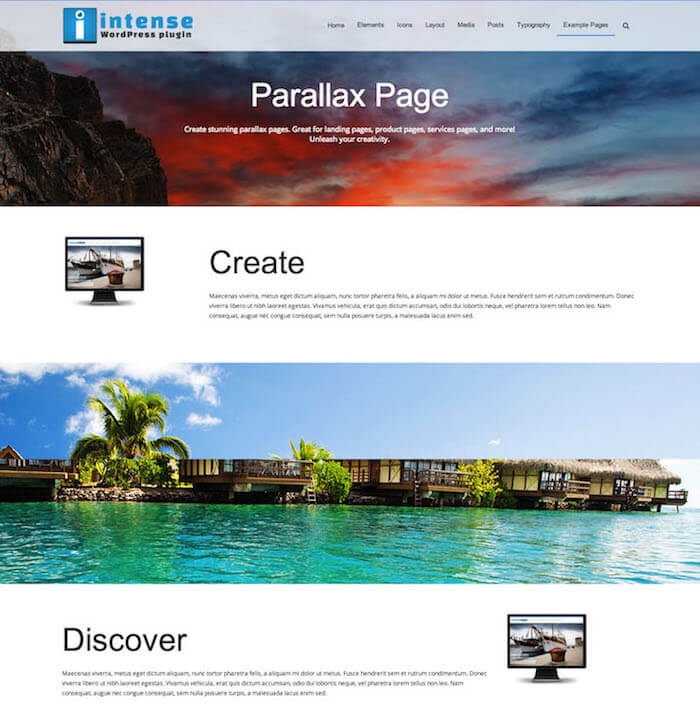 Arconix Shortcodes
Another amazing free shortcode plugin for WordPress. This plugin brings in a number of amazing features and options to your site.
With this plugin, you will be able to create great-looking buttons, tabs, styles with just a click. It offers you a number of amazing color options and modern button styles.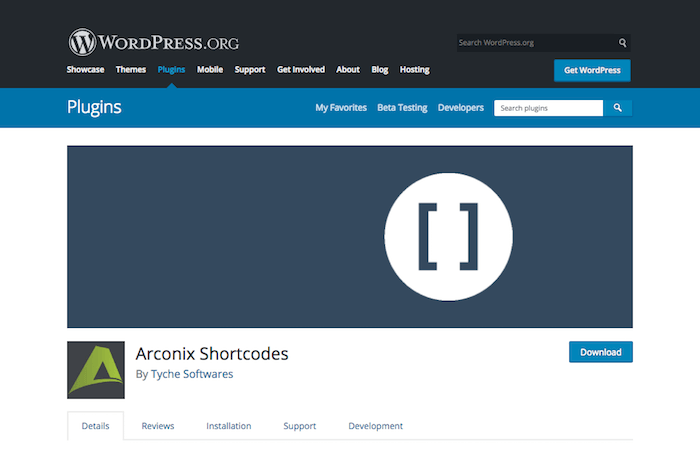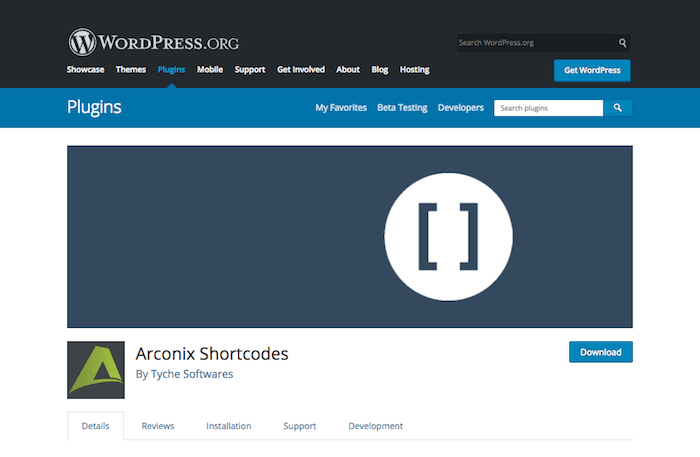 FAQs About Shortcode Plugins
01. What is Shortcode?
Shortcode is a quick option to add different functionalities into a page with a small line of code. You can use WordPress shortcodes to add buttons, tables, tabs and more.
02. Which One if the Best Shortcode Plugin?
We have used the WP Shortcode Pro on all our sites for the last few years and it has never disappointed us. So, it is certainly a really good shortcode plugin. However, you can check the list to find one that fulfills your needs.
03. Will These Shortcode Plugins Work With Gutenberg Editor?
Yes, these shortcode plugins will work perfectly with the classic as well as the Gutenberg editor.
04. Can I use a Gutenberg Block Plugin Instead of the Old Shortcode Plugins?
Certainly. There are a number of good quality Gutenberg block plugins that offer all these options like buttons, notification, tabs and many other options.
Which plugin best suits your shortcode needs? Let us know in the comments below!