Google Fonts are an integral part of web designs these days, Google Web Fonts are free and open source product from Google that you can use for your project.
Visit the official Google Font library here, you can check how each font looks before you select the ones that you wish to use on your project.
Fonts are a very important part of any website because it can enhance the overall look and feel of your site to a huge extent.
Also, the fonts can improve the overall reading experience for your users at the same time it can deteriorate if you choose the wrong font.
Most of the good quality themes come with readily integrated option of Google Font and you can easily select the one you like from the theme options panel.
You can check how Divi Theme makes it super simple for the users to style their site with amazing design elements and Google Fonts.
Though the theme designer goes through a lot of trial and error to find the most effective and good looking font for the design, you can do your testing to improve it further.
You need to note that not all fonts look good with all kinds of designs. A font may look very professional in one design and it may not look great on another.
So, select your Google Font wisely for your site. You need to check how your site looks on all different browsers as well as in the mobile devices before you finalize.
Now, if your theme doesn't give you the option to select Google Font easily for your site, there are a number of amazing Google Font plugins that you can use on your site.
Before you proceed with the Google Font Plugins here, don't forget to check our listing for the best Google Analytics plugins that makes it super simple and easier for you to track the stats of your site from the WP dashboard.
We have also listed some of the best Google AdSense plugins here to make it easier for you to monetize your site perfectly.
Now, let's have a look at the best Google Font Plugin options.
Top Google Font Plugins for WordPress
Also Read:
Easy Google Fonts
A very effective Google Font plugins, the Easy Google Fonts plugin is not only useful for the WordPress users but also for the developers.
If you wish to add Google Fonts to your site quickly, this is the plugin you need. It brings in over 600 different Google Fonts to your design instantly.
This plugin works with any WordPress theme, so even if you are designing a new theme and you wish to incorporate the Font feature, you can take help of this plugin.
You don't have to know any coding to make the best use of this plugin.
Another best part is that it has used the core WordPress customizer feature to allow users to check and check a real-time preview of the changes before making it live.
As you can see in the screenshot above, not only selecting the Google Font but you can style the fonts as per your requirement.
You have the option to change the font size, line height, letter spacing as well as option to select the color from unlimited color options.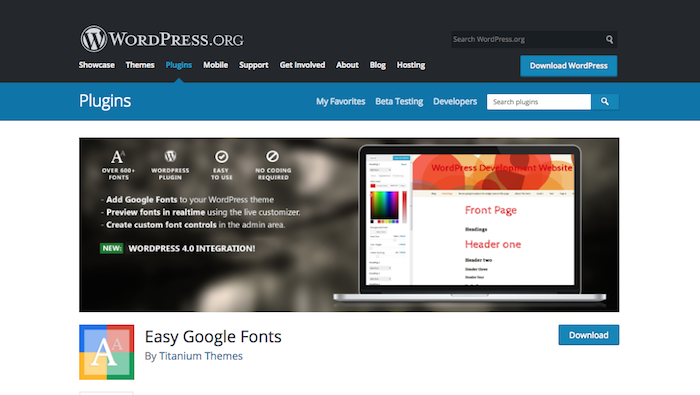 Google Typography
A simple Google Font plugin that brings in over 800 different Font options to your site in minutes. Just install and activate the plugin and a set of amazing rich fonts are available to use.
It's a quick and simple plugin to use. If you wish to use the power of Google Fonts without any coding, this is the plugin you can use.
Once you activate the plugin, go to Appearance > Typography settings to select the Font of your choice from the different section of your site.
You have the option to select font weight, size as well as color for your font to match the color scheme of your site.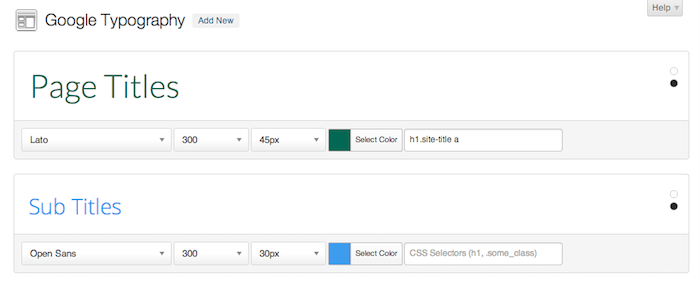 Your content may not get the importance and viewership it deserves if you use a messy font for your text. So, make sure that you select the font for your site very carefully.
The Google Typography plugin makes the process simple for you. Select any font from the drop-down menu and see how it looks on your site before finalizing it.
Google Web Fonts for WordPress
This is a premium Google Font plugin that comes with amazing features to enrich the overall typography on your site.
If your current theme doesn't offer you the option to use Google Fonts, you can use this plugin and get access to over 600 different Google Fonts that you can use on your site.
This plugin applies CSS directly so you can use this plugin with any WordPress theme of your choice. It will keep auto-updating itself with the new Google Font options to offer you the variety you want.
This plugin comes with a very easy to use settings page where you can select different fonts for different elements on your site and check the preview before making it live.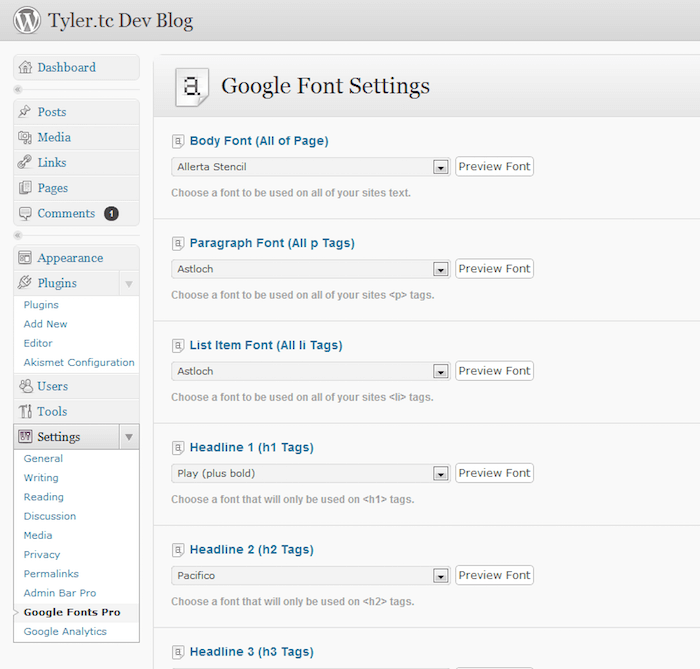 Easy Post Google Fonts
This is another premium Google Font plugin with over 600 different Font options to choose from. This is a very easy to use plugin with straight and simple options panel.
You can choose the font for the different section and elements on your site such as different heading tags H1, H2, H3 etc as well as the Widget section and other parts.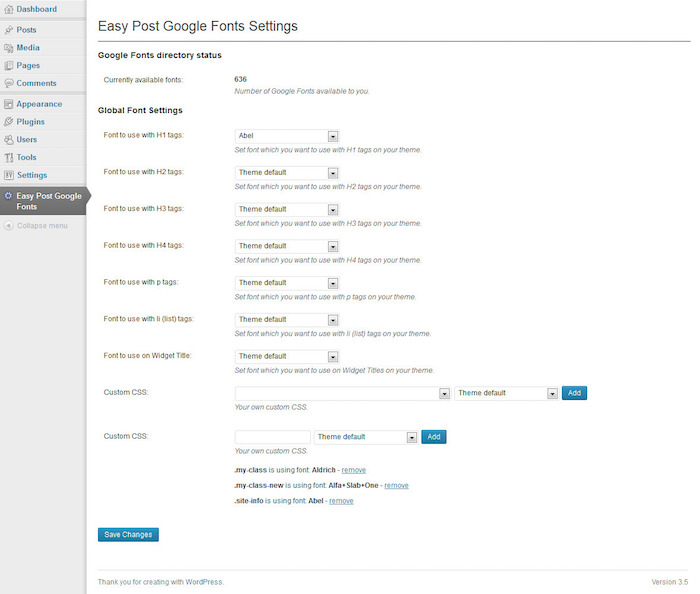 You also have the option to select custom CSS if you wish to style any section different with different color and other styling elements.
It works perfectly on the different browser and with different WordPress themes. So, you can easily incorporate this plugin into your current theme.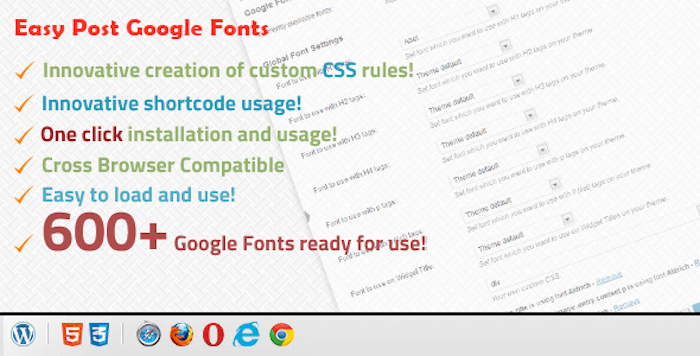 WP Google Fonts
With over 100k active installations, this is one of the most widely used WordPress Google Font Plugins. You can download this plugin for free and use it on your site.
It's a quick and simple plugin that you can use to bring in the Google Font options to your site. You can set different Fonts for different elements on your site.
This plugin also gives you the option to target the fonts from your site's stylesheet. It offers you the option to add custom CSS styling.
Google Web Fonts Customizer
Another simple free Google Font WordPress plugins, the Google Web Fonts Customizer plugin will help you to add easily to your site quickly.
This plugin uses the power of WordPress live customizer to make it simple for the user to have a real-time preview of the changes before making it live.
Please Note: there are some reports that this plugin doesn't work perfectly with the HTTPs setup, so please test your site before using it.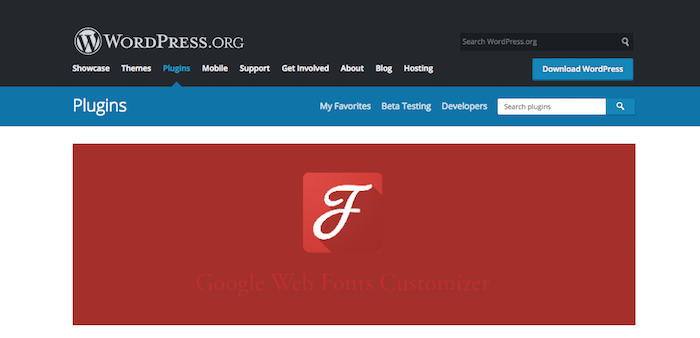 Final Word
Though there are a number of other Google Font WordPress plugins available in the market, the above-mentioned plugins are good enough and offer you all the features and options you need.
Newbie Users: Before installing any Font plugin form this list, make sure if your theme already offers you the Google Font selection option.
If your theme doesn't have the typography option available readily then only you need any of these plugins.