If you are a freelancer, then you would have experienced an increase in work opportunities and demand for freelancers in the recent past.
Every day, new people are jumping onto the freelancing bandwagon, and why not? There are indeed plenty of opportunities for people who want to make a living on the internet!
Earning from the internet as a freelancer requires you to have a lot of patience along with finding the right market for your services.
Initially, you need to find where your customers are and then you need to create a strong online presence to attract the people that may be interested in your services.
Most freelancers create their profiles on websites such as UpWork, Freelancer, etc.; but with increasing competition, creating your own identity on the web with your website acts as an added advantage to you getting more business.
And this is where WordPress can come to your aid. There are plenty of WordPress themes that are specifically designed for freelancers, and you may use any of these to create a portfolio website that can help you in creating a strong online presence
These themes add up to the authenticity of your services and also provide you with an opportunity to stand out in the competition.
Don't Miss:
Check out this list of amazing freelancers' WordPress themes that you can use for building your online portfolio as a freelancer:
---
Kalium
Kalium is a wonderfully coded creative multipurpose WordPress theme. Kalium offers nicely polished page templates with a wide range of options to choose from.
The theme comes with native Dribble Portfolio functionality and is perfectly suited for freelancers of all types of photographers from engineers to creative designers and any other sort of professional.
Kalium is a very clean, minimal, and professional-looking design that is perfect for any creative and freelance professionals.
The theme is loaded with amazing features and options that will help you to create a successful site quickly.
It's a multipurpose WordPress theme; you can use this theme for any niche site along with the freelancer portfolio sites.
Kalium theme offers you multiple ready-to-use demo design options to choose from and you can import any of the demo designs in just one click and make your site ready.
Kalium is well thought out with carefully developed features and plugins that win over the competition!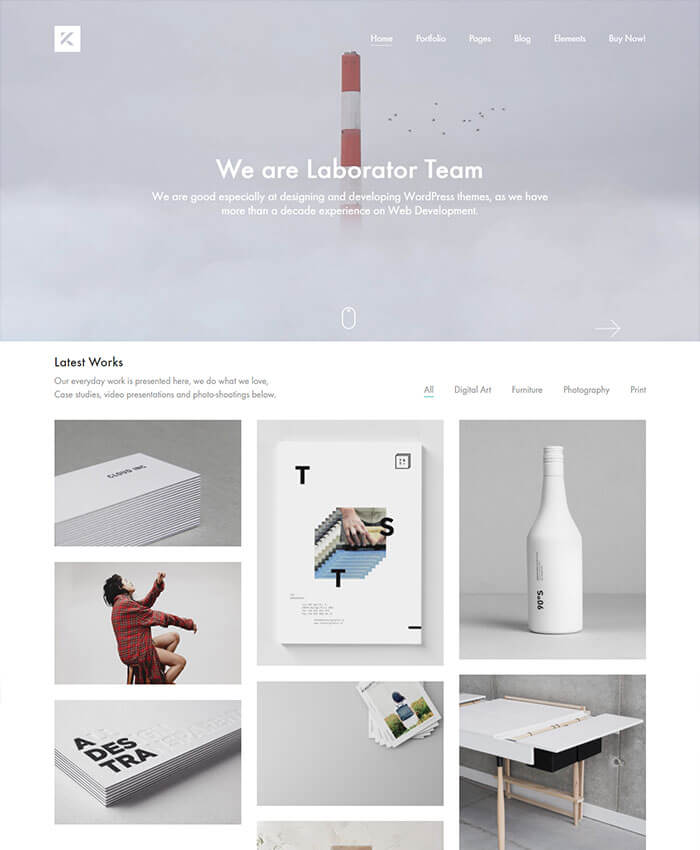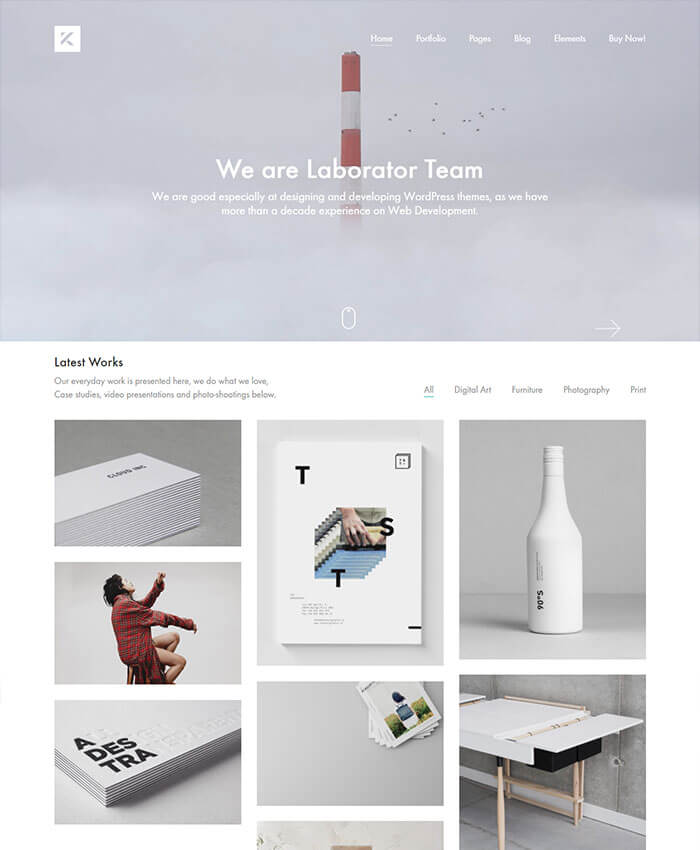 Divi
Divi is the right theme for you if you want to create a unique and powerful website. The theme helps you to create an easy and quick website that highlights your information, skills, and portfolio on the web.
Being highly responsible and flexible, Divi offers many useful theme tools to get you started on your website in no time.
The endless design possibilities offer you a number of great-looking pre-made layouts that can further be customized with an easy-to-use drag-and-drop builder.
The Divi theme comes with the powerful Divi Website builder which is one of the best drag-and-drop website builders. The plugin brings in a huge list of modules that you can use to create your pages.
You have great flexibility in terms of design, you can create a unique layout and save it in the library for future use.
Divi is created by the Elegant Themes team who are in the business for a long time, you can be sure that your site is in safe hands.
In fact, Divi has taken security very seriously and it will make sure that your site is safe from the bad guys with tight security.
Divi comes with 32 built-in language translations, and this feature-rich website is an ideal choice for kickstarting your online journey.
Get a 20% extra discount on Divi Theme.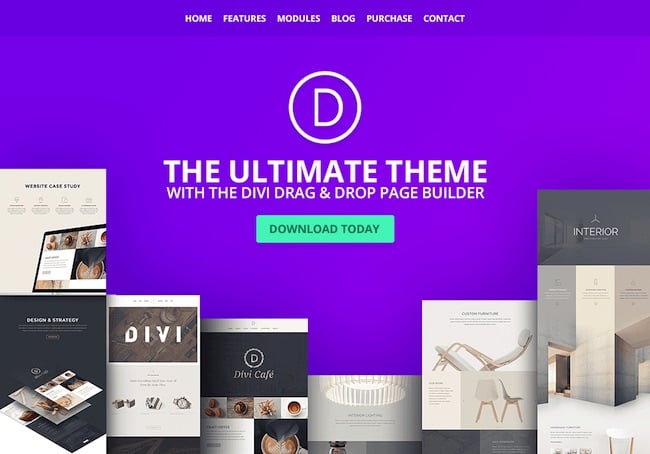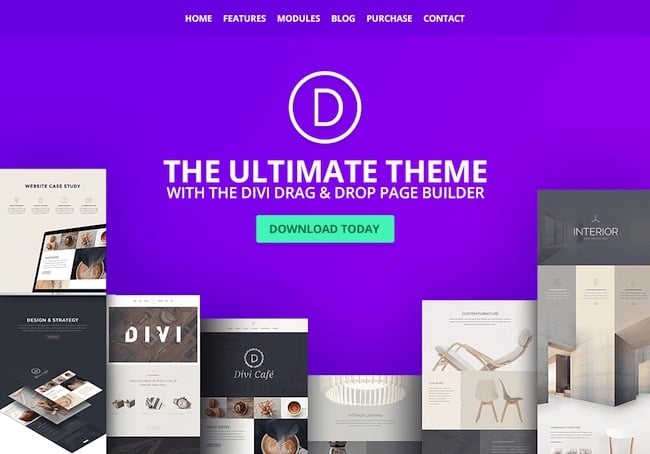 Freelance Engine
One of the popular and custom-created WordPress themes for freelancing-related websites. You can use this theme to create your own freelance job marketplace.
This theme offers you a great-looking design that is custom created for a freelance marketplace site.
Creating a marketplace could be a great business idea, after your initial investment of time and promotion, you don't have to do much as it will be busy around the users.
You can create different packages and charge money to use your platform. The users can submit their job requirements as well as freelancers' profile at an hourly rate to find more work.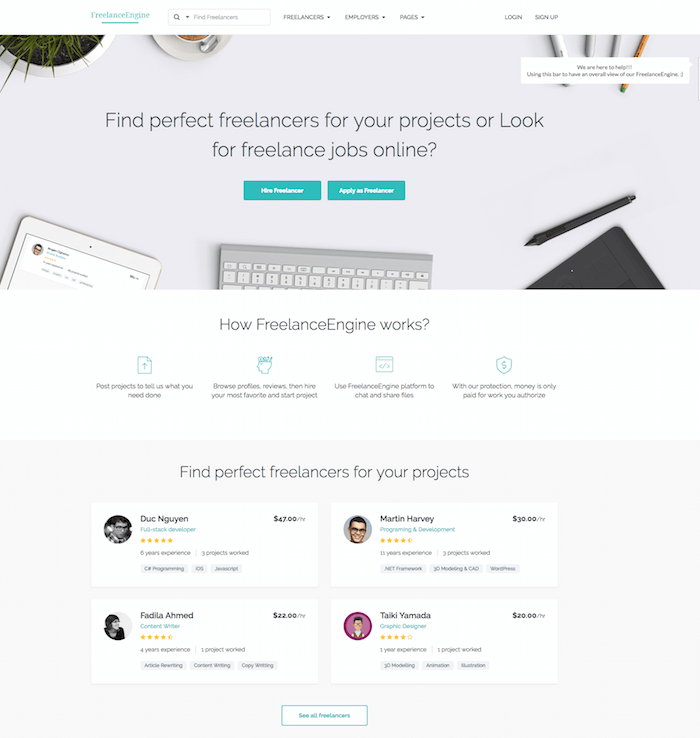 Gillion
Gillion is a highly user-friendly WordPress theme for freelancers that comes with a one-click installation.
Suitable for all the needs of small businesses such as freelance photographers, designers, illustrators, and other creative professionals; Gillion is one of the most demanded themes for freelancers.
The theme comes with a drag and drops visual composer that allows you to customize the demos that fit your precise requirement.
This feature-rich theme offers retina-ready graphics, demo content, and amazing customized icons. And Google customizable typographies make your content look unique and presentable.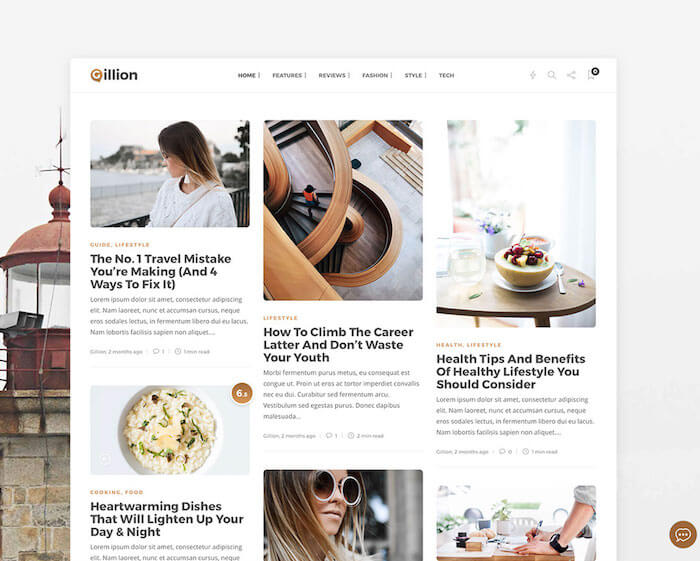 Uncode
Uncode is a brilliantly designed WordPress theme that has been developed with graceful features and layouts. The theme makes it easy for your audience to navigate through your content in a hassle-free manner.
Equipped with a highly compatible visual builder and attractive pre-designed layouts, Uncode can help you create a website that your audience will connect with.
This excellent theme is an ideal choice for creating sophisticated and modern freelance websites for different niches such as artists, photographers, architects, and engineers.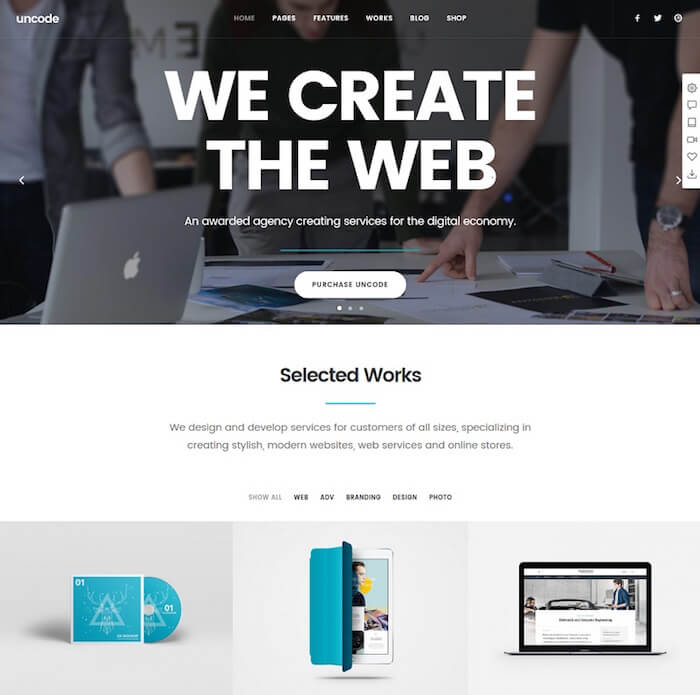 Jevelin
Javelin is an elegant and powerful theme that is focused on the needs of digital professionals of all types. The theme comes with a mobile-friendly and retina-ready display that is well structured by using HTML5/CSS3 featured codes.
In addition to this, Javelin provides several elegantly designed pre-made styles that are extremely easy to customize with unlimited color options.
An annotated code and extensively presented documentation help you make the best out of your online presence.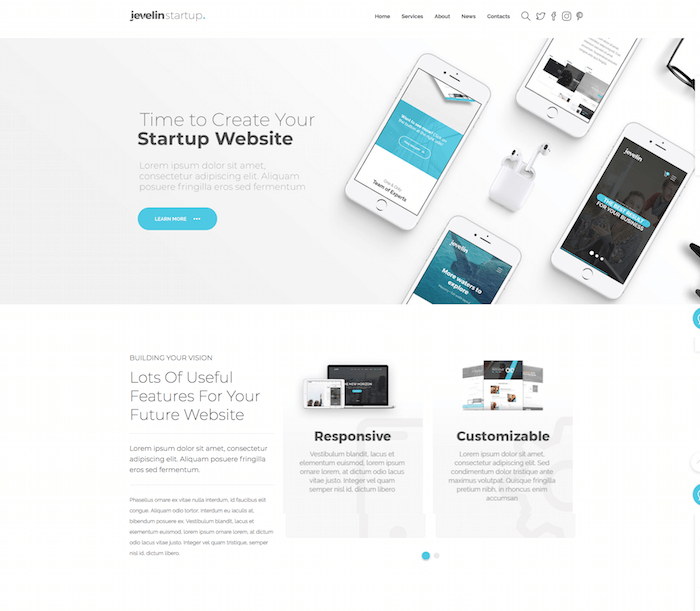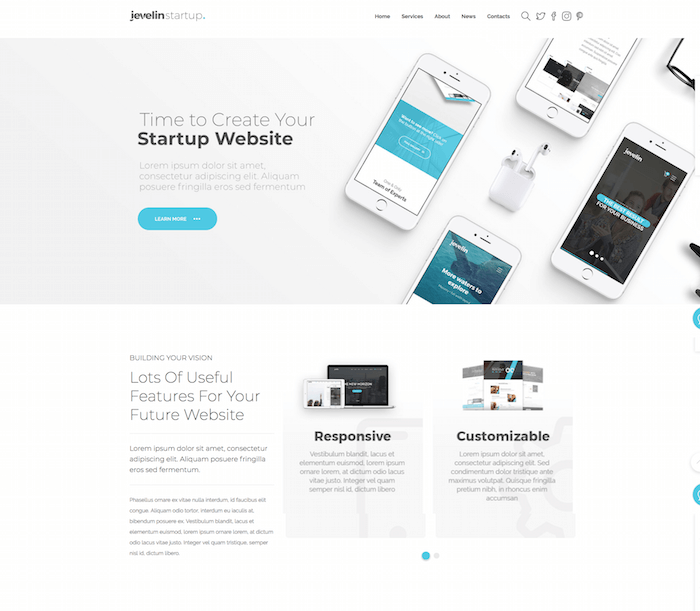 HireBee
When it comes to a freelance marketplace site, you can't ignore the HireBee theme. A custom-created WordPress theme to create a high-quality comprehensive marketplace.
As the admin, you can create multiple packages be it free or paid packages to make sure that you are able to make a recurring revenue from your business.
The theme offers you a completely optimized design to find freelancers with their expertise as well as hourly rates.
HireBee offers you a powerful foundation to start your freelancing marketplace business. Features like live notification, a comprehensive user profile make it one of the best choices.
Stash
One of the most relevant issues that freelancers face is finding a theme that suits the requirements of their specific niche. With Stash, you won't have to face this issue anymore as the theme offers niche demos with 48 different options that will ease your task.
This multipurpose and multi-featured WordPress theme offers several other layout options including the combining of one-page and multipage formats. It is compatible with all browsers, devices, and screens.
Further, Stash offers seven different portfolio page choices to start you up with demonstrating your work, customizing backgrounds with videos and editing design for other custom posts.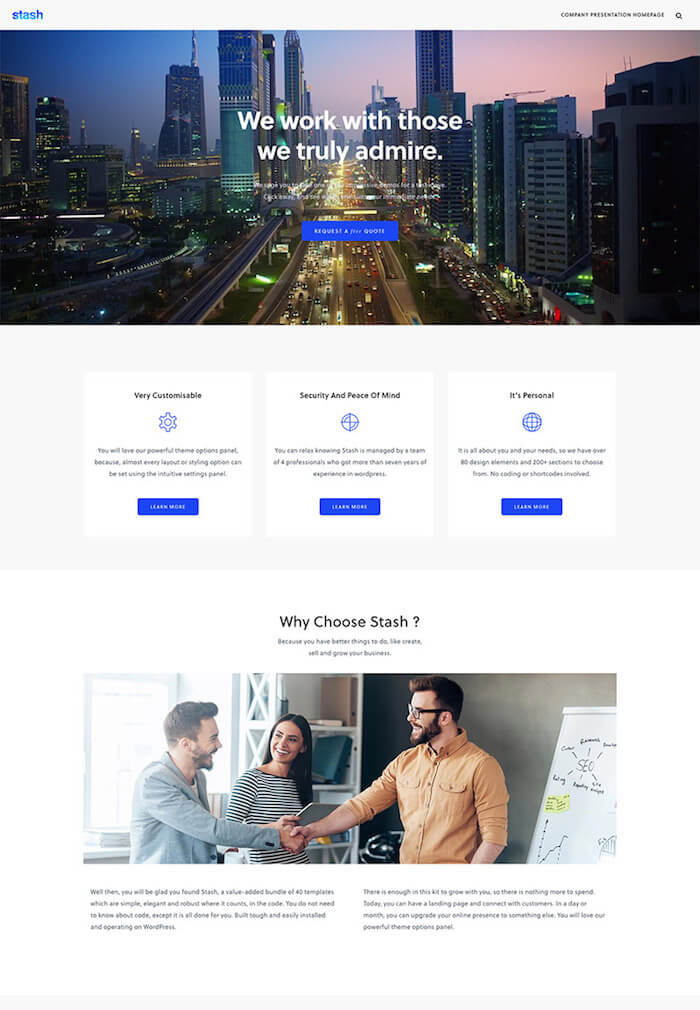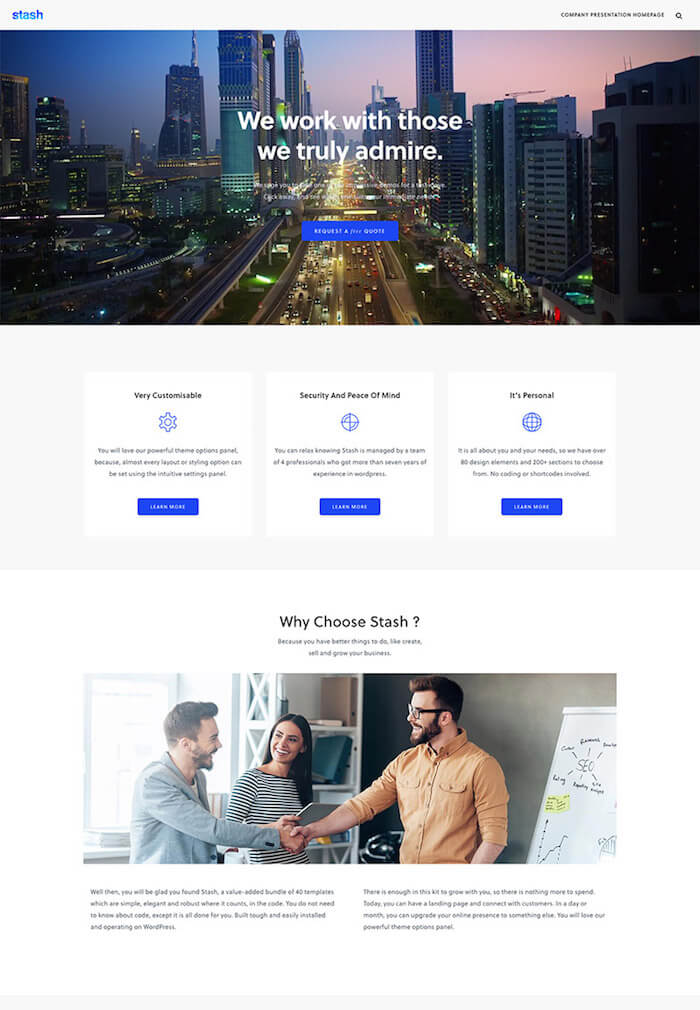 Navy
Navy is one of the most reliable and responsive WordPress themes that can help you to build an enticing and attractive navigational experience for your audience. It offers a collection of powerful templates to let you start things off in the best possible way.
Being an efficient performer on the server, this lightweight and fast-loading theme is ideal for a broad range of business niches.
Navy helps you in crafting customized layouts with its grid builder and various other options such as multiple footers, headers, menus and page builders.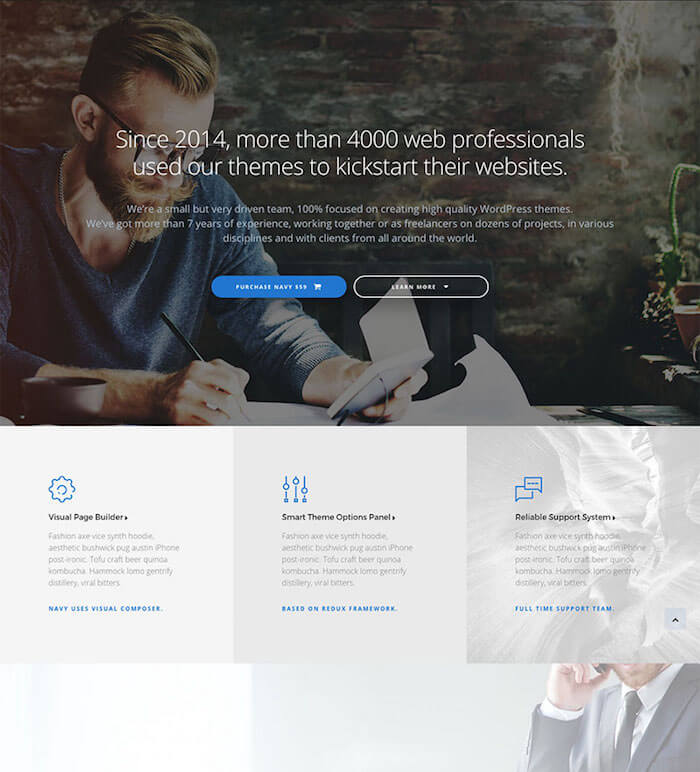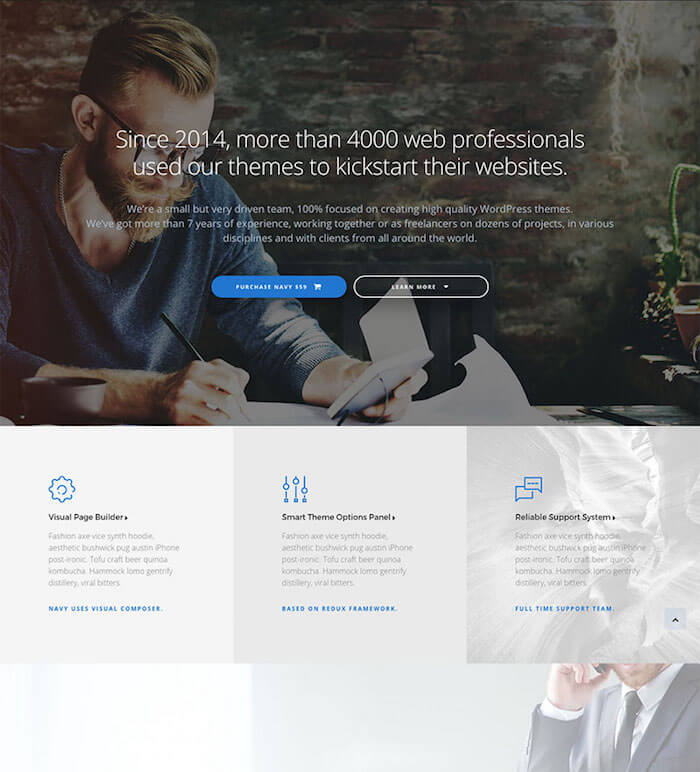 Bionick
Bionick is a wonderfully planned theme that integrates highly user-friendly visual composers into your website to make layout design and page construction a simple task.
This feature-rich theme comes with a smooth and top-of-the-line slider that can be enhanced using a premium revolution slider.
Bionick offers four different kinds of homepage templates with three different styles of portfolio options (powered by AJAX) to display your work.
In addition to that, the theme comes with four custom types of portfolio post formats as well as four different portfolio detail page styles. What else can you ask for?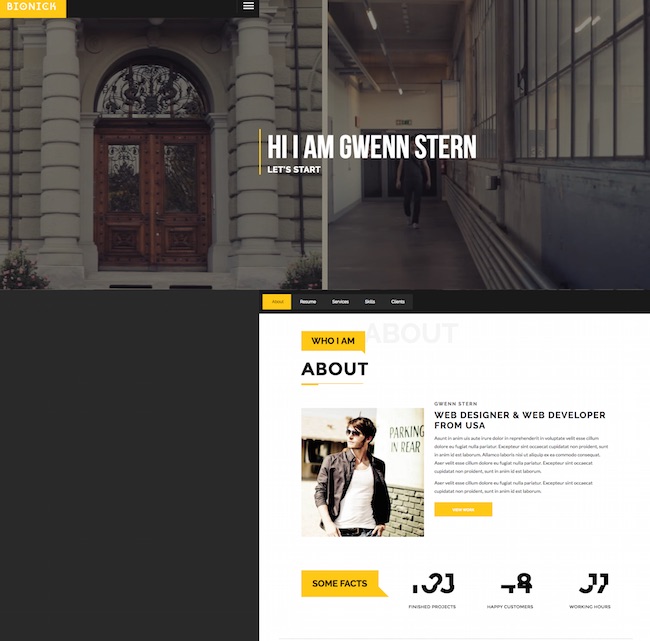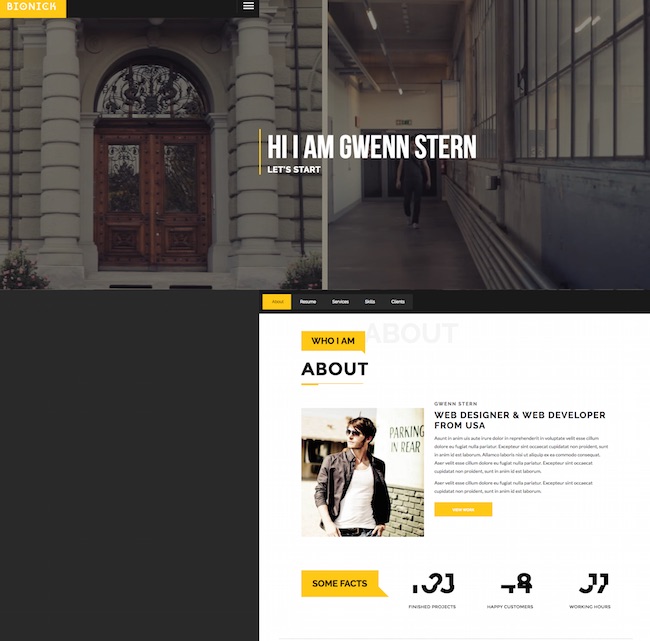 Empathy
Empathy is a simple, convenient, and well-planned theme that has been designed to add a unique charm to your online identity.
The theme is built with the latest and highly advanced web technologies such as W3C valid HTML and CSS3 elements and is styled on a modular Bootstrap responsive framework.
Empathy is a suitable choice for people who want a one-stop solution to their freelance portfolio needs and create an impactful presence on the web.
The theme comes with a list of convenient shortcodes and features, including 67 different templates, in/out transition animations, and a solid AJAX portfolio with a custom and mobile-friendly experience.
We have listed a similar vCard resume WordPress theme collection here.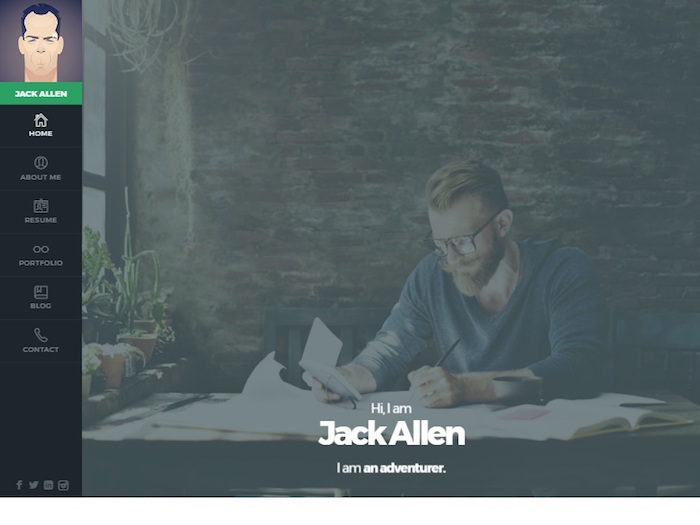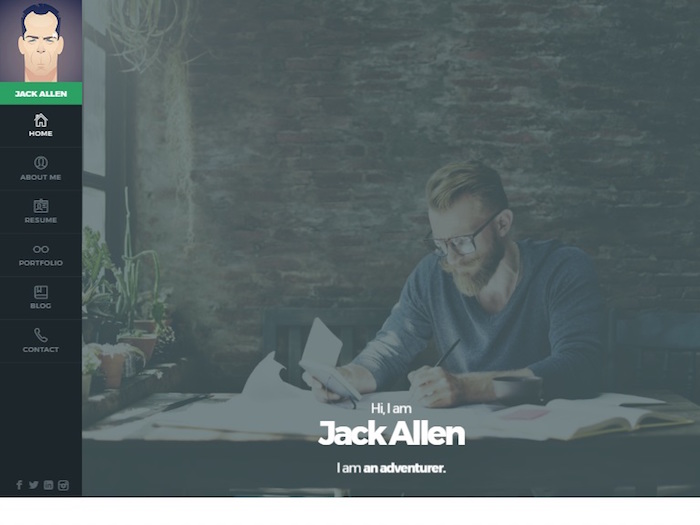 Beoreo
Beoreo is a simple and beautiful WordPress creative multipurpose website theme. It offers a resourceful set of capable tools, plug-ins, and features to help you build the ultimate kit for creating and launching a website that connects with your audience.
The features it offers are suitable for any use including freelancing requirements. It is convenient, and time-saving, and helps your customers to easily navigate through the information on your website.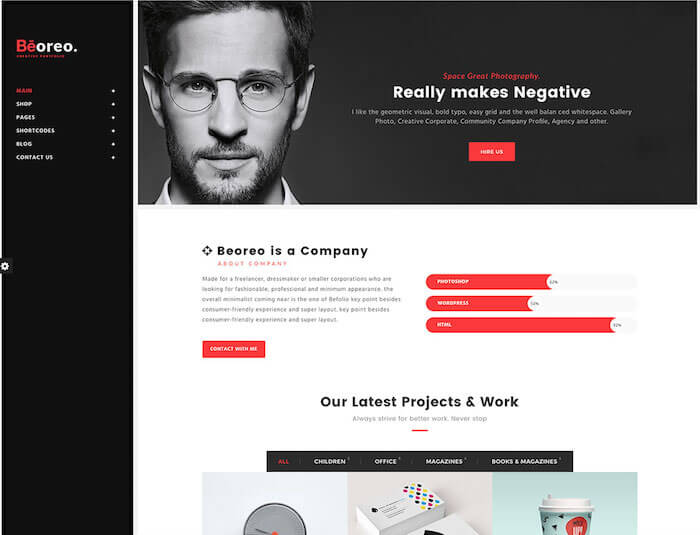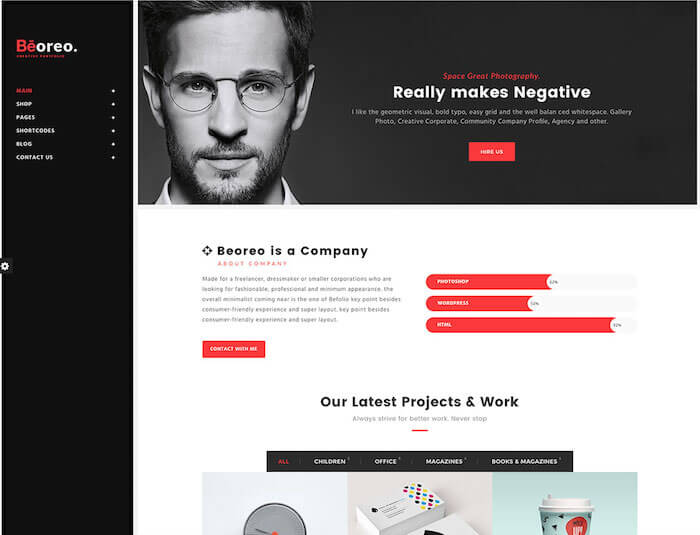 H-Code
H-Code is a reliable freelance WordPress theme for creating modern websites with attractive designs. The theme offers 200 custom page templates, 63 demo websites and serves the requirements of almost every niche.
This is a multipurpose WordPress theme that you can use to create any kind of website you wish to create. In fact, you will find a ready template for most of the regular niche sites.
The theme is perfectly compatible with the WooCommerce plugin as well, so you can use it to create an online store.
You get the premium Visual Composer plugin in the theme bundle for free that you can use to create a completely custom design for your site without any coding.
You also get the premium Slider Revolution plugin for free in the bundle that will help you to create great-looking slides on your site.
The theme is fully responsive and retina ready to make your site look great on all devices. The theme is perfectly optimized to offer you great loading time and amazing performance.
A huge collection of shortcodes allows you to offer creative insight on every single page, portfolio, gallery, slider and much more. Good for freelancers!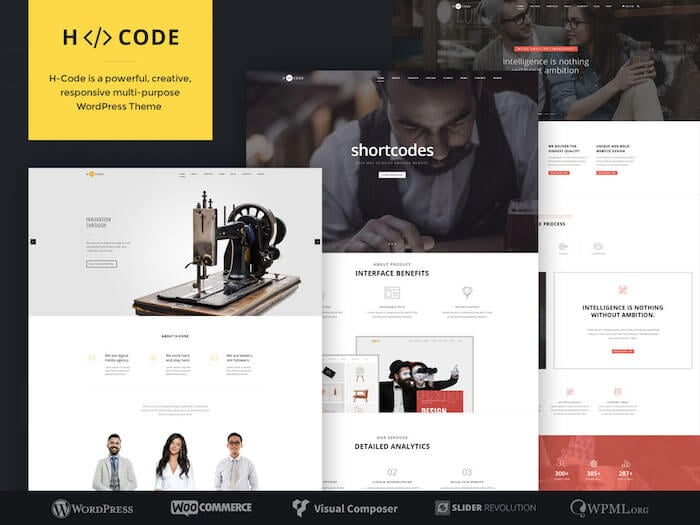 Pitch
One of the most comprehensive and highly customizable WordPress themes, it is perfect for any freelancer site.
The theme is loaded with amazing modern features and options to make sure that you have everything it takes to create a powerful modern website.
The Pitch theme comes with a number of amazing ready-to-use demo design templates to choose from. You can choose any of the demo templates and import them with just one click.
This theme is perfect for freelancers and creative professionals as it offers you some stunning designs that are ready to be used.
As we are talking about the freelancer sites, you will need portfolio designs to showcase your work and the Pitch theme takes care of this requirement perfectly. You have a number of great-looking portfolio designs to choose from.
The theme comes with a comprehensive set of shortcodes that you can use on your pages, it offers you a powerful theme options panel, Google Fonts, Font Icons, multiple blogs, and single page layouts, and a lot more.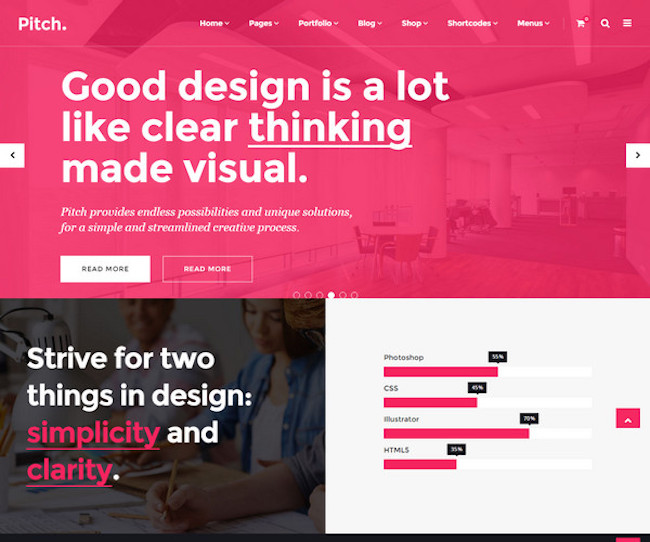 Charm
Charm is a highly responsive WordPress theme that comes with a retina display and helps you create an online presence that is quite literally 'charming.' The theme pays due emphasis to typography and attention to detail to help you set up an attractive and responsive website.
Charm also lets you elegantly display your latest photos, posts, and videos with its responsive portfolio grid and minimal blog layout. You can edit the site title, accent color, upload a logo and perform many other functions in real-time.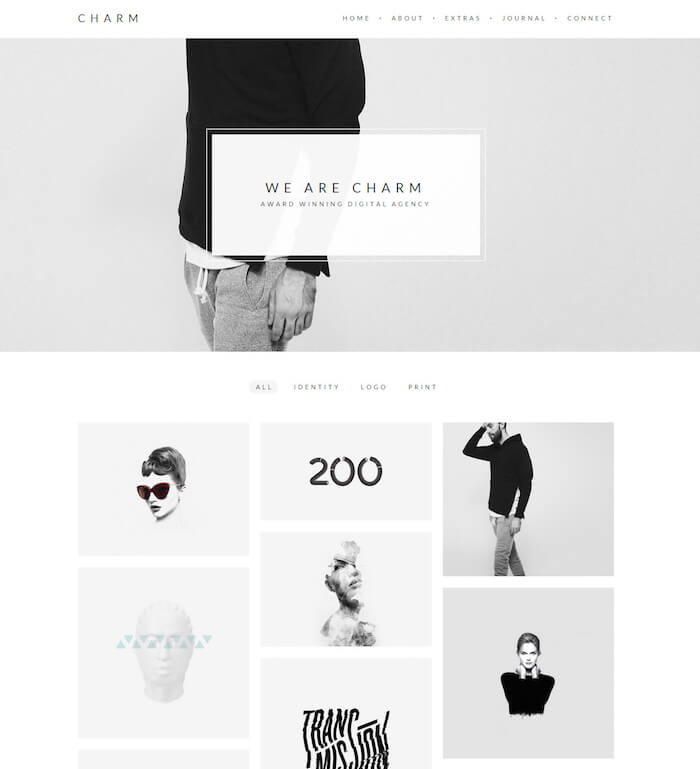 Werkstatt
Werkstatt is a creative and competent WordPress portfolio website theme. The theme is ideal for developing sophisticated and professional websites in a hassle-free manner as you do not need any coding skills to develop impressive and responsive websites.
Werkstatt offers impressive lightboxes and transition animations that can be effectively used to create a portfolio for freelancers.
The theme also lets you customize hundreds of layouts, settings, and combinations to help you showcase your skills to the world in one go.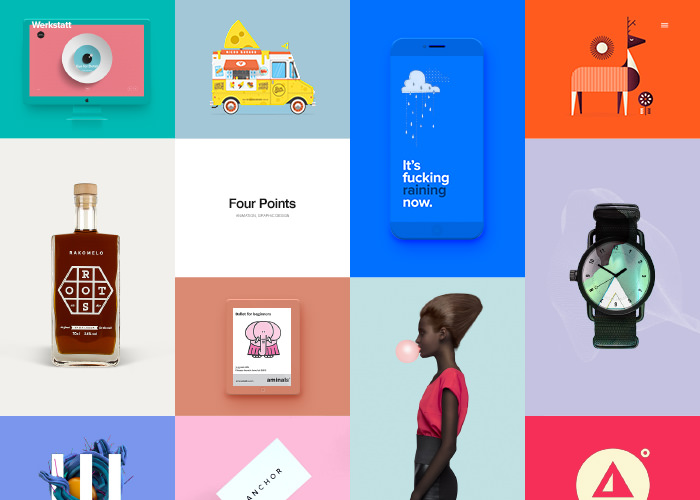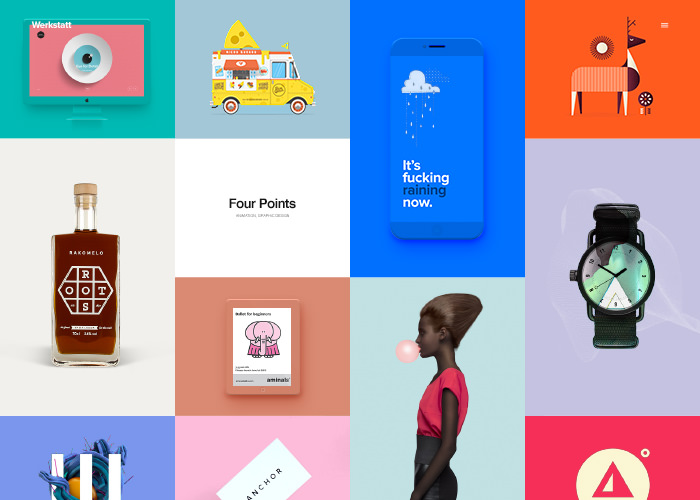 Berger
Berger is a unique and powerful WordPress portfolio theme that can be used by freelancers of all types to showcase their work in an elegant, memorable and distinctive manner.
The theme offers interactive columns and classic grid layouts that can be customized with a lightbox gallery image system and a selection of six different smooth hover effects.
The animated transition elements help in enhancing the theme with responsive design and interactive navigation.
Further, Woo Commerce integration will help in setting up your online storefront within minutes, and the visual composer lets you multiply your website's visual appeal to a large extent.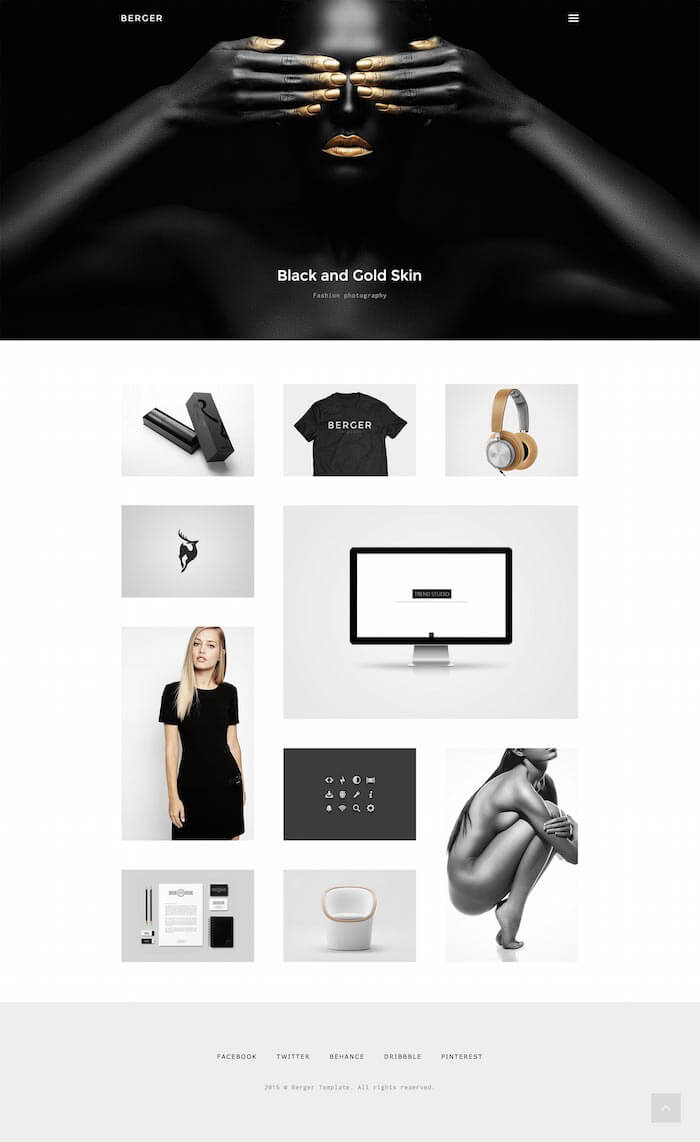 Piero
Piero is a modern WordPress multipurpose theme for freelancers. The theme comes with a multitude of demonstrative layouts so you can start with your website in an easy yet impactful manner.
The Woo commerce-integrated plugin turns your creative website into an online storefront seamlessly.
Piero is built with strong technologies like HTML5, CSS3 and BootStrap 3 and helps you customize your website's layout and design with a multitude of video tutorials and extensively detailed documentation.
The theme offers full-screen image lightboxes, parallax video backgrounds; customized topographies and delightful animations to offer you a one-stop solution for setting up an engaging freelance platform.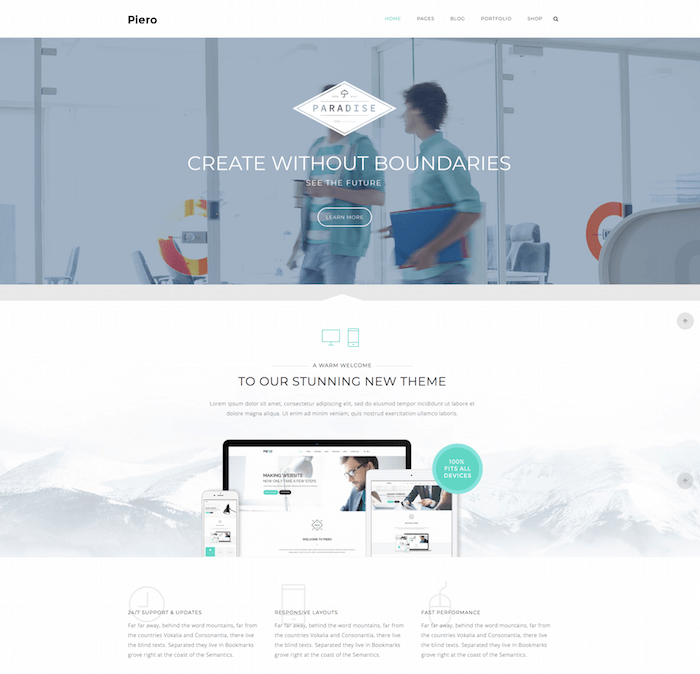 Sility
Sility is a powerful yet intuitive and flexible personal Vcard CV resume WordPress theme powered by HTML 5 and CSS3.
The theme offers a flexible visual composer and a revolution slider combined with a shortcode generator to allow you to craft incredible-looking pages, content-rich headers, versatile sliders, site-spanning menus, and customized footers.
It has over 500 retina-ready custom icons, and Google fonts integrated with AJAX-powered contact forms.
Sility is an ideal choice for freelancers who want a sleek design along with powerful customizations.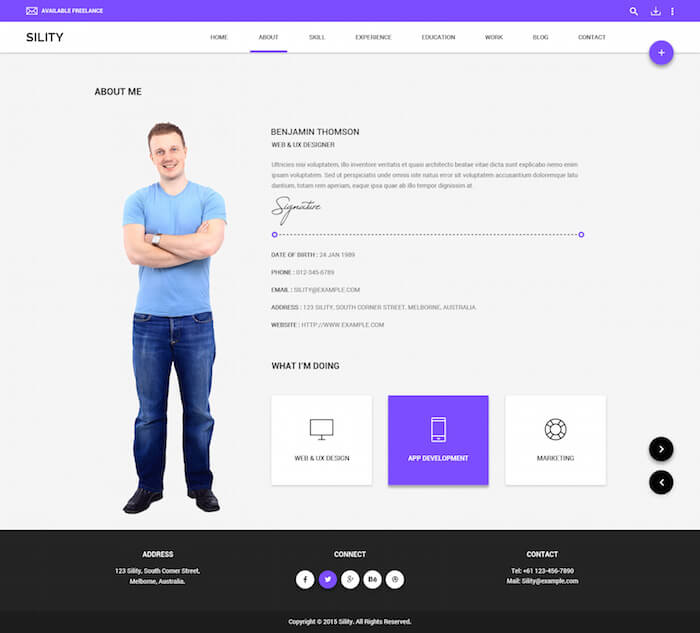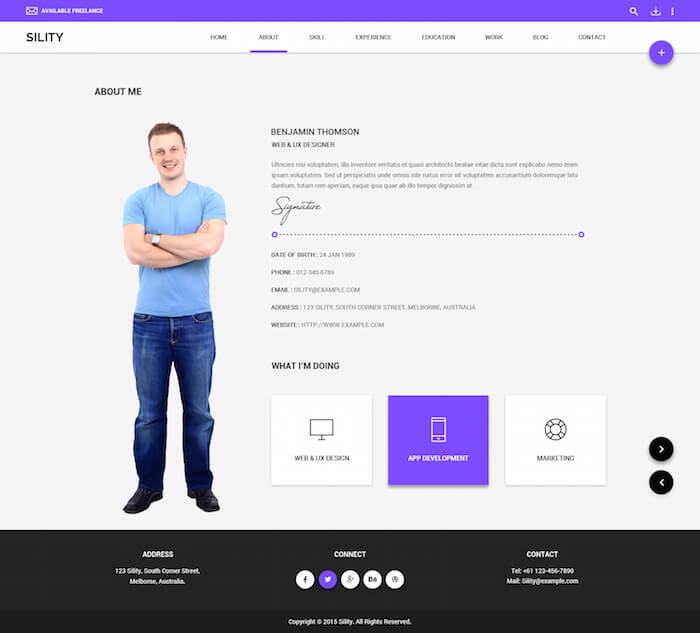 Balloon
The balloon is a minimalistic yet business-like personal Vcard WordPress theme that can match the requirements of freelancers in all niches.
It has the most relevant features, pre-made and professionally designed resume, portfolio contact, and blog layouts with multiple variations, customization, and color schemes that can be altered as per your specific personal needs.
The theme comes with a powerful AJAX front-end design for your portfolio and blog pages.
From features like retina-ready design, coherent layouts regardless of any device, device orientation, browser selection, and flexible screen aspect ratio, with Balloon, the sky is the limit!