Youtube is the most popular video platform to learn new skills other than entertainment. If you wish to learn digital marketing, YouTube is a great platform to start.
According to the YouTube press release, Over 1.9 Billion logged-in users visit YouTube each month, and every day people watch over a billion hours of video and generate billions of view
YouTube has become the most popular way of learning new things free of cost.
When we talk about digital marketing, these courses are quite expensive nowadays. And not everyone can afford to learn digital marketing from high-end institutes.
So, for all those people who can't afford or otherwise also YouTube is the best platform and an amazing resource to learn digital marketing for free.
There are so many YouTube channels that could teach the users each and everything about digital marketing, right from SEO, social media strategy, high-quality leads, network advice marketing, business growth and each and every other detail about digital marketing.
But the main thing is that, among all these channels which are the most useful ones and provide the whole A to Z information?
In this article, we have listed the best YouTube channels around the digital marketing niche that you can subscribe to and learn new things.
Top YouTube Channel For Digital Marketing
---
Gary Vaynerchuk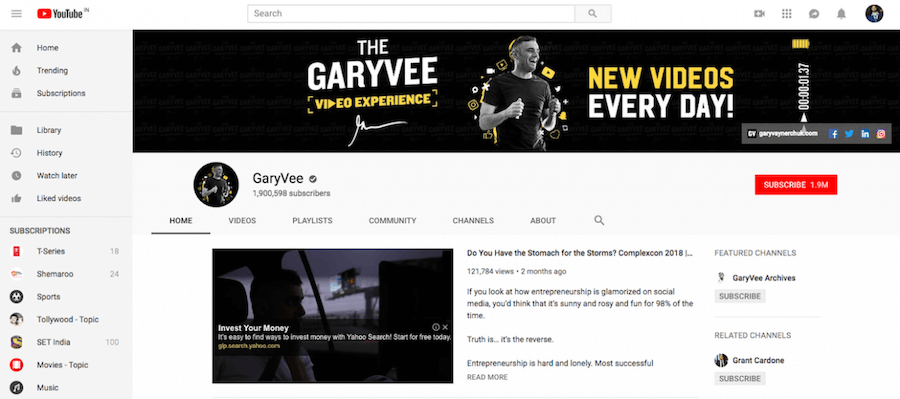 You could find the YouTube channel of Gary Vaynerchuk as GARYVEE with around 2.53M subscribers.
He is an entrepreneur and CEO, founder of "VaynerMedia" which is a digital agency and serving fortune 500 clients across companies for locations.
And talking about his YouTube channels, it not only consists of videos teaching digital marketing but also about life, his fun rants about marketing.
He also asks people to poll on what he must upload the videos about.
Jay Baer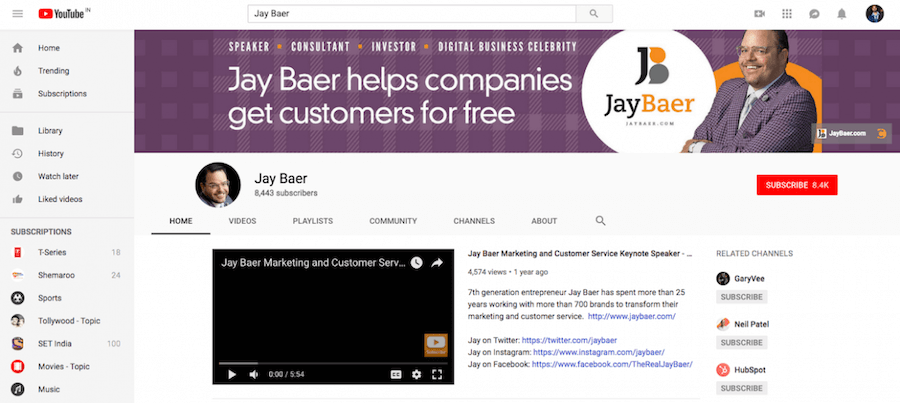 Jay Baer is an entrepreneur, internet pioneer, and New York Times bestseller author.
He has advised with more than around 700 companies since 1994 including the caterpillar, Allstate, Nike, and 35 fortune 500.
His blog about content marketing has taken 1st place. He started his YouTube channel with the name "Jay Baer' in 2008.
He presently has more than 10.8k subscribers and he has posted more than 100 videos.
Kimberly Ann Jimenez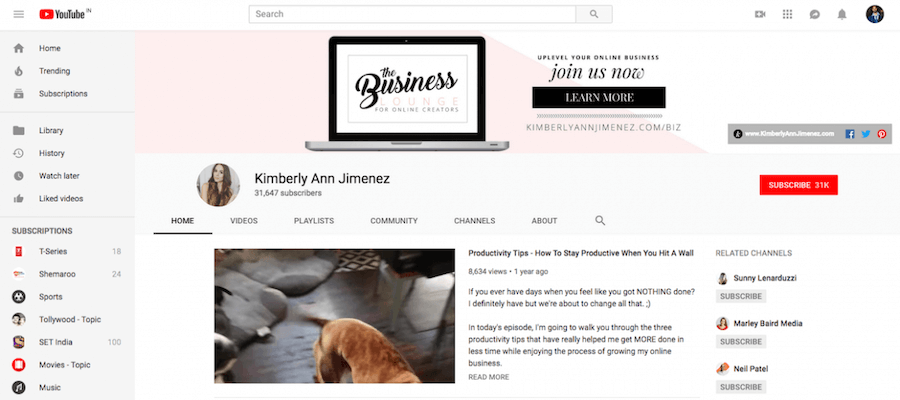 Kimberly Ann Jimenez is a social media marketing consultant. She also owns a YouTube channel in which she teaches the viewers to learn social media marketing strategies.
Her channel is named by her own name "Kimberly Ann Jimenez" and has more than 40.1k subscribers.
She started posting videos on YouTube in 2012. Her first video was posted on 30 March 2012.
Digital Marketing Institute
Digital Marketing Institute is the global certification standard in digital marketing education.
They own many branches all over the world. And even talking about India, they have their branch in Hyderabad, Mumbai, Pune, etc.
It provides its students with higher skills and qualifications required for digital marketers nowadays. And they are also teaching students online now.
Their YouTube channel is full of the video with great digital marketers and their teachings and talks about present marketing.
They joined YouTube in 2009 and they have about 8k subscribers of their channel.
Moz YouTube Channel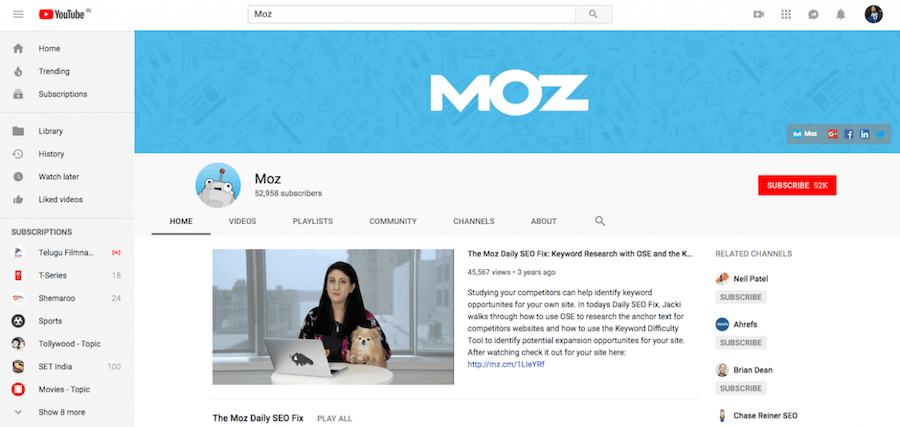 Moz is a marketing analysis software. About 62.8k people have subscribed to the Moz YouTube Channel.
Many videos related to SEO have been uploaded by them, And these videos will also provide you with the tips which will help you to know a lot about search engine optimization.
It is stated as one of the best online marketing communities. The videos on this channel are posted since 2012.
It provides a great platform for beginners to learn everything about SEO.
Neil Patel
Neil Patel has already posted a number of useful videos and has over 527k subscribers. He is a social marketing consultant. He is also a New York's best selling author and also a top influencer on the world of web.
And according to Forbes, he is also one of the top 10 marketers. He shares all his skills about SEO, increasing traffic on your blogs and about the marketing skills on his YouTube channel in a very simple way.
He also helps companies like Amazon, HP, GM, NBC to grow their revenue.
Backlinko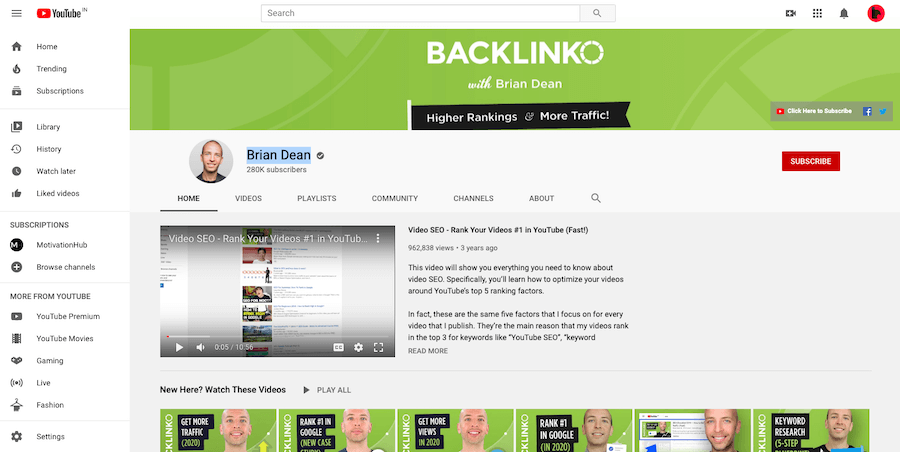 Backlinko by Brian Dean needs no introduction in the SEO and digital marketing community. You will find actionable tips and tris on his site as well as the YouTube channel.
If you wish to learn how to grow your online business by creating backlinks, proper SEO and marketing, Backlinko is one of the best sites to get started.
Brian Dean manages an active channel around SEO and marketing, his channel currency had over 280k subscribers.
HubSpot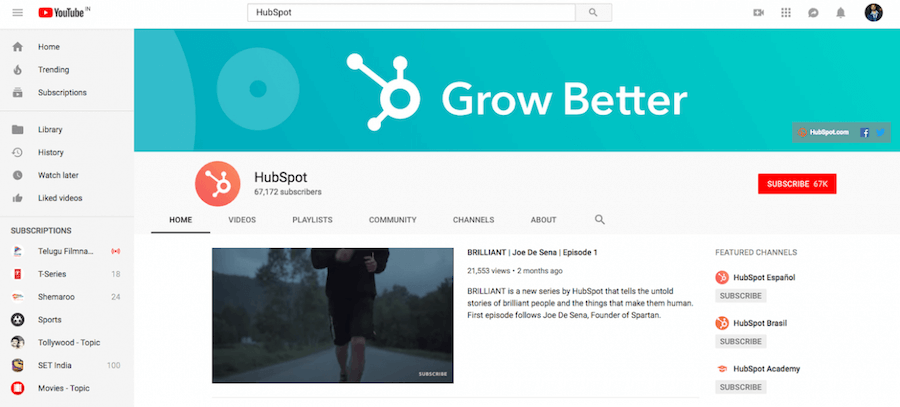 Hubspot is a YouTube channel that explains the viewers about marketing and sales in a very significant manner. They already have over 85.5k subscribers.
It provides amazing tricks and tips for the growth and success in the marketing field. It not only provides information about marketing skills but also about, internet of things, artificial intelligence, and every other field.
It also shares the customer's success stories on their channel to motivate other viewers even.
Ahrefs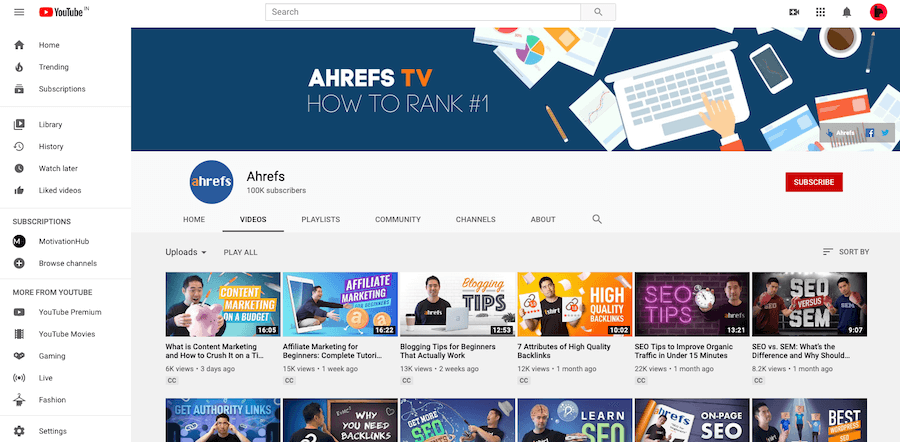 If you have done research on SEO tools, backlink checker tools, you might have come across Ahrefs already.
One of the best platform to do SEO research on any domain, Ahrefs is a preferred tool of bloggers and marketers to do a deep research of any website.
Along with offering the tools, Ahrefs also manages an active blog and an active YouTube channel. With over 100k subscribers, Ahrefs is a great choice to learn SEO and digital marketing.
WsCube Tech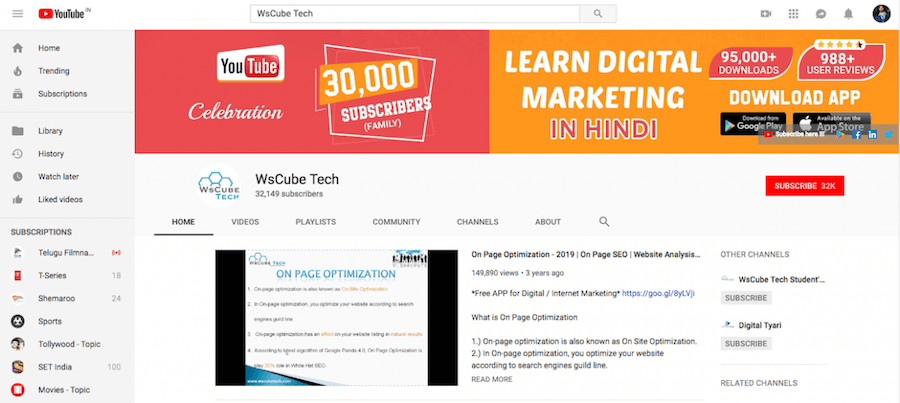 There is also an Indian YouTube channel that helps you learn digital marketing in Hindi itself.
It is actually an institute which is situated in Jodhpur and it also provides online videos to teach digital marketing to its viewers. It has around 82k subscribers at the moment.
SEMRush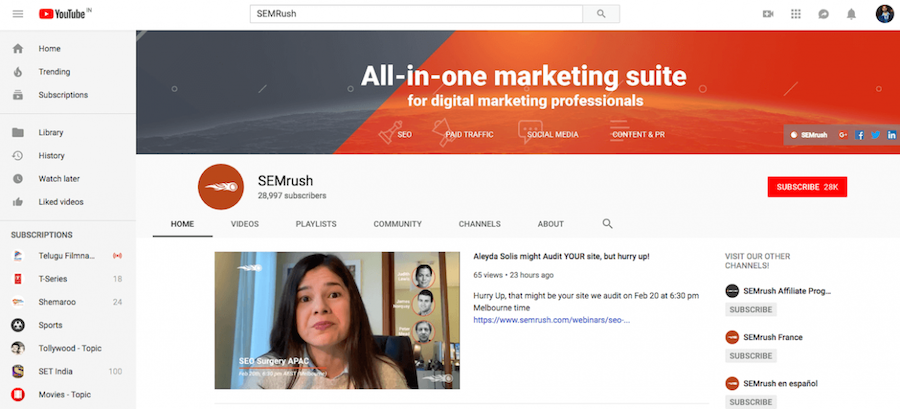 SEMRush is a powerful and versatile competitive intelligence suite for an online marketing tool. It also runs on a YouTube channel and has around 41k subscribers.
It mainly focuses on the topic like content strategy, SEO, PPC, social marketing. It also conducts live site audits and that too with famous marketers.
Jon Loomer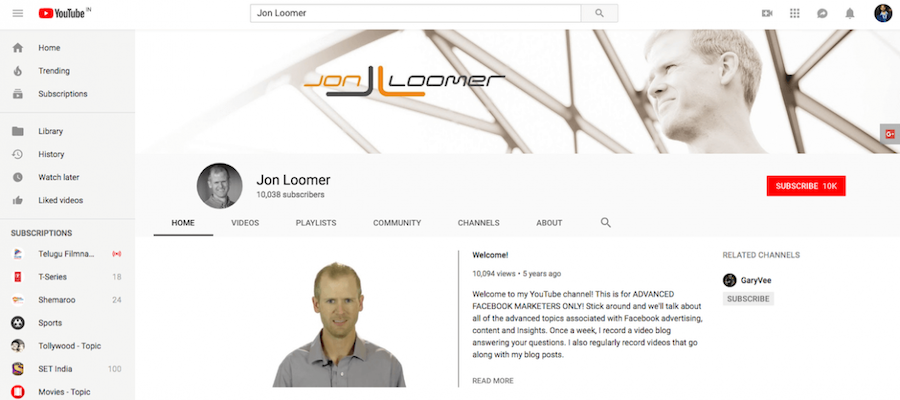 "Jon Loomer Digital" is a YouTube channel created by Jon Loomer. And it mainly focuses on Facebook marketing. And it helps advance marketers a lot.
If you use Facebook for your business purpose, his channel will be very helpful for you. In his channel, he teaches all about Facebook marketing.
Digital Deepak
Digital Deepak is the marketing-related YouTube channel by Deepak Kanakaraju. The channel is subscribed by around 50k users at the moment.
He creates videos around digital marketing related topics. He is also active around marketing events.
Kevin David
With over 859k active subscribers Kevin David is a popular YouTuber around marketing and makes money related topics.
If you are looking for a good YouTube channel to learn online money making tips, this is a good channel for you.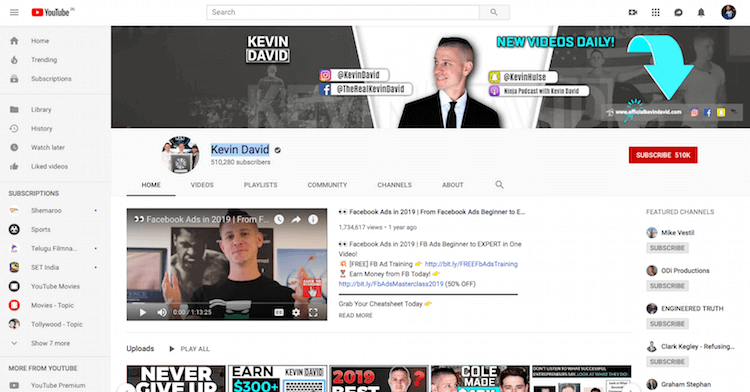 Final Verdicts
Well, these are the Top YouTube channel for Digital Marketing. And I am sure, that these channels are surely going to help you know about each and everything about digital marketing.
All these channels are own and managed by experts. So, you are surely going to get the up-to-date knowledge for free from these YouTube channels for sure.
If you prefer to listen to a podcast rather than watching a video, here is a list of the top digital marketing podcasts to follow.
If you find the article helpful, don't forget to share it.