Are you planning to start a YouTube channel? Or are you already a YouTuber who wants to give a professional touch to the videos?
If you want your YouTube channel to have good videos, you will have to edit the videos that you want to upload. You don't need to spend a huge amount of money on video editing software.
There are tons of free video editing software for YouTubers that are good and easy to use. Before going for a pro video editing software, you should first try your hands on the free video editing software.
If you are looking for a list of useful free video editing software, then you are in the right place. Here's a humongous list of the best free video editing software.
What Are the Best Free Video Editing Softwares for YouTubers?
We have listed some of the top video editing softwares that you can use to edit videos before uploading them to YouTube.
It is a video editing software that is built on an open-source. Even though Blender was initially designed for a 3D animation suite, it has now extended its service to support video editing too.
The simple video editing tool of Blender is enough to meet both basic and advanced requirements. Basic editing that you can do through Blender includes video splicing and cut.
You can further go ahead and try advanced video features like video masking. No matter whether you are a beginner or a professional, you can use Blender to create awesome videos for your YouTube channels.
Features of Blender
Histogram displays, live preview, chroma vectorscope and luma waveform
Waveform visualization, scrubbing, audio mixing and synching
It supports up to 32 slots for adding images, videos, scenes, audio, effects and masks.
Adjustment layers, keyframes, transitions and speed control
Platforms: Windows, macOS, Linux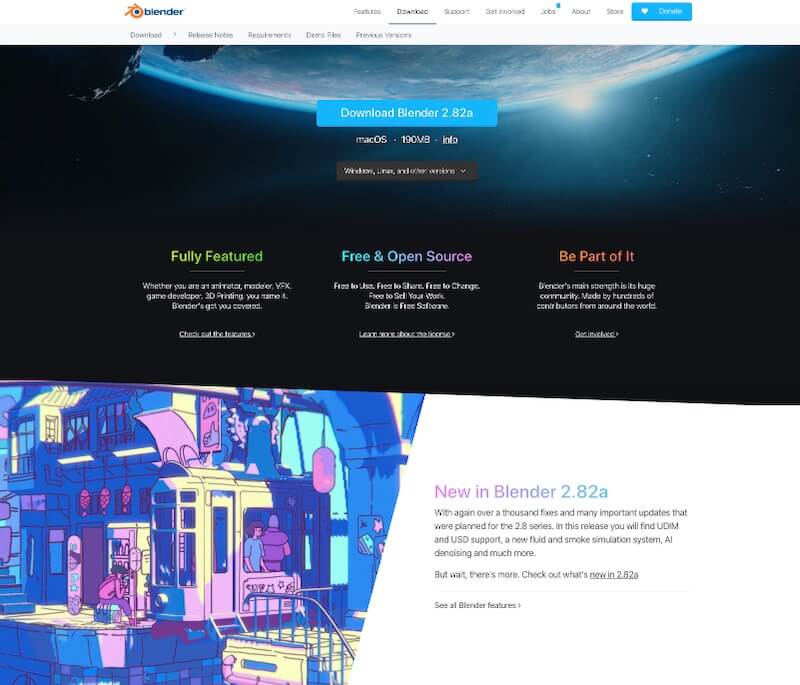 DaVinci 16 is one of the rare video editing software that supports 8K editing. From color correction to different visual effects, it is the only video editing tool that you will ever need.
With just a click, one can instantly switch between different editing features like color, editing, audio, and effects. Further, the app also supports multi-user collaboration.
Whether you are working individually or with a team, DaVinci is there to support you. Numerous Hollywood films, commercials, and shows have used DaVinci Resolve 16 for editing their videos.
Both free and paid version of DaVinci Resolve 16 software is available. Without a doubt, the pro version is unbeatable. The free version of the software is also super awesome!
Features of DaVinci 16:
Revolutionary new cut page
Visual effects
Editing of motion graphics and audio
Color correction
Platforms: Windows, macOS, Linux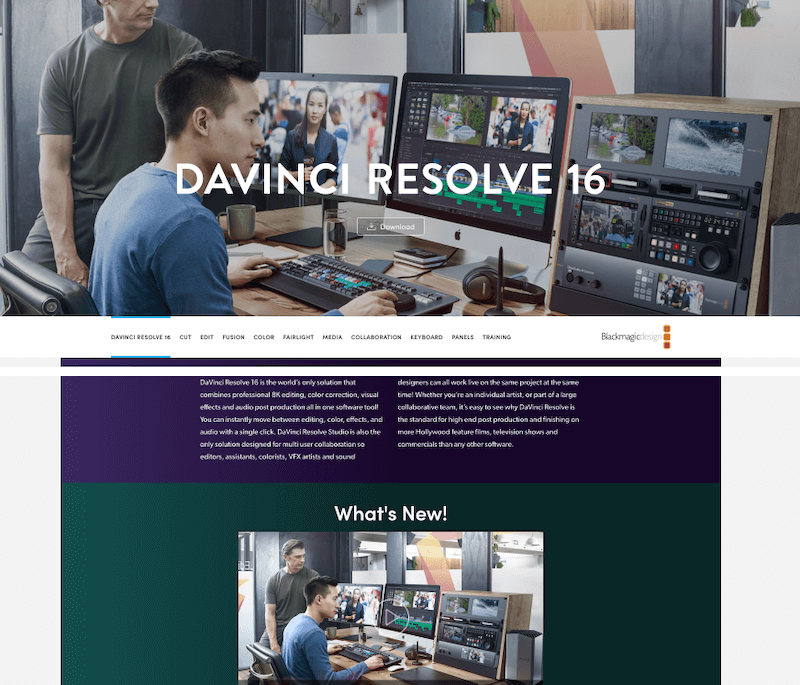 If you have a GoPro, you can edit the videos using the GoPro app. Epic edits can be done on the GoPro App with ease. The app automatically converts the footage that you have captured into wonderful videos.
The videos can be given a pro touch for YouTube by adding themes, effects, and music in just a second. One can also view and trim the clips, right on the phone. It can then be accessed from cloud footage on any device.
The editing tool present in GoPro App can be used for adjusting lighting, adding filters, and changing speed. The themes of the videos can be switched with just a single tap.
Features of GoPro App:
Convert the videos into sharable on with easy editing.
Trimming of the clips
Edit with stickers, color and speed
Offload from anywhere
Platforms: Android, iOS, macOS, Android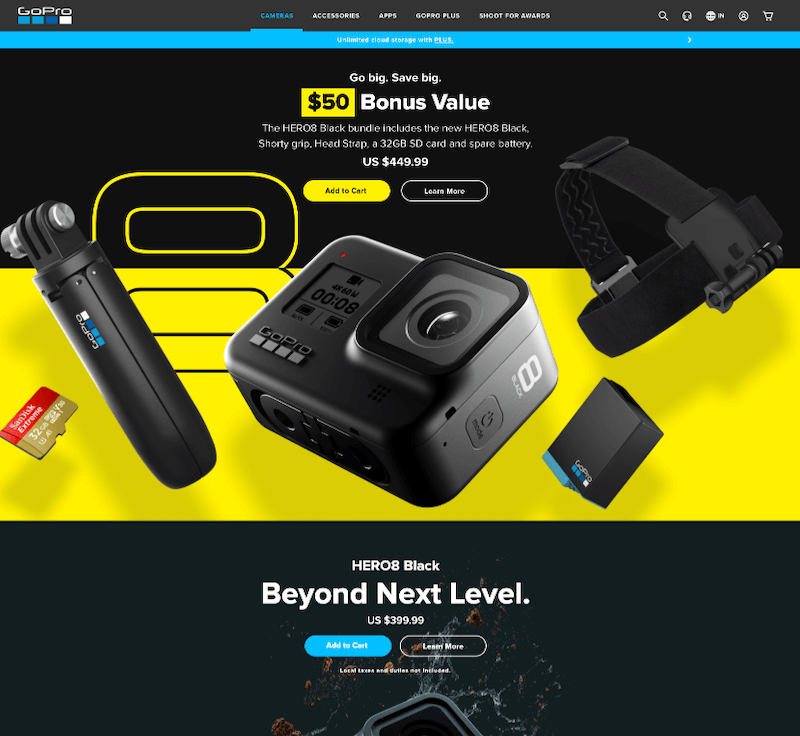 If you want to give an aesthetic look to your YouTube videos, you can give InVideo a try. It is a free YouTube video editor that provides users with almost all the important tools.
You can use InVideo for editing the video in just five simple steps. The steps are described below:
Login to the InVideo website.
Select a customizable template from the template library.
Add videos, photos and font.
Customize the template to your heart's content
Preview the video that you have created. Edit and repeat and then publish.
The intuitive editor does most of your video editing job and this saves you from the complex Herculean task.
Features of InVideo
Trim and resize
Image filters
Transitions and animations
Stickers and overlays
Platforms: Windows, macOS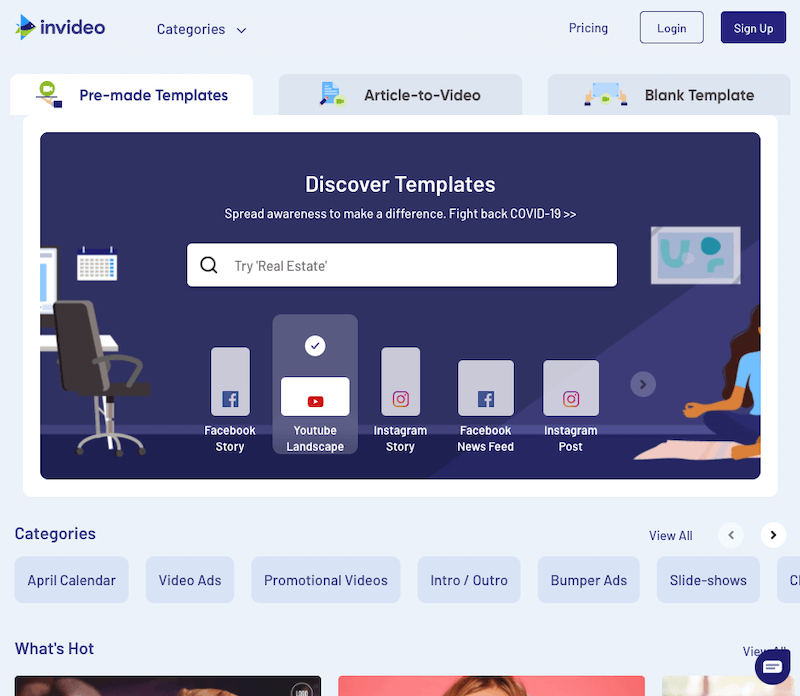 If you are a Mac or iPhone user, perhaps, you already have the iMovie app. With iMovie, one can create a Hollywood-style 4k-resolution movie.
Editing the video from the first scene to the last one is pretty easy on iMovie. All you need to do is choose a video clip. You can then proceed to add titles, effects, and music.
The studio-quality titles allow you to add beautiful titles and credits to the movies that you have created. A cinematic touch can be given to the video with one of the ten creative video filters. One has the option of adding filters to individual clips or the entire video at once.
Further, the iMovie software supports green-screen effects. And yes, that means exotic locations!
Editing the audio of the video is also simplified. The tool comes with built-in music, voiceover recording, and sound effects. Additional features of iMovie are listed below.
Features of iMovie:
Picture-in-picture effect
Green-screen effect
High-fidelity filters
Studio-quality titles
Platforms: macOS, iOS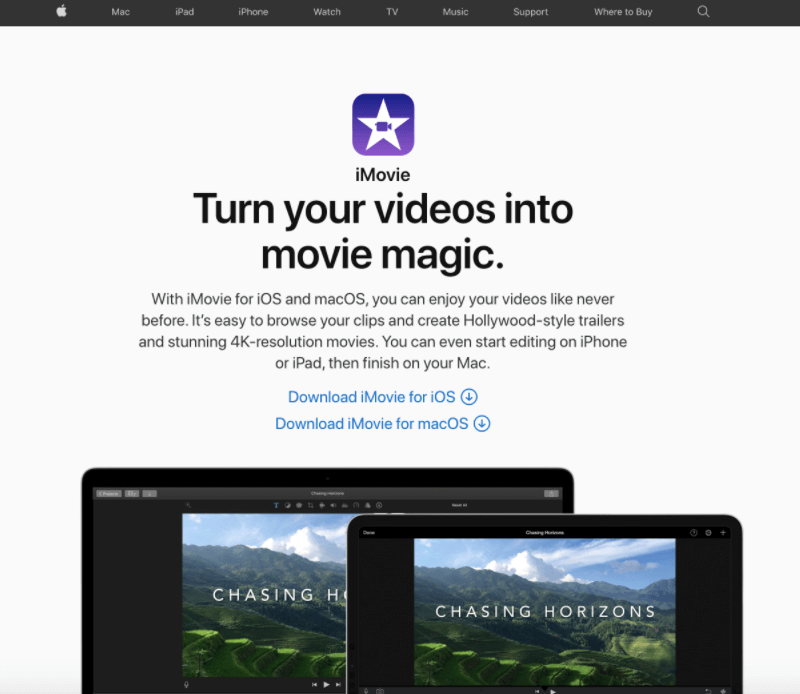 Headliner is a very handy video-creating software that you can use to convert your podcasts into shareable videos.
You can add animations, images, gifs, videos into the software and create amazing videos for different platforms. It will increase the visibility of your content by multiple folds and one piece of content will have multiple versions so that you can quickly distribute them on different platforms.
It can automatically transcribe your videos or audios to create a perfectly captioned video that is ready to share.
In the form of Lightworks software, you get the complete video creation package. It has been existing for 25 years! So, you know that when you are using Lightworks, you are using a product that you can trust.
Numerous popular films like The Wolf of Wall Street and Pulp Fiction have been prepared by using Lightworks.
No matter, whether you are working on a film or a YouTube video, or even any social media app, you can use Lightworks for everything. Lightsworks has both a free and a paid version.
However, please note that the free version of Lightworks is basically the trial version which can be used for a period of 7 days.
Features of Lightworks
Intuitive and simple user-interface
Timeline editing and trimming
Real-time ready to use video FX
Support a wide number of file format
Platforms: Windows, macOS, Linux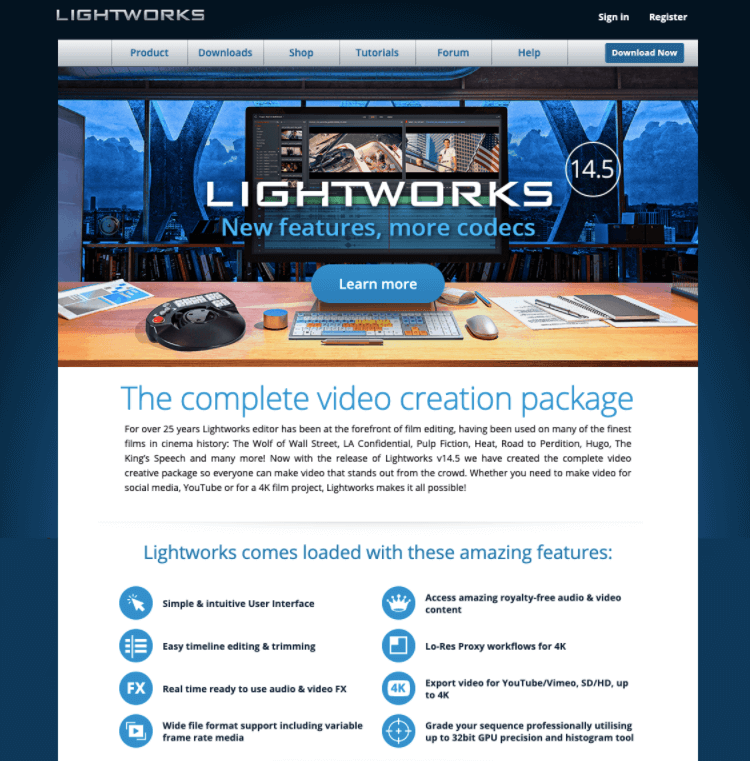 Just like Blender, Shotcut is built on an open-source. It is a free video editing app that can be used for cross-platform video editing.
The Shotcut software supports a large number of video formats. The user interface might prove to be a bit tricky for the beginner. But along with its usage, you will learn to use it smoothly.
Shotcut was originally created for Linux but now it works on multiple platforms. It is one of the rare free video editing software that supports timeline editing and 4K HD resolution.
The software also saves plenty of time for the users, thanks to the fact that it doesn't require the importation of different files. This feature comes very handy especially when one is dealing with large video files.
Features of Shotgun:
Timeline with ripple option
Multitrack timeline with waveforms and thumbnails
Easy to cup, copy and paste different operations
Audio can be detached from video clips
Platforms: Windows, macOS, Linux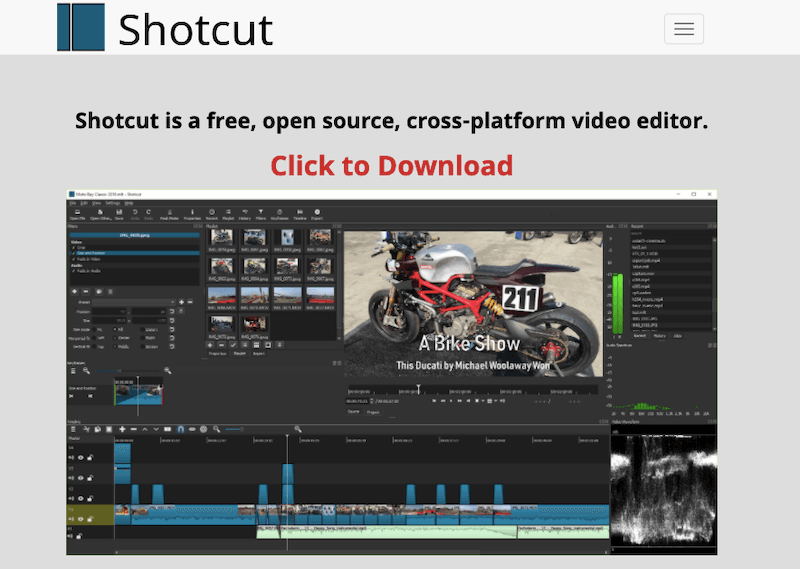 OpenShot is a video editing software built on an open-source. It is an award-winning open-source video editing software. With this software, you can create many stunning videos. Thanks to the simple interface of the app, everything can be done easily on OpenShot.
Even if you are a newbie, you can quickly learn to OpenShot. Even though it is easy to learn and has a simple user interface, it is an incredibly powerful video editing software.
This tool is available in more than 70 languages. If you have used iMovie, you will find a fair share of familiarity between the two software. Can you believe that OpenShot has more stunning features than iMovie?
Features of OpenShot
Powerful curve-based keyframe animations
Unlimited tracks and layers
Clip scaling, resizing, snapping, trimming, cutting and rotation
Watermarks, image overlays, and compositing.
Platforms: Windows, macOS, Linux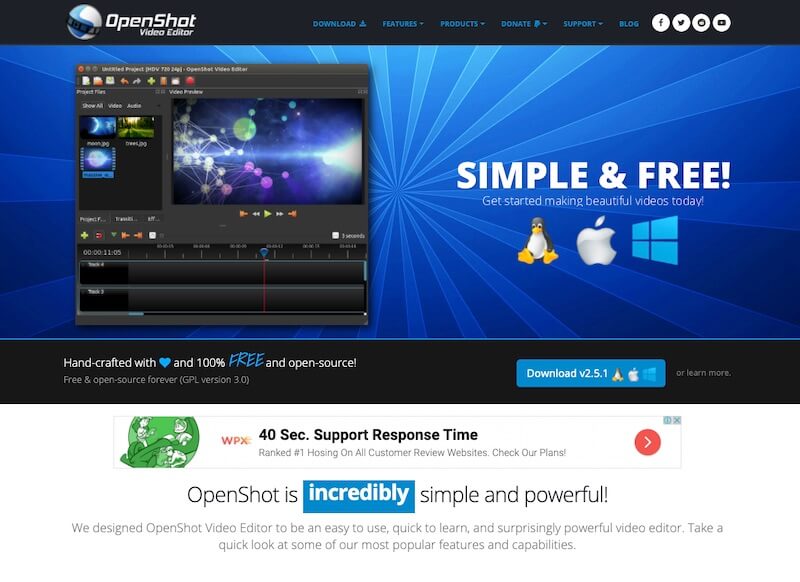 With the VSDC Video Editor, you can edit video files, no matter what level of complexity is held by it. The software is rich in functionality yet, it has an intuitive and simple interface.
With a bare minimum of effort, you can use the VSDC Video Editor for editing your video professionally. The USP of VSDC Video Editor is that it is a non-linear video editor.
Firstly, you can place the objects in any position that you want on the timeline. Secondly, the object can be of any size. In addition to that, one can apply tons of audio and visual effects. The five categories of audio and visual effects are:
Color correction
Object transformation
Object filters
Transition effects
Special fx
Just like Instagram-filter, the VSDC Video Editor software also supports blending modes. In case, you want to upload a video that you have captured through a drone, how do you plan to stabilize it?
Worry not; the VSDC Video Editor comes with a video stabilization tool that creates a smoother video image. Even at a minimum file size, the VSDC Video Editor ensures that the quality of the videos is high.
Features of VSDC Video Editor:
Non-linear video editor
Masks for highlighting, blurring and hiding
Motion tracking tool
Video stabilization tool
Platform: Windows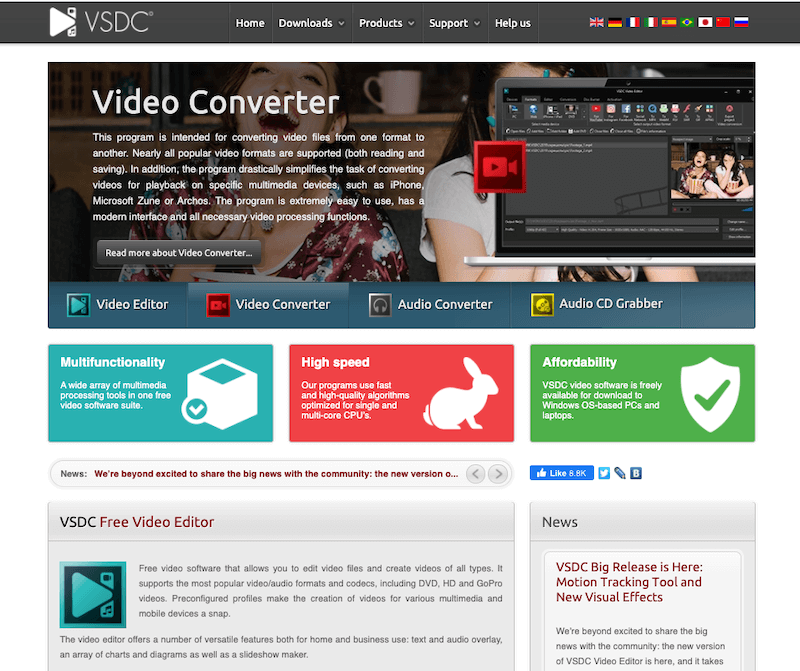 VideoPad Video Editor is a professional video editing software that can be used by everyone. It is a feature-rich video editing tool that has an intuitive feature.
VideoPad Video Editor supports 50 transitions and visual effects to give a professional touch to the movies. It has one of the fastest video stream processors. The video speed can also be adjusted.
The drag and drop features of VideoPad Video Editor, make it easier for editing the videos. The software also supports 3D video editing tools.
In addition to that, the VideoPad Video Editor also supports pure digit audio tools. This feature allows the users to import and then mix the track like a true pro.
Features of VideoPad Video Editor:
Intuitive and fast editing
50 plus transitions and effects
Pure digital audio tools
It supports 360 and 3D video editing
Platform: Windows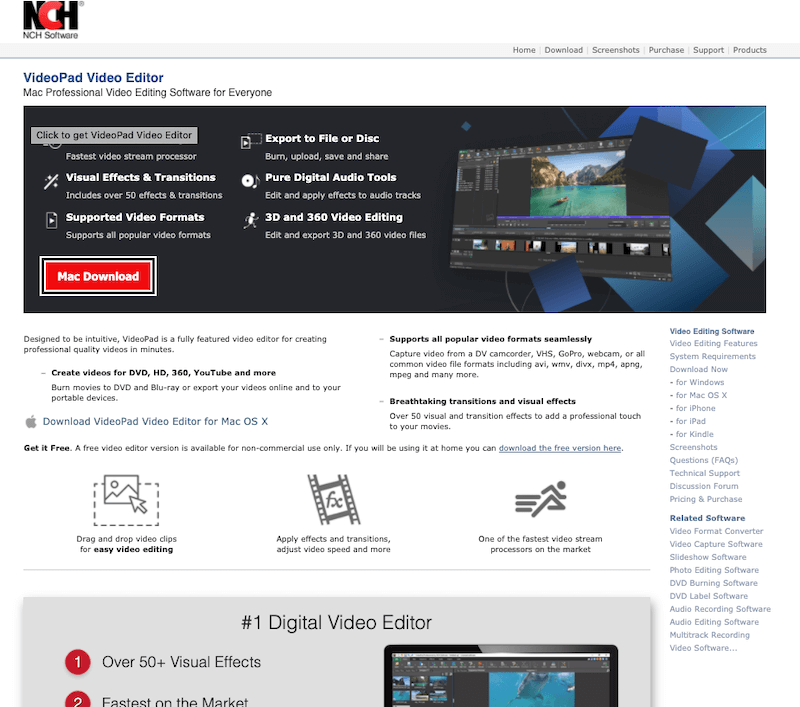 Video Overlays
A quality video overlay can play a very important role in making your videos look professional. Now, if you are not aware of video overlays, it is used to add different effects to your video.
Video overlays are generally short clips that are layered over the main clip to add certain effects. For example, if you want to add a dust layer to your video in the video intro section, you can easily get that dome with an overlay clip.
You can find a large collection of overlays on this page of FixThePhoto.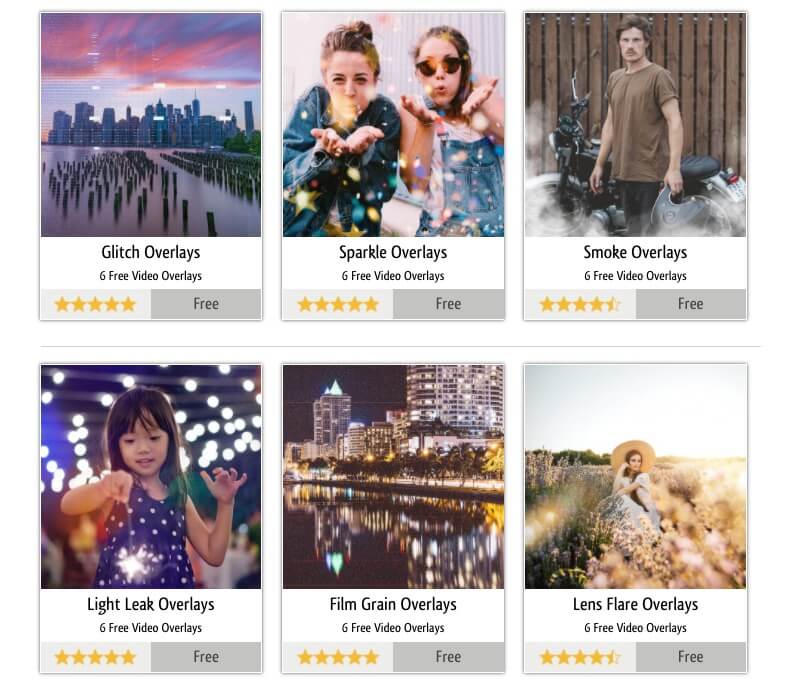 FAQs (Frequently Asked Questions)
1. What are the basic editing features that should be present in video editing software?
A video editing software should have the following editing features:
Conversion to other video formats
Cut segments of the videos
Adjustment in audio tracks
Corrective video filters
Special video effects
Addition of video transitions
Addition of titles and subtitles in the video
2. Which are the best video editing softwares for beginners?
The best video editing software for beginners are:
DaVinci Resolve
ShotCut
iMovie
Blender
Pinnacle Studio
Nero Vision
3. What are the stages of video editing?
Primarily, there are five stages of video editing:
Logging: Log the footage by sorting the video material of the source
First Assembly: Arrangement of the footage into the timeline
Rough Cut: Trimming of the first assembly footage
Fine Cut: Refinement of all the frames of the video
Final Cut: Audio mixing, color grading, special effects and audio mixing
It's A Wrap!
Whew! That was an informative long list. The video editing software for YouTubes that are selected for this list is the best in the market.
The video editing tools can be used by both beginners and professionals. In the long run, if you are planning to buy a pro version of video editing software, I would recommend you to use software that supports both free and paid versions.
The video software which is built on an open-source platform is immensely powerful. If you have no plans of spending money on buying the pro version, go for the open-source video editing software.
Also, before choosing a video editing software, make a list of all the features that you want in the software. You should have a rough idea, of the editing jobs that you want to do in the video.
Once, that list is ready, choosing video editing software will become a pretty easy job for you!
Don't miss These Articles