Are you searching for the best cheap domain registrars? If yes, then look no further, because here we bring you a list of the 10 best cheap domain registrars to help you make a name online.
There are tons of domain registrars out there on the internet and it is pretty difficult to choose one.
The catch here is that many of them, the ones which look cheap and affordable initially, would ask you for a heavy renewal fee, as well as post-purchasing money for in-built features.
There are some important features that you have to keep in mind while choosing a cheap domain registrar, such as domain transfer policies and cost, add-on services charges, expiration period and registration period as well.
Keeping in notice of all the above factors, as well as customer support factors, we have curated this detailed list of the best cheap domain registrars, to help you establish yourself, or your business online.
Before you decide about your domain name, use these best domain name generators to find the best quality domains.
01

. Bluehost
Bluehost is known as one of the best WordPress hosting companies where you can host your website, They offer a number of different hosting options.
No matter whether your website is new or it is an established site that received millions of traffic, you will find a suitable hosting option in the Bluehost platform.
But, did you know that Bluehost also offers you a domain registering option? In fact, you don't have to pay a penny for your domain if you host your site on Bluehost.
Even the cheapest hosting plan of Bluehost comes with a free domain name. This is a great advantage for newbie users, you get the cheapest hosting option which is trustworthy and get a domain name for free.
Also, if you are just starting your first blog, here is an article about how to start a blog on Bluehost with images.
02

. SiteGround
SiteGround is a respected name and a preferred option when it comes to web hosting. Along with hosting you can register your domain on the SiteGround site as well.
This will make things easier if you are going to host your site on SiteGround. If you have very little knowledge about setting up hosting and pointing the name servers on your domain, keeping both hosting and the domain will make things easier for you.
SiteGround is known for offering industry-best customer support, so your entire process of taking your site up the ground will be smooth.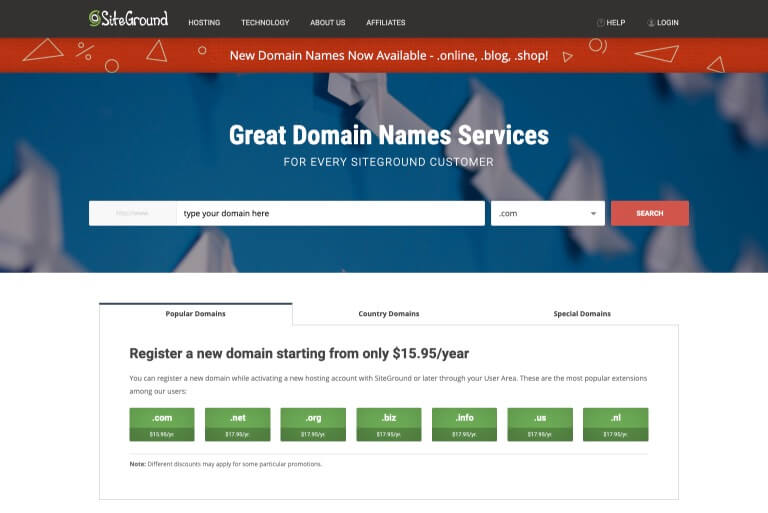 03

. Namecheap
Namecheap, as the name clearly states, is for the people and businesses on a strict budget, looking to register a domain online.
Founded back in the year 2000, the company stood second in the largest web host category, after Godaddy, with over 11 million registered domains and 3.2% market share.
Namecheap offers a highly functional yet easy-to-use domain search tool to search for your favorite domain name. You also get a complete extensions marketplace, where you can buy useful extensions at very cheap rates.
Now comes the main part, the pricing. As the official website says, you have to pay only $8/year for a ".com" website, followed by $11.98/year for a ".net", $12.98 for an ".org" and $25.88 for an ".io".
Also, the WHOIS privacy protection is completely free and the SSL certificate costs only $1.99 for the first year, one of the cheapest in the category.
Overall, a great deal for people looking for a cheap and affordable domain name with ordinary renewal prices.

04

. GoDaddy
Irrespective of the fact that you are a net savvy or not, you must have heard the name GoDaddy.
GoDaddy is the world leader in web hosting, with over 77 million registered domains to its name. The best part here is that options and extensions are endless. From .com to .club, GoDaddy offers it all.
And if your ideal domain is already taken, then GoDaddy even has a service to get your favorite domain from its owner.
Another interesting feature offered here is that you can even buy a "Discount Club Membership" in which you will be offered special discount offers on domains.
And not to mention the world-famous customer support of GoDaddy. The service is regarded as one of the best in the category.
Talking about the pricing, GoDaddy's pricing plans start from as low as $0.99 for the first year. But you have to sign up for two years and you will be charged $14.99 for the second year.
Although, the WHOIS privacy protection is not included in the package, and transferring domains cost $7.99.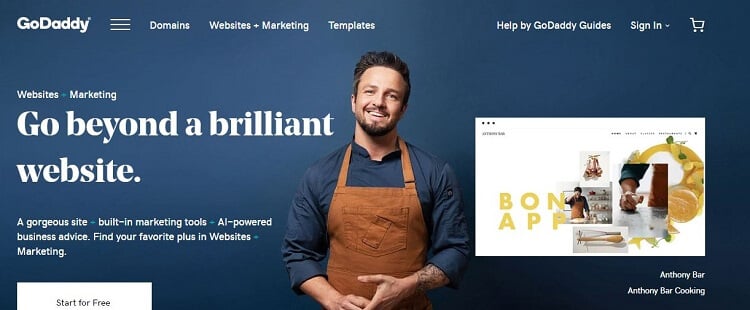 05

. 1&1 IONOS
The name sounds strange, but the service isn't. 1&1 IONOS, which was formerly known as 1&1, has a complete domain and business solutions for all kinds of users.
Each and every domain on 1&1 IONOS is packed with a ton of free add-ons.
1&1 has a ton of great features to offer, such as 10,000 subdomains, a free and upgradeable email with 2GB of space, a completely free SSL certificate, and a domain transfer lock as well.
And not just that, you get the WHOIS privacy protection for free.
The pricing plans offered here are quite reasonable. 1&1 IONOS charges only a dollar for the first year, for a ".com" domain. The annual renewal fee is quite reasonable, is $15.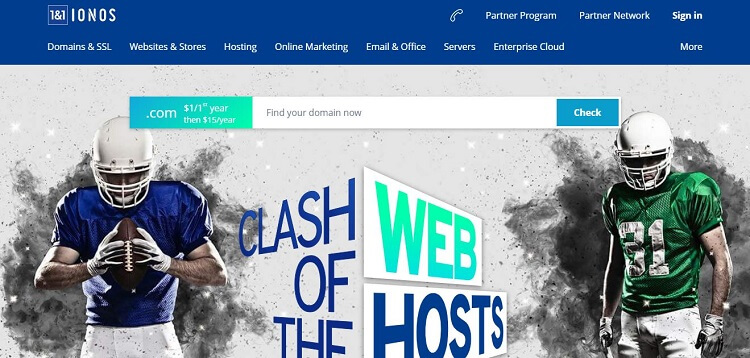 06

. HostGator
HostGator is one of the most popular domain registrar platforms these days. Founded back in 2002, HostGator is currently owned by Endurance International Group.
HostGator has over 9 million registered domains and has more than 400,000 customers.
HostGator offers you a lot of hosting options, including cloud hosting, web hosting, WordPress hosting, VPS, reseller and Windows hostings. In each of these hosting options, the speed and page uptime is simply great.
The customer support is quite amazing. Along with the traditional support methods, you also get video tutorials and customer forums.
Talking about the pricing plans, you can get a ".com" registered here for $12.95 per year. Also, if you already own a Hostgator-powered website, then a new site, will cost you only a couple of dollars. 
Though, the WHOIS privacy service is not included, so you'll have to buy it for an additional $14.96 for a year.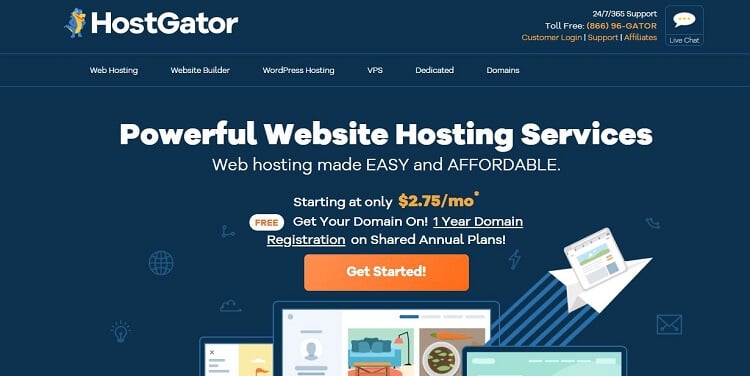 07

. Name
As simple as it can get. Name, launched back in 2003 by William Mushkin, the company is currently owned by Right SIde Group.
The brand has over 320,000 customers and has over 16.5 million registered domains under its belt.
Similar to other platforms, Name also offers a good set of features, including domain transfers, app integrations, a simple drag and drop page builder, email, SSL Certificates and a few more web hosting options.
The customer support system is quite traditional and has an email ticket system, where you have to wait for email solutions from the customer support team. Although the live chat is available from 10 AM to 5 PM MST.
The platform offers different hosting plans for different domains, such as WordPress hosting, Startup hosting plan, and the Name builder plan.
For ".com" it costs $9.99 per year, and for the WHOIS privacy service, it costs an additional $4.99 per year.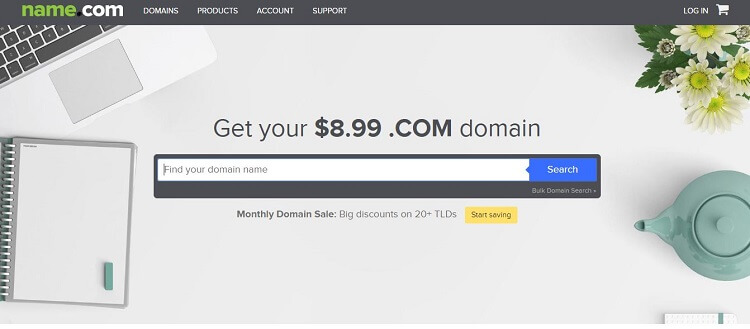 08

. InMotion Hosting
Founded back in 2001, InMotion Hosting currently owns over 300,000 domains.
The brand offers a lot of hosting options, such as VPS, reseller and WordPress hosting.
Along with hosting options, the brand also offers complete web design services and enterprise hosting solutions.
The company offers complete 24/7 customer support in the form of emails, Skype, phone support and live chat.
You also get automatic domain renewal with each plan and a free domain with premium plans, such as Shared Business Hosting Package.
For a ".com" domain, you will have to pay $14.99 annually. The domain privacy protection costs an extra $9.99 annually.
You also get a 90-day money-back guarantee, in case you don't find the service worth it.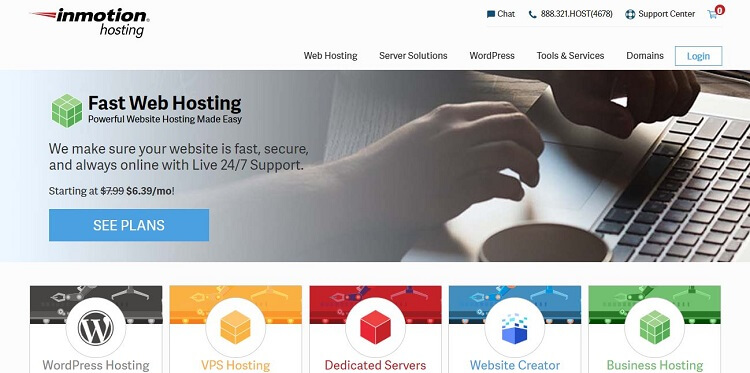 09

. Hover
Hover is a complete domain registrar, dedicated only to domain registration and it does not offer web hosting.
Hover offers a great domain registration service as the full focus is on the domain registration business.
What helps Hover shine out of the crowd is the fact that the interface and functioning are very simple and neat. Searching names and domain extensions are very easy and take no time.
WHOIS privacy protection and customer support come packed with the deal as a package. Features like email forwarding and custom domain mailboxes are available at cheap rates.
Standard ".com" costs $12.99, as well as the renewal costs $14.99.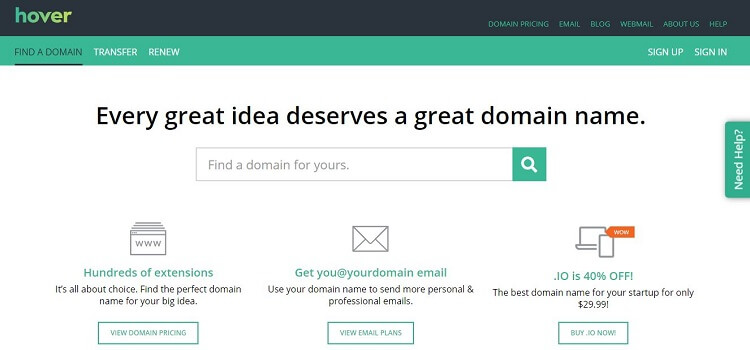 10

. Google Domains
Yes, Google sells domains too. Google has a simple, streamlined approach to sell domains, which means navigating search to check out a domain name hardly takes any time.
WHOIS privacy protection is for free and you get an array of extensions available to choose from.
Google is offering ".com" for $12 yearly. With keeping in mind the free WHOIS protection and Google's name, this is not a bad deal.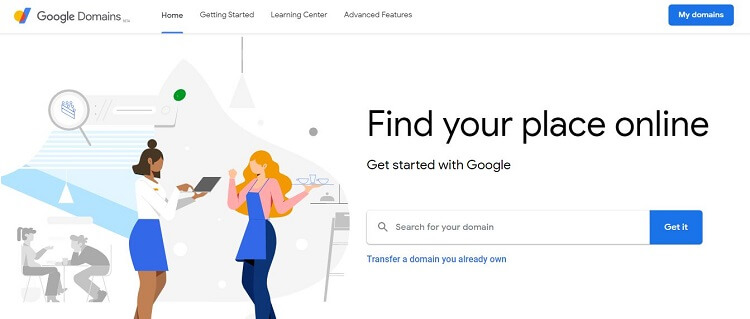 11

. Dynadot
If you love a lot of freebies, then Dynadot is the one for you. Although the number of registrations on Dynadot is comparatively very low, it offers a good set of VPS hosting plans.
Along with the VPS domain, you get free WHOIS privacy protection, non-ASCII characters internationalized domain names, account transfer locking, and two-factor domain security. 
Also, you get 10 free email aliases and high-level DNS support. The interface is quite easy to use. You also get a complete website builder, it costs a little extra.
Offering ".com" domains for $8.99 and transfers for $8.35, Dynadot is not a bad option at all.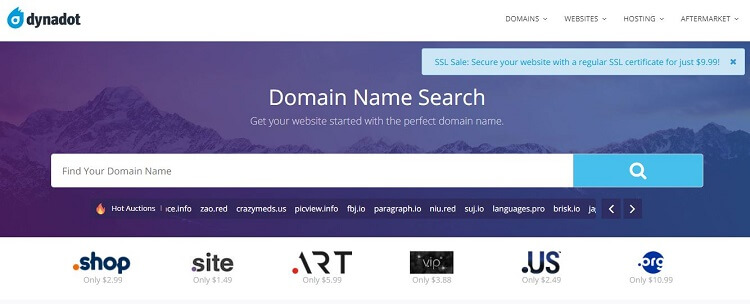 12

. NameSilo
At first look, this might seem like a 90's website with nothing but mere simple graphics, but the service actually offers one of the cheapest domain registration services.
The domain privacy is free and it is just a simple domain registration, no website building, and no additional freebies.
It offers a full-blown discount scheme where you get big discounts on bulk-domain purchases. With 24/7 customer support and registration of
".com" domain at just $8.99, NameSilo is definitely a great option.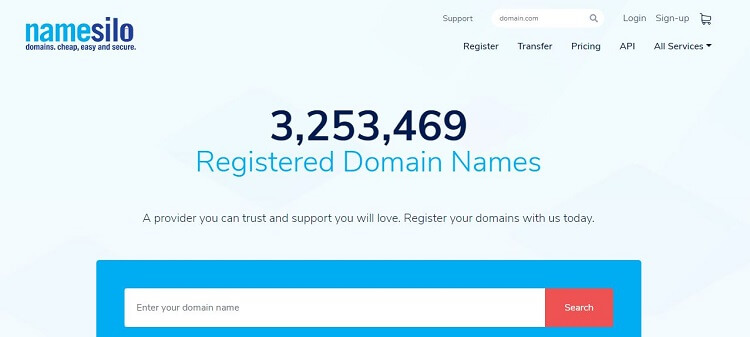 13

. Gandi
Gandi is another great option to get a cheap or a free domain name for your business. You can get your domain completely free if you purchase hosting from Gandi.
It offers all types of different hosting solutions for small as well as bigger sites. You can get custom WordPress hosting or Cloud VPS hosting.
When it comes to domain names, they offer more than 700 domain extensions to choose from. And you get free SSL certificate with every domain you purchase from Gandi.
They also offer 2 mailboxes with 3 GB storage each and unlimited email forwarding and aliases come free when you buy a domain name.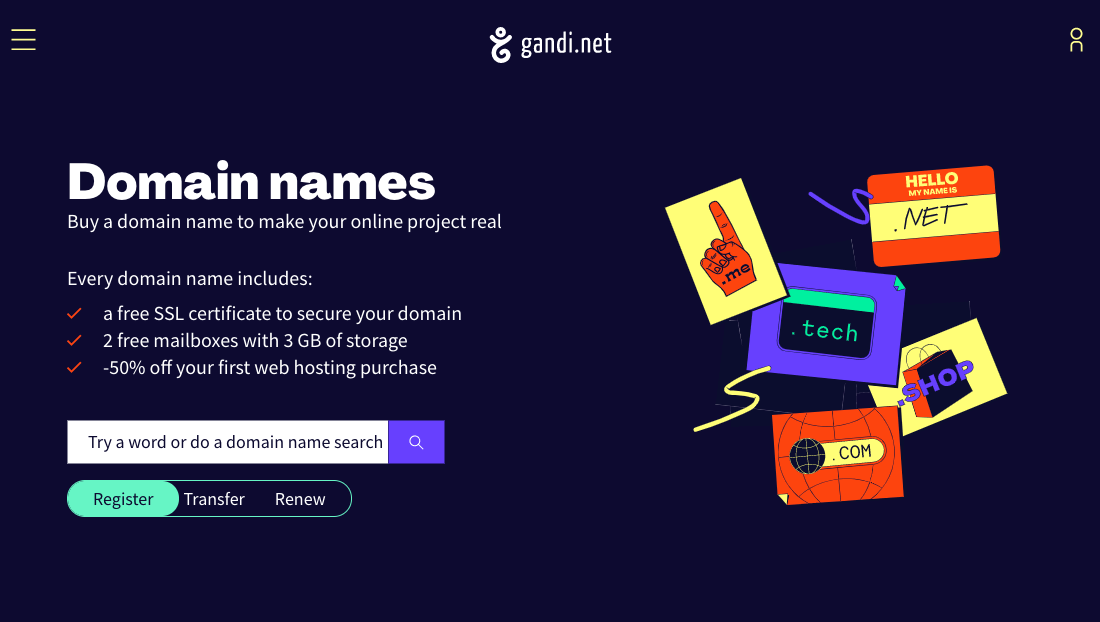 Conclusion
Here is the list of the best cheap domain registrars of ends. All of these domain registrars are tried and tested by millions of people worldwide and you can choose any one as per your likes and needs.